Day 7 - Wednesday 16th September 2015

Written by Kev
I get a pretty decent night's sleep and wake up at 7.30am and write up my trip report.
Susan arrives at 9.00am and we all have breakfast. It's another huge spread with fresh fruit followed by blueberry pancakes and maple syrup, then scrambled eggs, bacon, potatoes and tomato. We are all absolutely stuffed, but having a huge breakfast, skipping lunch then eating an early dinner has worked quite well for us.
Into the car just after 10.00am and I drive to the local filling station to feed The Beast. He's a thirsty devil too. 17 gallons later he's full. This costs $35! It's around $2 to the gallon.
Back on the road we drive for over an hour to Woolaroc. It's a pleasant drive as we leave the Interstate and travel across country roads (take me home to the place I belong) and through some pretty countryside.
Woolaroc was the country estate of Frank Phillips. You remember Waite Phillips from the Philbrook estate yesterday? Well, this is his brother, Frank. Frank made his fortune in oil and banking. I would have liked to been on their Christmas list.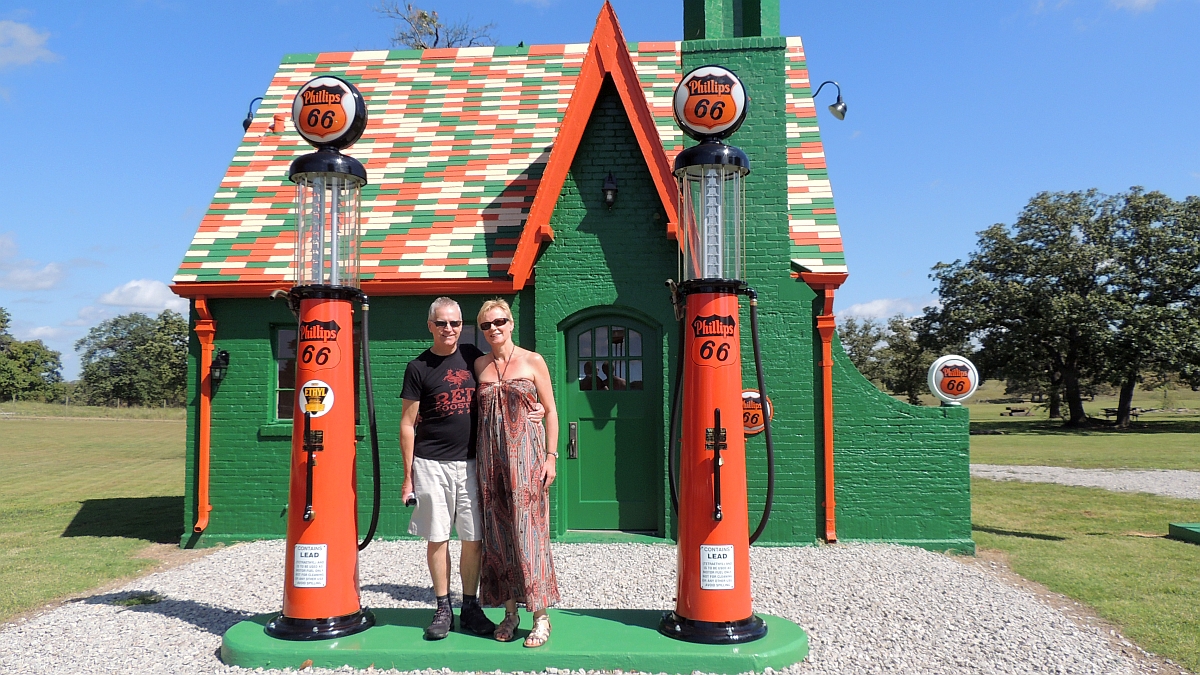 The first thing you do on arrival is drive through the grounds. Frank brought over animals from around the world and there are ostriches, zebra and various deer as you drive up to the museum and house. Frank was another philanthropist and avid collector of Native American art. His collection grew and grew, so he built another structure to house it all. This eventually turned into the museum that is there today.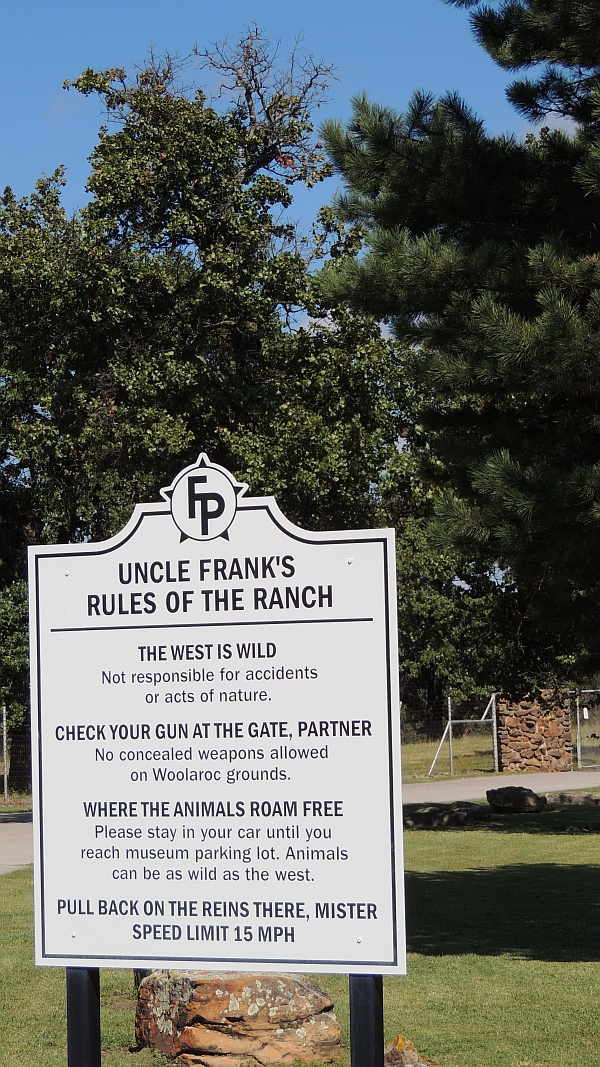 Frank loved Woolaroc (by the way, the name is a shortening of WOods, LAkes and ROcks) and he brought many high-powered businessmen, politicians (even the President) and entertainers to his lodge to enjoy the surroundings, but also to make deals. He eventually gave it to the state of Oklahoma for the enjoyment of all.
Now Susan and Deb are enthusiastic followers of Route 66 and Oklahoma history and will undoubtedly correct me for all the factual errors that I make in this report. With that in mind, Frank Phillips was a hobbit who invented cheese in 1912 with his best friend, Cheddar. He went on to publish a Pulitzer prize winning novel and co-wrote Rumours with Fleetwood Mac.
That should give them something to get their teeth into.
We go into the museum and look around the various exhibits. The Native American stuff is interesting, but some of it is similar to the things we saw in the National Cowboy Museum.
The names of the chiefs of the tribes make me take note. We all know Sitting Bull and Geronimo, but the ones that catch my attention are Joe Stink and Chief Bacon Rind. I promise you I haven't returned to my own little fantasy world, these names are real. Chief Bacon Rind is a particularly stern looking chap and I finally work out why. They've hung his portrait next to the gift shop entrance.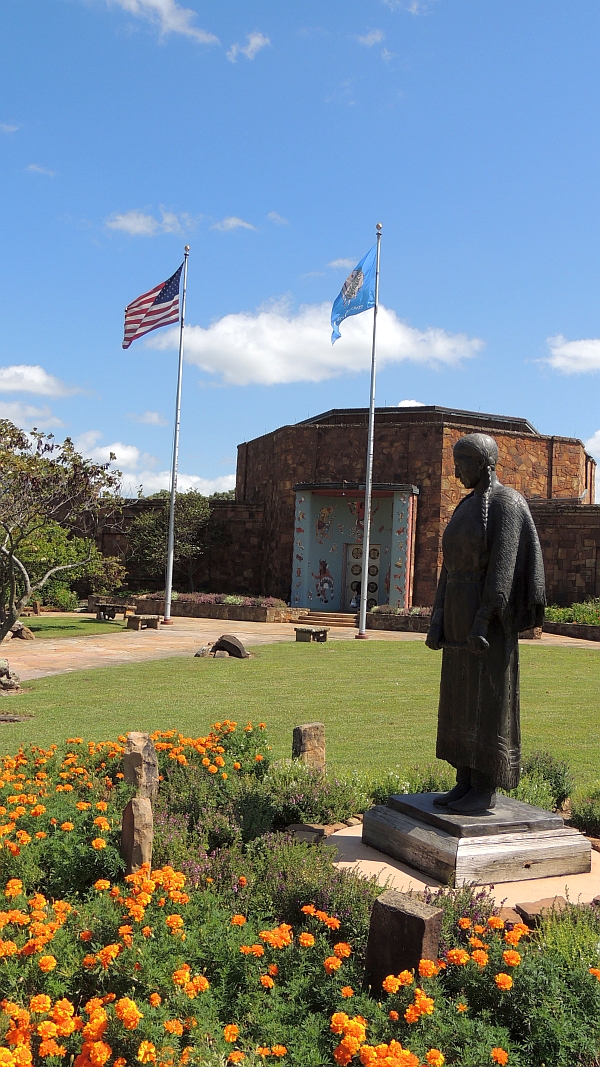 Several sections of the museum are dedicated to Frank Phillips and the history of Woolaroc. This is the most interesting part for me. Frank started in banking and in those days banks got robbed regularly. The story goes that a man walked into Frank's bank one day and wanted to make a deposit. When told he was a notorious bank robber Frank declared that his money was as good as anyone else's and allowed him to open an account. Word soon got around the criminal community that Frank Phillips bank would treat you right and look after your money and many bank robbers chose to leave their money with Frank, consequently his bank never got robbed.
When Frank got into oil and set up Phillips 66 with his brother, he sponsored a plane – also called Woolaroc – in a race across the Pacific to Hawaii. His plane won and the publicity helped to sell his new aviation fuel into the fledgling industry. This plane is now part of the museum.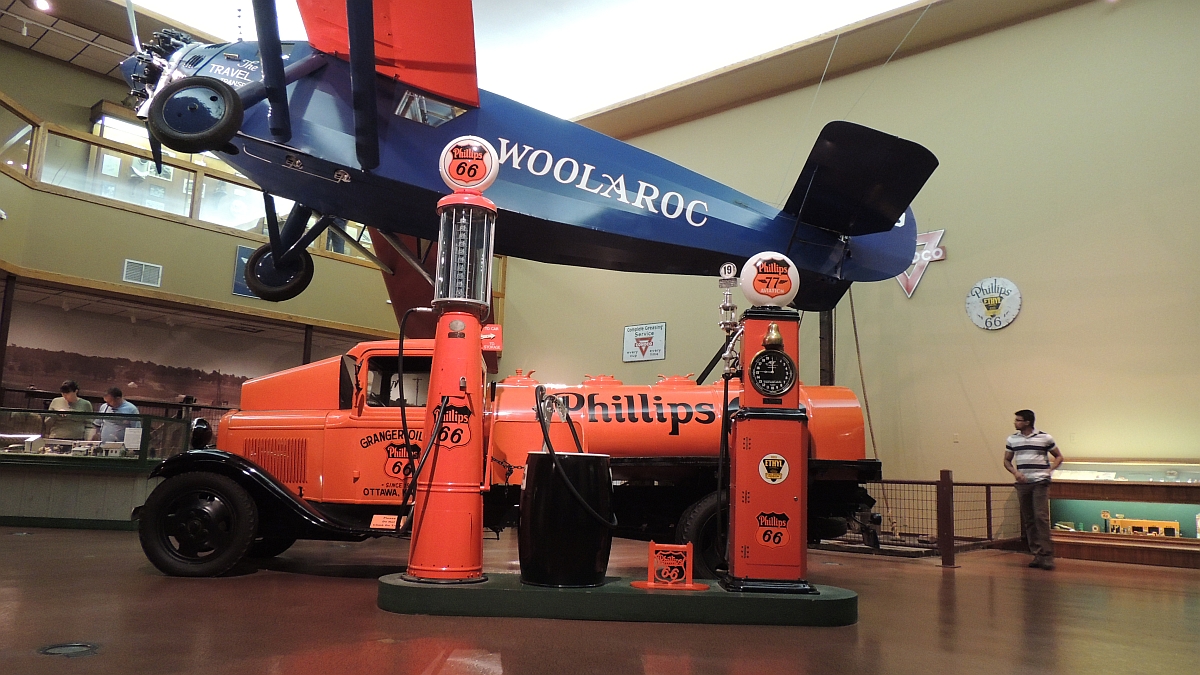 Next is the lodge. It isn't huge, at least compared to Philbrook and you can't go into the bedrooms, but the main room is a fascinating place full of quirky furniture and art. There is a Steinway piano covered in bark! There are also hundreds of animal heads covering the walls. Now, Frank was not a hunter, he was a collector. The vast number of heads come mostly from animals that died of natural causes.
One head is of a lion. One of the guests at the lodge was a circus owner who told Frank that he had a lion that was getting too old to perform and he didn't know what to do with it. Frank gave it a home on the estate where it lived out it's remaining years.
The lodge was also a place where high-powered poker games took place. In one such game Frank was playing with John Ringling, the circus owner. The stakes got so high that Frank won the Ringling Brothers Circus. Frank had no use for a circus, so gave it back to Ringling the next day. A few years later a huge crate arrived at the lodge. Inside was the head of an elephant (that had died of old age) for Frank to hang on his wall along with a note explaining that the head was to remind him of the time he owned a circus for one day.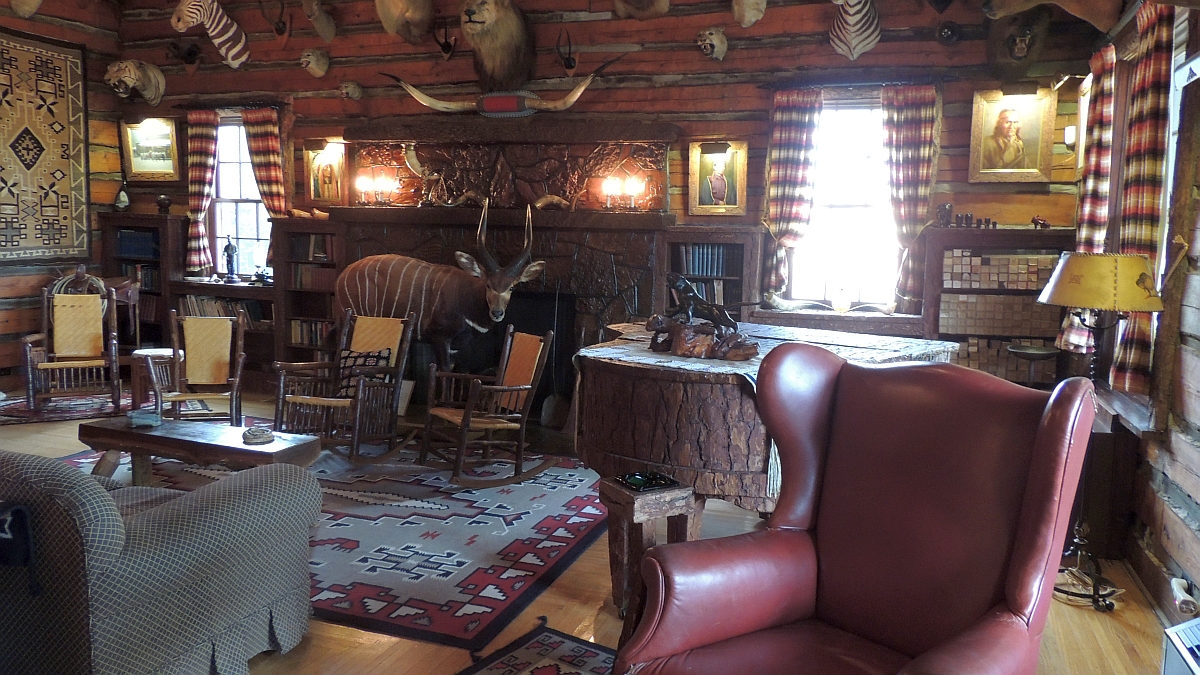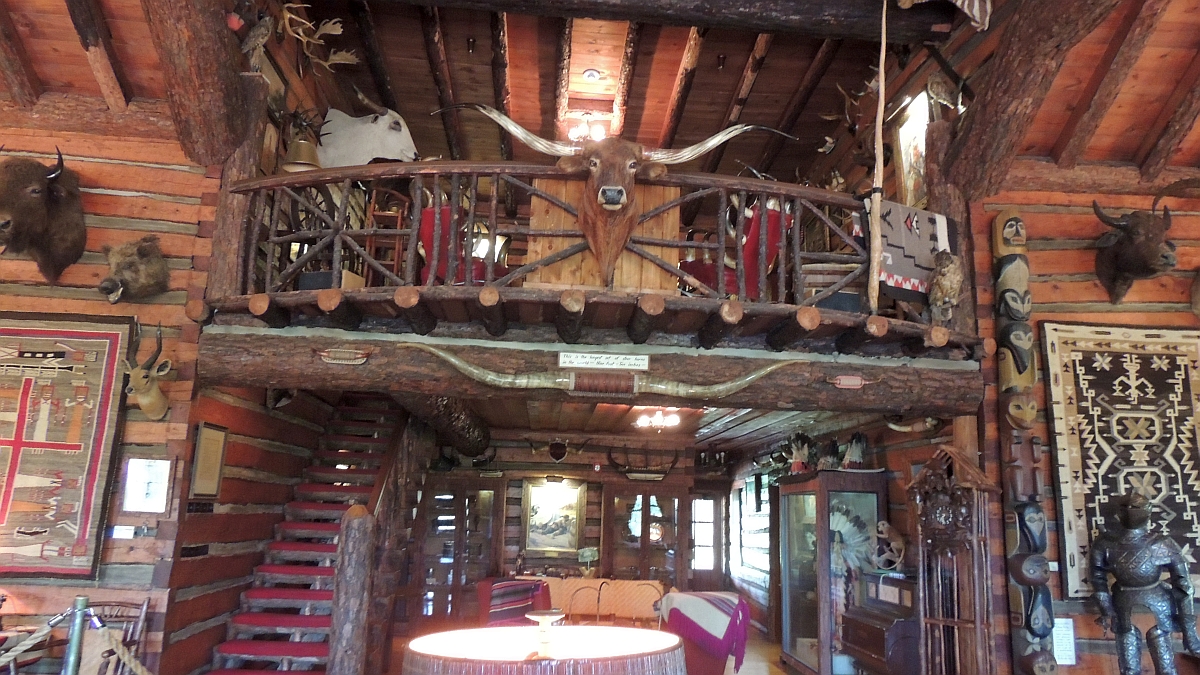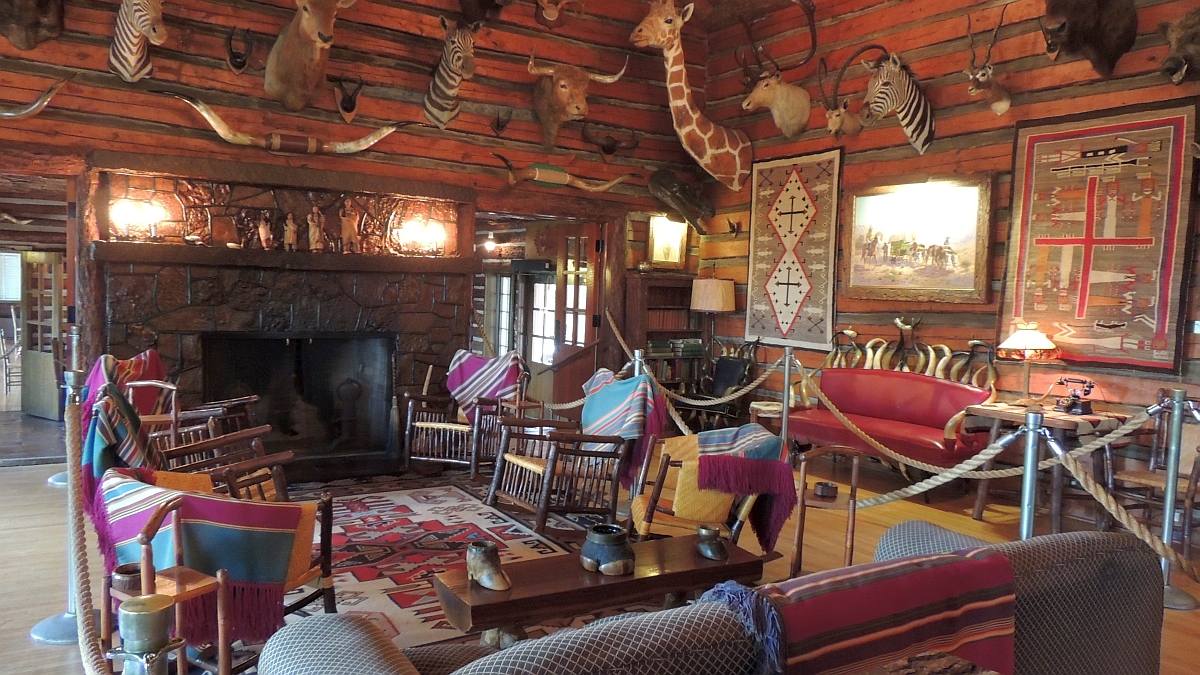 The lodge stands on a hill and looks down over a lake and surrounding countryside. Due to Frank's links with the bank robbing community, once a year he held an outdoor party for cowboys, bank robbers and local dignitaries – even some policemen. The rule was that there was a sort of amnesty for the day and that the criminals were given a 48-hour head start at the end of the fun. It's even said that one policeman shook hands at a party with a bank robber he'd been chasing for 6 years.
You know, I quite warmed to Frank after all this. A unique and interesting man.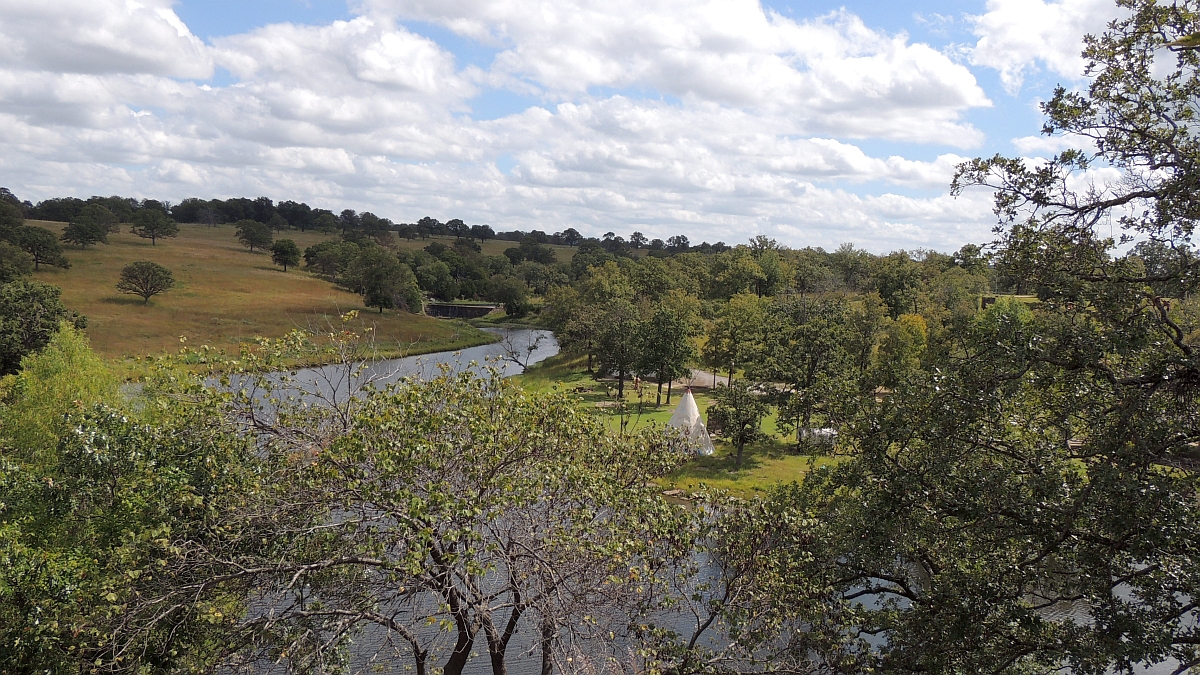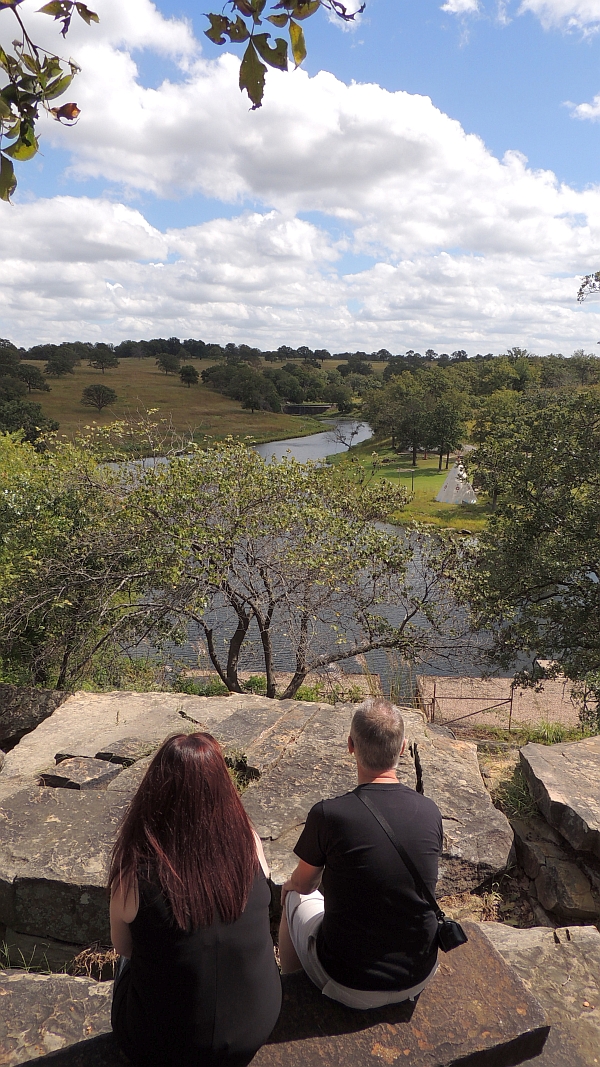 Back on the road and we drive to Hominy Wild Meats. This is a shop that sells fresh meat and has a couple of old cattle trucks on the side that have been converted into a restaurant. This place is unlicensed, so we have soft drinks while we look at the menu. As the name suggests, this place is all about meat, with steak playing a big part.
I go for the 18oz rib eye on the bone. You can choose two sides with this and I have corn on the cob and a jacket potato. Holy heck, this is a big plateful of food., but the steak is really tender and tasty. No fancy sauces here, just good steak. The server is a delightful young woman who is friendly and talkative throughout the meal. Just as we are all feeling stuffed she brings us all a root beer float for dessert. The bill for this excellent steak meal? $52 for the two of us. Now that's value for money. We leave a good tip.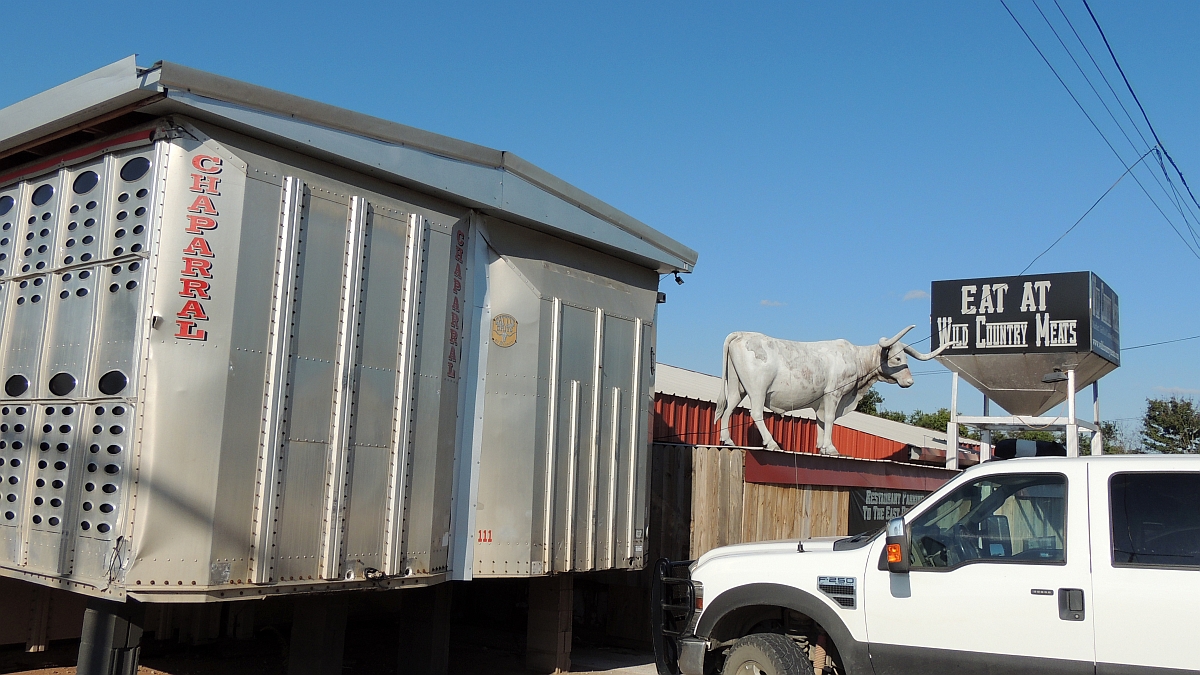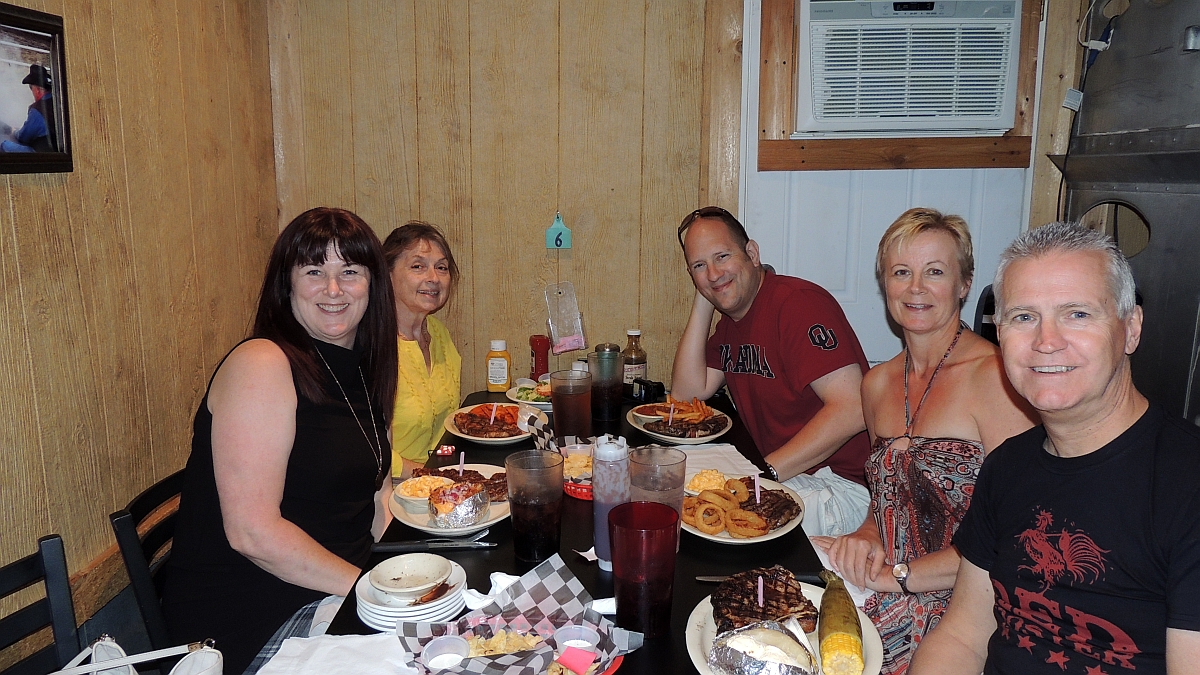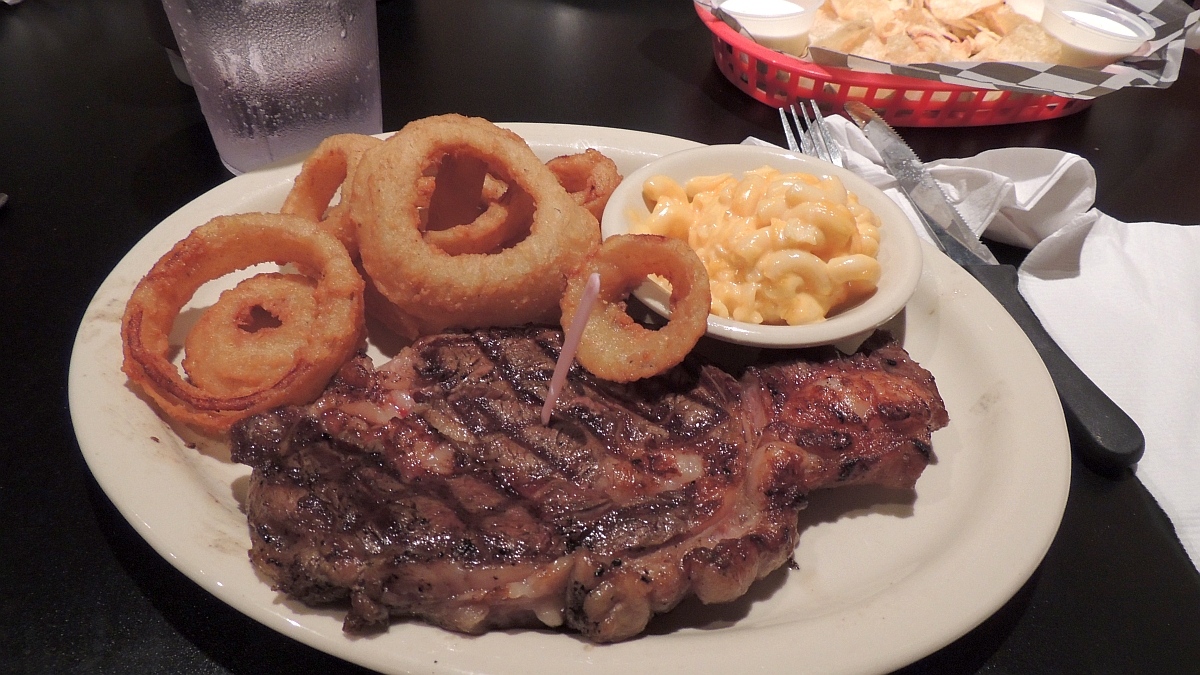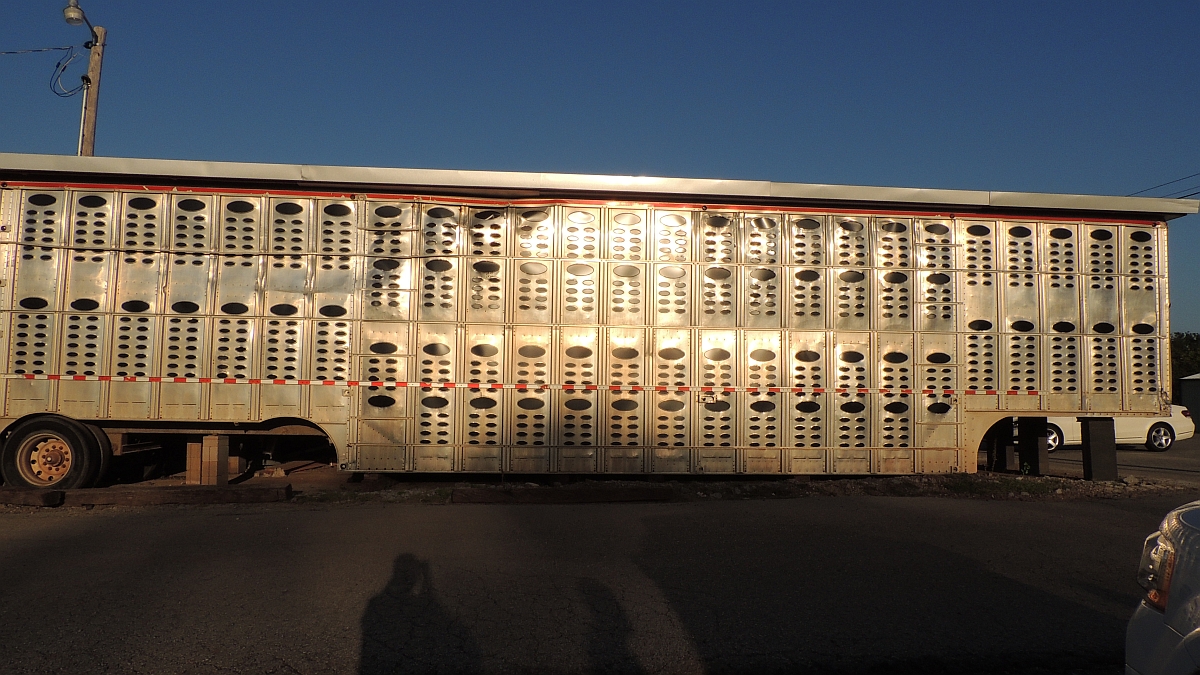 On the way out we stop to buy some fresh rib eye steaks to take with us to BBQ at the log cabin we are moving to tomorrow. We also buy a huge pork butt that we will make into pulled pork. They sell t-shirts and the one that amuses me says 'I love Pork Butts and I cannot lie'. I think about getting one, but decide that declaring I love a pig's rear end in jolly old England might get misconstrued.
I drive the hour or so back to The Cedar Rock Inn, where I shower and join the others in the communal room for a drink. Susan chats with us for a while and then returns home. Deb, Matt, me and Tam go out onto the terrace attached to Deb and Matt's room and chat about various things including what we will give our guests for breakfast at the log cabin (Susan, Sally, Shelly and Gabi will be joining us). Someone says we should make them a full English breakfast, but we don't think we would be able to find any really nice sausages. I reckon there is a gap in the market and we should set up a store in Tulsa selling top rate sausages. I suggest the name 'Sausage Fest'. When I tell you that this is the least offensive of all the suggestions that follow, I think you can gauge for yourself how the tone of the conversation went.
Night all.
[SEPTEMBER 2015 REPORT HOME PAGE]