Day 8 - Thursday 17th September 2015

Written by Kev
After a good night's sleep we get up at 7.30am and pack our suitcases. We are leaving the Cedar Rock Inn today; it's been a very enjoyable stay.
Breakfast is fruit, pancakes, then scrambled eggs with sausage, biscuit and candied bacon. Once again we are all stuffed.
We pack everything into the back of the car. Even with the size of The Beast this is a difficult exercise. Every inch of space has to be utilised and I think I see The Beast wince a little as we force the last few things in.
Matt drives to Susan's house to pick her up for our long journey to Beaver's Bend State Park.
Our first stop of the morning is at a sports shop, as Deb wants to buy a couple of Oklahoma University t-shirts for her grandsons. I take the opportunity to purchase a long sleeved Green Bay Packers shirt. I've followed The Packers for over 40 years, but never had a shirt before.
Back in the car we drive a couple of miles to Whole Foods to do the bulk of the shopping. This doesn't take too long, but The Beast looks on in alarm as we push the loaded trolley towards him. We just about squeeze everything in with the areas around people's feet being put to good use. The Beast mans up and we set off on the 200-mile journey to Broken Bow, the nearest town to Beaver's Bend State Park.
The trip is uneventful apart from an incident where a lorry in front of us drives over the remains of a shredded tyre in the road and throws it up into our path. It hits The Beast with a heck of a thump. Later we discover a big, black mark covering the offside front wing and a dislodged sidelight. I'm not sure how much other damage has been done, but if we had been lower down in a small car it would have been very dangerous.
We arrive in Broken Bow and go straight to our cabin, Tumble Down Lodge, which is at the top of a dirt road. It's a big place with 4 bedrooms and was primarily chosen because it has two master bedrooms with en-suite. It's in a pretty location and is not overlooked by any other property.
After looking around and unpacking we realise that there are some things that could be better. There is no phone (not a big issue in this day and age, but still unusual), the outdoor chairs are very basic (we thought they would be more comfortable), the furniture in the living room has certainly seen better days and the kitchen is lacking some bits and pieces.
Still, we won't let these things bother us and get on with the process of having a good time.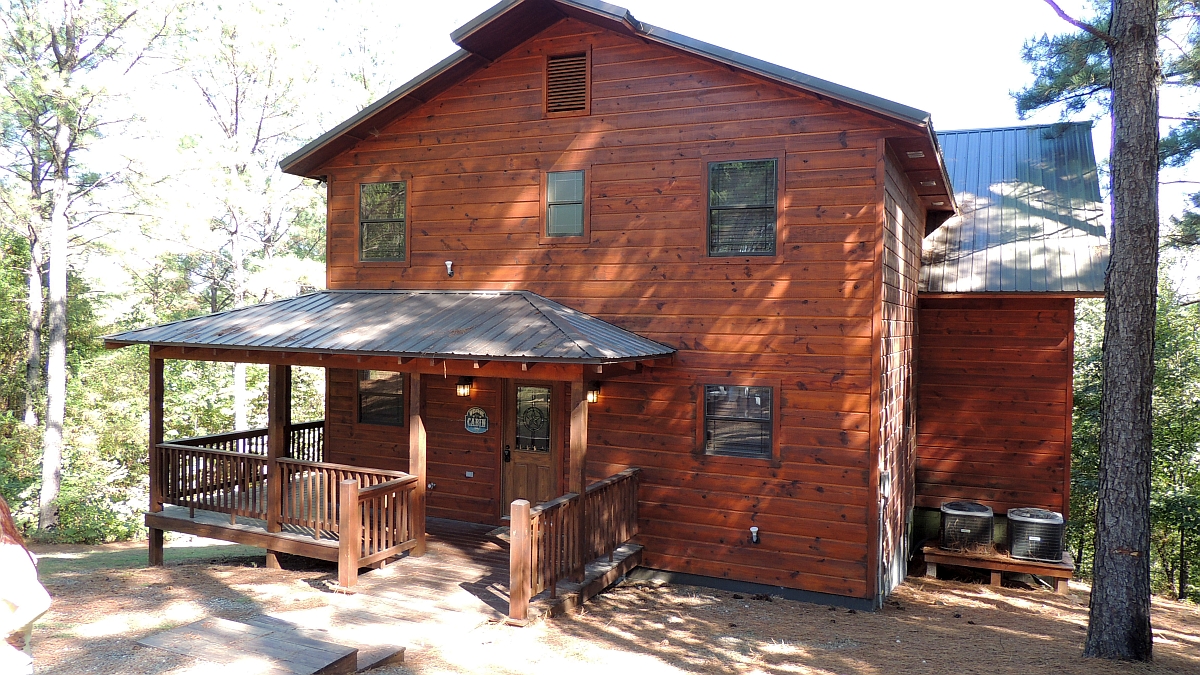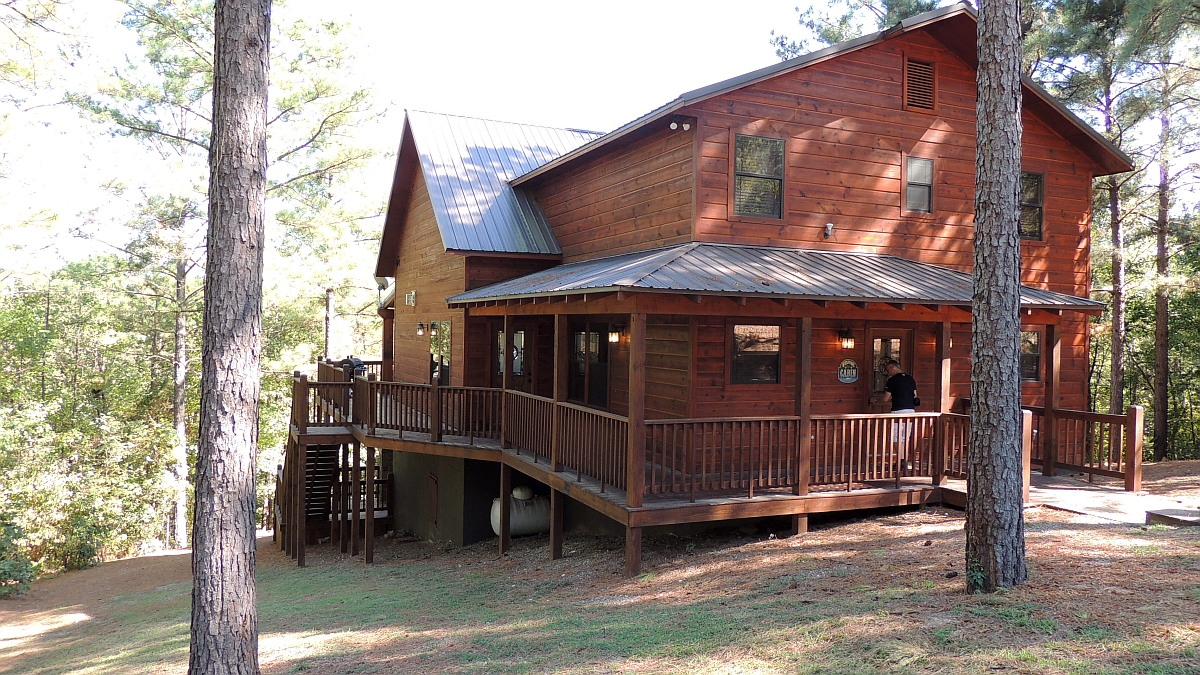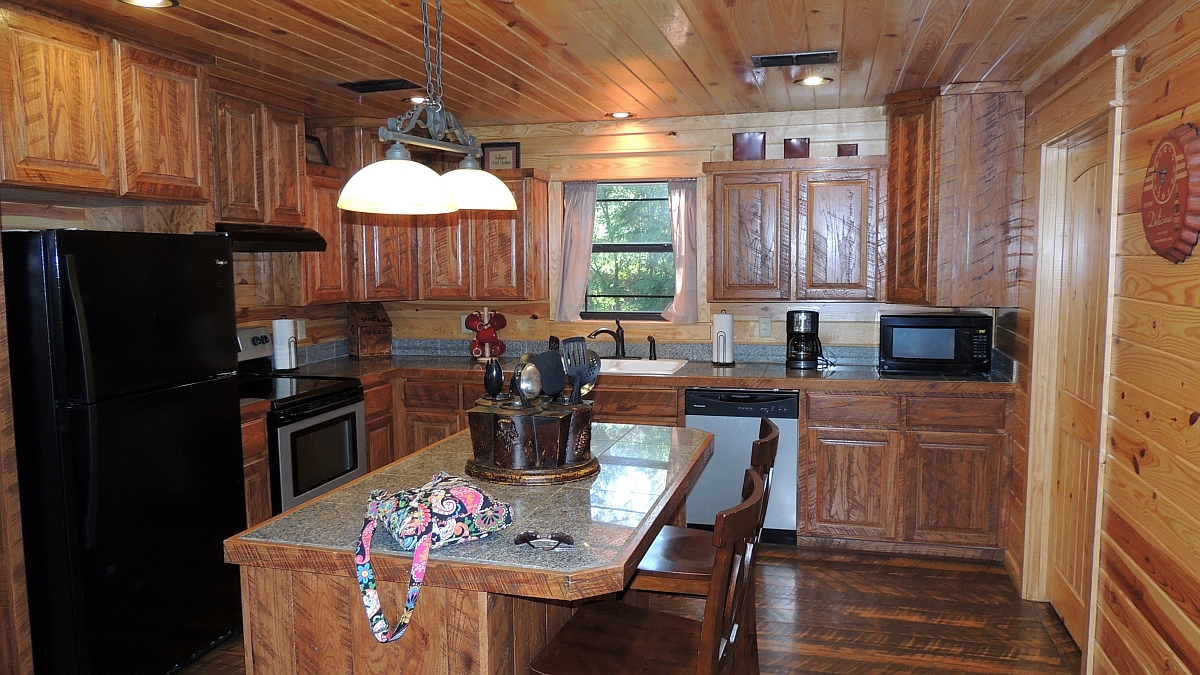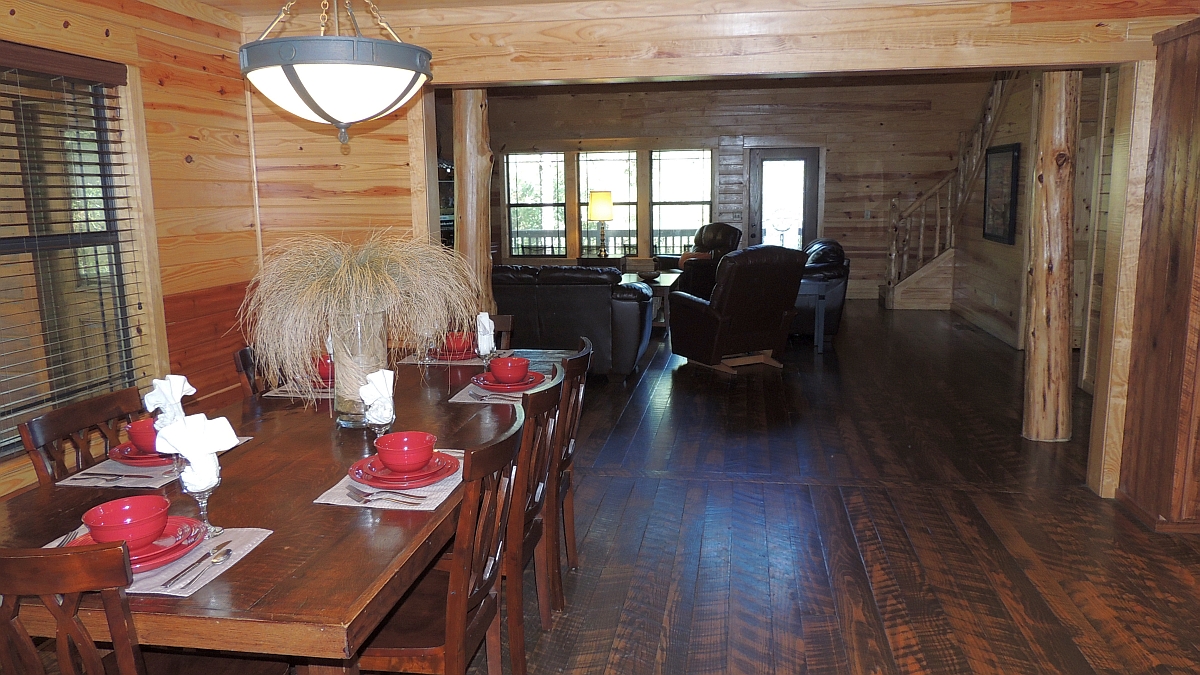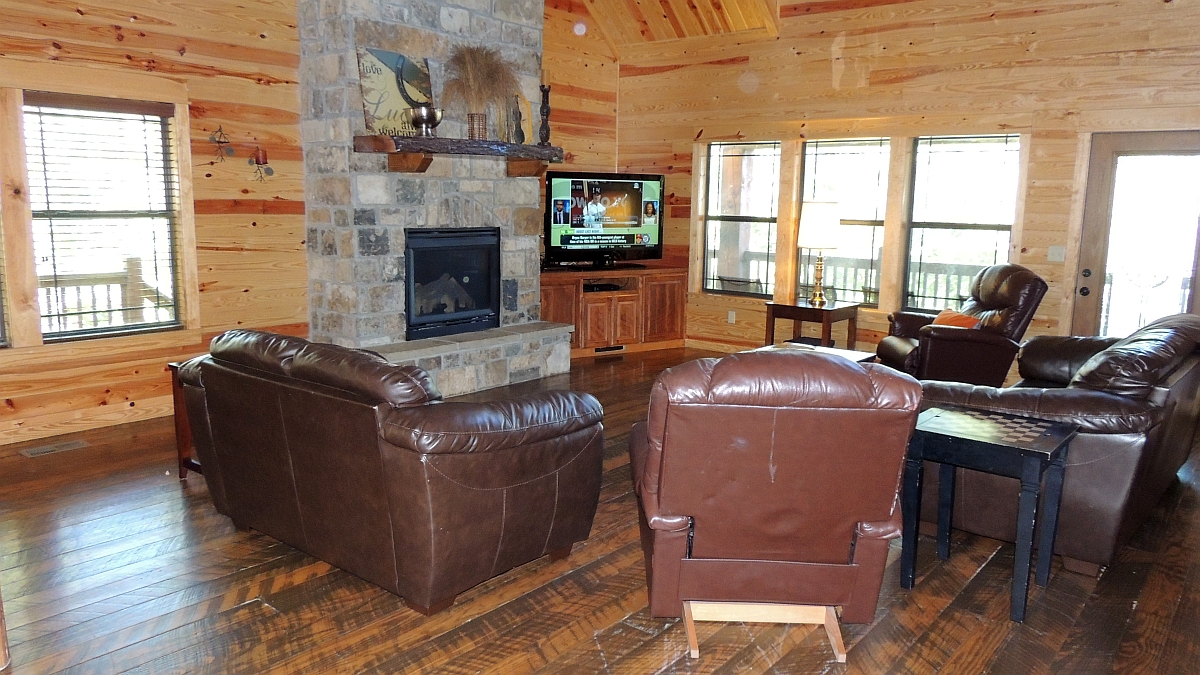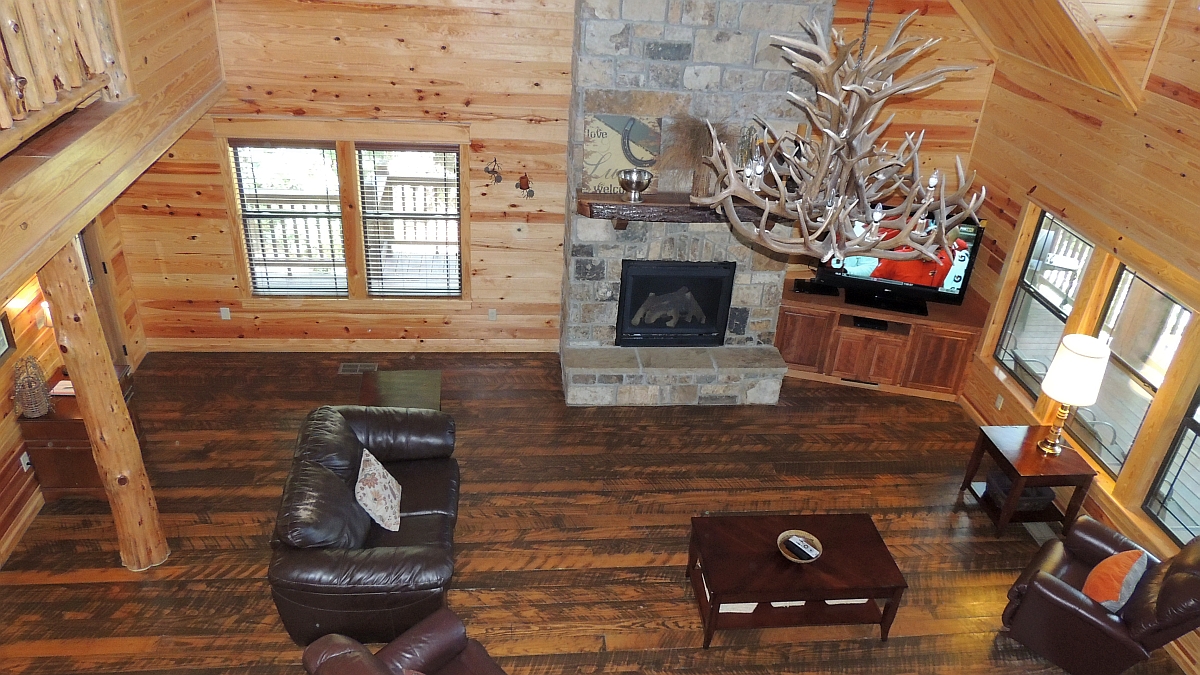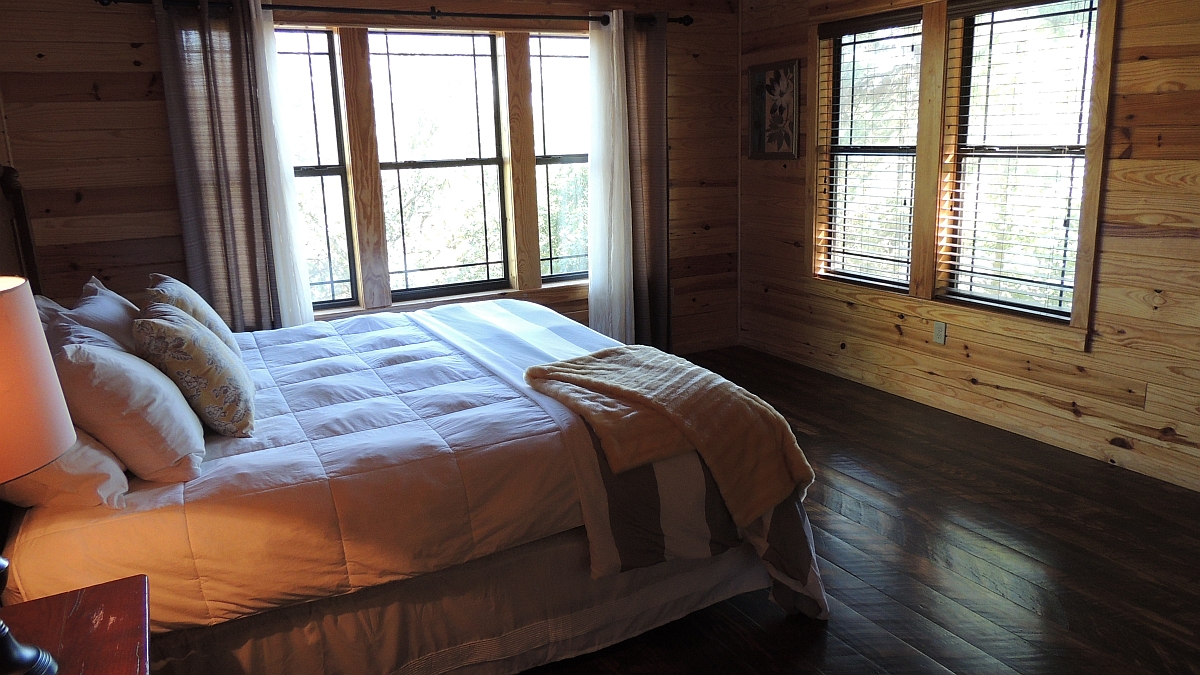 We jump back in The Beast and drive the 10 miles or so to the Walmart in Broken Bow to get even more stuff for our 4 night stay. Anyone would think we are staying for a month with all the provisions we have. We try to find a cocktail shaker with no luck, so a cheap jug with a lid on it will have to suffice. We are nothing if not resourceful.
The ladies declare that there are still a few bits and pieces missing, so we nip next door to Pruett's Foods to finally finish off the shopping. The young lady behind the deli counter is tickled pink by our accent and gets Tam to say 'Have a blessed day' to her. What ever happened to a 'have nice day', I don't know. I guess 'blessed' is better than 'nice'?
Back to the cabin where I have a shower and come down to snacks being prepared by the ladies – chips, dips etc. I do my bit by making margaritas all round. One thing that is missing is a squeezer, so I do this by hand.
Tam has been trying to do a load of washing, but the machine seems to keep sending it round in a cycle. Her washing has been in for 2 hours. Deb reckons it's because our washing is particularly dirty and I ask if there are a number of settings on the washing machine – light – medium – heavy – Kev's pants.
After a couple of drinks we think about food. We are going to BBQ the steak we bought in Hominy Wild Meats. The ladies prepare the accompaniments – corn on the cob (to be cooked on the BBQ), tomatoes with avocado, baked potatoes and lettuce.
Nobody wants to BBQ the meat, so I get the task. Our best guess is 2 minutes per side. Maybe we should have used one minute as it's a little overdone, but at least it's still edible.
Dessert is chocolate cake that Susan has brought from our night in Jincy's and this is lovely – gungy and chocolatey.
Plates are cleared off and Tam wants to light a fire outside, much to the derision of Matt. There is a pit and a stack of firewood and Tam and I manage to light it fairly easily, even in the dark. It catches quickly as it is so dry and in no time there is a nice blaze going. Deb is frightened of all things creepy crawly, but declares she will give it a go around the fire.
It's an entirely pleasant experience. The crickets are creating their own nighttime symphony and the sky overhead twinkles with hundreds of stars.
We chat for a while before Deb and Matt create their own nighttime symphony – stereo snoring. I'd like to say it adds to the atmosphere, but that's probably pushing it a bit too far.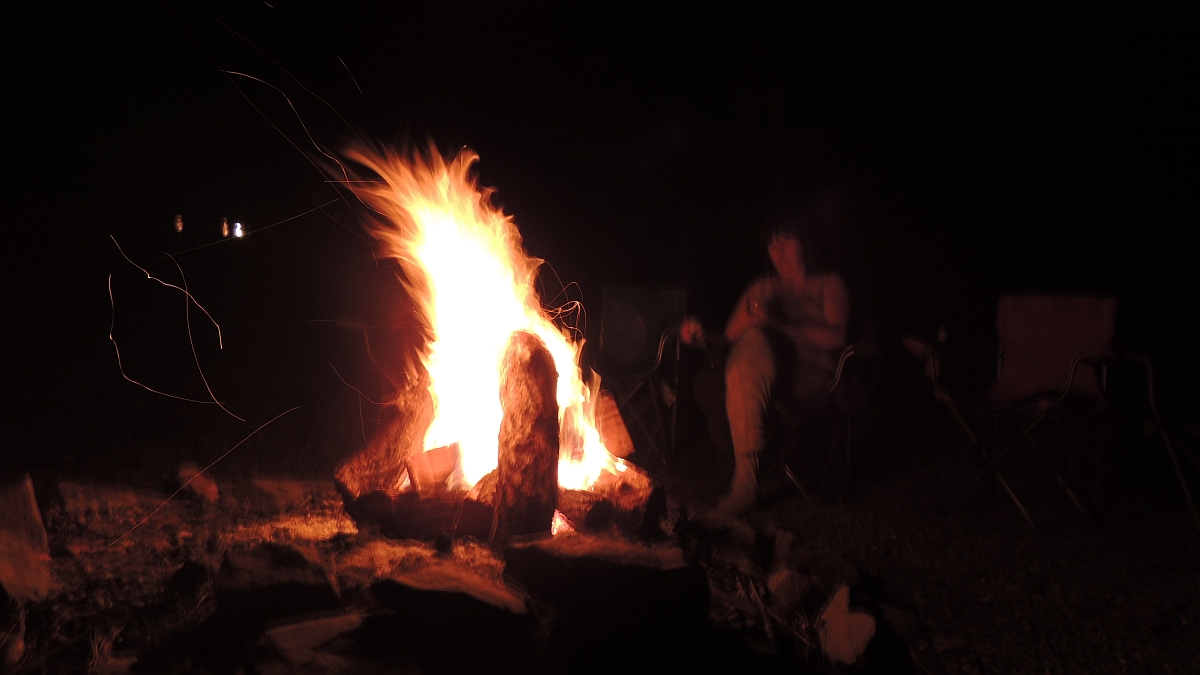 Not the greatest photo, but it gives some idea of the size of our fire.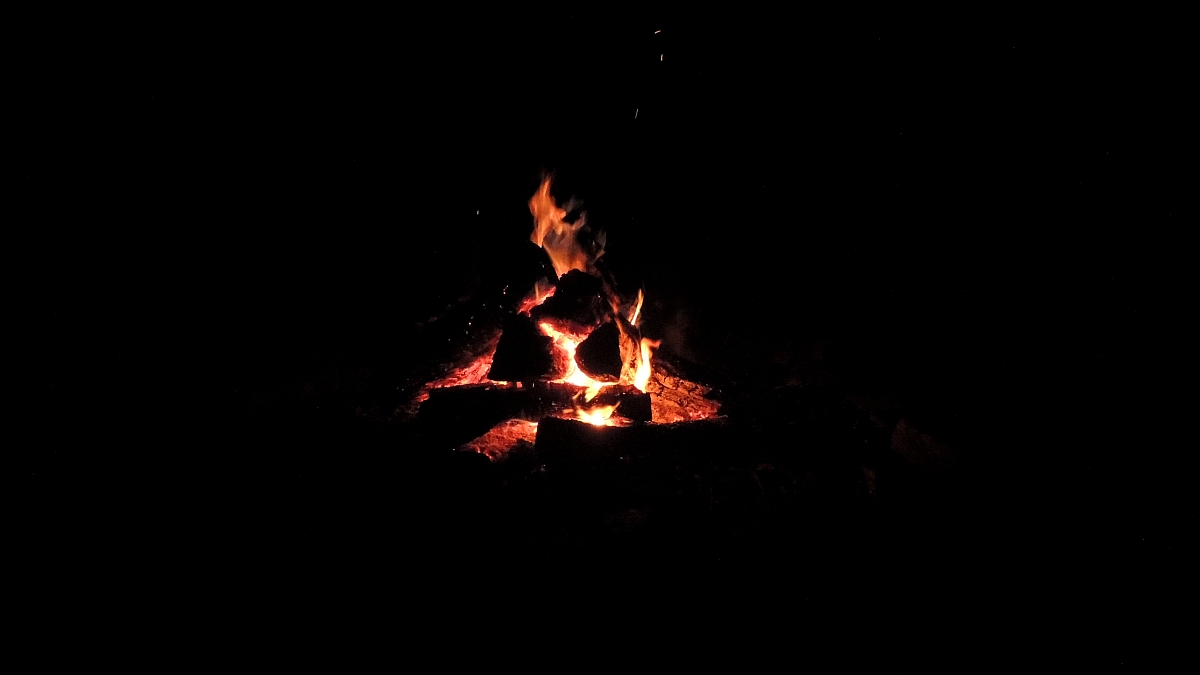 Bed around 11.00pm.
[SEPTEMBER 2015 REPORT HOME PAGE]