Day 6 - Tuesday 15th September 2015

Written by Kev
I wake at 5.30am, but get back to sleep until 7.20am. Finally, a decent night's sleep.
Tam fetches a couple of coffees from the kitchen while I write up the trip report.
We go downstairs for breakfast where we meet Sandy, the owner of The Cedar Rock Inn. Susan arrives soon afterwards and we have breakfast. Today is melon and kiwi followed by banana, blueberry pancakes. Lastly we have scrambled egg with ham and cheese and cheesy fried grits. The breakfasts here at the lodge are outstanding.
Shelly is joining us again today, so when she arrives Matt drives us (guided by Susan) to the Tulsa Historical Society & Museum where we stop outside to see a statue of 5 renowned Indian American ballerinas called The Five Moons.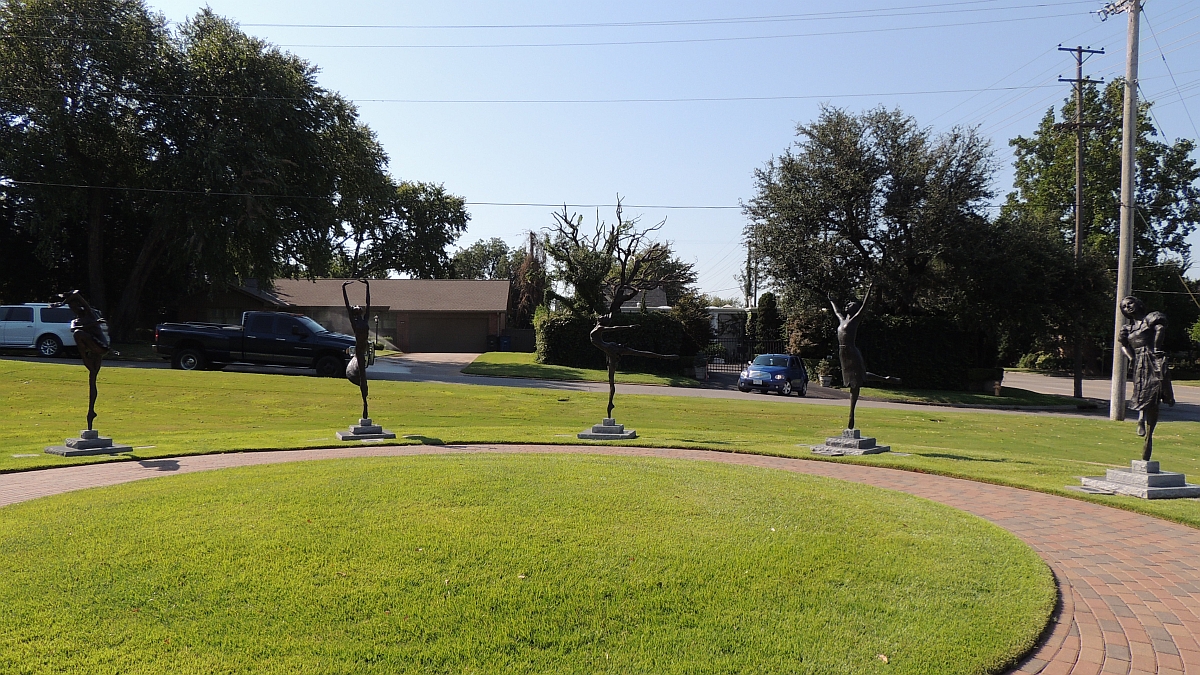 Not far up the road is our next stop, Philbrook. This house (sounds silly calling it a house, it's a huge mansion) was once the property of Waite Phillips. Waite made a fortune in the oil industry and constructed this magnificent building to live in with his family. He was quite a philanthropist and gave Philbrook to the people of Tulsa for use as a museum of art in 1938.
We pay the $10 entry fee and wander through the first few exhibit halls before going out into the grounds. The gardens are beautiful with a tiered waterfall trickling down to a pond at the end. I can't adequately describe it, so I'll let the photos do the talking for me, suffice to say Tam and I both enjoy this section of the museum very much.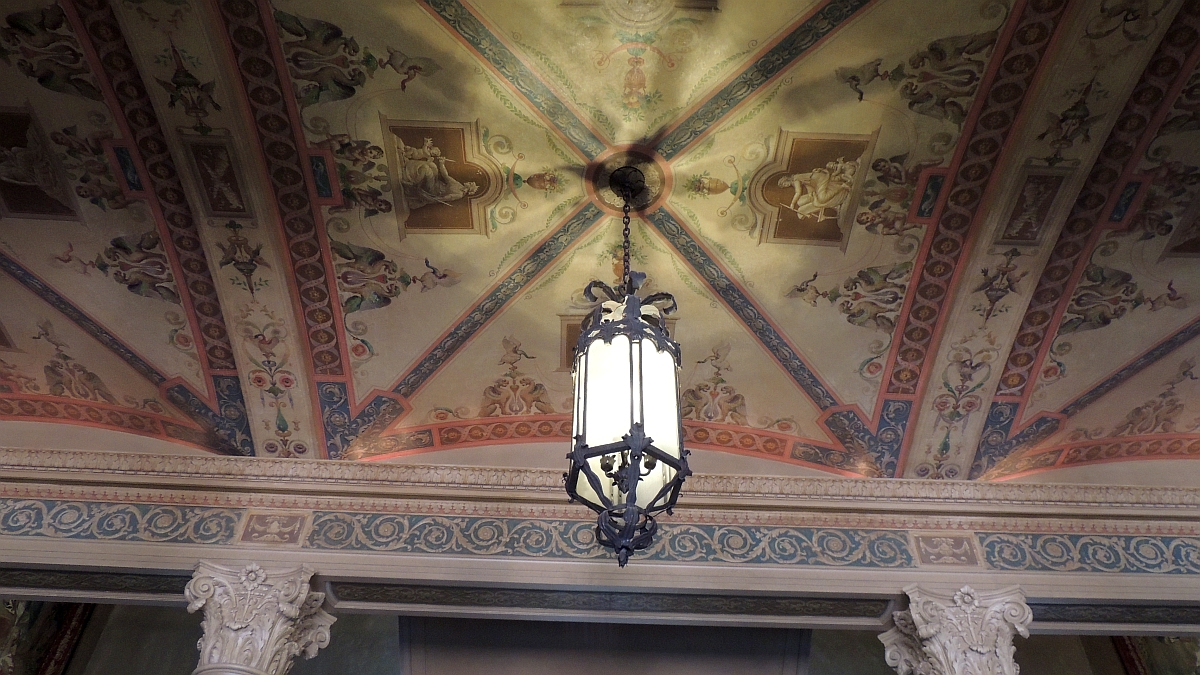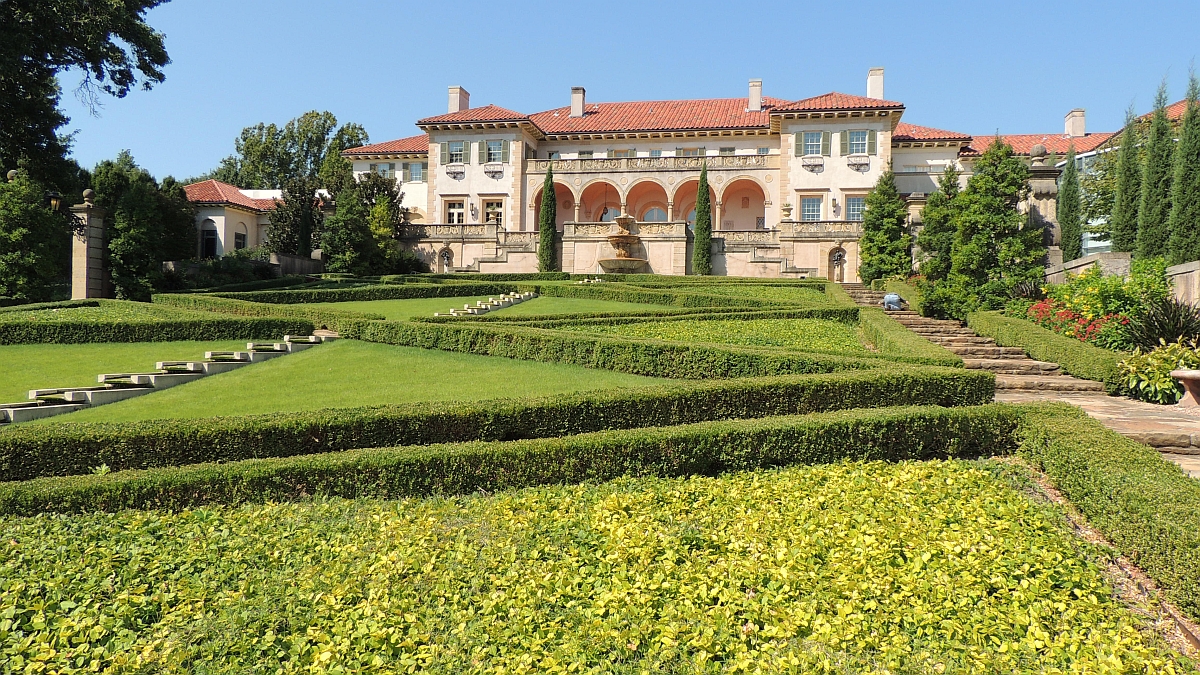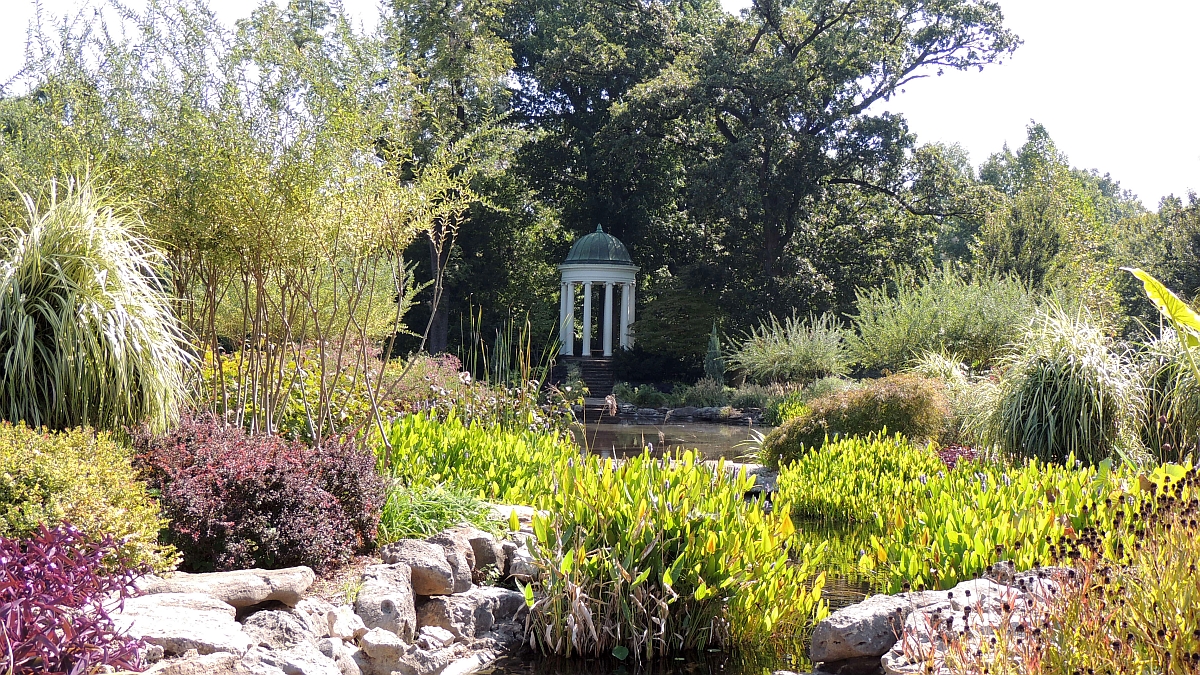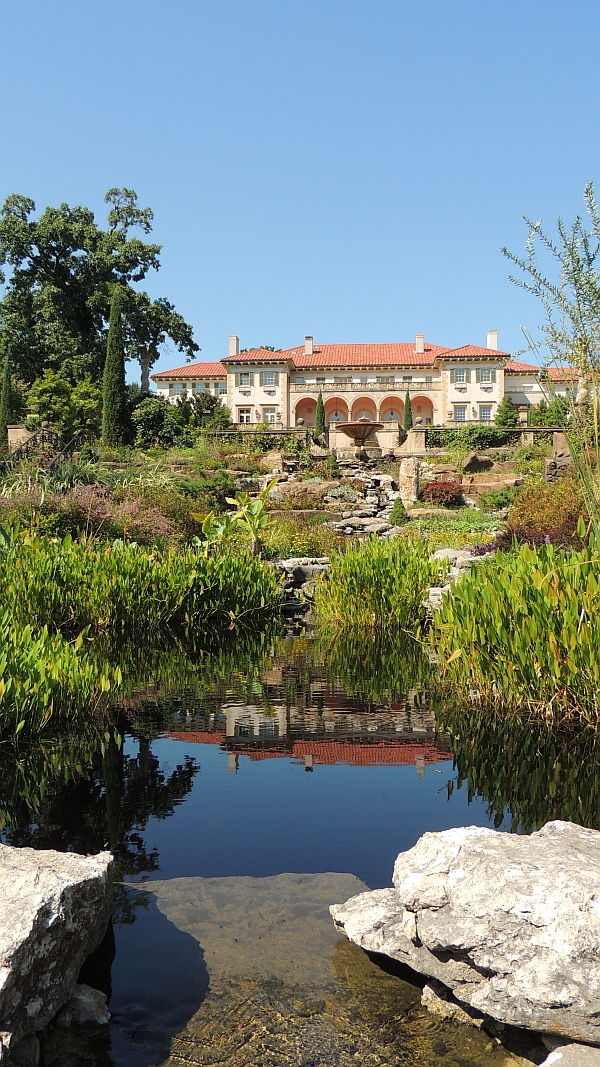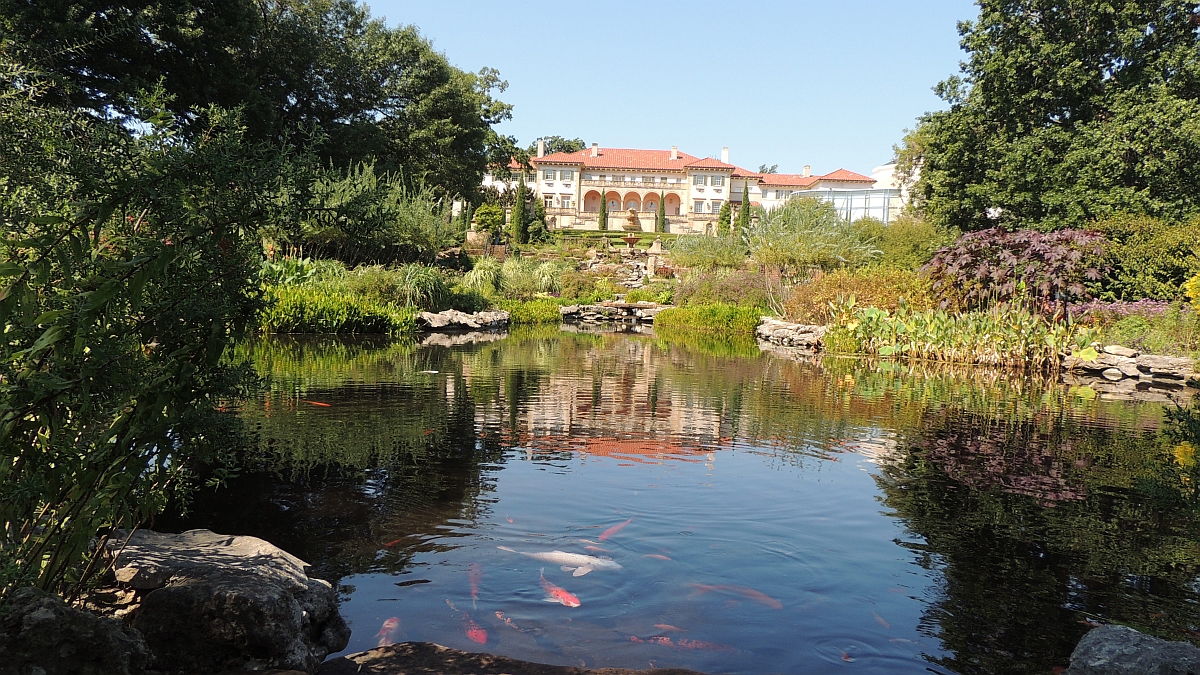 Back inside I suggest to Matt that we could enrich our viewing experience by having a competition to see who can count the greatest number of naked bosoms. I'm not sure if you know this, but art galleries normally contain a higher percentage of bare breasts than you will find anywhere outside of Smutty Sid's Mucky Book Emporium. Sometimes I'm just too highbrow for my own good.
We spend a couple of hours wandering around. Some of the art is lovely and some leaves me cold, but I guess that's ok, art is a highly personal thing and you shouldn't have to like something just because everyone else does and vice versa.
Back in The Beast, Matt drives us to Utica Square. Here we go to a Chinese restaurant so that Shelly can have some lunch as she didn't have breakfast this morning. The rest of us just have a drink.
Matt and I leave the ladies in the restaurant and walk across to a cigar shop so Matt can get some cigars for when we are in the log cabin later in the week. He selects several and I cannot resist a small cigar that is chocolate flavoured. They have a lot of different types including honey, cinnamon and peppermint. Those zany Americans, eh? My small purchase looks woefully inadequate next to Matt's large ones. I don't even smoke, but I'll probably try it just to see if it smells or tastes like chocolate.
After lunch we drive to Guthrie Green, which is a grass area with a stage that has been set up as an entertainment space for the people of Tulsa and they often have bands playing here. Just across the street is the Woody Guthrie Museum and Tam, Susan and I decide to go inside. The museum is very well done and Tam and I enjoy it enormously. Woody was one of the first (and probably the best known) American protest singers and always championed the rights of the poor and downtrodden. His influence has stretched down through the years to such huge stars as Bob Dylan and Bruce Springsteen.
There are many exhibits and interactive displays and we could easily spend much longer in here. Susan asks if I've heard Mermaid Avenue. I say that I haven't and she immediately goes and buys it for me. It's a collaboration between Billy Bragg and Wilco singing lost Woody Guthrie songs. Thanks very much Susan, we'll give it a listen as soon as we get home.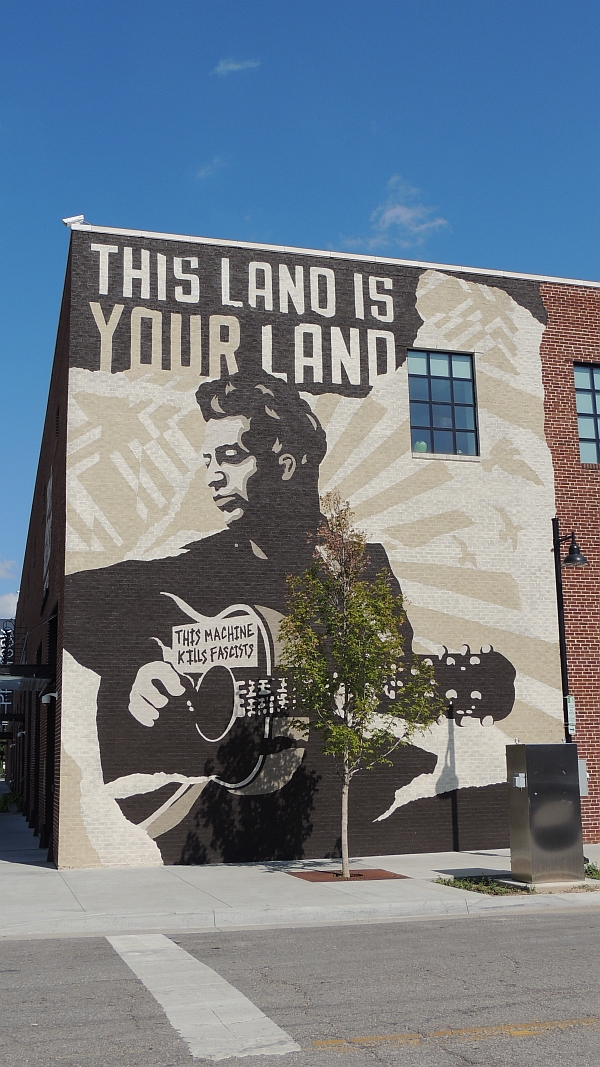 I love the sticker on Woody's guitar.
Back outside we meet up with Deb, Matt and Shelly and drive the short distance to Reconciliation Park. This is a lovely park set up on the site of a race riot that happened in 1921 when a black area of the city was burnt to the ground and many people died – the exact number is a matter of dispute. This is a short description, but the whole story is told on plaques around a tall sculpture that details the events. It's very well done and a sobering reminder of how few years have passed since it happened.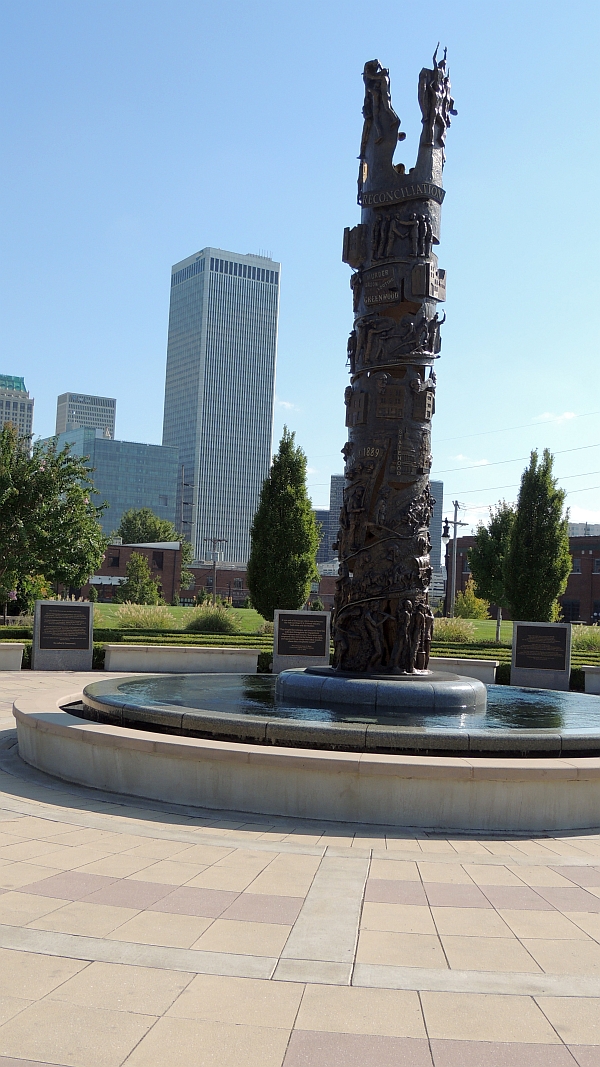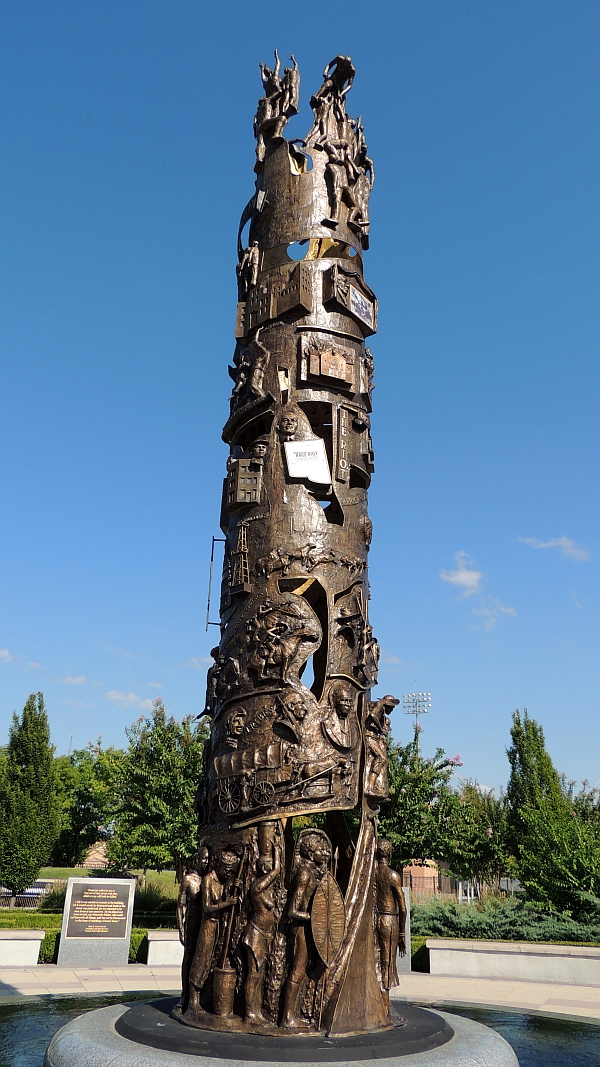 Around 5.00pm we decide on an early dinner at Smoke Restaurant in the Cherry Street district, where they find us a booth for 6. One unusual thing about this place is that they have a cigar room at the back for smokers to enjoy an after dinner cigar, but the thing that surprises me is that it has tables in, so you can eat in there as well.
Tam and I split a starter of crostini with bacon jam and goats cheese followed by a main course of shrimp pasta. Both are good and it's nice to eat something not too heavy for a change.
After eating Susan takes us to an area where there is a statue called East Meets West. It shows the horses drawing a carriage rearing up as a car startles them. In turn the horses frighten the occupants of the car. It depicts not only the physical frontier (east v west), but also the meeting of old and new technologies and the passing into a more modern time.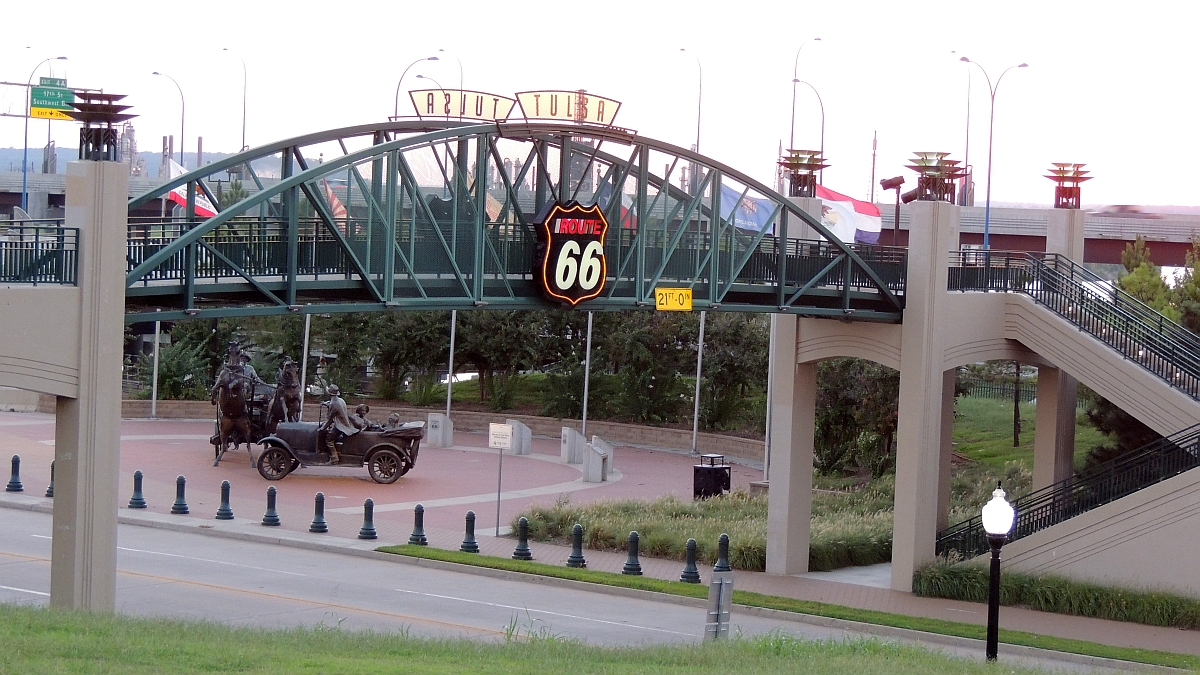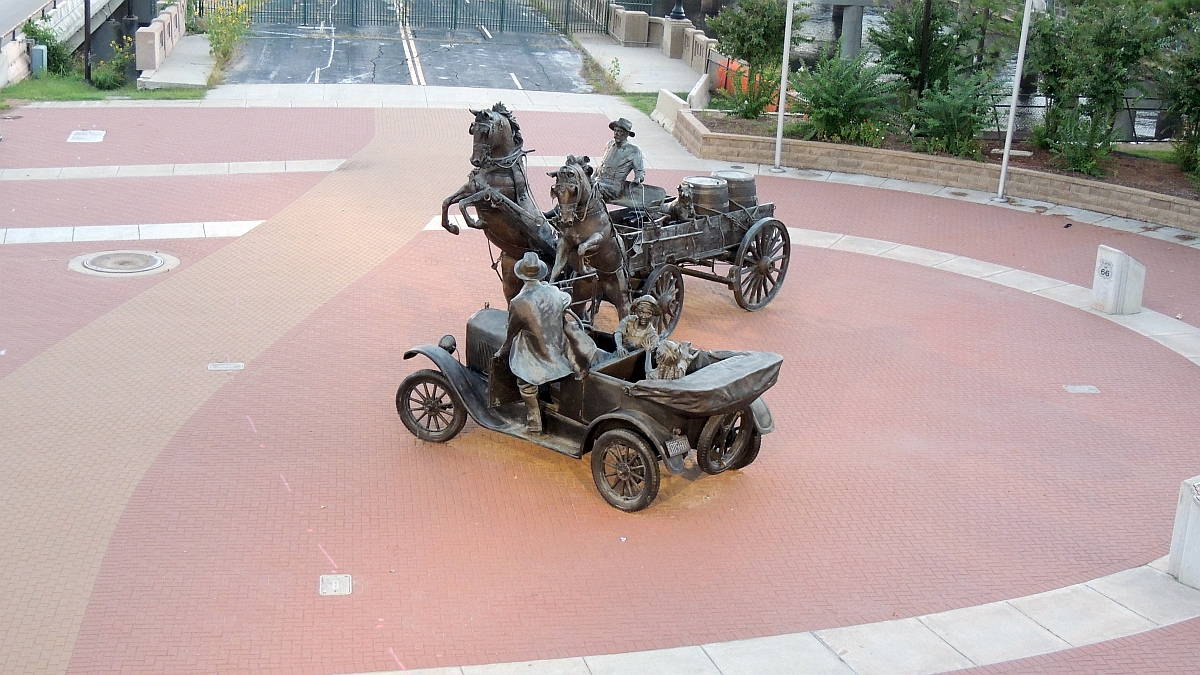 We return to The Cedar Rock Inn, where Susan and Shelly leave us. After showering we sit in the communal area for a while and have a couple of beers before Deb and Matt go to bed.
Tam and I wander outside and sit on the garden swing in the warm night air watching the fire flies flitting around. The only thing that detracts slightly is the road at the bottom of the garden where cars pass regularly, but this is a rather minor complaint. It's a very pleasing end to the day.
Bed at 11.00pm.
[SEPTEMBER 2015 REPORT HOME PAGE]