Day 13 - Tuesday 22nd September 2015
Written by Kev
We get up at 8.30am and Keith makes us a lovely breakfast of spinach and cheese omelette with bacon.
Keith has to go to work and Evan is going for a run (just what I would want to do in the heat of San Antonio), but Sharon is joining us as we move to the Hotel Contessa, our home for the next 4 nights.
Matt drives us there and we pull up to the hotel at 11.00am - $36 per night valet parking! The good news is that our rooms are already available. Tam and I have room 926 and it's very nice. It has a living room with a corner sofa, table and 2 chairs and a TV. The bathroom then connects to the bedroom, which looks onto the Riverwalk down below.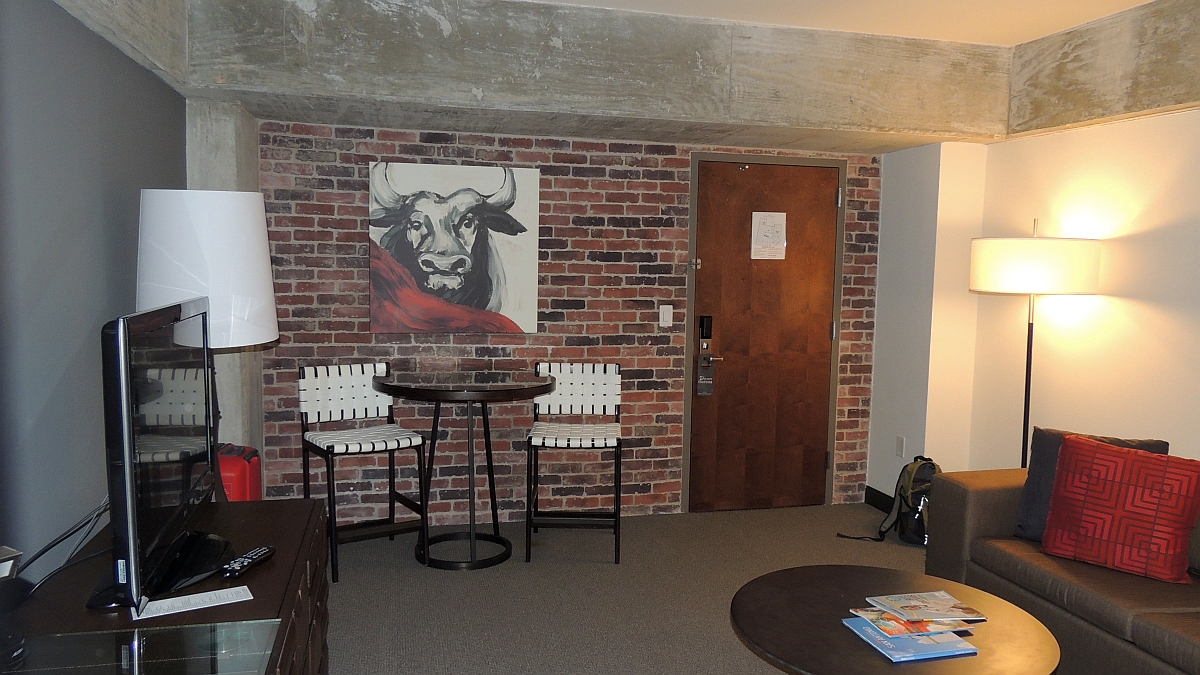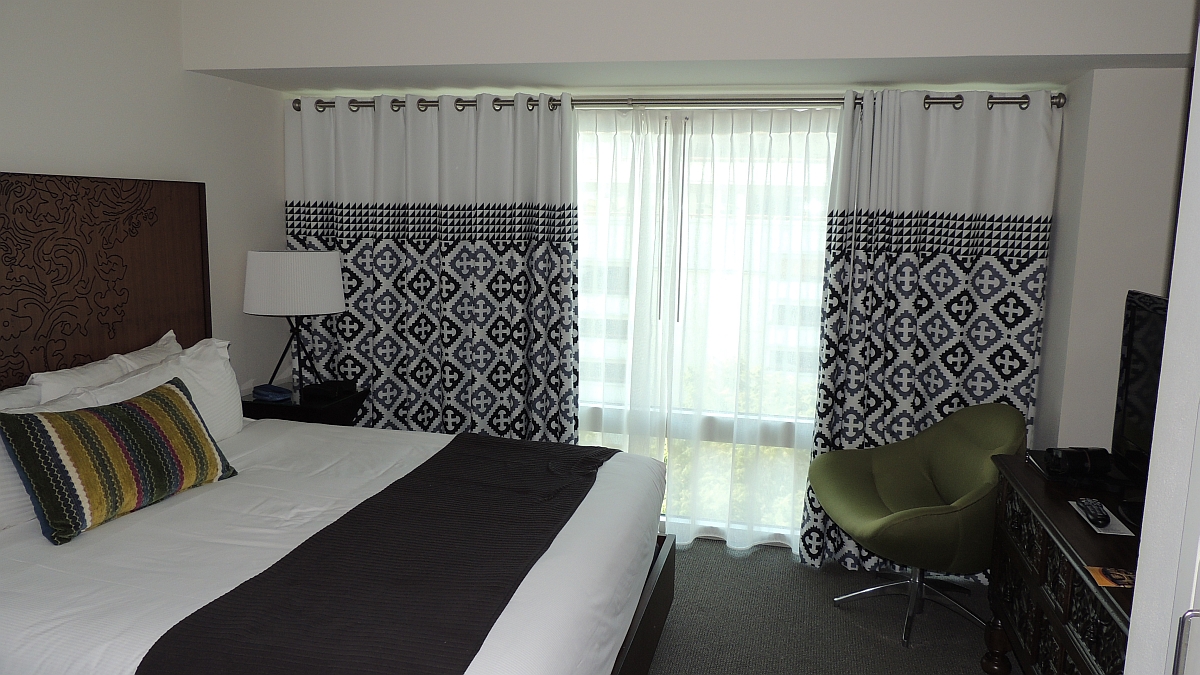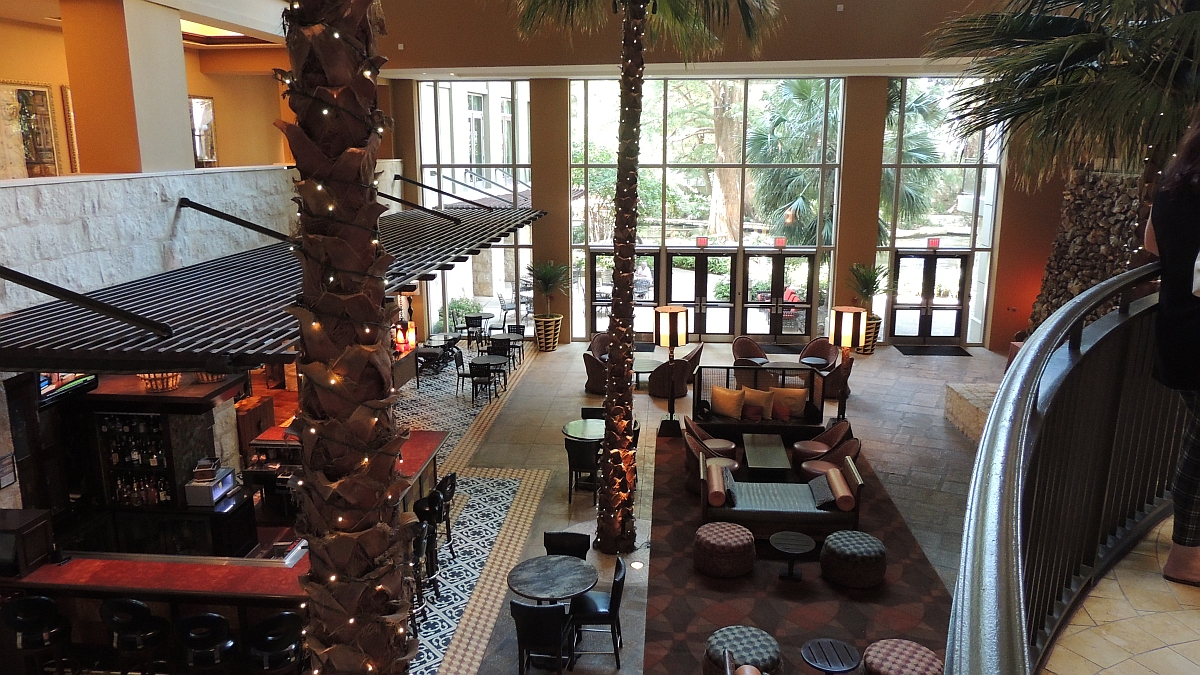 San Antonio has a river that runs through it with canals coming off it. There are many bars and restaurants along its banks. Boats sail along it carrying people and providing pleasure rides with historical information, a little like Bricktown in Oklahoma City, but on a bigger scale.
We unpack swiftly and meet up back in the lobby at 11.15am. We ask the concierge, Michael, about a Segway tour as Sharon has done one before (not in San Antonio) and says they are good fun. Michael tells us all about Segway tours. And restaurants. And Bars. And hop on hop off bus tours. And the mission trail tour. And how his Aunty Fanny makes pancakes. Well, maybe not the last bit, but he does rabbit on for ages. We finally get away and walk out the back door of the hotel straight onto the Riverwalk.
We stroll along beside the water looking at the huge number of bars and restaurants as we go. There are many little bridges and waterfalls and lots of trees as well. It's very well done and very pretty.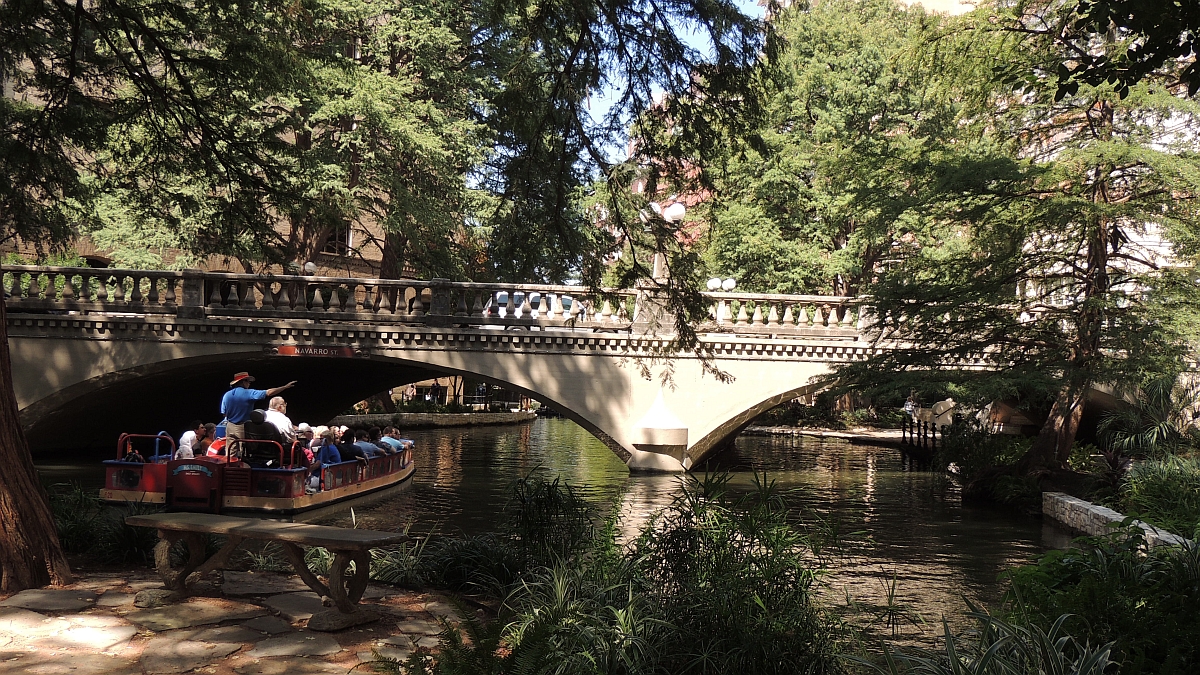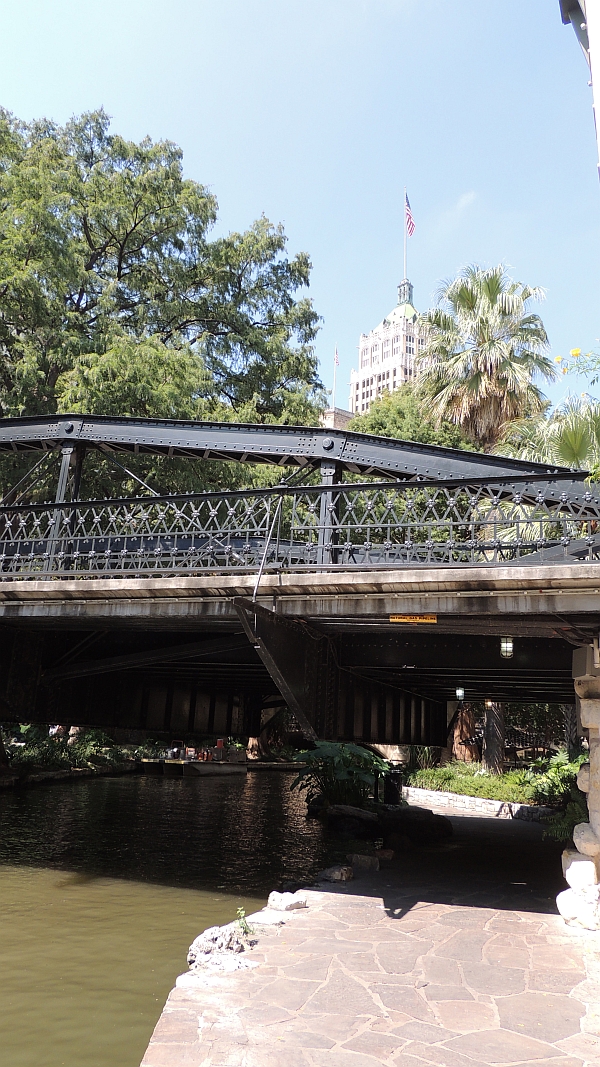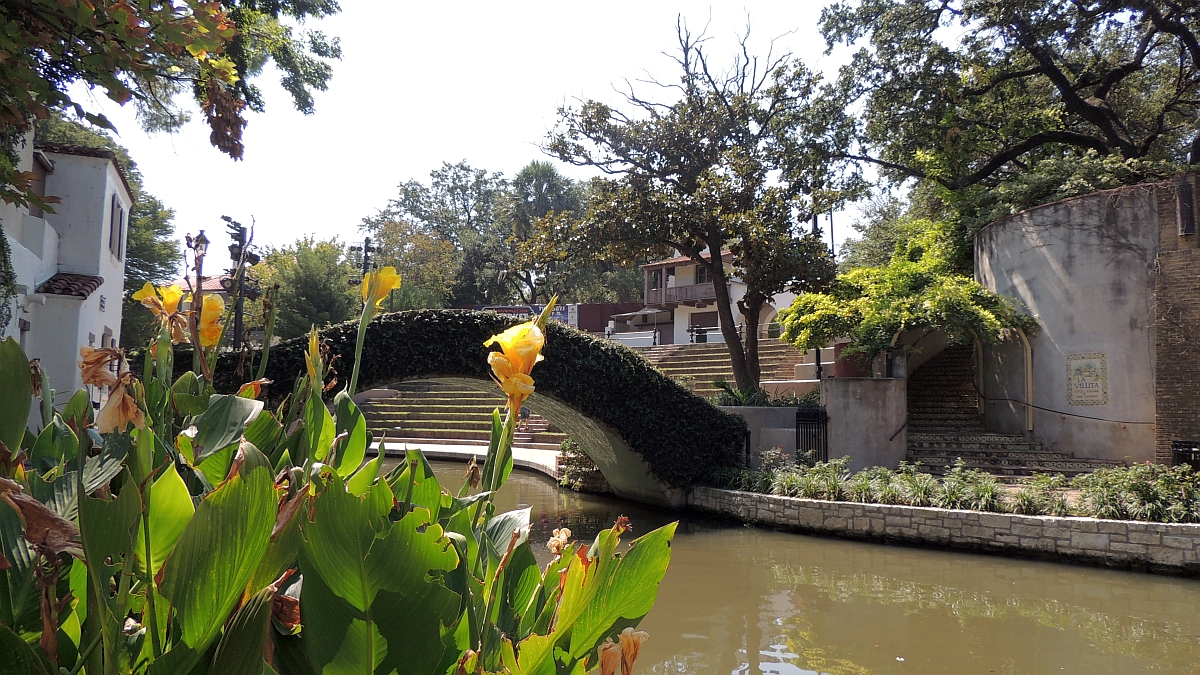 We walk to The Alamo, which is not too far away. It's not as big as you would think, but very interesting. I didn't know that there were a number of Brits killed defending The Alamo.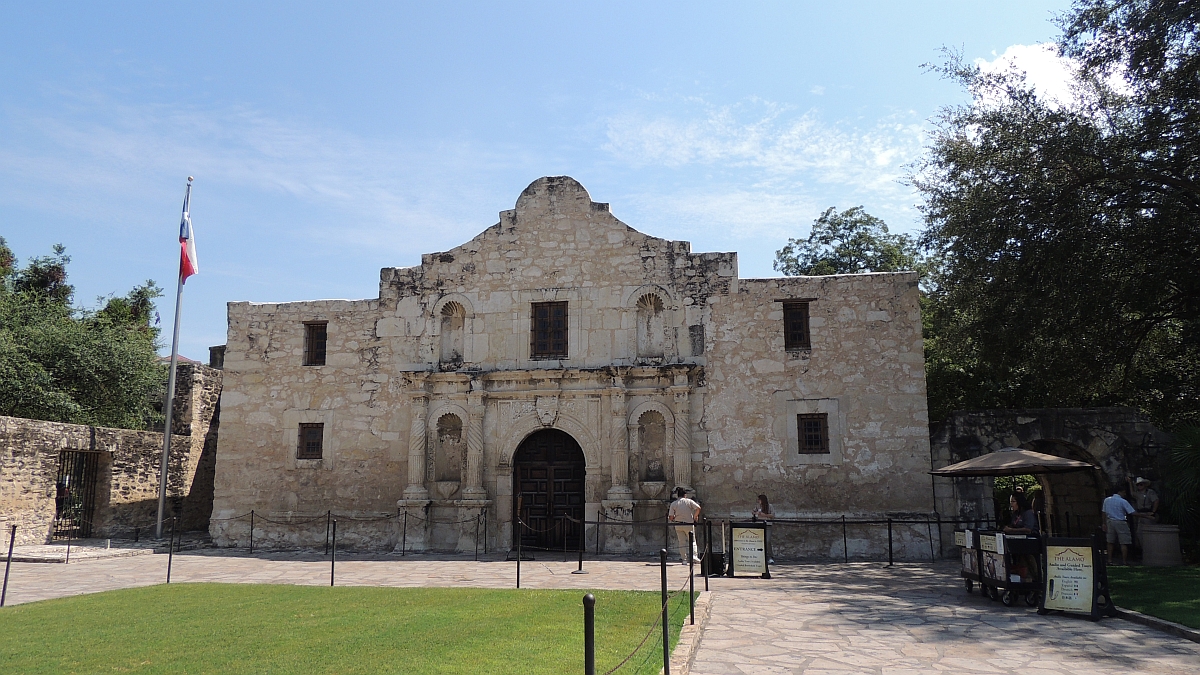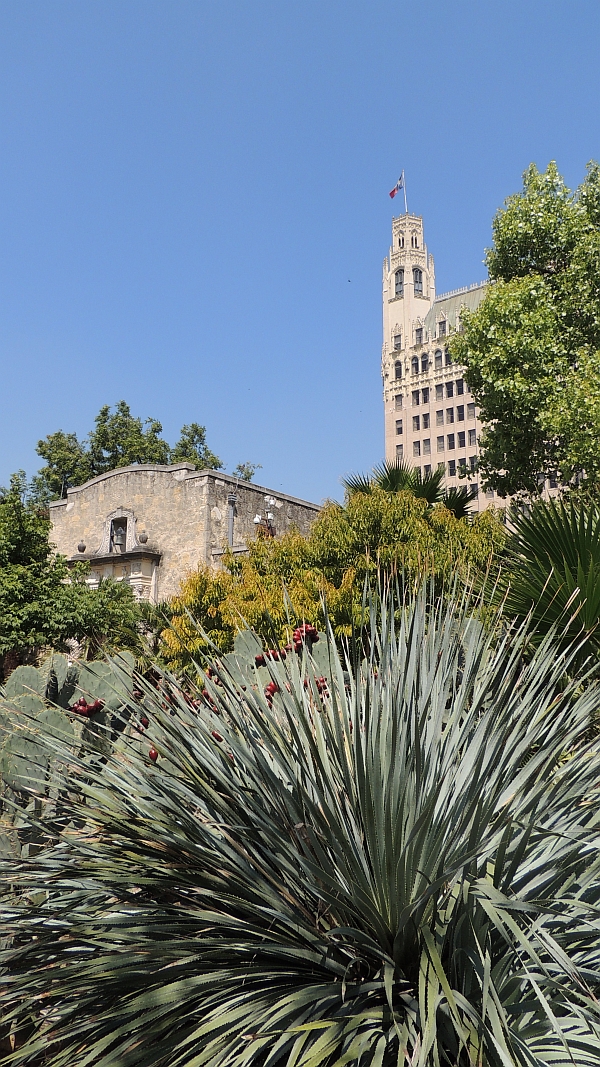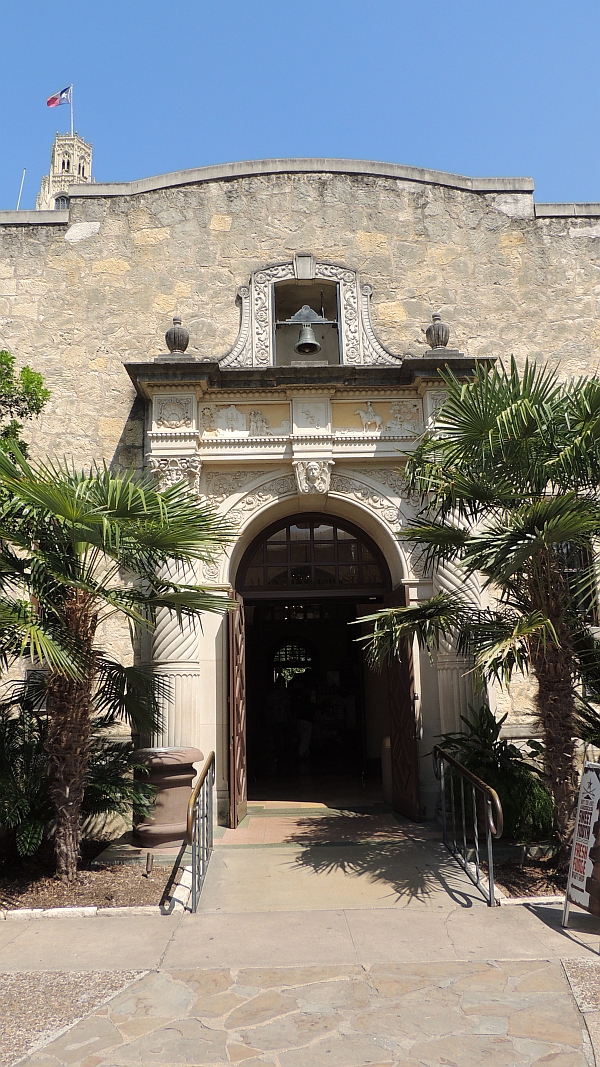 Around 1.00pm we decide to get something to eat and drink and choose Rita's On the River. We dine inside as it's very hot outside, in the mid 90's, and Tam and I split a quesadilla and a chicken flautas along with margaritas – mine plain, Tam's strawberry. It's nice to sit down out of the heat and there are a couple of guys strolling around singing mariachi at your table for tips. This is good fun, but very loud and it's a bit of a relief when they leave.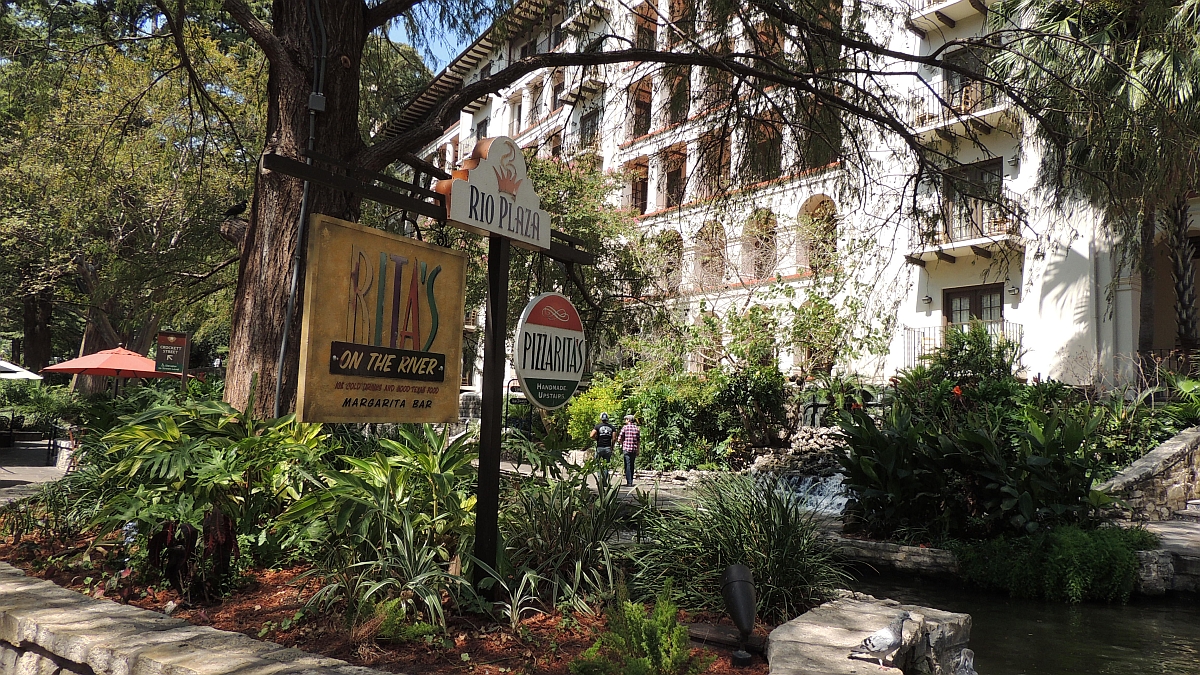 Back on the Riverwalk we decide to take a ride on one of the water barges that tour the area. We buy our tickets from the booth and join the short queue. We wait for nearly 30 minutes until a boat comes along, by which time the queue is much longer and not everybody will be getting on this boat. We have virtually the last seats and the 35-minute tour sets off. It's very pleasant floating down the river as the guide tells us about the history of the place.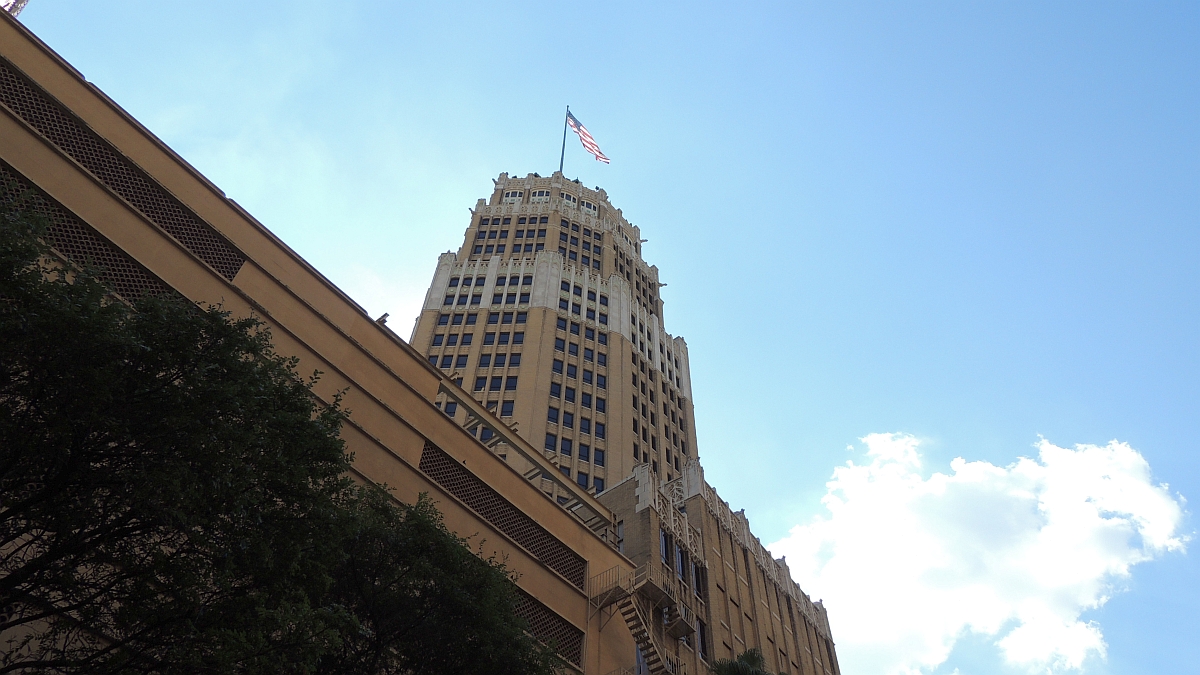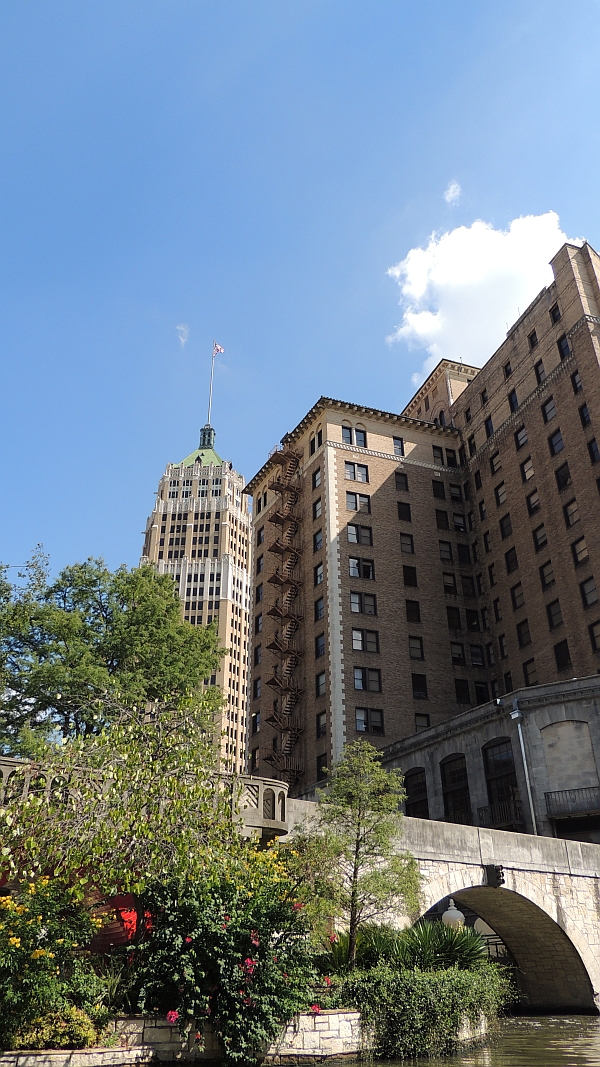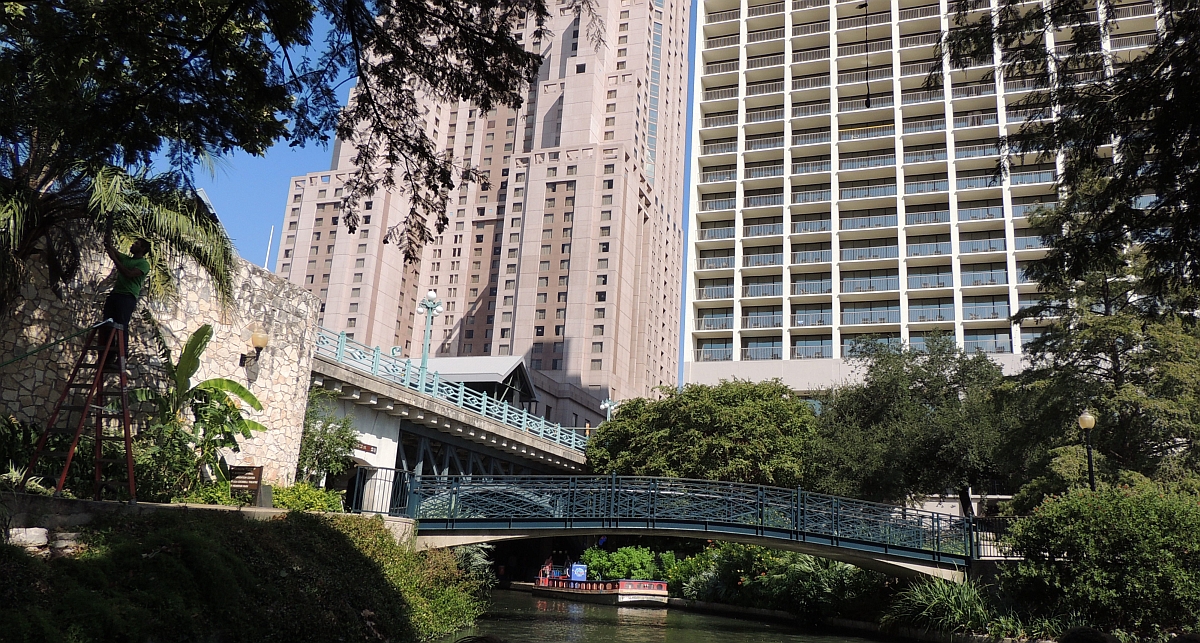 After the tour Deb and Matt go back to the hotel for a rest, while me, Tam and Sharon walk to The Tower of the Americas. This is a the tallest structure in San Antonio and is the third highest of its sort in the whole of the States, the highest being the Stratosphere in Las Vegas. Unfortunately we can't go up as it's shut for a private function, but it's been well worth the walk as there are lots of fountains and waterfalls to see.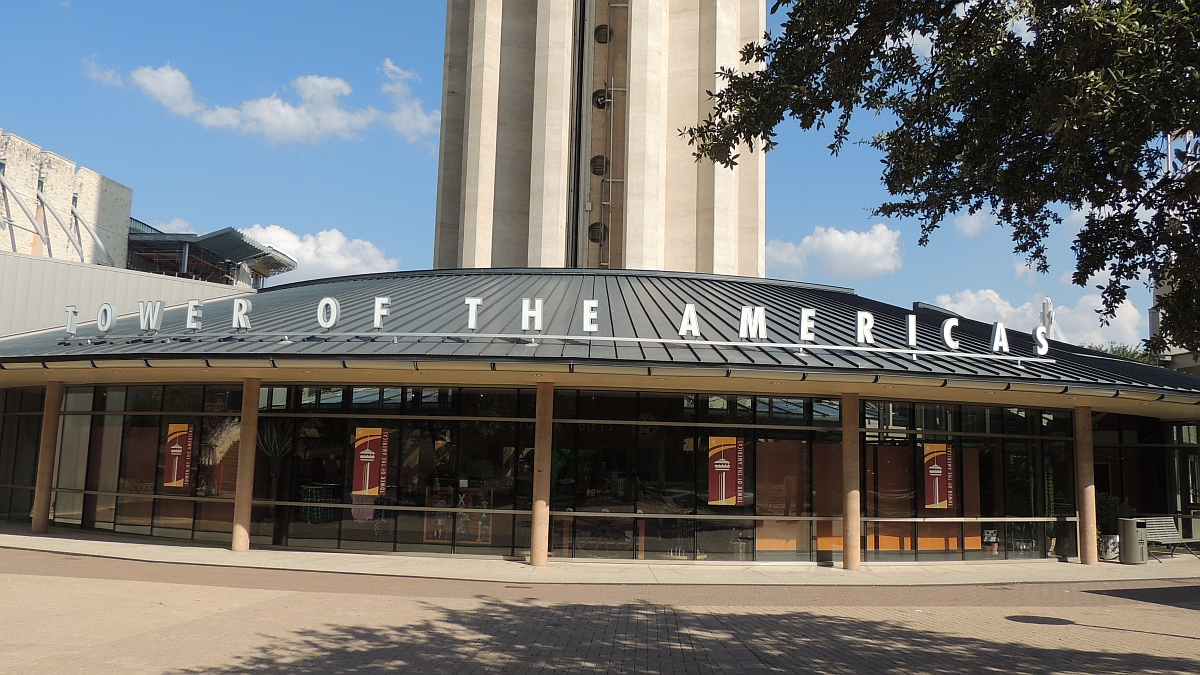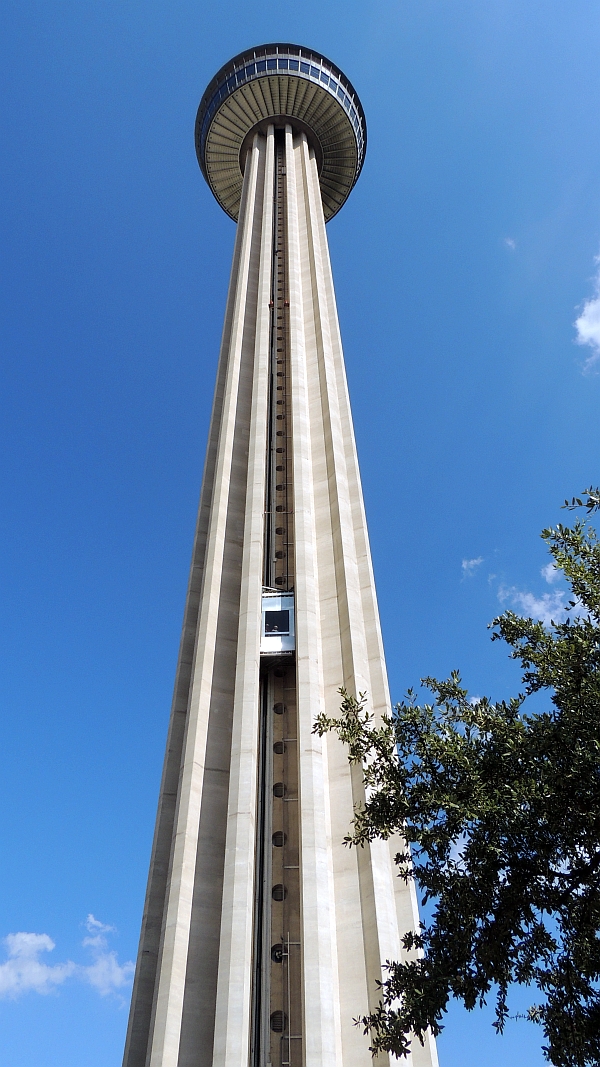 Back at the Contessa, Sharon comes to our room so we can all have a shower. Not together obviously, it's only a small shower! I go first and then leave the ladies to get ready while I go to the bar at 5.45pm for a bourbon based cocktail. Deb and Matt join me shortly, quickly followed by Tam and Sharon. A little later Keith and Evan arrive.
After another drink we stroll along the Riverwalk to Las Canarias, a restaurant Tam has chosen for the evening. We walk inside and it looks very nice indeed except it is completely empty. We look at each other and decide whether we should stay or not. The main server says he can put two tables together close to the window, so we decide to give it a go. It turns out to be a very good decision.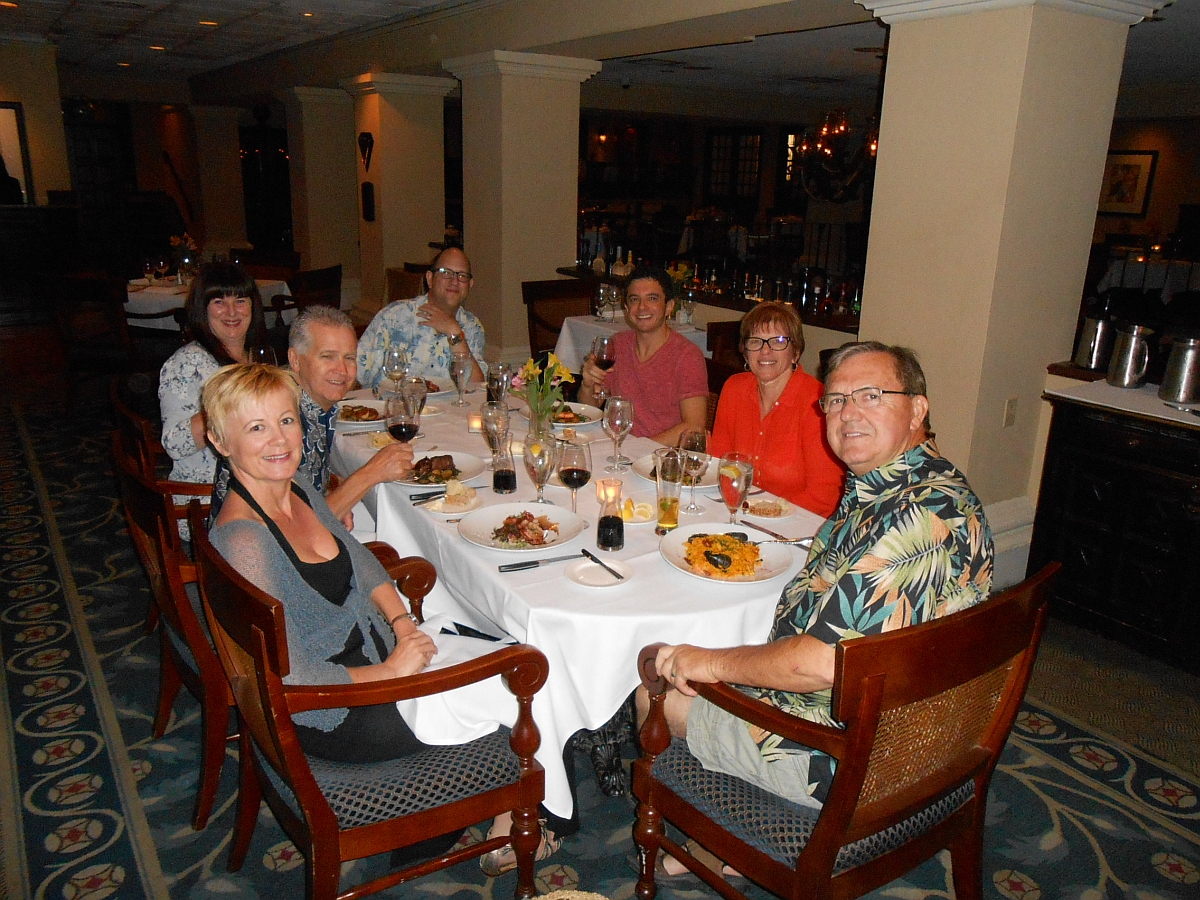 I have the 14oz New York Sirloin Steak and Tam has the Pork Tenderloin wrapped in bacon. The portions are not huge, but the food is excellent, as is the wine. Rahim is our server. He's from Morocco and quite a character. Desserts are chosen by all, except Deb who tries the cheese board, which she says is very good.
As the meal is drawing to a close I go to the bathroom. On the way back, Evan is talking to Rahim. I ask him how he came to live in America and he says he came over to work in the Morocco pavilion in Epcot! He worked there for 3 years before falling in love with San Antonio and moving here in 1988.
Deb and Matt very generously pick up the tab for the meal and we are just getting up to leave when Rahim comes rushing over. He tells us we must have a drink on him before we go and opens up a bottle of champagne, which is swiftly consumed by the 7 of us.
Keith, Sharon and Evan leave to go home as Sharon has a 5.00am start. She is doing a hike tomorrow before joining us again.
As the remaining 4 of us finish our champagne, we chat to Rahim and tell him we are just off to see the projection show at the San Fernando cathedral. He says 'Oh, you must have some of my special coffee to take with you' and rushes off. He comes back with 4 take out coffee cups. We thank him for his kindness and excellent service and leave. As we are going out Deb says 'It must be iced coffee as the cup feels cold'. Tam takes a sip. It's champagne! Rahim is a top man.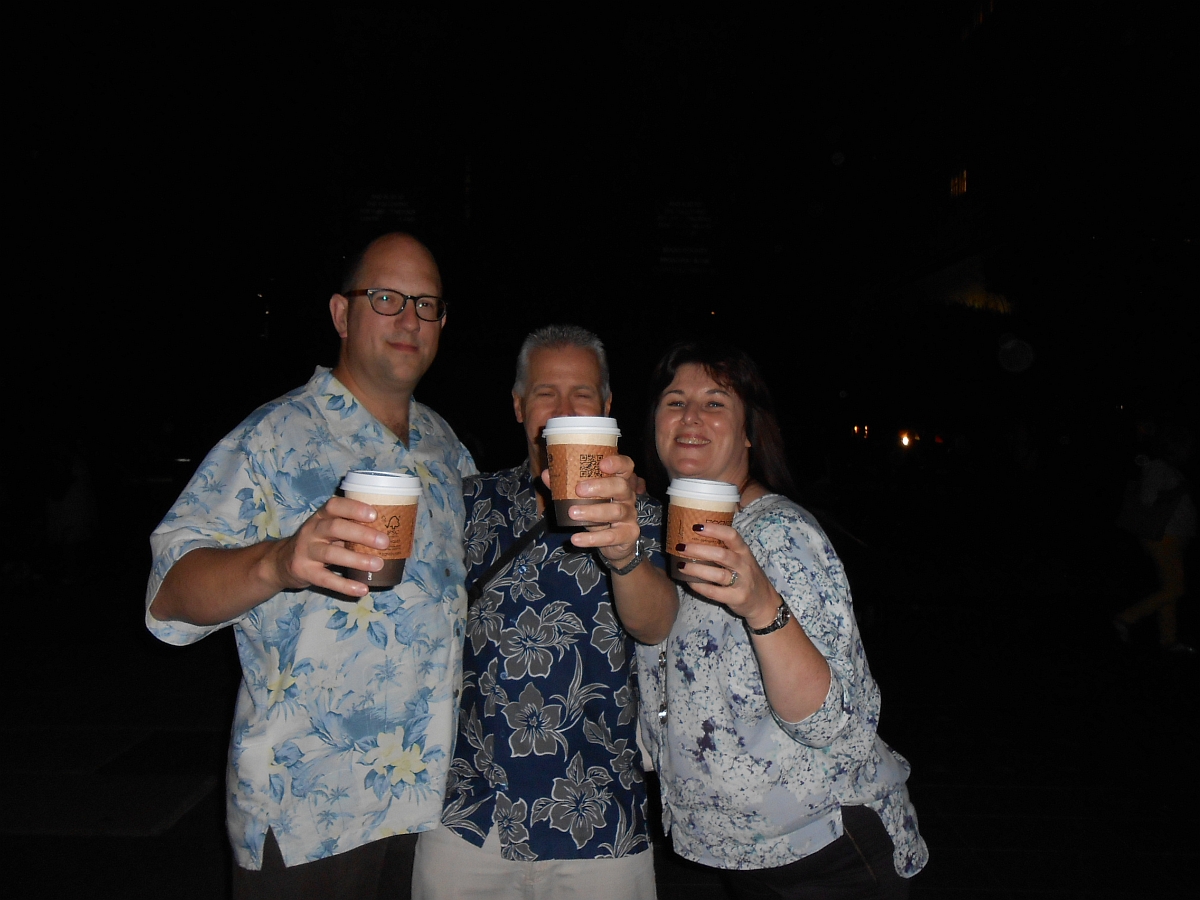 We stroll back round the Riverwalk and find the San Fernando cathedral. There is a pedestrian square in front of it and a few tables with 4 chairs around each. They project a light show onto the front of the cathedral on Tuesdays and Fridays at 9.00pm, 9.30pm and 10.00pm. We have timed it just right for the last show of the night and find a table smack in front of the cathedral and drink our 'coffee' while we wait for the show to start.
To say we are impressed would be an understatement. It's a similar style of show to the one at the Magic Kingdom in Walt Disney World where they project onto the castle, but without the Disney characters, of course. The show lasts 20 minutes. There is no narration, but it is set to music and tells the story of the history of San Antonio and chronicles events relating to the various groups that have been dominant at various times, such as the Native Americans, Spanish, Mexicans and cowboys. It's so well done and so beautiful that all of us just stare at it mesmerised for the length of the show.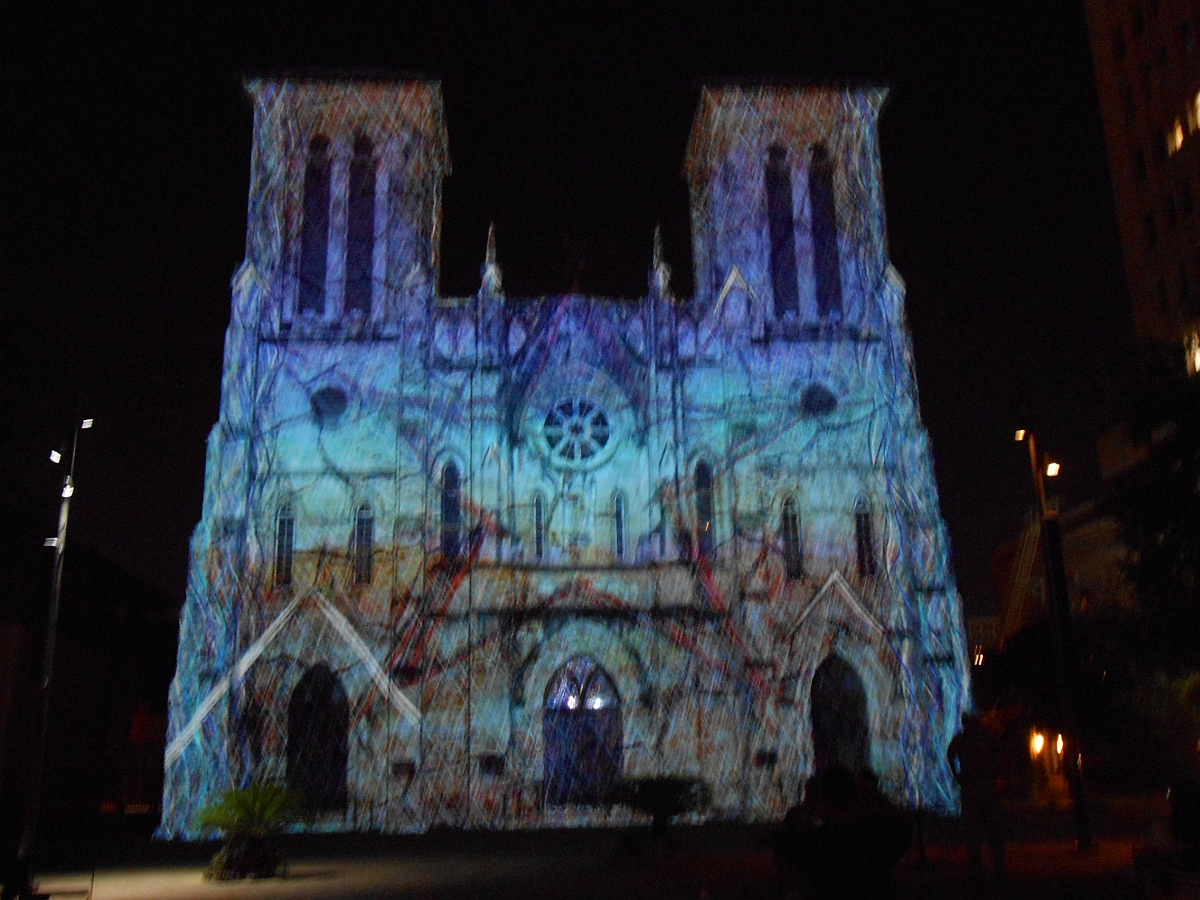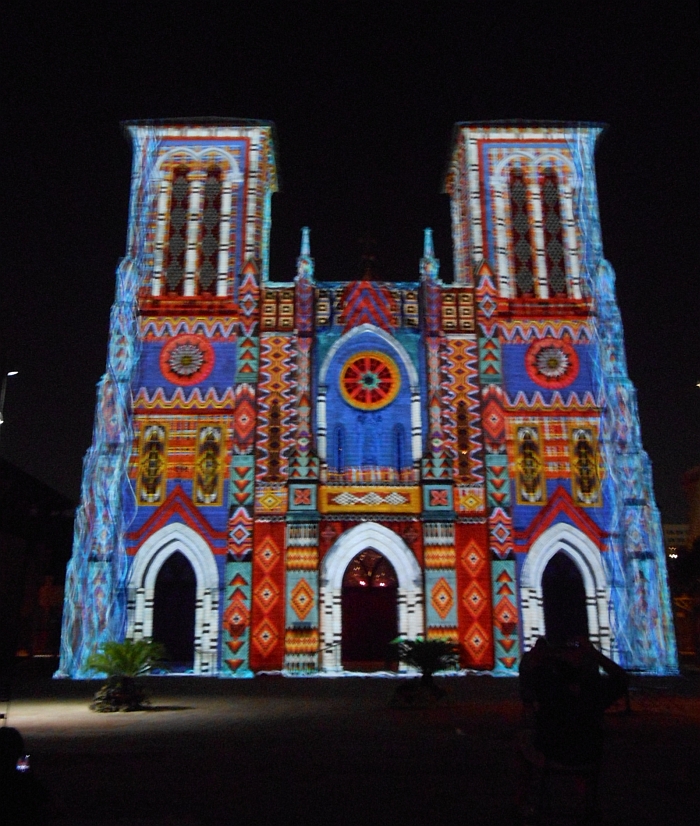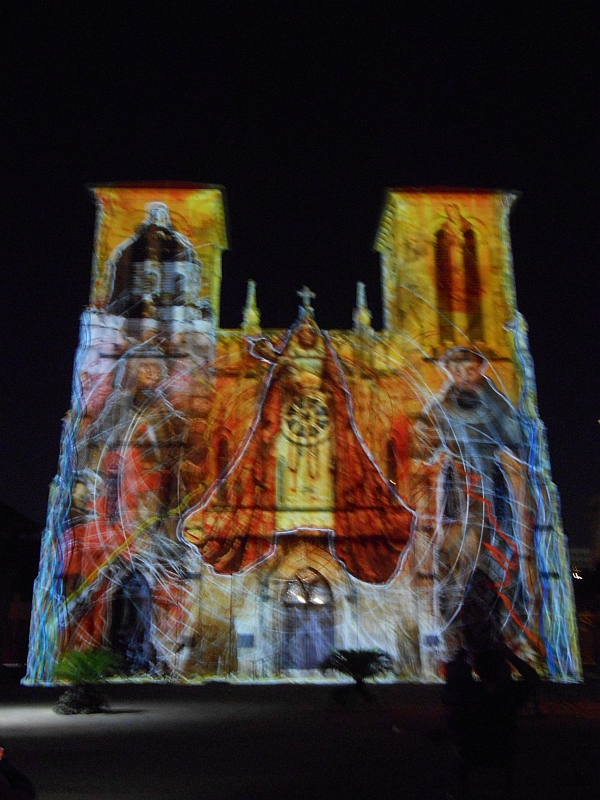 It's a shame the photos aren't sharper, but they give an idea what it was like.
We walk back to the hotel and it's a beautiful night as we amble along side the water. I can see why Rahim fell in love with San Antonio.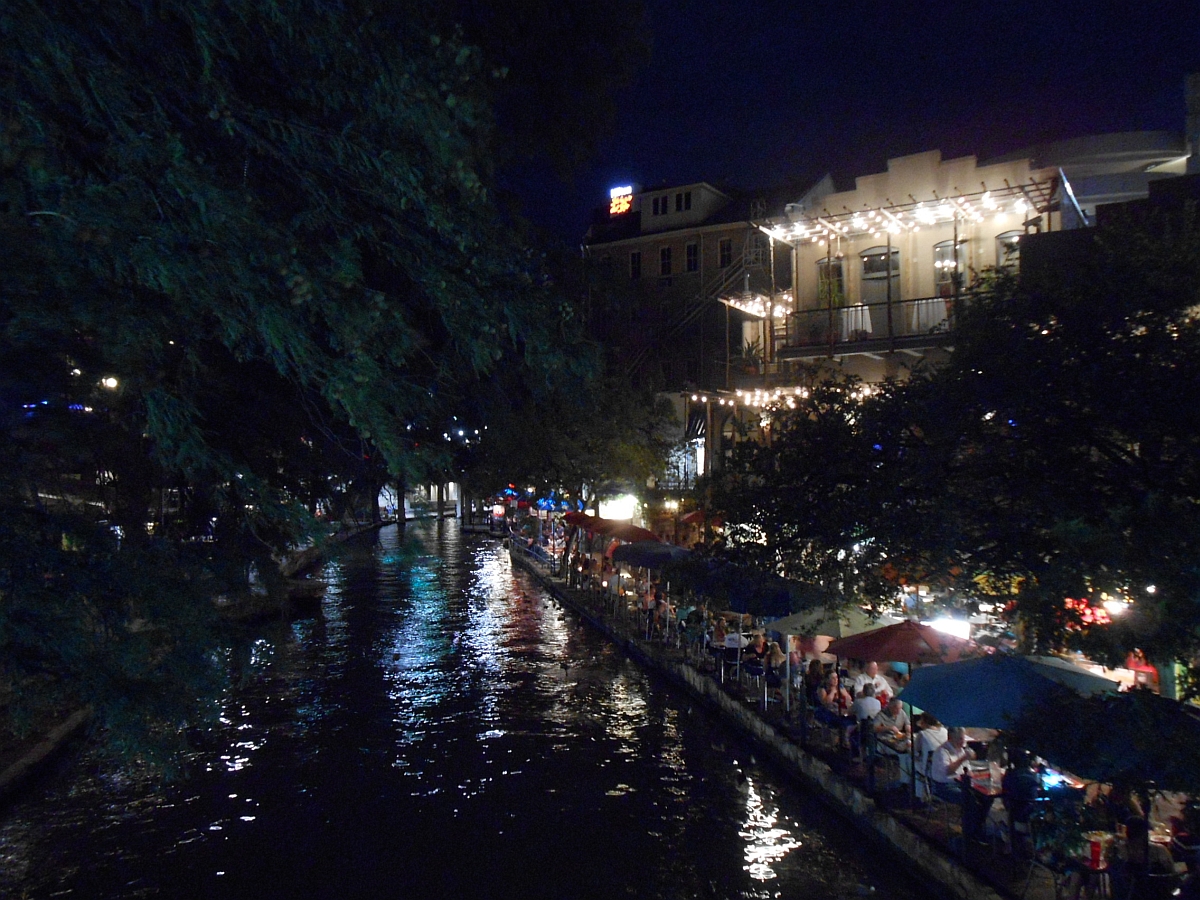 Back at the Contessa we have a final drink at the bar – mine's a Manhattan. When we order the server tells us that they are just shutting. This is a little strange as it's only 11.00pm and there are still plenty of people around drinking. You would think that they would keep the bar open for as long as guests want to drink, especially considering this is not a cheap place to stay.
Oh well, never mind, we've probably had enough anyway. Bed at midnight.
[SEPTEMBER 2015 REPORT HOME PAGE]