Day 14 - Wednesday 23rd September 2015
Written by Kev
We meet Deb and Matt in the lobby at 9.00am and decide to eat breakfast in the hotel. The location is lovely as we are outside overlooking the river. Unfortunately the service is slow and the food forgettable. I have Eggs Benedict and both the eggs are overcooked and solid.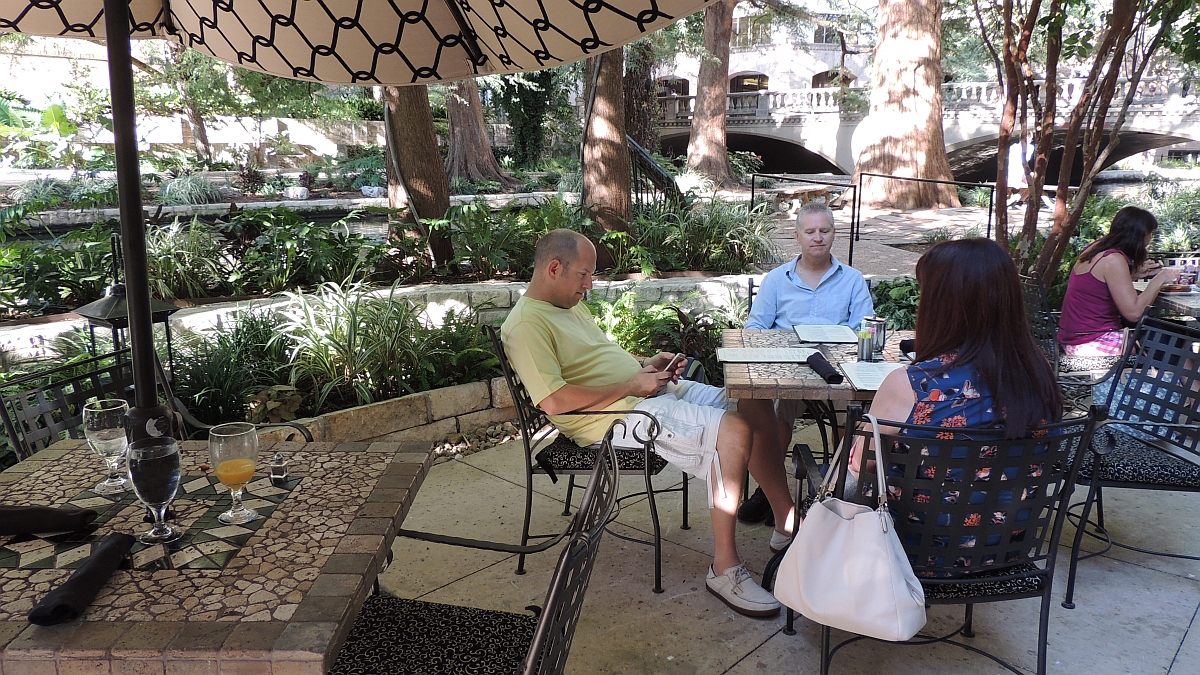 Sharon and Evan join us as we finish our food. Matt goes to valet parking and The Beast is unleashed from its lair.
We are going to Shiner today. Sharon's parents own a ranch there and we are also going to do a tour of the Shiner Brewery. As Keith tells us later, Shiner is the perfect Texas town – cattle, beer and oil all in one place.
I'm driving today and it takes just over two hours as we stop at Buc-ee's on the way. This is a massive gas station. No one seems sure of exactly how many pumps they have, but we fill up at pump 50. Sharon and Evan think there are around 60. Inside is a huge shop selling all sorts of Buc-ee's memorabilia as well as food and drink. This place is bigger than most UK supermarkets. I buy a t-shirt and Tam gets some little things as presents for the girls.
Back in the car we drive on to Shiner, which is a small town made rich by oil. This has been found in many places locally.
We continue on out into the country along dirt roads for 2 or 3 miles until we come to the ranch. Sharon's parents, Wilbert and Charlotte, make us very welcome. Wilbert has recently had a back operation and so can't get around much. He tells us a lot about the ranch. It's on 2 different parcels of land. The first, with the ranch house on it, is just under 200 acres and the second is just a little smaller. They currently have 120 adult cattle and 40 to 50 calves. This is a beef ranch, not dairy.
The view out of the ranch house window is lovely as you look out at the fields with the cattle grazing happily. Charlotte has prepared snacks, such as beef jerky, dried sausage and crackers with cream cheese and raspberry chipotle jam sauce. Wilbert offers a continual supply of beer and soft drinks.
After half an hour we have to leave and drive back to Shiner for the brewery tour. This is interesting, but is not as long as it should be as they are expanding quite considerably and the bottling plant is off limits at the moment. You get 4 tokens to sample various Shiner products back in the gift shop. Unfortunately I can't take full advantage as I'm driving. There are all sorts of Shiner beer associated products for sale – they haven't missed a single opportunity for merchandising. I buy a t-shirt and a bar towel. Sharon buys some beer mats, which she gives us as a reminder of our visit.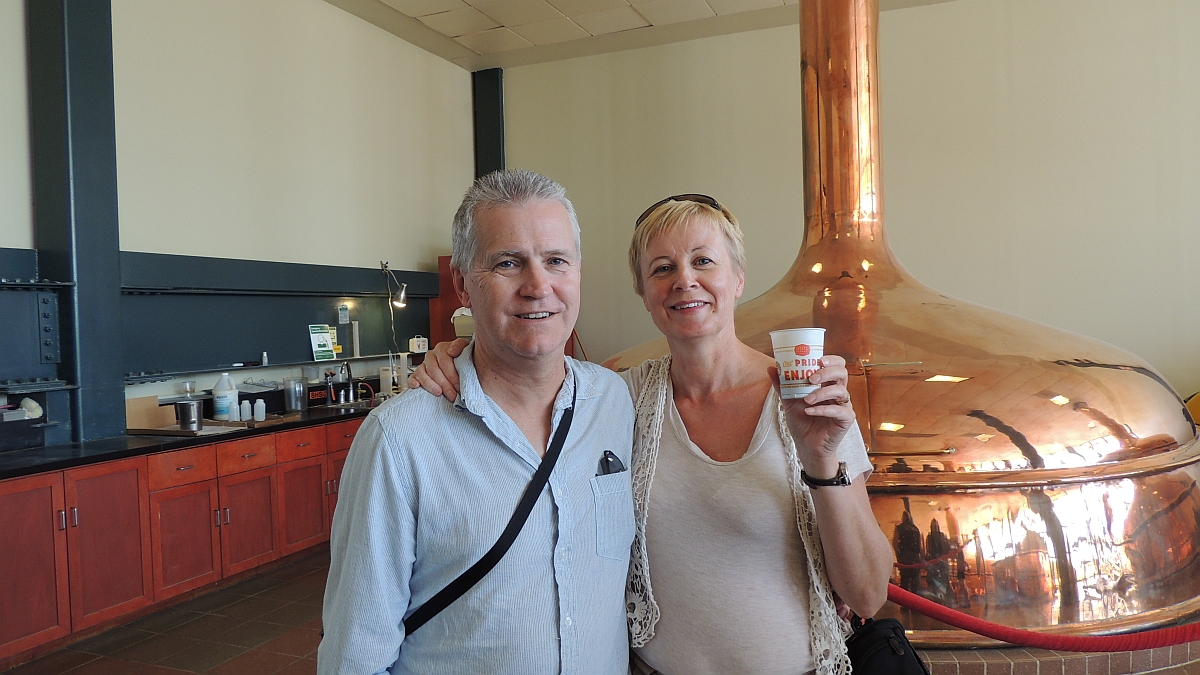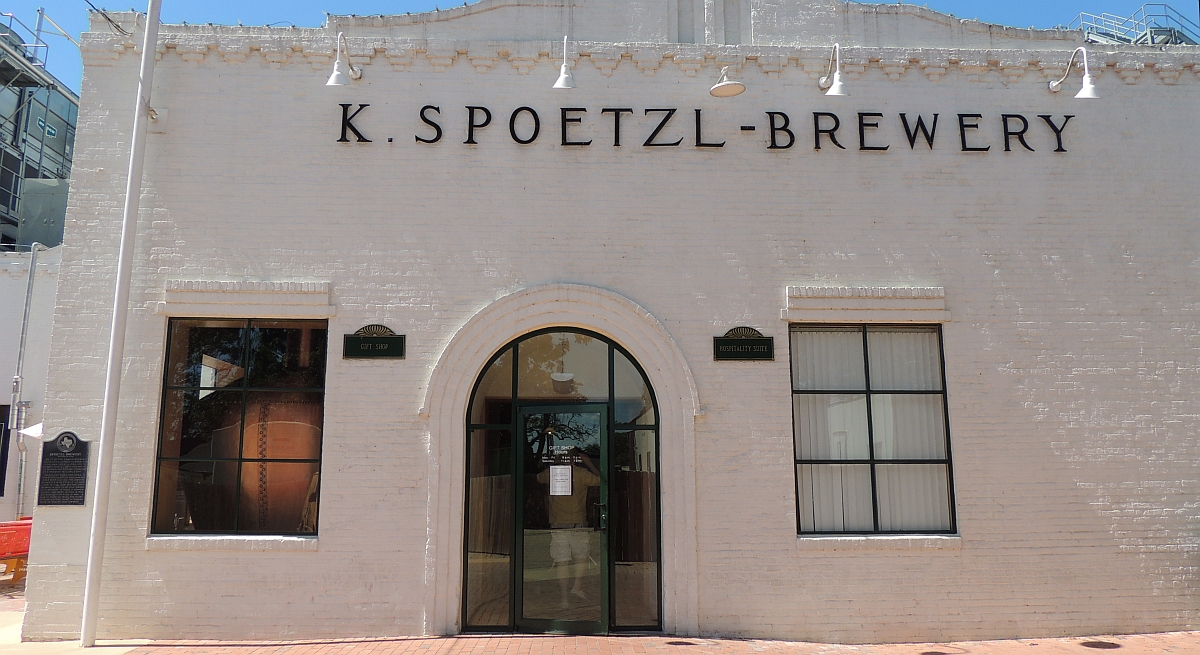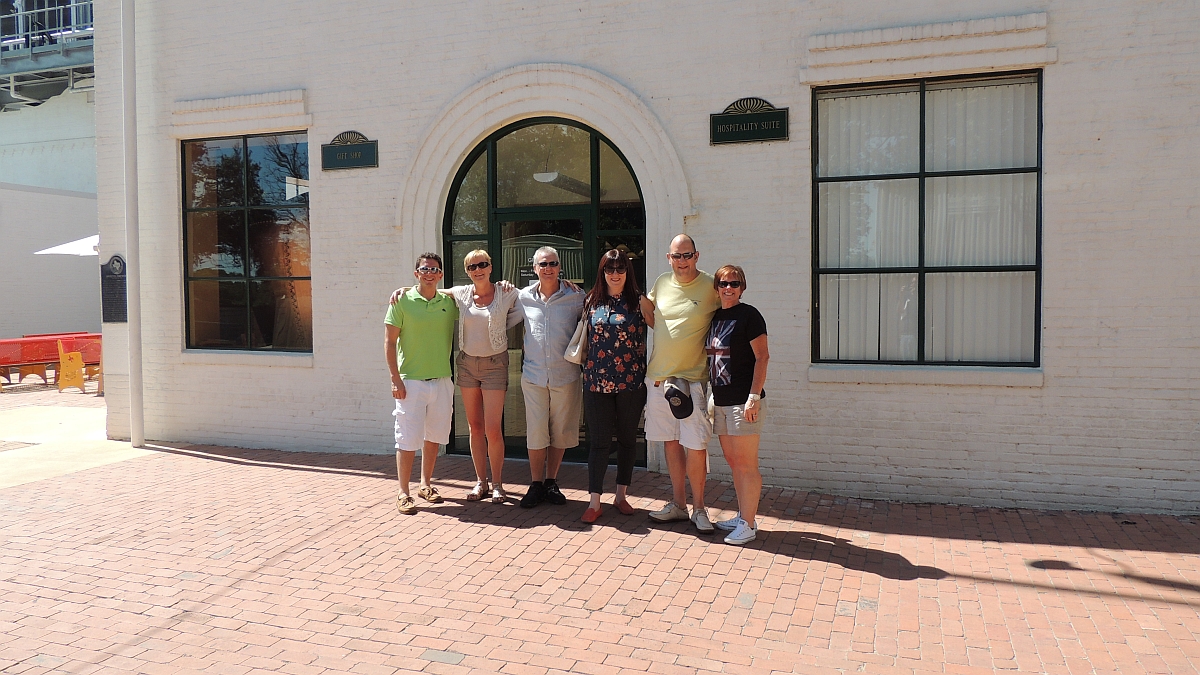 I drive back to the ranch where Evan takes us on a tour of the property in a pick up truck. You'll get a feel for the size of the place when I tell you that we travel around the boundary of both parcels of land (they are only a couple of miles apart) and it takes about an hour. Evan is obviously very proud of the ranch and his dream is one day to take over and run it.
Back at the ranch house we chat away to Wilbert and Charlotte and are also joined by Sharon's sister Debbie and her husband, Chip. We talk for over an hour and Wilbert provides more beer. I guarantee you will never be thirsty in Wilbert's house.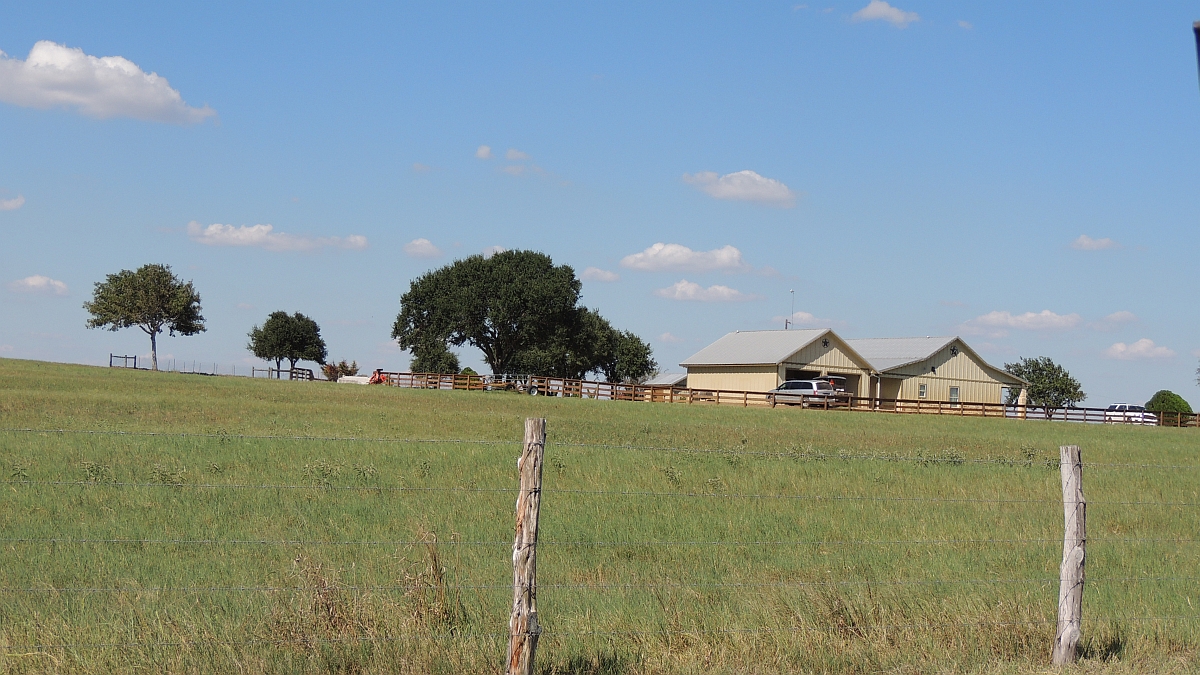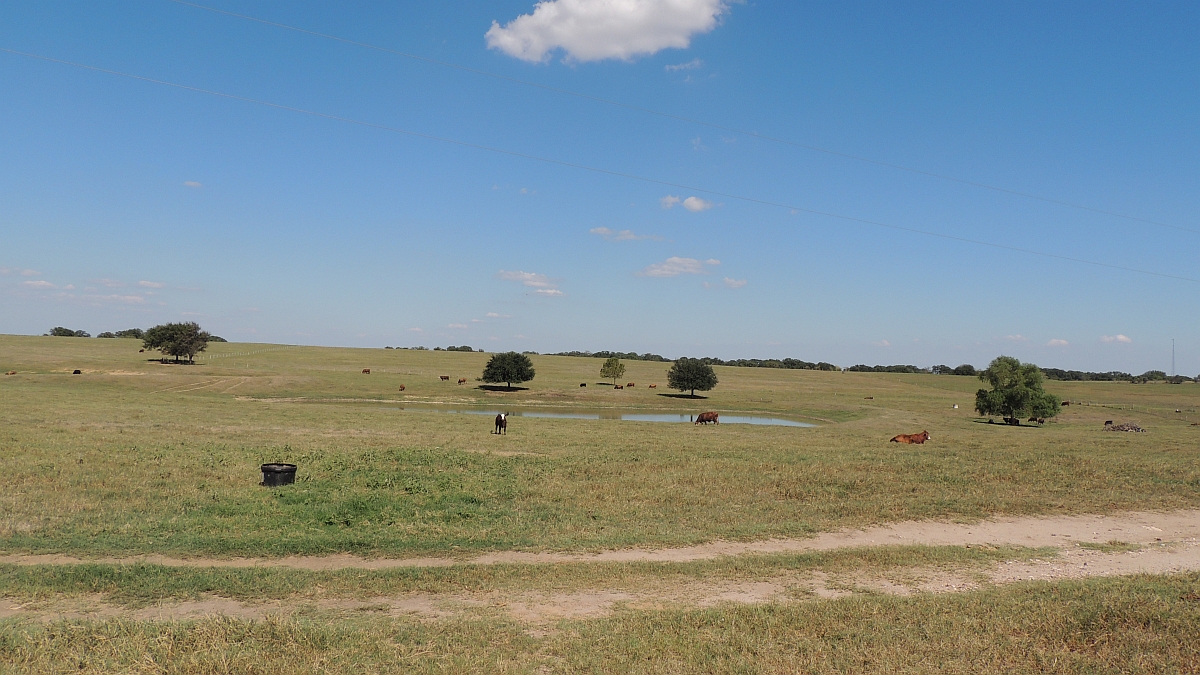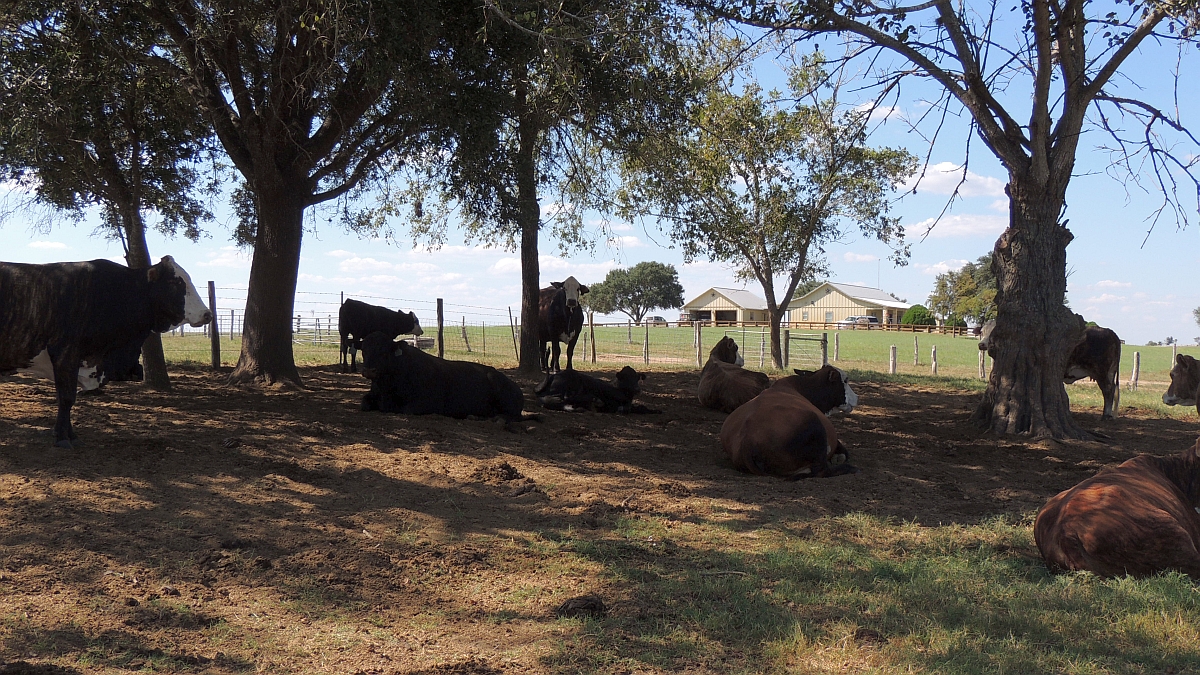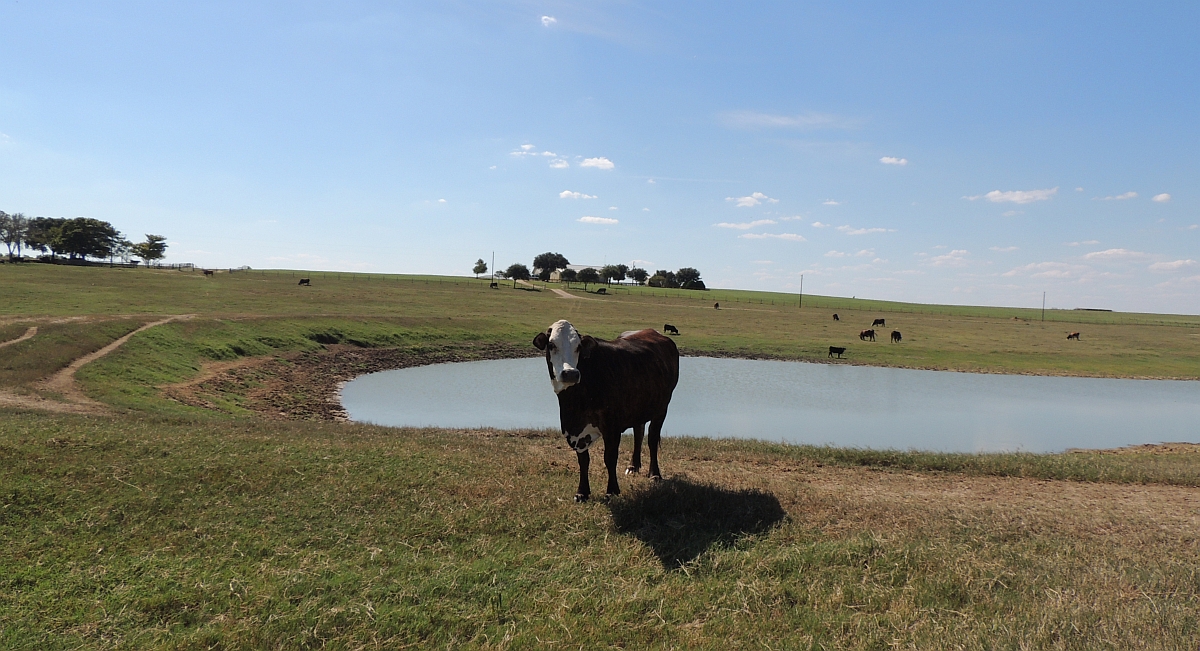 At 5.00pm we have to leave and start our journey back to San Antonio. We say farewell and are very grateful to Wilbert and Charlotte who have greeted us like long lost friends and have been incredibly hospitable.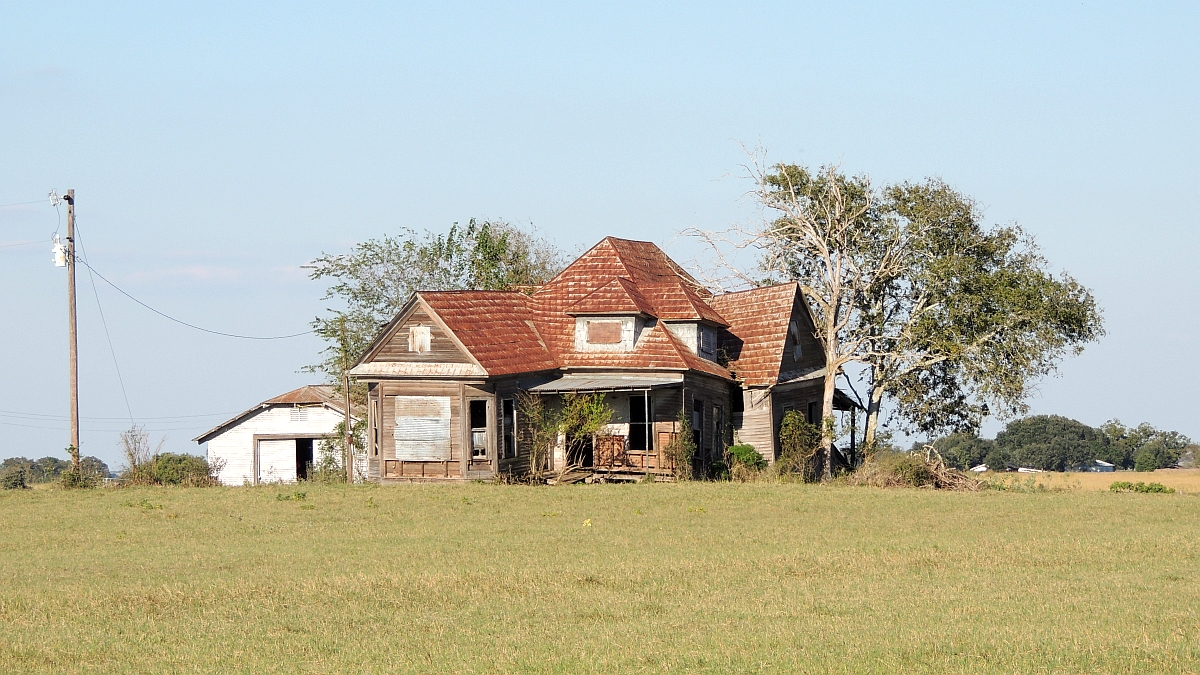 On the journey home we came across this creepy, derelict house. Texas Chainsaw Massacre? I reckon so.
The drive back takes a little less time at 90 minutes and we go to our room to shower quickly before meeting up again in the bar where Keith has joined the party.
We have a quick drink then walk to the Saltgrass restaurant. We are seated swiftly due to Keith's Landry's card (Saltgrass is part of that chain) and Tam and I order margaritas. When they arrive they are in glasses the size of a small bucket.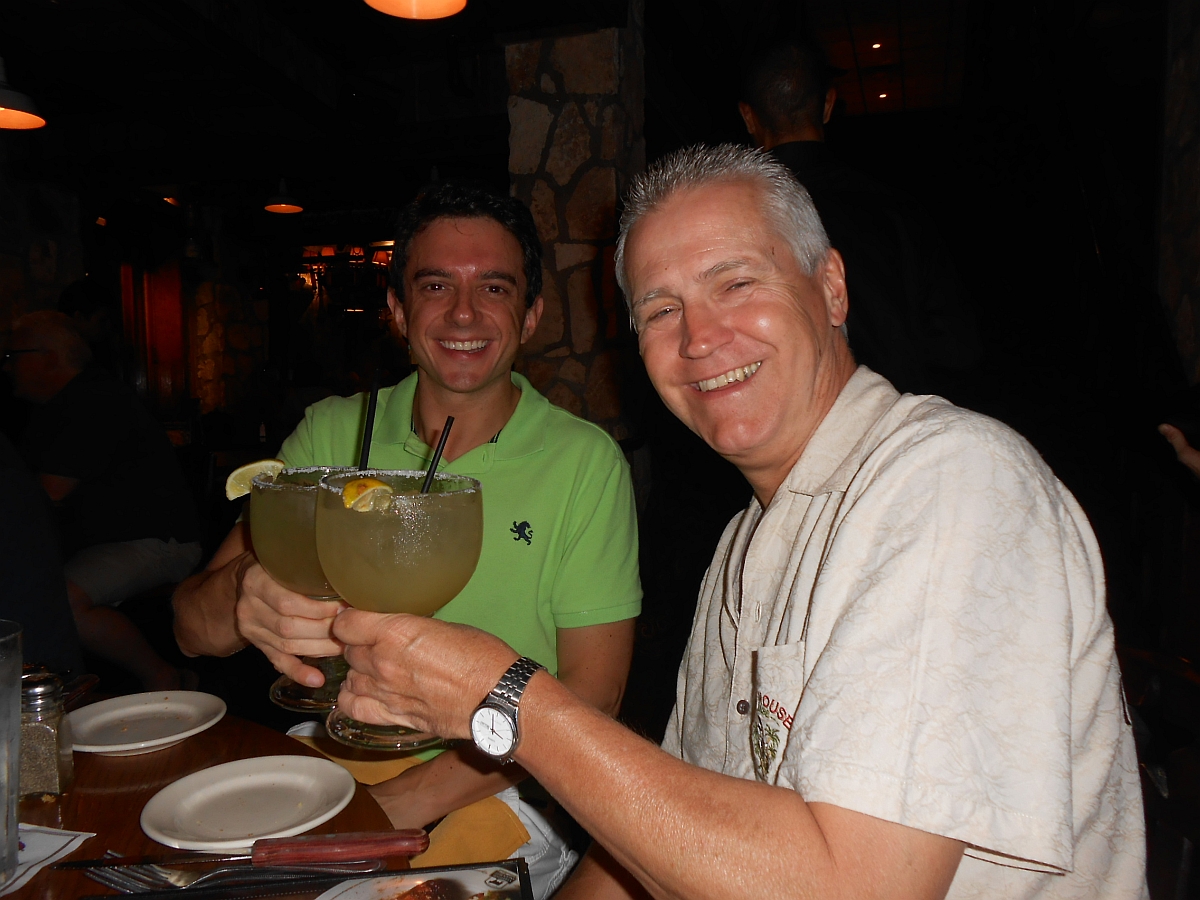 I have the steak and shrimp combo and the food is good, but I think we all feel it's a little too late to be eating, as we don't start our meal until 9.30pm.
I try to pay the bill, but Keith won't have it and picks up the tab for everything. What is it with these Texans and their generosity? They won't let me pay for anything! This is a joke, of course. We are very grateful to have such wonderful and generous friends.
We walk back to the Contessa and say goodnight to the Texas contingent. We are going to get a drink at the bar, but it is already shut at 11.00pm. This does not go down well. Perhaps it's for the best as we're all tired. In bed and asleep by midnight.
[SEPTEMBER 2015 REPORT HOME PAGE]