DAY 3 - SATURDAY 16TH AUGUST
I awoke at 6 am and at 7 am dressed and went to explore more of the ship. Found the gym, the spa and the Thallosotherapy pool. Here I have a quick dip before finding the library where I borrow a pencil to enable me to write up my report. At 8.45am I head back to the cabin where Kev has obviously had the same idea as me and is out exploring, however the girls are still in bed. Kev returns and we rouse the girls to sort the cabin out and try and unpack the girls' case before breakfast arrives. At 9.30am the phone rings to say breakfast is on its way. We tuck into bagels with smoked salmon and cream cheese (India), Danish for Georgia, Kev and I have eggs benedict with toast, all washed down with tea and hot chocolate. Georgia and India then go up to the Waterfall Café to get one of Celebrity's famous waffles but India returns also brandishing a wonderful sticky, nutty bun thing which we all tried and declared delicious. It has now gone 10.15am and we are late for the Cruise Critic Party in Michael's Club. Embarrassingly we arrive at about 10.30a m and the wonderful crew who had made the effort to turn up and talk were half way through their spiels. Unfortunately at the end we didn't get a chance to meet everyone who turned up but did speak to Terri and Steve, John and Marilyn and Bob and Sandy. This was a lovely idea by Celebrity – laying on coffee and Danish and having various members of the crew available to answer questions – a really nice touch. At 11.30am we say our farewells and head off for a spot of R & R on the sun deck at the front of deck 11. For lunch Kev and India go to the Aquaspa Café where they enjoy poached salmon with asparagus and hollandaise sauce, with blueberry custard tart and a couscous fig cinnamon concoction for pudding. Georgia and I go for a look but she doesn't fancy that so we go to the Waterfall café where she chooses pizza and Caesar salad – the pizza was very much to her liking – so much so that she had another two pieces before demolishing a bowl of chocolate ice cream with chocolate sauce. I have a kebab in pita bread with salad and onion rings from the Waterfall grill and follow this with a cookie and some sugar-free strawberry ice cream, which is wonderful. Back to the sun deck to enjoy some more sunshine till about 3.45pm when we decide to go back to the cabin to enjoy a chilled bottle of white wine – which we bought in Barcelona duty free before we got on the ship.
Sit on the balcony and talk about our thoughts so far on Celebrity against NCL and Disney cruise line. We confess we are quite disappointed in the state of our balcony, which was really in need of a touch of paint and also didn't appear to have been washed for some time. However we agreed that service and quality of food is wonderful and we have no complaints so far on those things – our biggest bugbear we can see will be the lack of a laundrette. We all shower and get into our bestest dresses, but Kev has forgotten his, so slips into his hired tuxedo instead - $88 from Cruiseline Formalwear. Most people appear to have made an effort for formal night and many men have on tuxedos, which is lovely to see.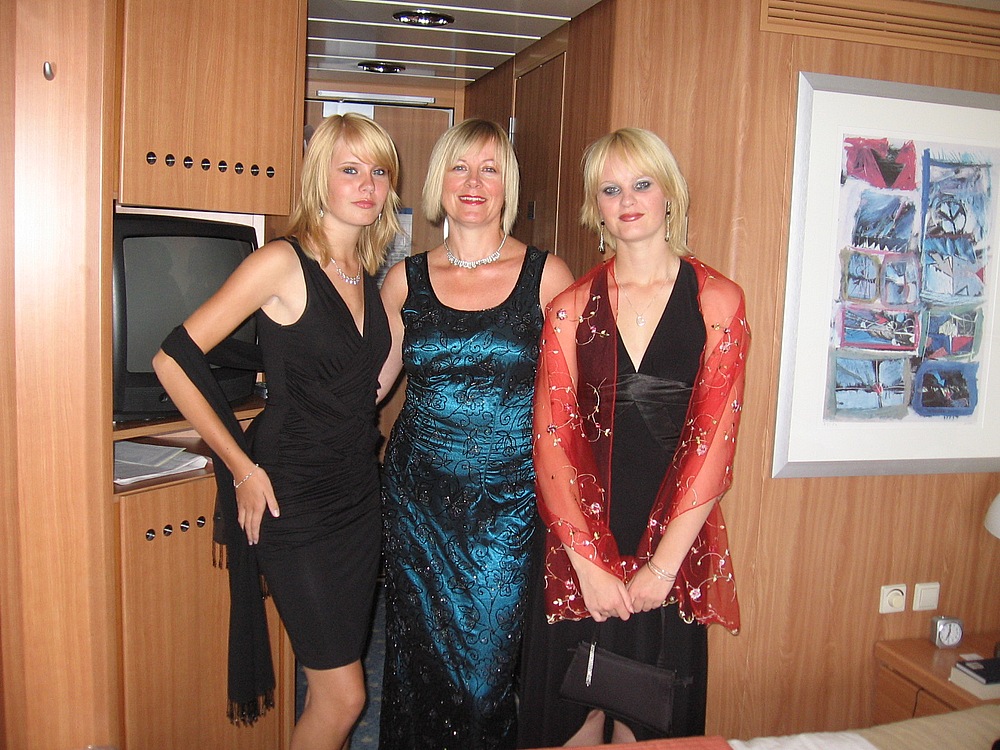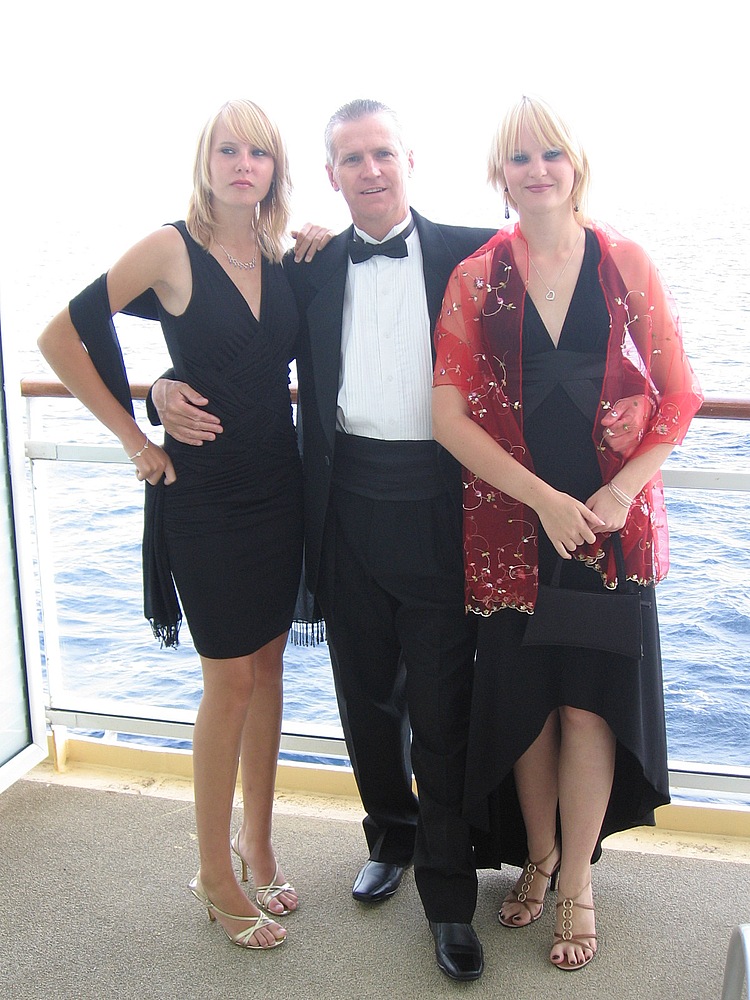 Go to Michael's Club where Katie Guglielmo plays the piano and entertains us with some tunes and then she announces that she is going to do "Name that Tune". The assembled parties are given pencils and paper for answers and Katie asks where everyone comes from – we tell her Gloucestershire in England and she then jokes that everywhere is near Gloucestershire – including a couple who come from New Zealand. The game begins with a short burst of a tune and we all have to write down the tune and other answers to questions she asks. Amazingly we get 24 and seem to have the highest score – in fairness this is probably helped by the fact that it is now 8.45pm and most people have left for dinner. But we don't dwell on that and bask in victory. For our efforts we all receive a Celebrity pen. Tonight we are dining at the speciality Normandie Restaurant – we booked two meals in this restaurant online before we left home and have pre-paid for the meal £15.25 a head. The restaurant is lovely, intimate with a relaxed atmosphere. The waiters and sommelier are particularly attentive and we would highly recommend this dining experience.
Firstly we have an amuse bouche of salmon mousse with caviar, which is delicious, three of us pick the goats cheese soufflé with red pepper coulis, but Georgia opts for the salad with lobster, to follow I have lamb with spinach en croute, Kev has sea bass, and Georgia and India both have the duck with puy lentils.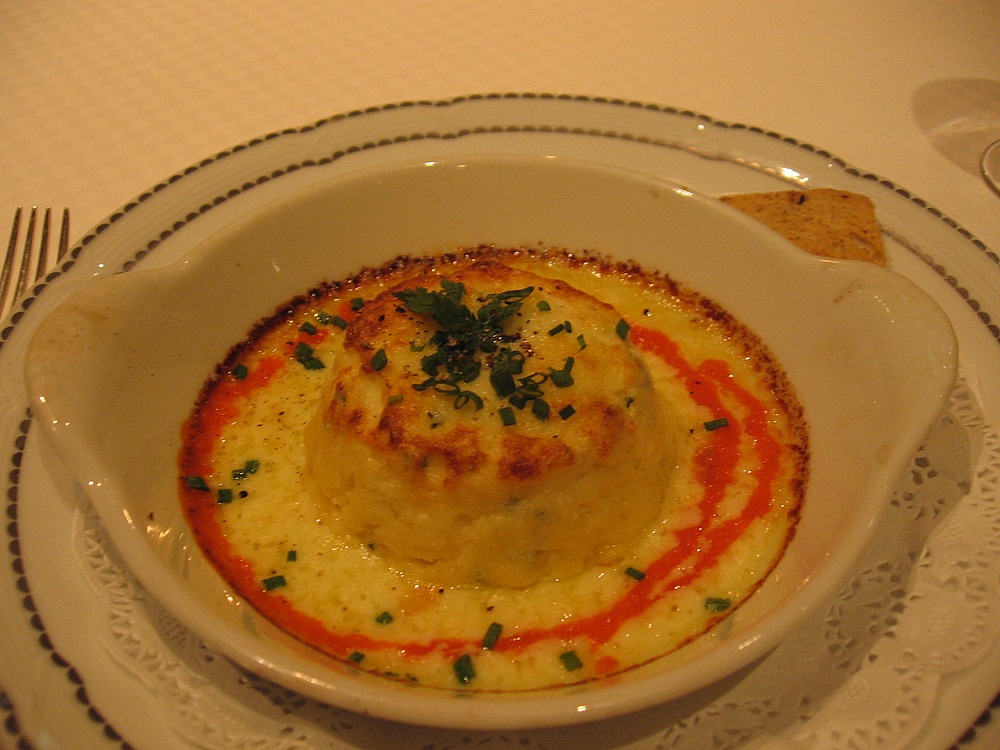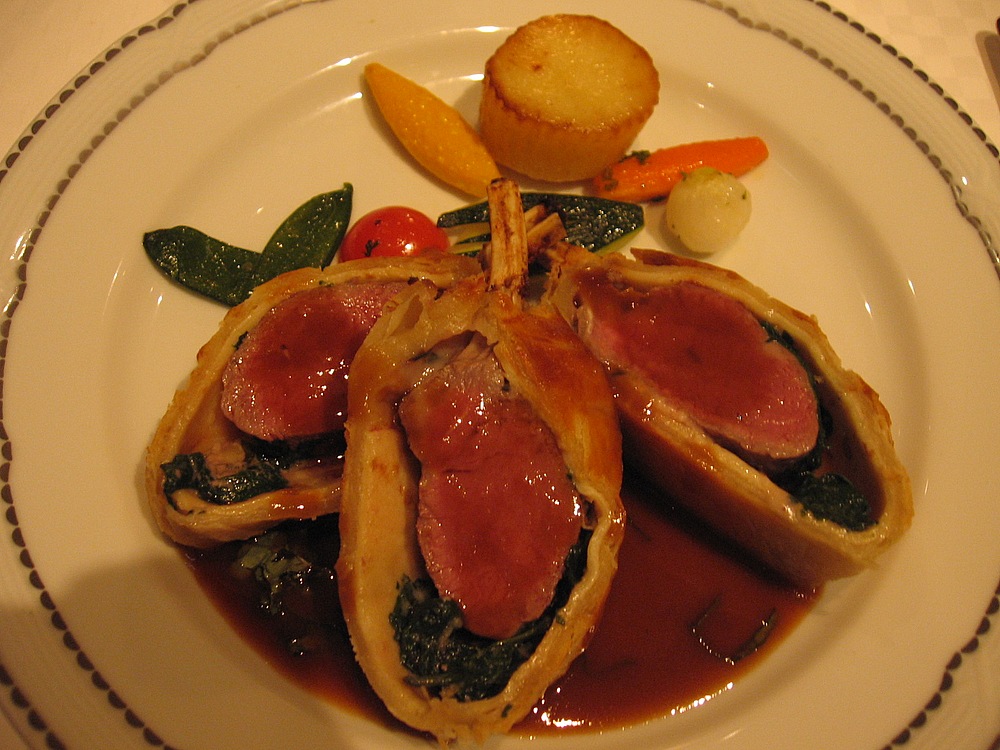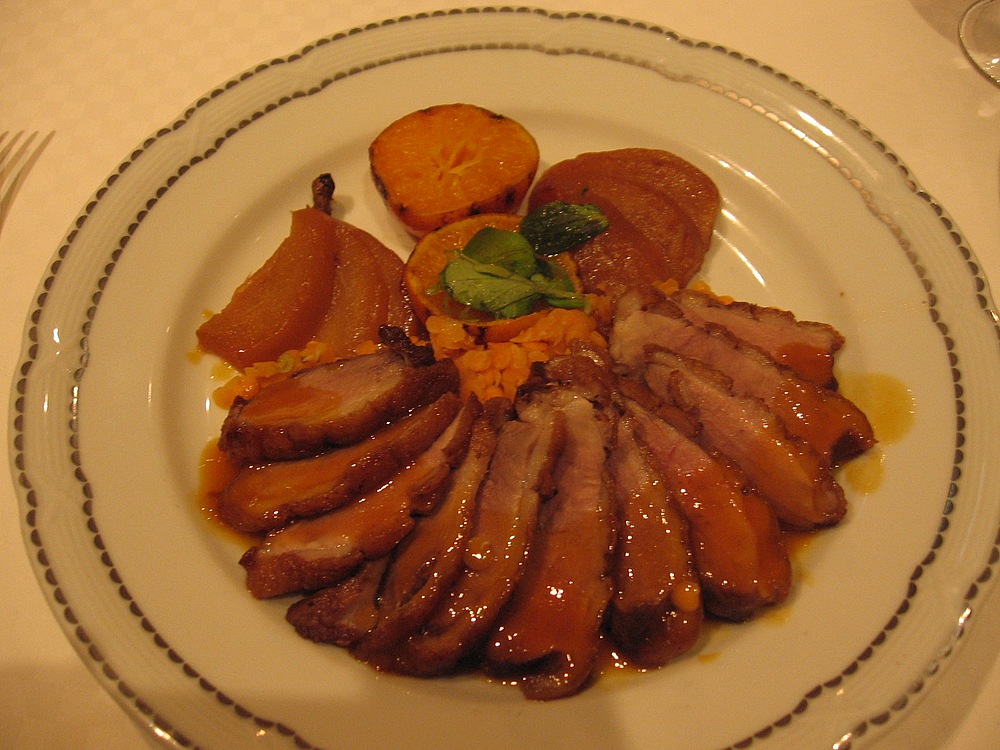 For dessert everyone has the chocolate soufflé, but I plump for the zabliogne. What a choice this is - cooked at the table in a big copper pan and as he cooks it he explains what each ingredients is – a generous slug of marsala is poured in and I immediately know I have made the right choice.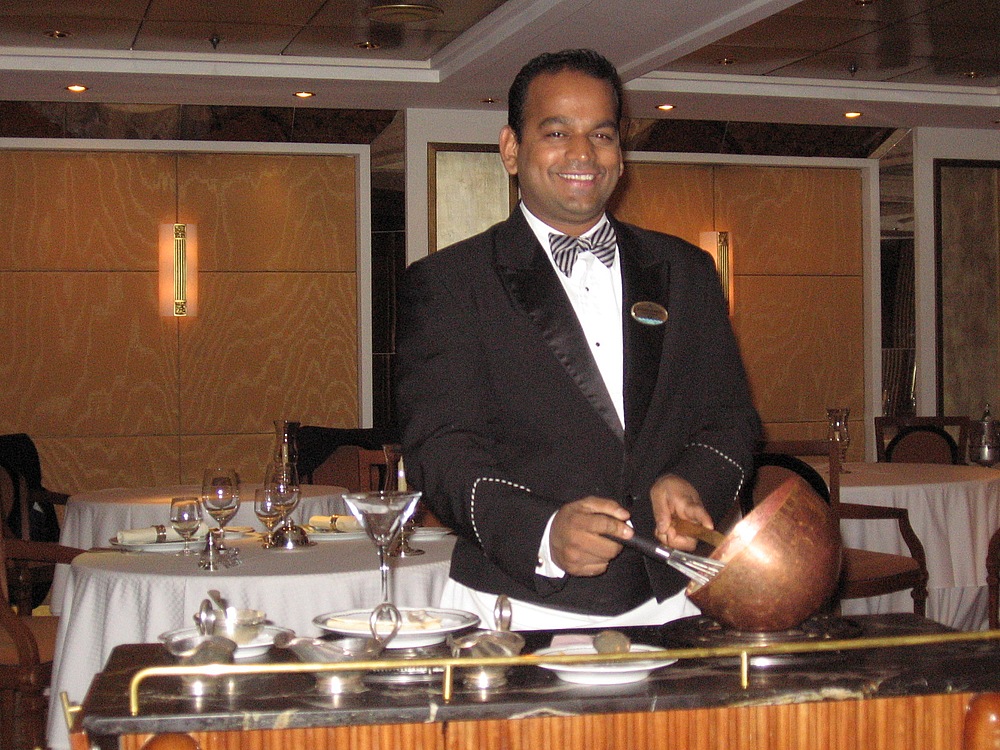 After some 15 minutes of beating, an amazing light as air creation is ready and spooned into a glass, at the same time as the chocolate soufflés arrive.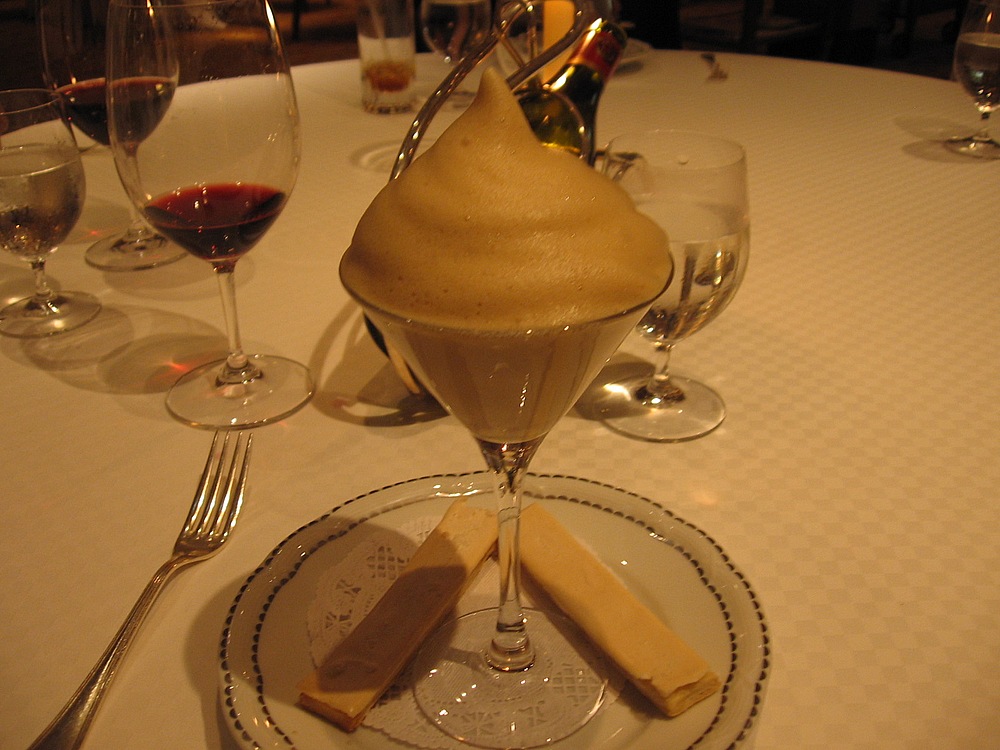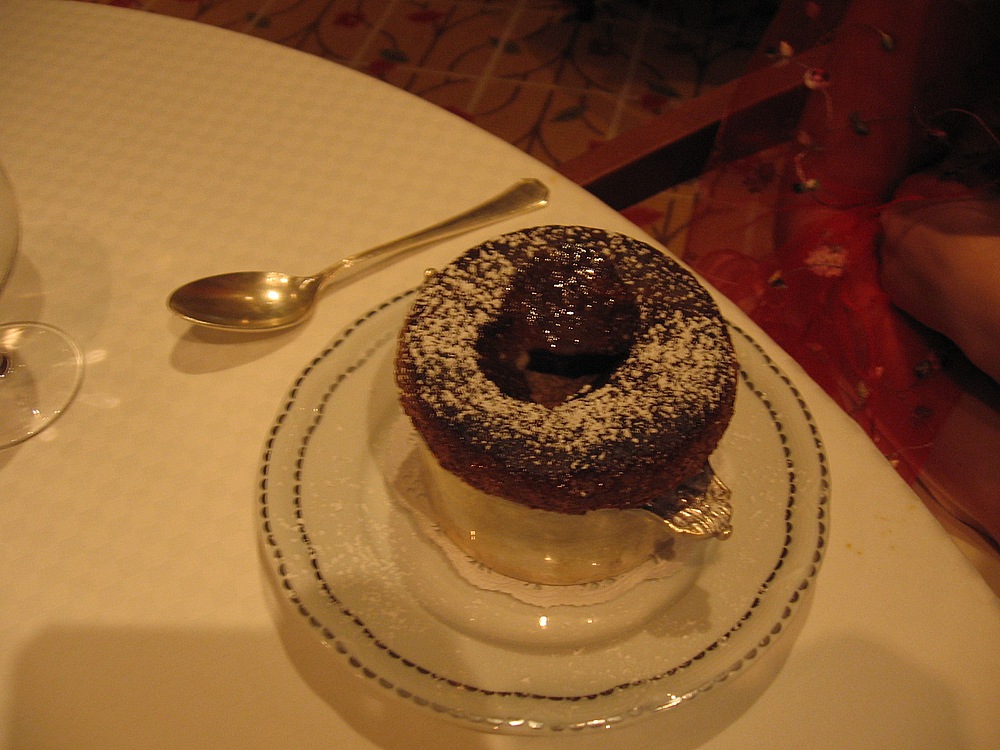 We all enjoyed this meal – although the chocolate soufflé wasn't as tasty as others that have been experienced - everything else was wonderful. We enjoyed a nice bottle of Cotes du Rhone which the sommelier recommended . To finish we were presented with a tray of petit fours but we took those with us to the theatre as we watched the Broadway style show. This was very enjoyable with great music, costumes, dancing and a particularly good display from some aerial artists.
Retired to bed at 12.30
[AUGUST 2008 REPORT HOME PAGE]