DAY 4 - SUNDAY 17TH AUGUST
I wake at 6am and go out onto the balcony to see us arriving in Villefranche-sur-Mer. It is a beautiful sight with lights on the shore twinkling and the sun rising behind the hills. The alarm goes off at 6.45am and we are up, dressed and off to the Waterfall Restaurant for breakfast. I have a selection of yoghurt with berries and banana pancakes, Kev and Georgia enjoy made to order omelettes and India has a waffle. We have to go to Michael's Club to arrange for a tender but within 5 minutes we are on the boat heading to the beautiful town of Villefranche.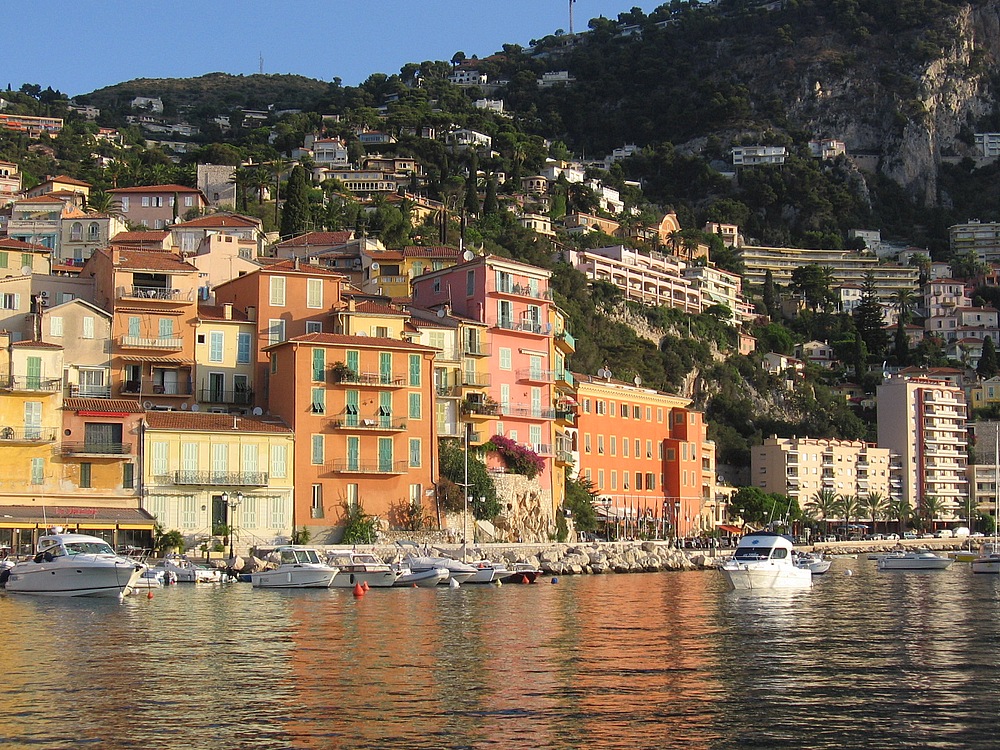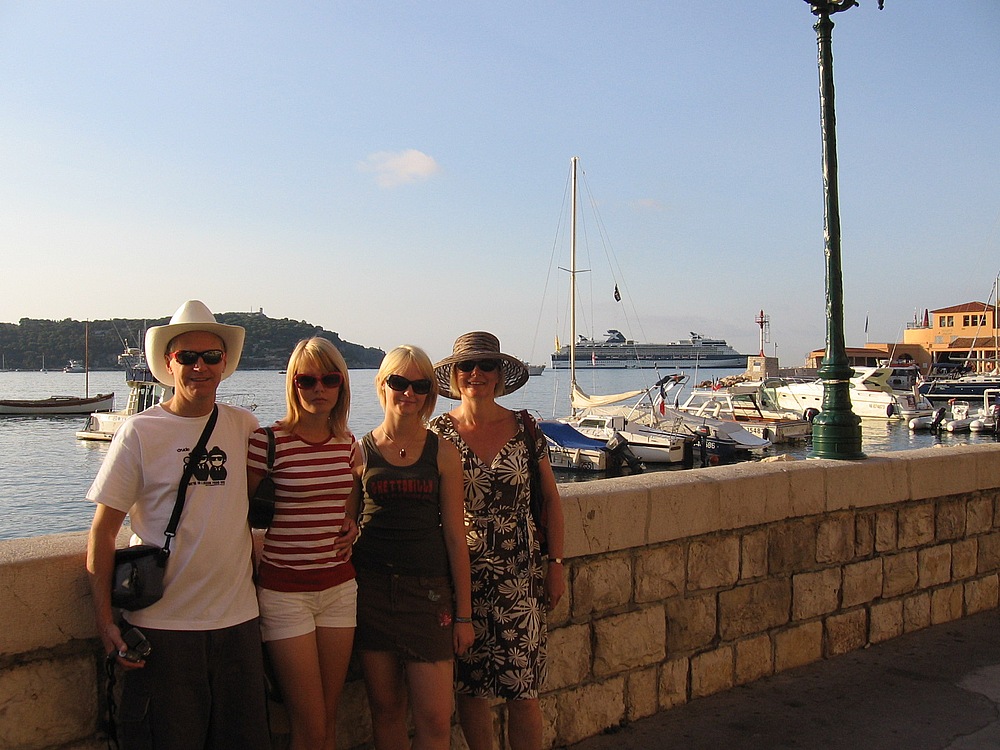 The colours of the buildings sprawled up the hill, draped in bougainvillea make a very scenic picture. We head up the steps to the station and I practise my school French to ask how old children have to be for the child's ticket price. The tickets are €5 adults, €3.80 for 12 – 25 years old, for Monaco return. We get on the top deck of the two-storey train and take in the fantastic views of the Cote D'Azur and it is obvious how it got its name, as the water is the most amazing shade of blue. Arrive in Monaco Station which is beautifully modern and clean – and following a tip on Europe Port Reviews "Villefranche to Monaco by train" report – we easily navigate to the top exit of the station where there are views overlooking the town.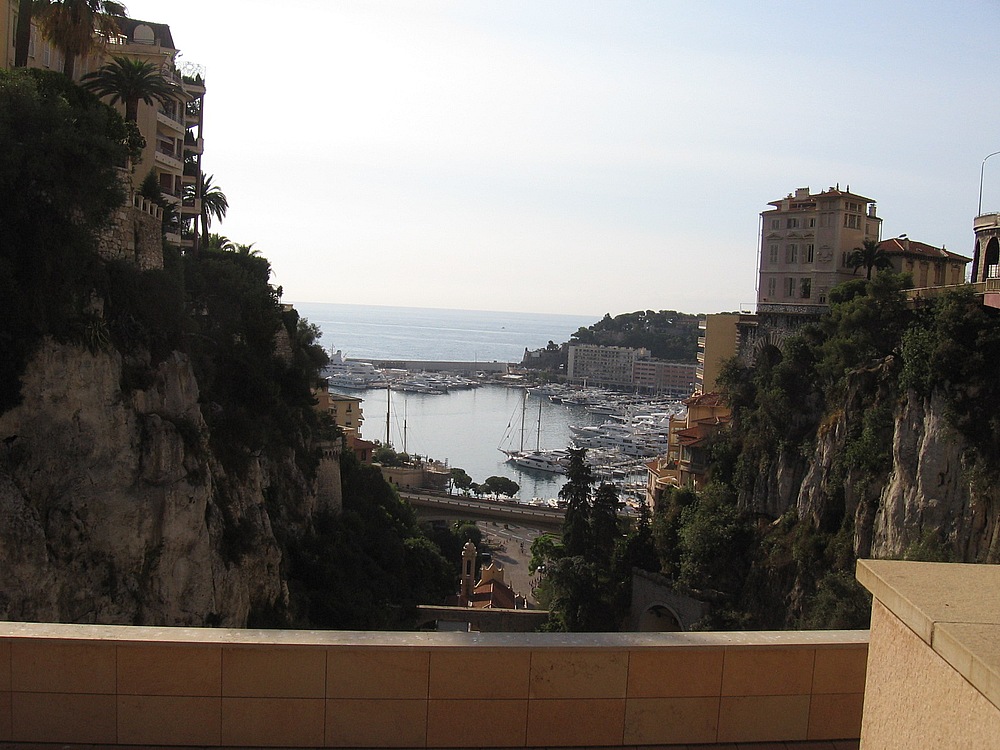 Walk down Boulevard De Suisse and along Avenue De La Costa until we reach the beautiful park - Allee Des Boulingrins, which is beautifully manicured with a display of modern sculptures and a wonderful fountain with a mirror.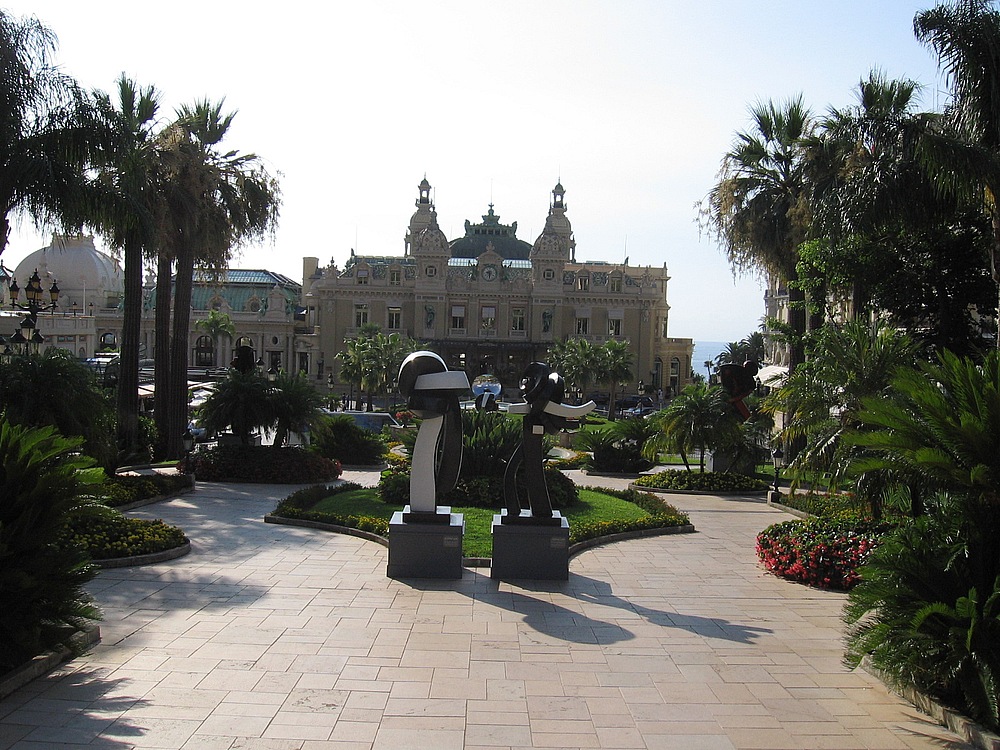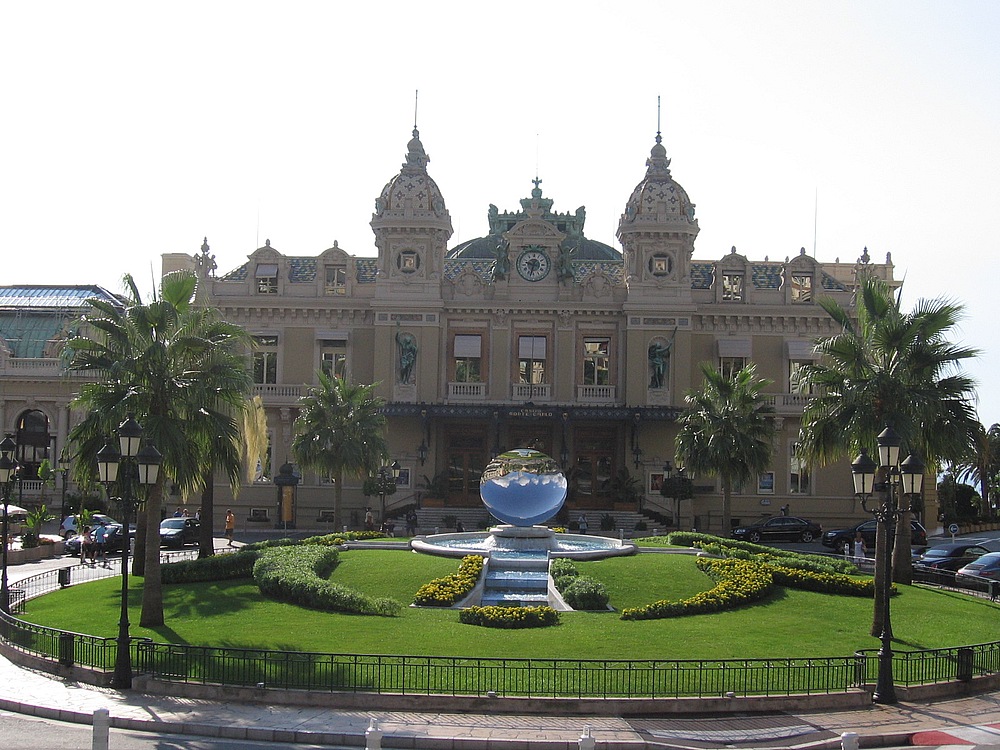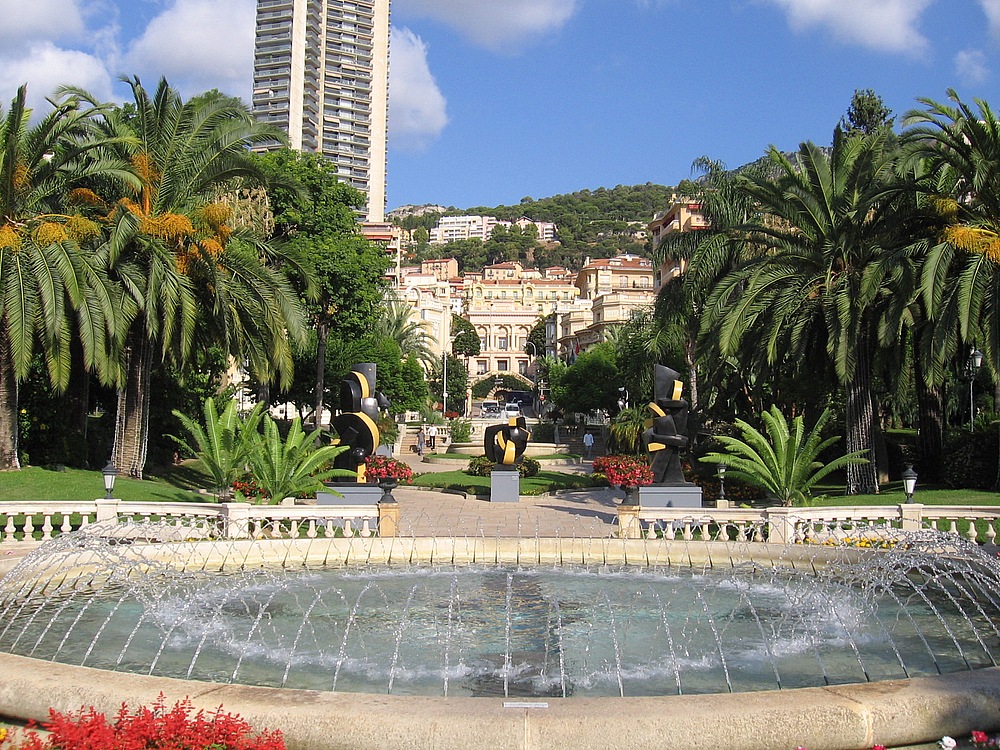 In front of us is the famous Monte-Carlo Casino. We are amazed at the fact that they can hold a Grand Prix along these narrow streets and will be watching the next one with much higher regard for the drivers' skill having walked the actual course and seeing just how narrow and twisty it is.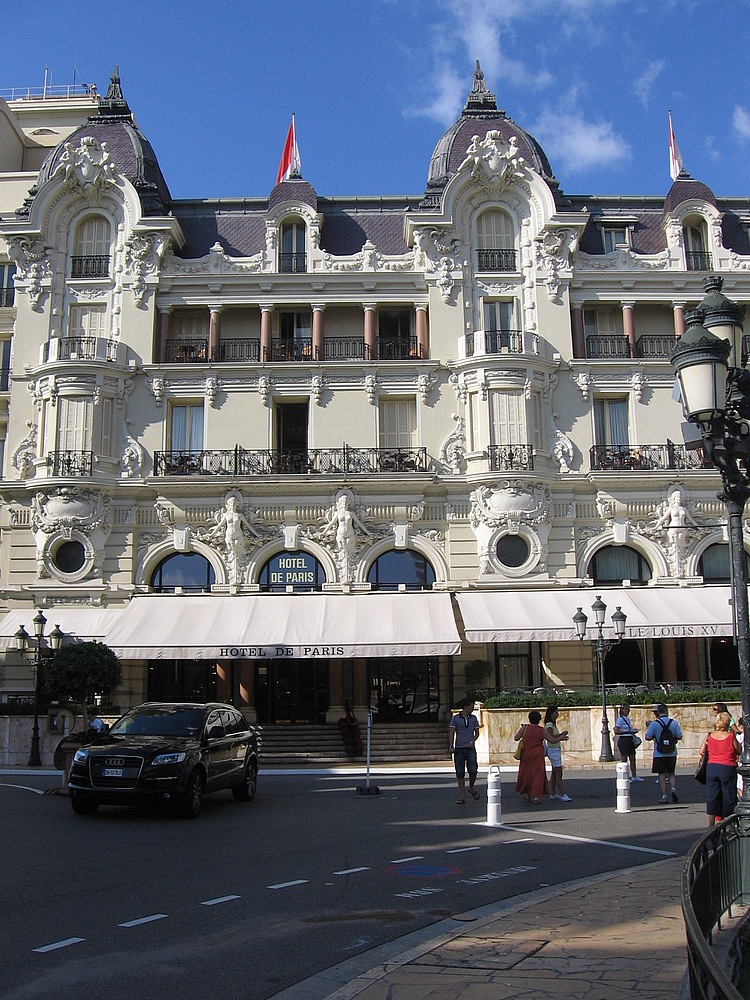 We see the famous hairpin bend and walk through the tunnel to exit by the harbour, which is full of luxury yachts.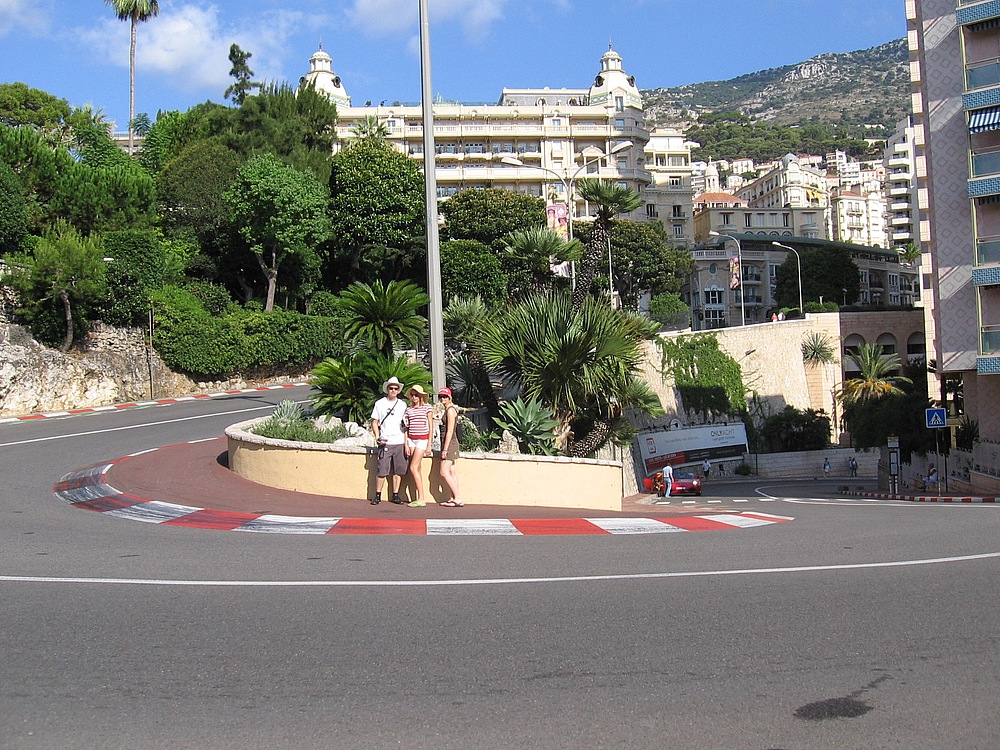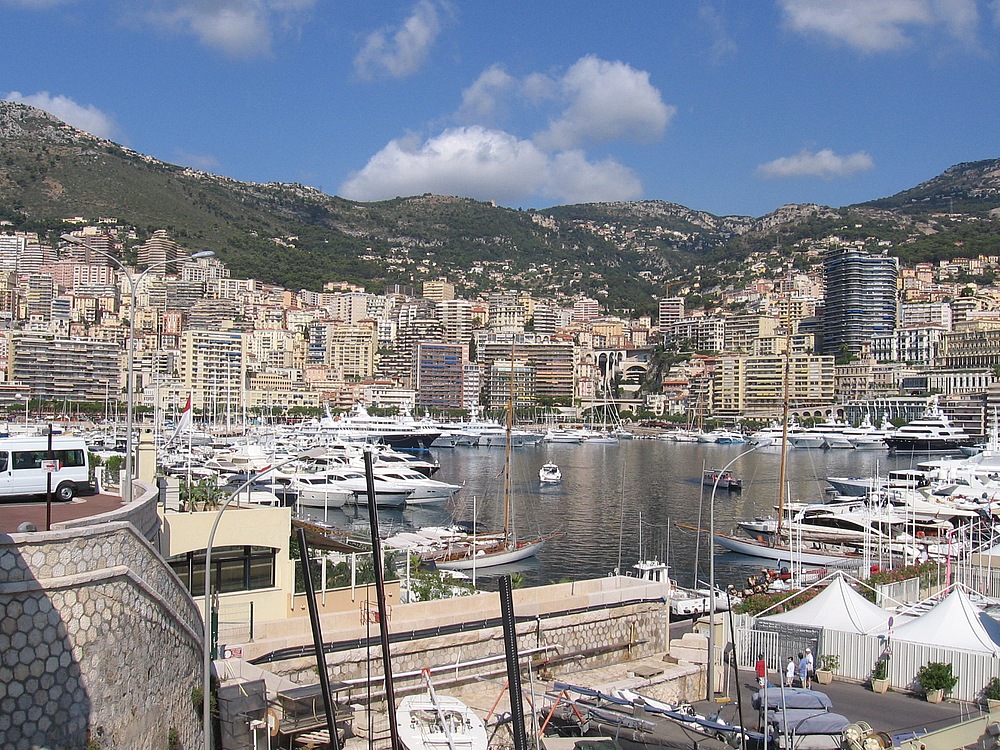 Head up some steps to the Musee Oceanographique – an impressive building, then walk through the beautiful Jardins Saint-Martin past the Cathedral and onto the forecourt in front of the Palace.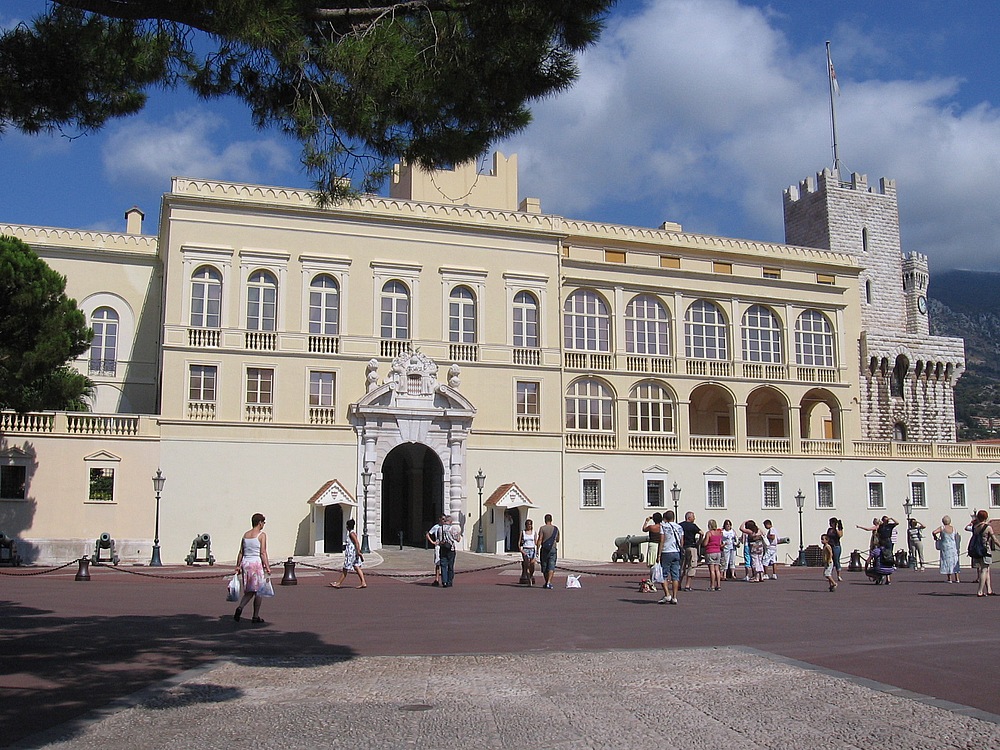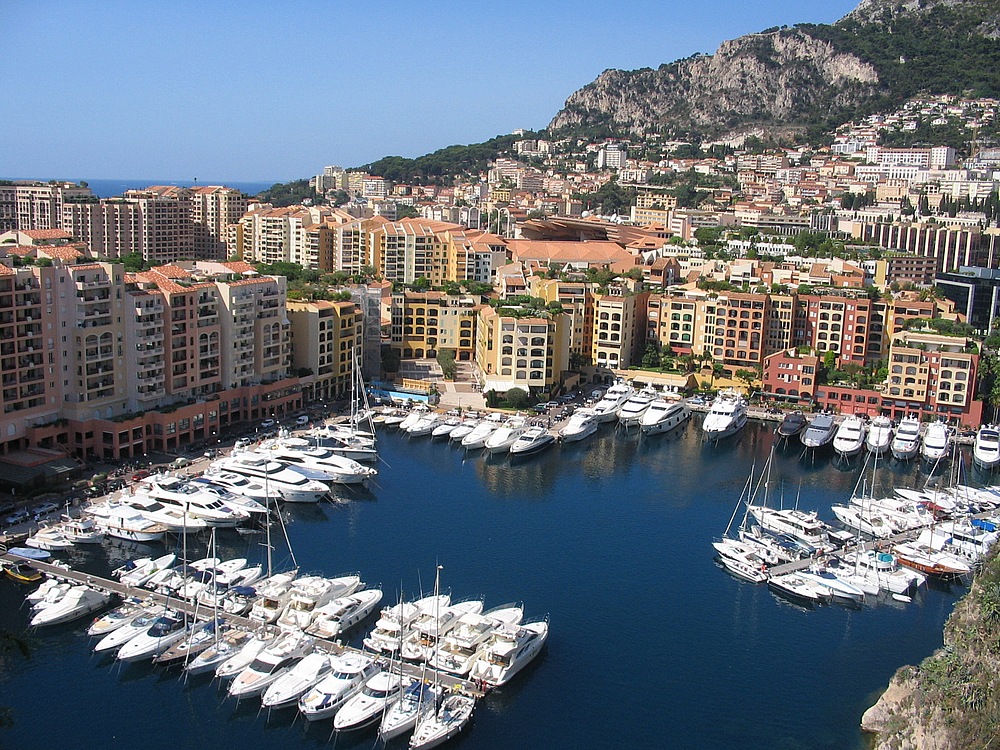 We find everywhere in Monaco to be very photogenic, clean and well kept. We were definitely lucky to get here early and to be able to see the Casino etc., before the area was full of tourists. By now the tour groups are out in force so we descend the Rampe Major where we find a little square with a fruit market set up. Buy some drinks and fresh peaches and enjoy sitting in the sunshine taking in the sites. We return to the station at noon and all agree that it was a great morning and that we all liked Monaco. Catch the 12.15 train back to Villefranche but in our hurry to get off the train (they don't seem to stop at the station long before moving off) Kev and myself left our brand new sunhats on the luggage rack of the train. Still we console ourselves with the thought that it could have been worse – it could have been a camera or video camera and we would then have had to spend the next few hours chasing the train to Nice to try and retrieve them. We wander around Villefranche – up the steps and along the little streets looking at the shops and pavements cafes.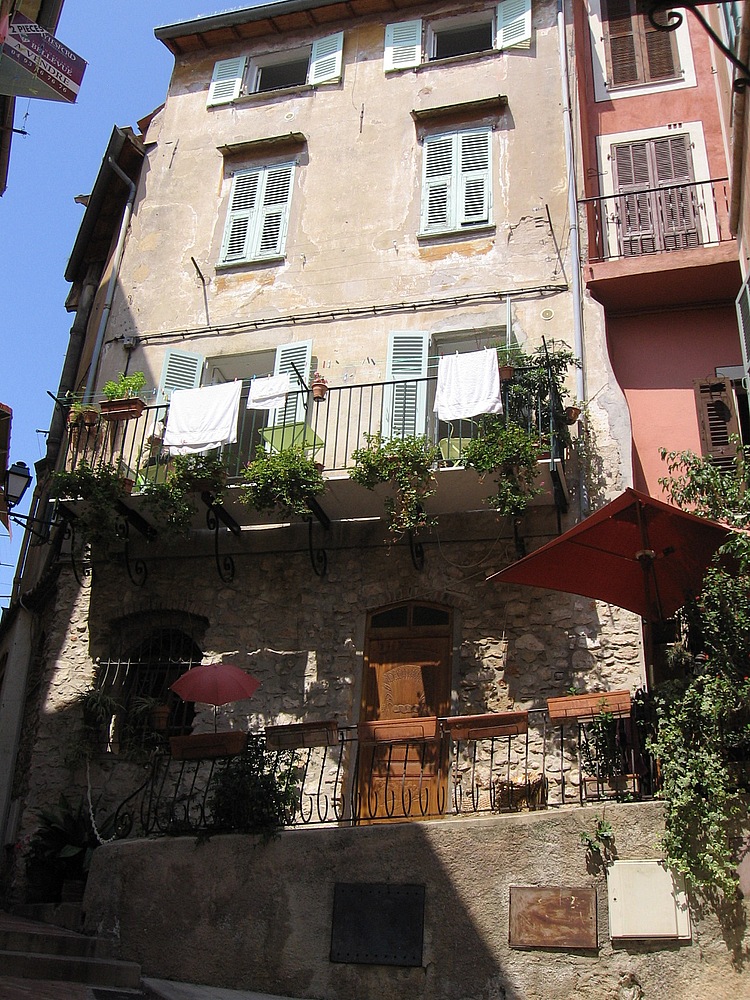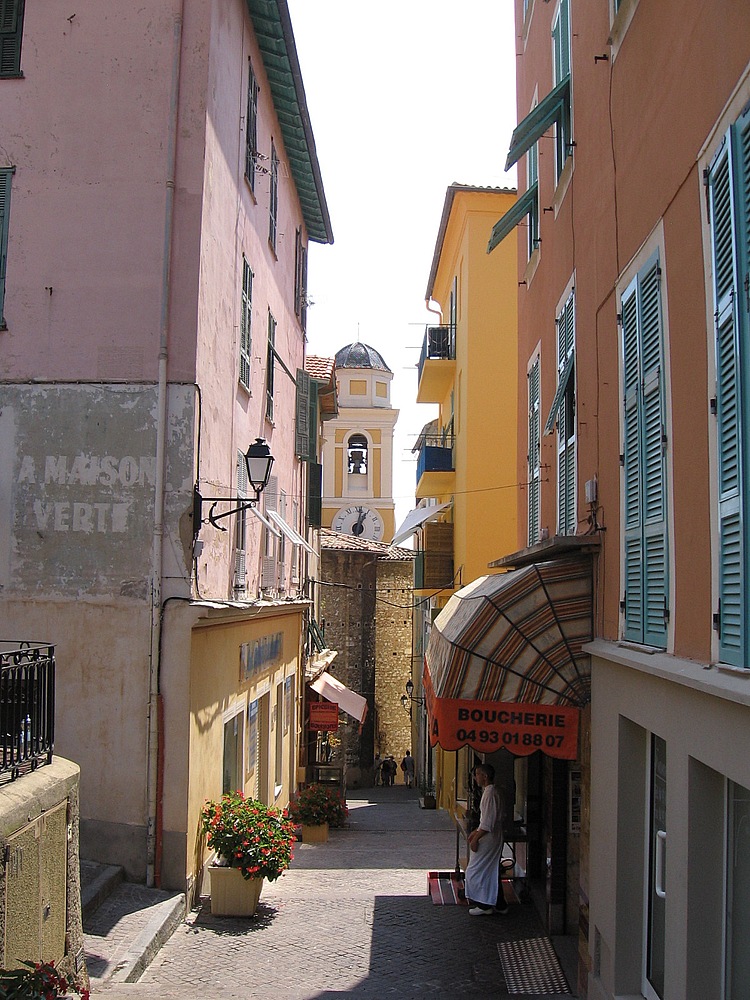 We buy a bottle of wine in the hope that we can get it back on board without having it confiscated (Celebrity's rules state that only two bottles of wine can be bought on board at embarkation – any further bottles are held until disembarkation). I had read though that the Mediterranean cruises were not as strict on enforcing these rules and we were hoping that was the case. Have a drink at one of the waterfront bars and then catch the tender back to the ship at 2.15pm. Luckily our wine got through security but only because the person in front had put theirs in a carrier bag and it got confiscated – as they were inspecting hers they must have missed mine. We did find that they were actually x-raying and confiscating bottles in most ports so maybe it is something they have cracked down on. To me it seems a shame that you can't buy local drinks to enjoy in the privacy of your own cabin and it seems like just another example of making more money out of passengers by ensuring they can only buy wine from the ship for cabins etc.
Back on board we drop our bags in the cabin and then go to the Waterfall Grill for a delicious burger with all the trimmings. I also get a ginger ice cream from the café, which was really tasty. We chill out by the pool while the girls swim and then go back to the cabin to play cards and drink the wine we bought in Villefranche, which had been chilling nicely. Unfortunately it was too sweet for our liking but being the troopers that we are we manage to finish the bottle – or at least I have one glass and Kev has the rest. After trouncing everyone at Beany, Kev announces that he needs peanuts to accompany the wine. As I feel like a cup of Earl Grey I volunteer to search out some peanuts. Unfortunately, I got sidelined by some particularly scrumptious baklava and a lovely, fresh looking sushi selection, (a bizarre combination - I'm sure you will agree). I return to the cabin triumphant with my spoils and announce, "I went in search of peanuts but found sushi and baklava". The sushi is delicious and India and myself enjoy the baklava.
It is at moments like this that we realise how worthwhile it was to splash out on a balcony. We are the starboard side of the ship and we have stunning views over Villefranche in the various different lights of the day. Sitting out enjoying a glass of wine, eating our nibbles and playing cards after a day spent exploring two new towns, is just wonderful and the thought that tomorrow we will wake up in Italy with Florence waiting to be explored, truly makes us appreciate what a glorious thing this cruising lark is.
We all take showers and I sit on the balcony waiting for everyone to get ready, watching the tenders ferrying tired travellers back from their tours. Jet skis and yachts sail past – reflected in the early evening sunshine. We go to the Rendezvous Lounge for a great panoramic view of Villefranche. Kev has a beer; I have the cocktail of the day, which is a Peach Daiquiri and the girls soft drinks. It is then we realise that the bar is actually about to be used for the children's club karaoke. Too late to move, as we haven't yet paid for the drinks – suffice to say after a particularly bad rendition of "Build me up buttercup" we pay up post haste and escape to the top deck to watch as Villefranche slowly slips away and we head out into the ocean.
Into the dining room at 8.45pm only to find that our table for 8 has been reduced to a table for 4. A rather worried looking Dido, our waiter, asks where we were last night and we explain that we went to the Normandie Restaurant. He said that only 4 people turned up last night so he had been told to reduce the table size. With that, a family of 4 arrived and without too much upheaval our table of 4 is transformed into a rather cosy table for 8. We introduce ourselves to another English family Bill, Ruth and Ruth's children Alan 16 and Michelle 13 from Essex. It transpires that they were on early seating the first night but managed to get moved to our table the previous evening. Our choices at dinner tonight include sweet potato and apple soup (which India said was delicious), sunrise medley (a selection of fruits) which Georgia chose and chicken broth for Kevin and myself – this was quite tasteless and we wished we had made another choice. Entrees were pork chop which Kev and Georgia enjoyed and India and myself had the coq au vin with spetzel –which was very tasty but was actually a bit too much as there were two enormous bits of chicken. It was Bill's birthday yesterday and he had a bottle of champagne, which he very kindly offered us a glass of – this was much appreciated. Pudding included After Eight ice cream, butter pecan ice cream and apple pudding, which were delicious. Finished the meal with coffee and by the time we finished it was just before 11pm. We therefore head back to the cabin as we decide to get an early night in preparation for a long day tomorrow exploring the delights of Florence.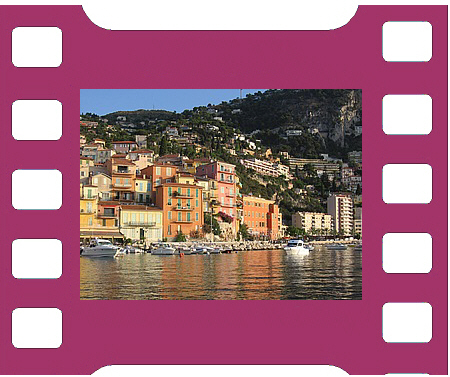 Click on the film strip to see some video of our time in Villefranche and Monaco
[AUGUST 2008 REPORT HOME PAGE]