DAY 2 - FRIDAY 15TH AUGUST
Alarm goes off at 4am – so we are up and at 'em. Kev does a half-hearted old grey mare but promises an "old grey mare fest" sometime on the cruise, the girls greet this news with groans - thankfully this didn't materialise. For those of you who don't understand you need to read Kev's previous trip reports!
We make a hot drink and eat the hotel's biscuits and go down to check out and get in the pre-ordered taxi. Straight to Terminal 1 but BA check in not yet open. When it does we are almost first in queue for bag drop and it is all very fast and efficient. The problem is we then had to wait a further 15 minutes for security – by this time quite a queue has formed and the whole area is becoming quite chaotic – but eventually through and into departures. Our only purchase was an eye mask for Georgia who managed to forget one of the many free Virgin Atlantic ones we have at home.
Flight takes off at 7.45am about half an hour late. Get a sandwich and tea and coffee. As we come into Barcelona at 10.25am local time we see our cruise ship in port as we fly over her. Barcelona airport is very modern, lots of glass and loads of shops and places to eat, but what a marathon hike from our gate to the luggage reclaim area B. After a worryingly long wait for our bags – in which time we envisage the scenario of wearing the outfits we had on for 12 consecutive days and nights – we exit baggage reclaim into arrivals. The efficient Celebrity Cruise personnel, who checked us off their list, meet us. By 11.45am we are on the coach and on the way to the port. Arrive at the ship at midday and into the terminal where we do super fast express check in as we had already done check in on line. After the obligatory boarding photograph we step into the lobby of the Celebrity Summit. Servers with trays of champagne, mimosas and orange juice greet us and not wishing to appear rude we take champagne and take in our surroundings. The music playing is Vivaldi's Four Seasons Spring – seemingly a good omen as this was the song I walked down the aisle to some 22 years ago. I must confess the lobby of the Summit isn't particularly impressive but we have found this on the Norwegian cruise lines and Disney although Celebrity's had probably the least wow factor of any of them. I personally like an impressive atrium and the best I have been on was a Royal Caribbean – somehow it gives a real wow factor when you walk in. As we are keen to see a little of Barcelona we decide not to go to the formal, sit down Cosmopolitan Restaurant – although this would normally be our chosen place for a relaxed lunch on our arrival on a cruise. Instead we go to the Waterfall Café for a buffet lunch. There is plenty of choice and our meals include rare beef, southern fried chicken, Caesar salad, Parmesan pork, gratin potato and Waldorf salad. For puddings we choose apple tart and vanilla sauce, chilled fruit soup and various cakes. This is all washed down with the free lemonade and water, which is very refreshing. By now it is 1pm and we are able to go to our cabin, which is 6030 on the Penthouse Deck. It is a "Sweet Sixteen Cabin" – which is applicable to just 16 cabins on the ship 6021 to 6035 port and 6016 to 6030 starboard – the advantage of these is that, although the cabin is the same size as the other 2C category cabins, the balconies are twice the size. This doesn't show on the deck plans but it is a real bonus, especially for us with four in a cabin. The best way to describe the cabin is compact and bijou and we are wondering how the fourth bed is going to work, as the settee is in fact only going to be a single bed – but all is revealed later that night.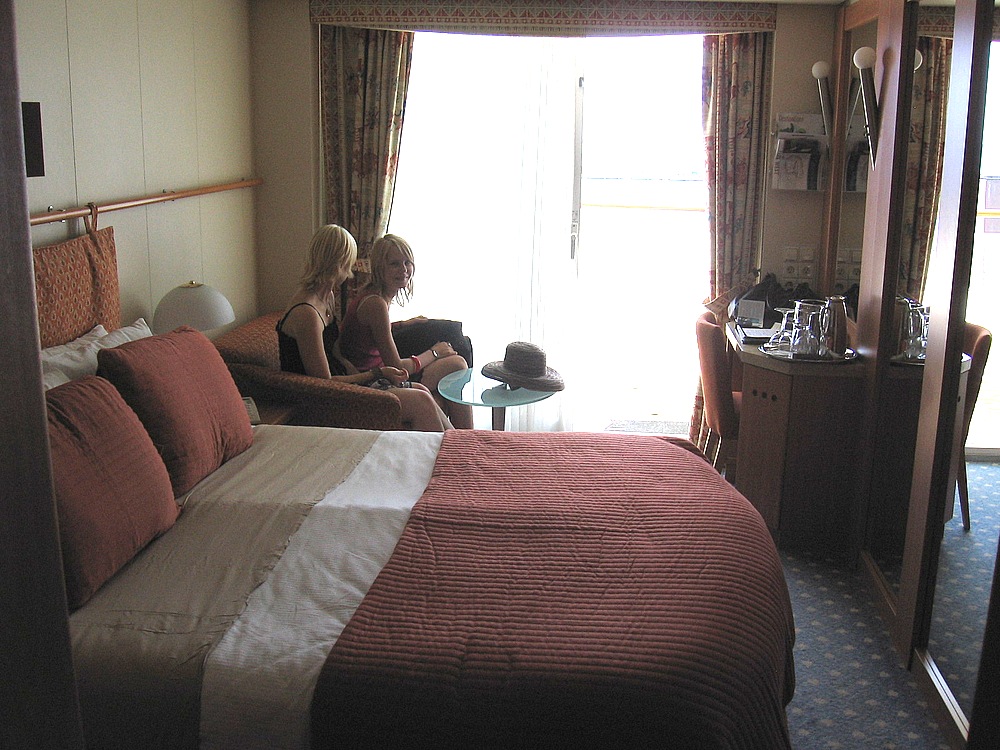 Thankfully we have a lounger on the balcony together with 2 chairs but we decide to ask our room attendant for a further chair when we meet him. After taking the requisite photos and video we head off for our whistle stop tour of Barcelona. There is a shuttle bus pick up just outside the terminal and for €3 return, represents good value. We are dropped at Plaça de la Porta de Pau (Square of the Gate of Peace) which is overlooked by a monument to Christopher Columbus. We wander up the tree lined La Rambla amongst the tourists and stallholders and following our downloaded maps head to the nearest metro station.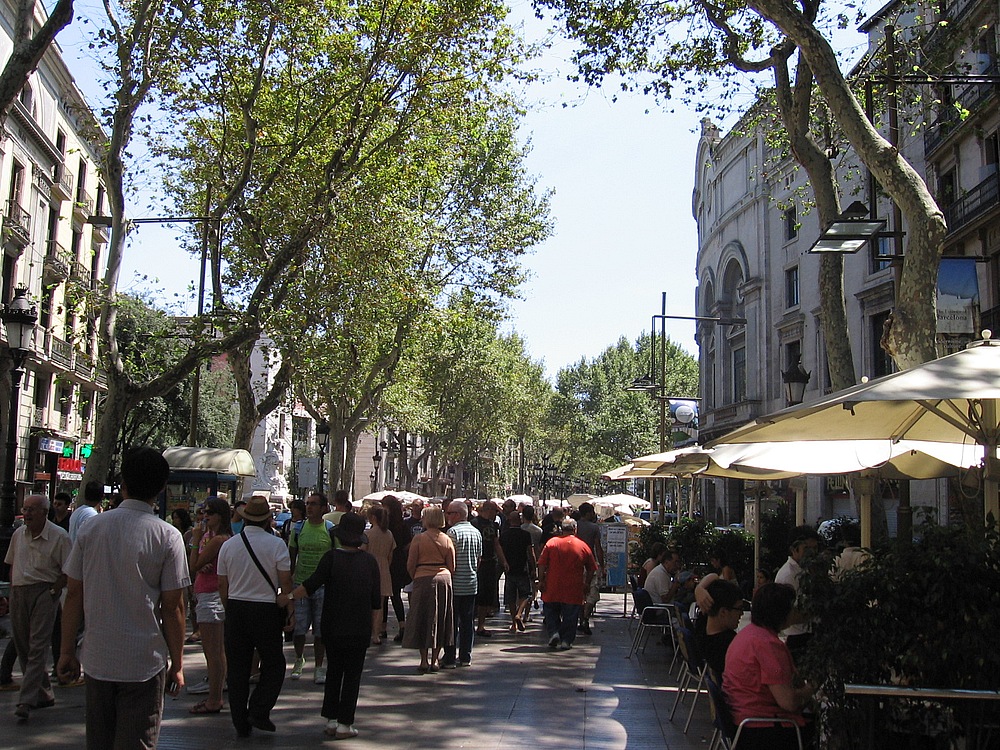 Today is a national holiday as it is Ascension Day and surprisingly we find the side streets deserted of both people and traffic, which makes our walk very pleasant.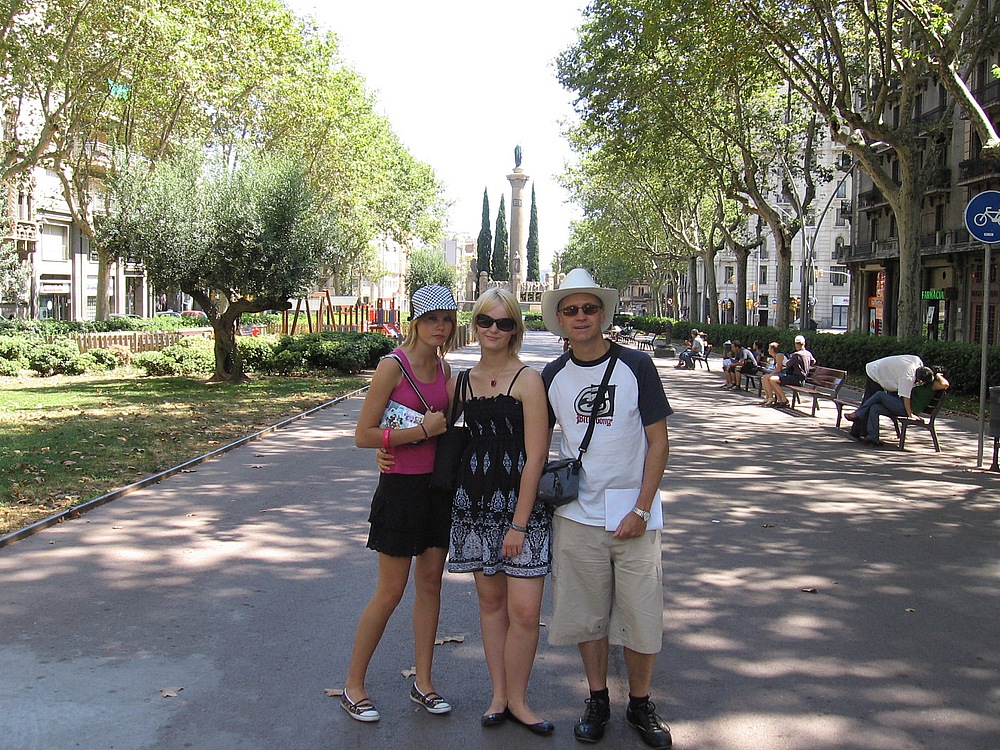 Unfortunately the first station we come to doesn't take notes and seems to dislike our credit card, so we press on to Drassanes where we buy a 10 trip metro ticket for €7.20 which we can all use by passing it back to the next person when you go through the barrier. We exit at Diagonal where we need to transfer to another line – but unfortunately, the station for the line we need is closed for refurbishment, so walk down Avinguda Diagonal to La Sagrada Familia – Gaudi's most famous project. The detail is fantastic and everywhere you look you see more and more details. We take lots of video and pictures, as it truly is an amazing building. Gaudi himself worked on the project for 40 years and construction began in 1882. Although it was claimed that the building would never be finished, construction is now set to come to an end in 2026 to coincide with Gaudi's death 100 years earlier.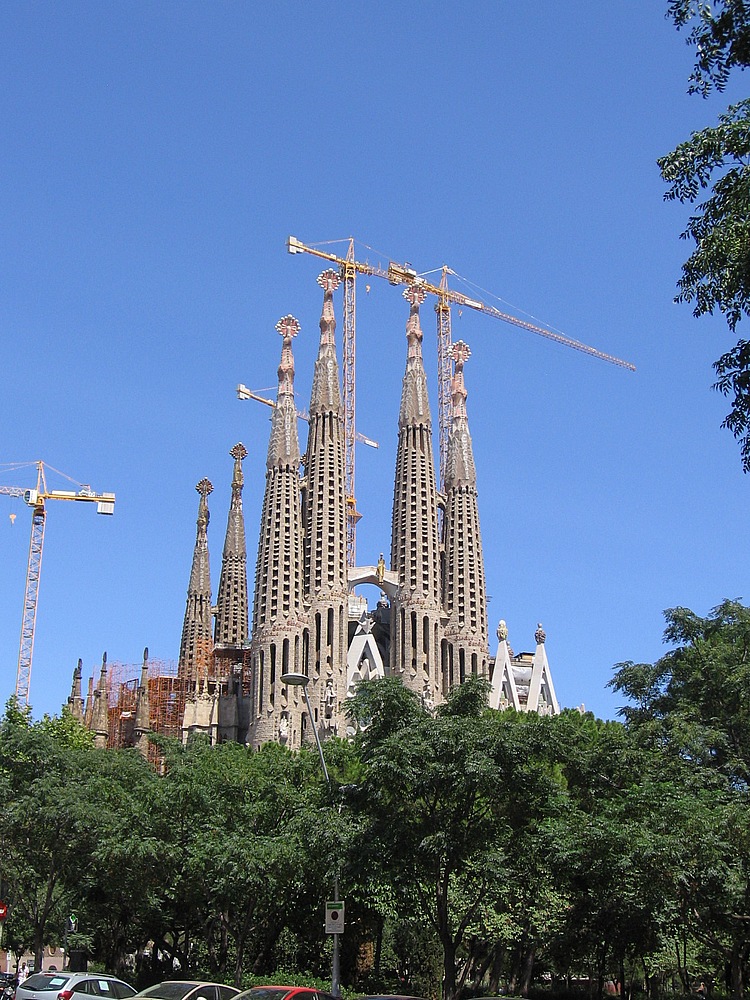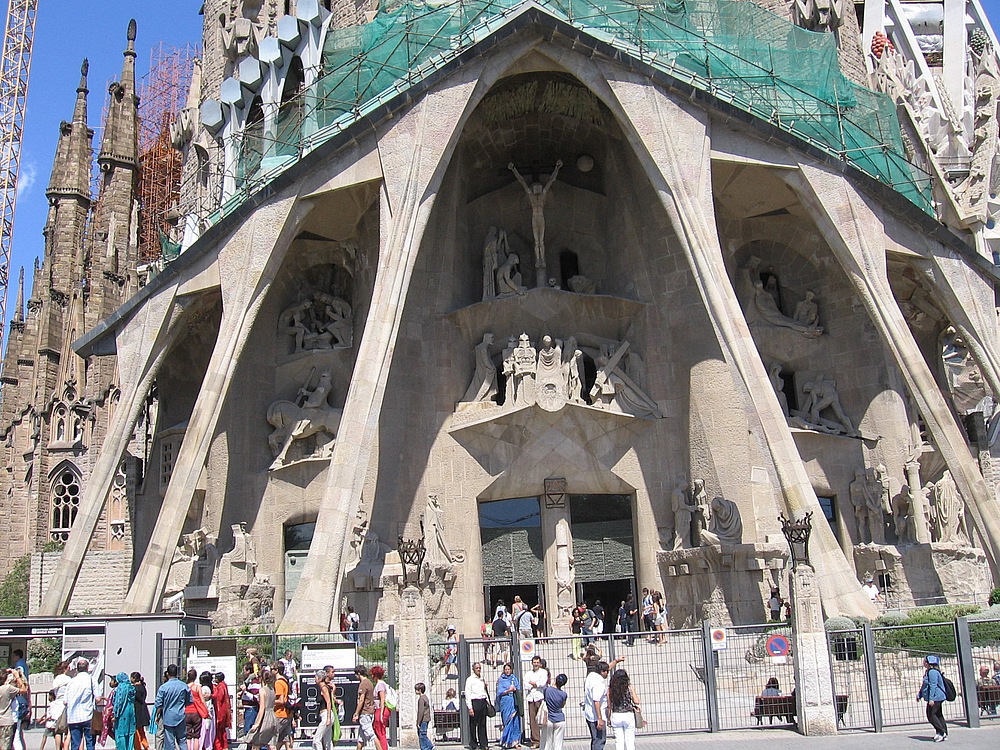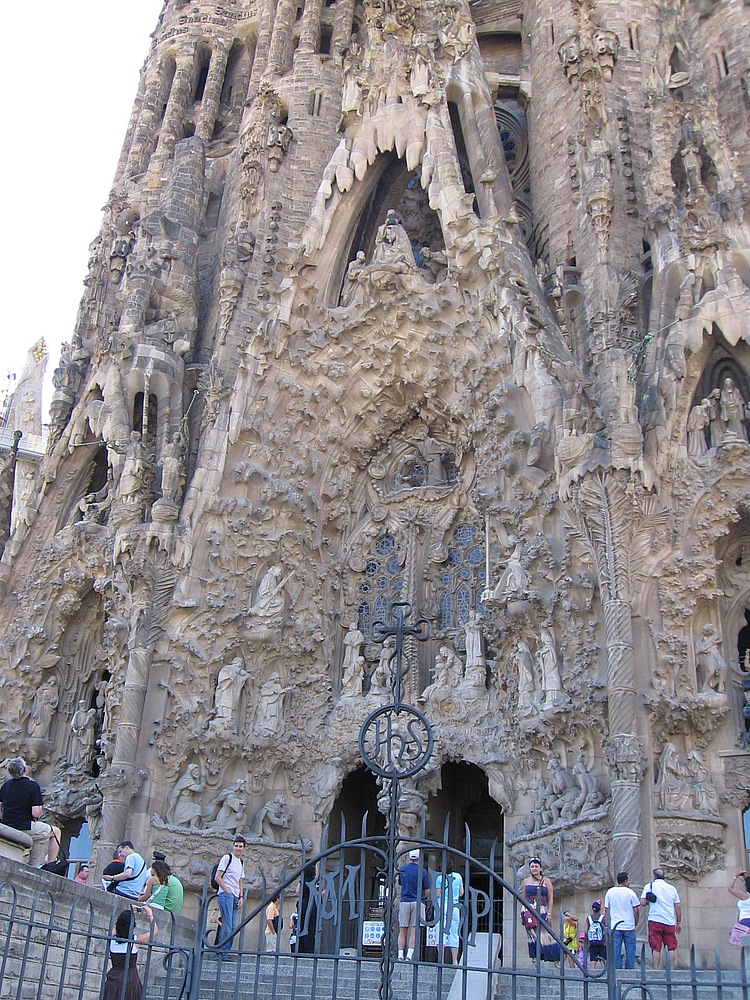 The area around La Sagrada Familia is in stark contrast to the deserted side streets we walked up earlier as it is heaving with tourists trying to capture it in all its glory. We catch the metro from La Sagrada Familia station to La Passage De Gracia, which is at the top of La Rambla. We stop in Placa De Cataluna for water and lollies as the heat of the afternoon is taking its toll on us. We then enjoy a casual stroll back looking at the stalls selling all their arts, crafts, clothes etc. etc. When we arrive at the shuttle bus drop off a T3 bus is just about to go and we hop on to arrive back on the ship at 4pm after a true whirl wind visit to Barcelona. We enjoyed Barcelona and although we saw very little we agreed that we would like to visit again for a weekend and take in some more of the sites and soak up some of the ambience of the city, particularly in the evening.
We dash to the cabin to drop off some of our things before grabbing a couple of glasses and heading to cabin 9160 where we were meeting Bob and Sandy from Calgary. Bob and Sandy are a couple I had corresponded with via the Cruise Critics forums. This is an amazing forum for anyone contemplating a cruise – the information both on the website and given by the forum's contributors can really enhance any cruise and we found some invaluable hints and tips by people who had either cruised on the Summit before or done an itinerary similar to ours. You can also register for a Celebrity Connections party and if 25 or more people sign up, Celebrity arrange for a small get together on the ship where you meet your fellow Connections guests.
Bob and Sandy's cabin is on the aft of the ship and has a lovely balcony where we sit and enjoy a drink from their extensive bar and talk about previous cruise experiences and plans for this cruise. We are joined by Terri and Steve from New York and Marilyn and John from Fremantle, Australia who tell us they have spent a few nights in Barcelona and how the fountains are all lit at night and what a fun place it is. This strengthens our resolve to return sometime in the future. Bob and Sandy were most congenial hosts but before too long we need to return to the cabin to grab our lifejackets for muster drill. We meet in the theatre – which looks pretty impressive, but after an interminable wait and some information we are told to assemble by the lifeboats. This we do only to have to stand in the sun and be told a load more information, which we could have listened to in the comfort of the air-conditioned theatre. After what seems like an eternity we are told muster drill is now over – however they did no check list of cabins (unlike previous drills with other cruise lines) and whilst we were assured that everyone must participate we spoke to some people who had remained in there cabins and were not checked out by staff. This questions the whole drill when it is not being implemented properly and without doubt this was the most disorganised and long drawn out drill we have ever had to attend.
The time is now nearly 6pm and people on early seating must have no time to get ready for dinner. Luckily we have time to shower and unpack on a strict rota system, as our aim is to be back on deck for the sail away party at 7pm. We unfortunately only manage to unpack two of the three suitcases – so hastily shove the girls unpacked case under the bed to be sorted out tomorrow which thankfully is an "at sea" day. Whilst we were unpacking, our steward John came to introduce himself. He asks if there is anything we require and explains about laundry etc etc. When he starts telling us about the mini bar we tell him there is a half eaten sandwich in there – "Is it yours?" he asks "No" say we – wondering why we would bother to tell him if it was ours!!! He states that the mini bar is not his responsibility and he would tell the person whose responsibility it was to remove said item for us. We then asked if we could have a further chair on our balcony – he said for health and safety issues this was not allowed and 3 was the limit and inferred that we were lucky to have a lounger in addition to the standard 2 chairs. I must admit from reading about other people's experiences of sweet sixteen cabins I don't believe this is strictly true; indeed some people have been lucky enough to get 2 chairs and 2 loungers. Still as we were in a hurry to get out we didn't argue and decided we would just pull the desk chair out there when we needed it (although it states that inside furniture shouldn't be put on the balcony) but how else were all four of us able to sit out there.
Up on deck we have the cocktail of the day for $6.50, which is a Margarita for us, and $4.50 virgin cocktails for the girls – a Celebrity Dream and a Chocolate Cookie Crush.The party starts and we sail away from Barcelona on the start of our amazing cruise. We get to talk to a Canadian man who kindly takes our photograph and Kev and I say what a great mix of nationalities there are on board – having never done a European cruise before (only Caribbean) there is a much more eclectic mix on this cruise. Everyone seems so friendly and the Celebrity Crew are also very courteous.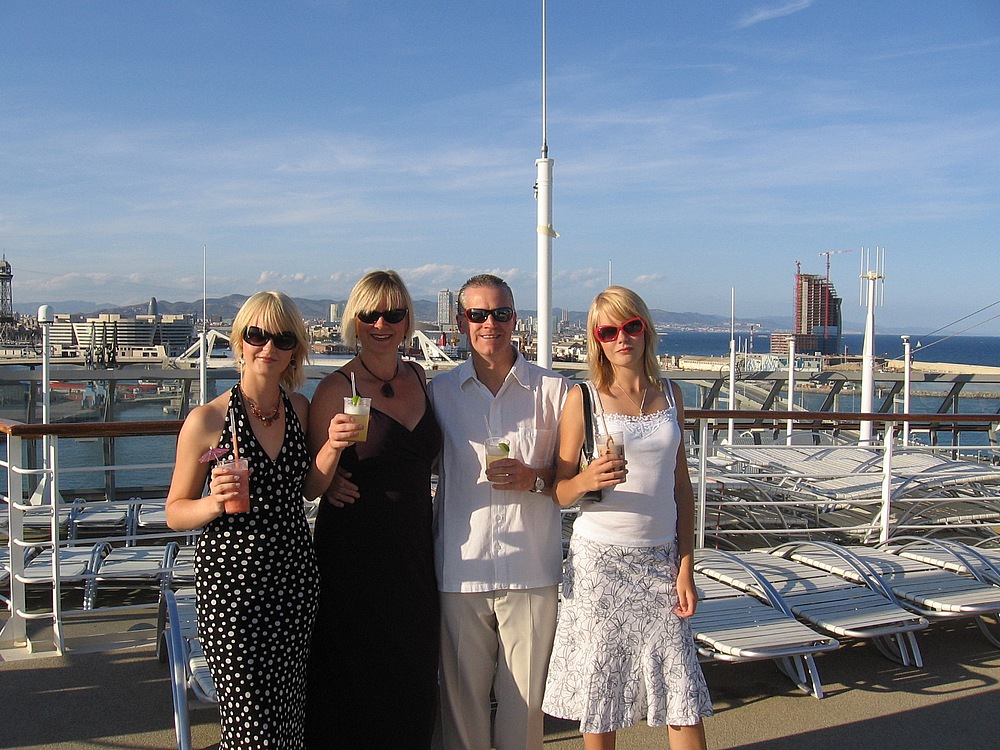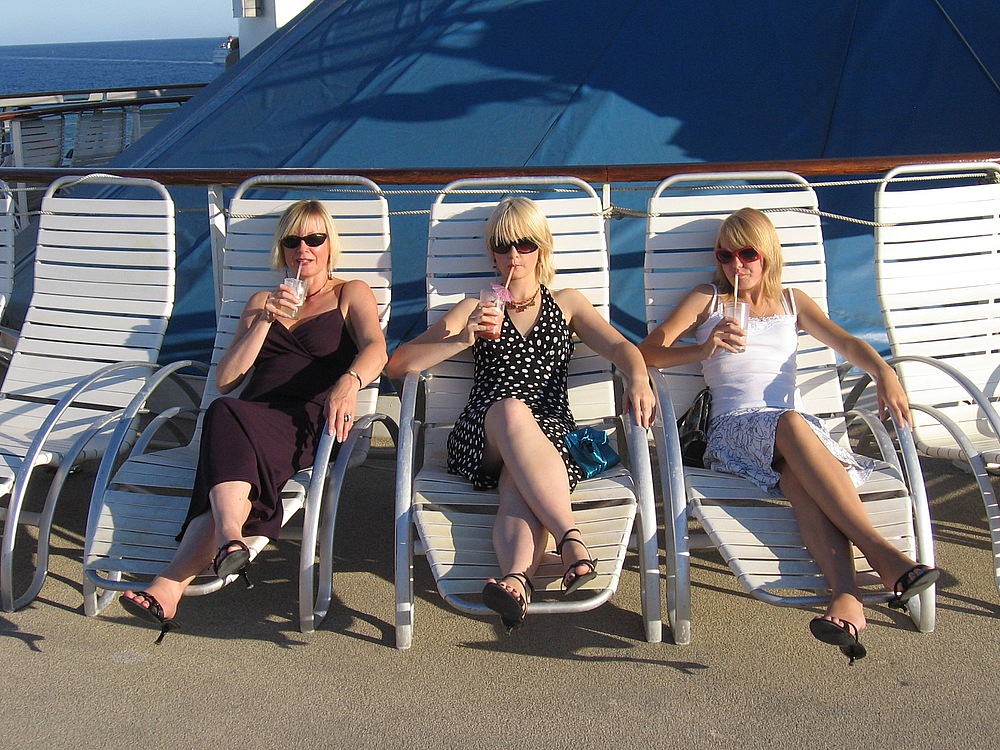 We head down to explore more of the ship and go in the Champagne Bar and Martini Bar where we have a glass of wine each. We are surprised to see people smoking in here and to be honest find it quite off putting. However we discover that on most public areas of the ship – smoking is allowed on the port side but I believe that Celebrity is enforcing stricter rules from 1st October 2008. On NCL public areas are smoke free apart from designated state rooms, outside on deck and in the Cigar Bar – this to me is far preferable as the smoke from the port side for example in an open area tends to drift across and if you inadvertently walk through a smoking area you can smell it on your clothes – I personally would pay more attention to a Cruise Line's smoking policy before booking any future cruises.
At 8.30pm we head to the Cosmopolitan Restaurant only to be told it is now 8.45pm for dinner. We return at 8.45pm and are asked what our table number is – in our haste to shower and unpack we hadn't taken much notice of the notices on our stateroom table and Kev hotfooted it back to the cabin to get the table number, which is 565. We join a table of 4 to make up 8 – although we had actually requested a table of four when booking the cruise. The reason for this wasn't that we don't enjoy meeting new people, rather that we felt it would be nice to discuss the days events amongst ourselves and talk about forthcoming plans for the next day. Our dining companions are from England with their two sons who I believe were 13 and 11. The choices tonight on the menu included chilled fruit soup, shrimp cocktail, tomato garlic soup, mushrooms in sauce in a puff pastry case, followed by pork with saffron risotto and vegetables, chicken breast stuffed with spinach and wrapped in Parma ham and prime rib. We choose crème brulee and rum and raisin ice cream from the dessert menu and I have to say the ice cream in particular was divine. An enjoyable evening was spent comparing travel stories and plans for the cruise. At the end of the evening they explained that they were here with two other families but their bookings had been mixed up and they had been placed apart from them for dinner but they were trying to rectify this. They therefore apologised and stated that they may not be dining with us again. Ha, there was no fooling the Stringers, it was obvious our witty, scintillating conversation was too much for them – or, more likely, they found us a right P.I.T.A. By the time we had enjoyed coffee it was 11pm but ever determined to make the most of it and knowing we had a sea day tomorrow we headed off in search of fun. In spite of waking at 4am for the flight and not sleeping too well in the hotel it was still lovely to be on holiday and not experiencing jet lag like we do when we fly to the States. Georgia spotted some games so whilst Kev and India played chess, Georgia and myself played Chinese checkers, something I haven't played since I was a little girl, many moons ago.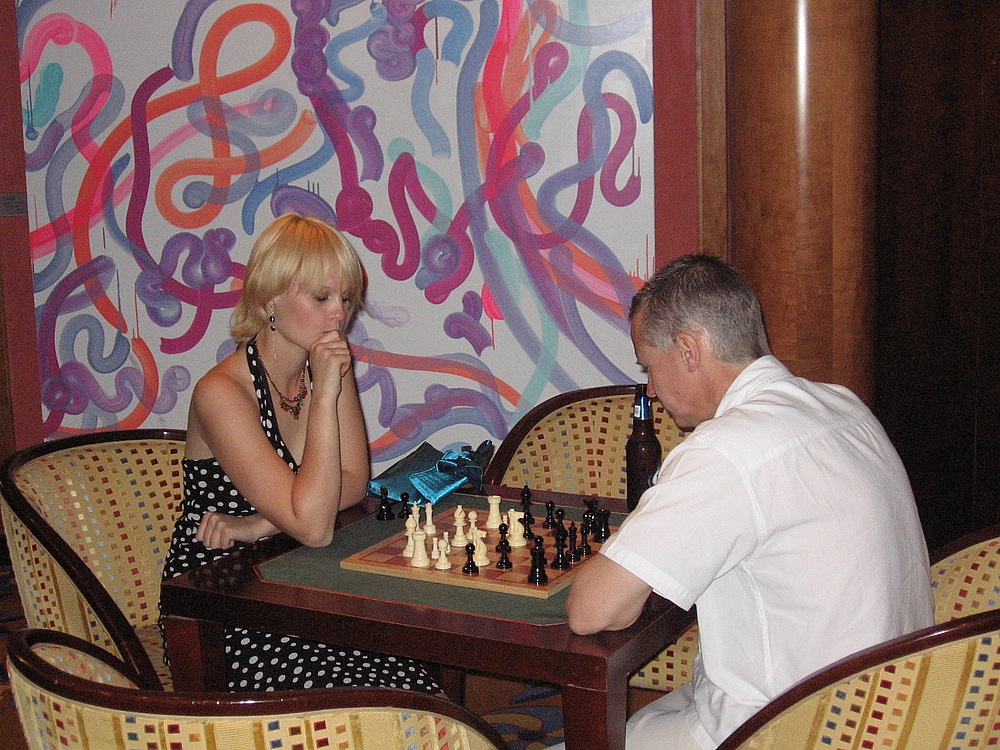 Georgia and I then moved onto an enormous jigsaw puzzle of Santorini, which was next to impossible. I believe I managed a grand total of four connecting pieces before giving up. And so to bed and amazingly the cabin had been transformed into a sleeping compartment for four. Much to our amazement India's bunk bed was suspended directly above Kev's side of the bed (or at least where his head would be when sleeping) and Georgia's. I must confess with the sofa bed pulled out there really was very little spare room to be able to get to the balcony should you want to. Still we managed it to see the moon laced with the night sky reflecting on the sea – a wonderful sight. Got ready for bed and as is par for the course I was the first casualty, banging my head on the suspended bunk bed. Before retiring we made our breakfast choices and hung it on the cabin door. This was a handy hint I had read on the Cruise Critic boards that you could pretty much request any breakfast food even if it isn't listed – so we thought it was worth a try and did so. Bearing in mind we had been up since 4am we naively thought we would sleep like babies so ordered it to be delivered at 9 to 9.30am.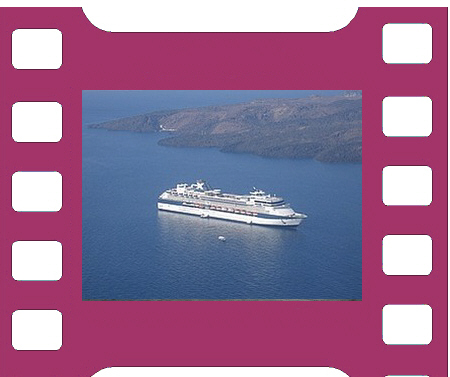 Click on the film strip to see some video of the Celebrity Summit
[AUGUST 2008 REPORT HOME PAGE]