DAY 1 - THURSDAY 14TH AUGUST
This holiday was booked in September 2007 through The Cruise Store. Having explored all our options we booked a 12 night Classical Mediterranean Fly/Cruise with Celebrity Cruises on The Summit.
For information in August 2008 we obtained Euros equivalent to €1.20/£1 and the $/£ exchange rate was around $1.90/£1 but was beginning its continued fall. As at January 2009 the exchange rate is approximately €1.00/£1 and $1.45/£1.
Who we are:
For those of you reading this who don't know us let me introduce ourselves - we are the Stringer family and we live in the beautiful Cotswolds in Gloucestershire, England.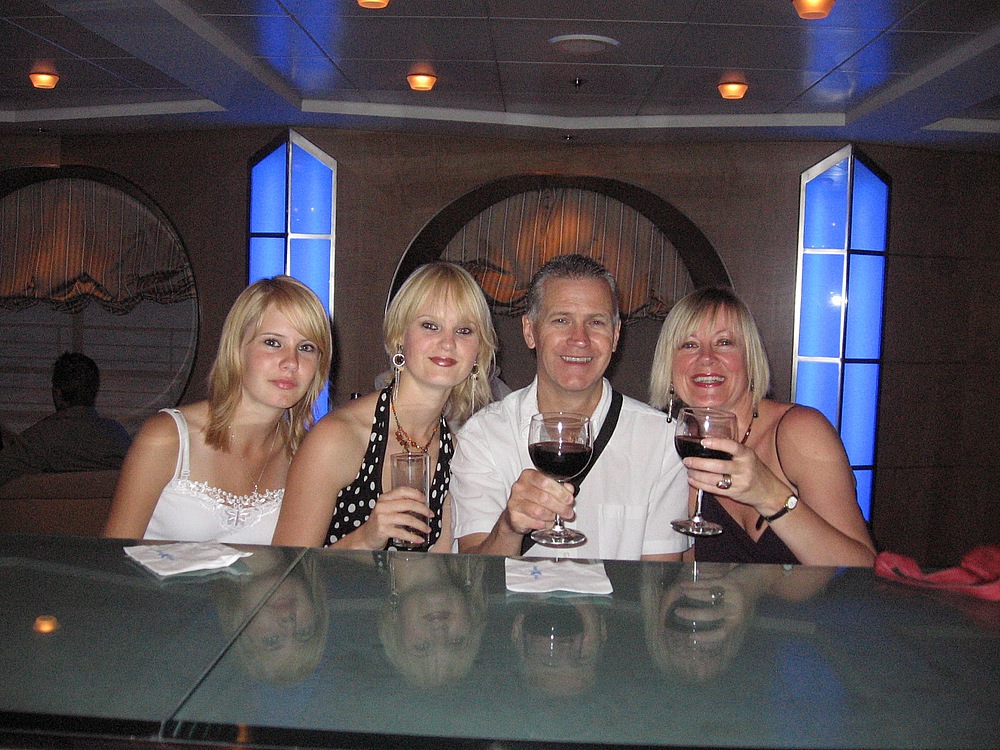 Firstly Kevin - 50 and a Quality Manager at a local manufacturing company. A very organised and methodical person who enjoys planning holidays and drinking beer!! But his first love is all things Disney - as can be seen from our home page and numerous trips to "The World". Also the love of my life and husband for 22 years
Me - Tammy - 44 a Purchasing Administrator at the same manufacturing company. A little bit clumsy and accident prone (read all about this on the Dubrovnik day!), loves seeing new places and doing new things, also loves planning holidays.
India 18 - currently in her last year at college doing an International Baccalaureate - hoping to study Renewable Energy at Exeter University. A happy, outgoing girl who loves travelling with her parents as long as they keep paying, but doesn't love keeping her room tidy.
Georgia 15 - just started her GCSE course at school. Can be a typical stroppy teenager one minute and an absolute angel the next. Loves Disney World as much as her father and would willingly move to Florida to be nearer the magic.
We all share a love of travel and music - which includes going to concerts as much as finances will allow.
So on with the show as they say
_________________
At last the big day is here. After a non-descript day at work we load up the car and head off to Heathrow. India exclaims – "It's funny the planning for this holiday seems very laid back – not at all like when we go to America". The nerve of the woman – does she not realise how many months we have spent pouring over guide books and researching on the internet a) to choose the perfect itinerary on the best possible cruise line and b) to organise the whole trip as a "DIY" port touring one – due to budget restraints. Still hopefully she will appreciate all these months of investigations when she experiences her tour of European culture – not forgetting a few nice bars and restaurants along the way to keep Kev happy.
Arrive at the Crowne Plaza, Heathrow – which we booked through Holiday Extras as an Undercover 4* hotel – i.e. you don't know which 4* airport hotel you get until you pay. This cost us £99 for a family room with 13 days parking. Check in was quick and we go to Concierge to ask them to do on line check in for us as we had forgotten to do it earlier that day. All sorted we go up to the room – which is standard airport hotel quality, clean and perfectly adequate considering we will be in it less than 7 hours tonight. Go to the lounge bar for supper – Kev and I split a Mexican burger with chips and a tarragon chicken sandwich, Georgia has a prawn and mango wrap with chips and India shares ours, together with a big piece of rustic bread with olive oil and balsamic vinegar to dip it into. After our meal we go for a drink in the Irish Bar before retiring to bed at 9.45pm ready for our early start tomorrow.
[AUGUST 2008 REPORT HOME PAGE]