DAY 14 - WEDNESDAY 27TH AUGUST
I had a very disturbed night due to the pain and nothing seemed to give me any relief – last night I had asked for a hot water bottle – but they didn't understand and thought I wanted a baby's feeding bottle!! At 2.30am I managed to drag a blanket and pillow out to the balcony by using my teeth – the pain was that bad that I couldn't bear to hold anything. So I figured I may as well spend my final evening on the boat lying on the balcony wrapped in a blanket looking at the lights of Venice and trying to read the borrowed library book – to take my mind off the pain. Finally I was so tired I managed to drop off for a short while before being awoken again and watching the sun rise over Venice – something I was happy to witness. The alarm went off at 6.45am, as we needed to be disembarking at 8am. A final breakfast was taken in the Cosmopolitan Restaurant – hash browns, bacon, egg, toast, coffee and juice for Kev and myself but Georgia enjoyed a ham and cheese omelette and India pancakes with syrup and bacon. We returned to the cabin to grab our carry on luggage and went to the Rendezvous lounge awaiting the OK to leave. Soon enough we were leaving our wonderful floating hotel behind and were in the stark reality of the port terminal building. All of our cases, bar one, were waiting and Kev soon located the missing piece. We were originally going to drag our cases along the road to Piazza Roma and leave it in the left luggage before heading off for some more site seeing – but with 4 pieces of luggage plus hand luggage and only 3 able bodies we decided this was just not feasible – so we grabbed a taxi and got dropped off in Piazza Roma – the cost was €20 which we were sure was over the top, but we weren't going to quibble. We should have asked to have it metered or asked for a price beforehand but in the rush to grab a taxi in the throngs of other passengers we simply forgot. After leaving the suitcases we jump on the vaporetti back to St Mark's Square. It is only 9am and had we decided to do our pre-arranged transfer via Celebrity we should now be in the shuttle bus on the way to the airport for a 6-hour wait.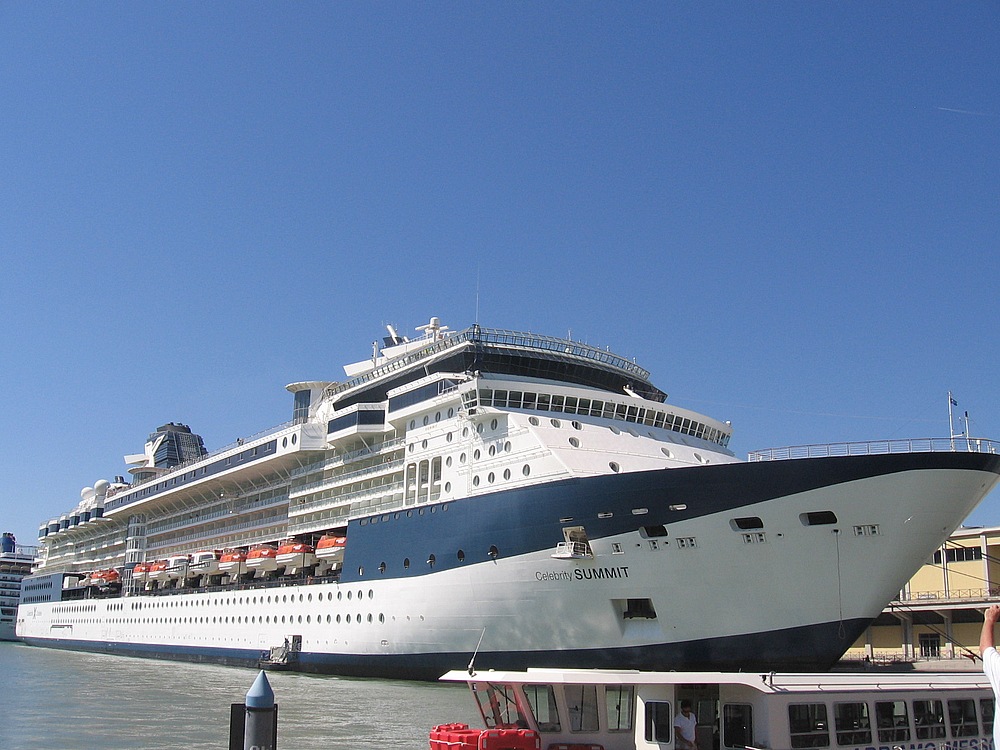 Instead here we were enjoying the glorious Italian sunshine from the front of a water bus, picking its way down the busy Grand Canal, dodging gondolas, water buses, water taxis, water police, water ambulances and we even saw a water hearse with the coffin and wreath sailing sedately up the canal. All great reminders that this is a living, breathing city where everyday life continues amongst the throngs of happy tourists, albeit with canals where other cities have roads. At St. Mark's Square we get off and wander again – no set direction, just heading wherever the fancy takes us – looking in tiny churches, shopping in the local shops for multi coloured pasta and other goodies.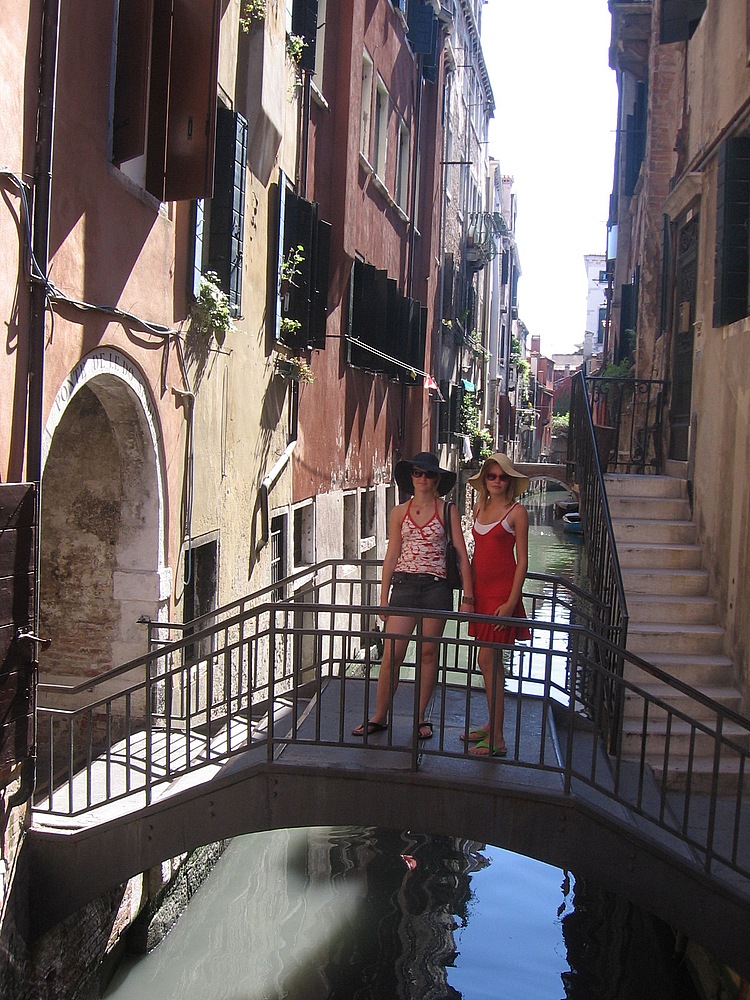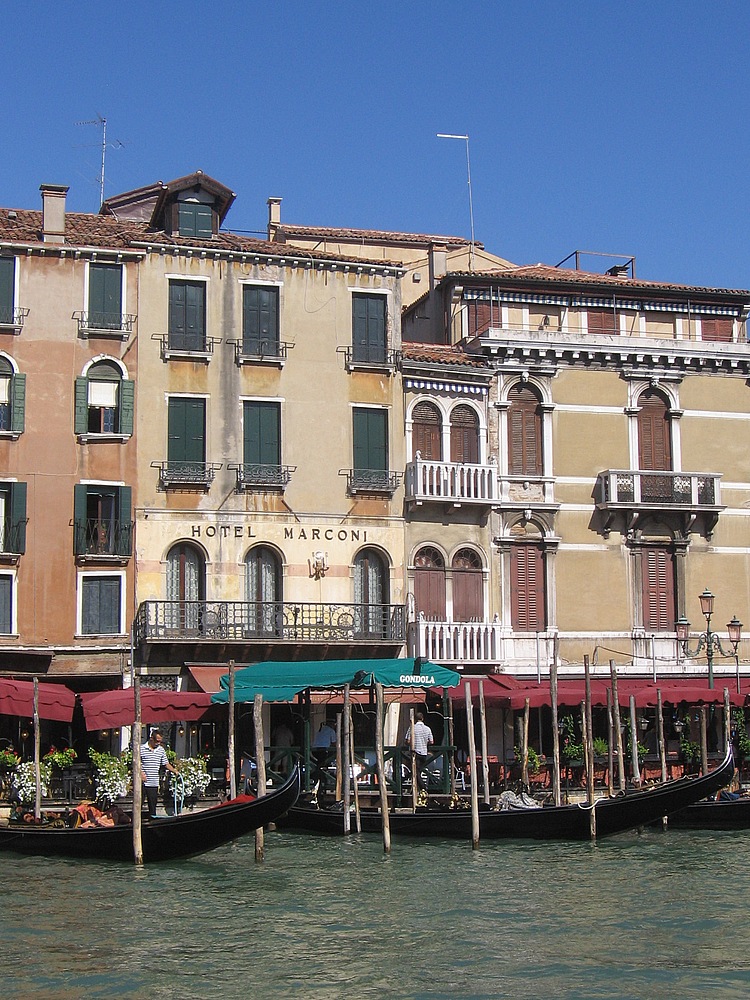 At 10.45 am we decide we ought to be heading back to catch the bus to the airport. Safely reunited with the suitcases we catch the 11.10am bus to Marco Polo. It is a short 20-minute ride to the airport but we have a long wait before they announce a check in desk – then there is an almighty scrum as everyone dashes to join the queue at the allotted desk. Check in is relatively straightforward – thankfully our luggage is below the 20kg per bag allowance thanks to the judicious packing of a holdall that we bought to take some of the clothes from each of the 3 suitcases. However, we hear many fellow travellers bemoaning the excess baggage that they have been charged. This was always a worry for us as the allowance going out was greater than going back – but thankfully we hadn't bought too many heavy souvenirs and such like, so we were ok. Head to the gate where we admire the airport, which is very modern with nice places to eat; however as is always the case they are very expensive. Take off just after 3pm and land at 4.30pm local time. Luggage is retrieved and we catch a taxi to Crown Plaza where we validate the parking ticket and pick up the car. Back home with a stop enroute for me to visit our nearest casualty department for a check up. They think my symptoms are a bit of a mystery but suggest some nerve damage – they assure me nothing is broken and give me a prescription for some strong painkillers. Not the greatest way to end a magical holiday but without doubt it could have been a lot worse. In the months following our return I have visited a neurologist and had an MRI scan which revealed the cause of my problems to be a disc in my neck which had compressed into the spinal cord. Thankfully this should heal over a period of time and although some 5 months later I am still having some problems the pain is now gone for the most part, although the sensitivity still remains.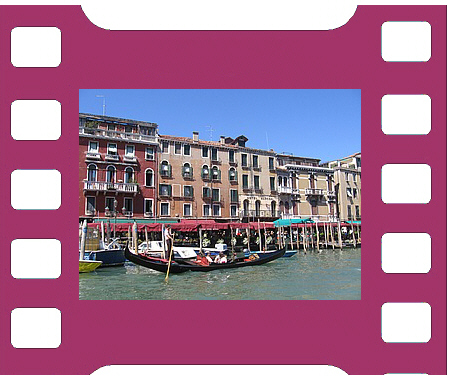 Click on the film strip to see some video of our time in Venice
[AUGUST 2008 REPORT HOME PAGE]