DAY 13 - TUESDAY 26TH AUGUST
I had a very bad night with the pain, so at 6.15am I decide to get up and have a cup of tea and go in the whirlpool spas. The warmer my arms are the less painful and as soon as they open at 7am I submerge myself and find it a welcome relief. Kev comes down at 8am and we then go and get the girls so we can have breakfast in the Cosmopolitan Restaurant. Our old favourites egg benedict for Kev and myself, banana pancakes for the girls. We then go to the Medical Centre but there is a queue and a list of charges, which although we have insurance seems positively scary – especially when I am sure they will do no more than give me painkillers. When I see a woman deathly pale and doubled up in pain I decide to call it a day and head to the ships shop to buy the strongest painkillers on board. Back at the cabin we pack and are finished in time to watch our amazing arrival in Venice, again we are so fortunate to be the right side of the ship, however they were allowing people onto the front of the ship and the helicopter pad where, apparantly, Italian classical music was being played - which must have been amazing too.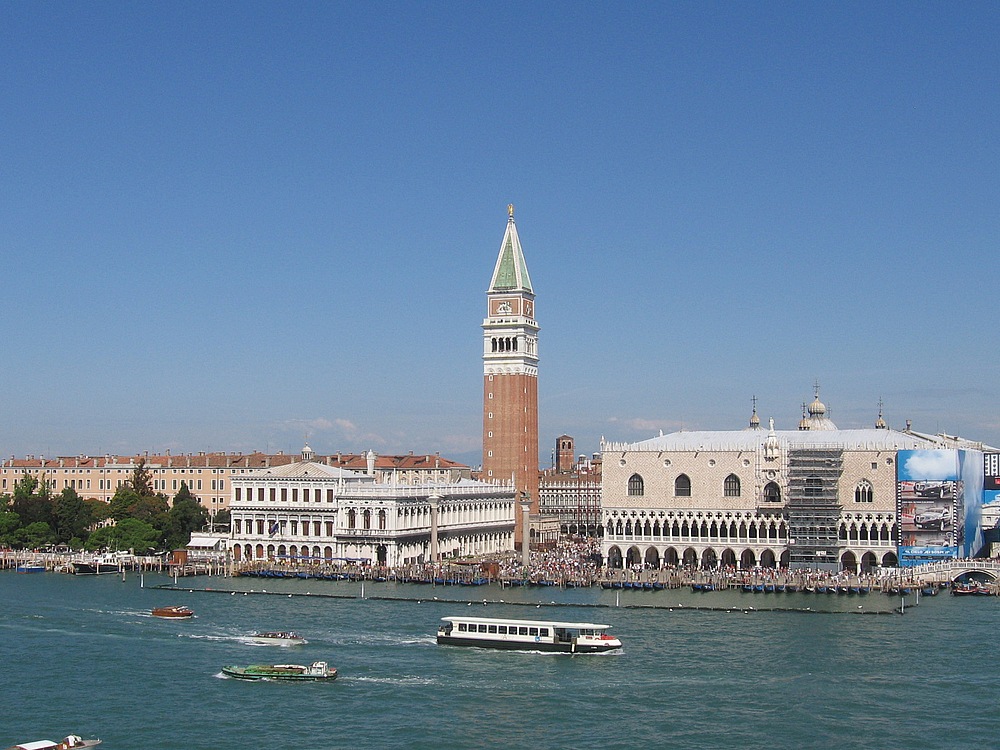 It is incredible to see the city from so high up and truly is the most memorable sight. We head to the exit as soon as we dock and amazingly we are the first off the boat. We walk to Plaza Da Roma to buy 24-hour tickets but it is cash only and the machine and the nearest bank refuses our card. Unfortunately all our other cards are back in the cabin so Kev and India gallantly head back to the ship, whilst Georgia keeps me company. We have a mission anyway - we have to investigate our options for tomorrow and are considering leaving our luggage at the left luggage shop so we can have a final stroll around Venice, before returning to the airport. We manage to locate the place and discover it only charges €4 per bag and this seems very reasonable. We also establish that the 24-hour waterbus ticket includes the land bus to Marco Polo airport - so it looks as though we will be able to make the most of our last day. Kev and India return having managed to use a cash machine on the boat – however this dispensed dollars, which had to be exchanged into Euros at the cashier's desk.
We purchase four 24 hour tickets at €16 each and get on Vaporetti 2 all the way down the Grand Canal to St. Mark's Square. Kev and the girls stand near the front but I manage to find a seat at the back – unfortunately there is a large group of excitable tourists who talk incessantly and take loads of non-stop photos (and I mean non-stop but not of the sites – mostly of each other!!!) – this somewhat spoils the relaxing, romantic journey that I had envisaged on this, my return visit to the beautiful city of Venice. However, we meander past the wonderful buildings that line The Grand Canal – the sun is shining and the views are truly magnificent – Gondolas ferrying tourists, restaurants and bars coming to life – the water glinting in the summer sunshine - what a glorious way to spend a day.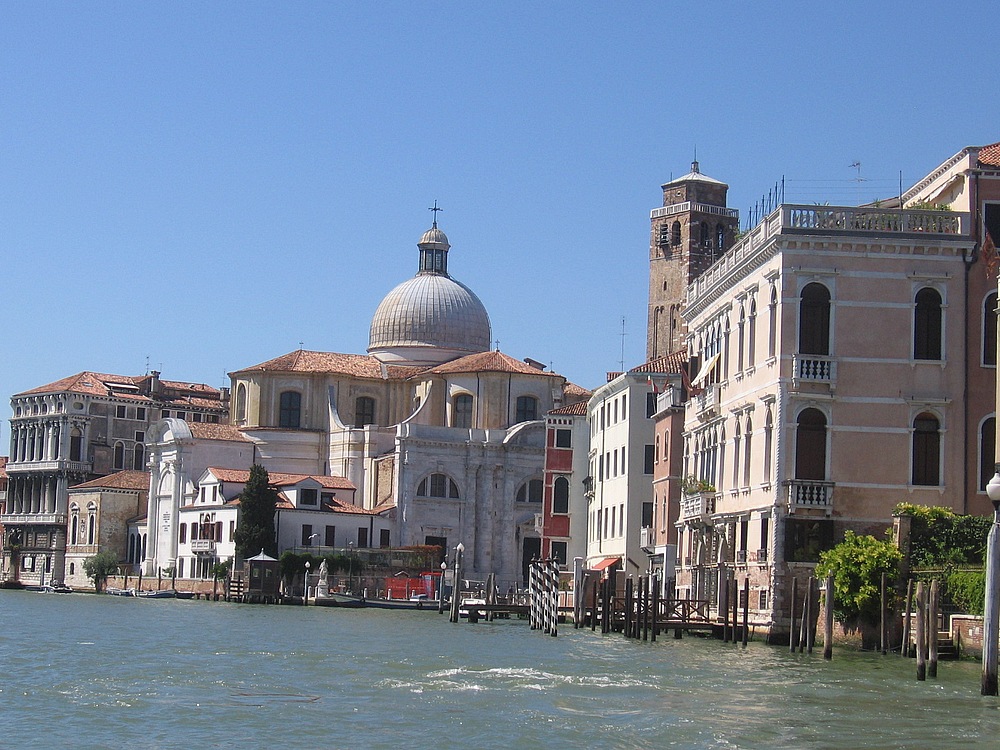 At St. Mark's Square we get off and marvel at the Campanile, Bridge of Sighs and Doges Palace. Unfortunately some of the buildings are being restored but thankfully they artfully drape the scaffolding in canvas depicting what the restored building will look like – so it doesn't look like a building site – more like an enormous open air art gallery. The queues for the Basillica are really long now, so we decide not to visit – Kev and I have seen the wonders within before and we are sure the girls will be returning some time in the future as it is such a breath taking city like no other.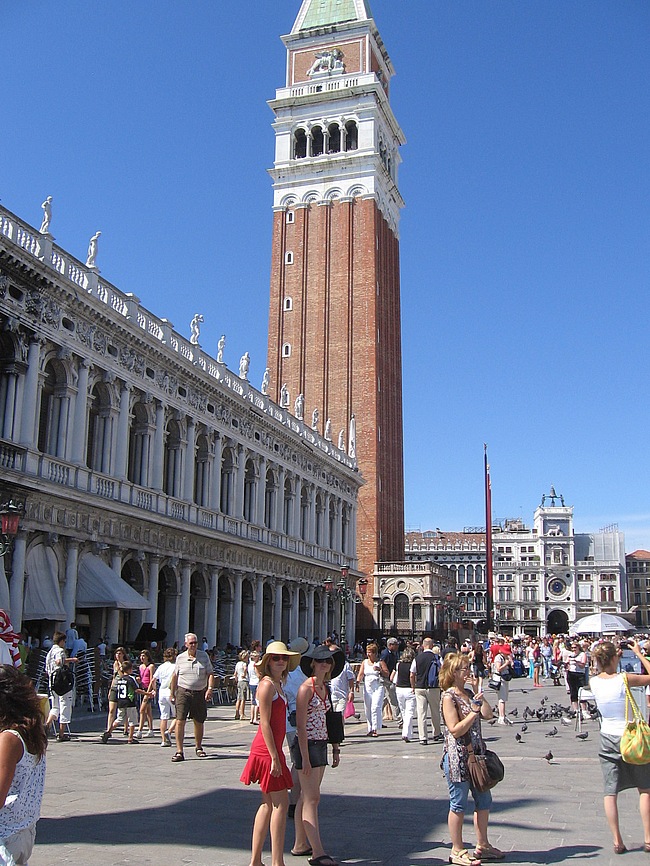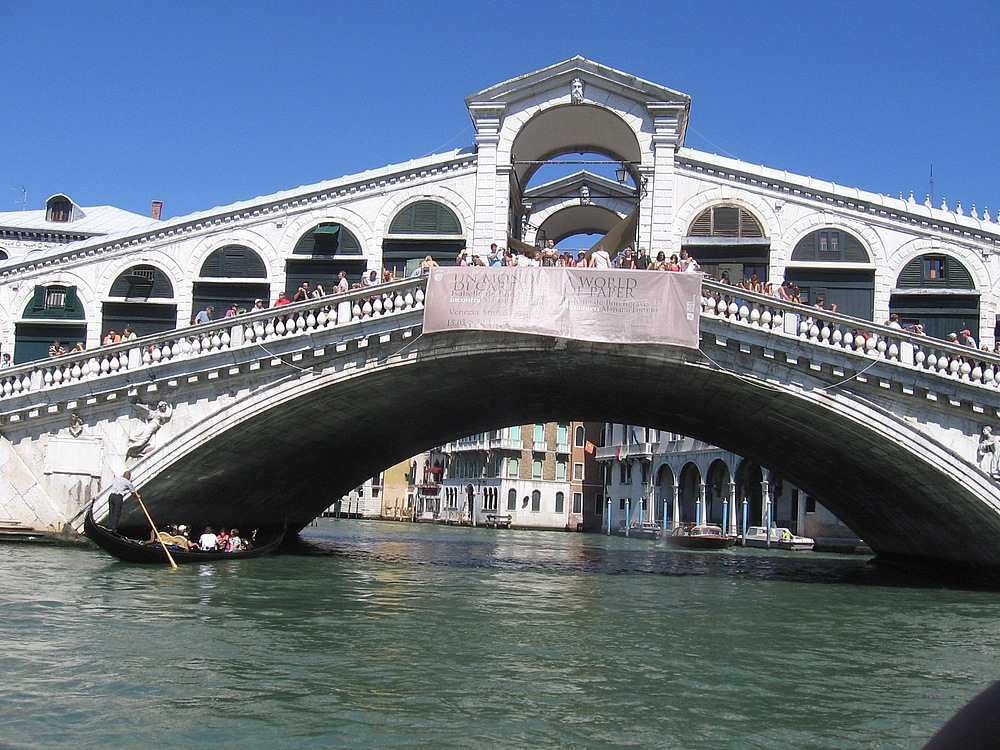 We wander towards the Rialto Bridge and the lure of a local pizzeria proves too much for us. Suitably refuelled we cross the bridge and generally meander over small bridges, along canals and down alleyways into inviting piazzas. We stop in one for a cool beer and then find the Devil's Forest Pub where we both have a glass of Kilkenny – the air-conditioning in here is a welcome relief. Another highlight was seeing a bride and groom in a gondola being serenaded – how romantic – I had a tear in my eye when I saw them.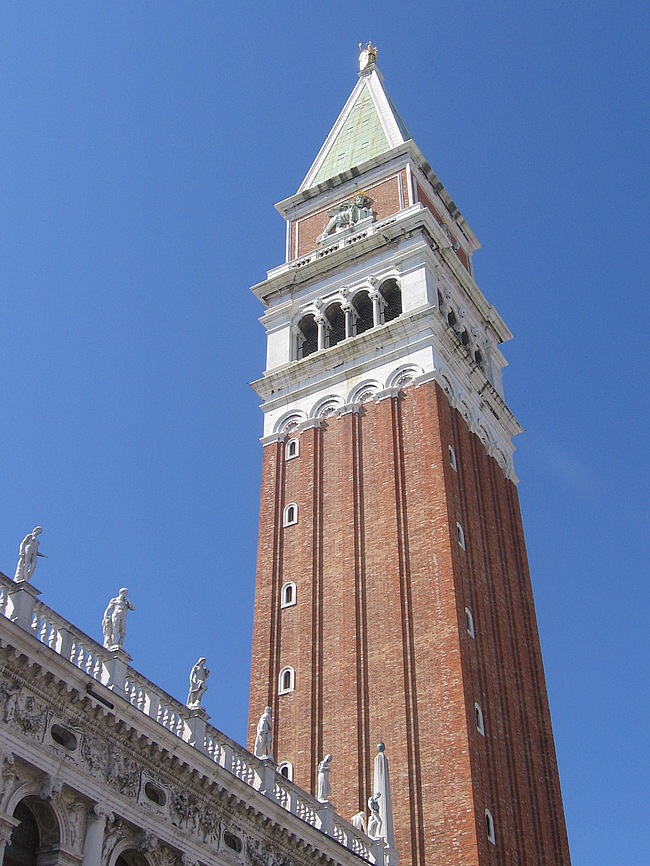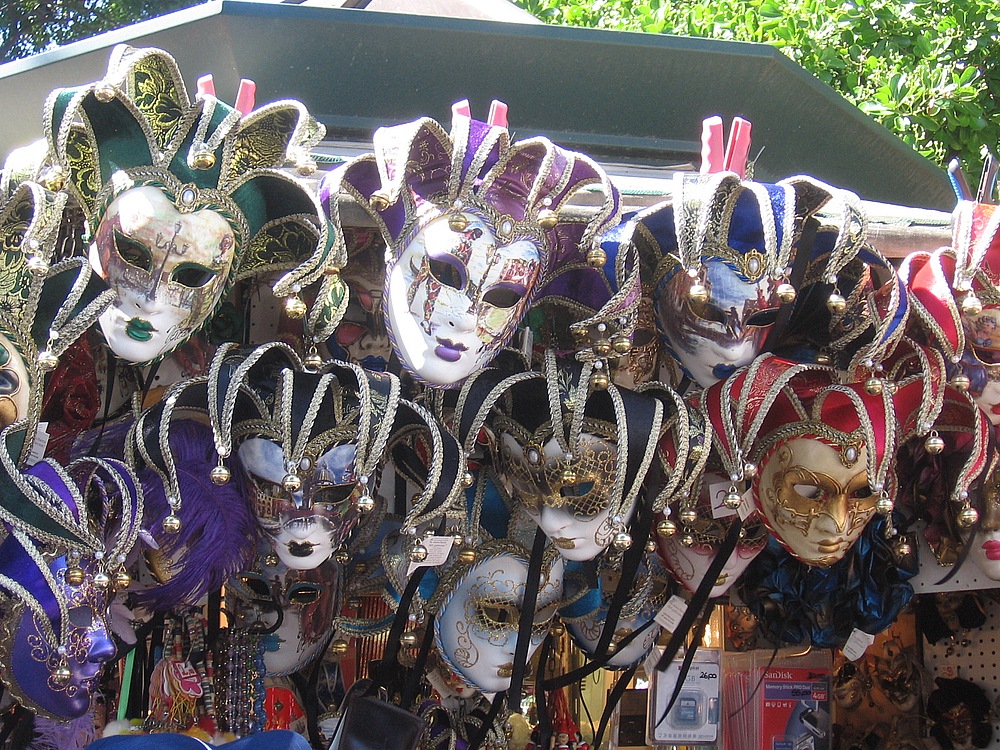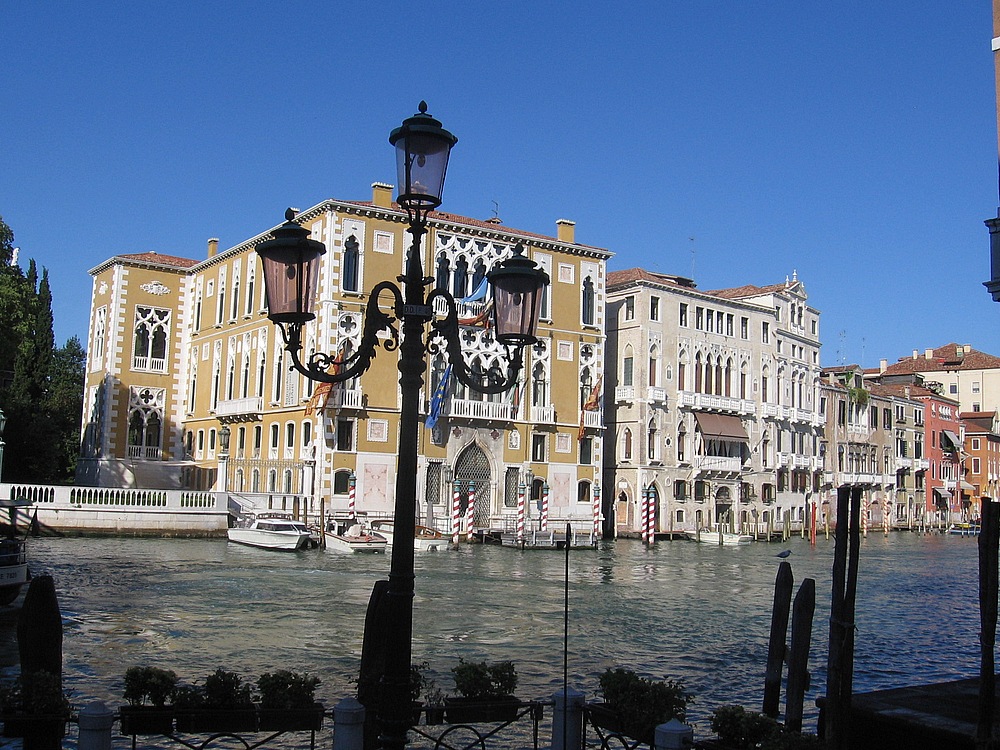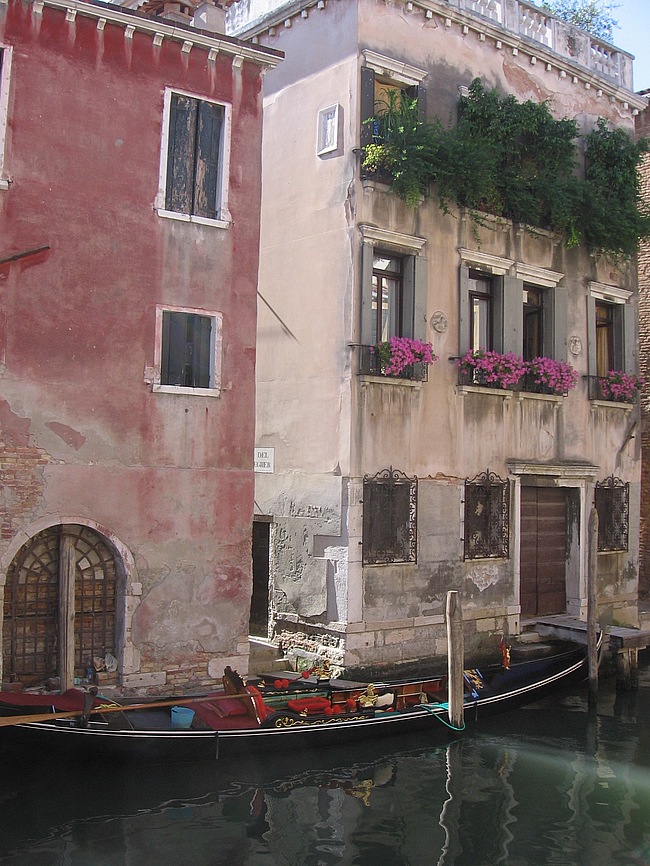 By now it is early evening and having walked our socks off we are in need of an evening meal. We all decide it would be lovely to eat outside, as it is such a glorious evening. We find a beautiful restaurant with an outside terrace covered in grape vines. It is empty when we sit down at 7pm but soon fills up. We enjoy a lovely bottle of red wine and inspired by our gnocchi in Dubrovnik I have gnocchi with ham and cheese, Kev sea bass, Georgia ravioli and India spaghetti Bolognese. We also enjoy some wonderful homemade bread with a mozzarella and tomato salad with balsamic vinegar and olive oil. India manages to squeeze in a tiramisu, which she has been looking forward to. €105 is the total bill including the wine and bottled water but obviously we leave a tip as the service has been great.
We meander back to St. Mark's Square to catch a vaporetti back to the port. It is lovely seeing it in the dark and we zig zag back across the canals giving us a brilliant view of St. Mark's Square and it's surrounding areas all lit up in beautiful contrast to the night sky. We decide to chance getting of at Tranchetto instead of Piazza Roma as we can see the ship and figure it will be just as quick to walk from there. It is as near but probably no quicker. It is quite weird seeing the ship from the outside in the dark, as this was the only occasion where we boarded after sunset – it certainly looked magnificent all lit up. We pass through security and up to cabin to shower and pack the final few things before leaving our suitcases outside the cabin. Off to the dining room to see if we can say farewell to our dining companions. Unfortunately they were not at the table so we decided to head to Michael's Club for a last chill out listening to the piano – however the pain in my arms is too much and I return to the cabin with Georgia. Kev and India are back at midnight.
[AUGUST 2008 REPORT HOME PAGE]