DAY 12 - MONDAY 25TH AUGUST
Wake at 6.30 am again, to see our arrival in beautiful Dubrovnik – very green and lush with lots of little islands along the way. We breakfast on the outside deck of the Waterfall Café – just waffles and pancakes this morning for all of us. We disembark at 9ish and walk to the bus stop. Tickets into the old town cost 8 Kuna each. (January 2009 the exchange rate was 8.20 kuna to £1). We arrive at the Pile and head to the old gate of the old town. We decide to walk the wall at a cost of 50 Kuna adults, 20k child and 40k for an audio guide.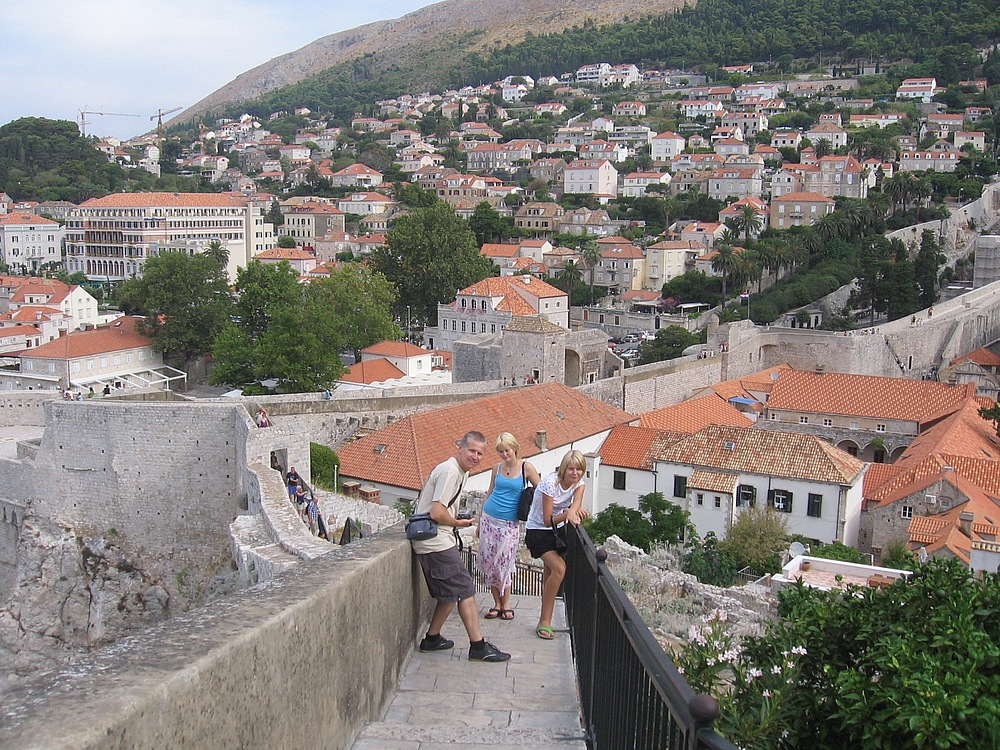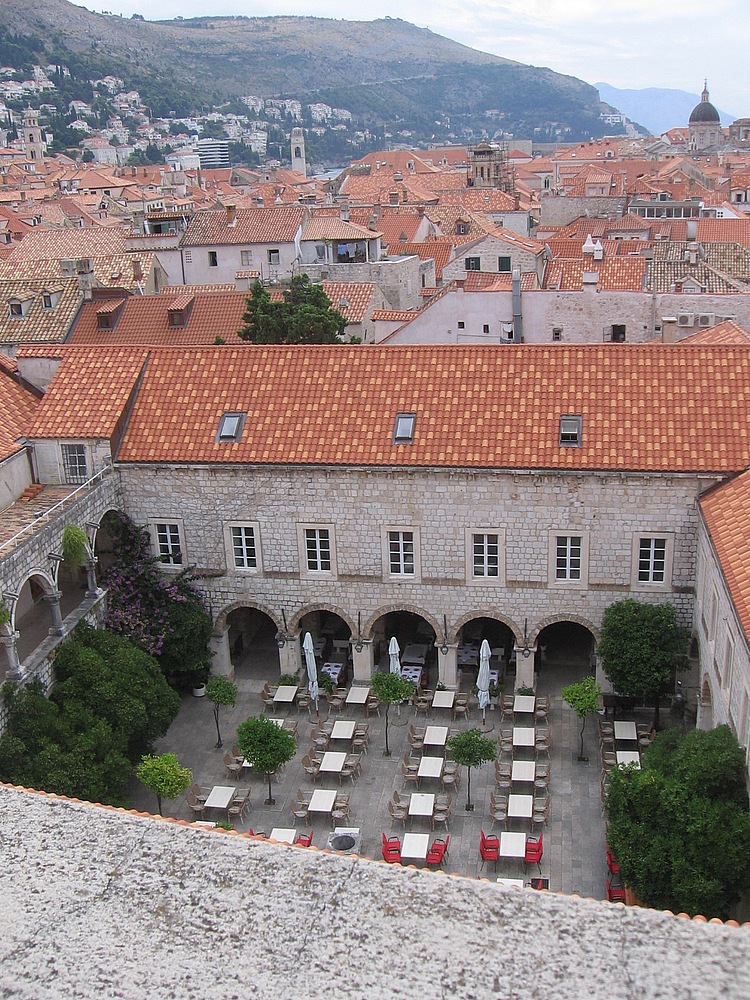 It was a brilliant walk and well worth doing to get such a magical view of the red tiled rooftops of Dubrovnik. The audio guide provided a wealth of information and as we were early doing the walk it wasn't too busy. One interesting thing in the guide was the quote by George Bernard Shaw who said, "For those searching for paradise come to Dubrovnik" and I must admit he wasn't wrong – it is a beautiful city. By the time we had finished it really was beginning to get crowded and I think it would be far less pleasant up on the wall. Another good thing was that today was pretty overcast this morning and the sun only really started to come out at 10.30 when we finished.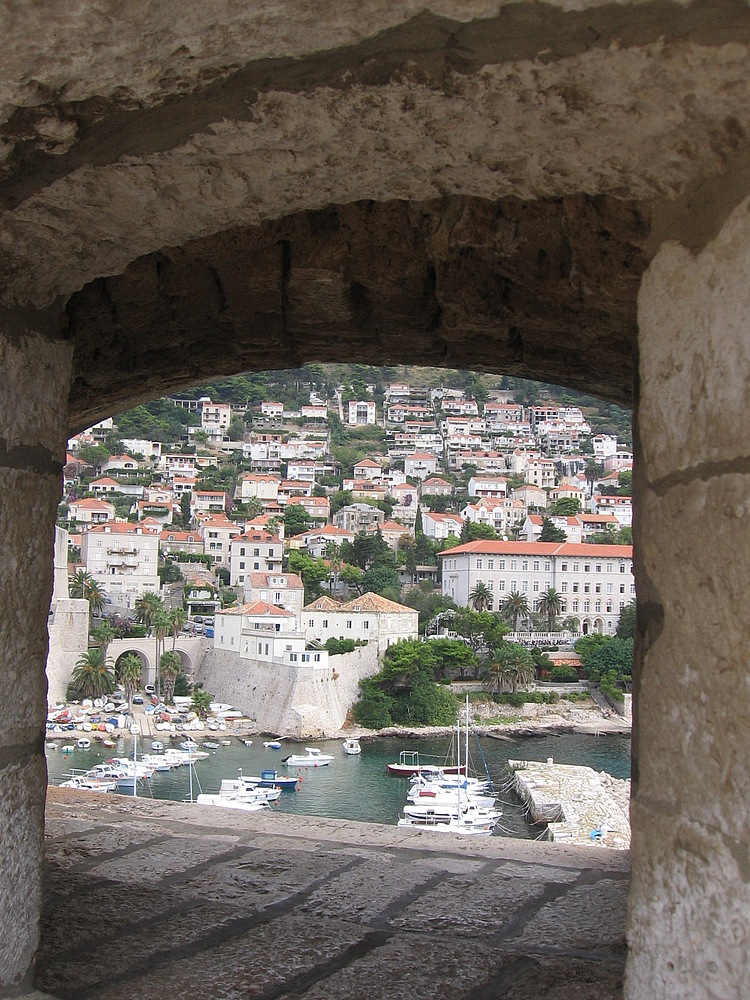 We set off then on our mission to find the Buza bar. We had found out all about this on the internet and it appears that there are two Buza bars in Dubrovnik – one with rails and one without. We were looking for the one without and sure enough through an unassuming hole in one of the city walls we found ourselves in the Buza bar.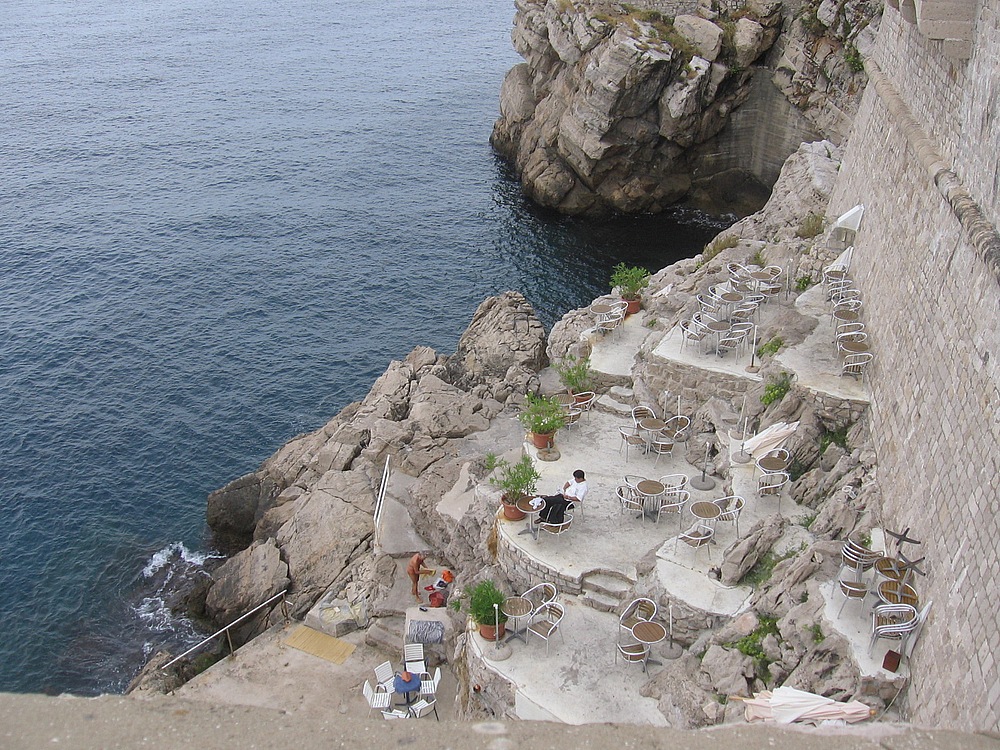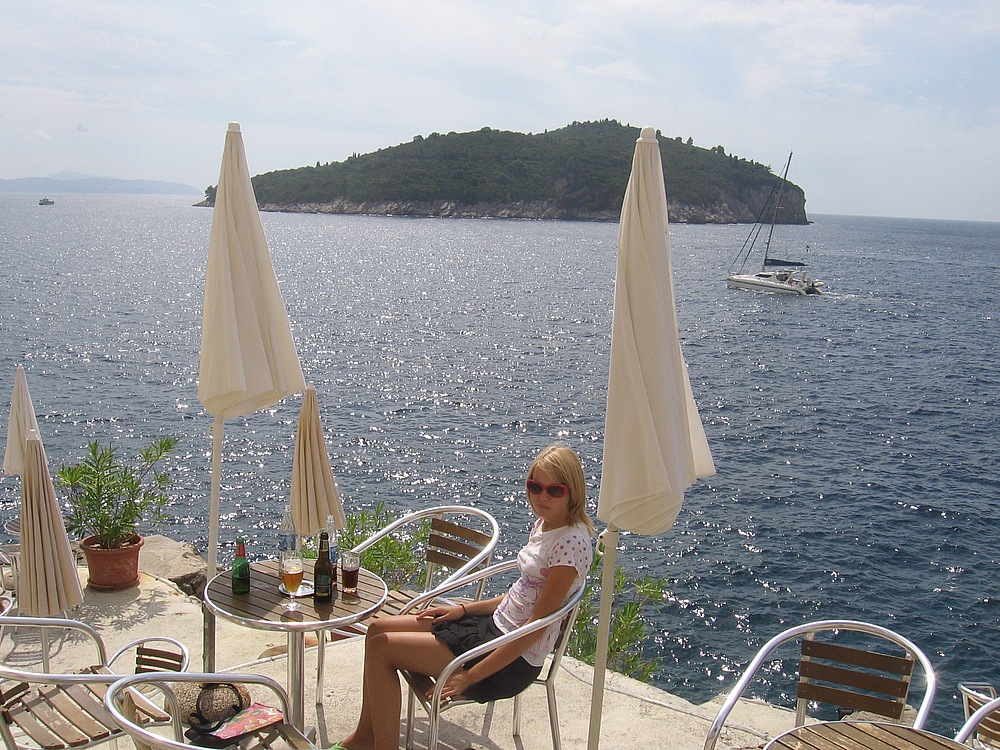 We both had a Karlvocka local beer and an 8.6 Bavaria special Blond beer and 2 cokes for 120k or €15. There are amazing views of Luska – a small island glittering off the coast. India can't resist the allure of the sea and states that having been on the sea for 10 days we haven't yet had a proper swim in the sea. Never one to resist a challenge we both change into our costumes and head down the steps to the sea. I must confess it does look rather choppy but I have spotted a swimming pool type ladder just around the corner from the steps and figure that it isn't that far and even though I'm not a great swimmer I shouldn't have any problems getting round the small rocky bit to the steps. Kev, it must be stressed, states that I must be mad and I am going to regret this. Unfortunately he is absolutely spot on but my mind is made up when one of the gentlemen already swimming answers "Bellisimo" when I ask him how it is. With that I launch myself into the water in a rather inelegant belly flop and from here on in things get quite scary. I hit the water and straight away my arms and hands feel numb – the pull of the current is strong but I don't seem to be able to make any headway to get towards the steps. Why I didn't just turn around and haul myself out is beyond me but I think I figured I would be dashed against the stone and graze myself badly. In my panic I remember screaming to Kev not to let India in as I knew she is a weaker swimmer than myself and would not be able to get far without panicking. Thankfully I eventually reached the swimming pool type ladder and I thought safety – but because my hands were so numb I couldn't grip the ladder at all well and no sooner had I peered over the top to see Kev staring at me – I fell all the way down and under the water. My first thought being oh no I will loose my contact lenses and my second thought being – how the heck am I going to get out when I can't grip anything. I then decided the only thing was to hook my arms around the rungs and haul myself up. When I was within touching distance I could see Kev and another man offering their hands to help me up. I remember seeing the video camera around Kev's neck and thinking if I pull him in all our video memories will be ruined so instead I grabbed the other chap's hand until I felt sure I would get out ok. Boy what a relief to have both feet on dry land – I was bruised and bloodied where I had obviously knocked my legs and shoulder as I went under the water and my hands were still very numb and tingly. I staggered back to the table with India and Kev where Georgia was sitting oblivious to the events that had happened. Thank goodness Kev had come down to video our antics or he wouldn't have been there to tell India not to get in or to help rescue me. I sat at the table for some time to try and recover and it takes a little while before I feel able to walk without feeling sick and shaky.
The others are now starving and after exploring the many alleyways and steps and enjoying the gorgeous city we find a restaurant in a side street called Carpe Diem. We split a pizza, gnocchi with ham, mozzarella cheese, asparagus and cream which was just sublime and probably the best thing we ate off the ship the whole holiday, this was accompanied by tomato and mozzarella salad, Kev a beer and the rest of us water. The bill came to 200k with tip and it really was wonderful I was just gutted that I wasn't feeling well enough to do it justice.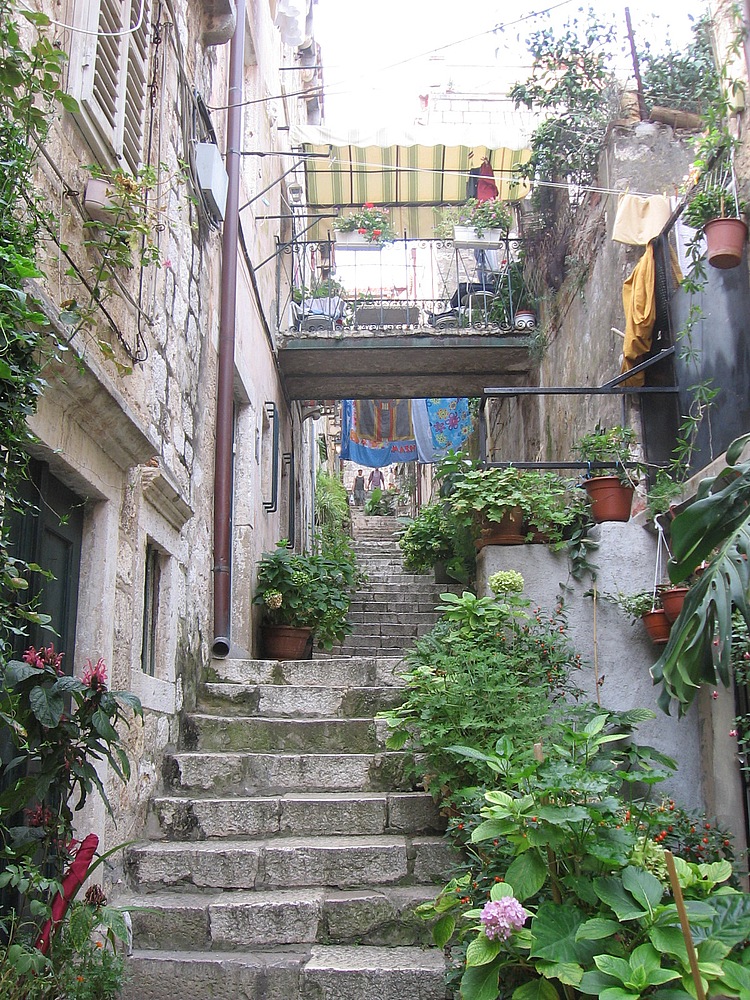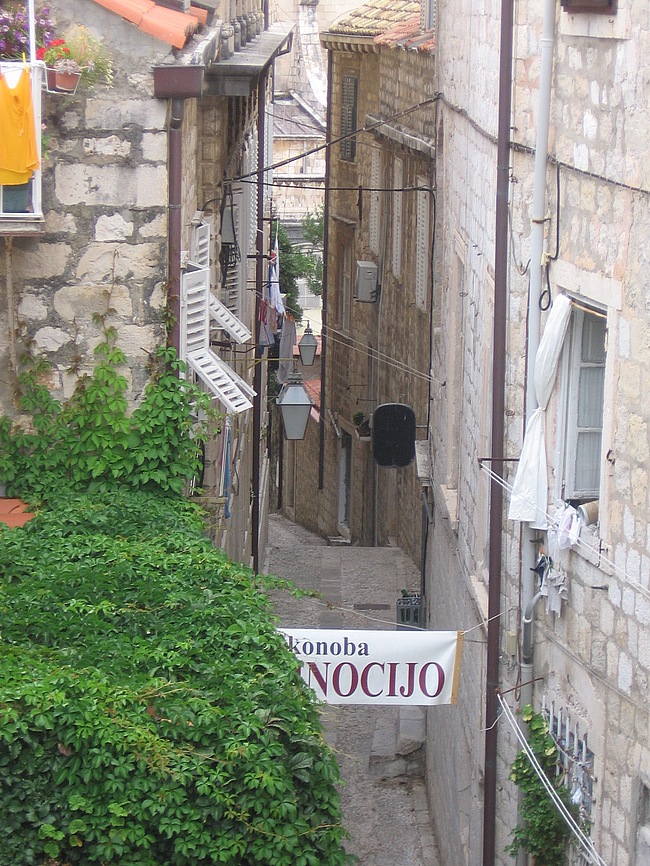 We headed off to peek in the cathedral, which is glorious inside and wonderfully light and airy. We eventually end up at the bus stop and India buys the return tickets. Five minutes later we are on the bus back to the bus station by the port. We buy some ice creams as we are trying to use up our remaining Kunas and barter at a little stall for a hand made Croatian glass candleholder to totally wipe us out. We board the ship and try to go to the medical facility but it is shut till 5pm. We therefore head to the cabin for a rest – my fingers are by now feeling incredibly numb but my arms are so sensitive down the sides that, if anyone brushes even remotely near me the pain is excruciating. At 4pm we go to the Waterfall to admire the view and have a cup of tea and a biscuit (always good at sorting out any problem). India also has tea and a slice of watermelon, Kev has a beer. Georgia had decided to stay in the cabin reading a book which she has really got hooked on. The chap with the guitar sings some tunes and we then decide to get back to the cabin for 5pm to watch the sail-away from the balcony. It was lovely to sail past the beautiful scenery and the islands and we have decided that Croatia is somewhere we will definitely go to again – perhaps an island cruise or something to see lots of different places. After showering and changing, Kev and I head to the Champagne bar for a Kir Royale for me and a Moulin Rouge for Kev.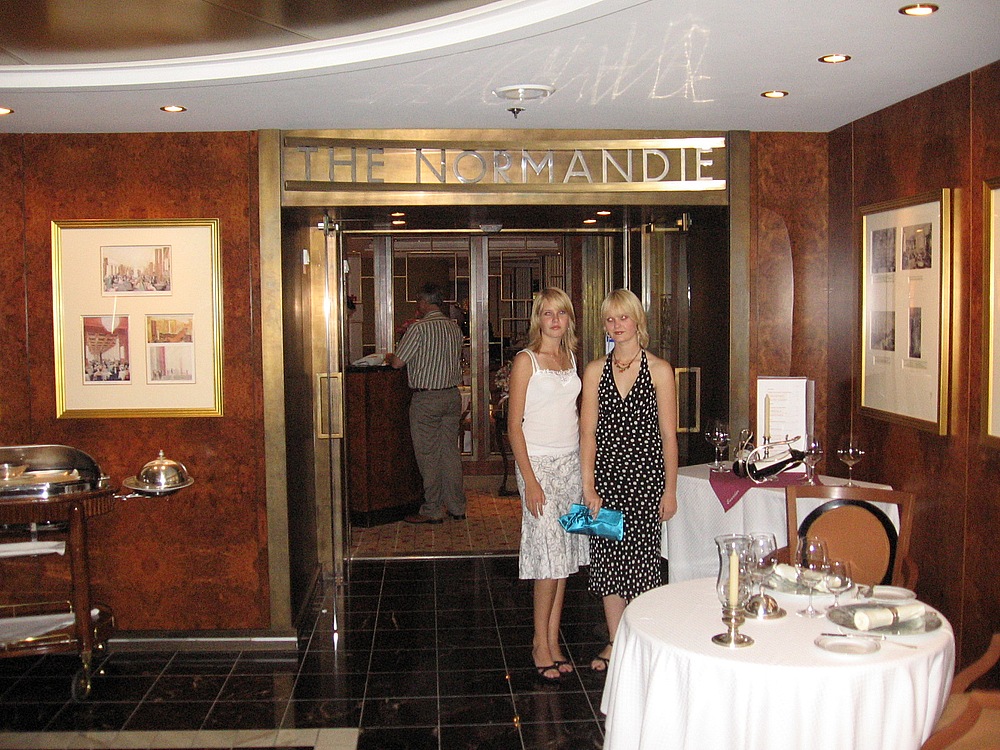 Then when the girls join us we go to the Normandie Restaurant for our 8pm reservation. Waldorf salad with shrimp on top for India, lobster bisque for Georgia and myself and Kev has foie gras, India then has a Caesar salad which is prepared at our table – the dressing is made in front of us and then tossed and served, Georgia and Kev have fillet mignon with black truffle sauce, while I have steak Diane which is flambéed at the table. It was absolutely delicious and so tender. We had a bottle of Shiraz, the cheese course with fruit and for pudding we all choose the chef's bites which we hoped would be small samples of the puddings – but it was an enormous portion each and we felt guilty eating so little but we were full. There was a dark chocolate crème brule, fresh orange jelly, strawberry mousse, rum baba, banana chocolate tart, mint choc ice cream. They then served petit fours with coffee – but we were unable to make much of a dent in the petit fours either.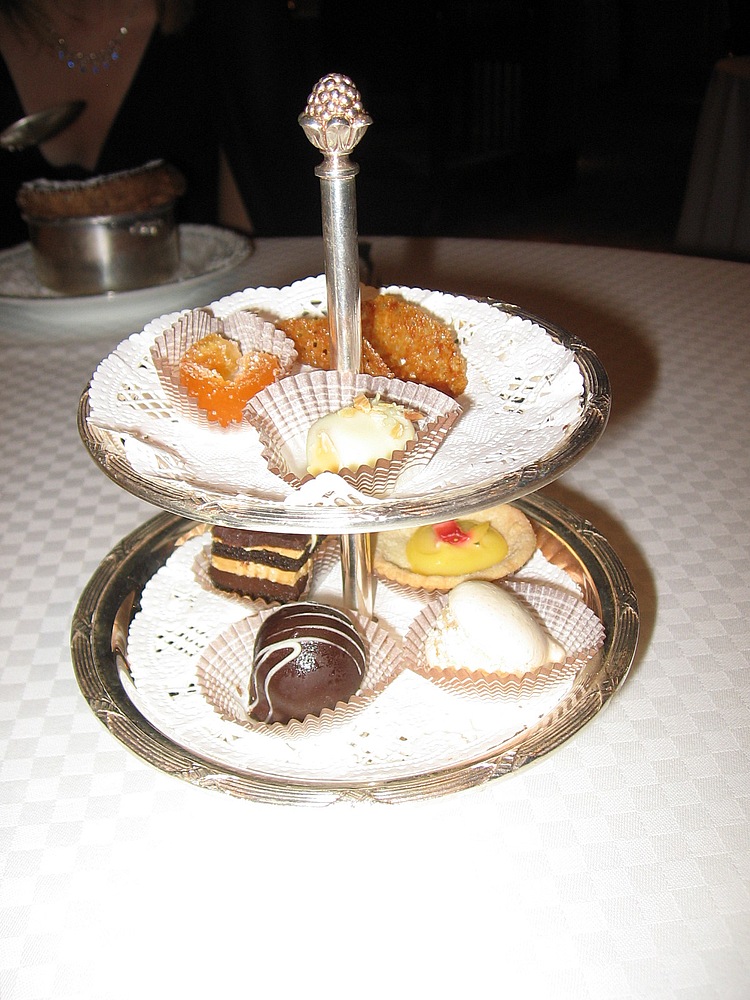 We left and waddled to Michael's Club, which was full, so then to Revelations, which was full of dry ice and some sort of buffet but no music as yet – so as a last resort we went to the theatre to see You're The Star – a talent show. It wasn't great but it was nice to see Bob and Sandy win for the best trivia team of the cruise. We head to bed at 11.50pm with my arms still hurting – in spite of my best efforts of numbing the pain with painkillers and alcohol.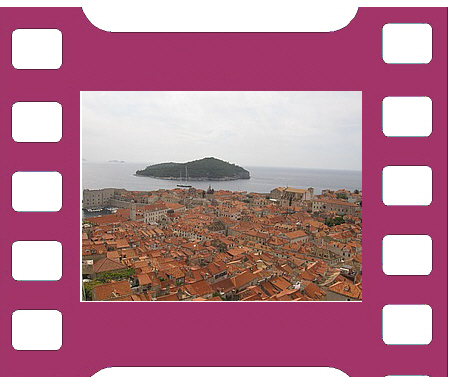 Click on the film strip to see some video of our time in Dubrovnik
[AUGUST 2008 REPORT HOME PAGE]