DAY 8- FRIDAY 29TH MAY
We're up breakfasted and out the rooms by 10.00am on our way to the Magic Kingdom. It's not a bad morning, but there is quite a lot of cloud around as we walk up Main Street.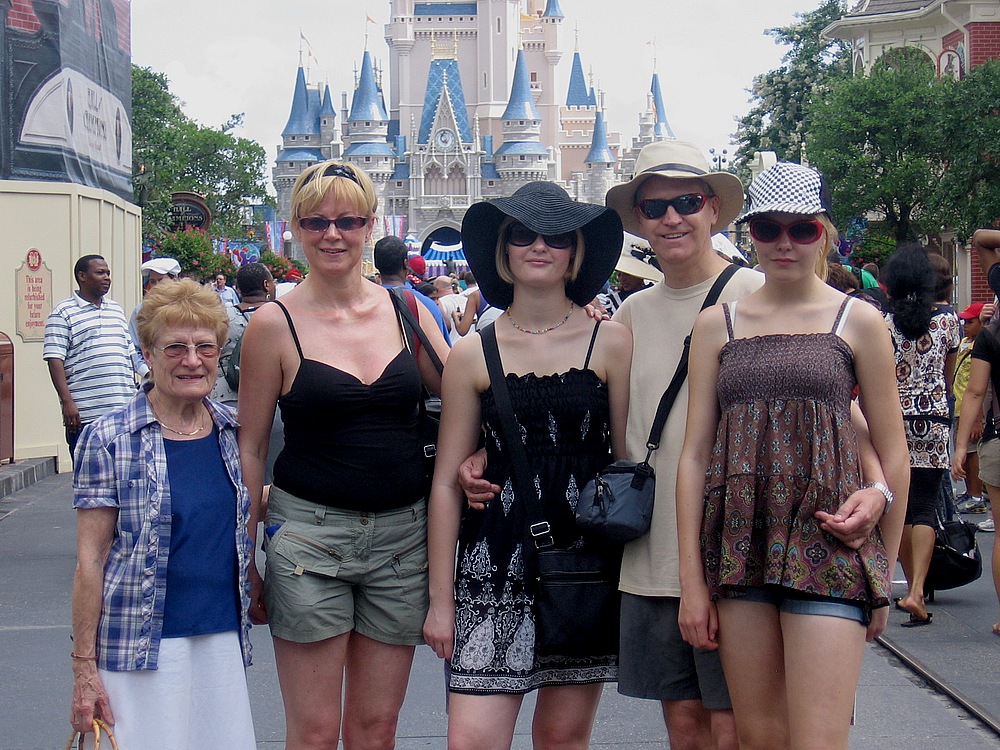 3 generations of Stringer's on Main Street
As we get towards the castle at 11.00am a parade starts. I think it's called Mickey's Jump Up and Down Shouting to Loud Music Parade as 4 floats with characters and large gift boxes on move down and take up position around the hub. Another character jumps out of each box as the MC type person orders us to 'Make some noise'. For one thing, I don't like being told what to do and for another I am not particularly in the mood to make some noise, loud or otherwise.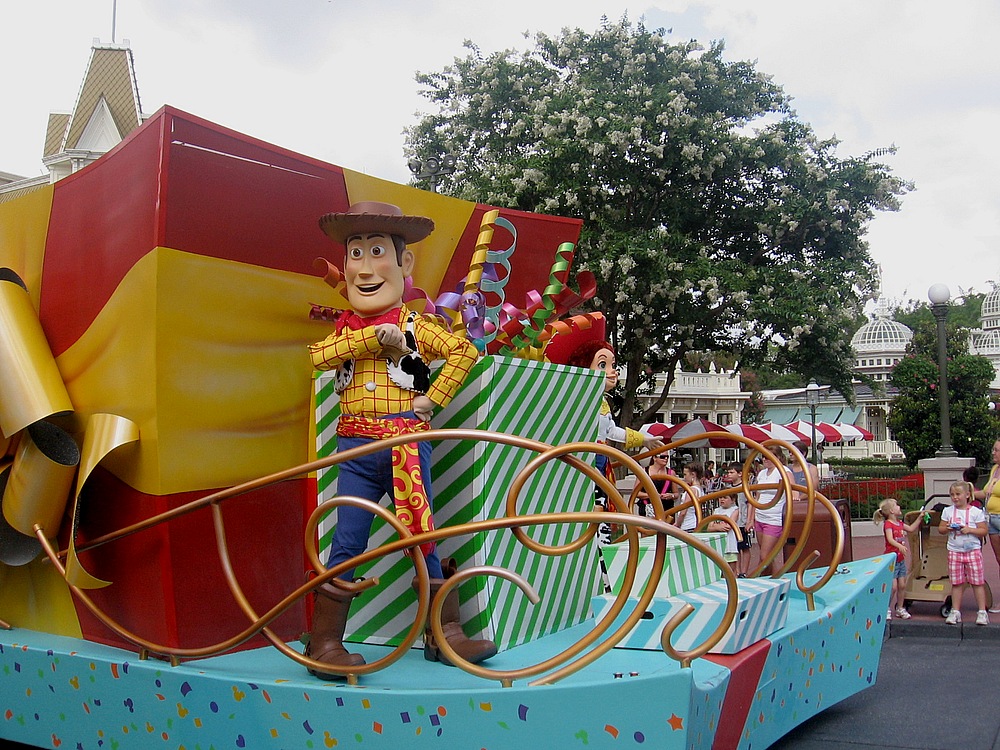 Turning our backs on the raucous goings-on, we enter Tommorowland in order to do a couple of attractions Grandma has not seen before. The first is the Monsters Inc Laughter Floor. It's a nice little show, but Susan reminds me that it used to be Timekeeper and I liked that a lot more.
Next is Stitch's Great Escape. I'm sat next to Georgia and Stitch must be leaking nasal effluent today as she ends up with a wet patch on the front of her dress from a constant drip above. At least I hope it was nasal effluent.
Mickey's Philharmagic is next and we don't have to wait too long before entering, although we are just 3 rows from the front and I think you get the effects much better from a few rows further back.
We decide on an early lunch now and choose Pinocchio's Village Haus. The girls have chicken nuggets and Tam and I have Chicken Caesar Salad. We also have some Figaro Fries. This is a carton of French fries along with a pot of bacon bits and a pot of melted chesse. Lord, there must be enough salt in this to give you your monthly recommended intake in one go. When the roads are icy in the UK, forget the gritting lorries, issue the council with a couple of portions of Figaro Fries, that will keep the roads clear.
There is a little balcony outside that nobody is using for some reason, so we sit there and it's so much nicer than in the packed restaurant. Luckily it's covered as the rain starts to come down again. It's actually very pleasant sat under cover in the warm Florida air watching the rain falling. By the time we're finished the rain has stopped again.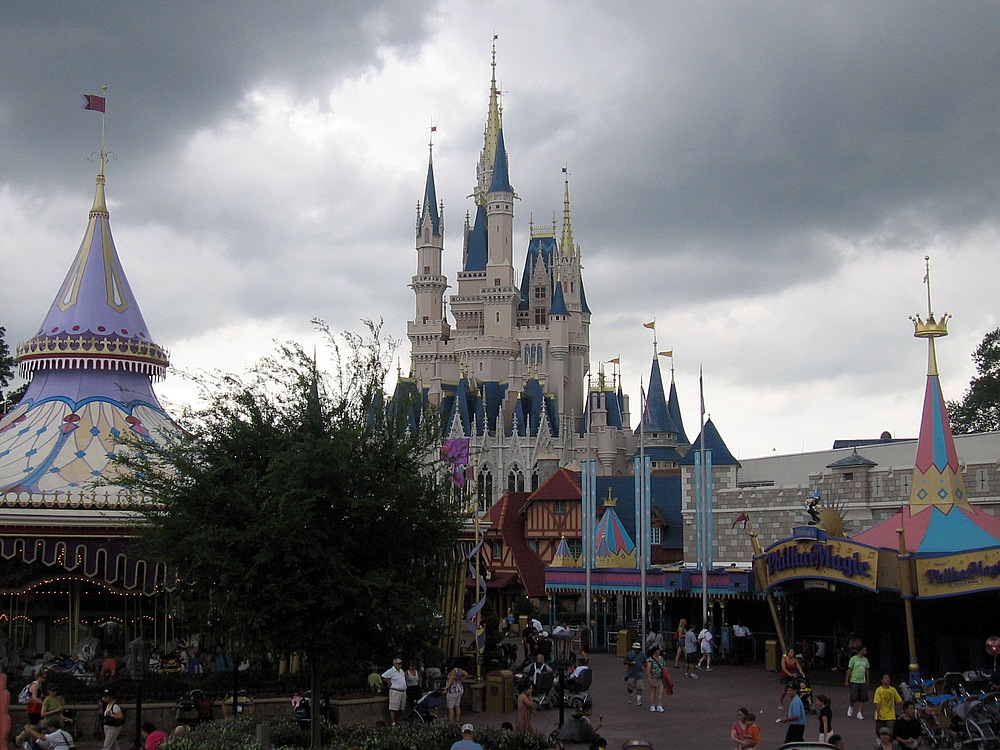 We stroll through Frontierland and head towards the train station. The crowds are large again today; in fact it's been pretty packed everywhere all week. Susan tells us it's not only due to Memorial Day, but also because many of the US schools have now finished for the summer.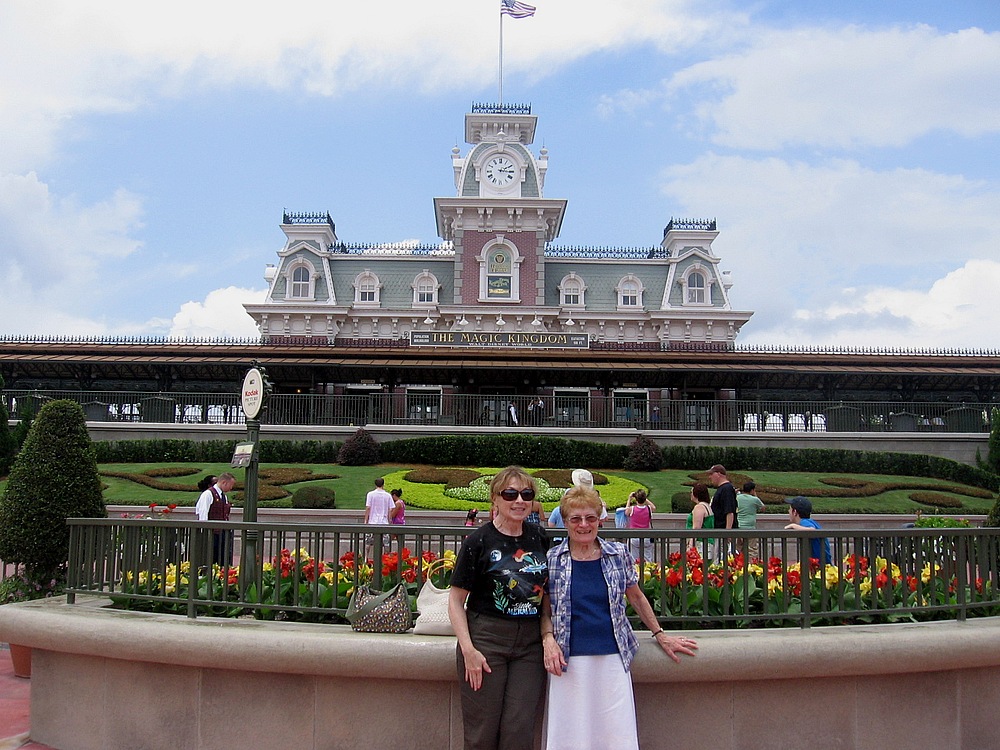 We get the train to Main Street and exit the park to get the monorail to Epcot. On the journey over it starts to rain quite heavily. Once again we are in the dry as the rain falls and once again the rain stops as we reach our destination. In fact there is bright sunshine as we enter Epcot. I have no idea why we are so lucky, perhaps it's the clean living and virtuous life I have led.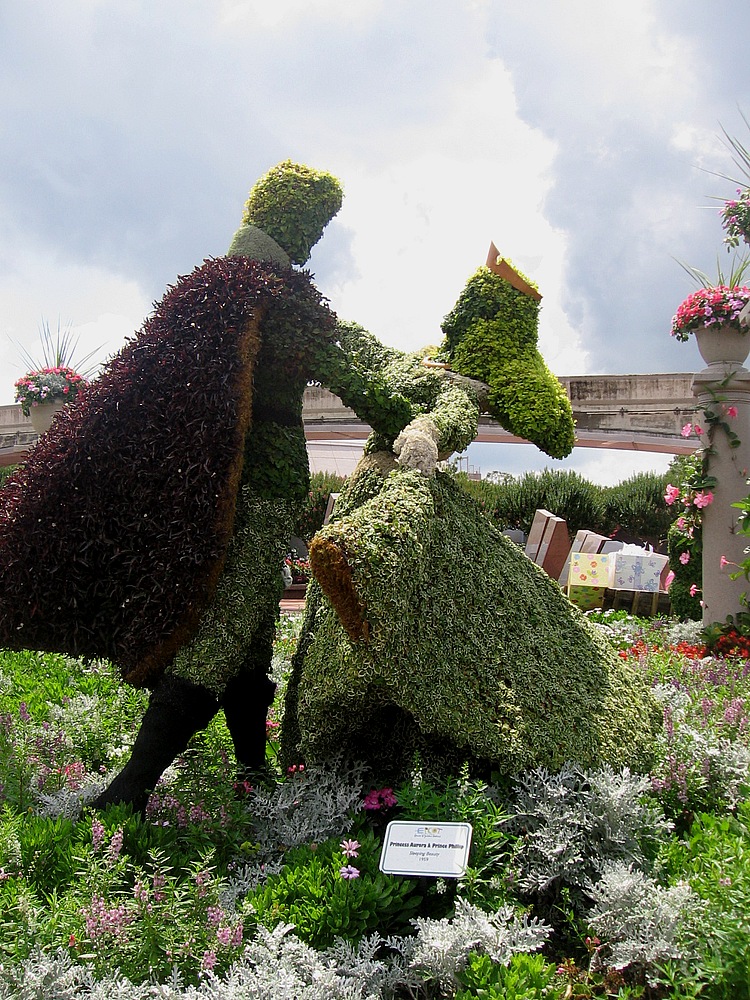 We chose to ride the monorail to Epcot and walk through to the Boardwalk for no other reason than that it's fun to do. On the way we stop in Club Cool to try the free beverages. Of course, we have to trick Grandma into trying the Beverley. By pure coincidence I happen to be videoing her at the time. The look on her face is priceless, as Tam says, this could be a big hit on Youtube.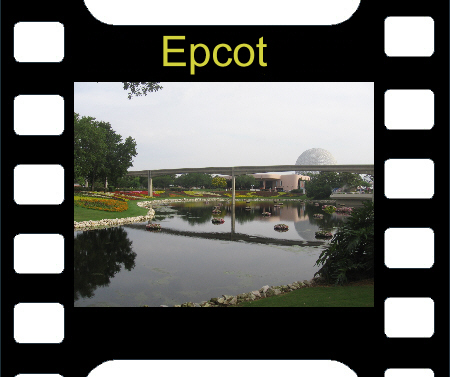 There's a bit at the end of this video with Grandma's reaction to Beverley
It's a lovely walk through Epcot, out the International Gateway and round to the Boardwalk.
We're all showered and changed by 5.00pm and walk to the lobby where Vernon (our DVC friend) picks me, Tam, India and Georgia up and drives us across to the Treehouses at Saratoga where he is staying for the evening with his family as a sort of DVC perk, but also so he can familiarise himself with the layout and check everything is working properly.
Vernon shows us around and we are all very impressed. There are 3 bedrooms, a master with en-suite, a double and a bedroom with bunk beds. There is also a pull out sofa and chair in the living room, so it can sleep up to 9 people.
Vernon tells us that it will cost the same number of points to stay here as a 2 bedroom unit in Saratoga Springs, which is amazing.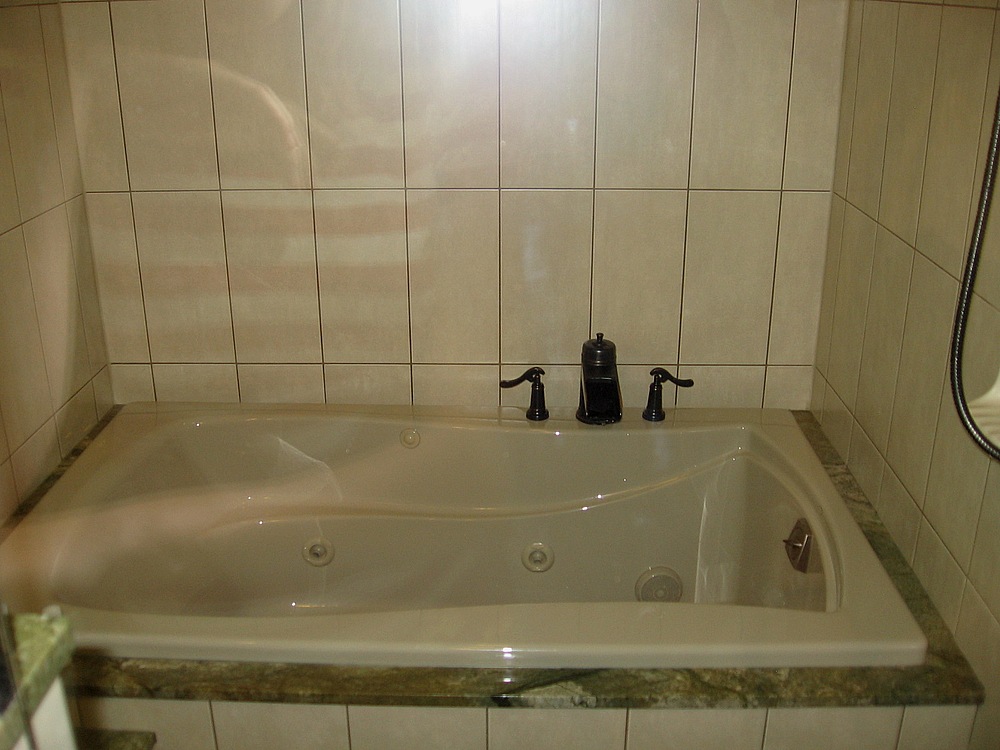 The retro taps are cool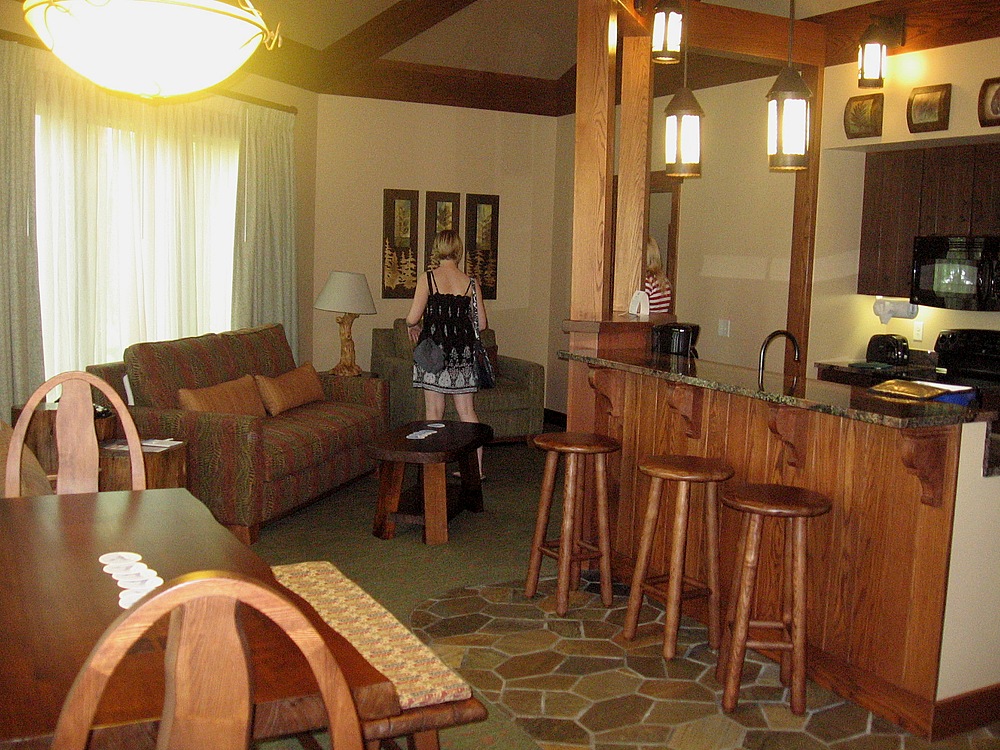 I think there are 60 treehouses in total and they are spread out just enough so that each one feels fairly isolated and quiet. The units are on legs, similar to the old treehouses, but are all brand new. This particular unit overlooks the golf course and Saratoga Springs on one side, but is surrounded by pine trees otherwise. It's very nicely decorated with a comfortable living area and full kitchen. I could imagine coming back to this haven of tranquillity after a day of hustle and bustle in the parks.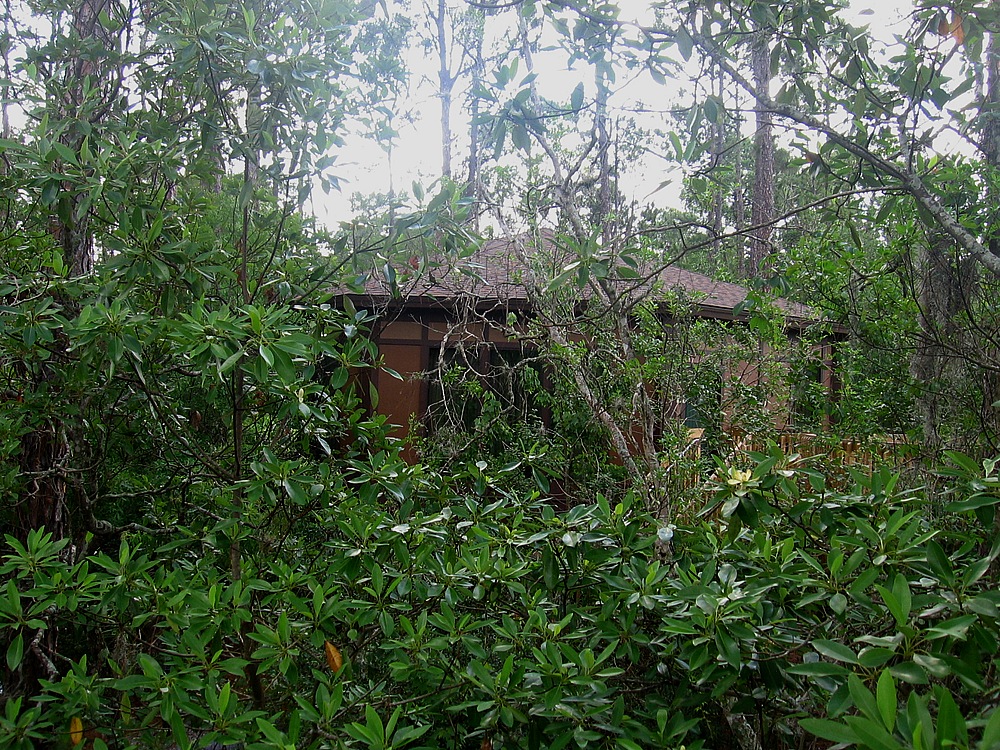 There is a raised external seating area with a table and 4 chairs and we sit and chat for a while until we have to get back to the Boardwalk as we are meeting friends tonight for an evening at Jellyrolls. Vernon drives us back and we say goodbye and thank him for showing us around the treehouse, it would have been nice to spend a while longer with him.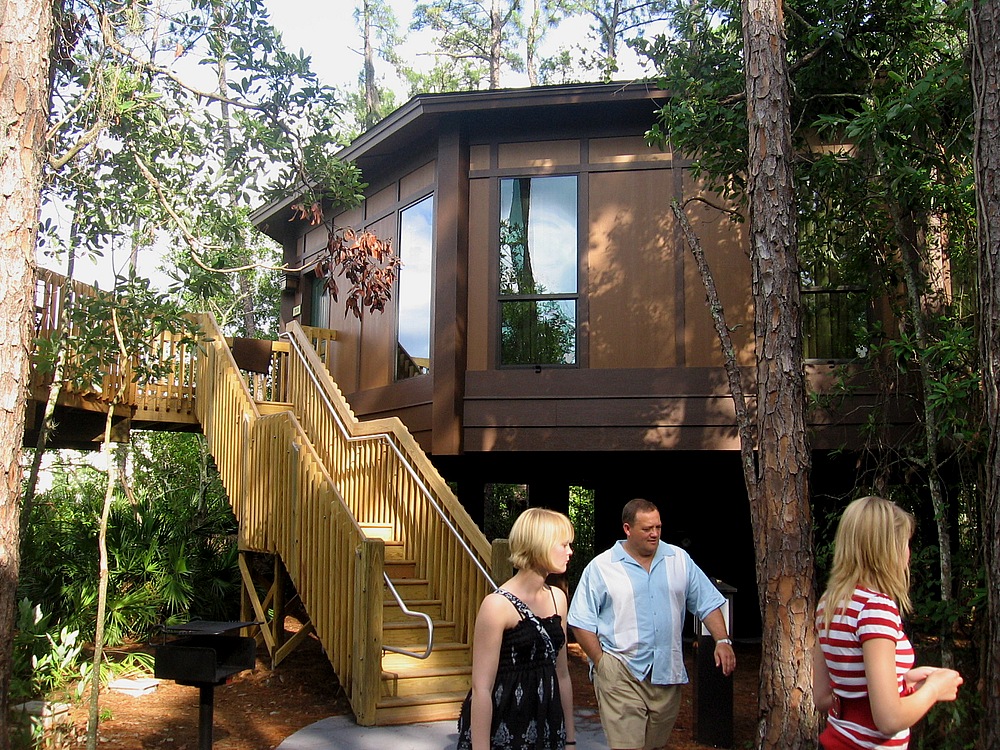 Back at the Boardwalk we head for the Belle Vue Lounge where margaritas are the order of the day. Martin and Mandy arrive around 6.15pm (they are staying up by Universal) and we chat away before leaving to eat at the Big River Grill and Brewing Works.
There is a 15 minute wait, but that's no problem as it's a beautiful evening and we enjoy the sights and sounds of the Boardwalk, which is buzzing as it's certainly the finest evening we've had since we arrived.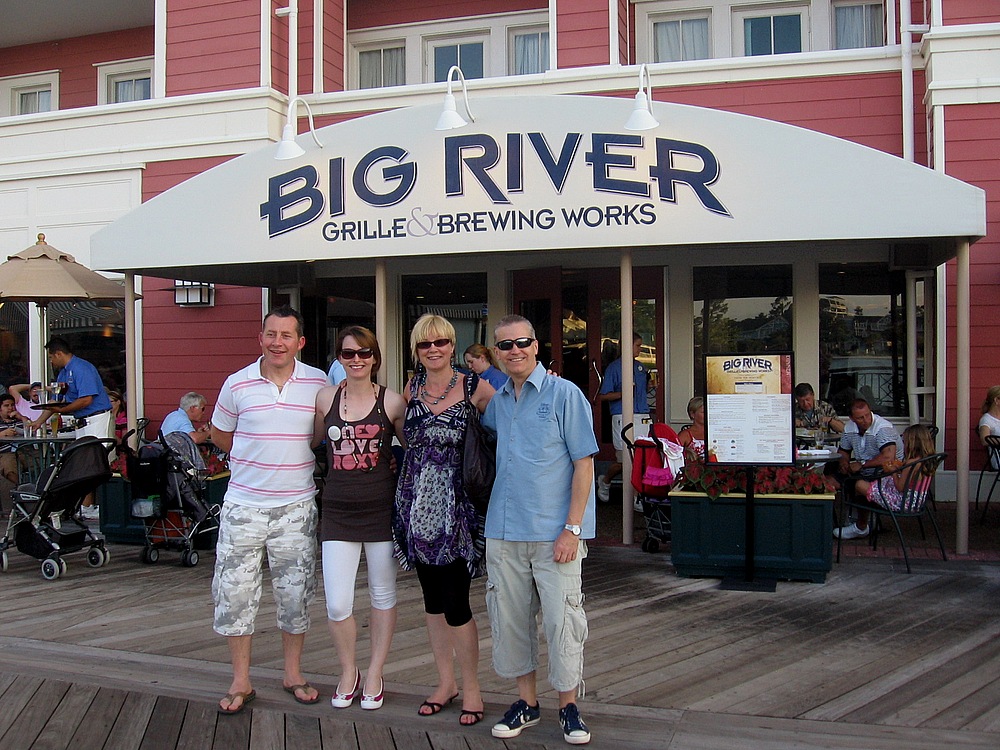 We may not be the height of sartorial elegance, but by golly we ought to get points for trying!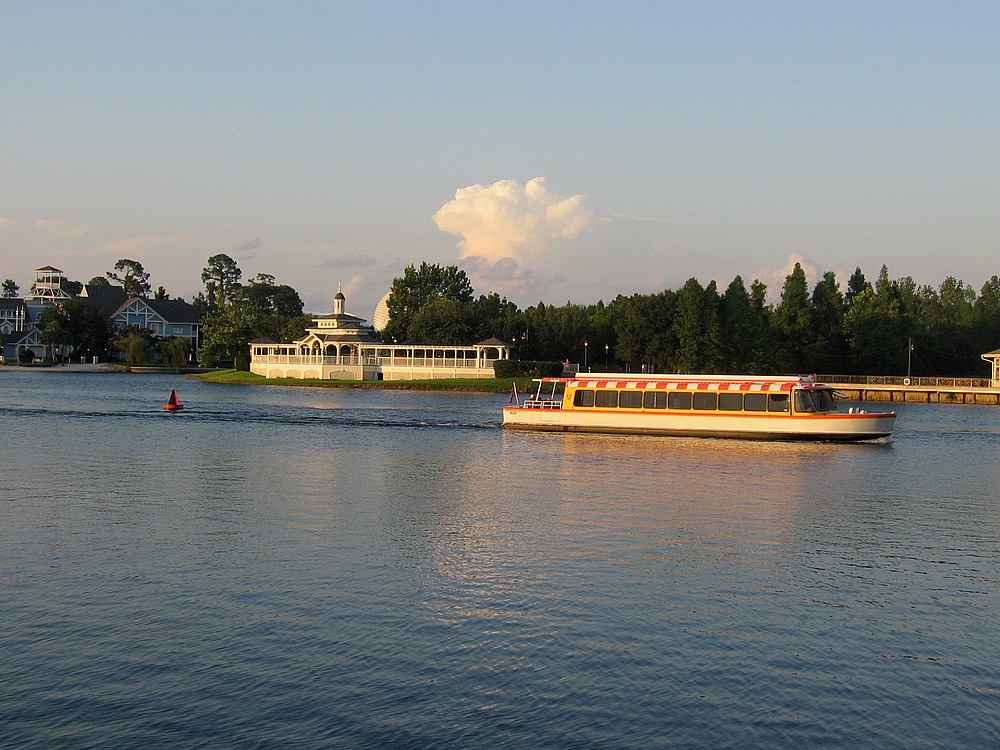 I find the food in Big River to be so-so. I have the burger, which looks very nice, but has a totally bland flavour. The portions are certainly huge as Tam has the meatloaf and there are 3 great slabs of it.
We leave around 9.15pm just in time to see the end of Reflections of Earth above the ESPN Club. India and Georgia leave us at this point to go to Extra Magic Hours at the Magic Kingdom as you have to be 21 to get into Jellyrolls.
The rest of us enter and we find a table for the 6 of us 3 rows from the front. The four piano players (they take it in turns to play in pairs) are as skilful as ever and we recognise some of them from the last time we were here.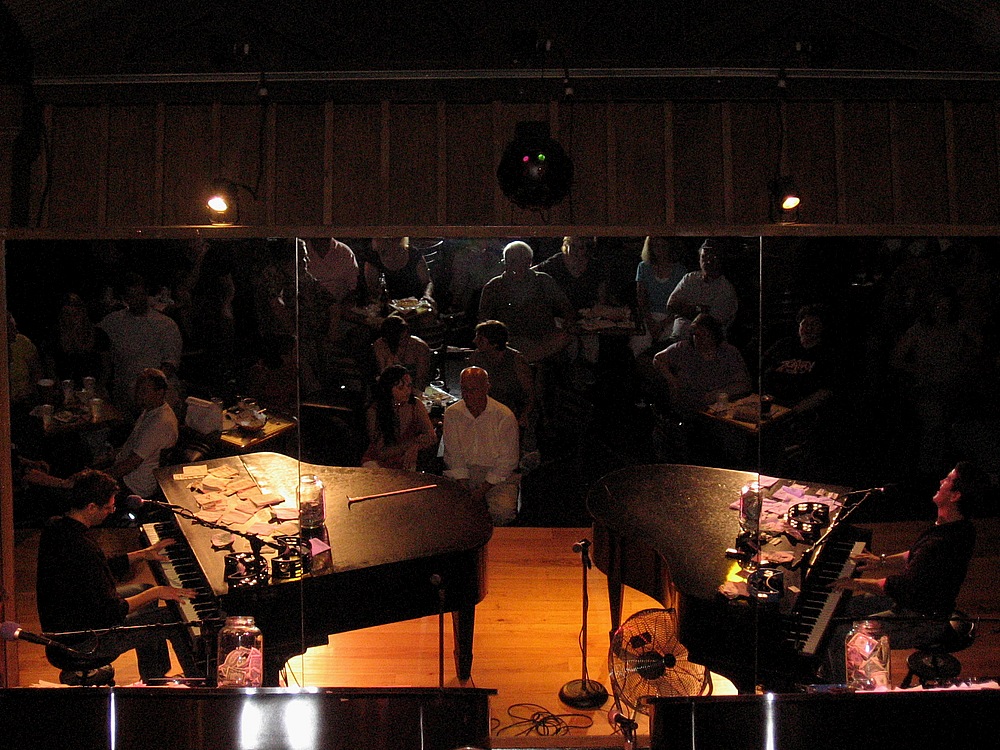 I'm not sure if I can find the correct words to put the next bit into a Disney trip report, but I'll give it a go!
About half way through the evening, two seats become free right at the front of the stage and a couple make their way through to sit down. He reminds me of Gaston as he is roughly the size of a barge. You could lie me down sideways and I'd probably just about fit across his shoulders and he must be at least 6 foot 2 inches tall. He plonks himself down, puts his feet up on the stage and proceeds to eat popcorn and drink beer for the next 3 hours.
His partner is as close to a plastic Barbie doll as I've ever seen. She's teetering around on enormous high heels, has bright platinum hair and is squeezed into a tiny orange dress. When I say 'squeezed', I mean 'squeezed', her neckline doesn't so much plunge as plummet.
This is a lady who is clearly on first name terms with her plastic surgeon. I wouldn't say her bust has been enhanced, more pumped up to full volume. Whatever undergarments she is wearing to restrain these beauties must be creaking at the seams as they manfully struggle to prevent full-blown fallout. Tam thinks they are a fairly recent addition as Miss Barbie thrusts them forward enthusiastically and stares down lovingly at them at every opportunity. Stick with me folks, I promise we'll return to Miss Barbie shortly.
If you've ever been to Jellyrolls you'll know that they do a fair amount of audience participation stuff, not something I particularly enjoy, but each to their own. Somewhere in the room there is a girl called April who is enjoying her first legal drink on her 21st birthday. The piano players call her up on stage and get her to do the 'Head, Shoulders, Knees and Toes' dance, which involves singing along and touching these parts of your body in time to the music.
Now April is not very good at this and, after several attempts, the piano players decide to get someone else up on stage to help her out and ask for a volunteer.
You may have thought me a little cruel to Miss Barbie earlier, but believe me, all the tables around where she has been sat have been staring incredulously, the table in front of us have been cracking up on a regular basis, so when the pianists ask for a volunteer everyone points to Miss Barbie in unison.
To her credit she teeters up on stage, enjoying all the attention she's getting. The whole audience collectively holds it's breath, waiting for the knees and toes part to see if there is a chest explosion of magnificent proportions.
'Head' …. Gasp!
'Shoulders' … here it comes!
'Knees and toes' …. Nothing.
We all stare into the abyss that is her never ending cleavage, but the bosom remains ensconced in fabric, although there's probably a couple of 4 x 2's and a steel girder or two helping in the restraint as well.
One of the guys at the table in front of us leans over to me and says (with the unrestrained American humour I enjoy so much) – 'Dang! That's like fittin' 20 pounds of potatoes into a 10 pound sack'.
The rest of the evening can hardly live up to that excitement, but we still have a good time. The place is packed, but it's not really jumping like we've seen in the past. Margaritaville and If I Had a Million Dollars are played and Tam says 'Oh, I miss our friends', referring to Deb and Matt and I agree with a small tear in the corner of my eye.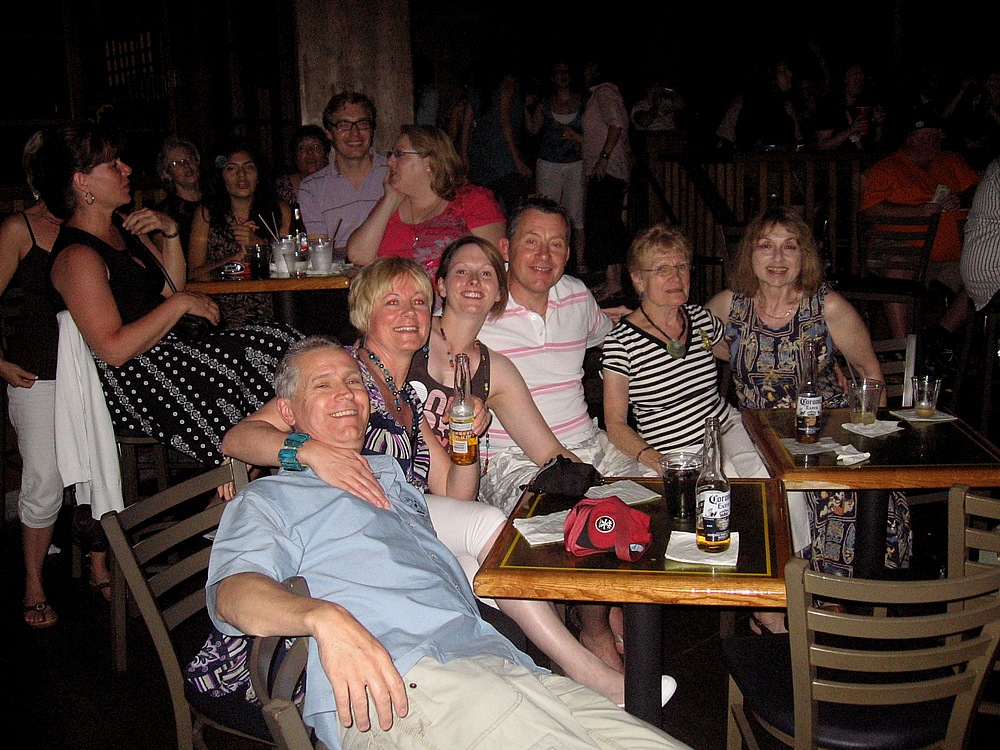 And you should have seen us after we'd been drinking!
I had rather thought that Susan and Grandma might get a little tired and go back to the room some time after midnight, but not a bit of it, they are still with us when the place shuts down at 1.45am.
We exit into the warm Florida night and stroll along the Boardwalk, although 'wobble' might be a better description for what Martin and I are doing as Mr Corona has paid more than one visit to our table tonight.
A taxi is hailed for Martin and Mandy and we say cheerio to them, wishing them well for the rest of their holiday.
We walk back to our rooms and I can tell it's been a good night when Grandma attempts to open her door with a Tesco Clubcard.
Good night.