DAY 7- THURSDAY 28TH MAY
Up around 8.00am and breakfast done, we're out of the room by 8.45am to walk over to Epcot. The forecast for today is the same as it's going to be for the next few days, nice mornings, but thunderstorms in the afternoon and evening.
Our aim is to ride Spaceship Earth first, but it's not open yet, so we go to Test Track instead. The standby time is 20 minutes, so we opt for the single rider line and virtually walk on.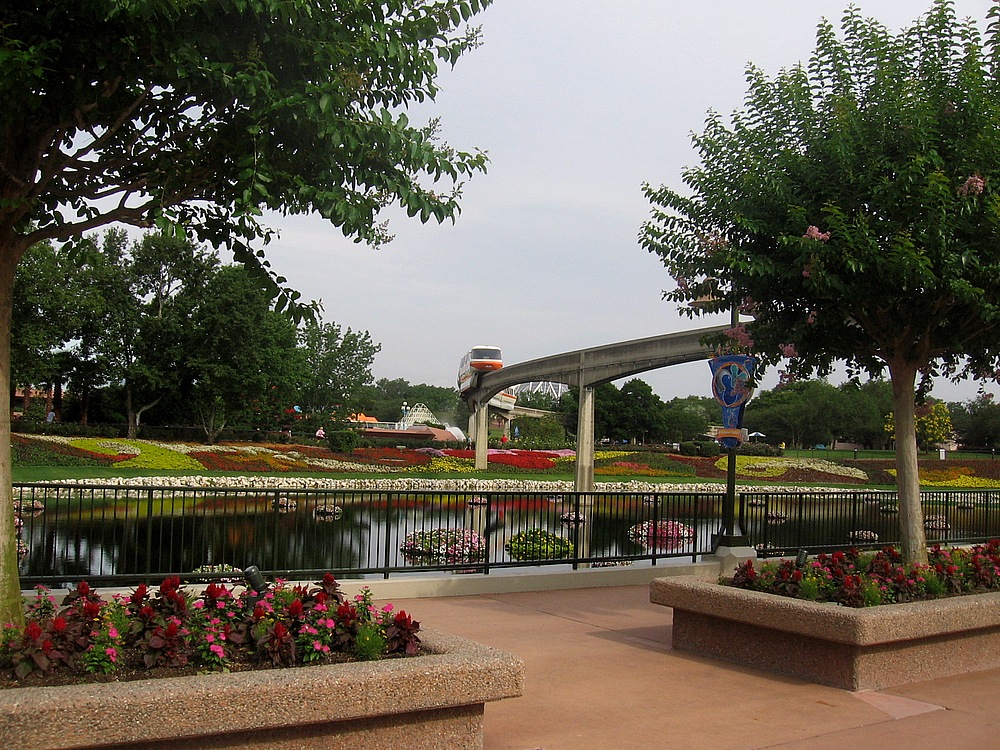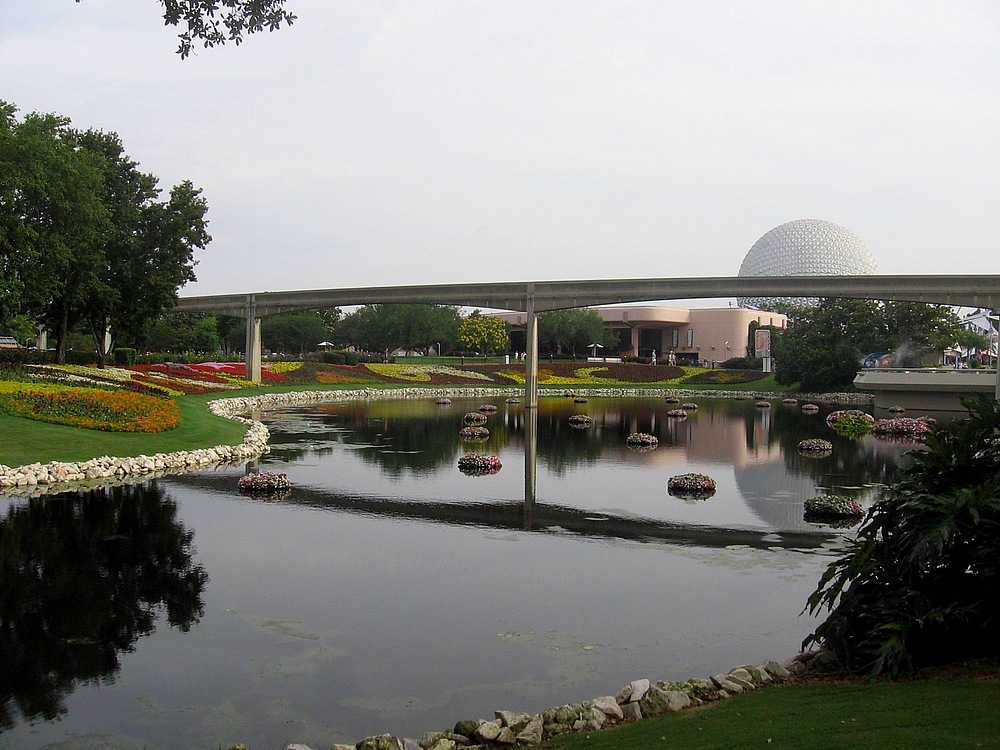 Mission Space is next where me, Georgia, Grandma and Susan do the non-throwing up version, while Tam and India try the full on vomit city side. It's a fun attraction, but you'll never get me on the spinning side again. This is reiterated when we leave the ride and I see a young teenage lad sat down with his head in his hands looking greener than a lump of purest green. Been there, done that, don't worry it will only take 5 or 6 hours until you feel better.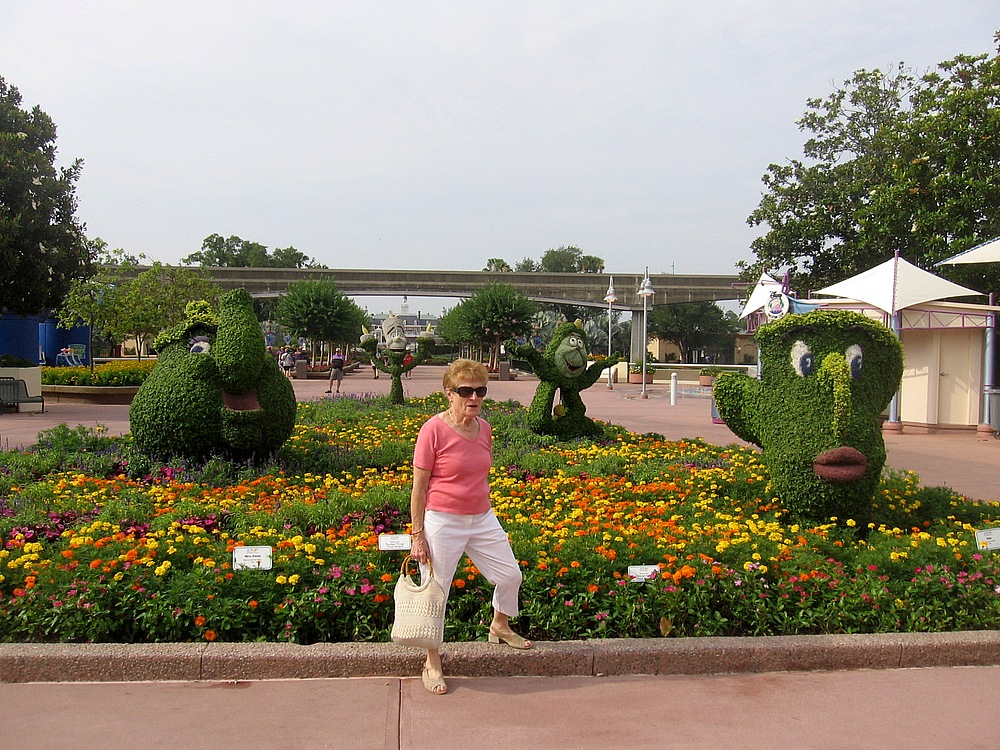 Universe of Energy is next. I haven't done this in a while and so enjoy it more than I expect. On leaving we bump into the Jammitors smashing away on their dustbins. Great fun.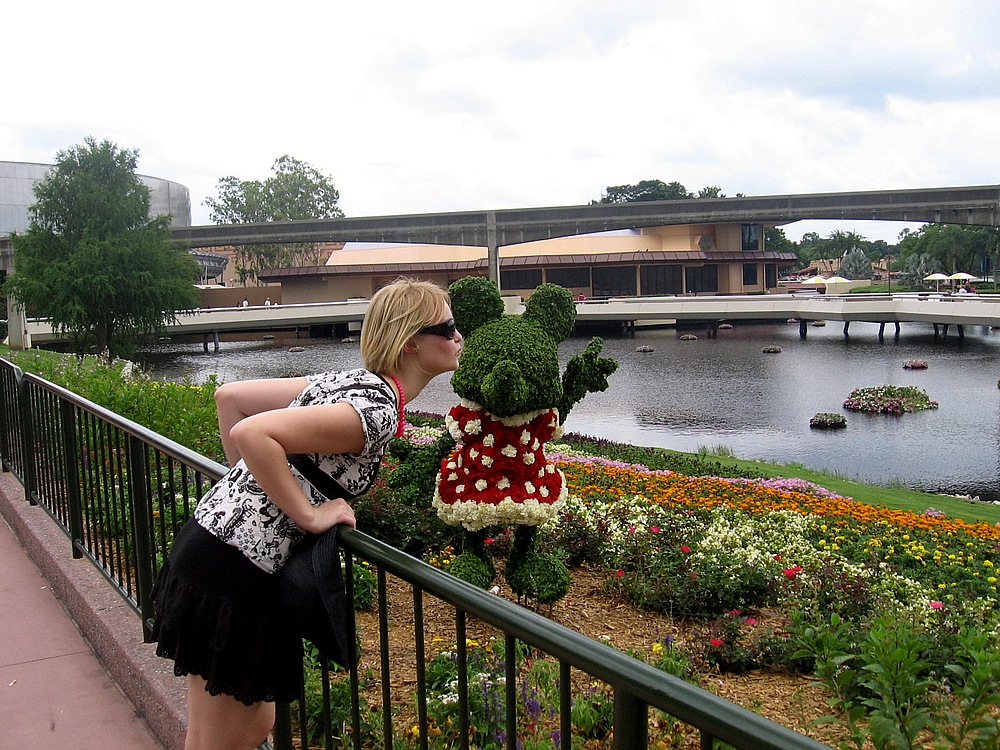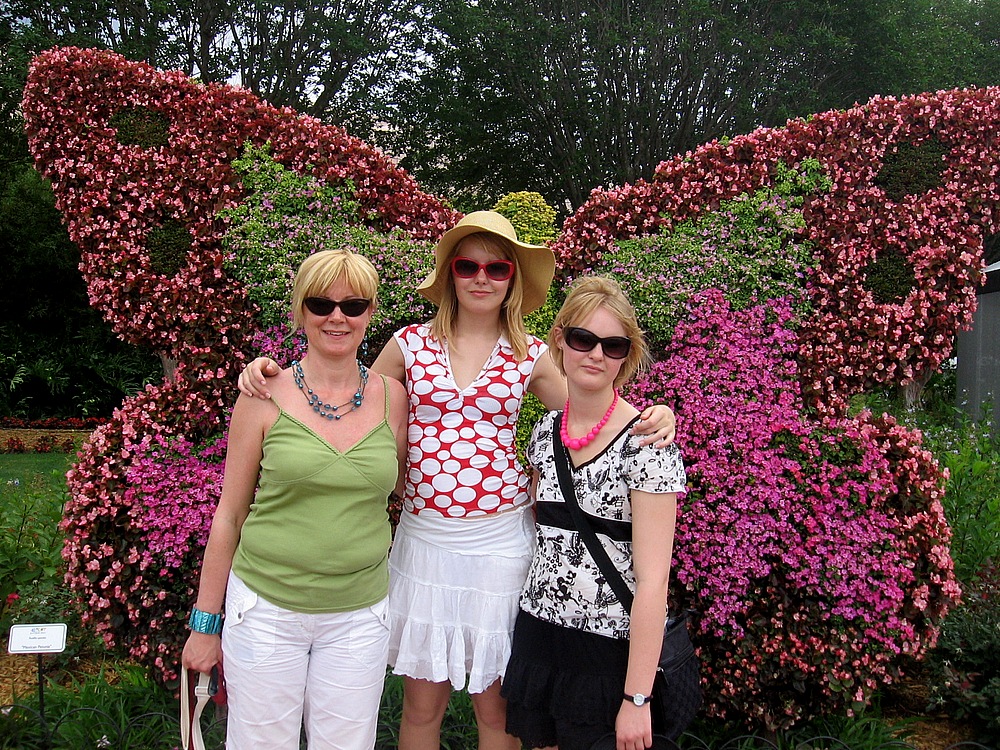 On round to Spaceship Earth, which has long queues, but they move fairly quickly and we're on within 15 minutes. Now, I'm not really sure what to make of the changes. Judi Dench is reasonable enough as the narrator and it looks really cleaned up and nice in many places, but the section after you rotate backwards is practically empty with all your attention on the interactive screen in your ride vehicle. I can't believe this will hold as much repeat appeal as the old version.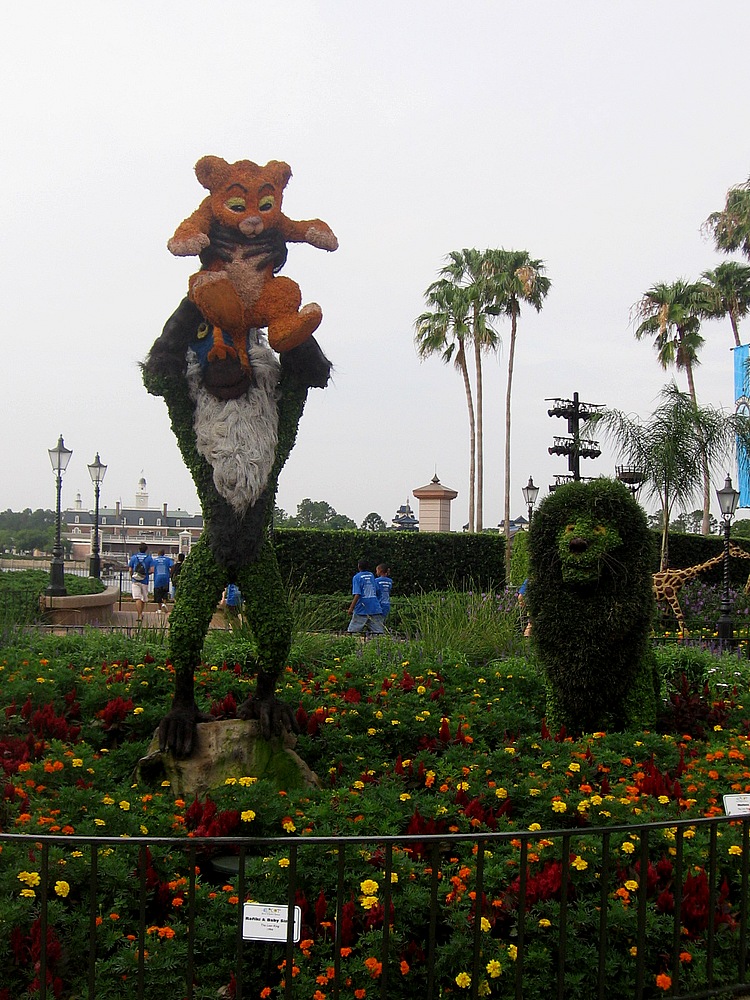 We walk into World Showcase next and the skies are looking pretty ominous, so we decide on a sit down lunch at Nine Dragons restaurant in China. This proves to be a wise move as it chucks it down while we are sat eating.
We have 4 starters and 2 main dishes between the 6 of us and split them all. The pot stickers are particularly good and the mains of Honey Sesame Chicken and Sweet and Sour Pork are both well liked too. Of course, I need a couple of Tsing Tao beers to wash it down with as well. I can't understand why this place gets such a lot of bad reviews. Admittedly we have only ever had lunch here, but we've always enjoyed it. A thumbs up from the Stringer/Yates party. It's even nicer as Susan insists on picking up the tab. I like free food.
The rain has stopped by the time we leave the restaurant and wander round the China pavilion for a while, ending up in the shop. I grit my teeth and let the ladies have their way for a while. To be fair, if we have to shop, this is the place to be as it has some beautiful and interesting things.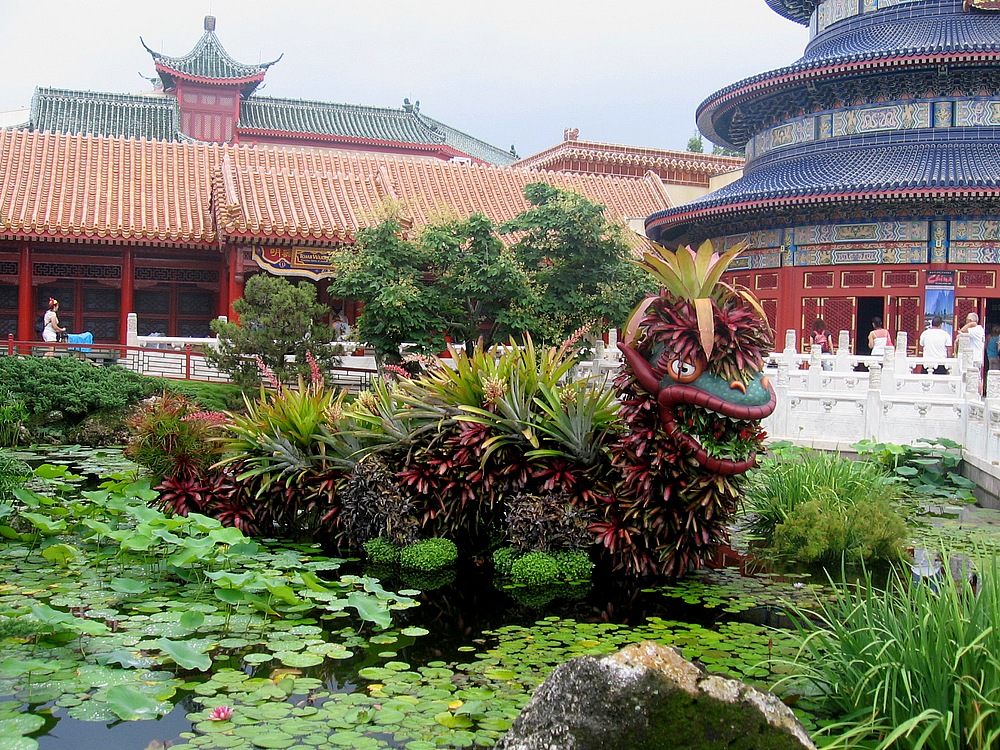 India wants to see the Chinese acrobats at 3.05pm and their usual outdoor display has been moved into the temple that acts as a holding area for the 360° film.
The young performers consistently draw a big crowd and no wonder, they are amazing to watch. Skill, agility, strength and beauty are combined to spectacular effect. A couple of the girls are particularly well proportioned for Chinese ladies, who are usually very petite. Before you start complaining, it's actually India that comments on this, not me.
We stay to watch the 360° film. Again I haven't seen this in many years and so it's an enjoyable experience.
We're going to leave Epcot now to get ready to go to Disney's Hollywood Studios where we have an ADR for the Brown Derby followed by a visit to the 10.30pm showing of Fantasmic.
On the way round we can't resist watching the Romeo and Edna street show in Italy. We are a little saddened to recognise one of the participants as a former cast member from the Adventurers Club. Lord, I miss that place. Damn you Disney!
Having these little shows and performances around World Showcase are one of the things that makes this place so special to us.
The clouds are gathering as we catch the Friendship boat back to the Boardwalk where we congregate on Susan and Grandma's huge balcony to enjoy a glass of Pimms. We're classy people. There is thunder and lightning all around, but miraculously, it doesn't rain.
Back on our own balcony I enjoy a second glass of Pimms and a beer while I write up my trip report. I have a warm feeling inside of me (it's not just the alcohol) as I am enjoying every day more than the one before. I can't explain why, but sitting on the balcony at the Boardwalk fills me with happiness and contentment. I reckon the good pixies may be at work.
At 7.30pm we leave to catch the boat to Disney's Hollywood Studios. It's still threatening to rain, but is holding off for the time being. We walk to the Brown Derby and are seated after a few minutes. There seems to be one advantage to having 6 of us in our party, we have always been given really good tables, usually a booth. This is much nicer than being on a small table mixed in with lots of other diners.
It must be carnivore night for our party as we all plump for the New York Strip Steak, except for Georgia who wants the duck.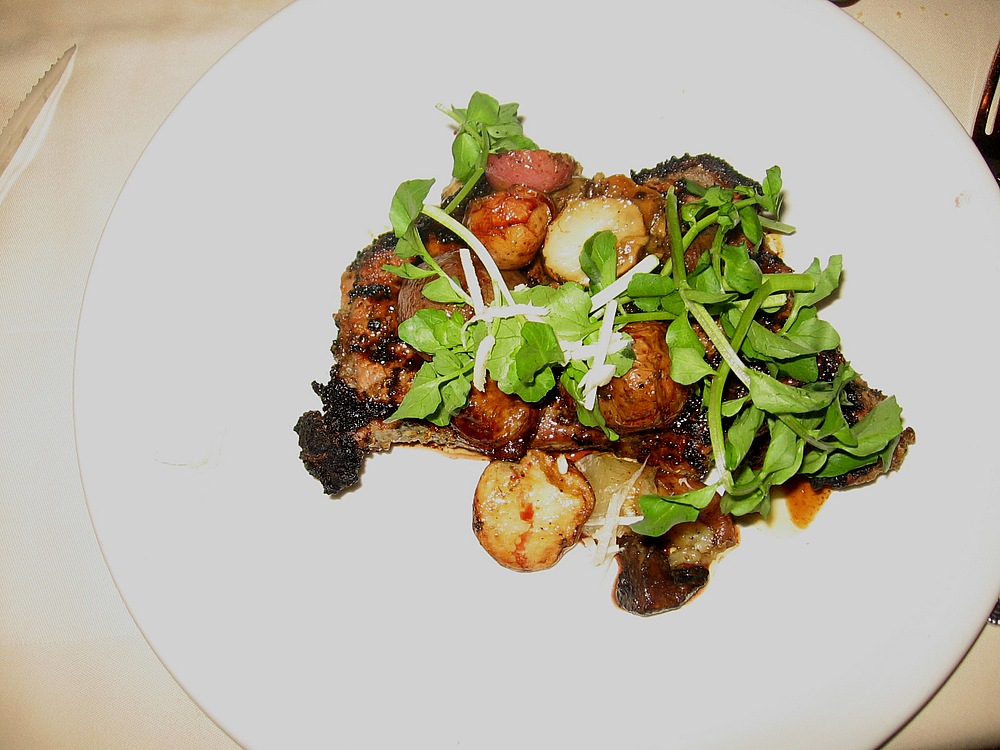 The food and service are both very good and we pass a happy 90 minutes eating and chatting. The Brown Derby is not a cheap restaurant (the steak is $36), but it is a cut above the normal theme park eating establishments and is a nice diversion from the hustle and bustle outside.
As we eat it starts chucking it down with rain outside. Once again we have been lucky in avoiding the worst of the elements, managing to be either eating or drinking whenever it's pouring. Mind you, as we spend a fair proportion of our time doing one or other of these things, I guess it's not totally surprising.
At the end of the meal Susan insists on paying for it again. Her logic is that it would cost her a whole lot more in accommodation costs if she wasn't staying with us at the Boardwalk. No amount of arguing will change her mind. Thanks very much for a lovely meal Susan.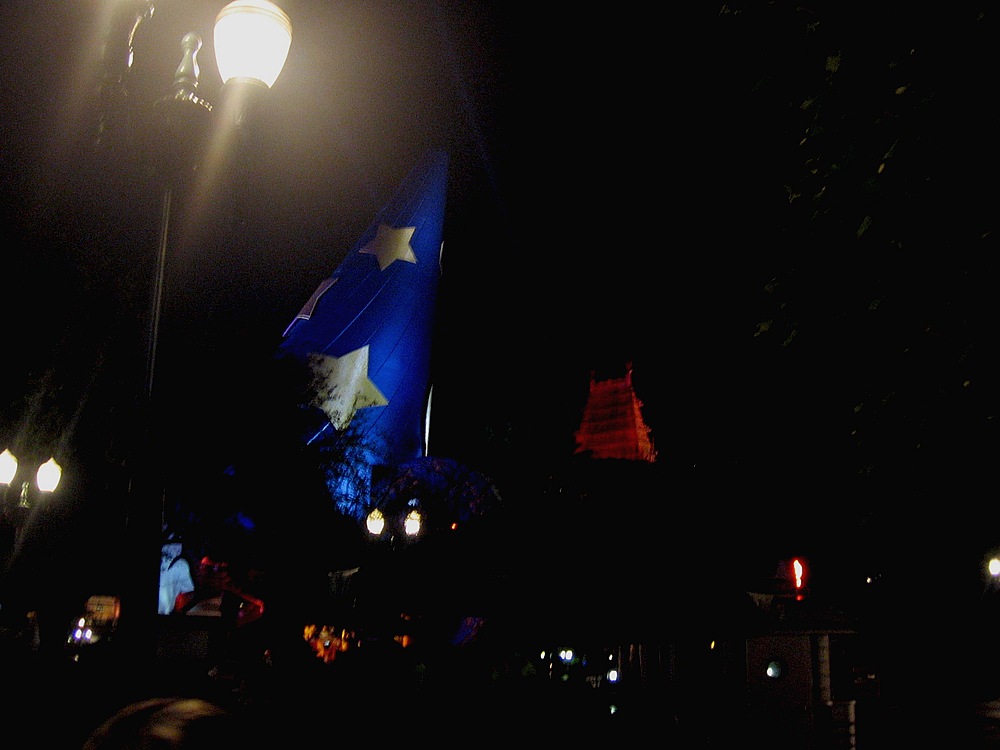 We are off to watch the 10.30pm Fantasmic and start to walk towards the theatre when it starts to rain. Luckily it's just the sprinkly type of rain, not the drowned in 30 seconds variety, so ponchos cope admirably.
I'm quite surprised at how many people are queuing to get into the theatre considering this is the second showing tonight, but it doesn't take too long to get started. Georgia and I nip off for me to get a beer and both of us to use the bathroom. See how American I'm becoming? I'll be turning on the faucet next.
When we return to the theatre Tam and Grandma are sharing a poncho, one has her head in the proper hole and one has her head through the armhole. They look like a two-headed yellow blob.
Fantasmic! Is not our favourite night time show, but it's still spectacular and the main aim is for Grandma to see as much as possible.
Exiting the theatre takes a little while, but it's not long until we are on the boat back to the Boardwalk. Back in the room I ask Tam and the girls if anything happened this evening that ought to go in the trip report. Tam's response is 'I'm sure I said something funny this evening'. So there you go, please laugh uproariously at this point assuming that whatever Tam said was funny.
You see what I have to work with?