DAY 9- SATURDAY 30TH MAY
I rise at 9.30am with a surprisingly clear head, I had been expecting a Corona backlash after our Jellyrolls excursion last night.
Tam and India are already up and sat on the balcony reading. It's a beautiful morning and the forecast is for improvement over the next 2 or 3 days, so we're hoping the rain might stay away for a while.
There is some discussion over what we should do. The plan had been to spend some relaxation time around the pool, but its so lovely Tam says she'd like to go into Epcot to see some of the Flower and Garden Festival stuff as it's ending tomorrow.
Grandma, Susan and India decide to go to Downtown Disney for a spot of shopping, so me, Tam and Georgia walk across to Epcot, arriving at 11.30am.
This turns out to be a good move as World Showcase has not long opened and France and Morocco are practically empty, allowing us to wander around nearly alone. We don't do much except meander around the countries poking our noses into the gardens, shops and restaurants as well as the floral displays.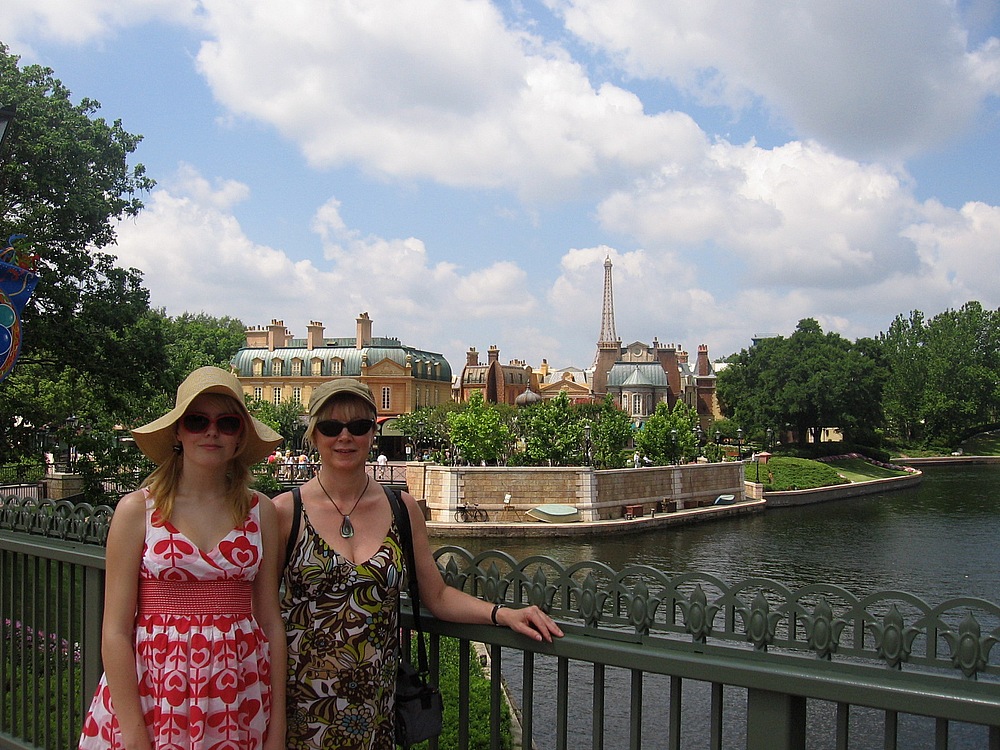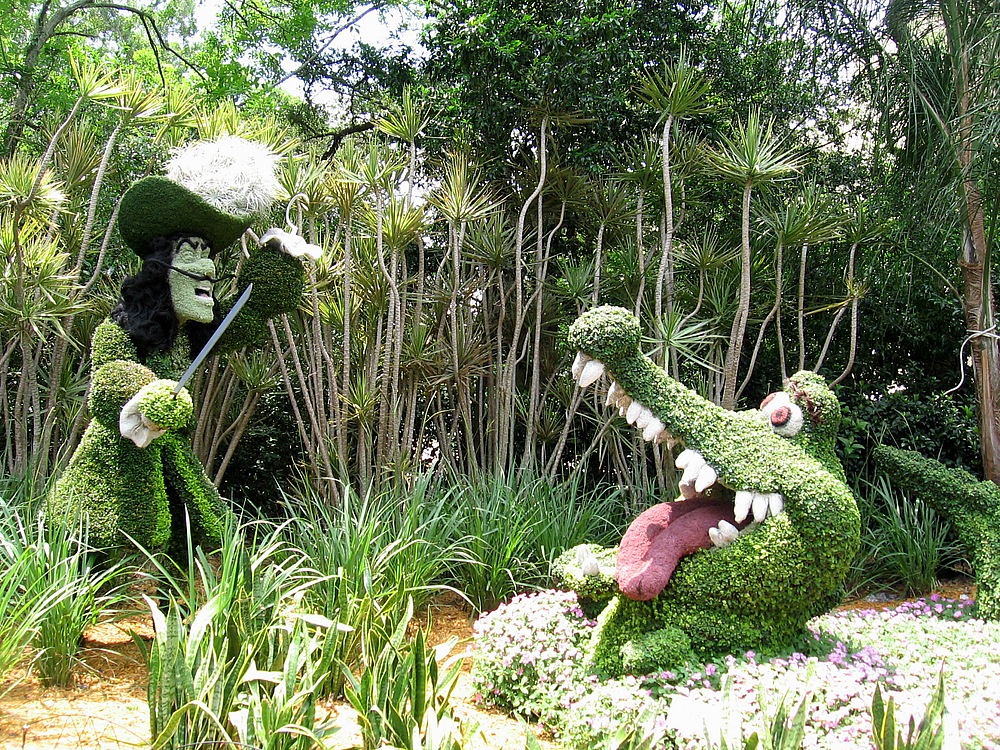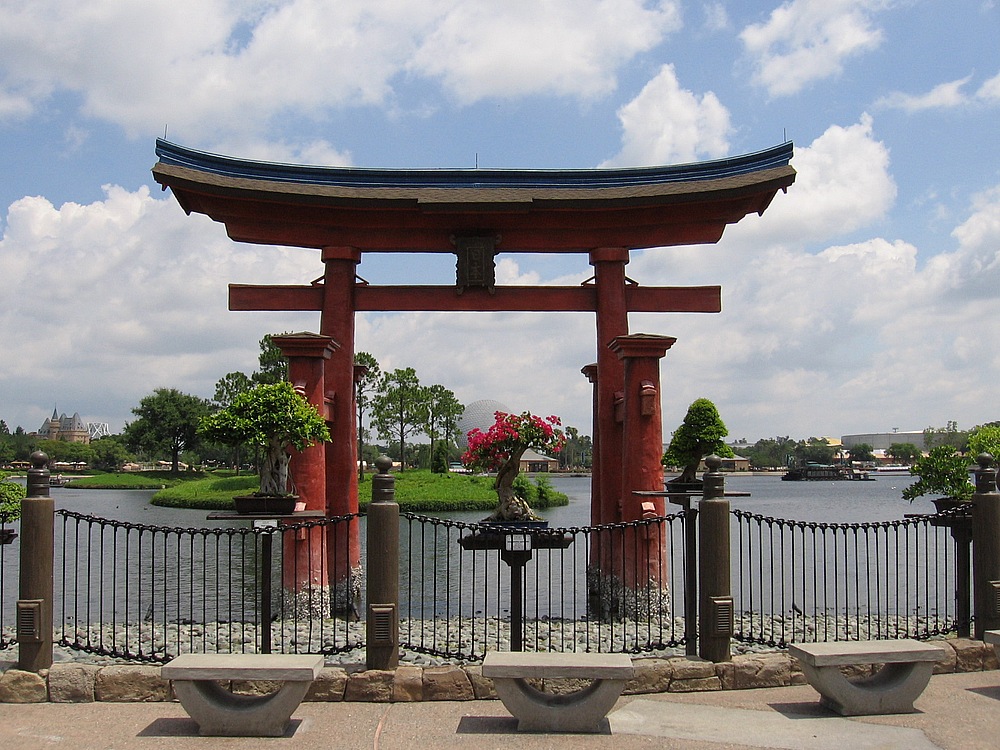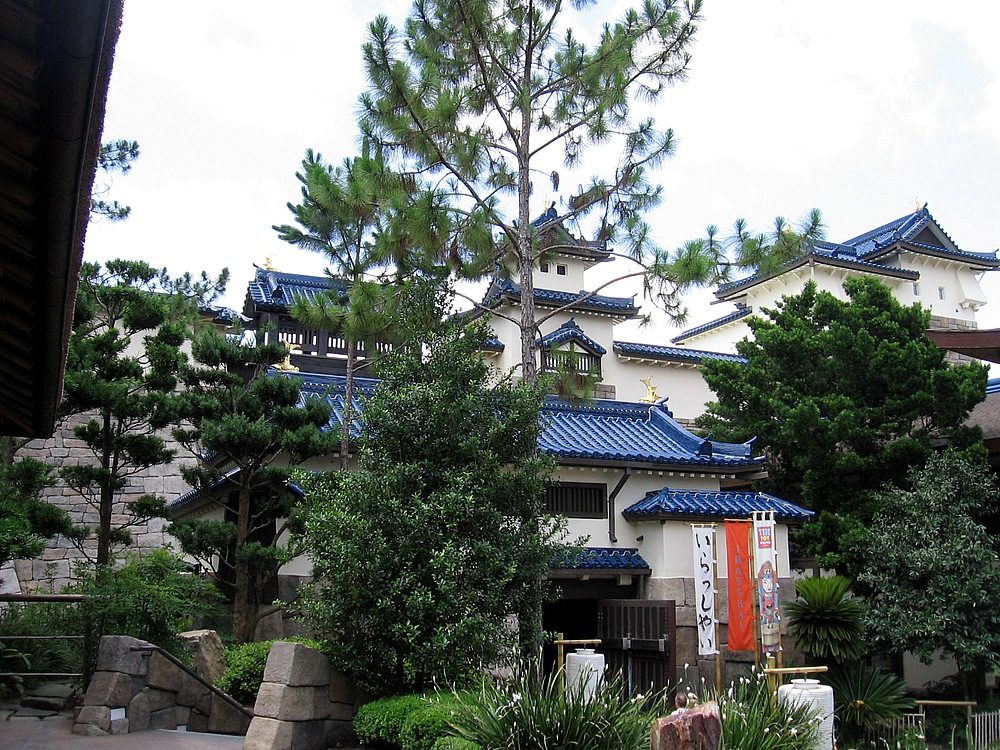 We stop in China for a Mango Gingerita, which is much nicer than it sounds, although one between two of us is enough.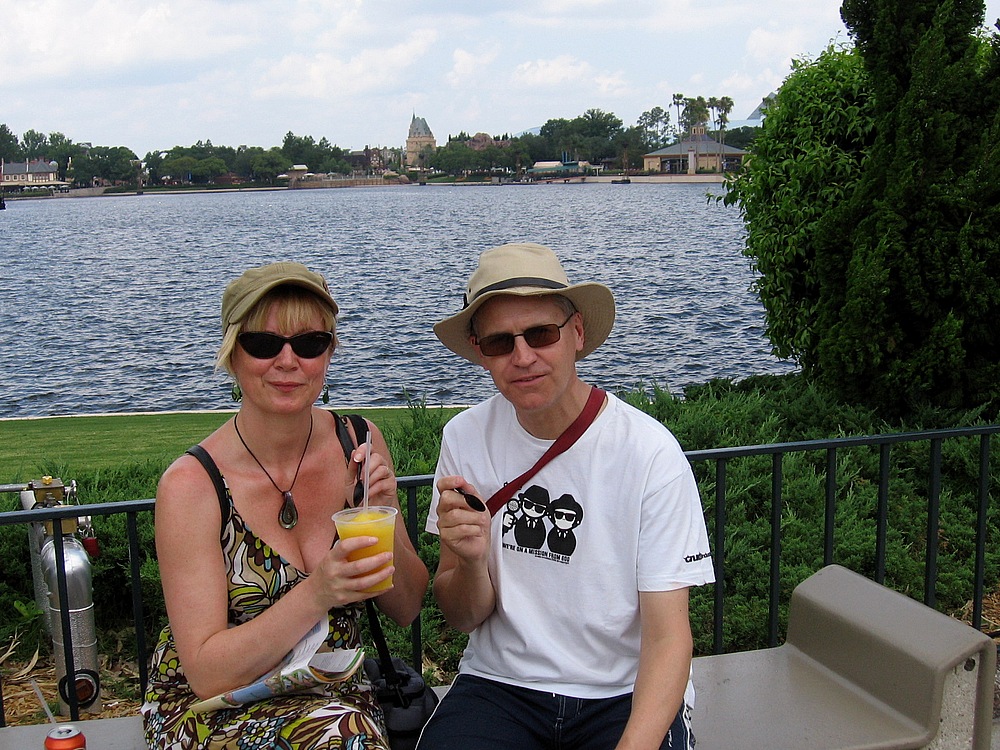 We gradually work our way anti-clockwise around the lagoon, pausing only to ride Maelstrom in Norway, you to have to really, it's a legal requirement.
Next we head to the old Wonders of Life pavilion where there are many displays set up along with presentations and demonstrations. In one area they are showing a 30 minute long film, which explains the design, planning and implementation of many of the elements of the Flower and Garden Festival. This is incredibly interesting and I would advise everybody to watch this first before viewing any of the exhibits. It's easy to become a little blasť about all the beautiful displays, but this film gives a real insight into how much time, effort and thought has gone into the festival.
After watching you look at it all with an enhanced appreciation for the skill, determination and hard work of the Disney horticulturalists.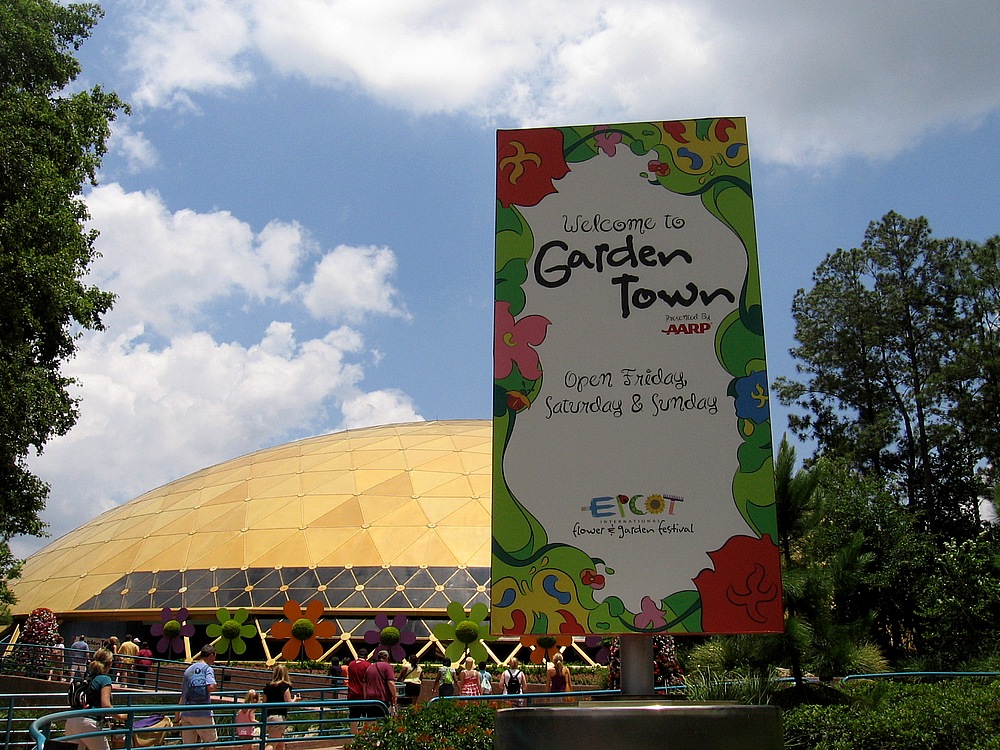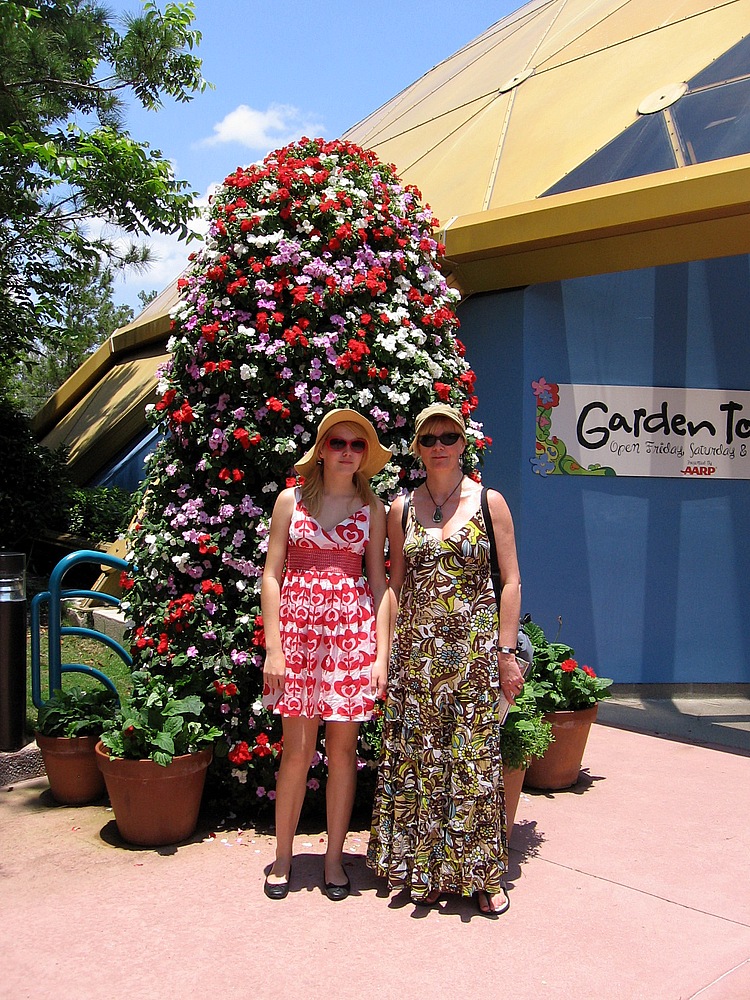 We continue our walk back through World Showcase, pausing only to share a baked potato between the 3 of us. It's been a lovely few hours enjoying the sights and sounds of World Showcase without doing very much at all.
Back at the Boardwalk we go down to the quiet pool for a couple of hours relaxing and I catch up with my trip report. The clouds are bubbling up again, but today they are mostly fluffy and white. Dark and ominous we do not like.
The original plan for the evening was to eat at Blue Zoo at 7.30pm, but the glimpse of the fireworks from the Boardwalk last night has convinced Tam that a viewing of Reflections of Earth is long overdue, so we try to bring our ADR forward a little. They manage to fit us in at 6.00pm.
The nice thing about the quiet pool at the Boardwalk is that it's nearly always deserted, today there are probably less than 10 people enjoying the Florida sunshine. I also like the fact that there is no blasted pool music blaring out! The last thing I want as I swim or lie in the sun is the Macarena assaulting my ears.
Back in the room a rum and coke is concocted by yours truly for all the adults. Although we have had the luck of the devil in avoiding getting caught in the thunderstorms, the first week has been somewhat of a disappointment weather-wise. Sat here on our balcony looking out over the Boardwalk and listening to George Gershwin playing quietly in the background while I gaze out at blue skies with a few white clouds scudding by truly brings home the reason we keep returning to Florida.
We all have showers, drying off using towels designated by the patented Stringer towel recognition system. This was first introduced on our Med cruise last year and is brought into play whenever there are 4 towels on a rack in the bathroom. Instead of top left, top right, bottom left and bottom right, they become left breasty dumpling, right breasty dumpling, left buttock and right buttock. On this holiday I'm a left buttock. This ensures we keep the same towel throughout and although you may easily forget bottom left towel, I guarantee you'll never forget you're a left buttock.
Tam gets out of the shower and starts to dress only to be met with hoots of derision from the girls. She has pulled up her knickers a little too far and the girls reckon she looks like a female Borat in his mankini. Even I think this is a little unfair. I'd like to show you pictures, but divorce lawyers are not cheap these days.
We meet Susan and Grandma at 5.45pm and walk across to the Dolphin under a near cloudless Florida skies.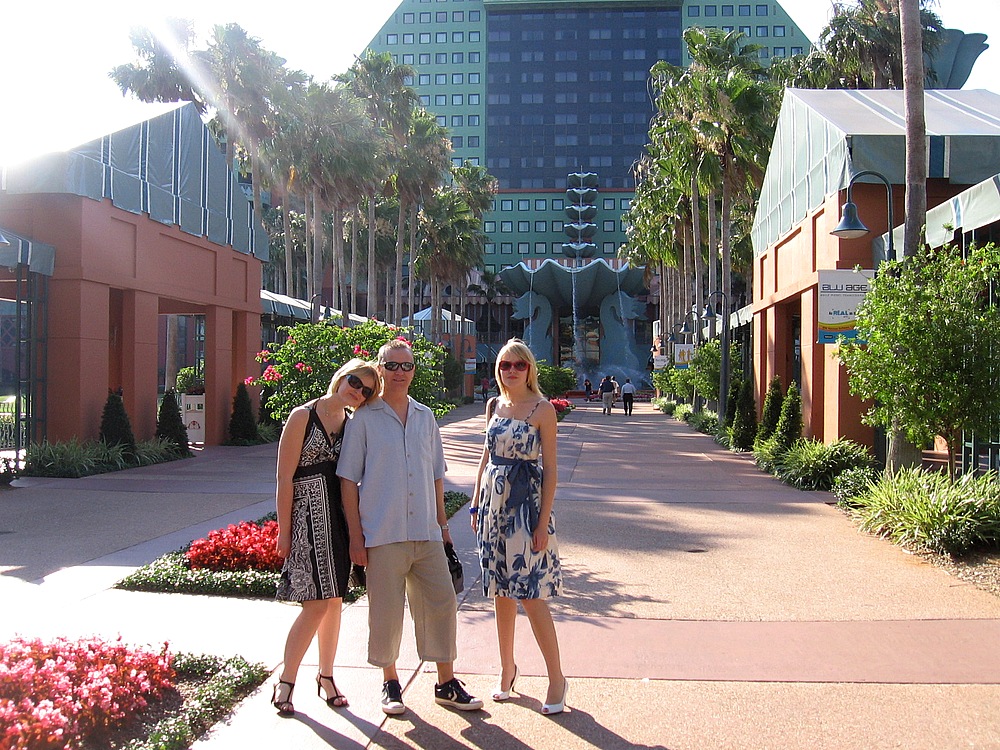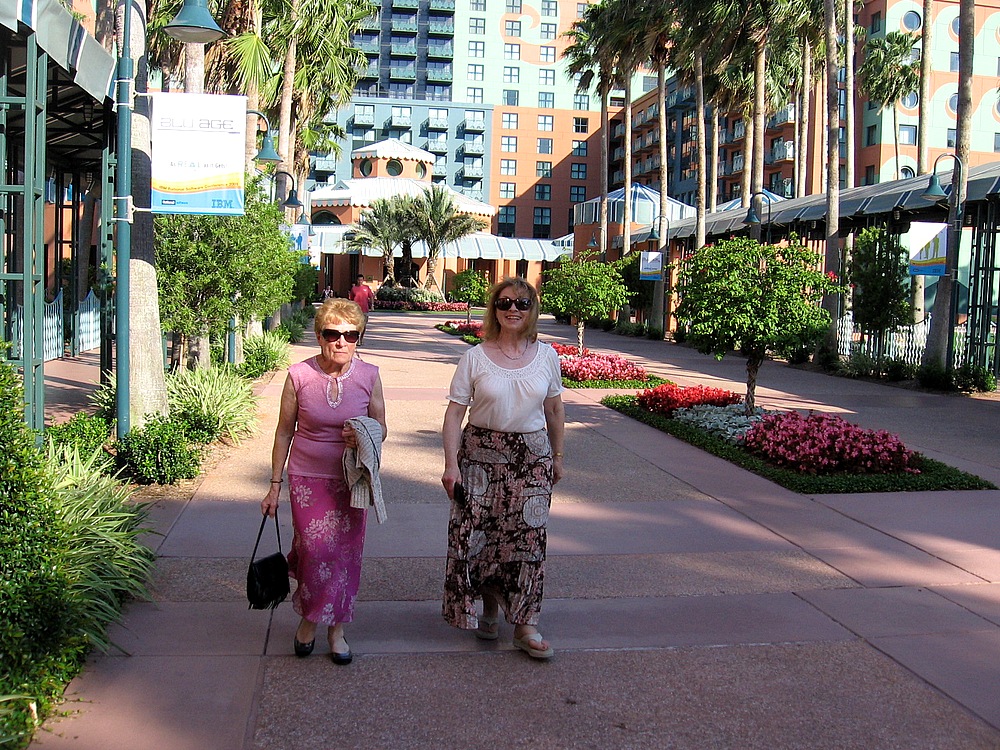 We are seated immediately for our 6.00pm ADR at Blue Zoo in a booth on the far side of the restaurant. This is primarily a seafood restaurant and is on the expensive side, but is a very nice establishment with good service.
I have the halibut with a warm crabmeat, Dijon mustard and chive sauce. Grandma has the same, while Tam has a fish none of us can remember, it was a triple tailed something or other, Susan tries the soft shell crab and Georgia wants the flat bread from the appetizer menu. Poor India, I left her out, as I can't remember what she had.
All the food is good, but the fish dishes with the crabmeat sauce are a particular hit.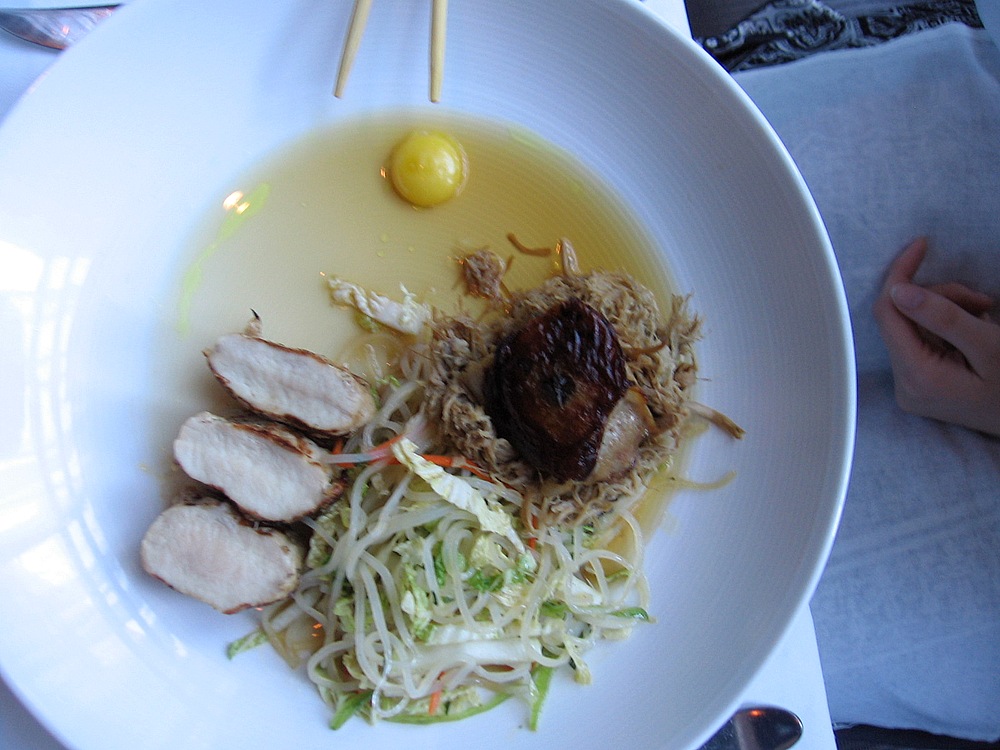 Ah, so that's what India had - pork I do believe. It even had a little quail's egg.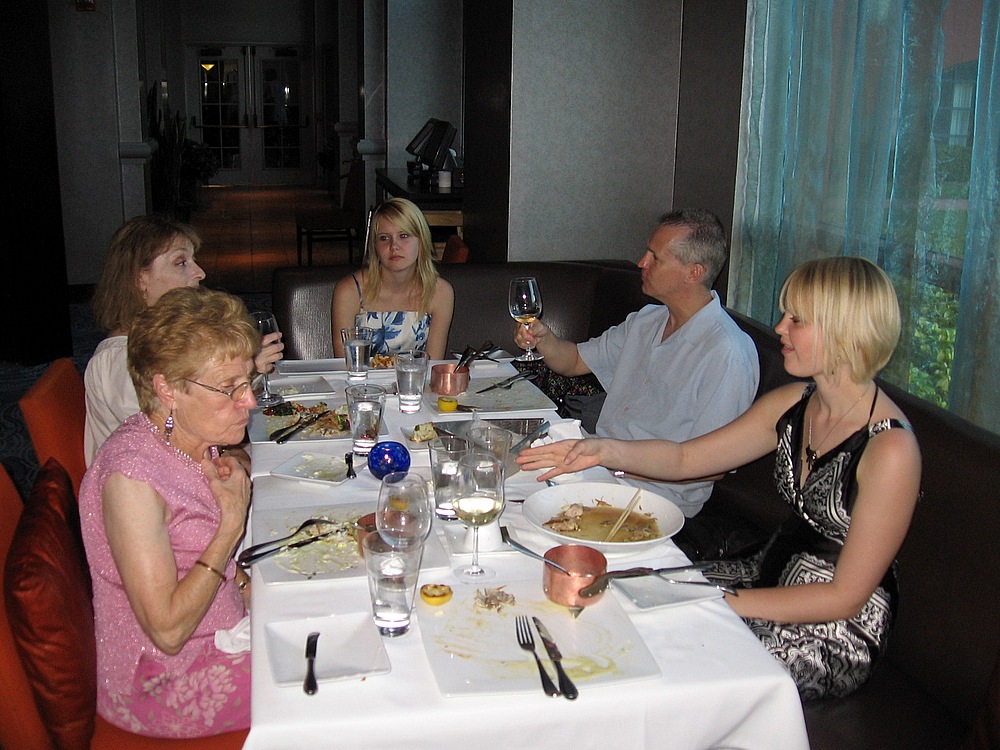 Susan and I locked in a passionate debate about who has the biggest glass
The ladies have 3 desserts between them – a chocolate melange (5 small separate chocolate servings), a pavlova and a Mai Tai banana cream flan. I have a glass of port. The total bill for the 6 of us including a bottle of wine and tip comes to $360. Like I said, not cheap, however this is not a rushed dining experience and we are there for well over two hours. I would definitely recommend this place.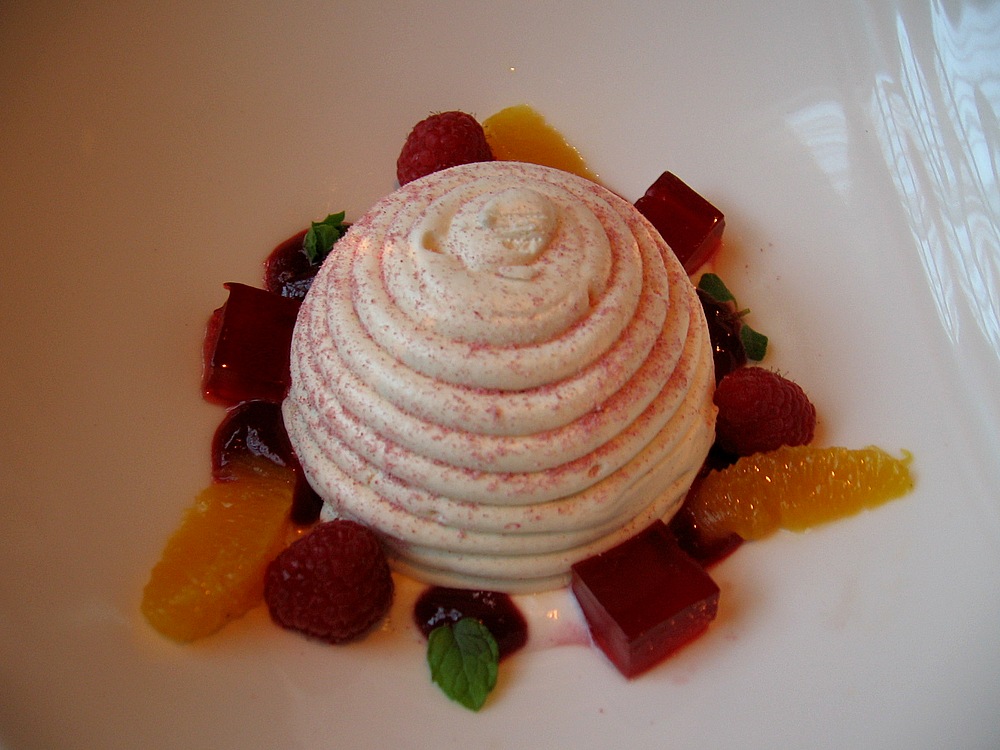 It's a little work of art
The down side of the meal taking so long is that we now have little time to get across to Epcot for Reflections of Earth, in fact we just get to the bridge between the UK and France as it begins. It's not my favourite viewing spot by any means, but we're really not bothered as we know we'll see it a few more times on this holiday.
We leave Epcot along with everyone else and walk back to the Boardwalk. This is the busiest we've seen this place since we've arrived, a combination of the improved weather and it being a Saturday evening I guess.
Back to the room where Grandma and Susan join us to discuss what we will be doing tomorrow, Sharon and Evan our friends from Texas are arriving in the afternoon, so we just need a plan for tomorrow morning. We decide on the Animal Kingdom, aiming to get there for opening. An early night is therefore called for and we're all in bed by 11.15pm.