DAY 6- WEDNESDAY 27TH MAY
I wake up at 7.00am today, which wouldn't be too bad if we hadn't got to bed at 1.00am last night. We finally get up at 8.00am and have a leisurely breakfast sitting on the balcony on a lovely, warm Florida morning.
Tam and I watch the few people wandering around on the Boardwalk and are particularly interested in a mother pushing an infant in a buggy while a small child angrily follows a few steps behind. As they make their way slowly along the Boardwalk the child becomes more and more irate, stamping his feet and shouting at his mother. Unfair as it may be, this is a huge source of entertainment to me and Tam as it gradually develops into a full blown tantrum. The mother stops every few yards and looks back with that well worn look of resignation all parents know so well. The kiddie gives it the full works including lying on the ground kicking his feet in the air and screaming. By this time Tam and I are doing a fair amount of lying on the floor with our feet in the air to, but ours is due to laughter. As they turn the corner by Jellyrolls and disappear from view we realise that our behaviour was possibly a little harsh, but it was damn funny.
At 10.15am we collect Grandma and Susan and get the boat to Disney's Hollywood Studios. As we enter we see that the American Idol show is about to start, so we head off in that direction. The theatre is quite spectacular and I guess it's similar to the stage set up for the TV show, I don't know, as I've never watched it. They have 3 contestants selected from people who want to audition and a panel of 3 judges passing comment, the cool dude, the expert female and the nasty one.
They introduce the 3 contestants before they sing and Tam and I are wondering if they can possibly be real. I swear I'm not making this up, the first contestant is called Tiffany Ironside. Fair enough, it could be real. The second contestant is Trent English! By this time Tam and I have decided we are voting for whoever has the best surname and English is good in our book. Things all change for me however with the introduction of the third contestant. Ladies and gentlemen, I give you Emily Motitiska! By this time I'm struggling to stay upright in the chair and not laugh out loud.
To be fair, all 3 can sing pretty well and Trent English wins by a mile, much to India's disgust as he's a bit full on with the whoopin' and hollerin' for her taste. I'm not sure how much repeat appeal this show will hold for me. On the plus side I guess every show would be different.
The Great Movie Ride is next before moving on to Voyage of the Little Mermaid. This is spoiled somewhat by a young boy whinging and crying all the way through. It may appear that I'm constantly complaining about small children today, but this is more to do with consideration of parents for others than the child's behaviour. All children have meltdowns from time to time, but when my children were young I would have removed them immediately from a show if they were noisy. Ah well, it takes all sorts.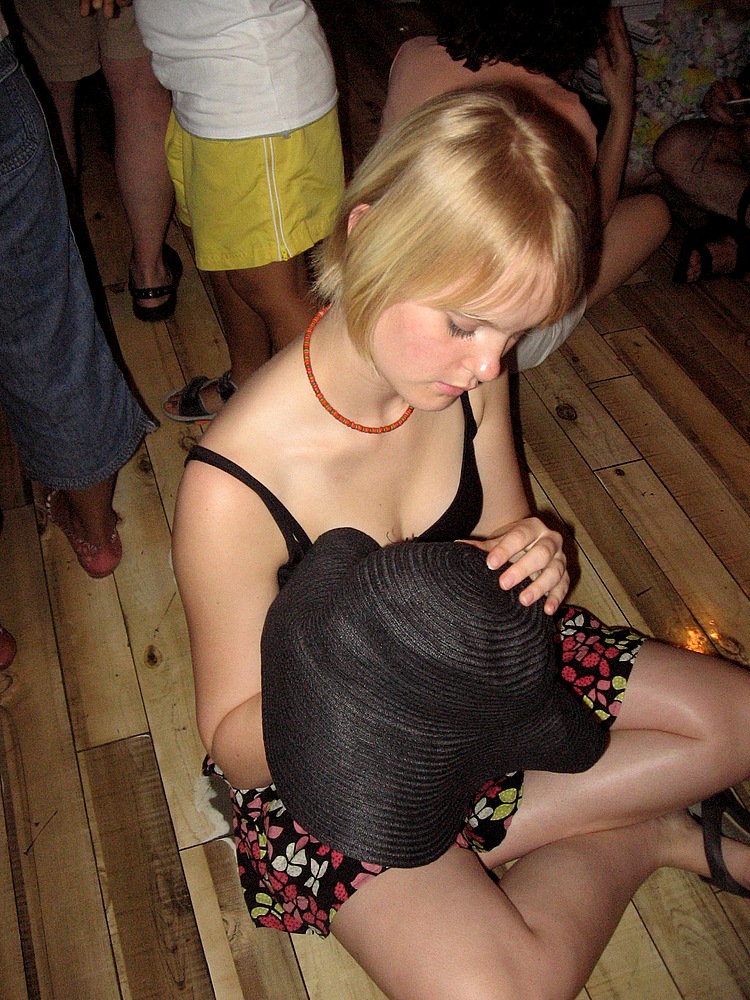 Running repairs to the hat while waiting for The Little Mermaid
Lunch is next and we eat at the Backlot Express. This is the usual fast food fair, although it's a pretty cool place with all the film props. One bad thing is that the fixings bar has been removed from this place, that's a bit penny-pinching on Disney's part.
After lunch the ladies are ready for some dessert and we head off to Starring Roles Bakery. It starts to rain on the way, but we manage to acquire a few sticky, chocolaty things and make it to the Beauty and the Beast show without getting too wet as it's more of a typical rain shower than a full blown Florida thunderstorm.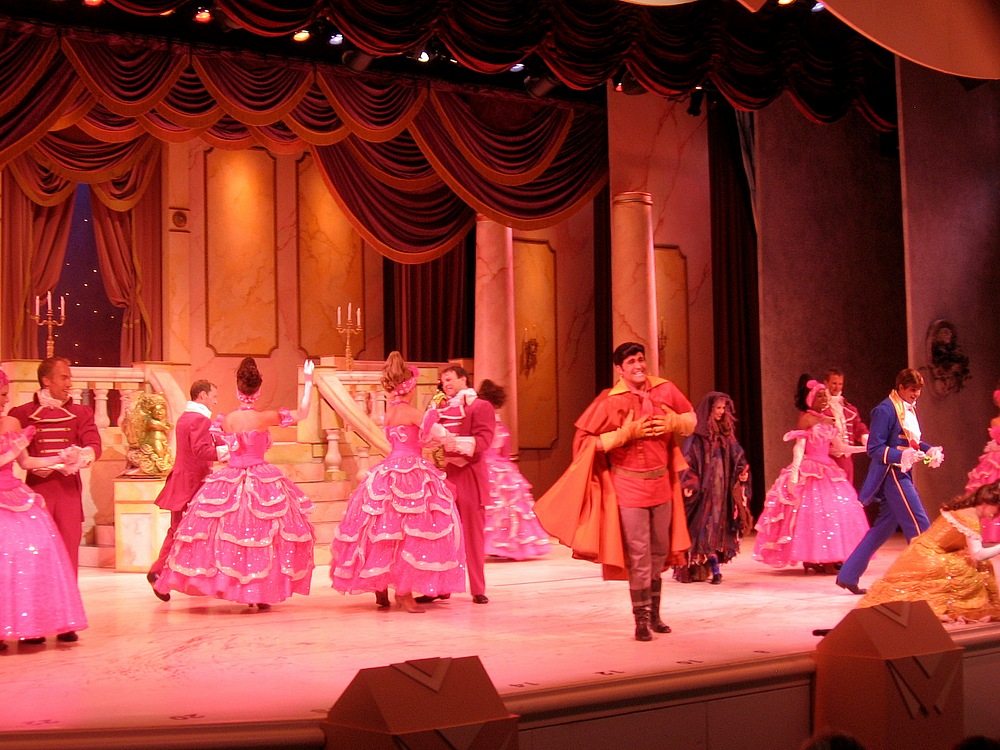 Top bloke that Gaston. Let him win, just once!
After the show we decide to leave the Studios, as the rain looks set for a while, so we get the boat back to the Boardwalk. Looks must be deceptive in this case as the sun returns just as we dock.
Back in the room there are two messages. The first is from Big Vern telling us he is working in the DVC show apartment just below us today and to pop in and see him. Vernon is a chap from the UK who now resides in Florida and works for the DVC.
The second is from Sharon, our friend from Texas who is joining us later in the week. It appears that she has fallen and fractured her cheekbone! Anyway, she says she's still coming. I have visions of her turning up wearing a mask like the phantom of the opera.
We all pop down to see Vernon and he invites us over to see the new Treehouse Villas at Saratoga Springs on Friday. Working for DVC he gets to try out the new resorts. It will be a great opportunity to look around the treehouses, so we graciously accept.
Back in the room we relax on the balcony and enjoy a couple of rum and cokes. This is why I love having a balcony, you can enjoy the warm weather and watch things drift along on the Boardwalk.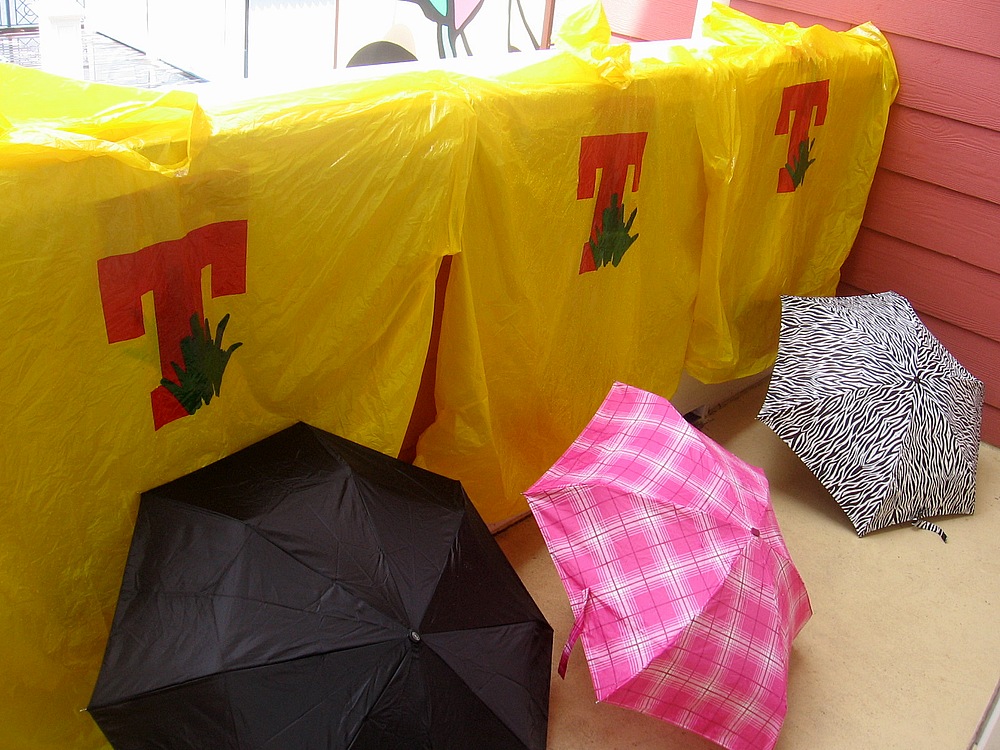 Just about sums up the first week's weather!
We all shower and are out of the door by 6.30pm as we are off to Narcoossees at the Grand Floridian tonight. We take the bus to the Magic Kingdom and then the small boat to the GF. It takes about an hour in total, but I don't care. Part of the joy of WDW is enjoying the transportation, especially the boats. The buses can be a pain at times, particularly when they are packed with people, but otherwise it's all part of the fun.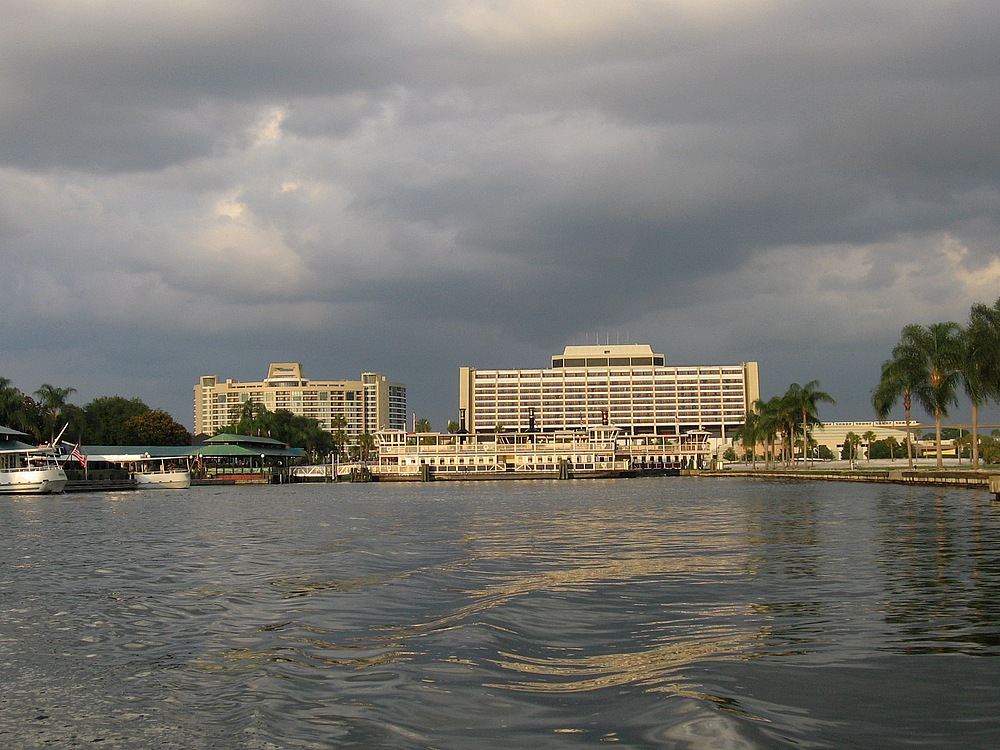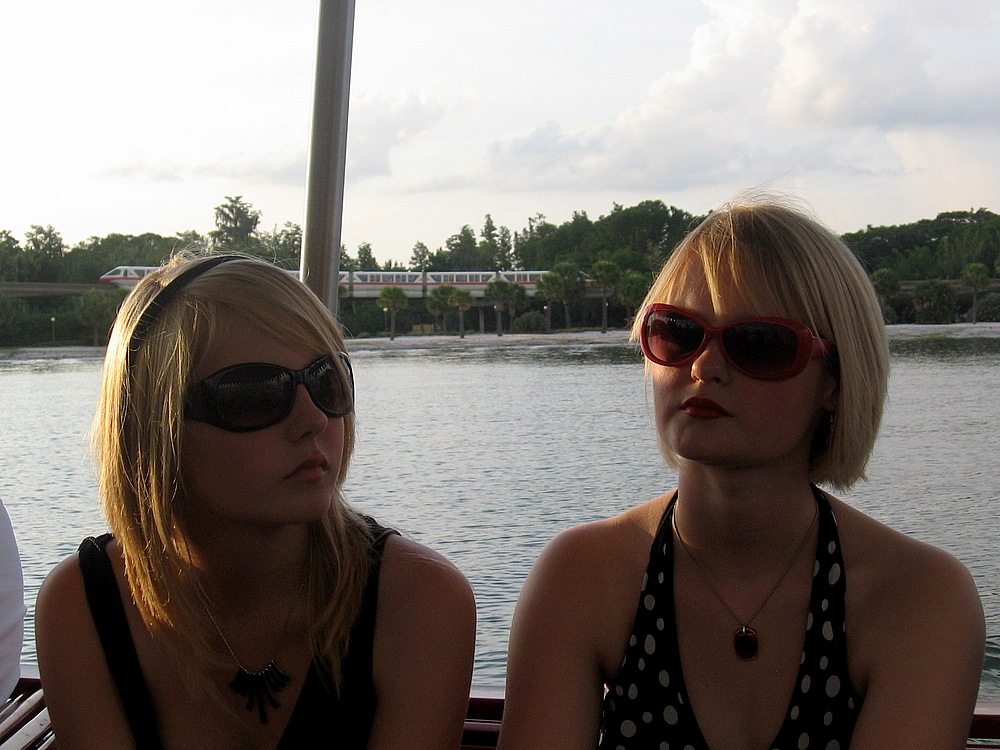 Narcoossees is rapidly turning into one of my favourite restaurants in WDW. The setting is lovely as you look across the Seven Seas Lagoon to the Magic Kingdom and its got the right mix of class and informality.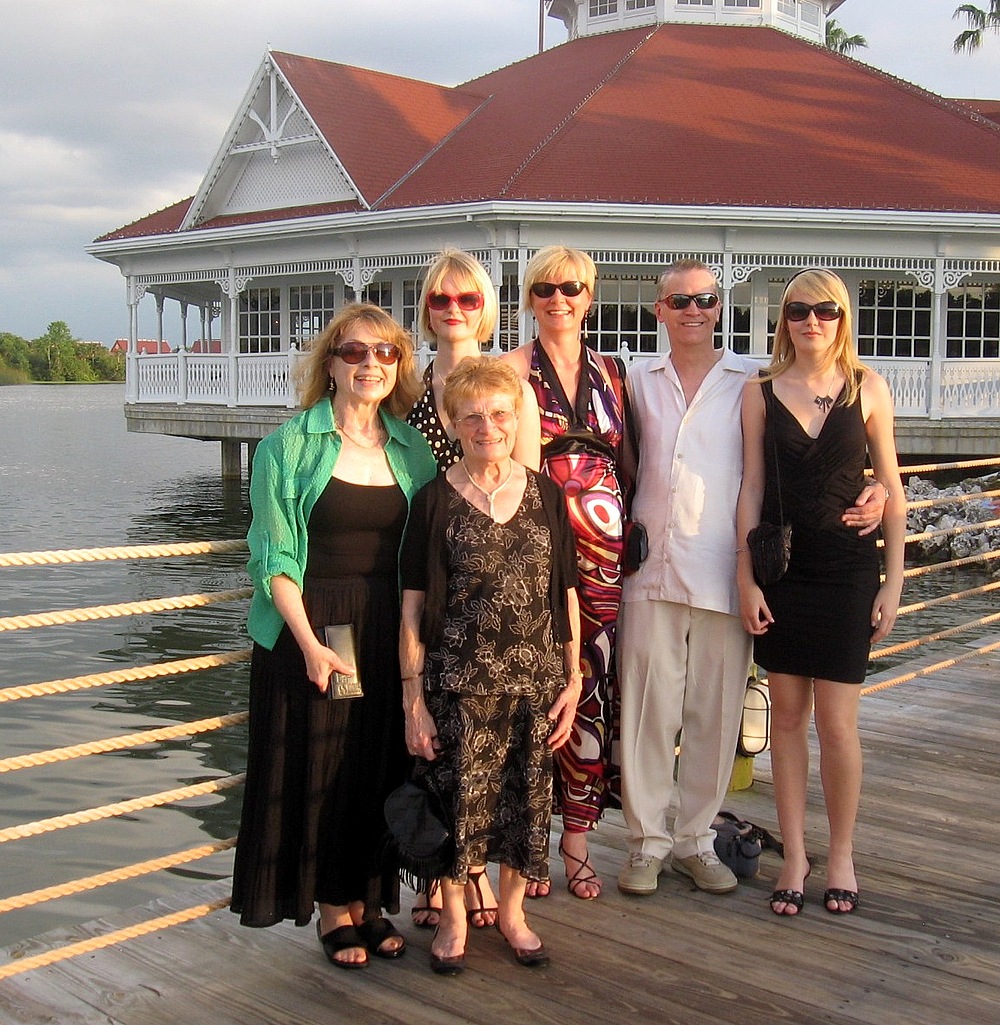 A fine looking bunch
I have the Wahoo. I don't have a clue what it is, but our server says it's a firm, meaty fish. I like them firm and meaty, so I give it a go. It's actually very nice, accompanied by shrimp and a light, creamy sauce.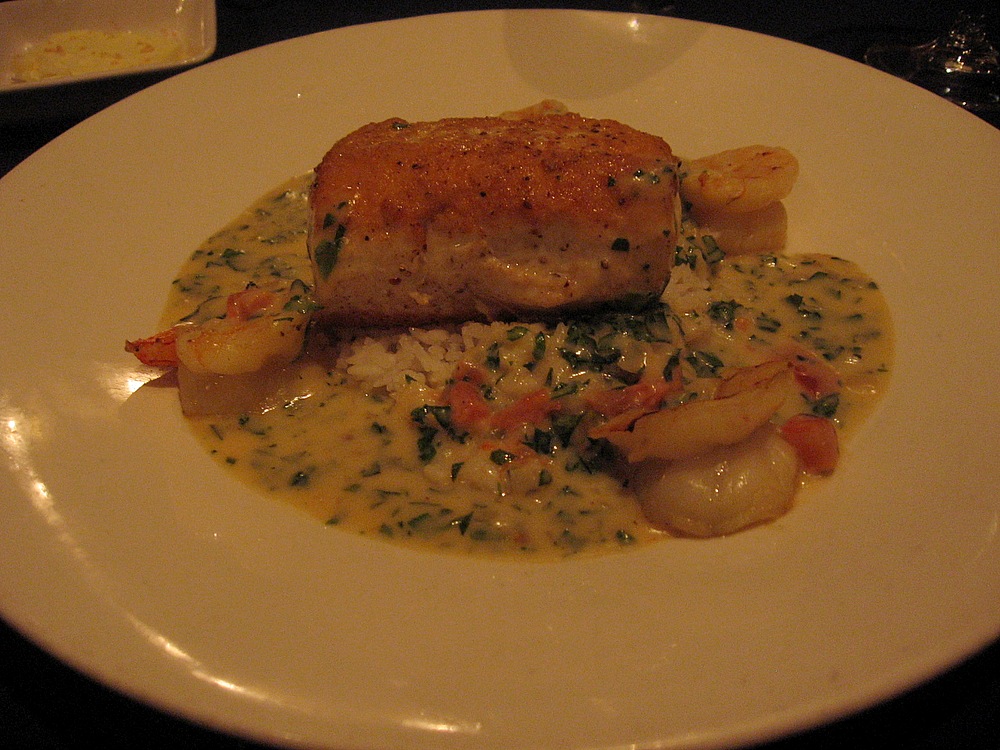 You can't beat a good Wahoo every now and then
All the other food is excellent as well, except Grandma's lamb, which she says doesn't have much taste. I tend to agree with her, I've hardly ever had good lamb in the States. Fair play my American friends, you beat us hands down when it comes to beef, but our lamb is superior.
It's lovely sitting in the restaurant chatting as the sun sets and the lights come on in the Magic Kingdom and the Contemporary. This is probably my favourite time of day.
As we finish our main course, Wishes starts. We go out on to the walkway outside to watch as they pipe the music in. I love this show; we have to see it again before we leave. Straight after Wishes the Electrical Water Pageant passes by. Just another little Disney treat to make our evening complete.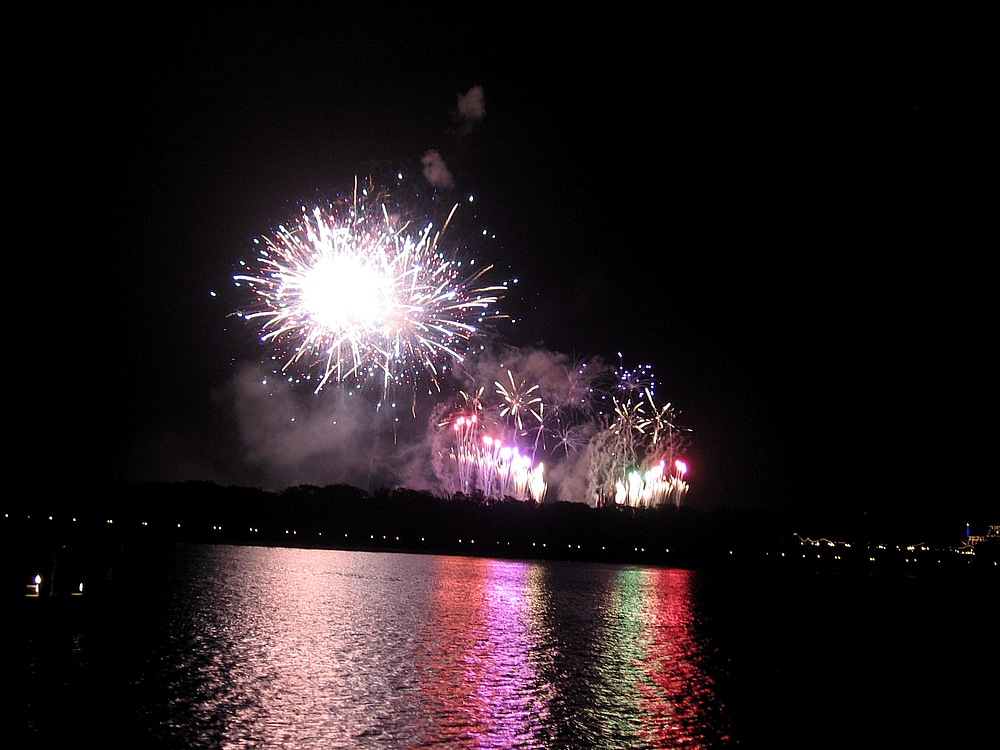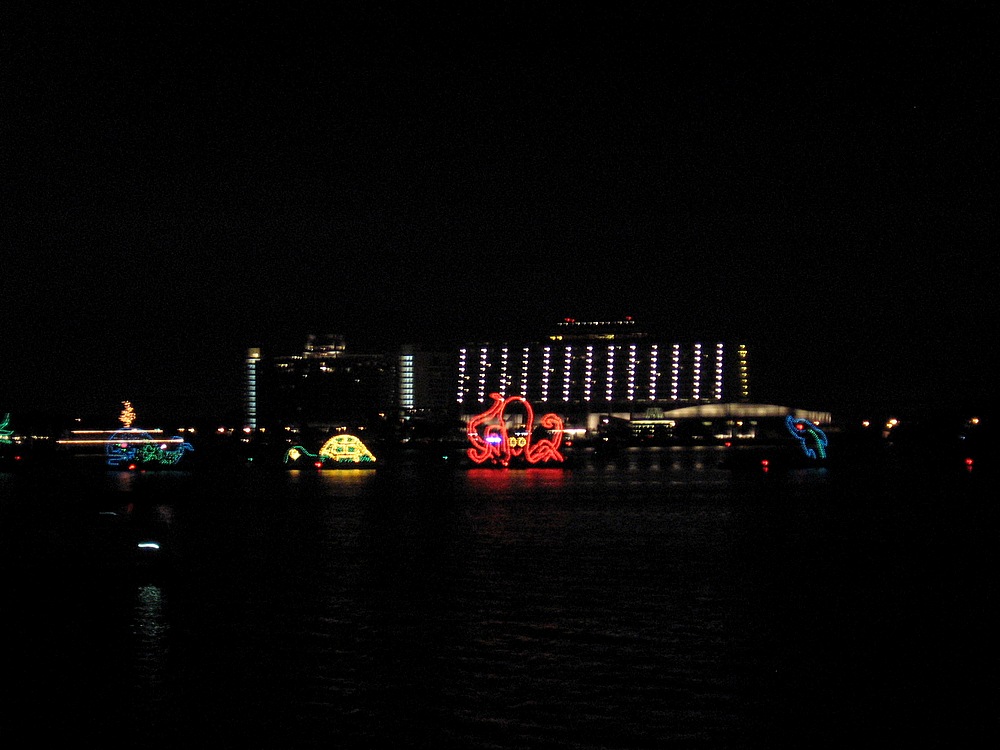 The ladies round things off with a couple of desserts between the 5 of them. The bill for all 6 of us comes to $250, but that includes a couple of starters, 2 glasses of red and 2 glasses of white wine between Tam and me. I've enjoyed every second of it.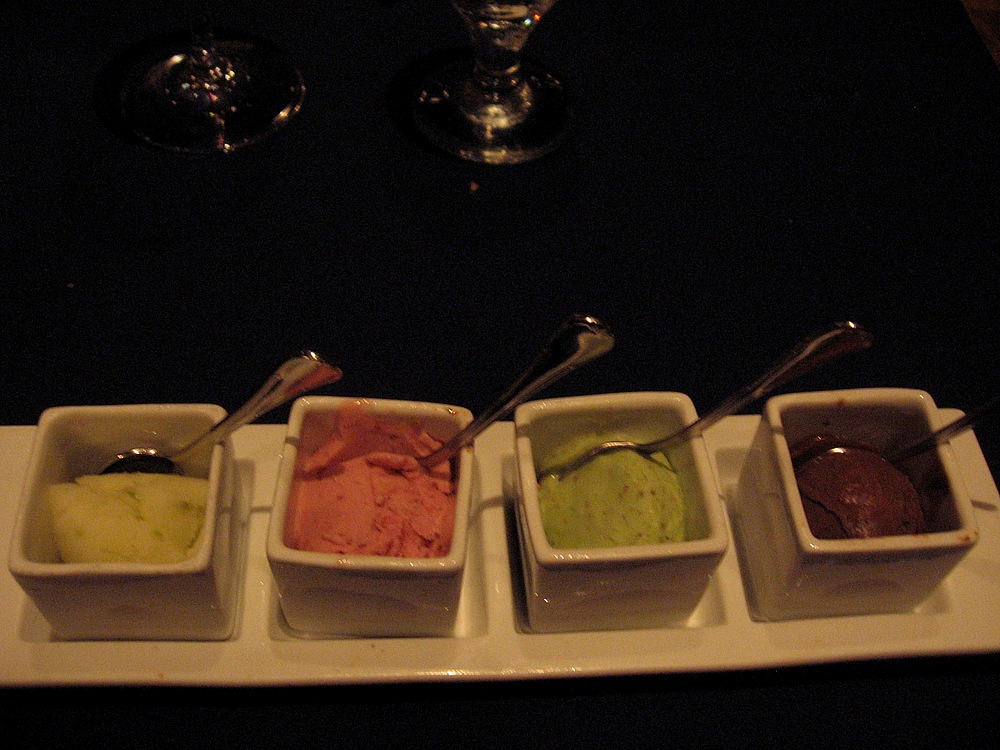 A fine collection of Sore Bets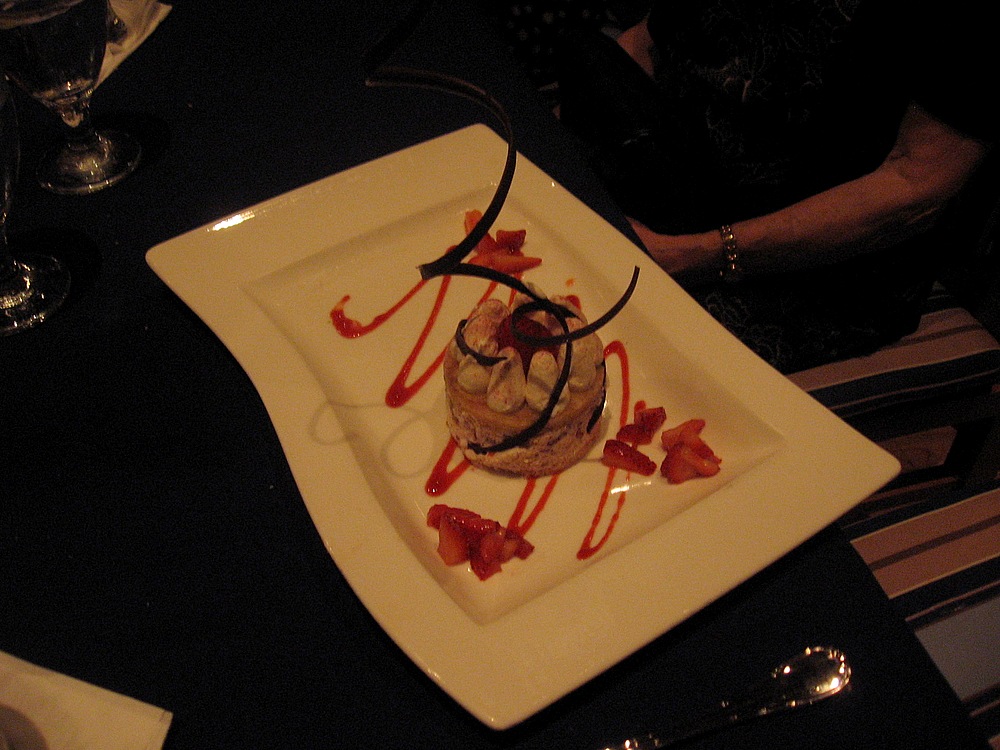 Lord knows what this was
A taxi gets us back to the Boardwalk around 11.00pm and I sit on the balcony for a while to enjoy a beer and write up my trip report.
If I'm absolutely honest I have to say that the first day or two of this holiday had me questioning whether this was a WDW holiday too far. I wasn't getting that Disney feeling. Being tired, staying at the Swan, the weather and Memorial Day crowds were probably all factors. Surprisingly, yesterday at Typhoon Lagoon was probably the turning point. Relaxing in the sunshine followed by a wonderful evening in the Magic Kingdom was just the tonic. Today's trip to Disney's Hollywood Studios (not usually my favourite park) continued the momentum. The Little Mermaid and Beauty and the Beast are classic attractions with enormously evocative music.
This evening's lovely meal at Narcoossees has completed the recovery.