DAY 5- TUESDAY 26TH MAY
I wake up at 5.45am. Serves me right for being so cocky about getting up after Tam yesterday.
Tam and I get up around 6.45am and go for a stroll along the river at the back of the Boardwalk. It's a lovely morning and the light is always so beautiful at this time of the day. Mornings and evenings are the best times for photographs and video I think.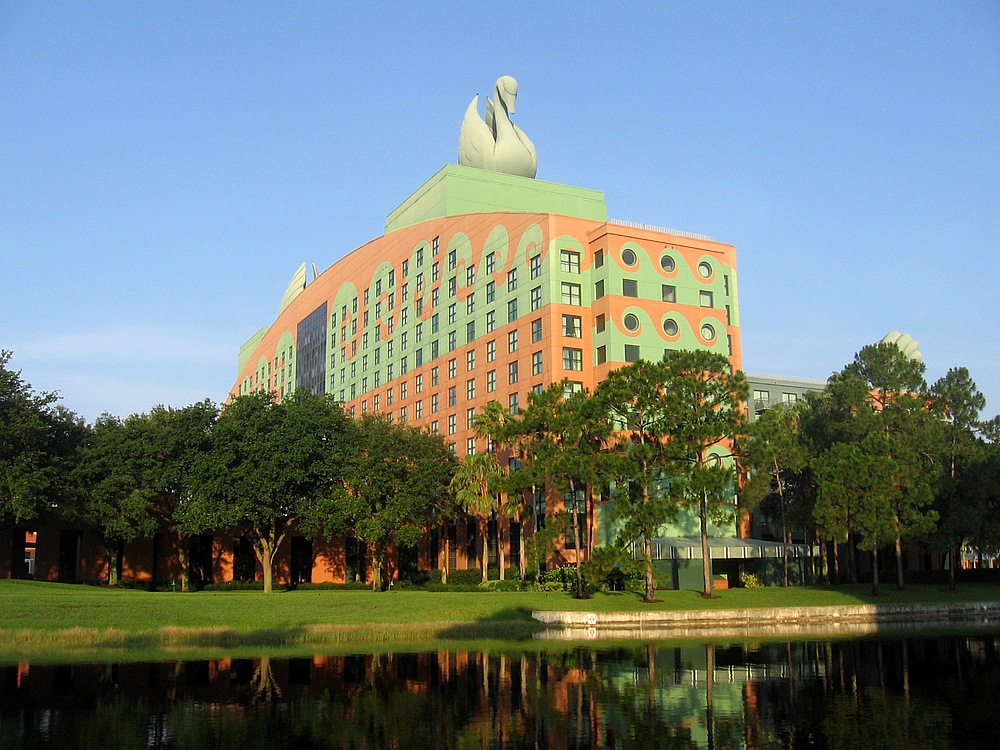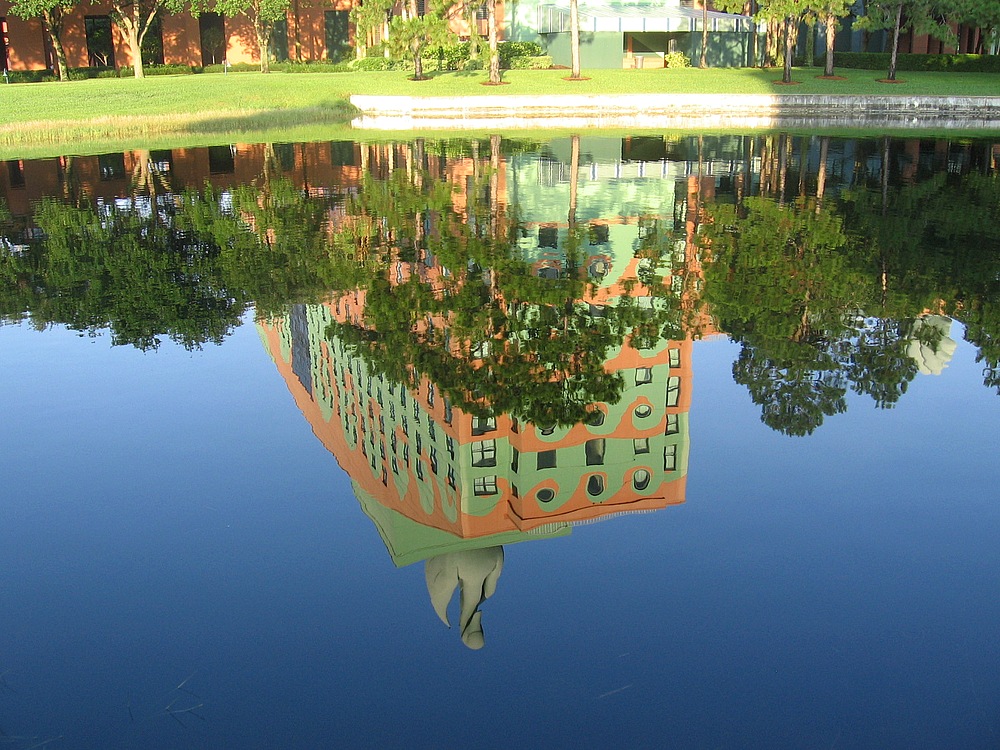 See, Tam's not the only one that can get all arty-farty with the camera!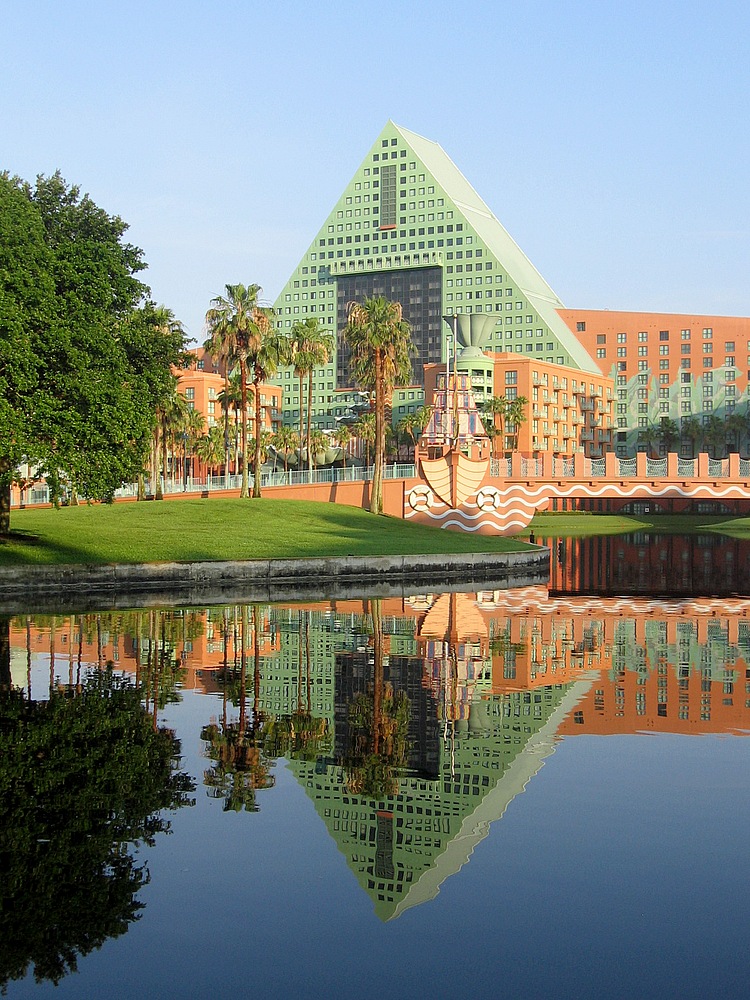 Back at the room we have breakfast and then pack as we're moving to the Boardwalk today and I have to say I'm looking forward to it. The Swan has been fine, but I think the one thing we've really missed most is a balcony. It's lovely to sit out and enjoy the Florida weather and watch the comings and goings on the Boardwalk. Talking of weather, the forecast is for another 3 or 4 days of heavy afternoon/early evening thunderstorms before it improves at the weekend.
We leave our luggage with Bell Services and head over to the Boardwalk to check in. Susan is joining us here for the next 11 nights, sharing a studio with Grandma. Me, Tam, India and Georgia will be in another studio.
At 9.15am we check in and our rooms are already free. We take a quick look and find that the balconies are really big, probably twice the size of normal studio balconies. The downside is that one of them is partially blocked in, just a wide opening with which to look out onto the Boardwalk. We decide to stay with them anyway as we are heading out to Typhoon Lagoon for a relaxing day in the sun.
We arrive just before 10.00am for opening and are soon set up in a shaded, fairly quiet area close to Shark Reef. This is so much nicer than being packed in with hundreds of other sunbeds around the main pool.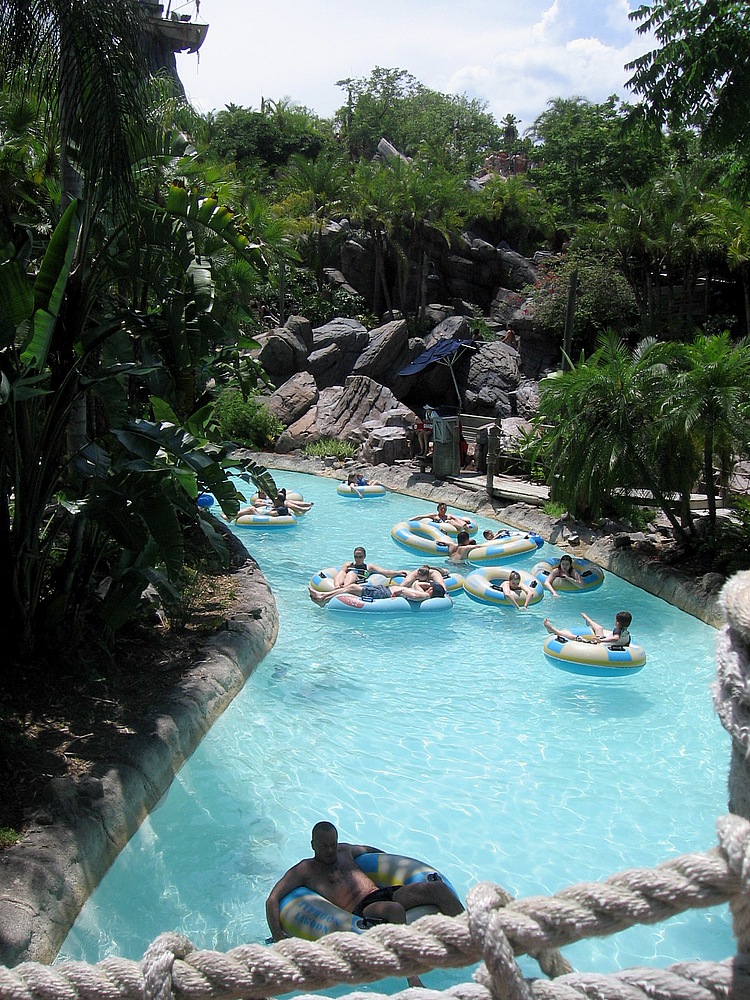 The first order if the day is family raft ride as we can all do it. The queue is 10 minutes or so and we're soon on. Tam and I ride with Grandma and I think it's a bit more thrilling than she expected! Poor Grandma exits looking a little like a drowned rat. 'Blige me' she exclaims, which is as close as Grandma will ever get to saying 'What the xxxx was that!'
Back at base camp we sit Grandma down to recover and the rest of us go to Crush 'n Gusher and do all 3 sections. It's great fun, especially with me, India and Georgia in a 3 man tube, I think they go faster.
We return to Grandma and have lunch, along with a beer or three and I catch up with my trip report while the ladies float around the lazy river.
I've very much enjoyed our few hours at Typhoon Lagoon, it's great to get away from the hustle and bustle of the theme parks now and again and relax in the beautiful Florida sunshine.
Despite her soaking, Grandma has been particularly enthusiastic; she's loved standing to look over the main pool and watching the huge waves crash past.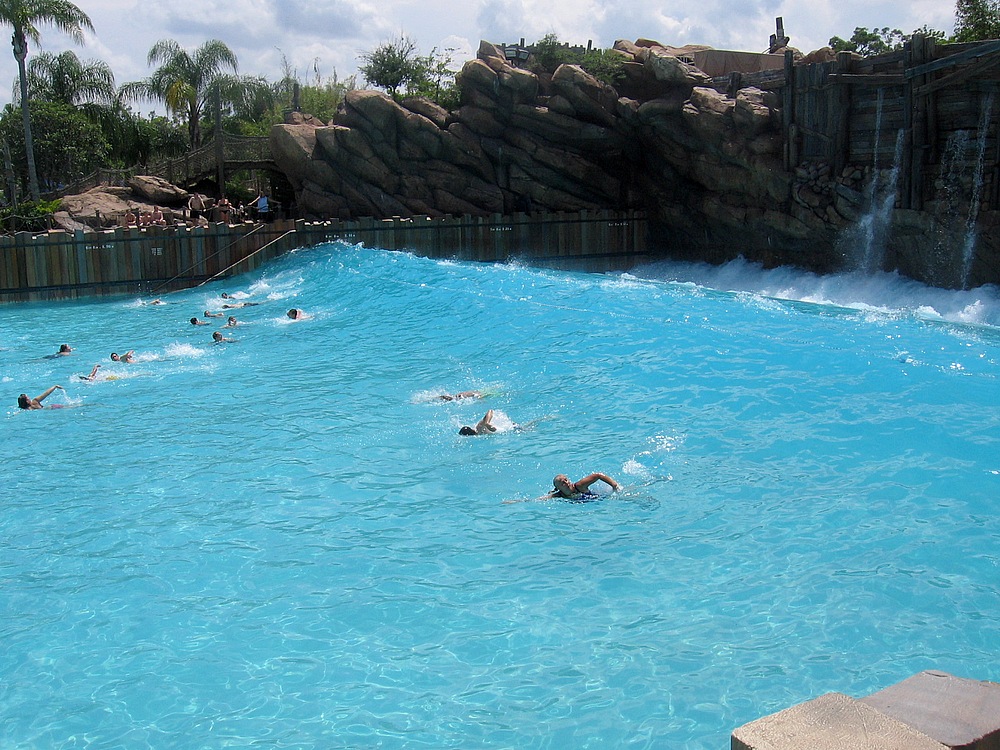 It's behind you!
After a fun day we leave Typhoon Lagoon around 3.00pm, just as the clouds are starting to gather. It starts to rain on the bus ride back and by the time we reach the Boardwalk it's a fully-fledged storm with strong winds lashing the rain across the road in waves. We get off the bus and move as fast as we can towards the Boardwalk entrance. Even though there is a covered walkway from the bus stop, the rain is driving sideways and we're all pretty wet by the time we reach the safety of the Boardwalk lobby.
We walk to our rooms, which are on the same floor as the lobby and not too far from it. One of the things I notice is that when it's wet outside, they turn down/off the air conditioning in the corridors, it actually feels warm. Nice touch.
We have the luggage sent up and quickly unpack. Tam and I then walk across to the Hess service station to pick up a few things. Let me tell you, it's quite far enough thank you when you're carrying a pack of 18 bottles of beer from there. I do feel a little conspicuous walking through the Boardwalk lobby looking like a brewery deliveryman. By the way, it's still raining, but the main body of the storm has passed through.
We all have showers and take our time getting ready before leaving at 7.30pm for the Magic Kingdom. The plan is to watch Spectromagic (which is on twice tonight) and Wishes.
As with all good plans, this one goes slightly awry as soon as we step on the bus as the rain starts to fall again. As we reach the Magic Kingdom it's poncho city with masses of people exiting the park. We all put up our meagre brollies and push on, at least it's just steady rain rather than a downpour.
We had intended to catch the 9.00pm Spectromagic, but decide this is probably not wise, in fact I'm not sure they'll even show it, so we make our way to Columbia Harbour House to get something to eat. We all like this place and the clam chowder is particularly good.
Wishes is on at 10.00pm and it's nearly stopped raining so we go and stand in front of the castle to watch. It's as wonderful as ever and I get that Disney tingle for the first time this trip.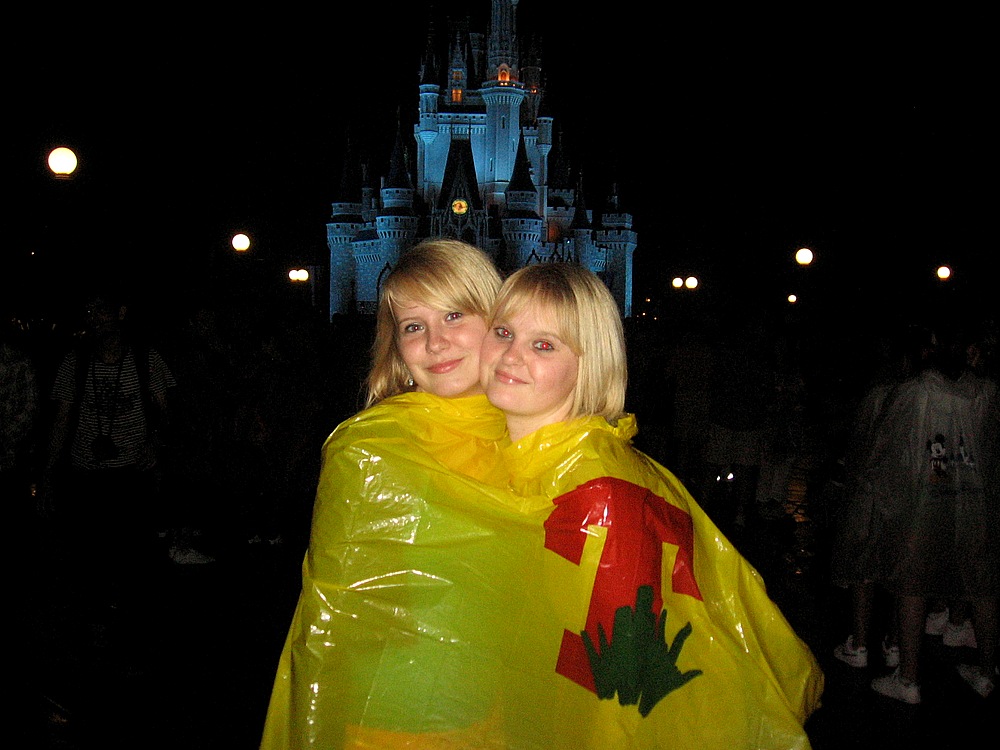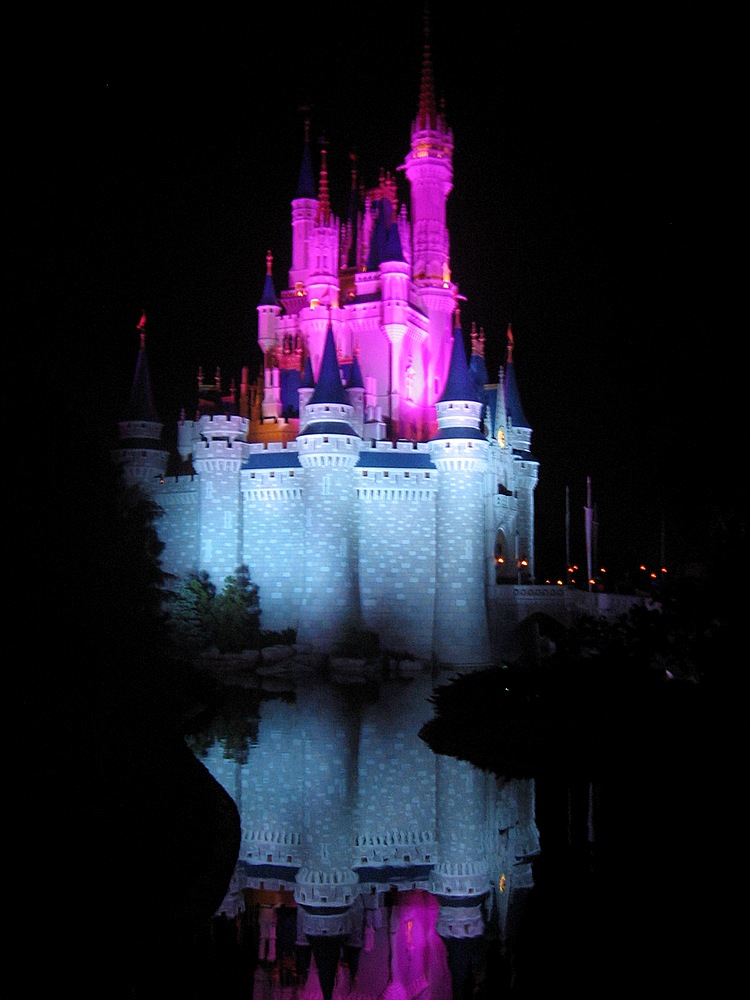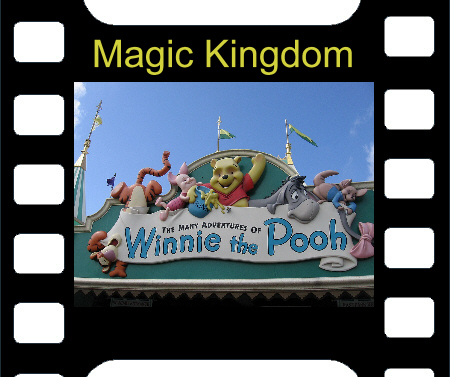 The Haunted Mansion is next. I'd forgotten that Disney had changed a few things in here and so we're all pleasantly surprised by the upside-down staircases, the bride in the attic and Madam Leota's floating head. The audio in the ride is also greatly improved and they've got rid of those awful plastic looking spiders.
Next we walk round to Pirates of the Caribbean. Now they say that every cloud has a silver lining and here's the proof. The rain may have been a pain, but it's driven the vast majority of guests out of the park. It's virtually empty as we stroll through Adventureland and straight on to Pirates.
It's now nearly time for Spectromagic (11.00pm showing) but there's just time to fit in a ride on Big Thunder Mountain for all but Grandma. Another walk on and much better at night.
We watch Spectromagic from Adventureland with a sprinkling of people here and there. It's quite strange to watch this massive, spectacular parade in such a sparsely populated park. Still, it gives ample opportunities for unobstructed photos and video.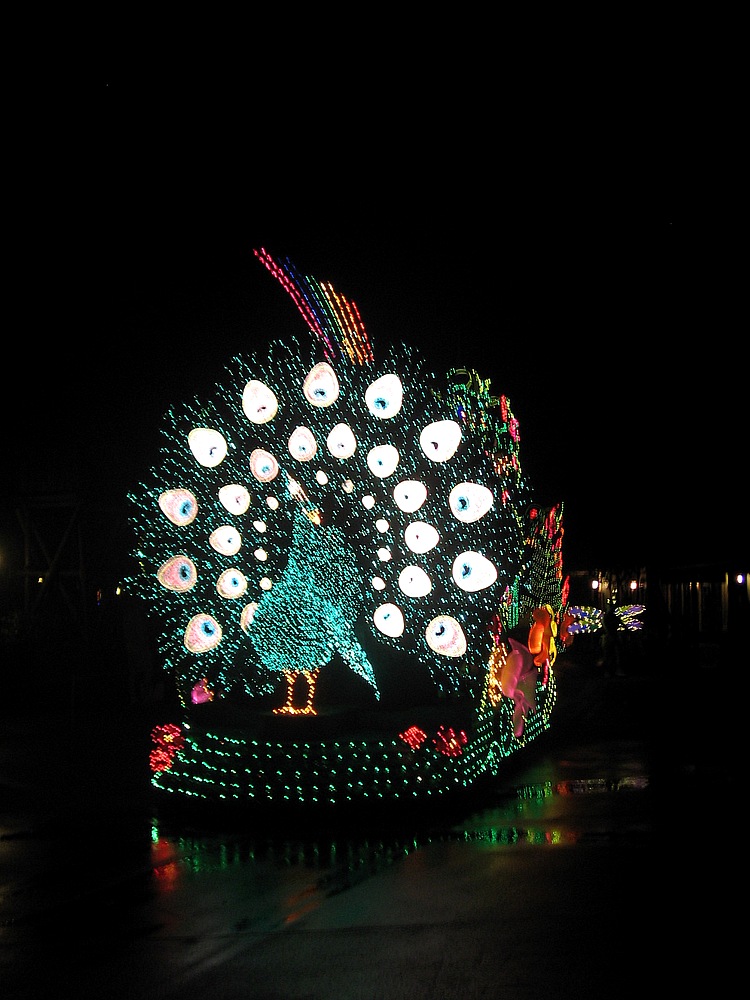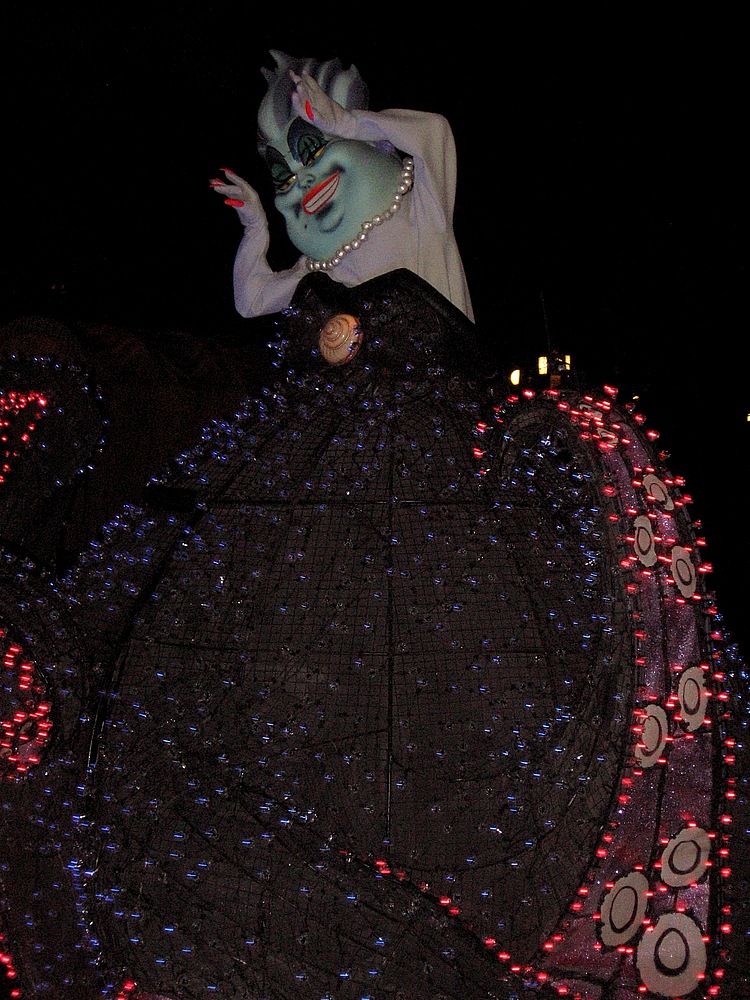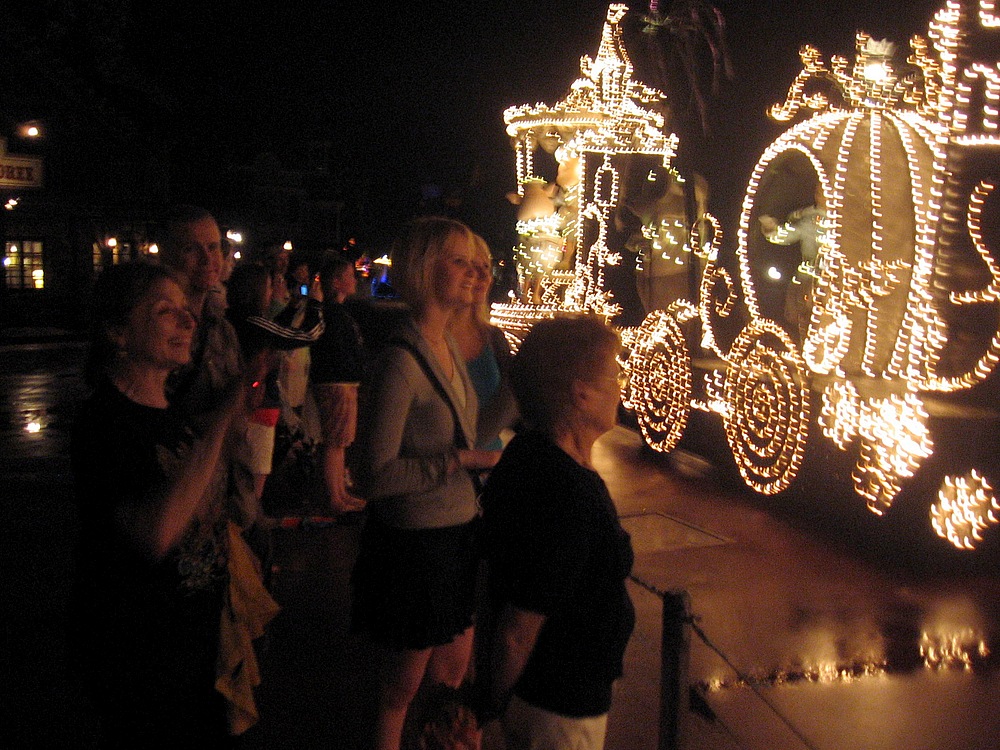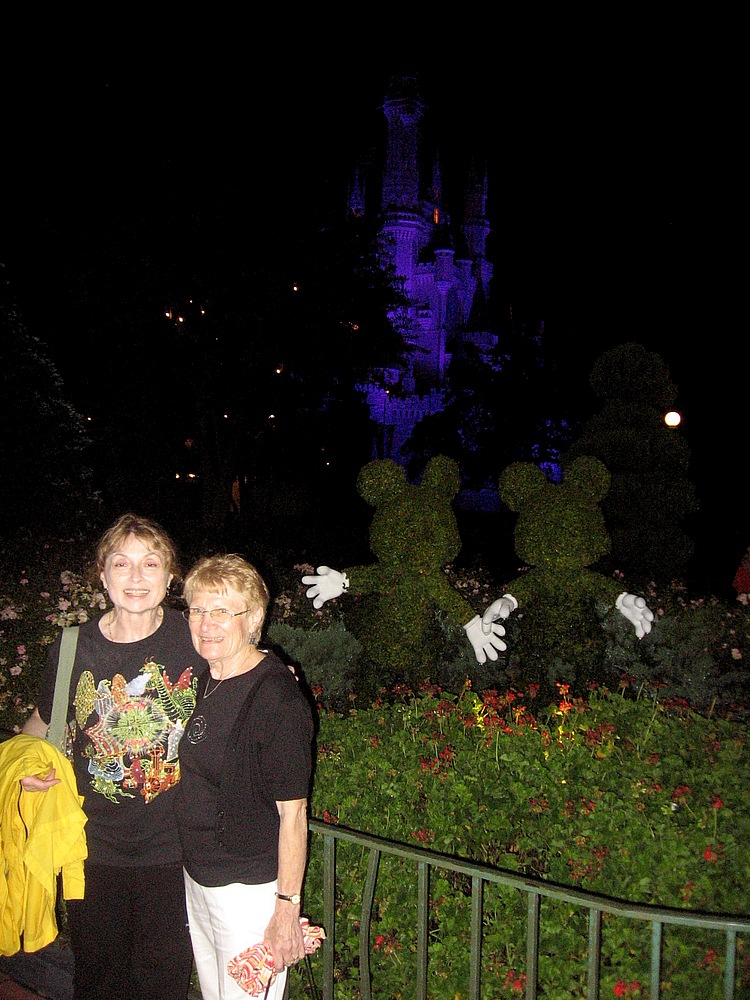 Two little mice together
We now begin to make our way out, but manage to squeeze in a last ride on Buzz Lightyear at 11.55pm.
We should be exiting the park now, but the Main Street Bakery calls to Tam. To be more accurate it's like watching a cartoon where the cat smells a hot pie cooling on the window ledge and floats along on the fumes with it's eyes closed.
A large cinnamon roll is looking forlorn and lonely in a tray, so Tam takes pity on it. Grandma and Susan follow on behind and by the time they have paid for their cake and joined us at the table, the only evidence of the cinnamon roll is an empty, slightly sticky carton.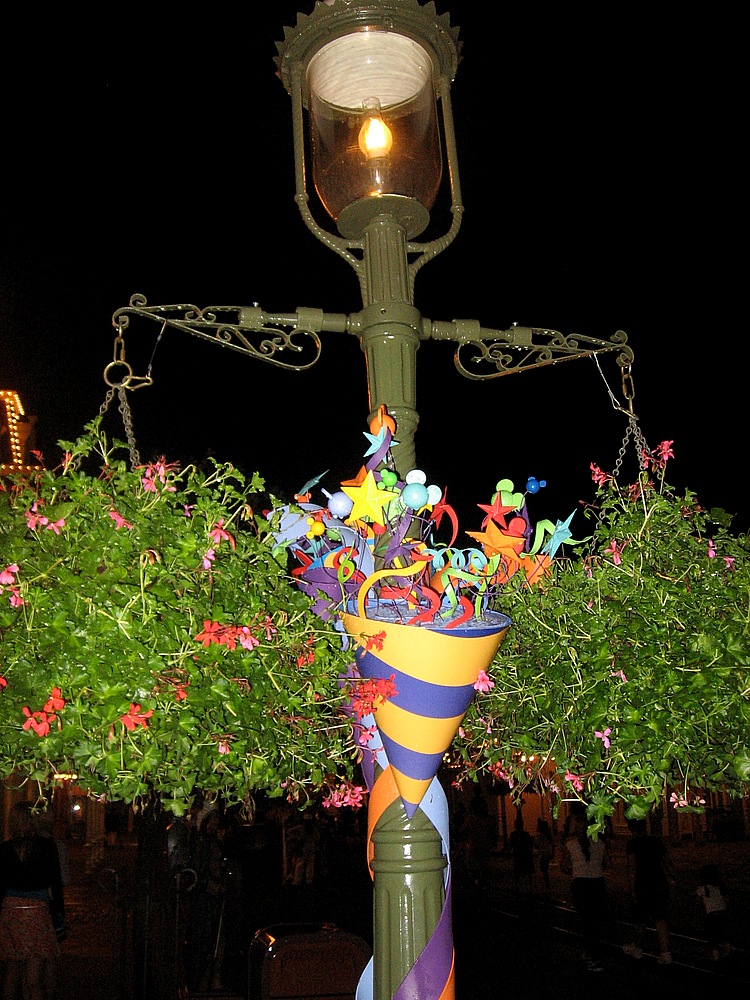 We get the bus back to the Boardwalk and are clambering into bed at 1.00am. It's been one of those special days when things don't go perfectly to plan, but end up working wonderfully anyway.