DAY 3- SUNDAY 24TH MAY
Considering this was the first night in Florida, I don't sleep too badly, waking up at 5.00am, but then dozing on and off until 7.00am. Tam thinks this might be due to the beds, which are very comfortable indeed.
We have breakfast of cereal in the room and all have showers and get ready to go out.
We meet Susan around 8.30am and head off to Epcot. It's a beautiful morning for a stroll although the forecast is for heavy thunderstorms later.
We walk at a leisurely pace as is appropriate for a party containing an 84 year old lady (Grandma) and a lady with a bad knee (Susan).
Grandma and Susan are on the diminutive side and I make the bad mistake of calling them Eldred and Edgar. Susan points out that if I am going to call them pixies, they should be elfin like female pixies rather than a construction worker and evil plotting pixie. If you don't understand this comment go back and read my pre-trip report. I have a feeling Eldred and Edgar may crop up again during this trip report.
We arrive at the International Gateway around 9.00am and try to change our vouchers into 14 day tickets, but the system is down so they just let us through the turnstiles anyway.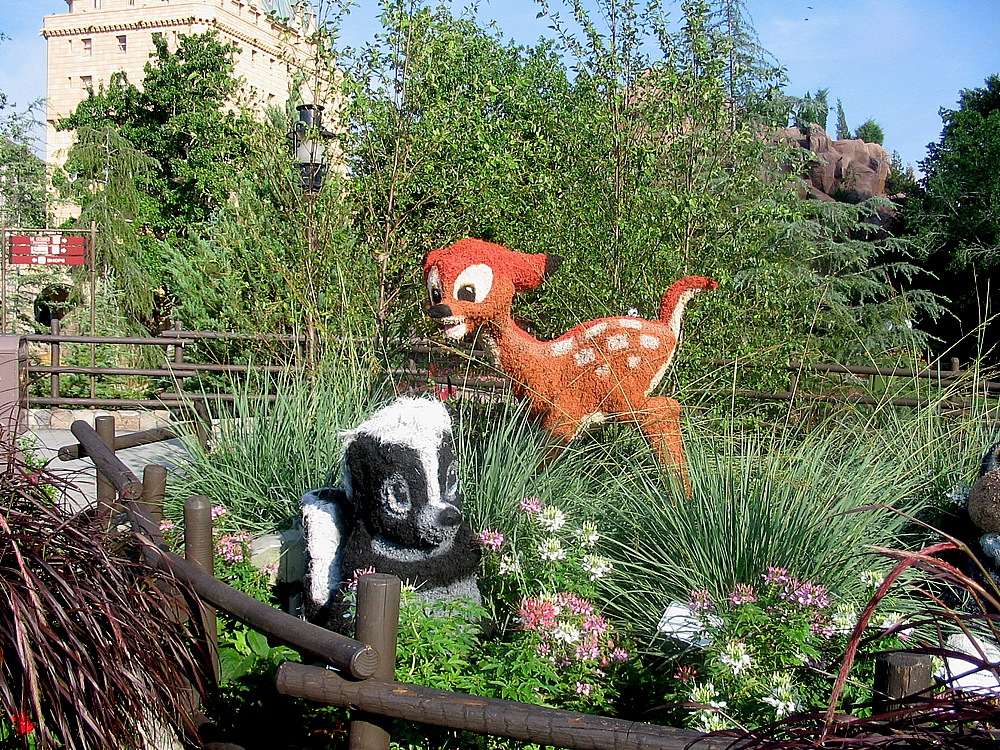 The Flower & Garden Festival is on

We stroll through World Showcase on the way to Soarin'. Grandma has never done this before so we're keen to see what she thinks of it. We grab Fastpasses and then join the standby queue, which has a 20-minute wait time showing. As we wait we play the interactive game, which involves leaning one way or the other to guide a bird along a course. Natural skill comes to the fore and our team are victorious causing much cheering along with Grandma leaping on Tam's shoulders, ripping off her top and waving it above her head whist shouting 'Woohoo'.
I made that last bit up by the way.
Soarin' is as excellent as ever and we are lucky enough to get the top row, Grandma certainly enjoys it, but this time keeps her top on.
On to Living With the Land, which is showing a 15-minute wait time. It's Memorial Day weekend so we are expecting the crowds to be quite large. Tam and I both agree that we'll do the walking tour here one day.
Over to the Living Seas where we do the Nemo ride, another first for Grandma. We pay our usual visit to see the manatees, such amazingly beautiful creatures.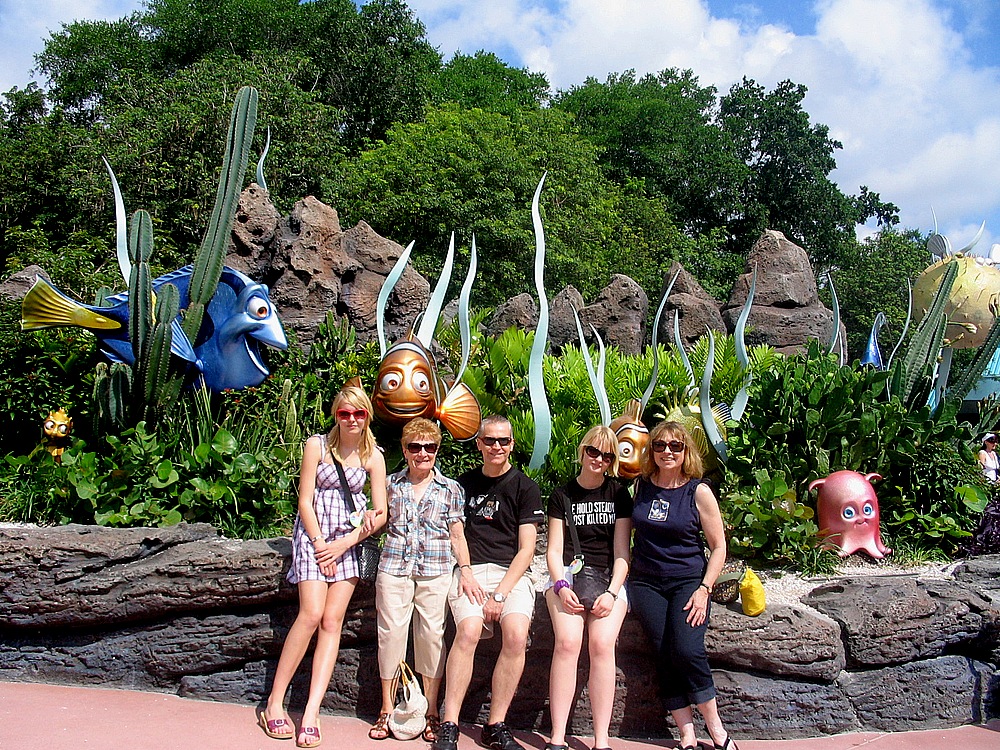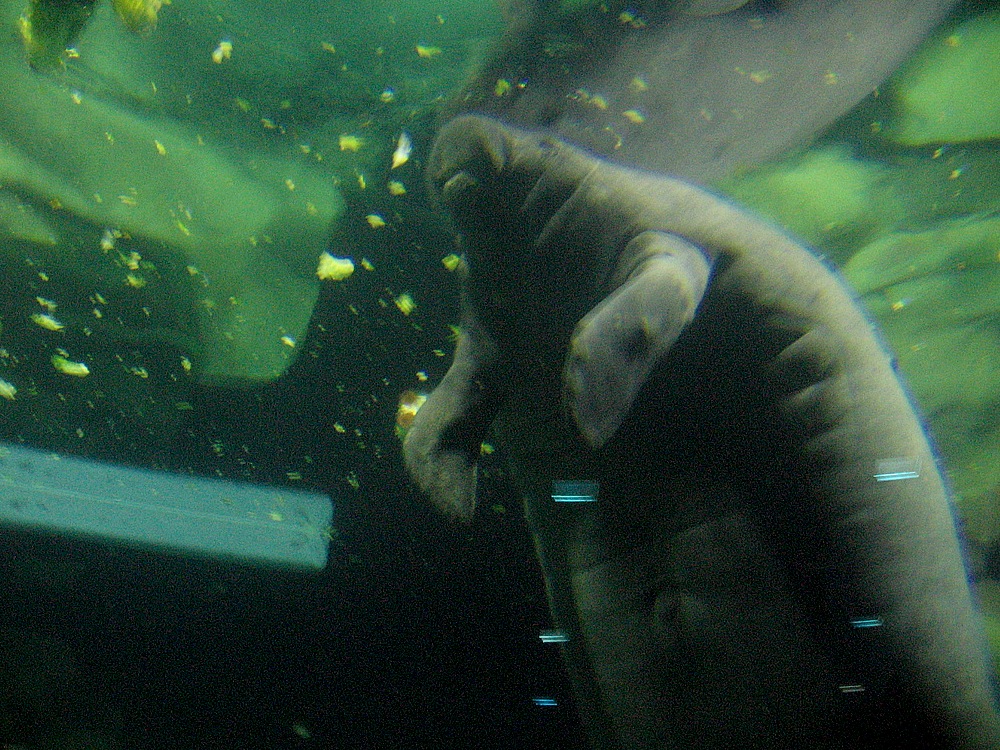 Back to the Land again for a second ride on Soarin', again on the top row.
It's now time for an early lunch and we get this from the Seasons food court in the Land. Tam and I share the Asian thingy with beef, chicken rice and noodles. Everybody chooses a cake or cookie from the bakery and there's much swapping so we all get to taste each other's.
The plan is then to ride Spaceship Earth, but the wait is 20 minutes, so we don't bother. As we pass the wait board it shows 100 minutes for Soarin'.
Tam and I now go to get our vouchers changed into tickets while the rest of the party have a mooch around in the Art of Disney store.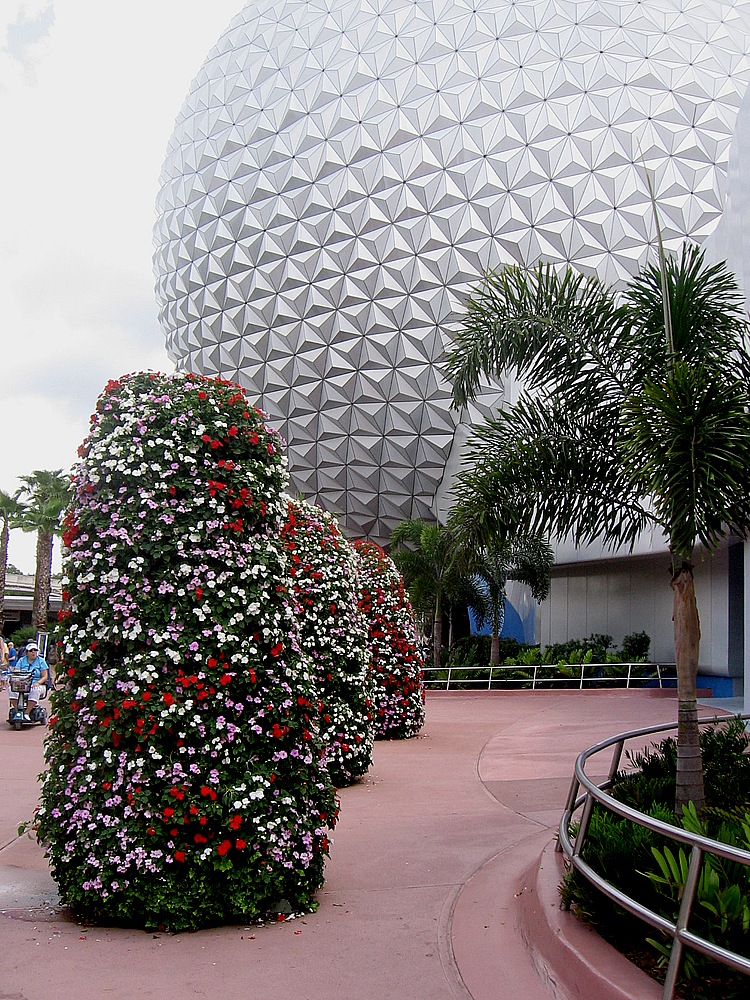 Big flowery things at the Flower & Garden Festival
It's now a little after 1.00pm and in keeping with the laid back approach to the holiday and the fact that we have to return the hire car to the Dolphin, we take a slow walk back to the Swan. The ladies then head to the pool while Tam and I take back the car. This is an incredibly easy process. We pull up to the front of the Dolphin and the valet parking attendant fills out a small form, gives it to us and takes the car. I'd definitely use Alamo if I wanted a car just to drive from the airport, the Dolphin drop off is so convenient.
We walk back to the Swan pool, which is very pleasant with many free sunbeds.
I've been amazed at the weather because it's still hot and relatively cloudless, much different to the forecast.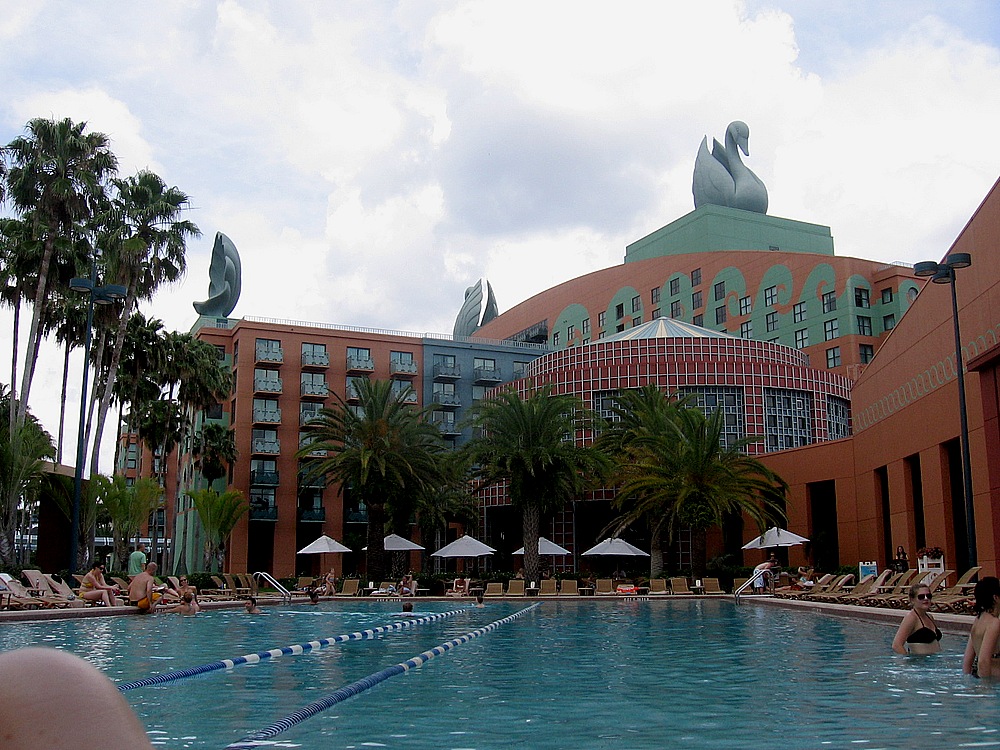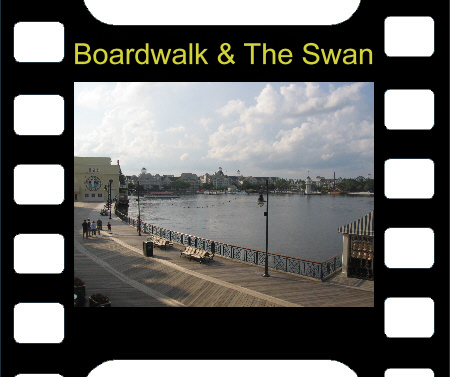 A couple of hours are spent relaxing and chatting. Ind and I enjoy some time rocking to and fro in a hammock, a most pleasant experience. It's been pretty hot and still, but within a couple of minutes the wind gets up and ominous clouds roll in.
We return to the room at 4.40pm to get ready to go out. As we take showers it starts to rain. Within a few minutes it's pouring and visibility is down to a few yards. We watch out the window as another spectacular display of lightning takes place.
Just before 6.00pm we go down to the lobby where a taxi is called. We pick Susan up from the Yacht Club before driving to the Orlando Ale House. We'd heard a lot about this place, but never been before. It's actually a lot bigger than I expected and pretty full as there's a big Orlando Magic game going on.
We decide to order several different dishes and share them between the lot of us. Drinks come first and all those old enough to have Margaritas, not a bad deal at all at $5.95 for a near pint glass full.
Food includes zinger chicken with fries and cheese, nachos, 20 chicken wings, hush puppies and ribs. A pitcher of beer is also despatched by me and Tam. The total bill comes to $83! Now that's a bargain. If you want a bar style environment with cheap beer and plentiful food, this is the place to come. You better be hungry if you order the nachos, it's a veritable mountain of food.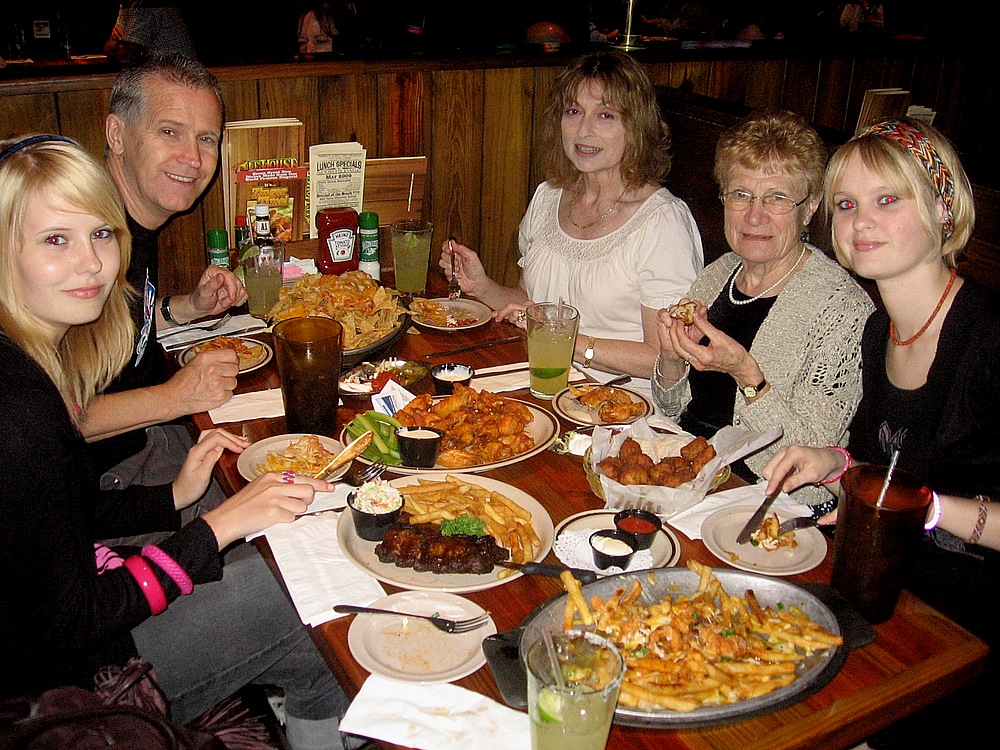 Gotta love them big Margarita's
We get a taxi back to Downtown Disney for a wander around. We have a look in the door of the T-Rex restaurant. It doesn't help that it's heaving with people, but I don't think we'll be rushing to eat here; it's too similar to the Rainforest Café. The outside of the building is pretty impressive although I can't help noticing that the huge dinosaur straddling the entrance appears to have ….. how can I put this delicately? ….. one more bony appendage than he should decently have in a Disney environment. Take a close look next time you're there.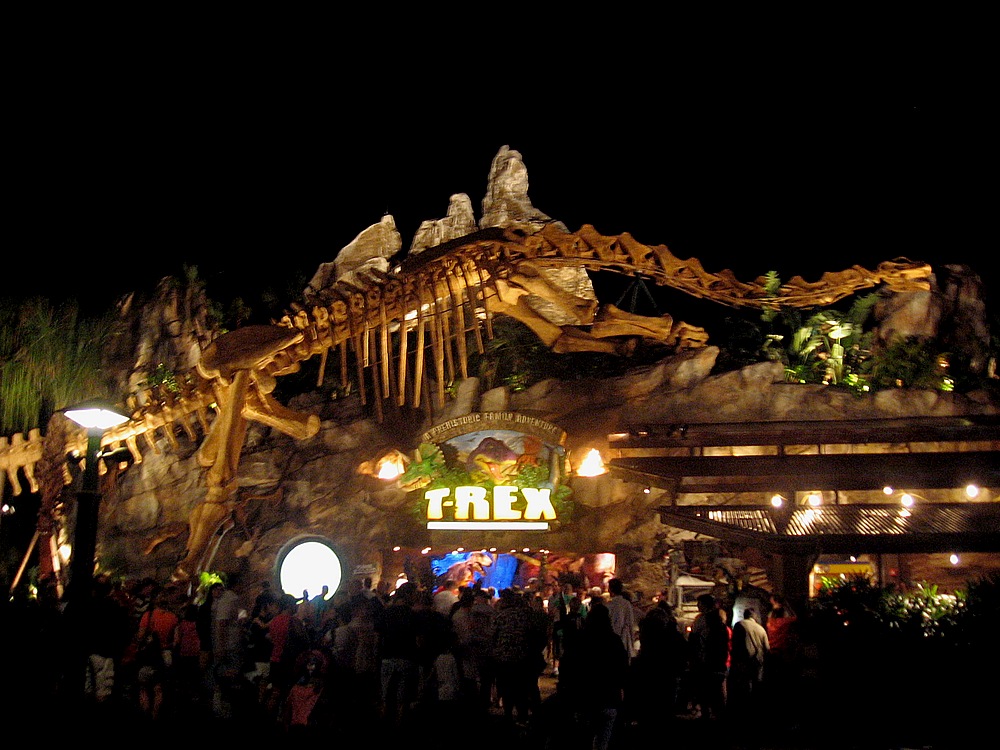 Just call me big boy
As we pass a shop called Pooh Corner it is apparent that Tam has more than enjoyed her Margarita and pitcher of beer. The words 'sloppy' and 'squishy' are joined together with the word 'Pooh' in ways that would give A.A.Milne apoplexy.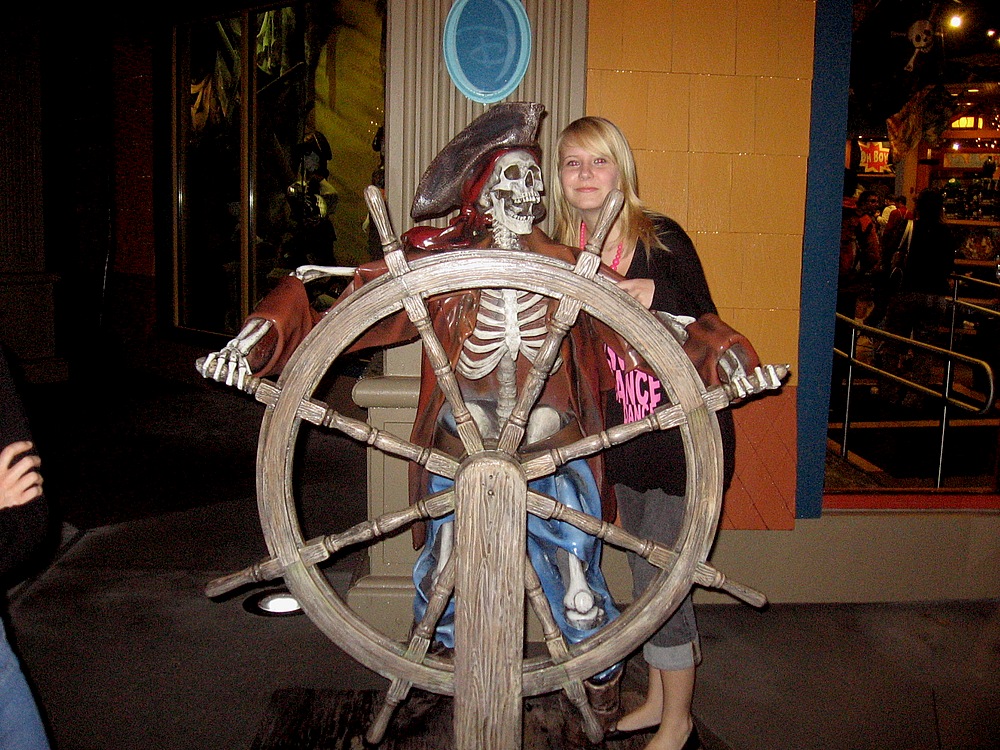 A little more browsing takes place until we catch the bus back to the Swan, arriving at 10.00pm. India is disgusted at having such an early night, but it is only our second night and I don't think the other ladies are on Florida time yet.
An hour or so later and I've caught up with the trip report and I'm off to bed at 11.00pm.