DAY 2- SATURDAY 23RD MAY
Tam and I both get a fairly good nights sleep, which is unusual when sleeping in a hotel for the first night.
We get up around 8.00am and get ready at a leisurely pace before going down for breakfast. As we all descend in the lift, Tam catches her reflection in the mirror and laments the state of the bags under her eyes. Ind does not help much when she tells her she looks a bit like Andrew Lloyd Webber. I'm sure Mr Webber is a decent enough chap, but even I wouldn't like to be compared to him looks wise.
Breakfast is pretty good with a decent buffet of hot and cold foods. The £67 we paid for each room including breakfast is a real bargain as I had noticed the rack rate at check-in is £238! You have got to be joking.
At breakfast Tam asks if it will make a change to have a man joining us for part of the holiday when we meet up with Evan in our second week. I point out that we have been with our friend Matt a few times. Silence. 'Yes, but will it make a change to have a man along?' Oh, how we laughed.
Back to the room to finish packing and we walk over to the airport at 10.00am. Bag drop and security are over very swiftly and we are through to the departure lounge with a couple of hours to spare before the flight.
The ladies go off for a spot of shopping and I sit down to catch up on the trip report. No sooner have I started than an alarm bell sounds along with a voice telling us that the fire alarm has been triggered and to make our way to an emergency exit. The ladies hurry back and we follow the mass of people being herded down to the departure gates. After 15 minutes or so an announcement says that all is clear and we are allowed back into the lounge.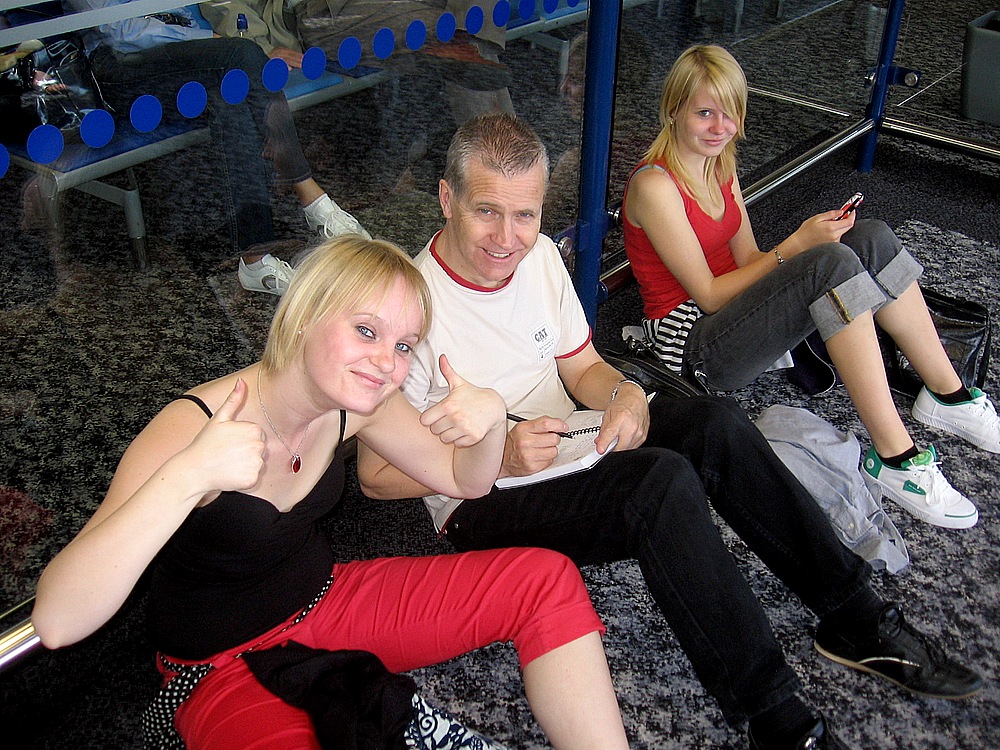 Waiting for the all clear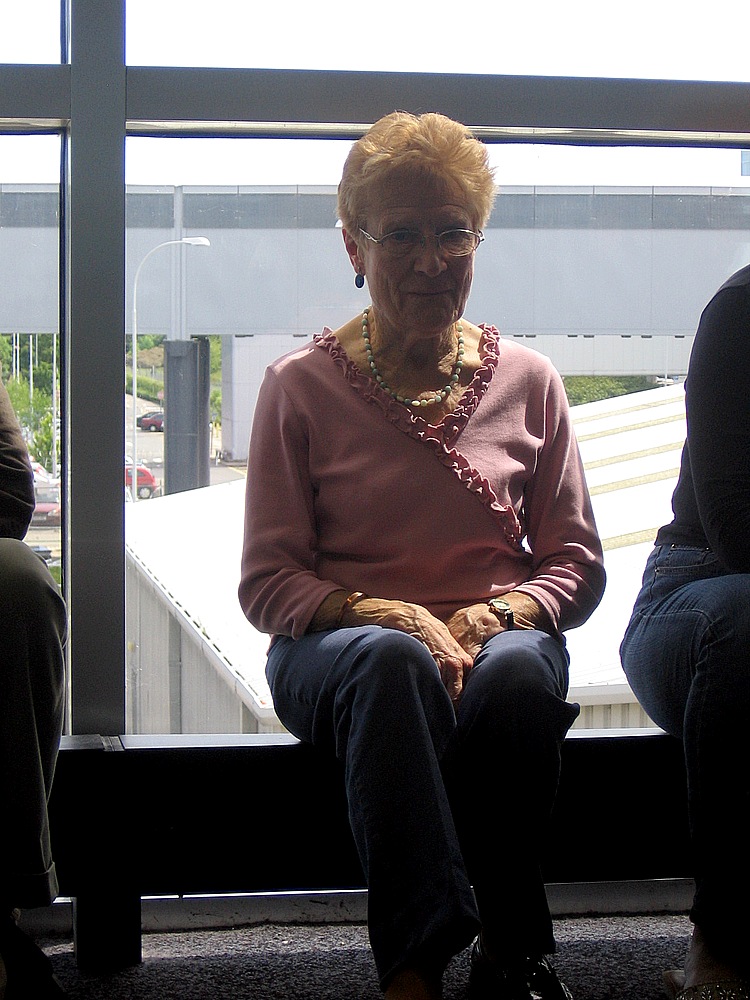 Grandma waiting

I cannot hide a brief smirk of delight at the reduced amount of shopping time left to the ladies, but I've failed to take into account the commando style shopping tactics that are brought into play in just such an emergency. In less than 30 minutes a bottle of rum, a bottle of Pimms, 2 watches, a box of earplugs, a lipstick and some insect repellent are purchased.
It's at this point that I regret laughing at India's Andrew Lloyd Webber comment earlier. Tam now regards herself as resembling a bloodhound in the drooping eyes department and decides on drastic measures. A tube of something called Touche Eclat needs to be acquired. It appears that this miraculous substance is made from powdered diamonds. How else would you account for something so small costing £18+? For that sort of money she'll need to end up looking like a flippin' supermodel!
All this activity means we virtually walk on to the plane. Our seats are not together thanks to BA's useless on-line check-in procedure and is made worse when Georgia and I agree to swap seats so that a family who have also been split up can sit together.
At least we take off on time and we settle back to watch a few films. The entertainment system is actually better than I expected with a choice of 24 recent films and the ability to stop and start when you want similar to Virgin's V Port.
I watch The Wrestler first. It's hardly surprising that this film has won so many awards, Mickey Rourke is brilliant in it. It's the tale of a wrestler struggling on as he reaches the end of his career in an unforgiving profession and is not to be missed.
I thought this would be the best film I would see on this flight until I watched Gran Torino. This is supposed to be Clint Eastwood's final acting role and what a way to bow out. Funny, poignant, thrilling and sad in equal measures, it's the story of an ageing, bigoted ex-soldier who has just lost his wife and is struggling to make some sense of a changing world. When an Asian family move in next door and the son tries to steal his car (the Gran Torino of the title) things do not exactly work out the way you'd expect. If you only watch one film this year, make is this one.
The last film is Inkheart and it's about a man that can summon up characters from fiction simply by reading out loud. Now that's a useful skill, if I could do it I'd be reading copies of Playboy and Penthouse copiously.
The flight is pretty good in general, I would say the entertainment system is better than that used on Virgin flights to Orlando as they still can't play/pause films. Otherwise I'd probably just go with whoever was the cheaper.
Getting thorough immigration at Tampa is reasonably smooth and we catch the bus to the Alamo car hire centre. We knew it wasn't on airport, but the rate was so good through Yes car hire (£36 for 1 day gold cover in a 7 seater mini van) that we thought it worth the inconvenience.
A stop at a Publix along the way sees us stocked up with beer and some other non-essential items before continuing along the I4 to the Swan where we are spending our first 3 nights. The skies get darker and darker and we can see lightning in the distance. As we go under the entrance to Disneyworld the rain starts to pour down and lightning illuminates the black skies all around us. It may not be the perfect way to be welcomed home, but it's certainly dramatic.
We drive up to the Swan to check-in and things are chaotic to say the least. There are cars everywhere trying to get under the covered area to unload out of the rain and Disney buses trying to squeeze through the same area.
After 10 minutes or so we manage to find a space and get everything out onto a trolley. The ladies check-in while I go and park the car. Incidentally it costs $10 per day to use the car park here.
We are allocated adjoining rooms on the 5th floor and are pleasantly surprised at the size and general standard. We also have a nice view over the river at the back of the Boardwalk.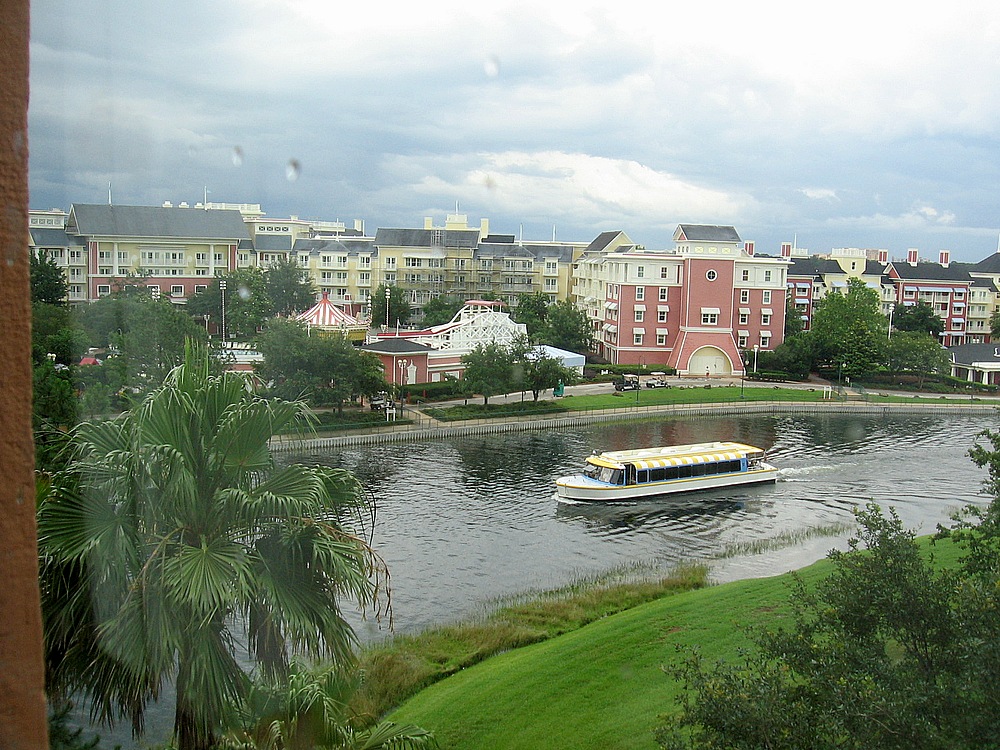 View looking towards the Boardwalk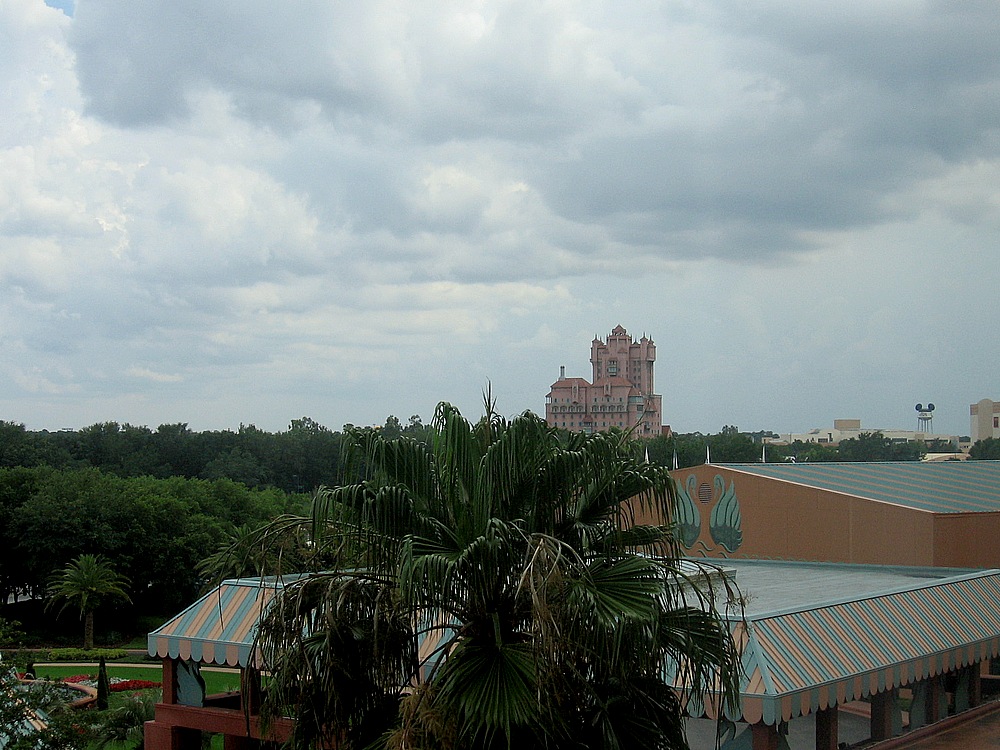 Looking towards Disney's Hollywood Studios
The most important task of filling the fridge with beer is completed (after cracking one open of course) and other unpacking ensues. In the middle of all this the phone rings. It's Susan, our good friend from Tulsa who is joining us this trip; she is staying at the Yacht Club for the first 3 days and flew in earlier.
Having established we have arrived, she walks over to the Swan to greet us. After much hugging and kissing (I really must stop that, the maid is beginning to object) we settle down to a fine repast of Sour Cream and Chive Lays accompanied by beer. Well, can you think of a better way to toast the beginning of a holiday?
We chat away for an hour or so and we introduce Susan to Pimms, although we can't do it full justice, as we don't have any cucumber or mint. She gives it a thumbs up just the same.
Susan heads off back to the Yacht Club and we all go to bed just before 11.00pm, tired but pleased to have arrived.