DAY 14 - THURSDAY 4TH JUNE
For the first time this trip we decide to have a day relaxing and not going to a park at any time. We have an 8.00pm ADR for The Wave restaurant at the Contemporary tonight, so we have all day to enjoy some downtime.
Not so for Susan and Grandma though, they decide to hit the Magic Kingdom to do a few remaining rides they have not managed to fit in up to yet. Grandma once again comes out tops in the energy and enthusiasm stakes.
Me, Tam, India and Georgia leave the room around 10.00am and get the bus to the Magic Kingdom. From here we transfer to the little boat that runs to the Polynesian.
A couple of cabanas are secured and we go about the task of enjoying the sunshine for as long as we can. The weather forecast is not looking too good today with an 80% chance of thunderstorms from lunchtime onwards.
The pool at the Polynesian is very nice with a cool slide. I also really like the hammocks on the beach and some time is spent swinging lazily back and forth in these.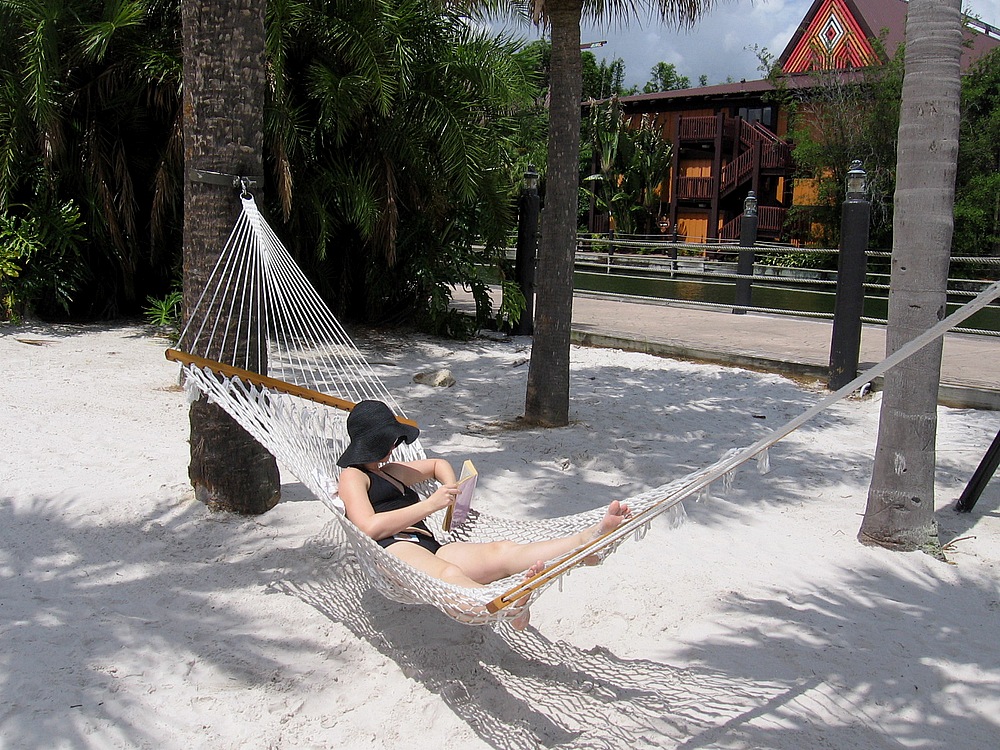 At 1.00pm it starts to rain and so we pack up our things and head into the Polynesian for lunch at the Kona Café. Between the 3 of us we split the honey coated chicken wings with mustard sauce, chicken in coconut and mango sauce and a fish taco. The food is accompanied by a couple of beers and Cokes for the girls. We all enjoy the food and the server is particularly good. The bill with 20% off for the Tables in Wonderland card is $59.
After lunch we stroll past one of the shops and India spots a rather ugly statue of a Tiki god.
'Look' she says 'it's Matt'.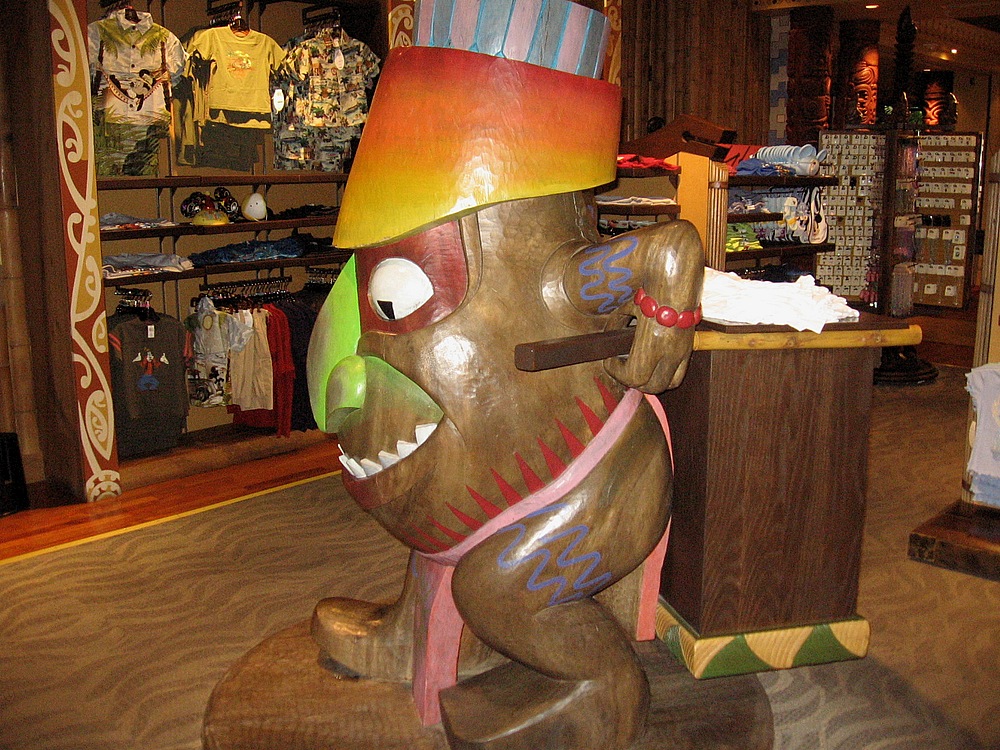 Just around the corner is another much happier looking statue.
'Matt's spotted the bar'.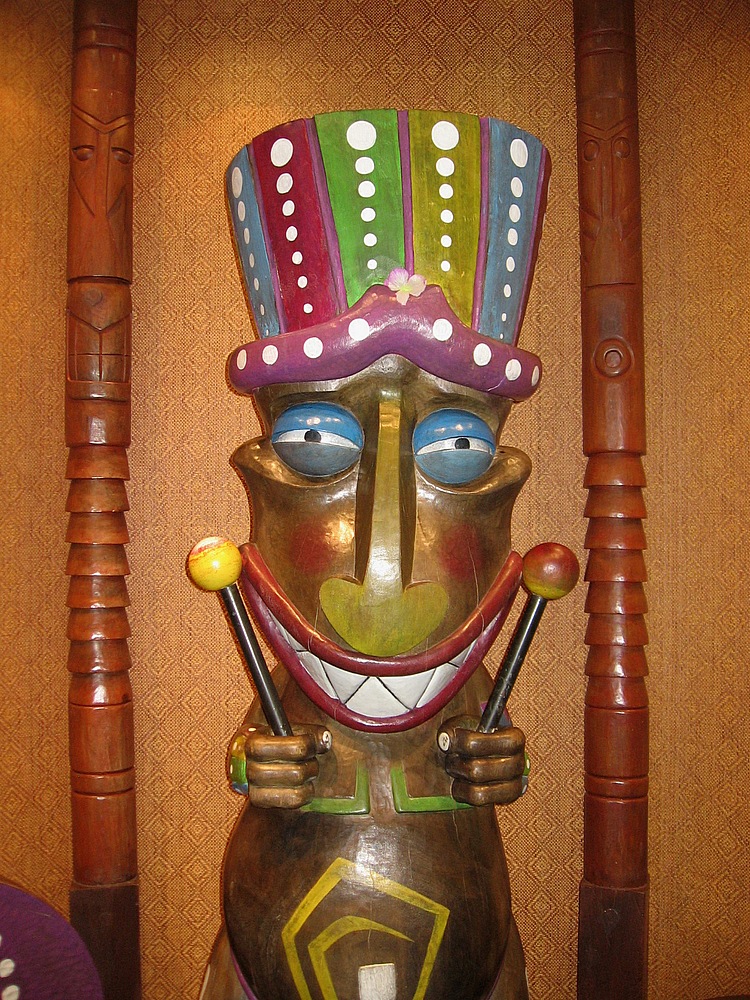 We catch the monorail round to the Contemporary and walk outside to view Bay Lake Towers. This new DVC resort looks like a lovely addition to the resort range, it will be difficult to get a bad view with one side looking out over Bay Lake and the other side having views over the 7 Seas Lagoon and the Magic Kingdom.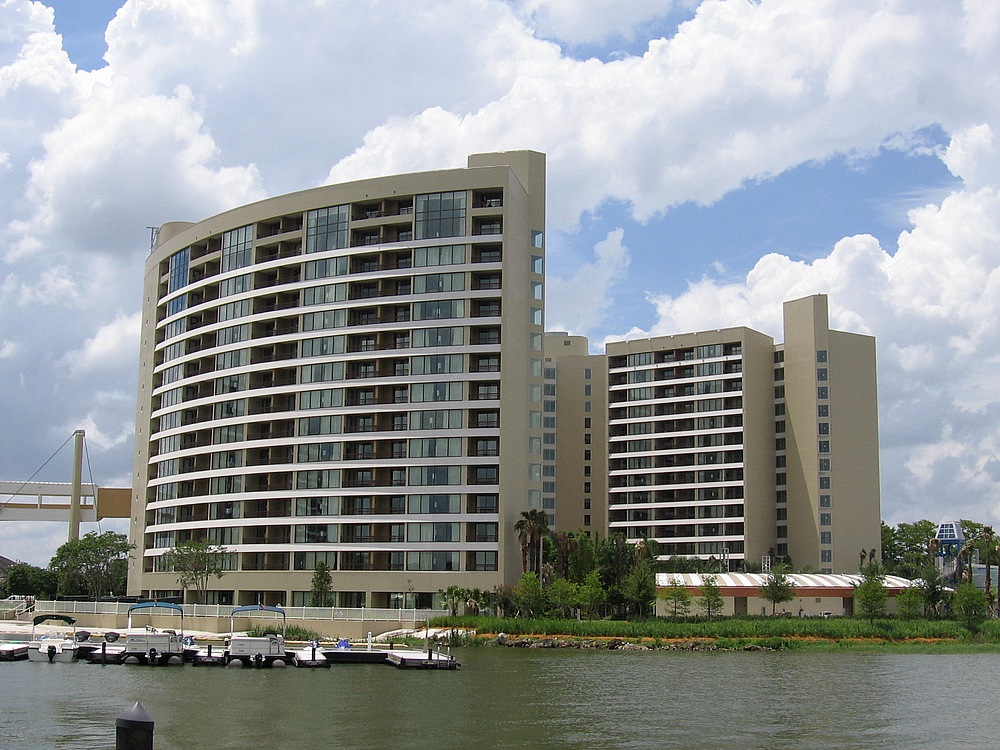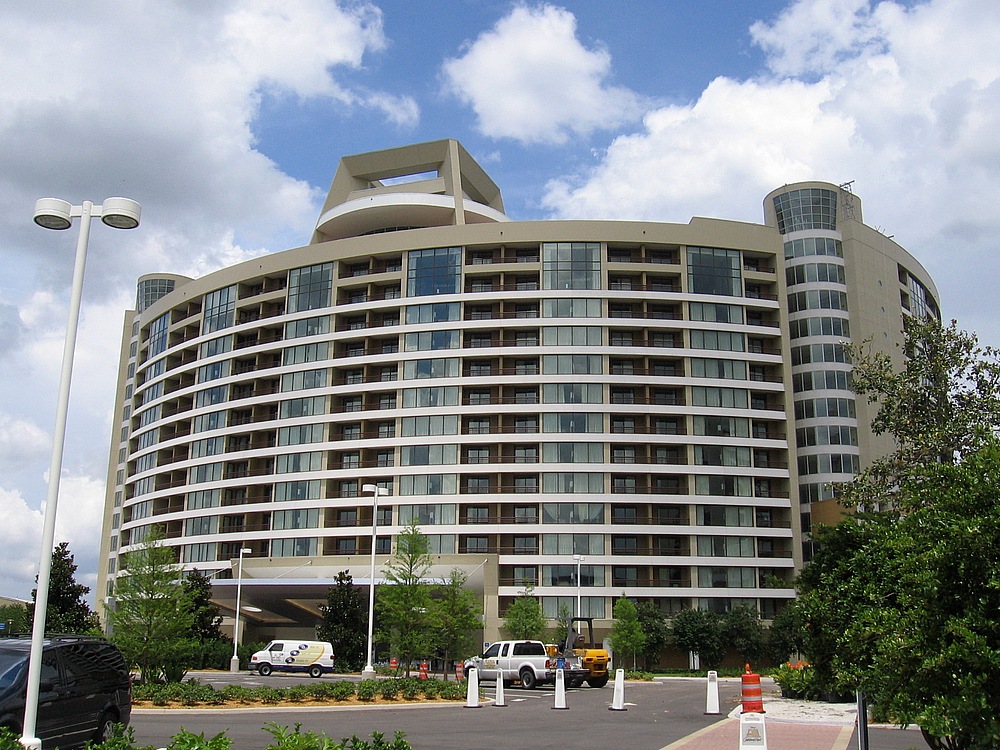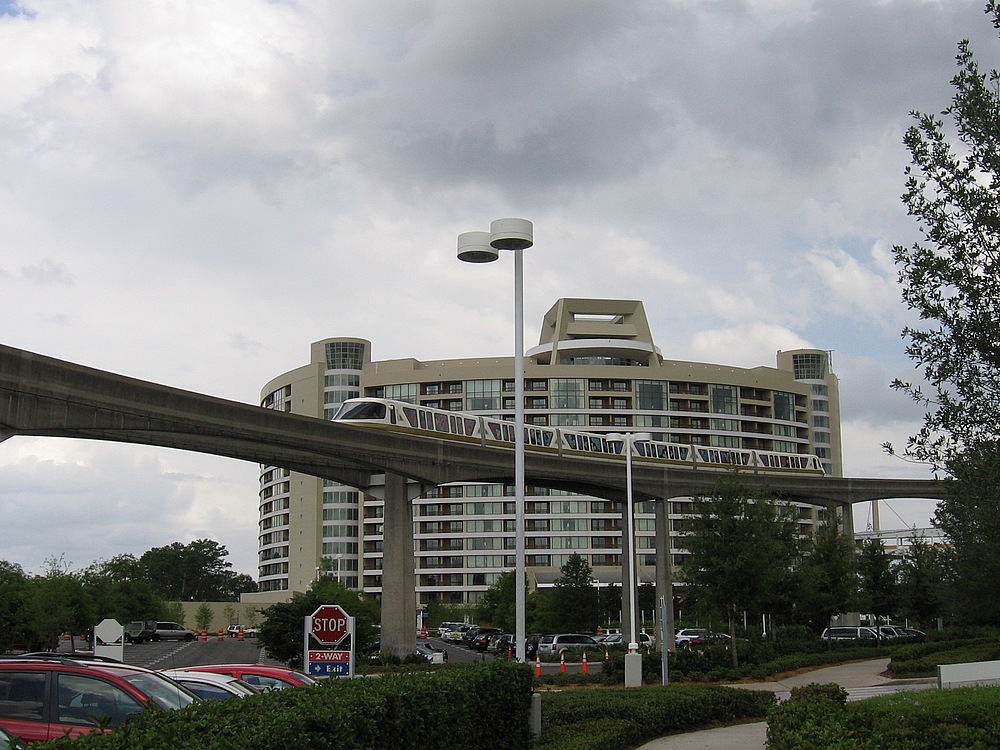 Next we walk to the Magic Kingdom and catch the bus back to the Boardwalk. Tam and Georgia do their customary trick of falling asleep as soon as the bus pulls off.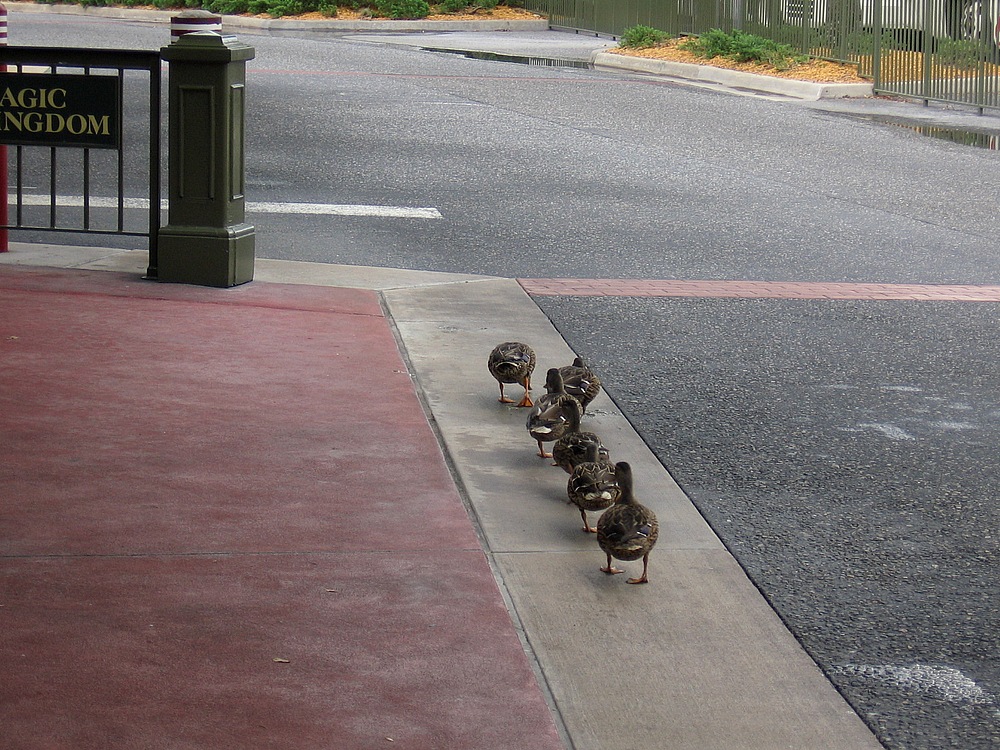 A few additional passengers
Showered and refreshed we leave the room for the Polynesian. We were originally going to get a bus to the Magic Kingdom and a boat across, but the skies are looking ominous again, so we get a taxi.
This proves to be a wise move as we drive into a serious storm with thunder and lightning crashing all around us. The taxi driver follows a bus most of the way as the visibility is down to just a few feet.
At the Polynesian we meet up with Sharon and Evan. The idea is to have a drink at the bar before moving on to Mizner's at the Grand Floridian. The problem is the lounge at the Polynesian is right next door to 'Ohana, so everybody sits there waiting for their ADR's. It's never going to be relaxing, so we give up on the idea and catch the monorail to the Grand Floridian.
I have never seen the lobby so full of people as nearly every seat is taken, I suppose it's because of the bad weather. Luckily Mizner's is a lot quieter and we all sit down for cocktails. These are not cheap (between $9 and $10) but I think it's worth it to sit down in a very pleasant lounge that is a little more refined and relaxed than many other Disney lounges.
As an added bonus the band start to play just outside the entrance.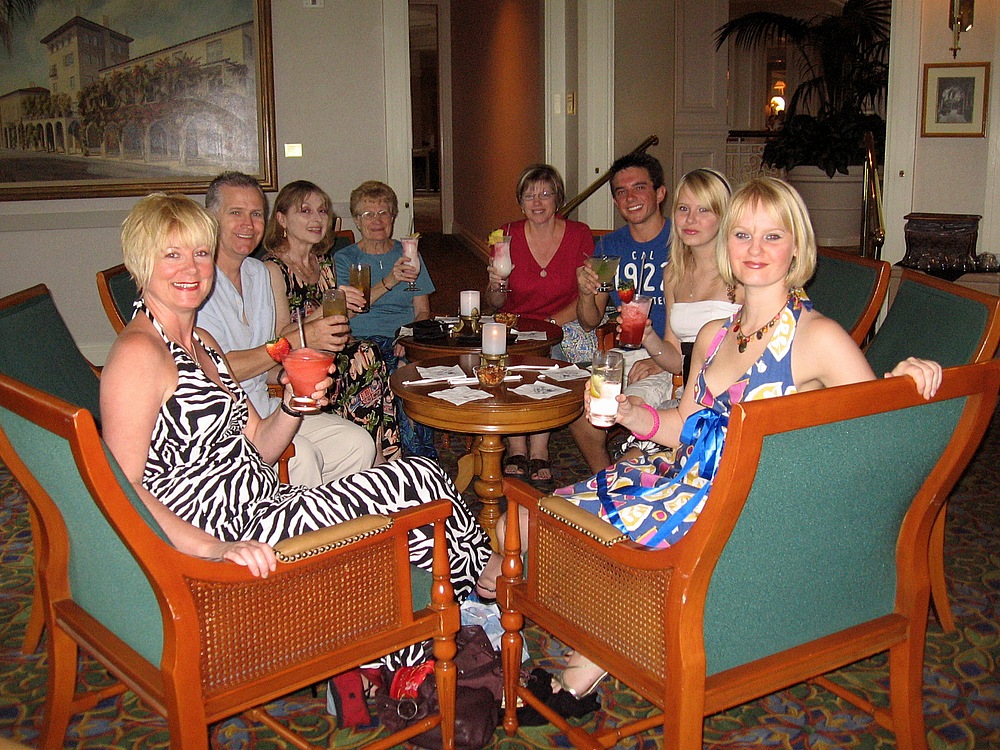 I enjoy a Long Island Iced Tea, which is a heck of a lot more potent than it sounds.
We now do the Secret Mad Hatter gift swap. As you may recall, the rules were that we pulled a name from a hat and had to buy a gift for that person costing $4 to $6.
This is good fun and I had to buy a gift for Sharon, so I got her a shot glass. I figure the gift ought to say something about the giver and this way she'll think of me every time she has a shot of tequila – about 4 or 5 times a night I would think.
I won't go into all the gifts, but Susan buys me a sort of press button that says 'Oh boy' in a Mickey voice whenever it's used. I intend to place this by our beer fridge at home and operate it every time the fridge door is opened. I hope Mickey has got some throat lozenges handy; he's going to need them.
Back on the monorail and we move round to the Contemporary where there's no messing as we head straight to The Wave. I can immediately see why Deb and Matt like this place so much, it has a proper bar with seating all round plus a couple of semi-circular areas, which are coolly lit for enjoying a pre-dinner drink.
Tam and I enjoy a glass of Chardonnay before our buzzer goes off and our table is ready.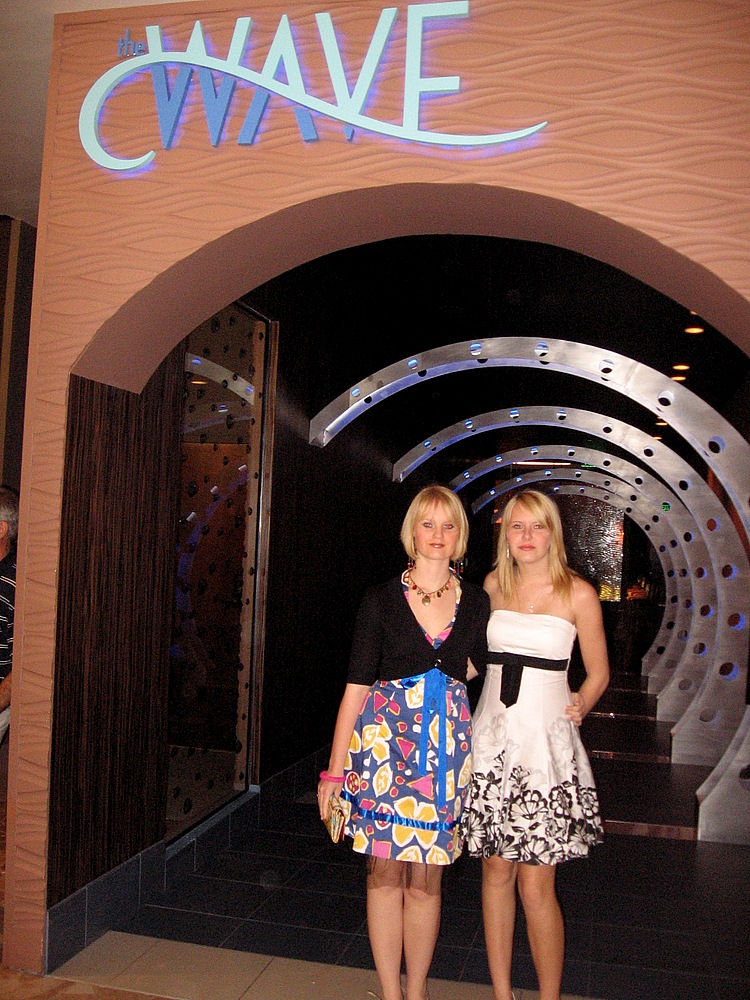 The main restaurant is quite pleasant, if a little disappointing after the spectacular bar area, but we are lucky enough to be in one of the smaller side rooms.
As we sit down there are a couple of families with very young children (3 or 4?) at the next tables and they are running around being quite noisy. Luckily our 8.30pm ADR is quite late, so they are just finishing up and leave soon afterwards. I really don't have anything against families in restaurants, after all this is Walt Disney World, but sometimes it is nice to be able to have an adult meal in a quieter environment.
The food here gets a mixed reception from our party. Our starter of seared Ahi Tuna and chicken egg rolls is nice, as is my beef tenderloin with Boniato mash, but Tam says her chicken pot pie is far too salty. Grandma has the pot pie too and says it's fine for her. Mind you, Grandma does like her salt. She usually applies salt to her salt in order to increase the sodium chloride content.
I keep telling her 'Look, you're only 84, you'll die young if you keep using all that salt'. She'll probably expire at 120 and I'll say 'I told you so', if I'm still here of course.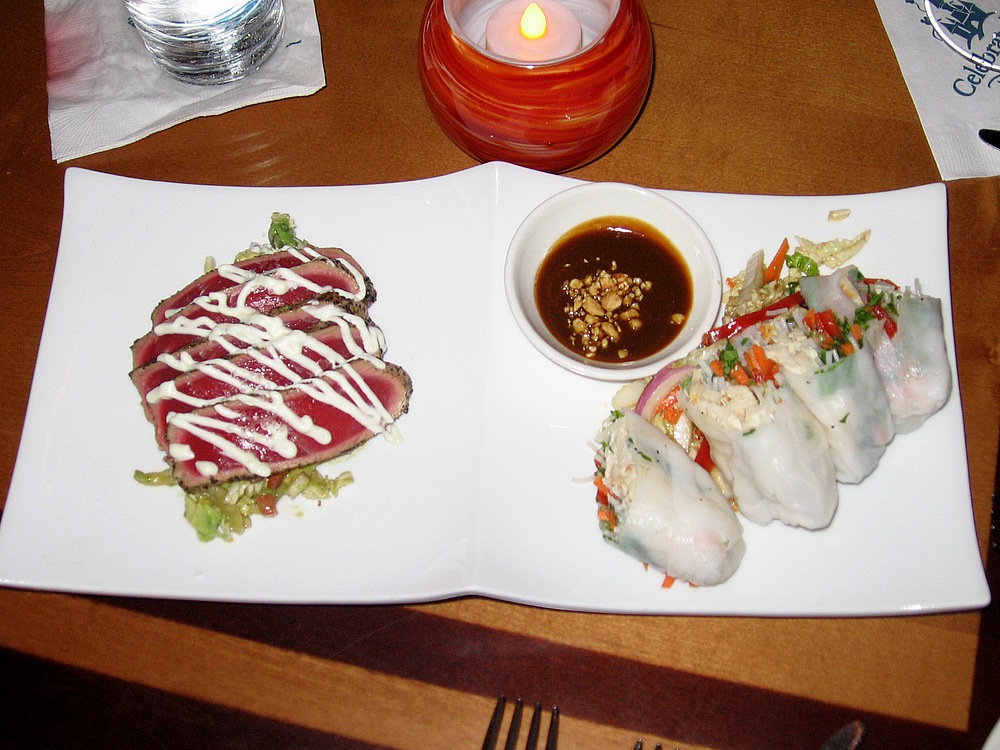 Ahi tuna and chicken egg rolls
The desserts are well appreciated though. I can't remember exactly how they are categorised, but Crisp and Crunchy is one. You get 3 little portions of different desserts in that category.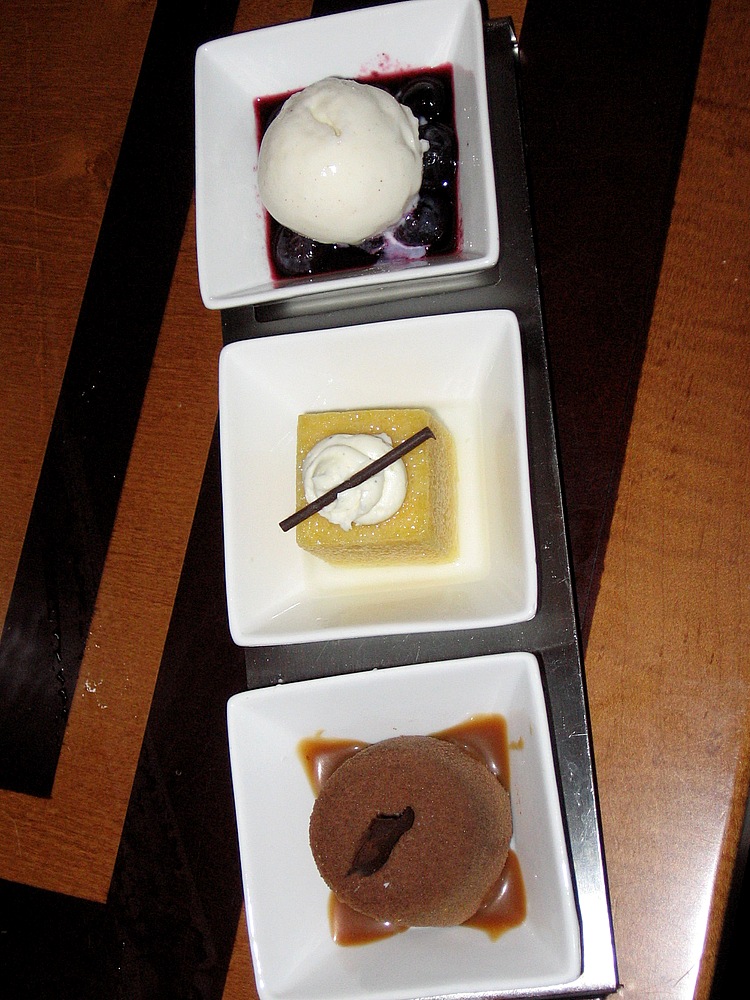 Partly due to our late ADR, but also because it takes a while to work out who owes what on the bill, we are the last out of the restaurant.
One thing we didn't like here was that the main courses came out before we had finished our appetizers. Our server seemed a little embarrassed by this as well and apologised to us.
We take a taxi back to the Boardwalk and are in bed around midnight.