DAY 13 - WEDNESDAY 3RD JUNE
Tam and I are up at 7.45am, but the girls are less keen to embrace the beautiful morning sunshine. We're going to the Magic Kingdom for a few hours and want to be there for opening in order to do the Fantasyland attractions that get packed later.
We leave the girls to sleep on while Tam and I meet up with Susan and Grandma and catch the bus to the Magic Kingdom.
We enter just after 9.00am and meet up with Sharon and Evan who have just arrived from the Polynesian. We go straight to Fantasyland and walk onto Pooh, Snow White, Peter Pan and Mickey's Philarmagic in quick succession.
Next is Small World, which turns out to a ride too far for Tam who has a go on the carousel instead.
The Haunted Mansion is next and I really enjoy this again even though it's the third time this holiday.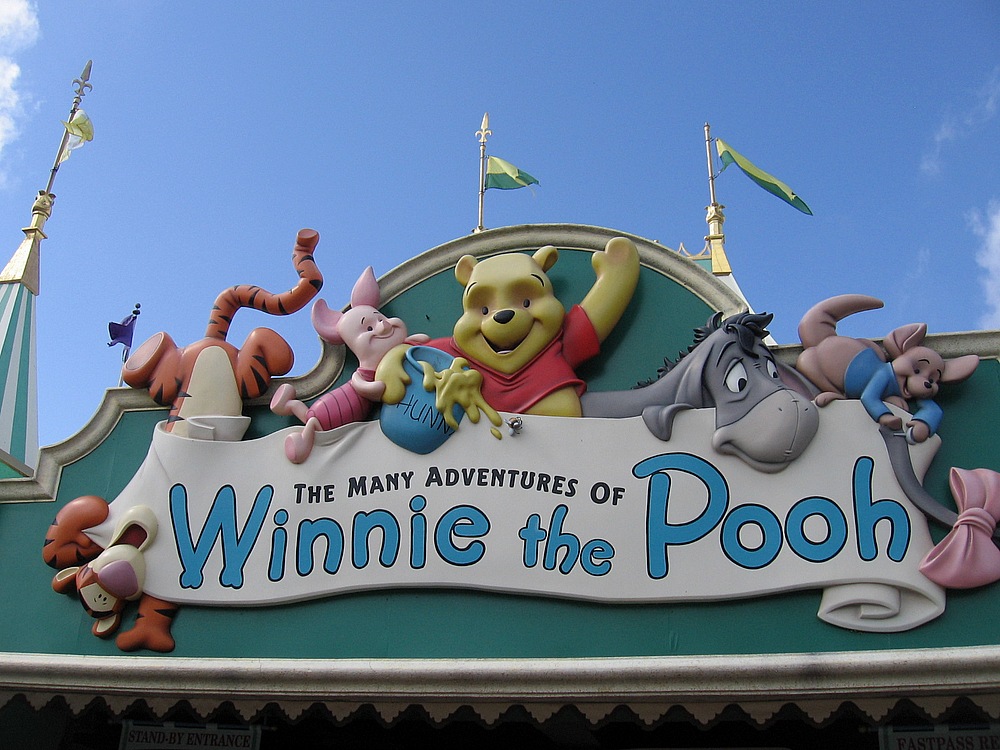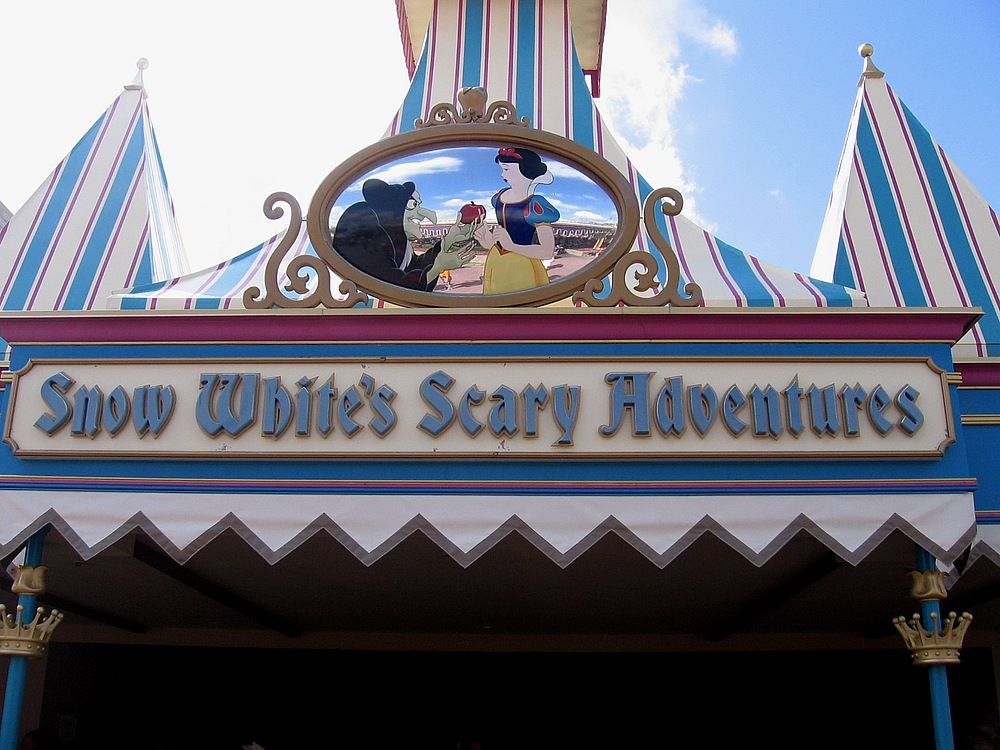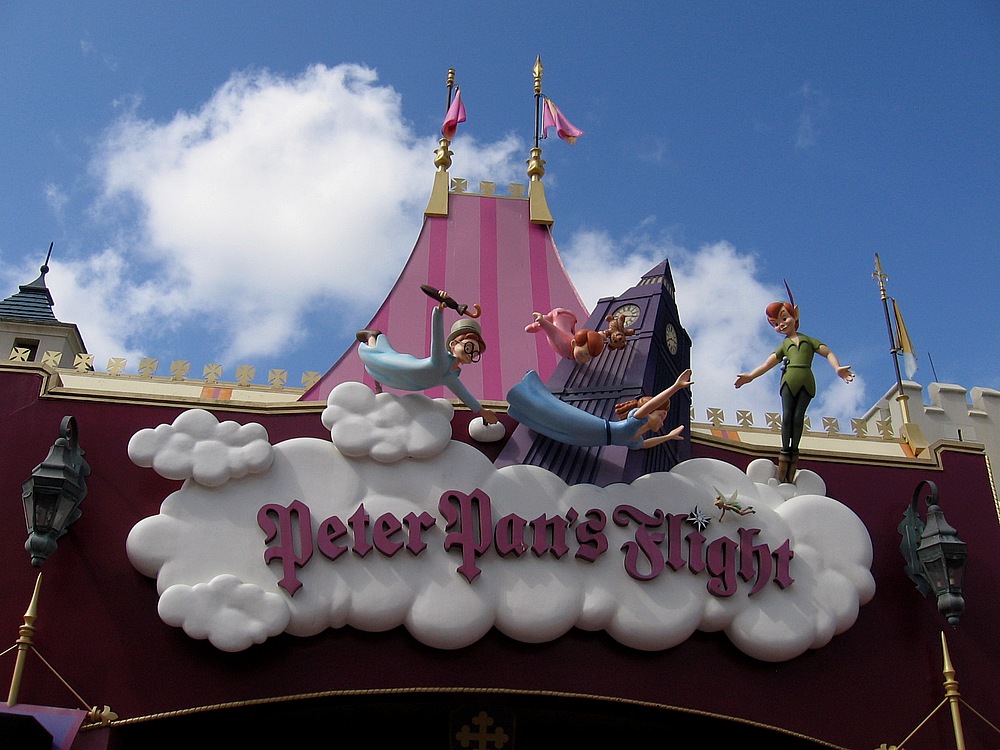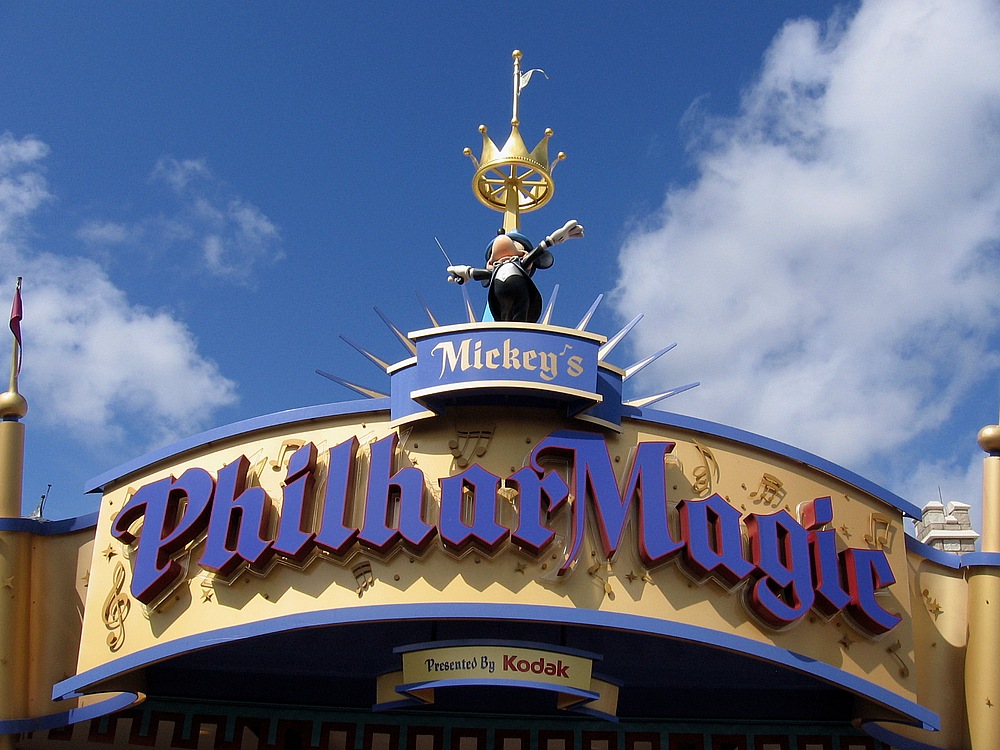 As you can see, Tam had a thing for photographing signs this morning.
The ladies are hankering for some ice cream so we walk back to Mrs Potts Cupboard where Tam and I are going to share a Brownie Fudge Sundae, but the CM mishears and we end up with one each. Oh the hardship.
We walk round to Casey's where we have arranged to meet India and Georgia at 11.00am. On the way we have the misfortune to run into Mickey's Jumpy Shouty Parade again.
While here we phone to see if we can get an ADR for Le Cellier for our last night on Friday, but they are fully booked for dinner. We decide to eat at Le Bistro de Paris instead and an ADR for 6.00pm is secured.
Sharon and Evan now leave us as they are eating at Le Cellier this afternoon, but not before we all have our photo taken in front of the castle.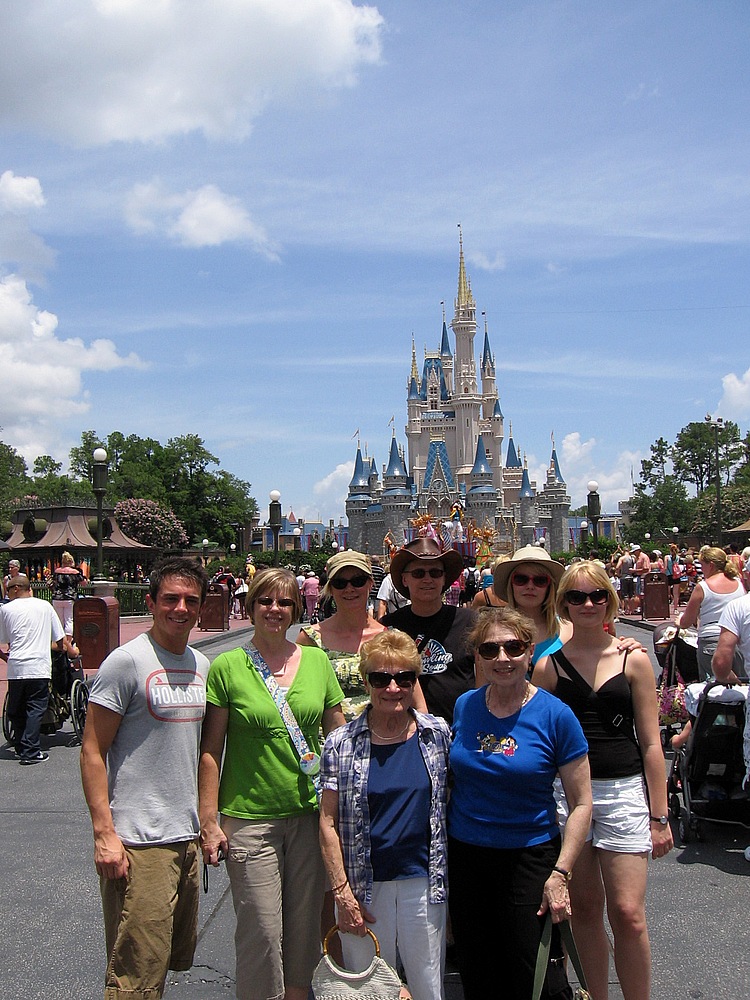 The rest of us go over to Tom Sawyer Island. I've not done this for a few years and Susan and Grandma have never done it. It's pleasant enough strolling around for a while and the caves are darker and longer than I remember. Grandma has fun bouncing around on the rickety floating bridge.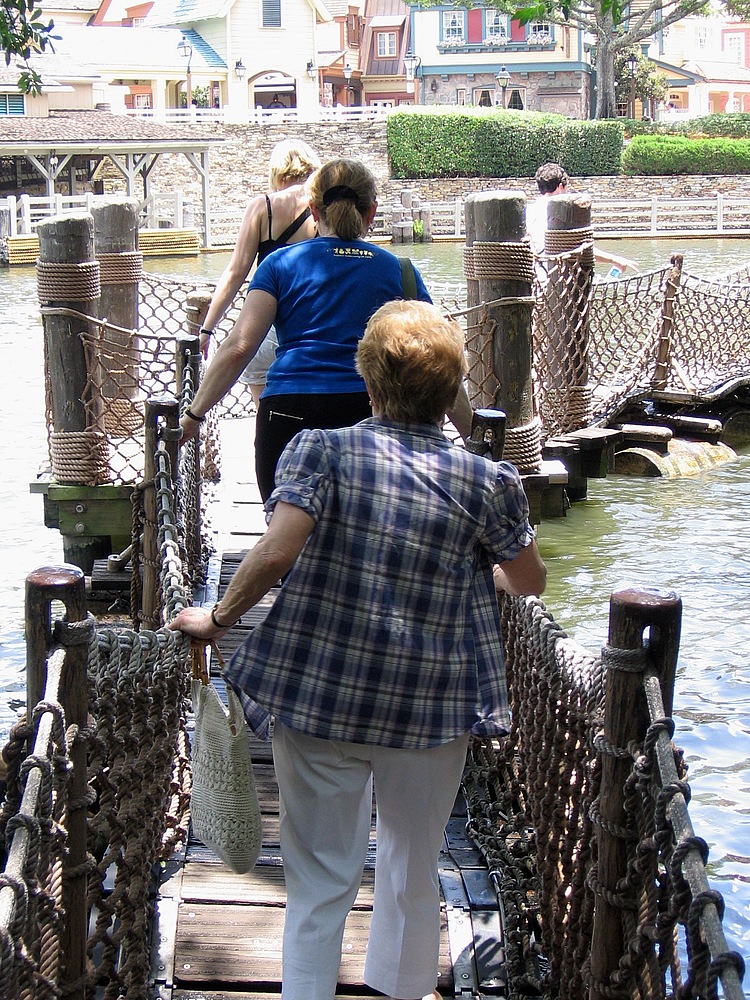 Back on the mainland we head towards Main Street where we want to watch the glass blowing demonstration again; unfortunately it's not on at the moment. Tam seizes the moment for a spot of shopping and I briefly watch the Main Street Marching Band who are excellent. As India says, this is what Main Street entertainment should be about, not Mickey's Crappy Leapy Parade. I may have given the impression that I'm not too keen on this particular piece of entertainment, if so I have succeeded in my mission.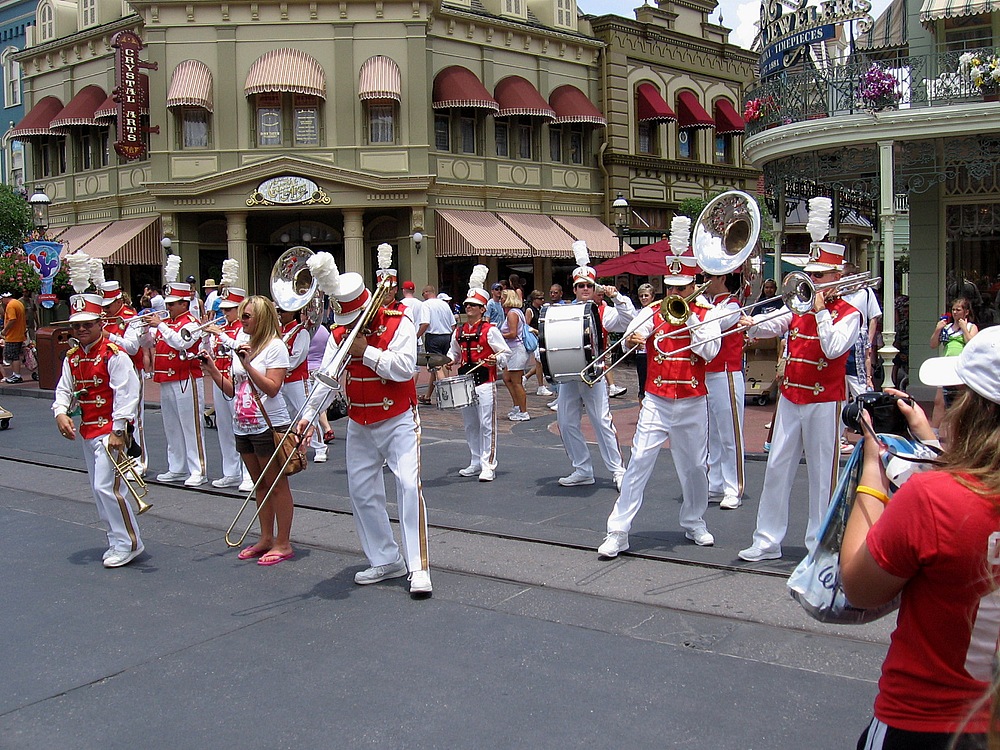 It's now 2.00pm and we're leaving to relax and get ready for the evening. Susan and Grandma decide that they would like to get the boat across to the Wilderness Lodge to have lunch, so we leave them and get the bus back to the Boardwalk.
We go to the pool for a while, but it starts raining after just a few minutes. We return to the room and luckily the rain stops after a few minutes.
We shower and change and then go down to the Belle Vue Lounge at 5.00pm to meet Rob (Fuse04 from the DIS), his wife Sandra and 11 year old daughter Hannah. We chat away for a couple of hours and enjoy a few beers, at least Rob and I do, the ladies have various cocktails.
We decide to go into Epcot just before 8.00pm, but before we leave the lounge, Tam asks a lady sat at the bar to take our picture. Unfortunately Tam picks the one person in the place totally incapable of taking a photo as I think she has been enjoying a little too much of the Belle Vue Lounge Disney magic. In fact she's had so much magic, it's nearly coming out of her ears. She has trouble standing straight let alone holding a camera steady. It waves around all over the place and we must look like a lot of toy nodding dogs as we attempt to keep looking at the lens. She insists on taking 4 or 5 photos, it will be a miracle if any of them turn out ok.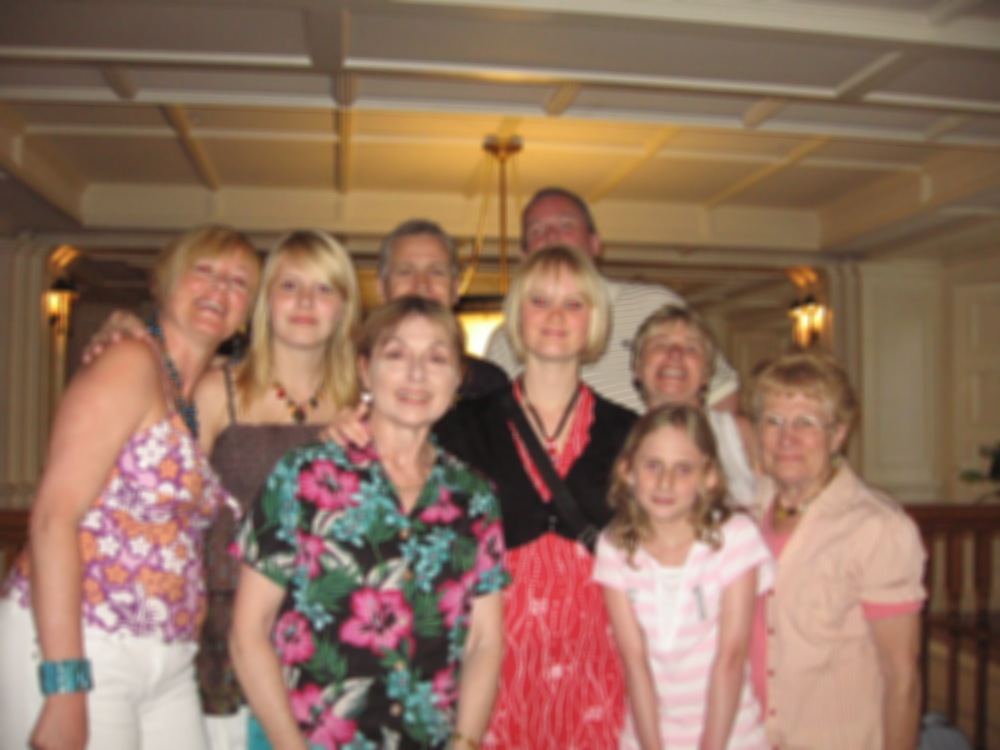 Attempt 1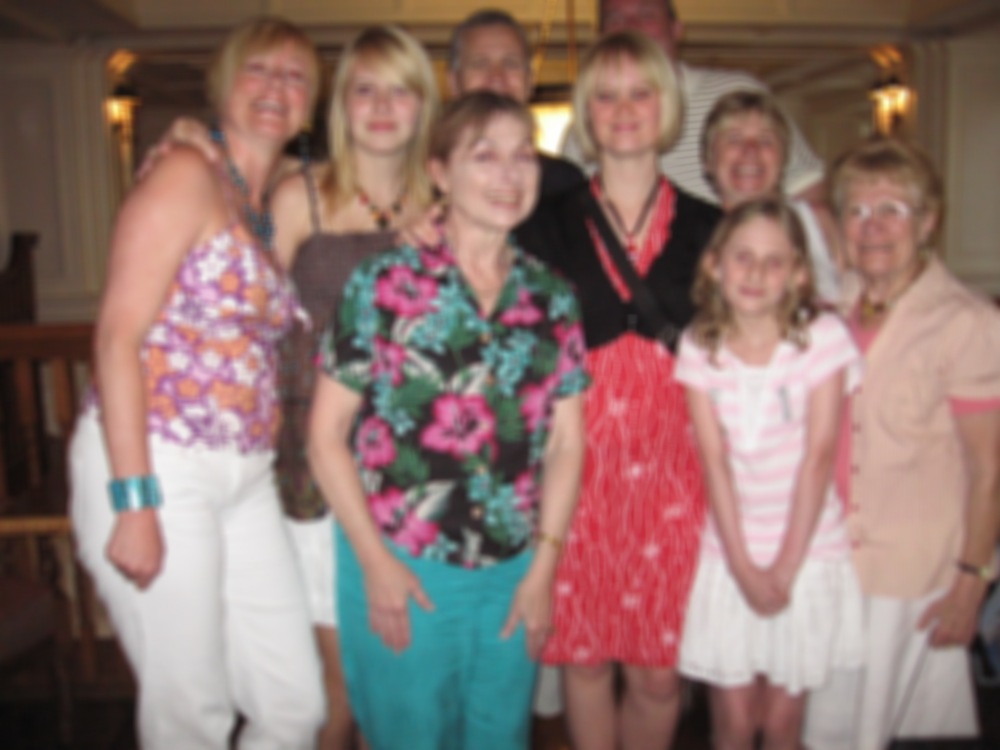 Attempt 2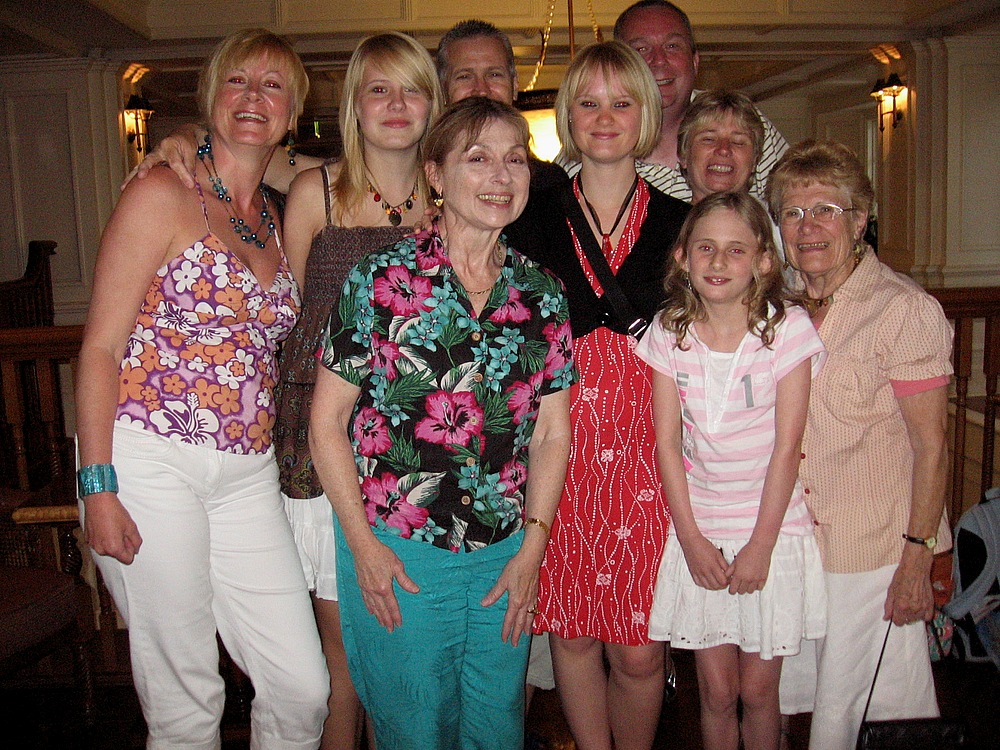 Ah, that's better
In Epcot we find a spot by Italy to watch Reflections of Earth and various members of our party wander back and forth getting foodstuffs from various locations. With 15 minutes to go I leg it round to Japan with India and Hannah as the girls want Kaki Gori and I'm going to get something to eat and a couple of Kirin beers for me and Rob. Being a caring, sharing person I leave the girls in line for their Kaki Gori's while I make my way back as fast as I can without spilling the precious beer, arriving just as Reflections of Earth starts. The girls get back a couple of minutes later.
As the fireworks finish it starts to sprinkle with rain, so we take cover while I finish my food. One of the CM's doing the cleaning up asks if anybody would like a rubbish bag. Not having that much rubbish to dispose of, I decline. However, it turns out that the purpose of said bag is not for the removal of litter, but to keep us dry. Grandma accepts Felicite's offer and she helps turn the rubbish bag into a makeshift poncho. This is just another example of how a friendly, helpful CM can make everyone feel important and a valued customer.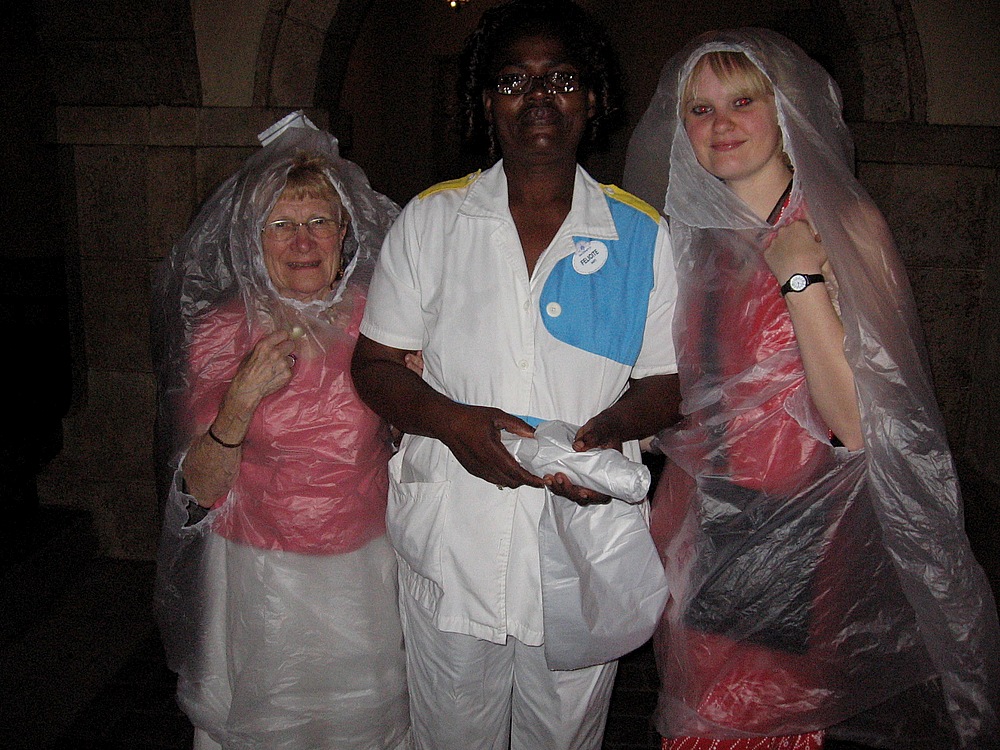 It's only sprinkling with rain so we all walk round World Showcase towards Mousegear. Georgia reckons that Grandma looks like ET when he has the sheet on at Halloween, I can see the resemblance.
Rob is taking loads of photos on his expensive camera. I know it's expensive because it's big and black and has lots of buttons on it. I'm relying on Rob to send us a few to remind us of the evening as they'll be better than our own photos, the box brownie may well have had it's day.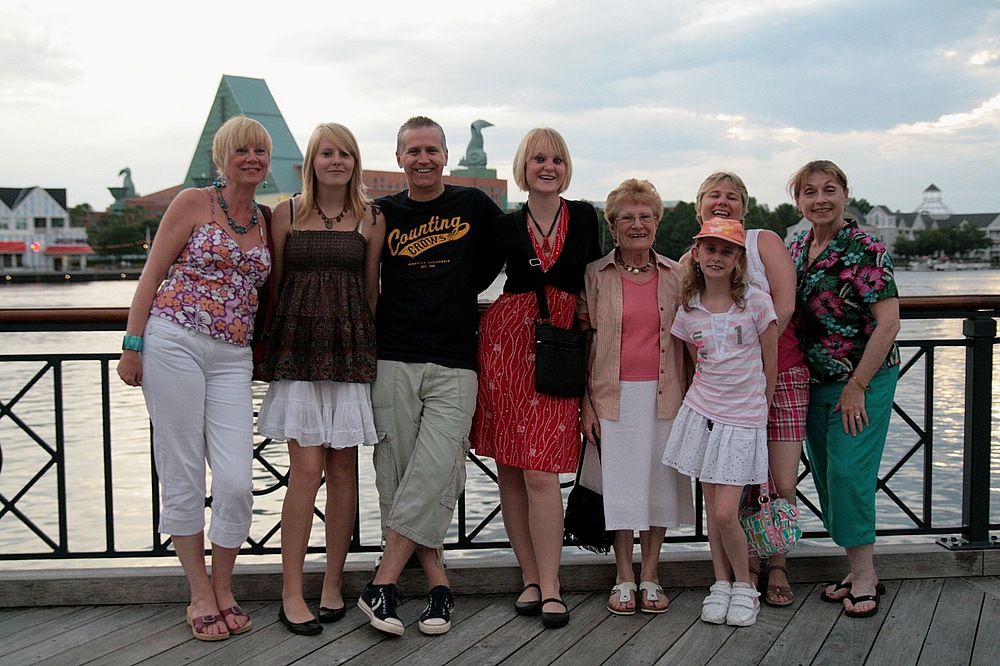 One of Rob's proper photos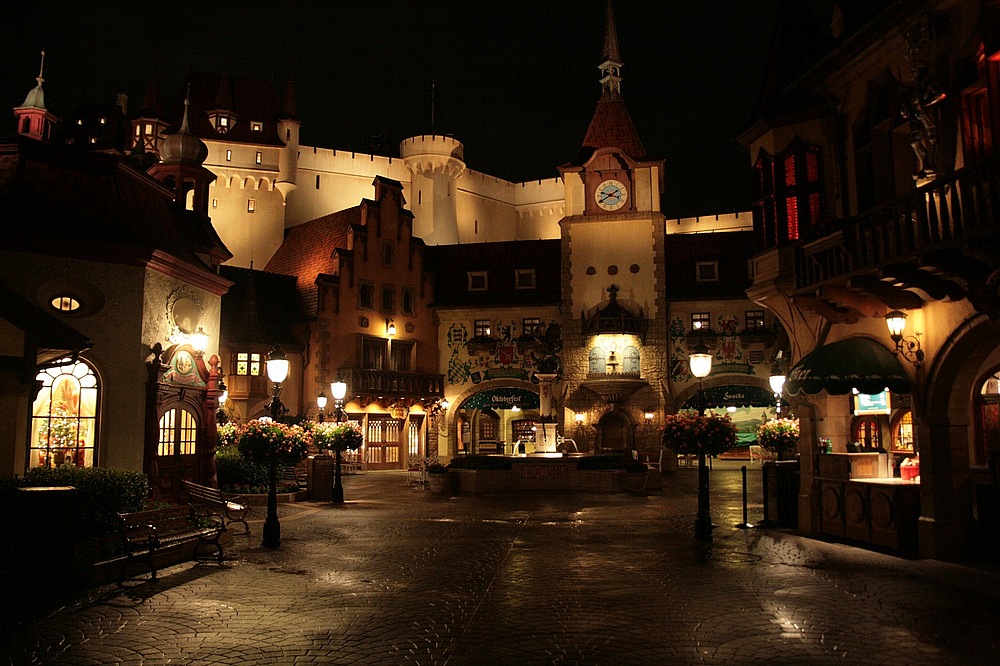 See - told you he was good
Around at Mousegear Rob and I stand and talk at the entrance to the shop as the women disappear off in all directions. They appear from time to time, usually to ask for money. Sandra walks up carrying a cuddly Eeyore wearing pyjamas (Eeyore is wearing pyjamas, not Sandra). She looks at Rob with that sad expression women keep especially for when they want something from their men folk. I tell her that Eeyore looks like he wants to go home with her. As soon as the words leave my mouth I know I've committed a cardinal sin. When two men stand together in a shop they have to maintain a united front in the face of overwhelming female purchasing odds, otherwise they get picked off like wounded zebra.
Rob sighs and puts his hand in his pocket, looking at me with the disdain I deserve.
30 minutes or so pass. I'm sure the ladies are taking it in turns to return to us, only to disappear again. It's like trying to round up slippery sheep.
The shop assistants are starting to yawn and look at their watches. One of them puts on the coffee for breakfast.
Eventually all the ladies reassemble with triumphant looks in their eyes and we leave the shop.
We say farewell to Rob, Sandra and Hannah. I don't know about them, but we had a thoroughly entertaining evening.
As we start to walk back to the International Gateway we pass several CM's who all wish us a good evening. Just as we reach Canada a woman CM who looks like a captain from one of the Friendship boats stops us. I can't remember her exact words, but she has a face like thunder and tells us the Gateway is shut and we have to go to the front of the park and get a bus to the Boardwalk. Most un-Disneylike. Having had a couple of beers and therefore being a little on the chopsy side, I tell her that we have always left the park via the International Gateway, even at this time of night. Still looking as miserable as sin she goes off to make a phone call.
In her defence, it is 11.00pm and she tells us that the Gateway shuts at 10.30pm. Well, we have left the park later than that on many an occasion without a problem, so if Disney has changed the policy they need to make that a little better known. Perhaps some signs at the International Gateway warning of closure times might help?
Anyway, she eventually walks us round to the Gateway where a pleasant, smiling security guard lets us out. I guess it would be easy to focus on the poor behaviour of this particular CM, but I prefer to remember the many, many CM's who go out of their way to make our stay just that little bit better.
Bed around midnight.