DAY 15 - FRIDAY 5TH JUNE
Up and at 'em at 8.00am as this is our last full day and it's going to be spent entirely in Epcot. At least, it is for me, Tam, India and Georgia, the rest are starting out in Disney's Hollywood Studios.
We enter through the International Gateway as it opens at 9.00am and head straight for Soarin', where we ride and then get a Fastpass for later. We ride in the bottom row this time, which is not as good as you see a row of feet above you, but it also feels lower to the action as you skim over the sea.
Journey Into Imagination is next with Tam grumbling all the time about what a useless ride this is. While I think it has its good points, the old version was much better.
Spaceship Earth is next and this just reinforces my opinion that the refurbishment has made things better right up until you rotate backwards at the top of the ride, after this you just watch the cartoon action on the little screen.
We make strange faces when they take our photo (at least, stranger than our faces normally are) to make it more amusing, but I still think they need to put in more interesting stuff to look at. The part where you can e-mail your photo home afterwards is clever though.
We go into Innoventions briefly and do the Stormstruck attraction. You put on 3D glasses and are put in the middle of a simulated storm that includes a quiz to help increase your knowledge of how house construction can prevent damage. It's informative and fun.
The single rider line for Test Track is next and this is efficient as we're on the ride in 10 minutes or so.
We wander round to the American Pavillion as it's now midday and we need an early lunch as we have a 6.00pm ADR for Bistro de Paris tonight.
I get a chilli cheese hot dog, while Tam has the beef sandwich. India goes off to France to get a chocolate croissant and Georgia gets a funnel cake. These are a bit expensive these days as it's $7.25 with chocolate sauce, that's a bit steep for what is basically pancake batter deep fried.
We do the American Adventure next, I still think this attraction is wonderfully well done. As we exit we meet up with the rest of the group who have come across from Disney's Hollywood Studios.
We all ride Maelstrom and are heading for Mexico when it starts to rain. We run into the pyramid and ride whatever the boat ride is called these days. India is singing 'La, la, la, la, la' as we clamber into the boat until I point out to her that they don't sing that any more. It doesn't appear that the changes to this ride have increased its popularity much as it's still a walk on despite the rain outside.
The ladies roam around the pavilion for a while and I check on the weather from time to time. The rain stops and the intrepid band sally forth once more. We make it as far as the shops at the bottom of World Showcase before the rain sets in again. It's much heavier this time. For goodness sake, why can't we be trapped in a bar rather than a shop?
After 30 minutes or so the rain eases off and ponchos are donned. Trouble is, there are only 3 ponchos between me, Tam, India and Georgia. This means Tam and I have to share, which ends up with us looking like a 4 legged, double headed Stringer monster.
Everybody else heads back to the Boardwalk, while the reduced party heads over to use our Fastpasses for Soarin'. This is the 4th time we've rode it this holiday and it hasn't lost its appeal.
We're heading back as well now, but not before we drop in to see O Canada on the way. This is the first time I've seen the new version with Martin Short and I've got mixed feelings about it. It's quite funny in places, but the problem with this is always going to be that once you've heard the joke, it's not so funny the second time. They've basically re-jigged the film and added in a few extra bits. Plus there's a Celine Dion-esque version of O Canada at the end. Tam is even more scathing as she liked the original film and music.
At least it's stopped raining as we walk back to the Boardwalk where we shower and change for the evenings activities.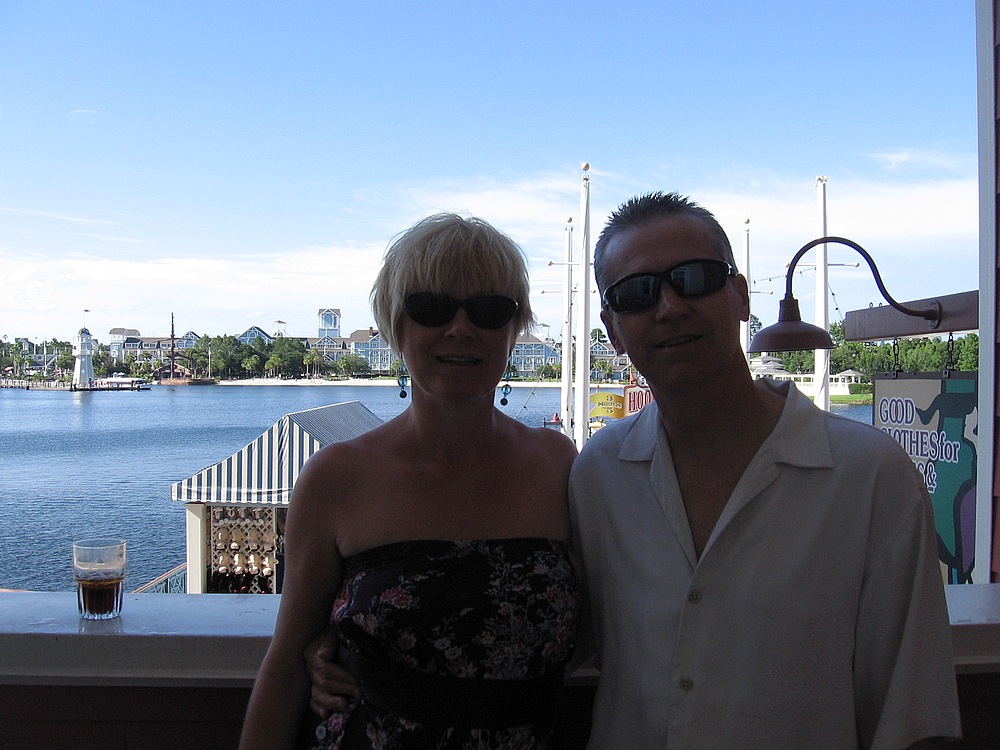 Sharon and Evan have used Grandma and Susan's room to freshen up in, so the complete party leaves the Boardwalk at 5.30pm. Amazingly it's now bright sunshine and blue skies.
At Bistro de Paris we are seated after just a couple of minutes. We have a table in the rear of the restaurant away from the windows, which is a shame as it's now a beautiful evening and it would be nice to stare out over World Showcase.
Our server is Julian. This is bad news for Julian, as he's not Anthony. The last time we were here our server was a handsome young French gentleman and the ladies giggled and batted their eyelashes every time he came near the table.. To be fair, Julian is no Quasimodo, but neither is he an Anthony. However, he is very efficient and pleasant.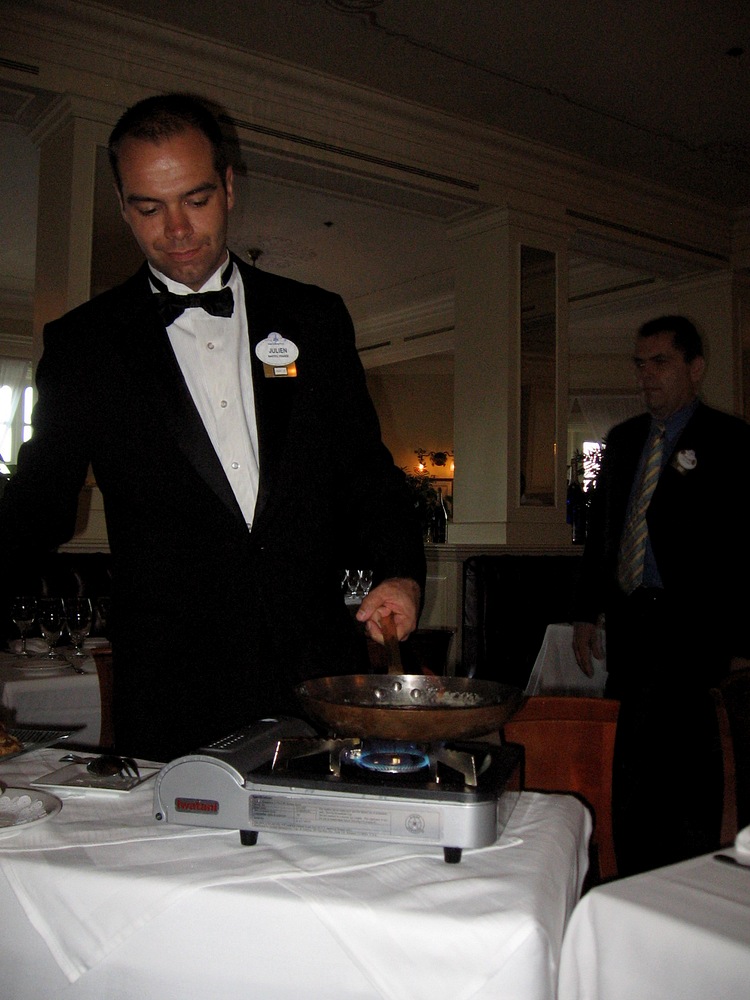 I talk Evan into a glass of red wine, which would probably have been ok had it not had a small fly doing the backstroke in it. Sharon asks for it to be changed and Julian apologises before whisking it away. I point out to both Sharon and Evan that the correct procedure in such cases is to pass the glass to me to consume most of the contents before calling for it to be changed. These Americans know nothing of etiquette.
The main courses are, by and large, pretty good. I have the pork tenderloin, which has a really nice creamy pasta accompaniment. Evan and India rate the venison as very good, while Georgia likes the lamb.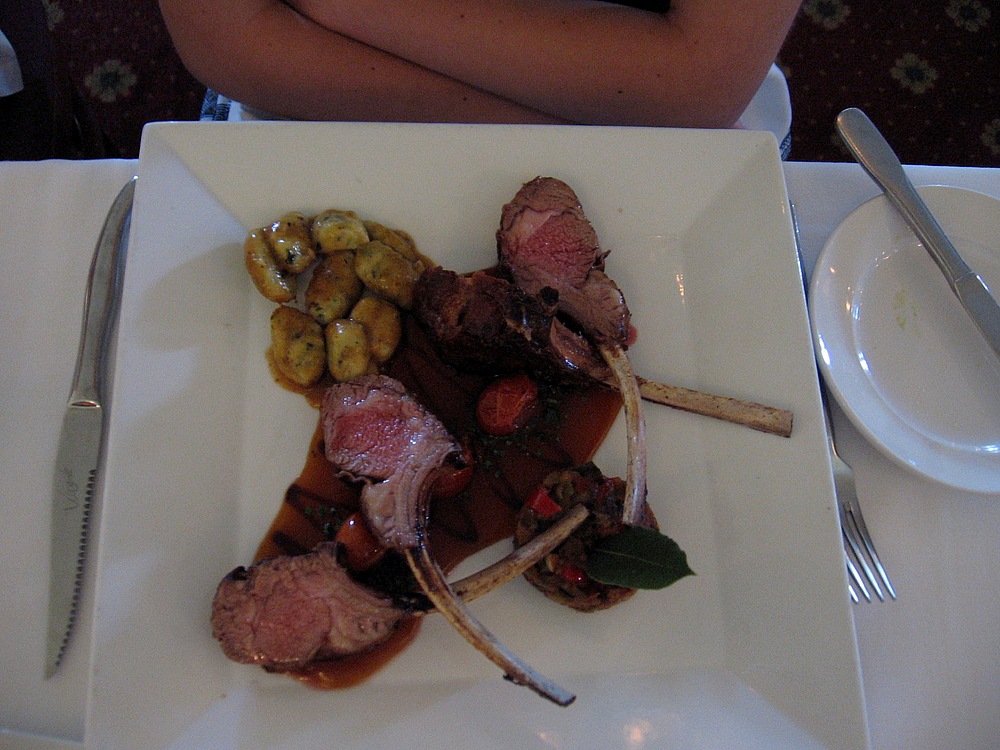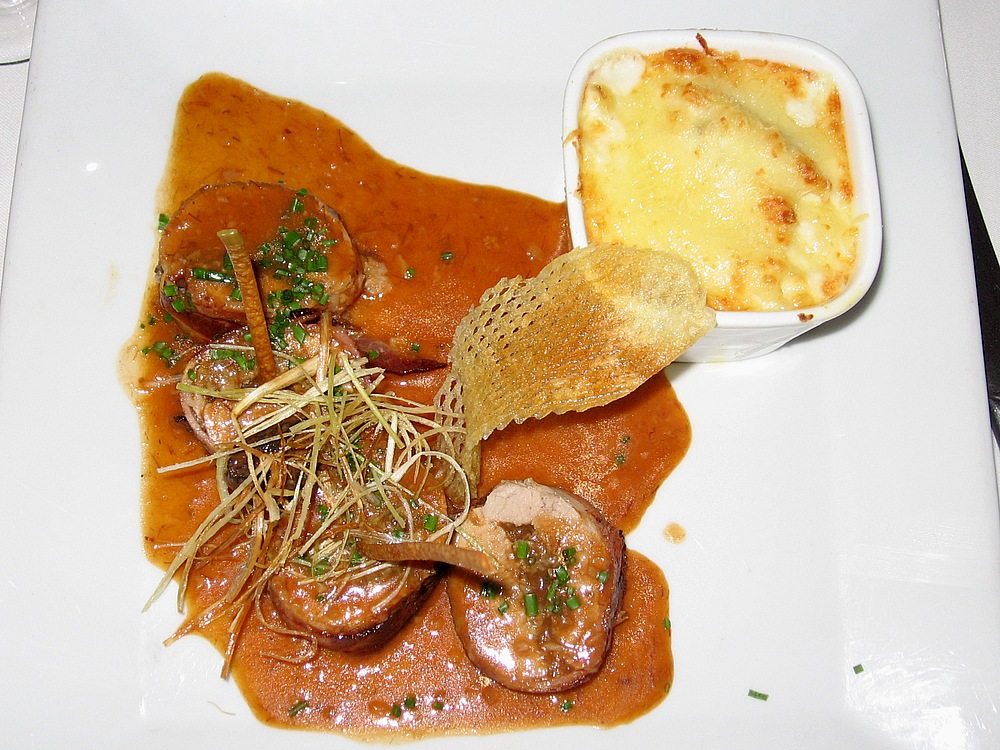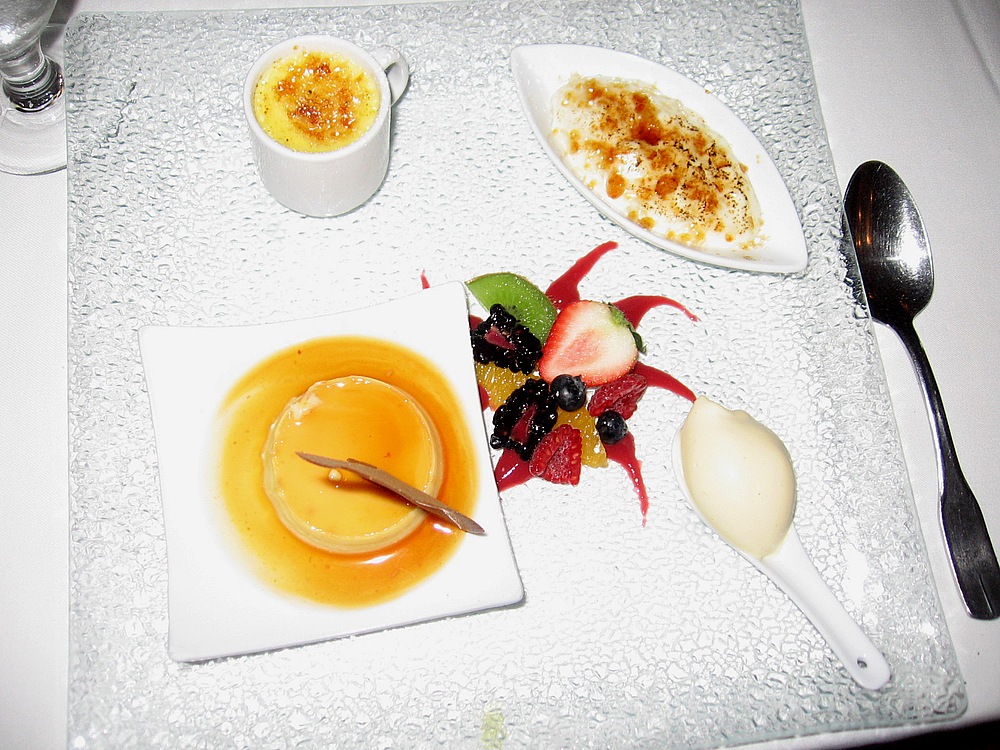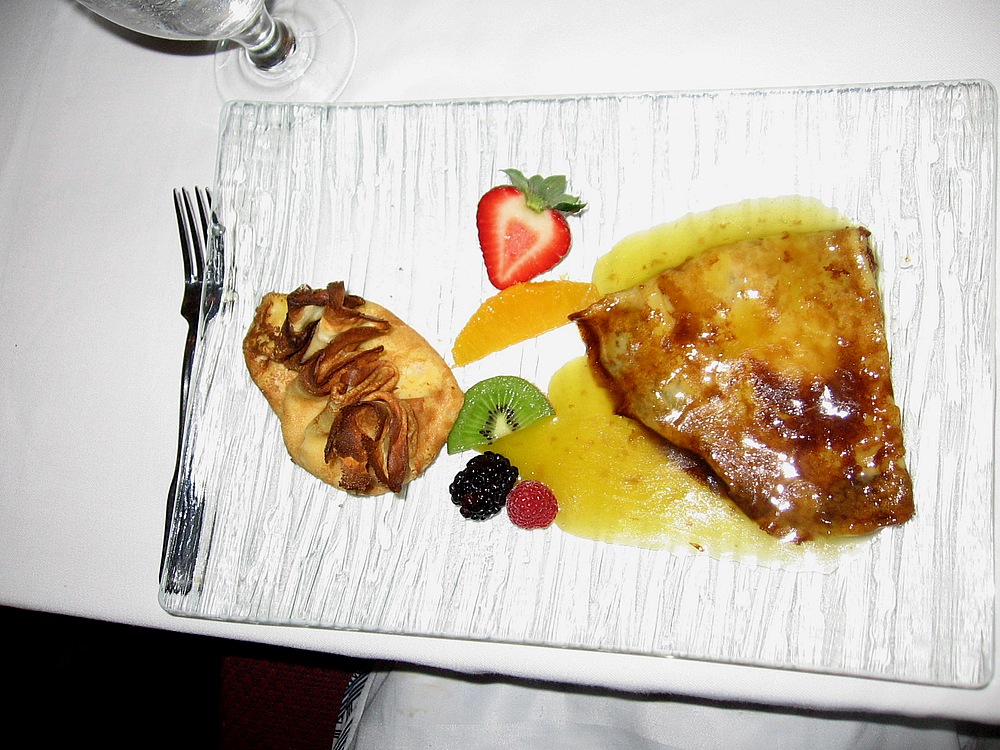 It's a well-paced meal, which lasts over 2 hours and is up there with Narcoossee's and Blue Zoo as the best meals of the holiday. It's also the most expensive at $200 for the 4 of us, but that includes 3 glasses of wine and tip. Susan's Tables in Wonderland card has also been used again.
When the meal is finished, Georgia and I walk on round to find a spot in Norway for Reflections of Earth. The rest join us at a more leisurely pace. I've just got a Dos Equis when Evan walks up with another one for me, top bloke that he is. At this point Tam nicks the first one! Cheek!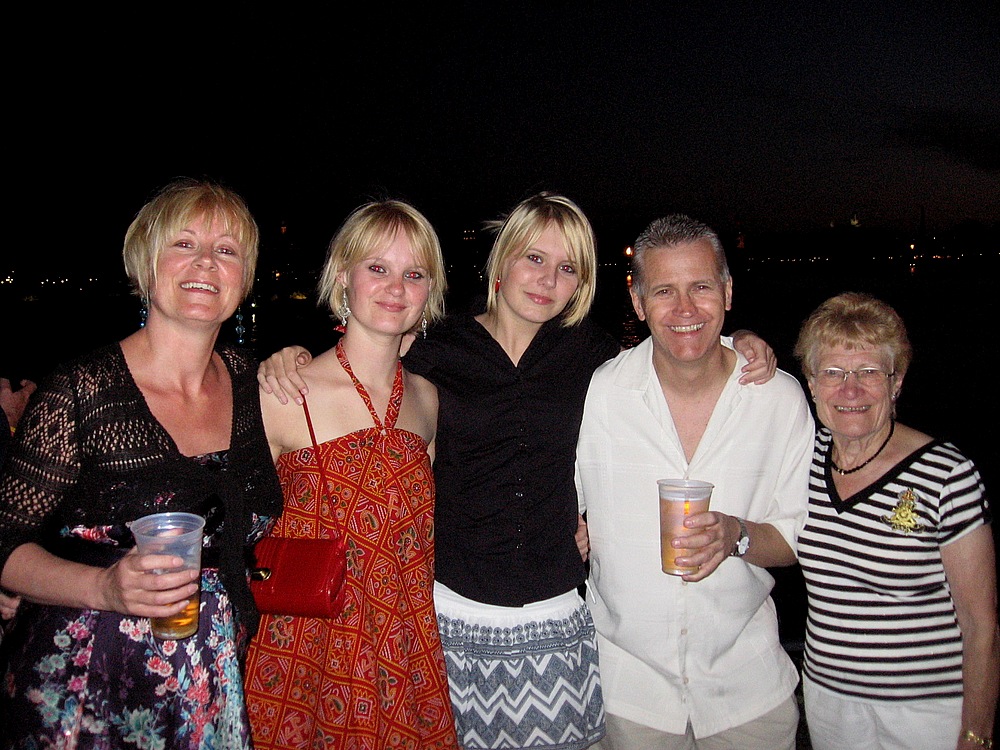 When the announcements counting down to Reflections of Earth take place they tell you there are plenty of good viewing places around the lagoon. Wrong. I've watched this show from just about everywhere now and some places are much better than others. Just in front of the Stave Church in Norway is the best place unless you can get by the two shops in front of Spaceship Earth at the bottom of World Showcase, although this is almost always roped off for private parties, VIP's or preferred viewing ticket holders.
You know, I must have done something right in my life as our last night is blessed with a perfect, balmy Florida evening and an excellent viewing spot for Reflections of Earth. What better way is there to round off a great holiday?
As is the usual tradition we take a slow walk down to Mousegear for a final look around before we stroll over to the sparkly pavements in front on Innoventions to say goodbye to Sharon and Evan. The girls and Evan relive their childhood by running around and jumping on the twinkling areas. Fools. Still, they enjoy it and we enjoy watching.
There's much hugging and kissing before Sharon and Evan depart for the Polynesian.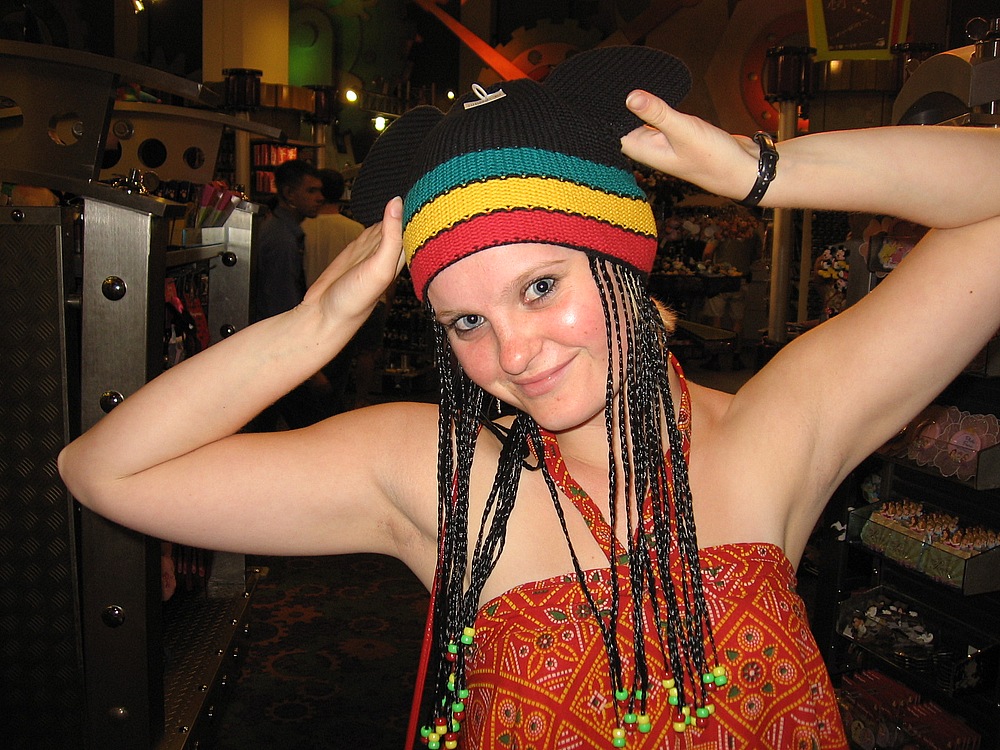 Rasta India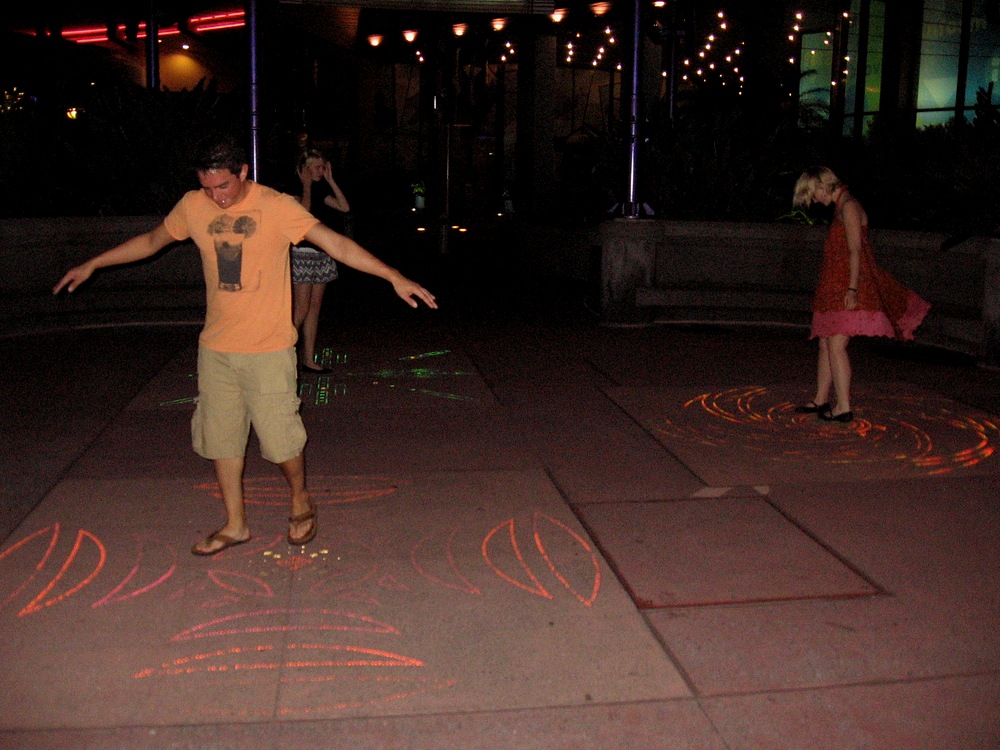 The rest of us now begin the slow walk around World Showcase to the International Gateway. Considering the problems we had a couple of nights ago getting out this way, the ladies are gearing up for a fight. Tam is handing out the knuckledusters and Grandma is limbering up with a little shadow boxing. Susan issues instructions about keeping our guard up and remembering to throw the right when the opportunity arises.
None of these precautions are required as we walk unhindered to the Gateway to be greeted by a cheery 'Have a great evening' from the security guard.
Back in the room Tam and I enjoy a last rum and coke while stood on the balcony watching the comings and goings on the Boardwalk.
As last nights go, this has been a good one and we all fall into bed around midnight.