DAY 9- WEDNESDAY 9TH MARCH 2011
Written by Tam
Participants: Tam, Kev, Deb, Matt, Gareth, Jane, Daryl and Karen
Wake at 6.30am to see the rough seas – no wonder the boat was really rocking last night. The waves against the shore line of Costa Maya were plain to see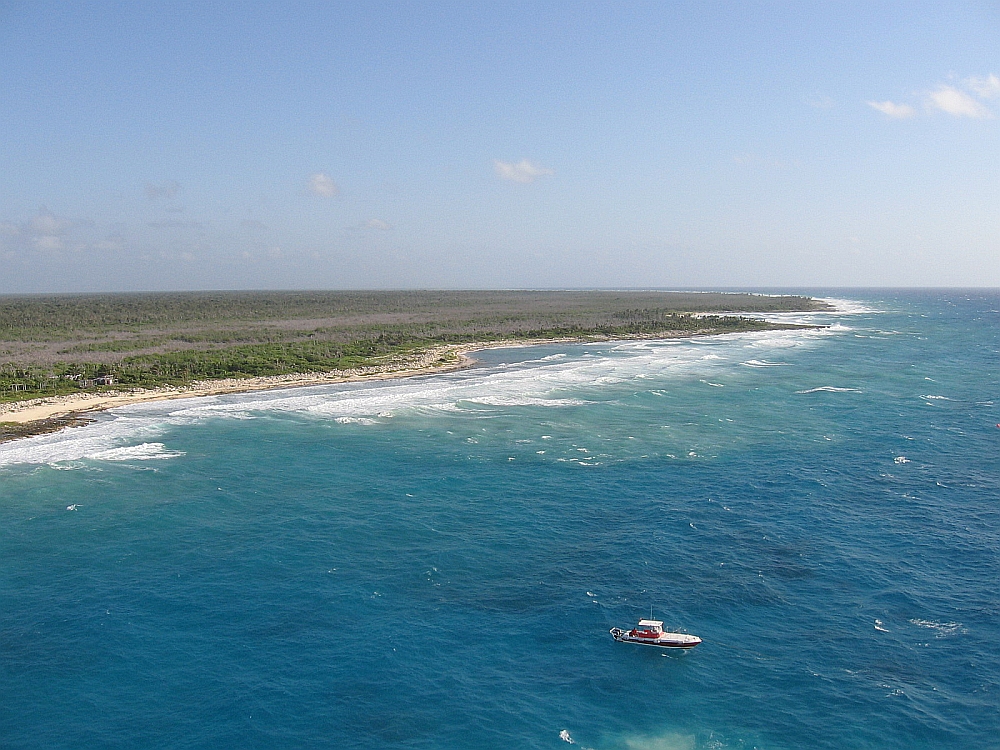 At 7.30am we go to the Aquaspa café and see the captain manoeuvring the boat to dock it in the heavy seas – thankfully he manages to do this. I enjoy a granola parfait with strawberries and fresh currants followed by the most delicious orange brioche with wonderful preserves the likes of which I have never tasted – there were apricot and nectarine, berry and orange zest and other combinations. Kev has an egg white mushroom omelette which is far less exciting. I also have a freshly squeezed grapefruit juice.
Suitably fed we go back to the cabin to get ready for the day and meet with the others at 8.30am. There is a warning about the high winds on the piers and the fact that we nearly didn't dock – it was only due to the skills of the captain and his crew that we were able to get alongside the pier to do so.
The walk along the pier was certainly blustery and we are wondering whether our day at the all inclusive beach resort today will be spoiled by the high winds and rough seas, but at least the sun is shining and there is no sign of any rain. At the terminal we join a queue waiting for transport to Maya Chan. We drive through Mahahual and soon reach Maya Chan.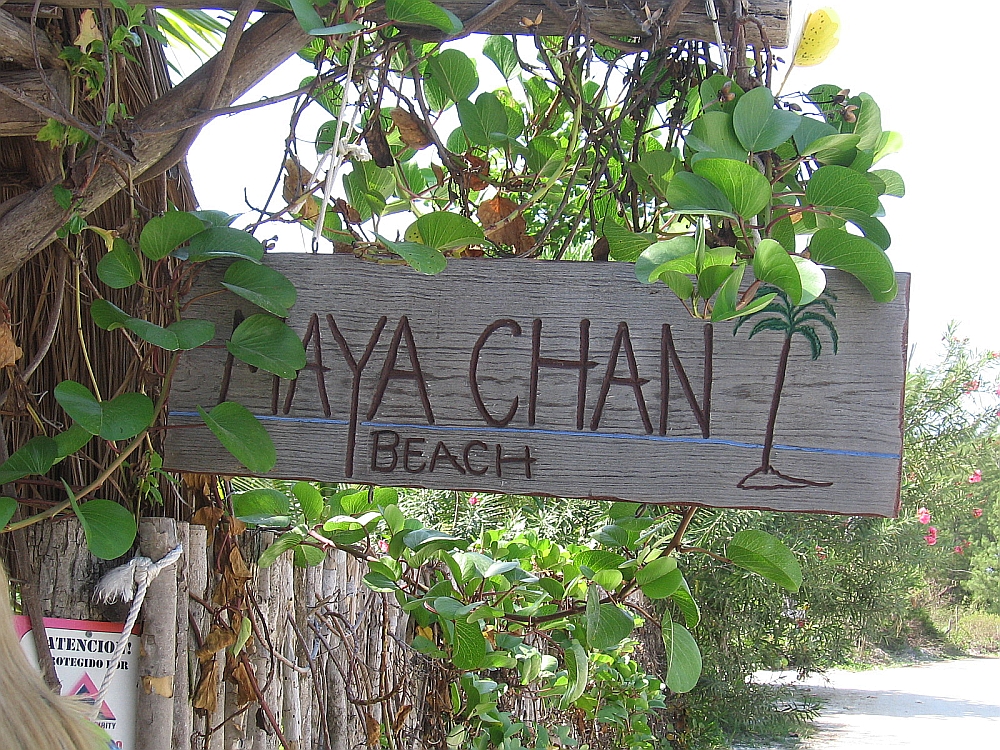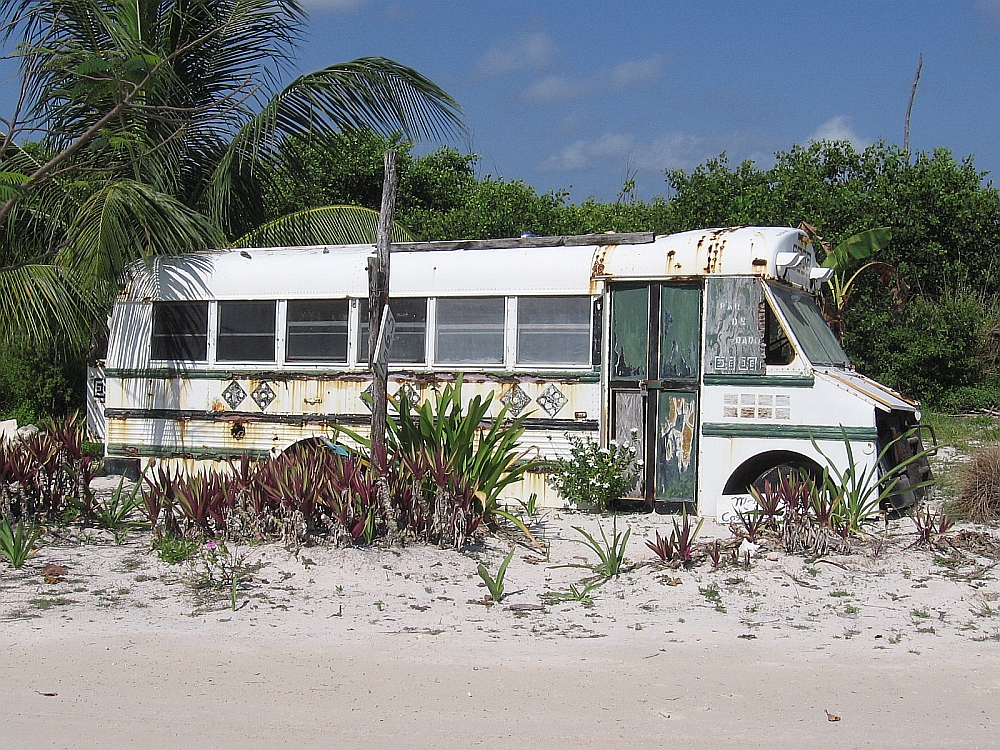 Set in a garden setting complete with outside bar and seating area we are shown to our reserved area on the beach – this comes with a straw roof and hammocks but due to the strength of the winds it is not the best position to be in as there is little shelter. We get some drinks and enjoy relaxing. Unfortunately the strong winds and waves have bought a lot of sea grass onto the beach and no matter how much they are trying to clear it up, our end of the beach has piles of the stuff and shows no sign of dissipating. We all decide that the strength of the wind and the amount of sand blowing at us is too much at this point so we move towards the bar where we can pick up free Wi-fi for the first time since we got on board. We make the most of that by catching up on news and family at home. We see the Oasis of the Seas trying to dock but eventually they give up and turn back to sea. What a shame not to be able to get off for a planned port day – however this means that the other guests at Maya Chan will not be arriving so we are able to re-locate to another area on the beach which is more sheltered.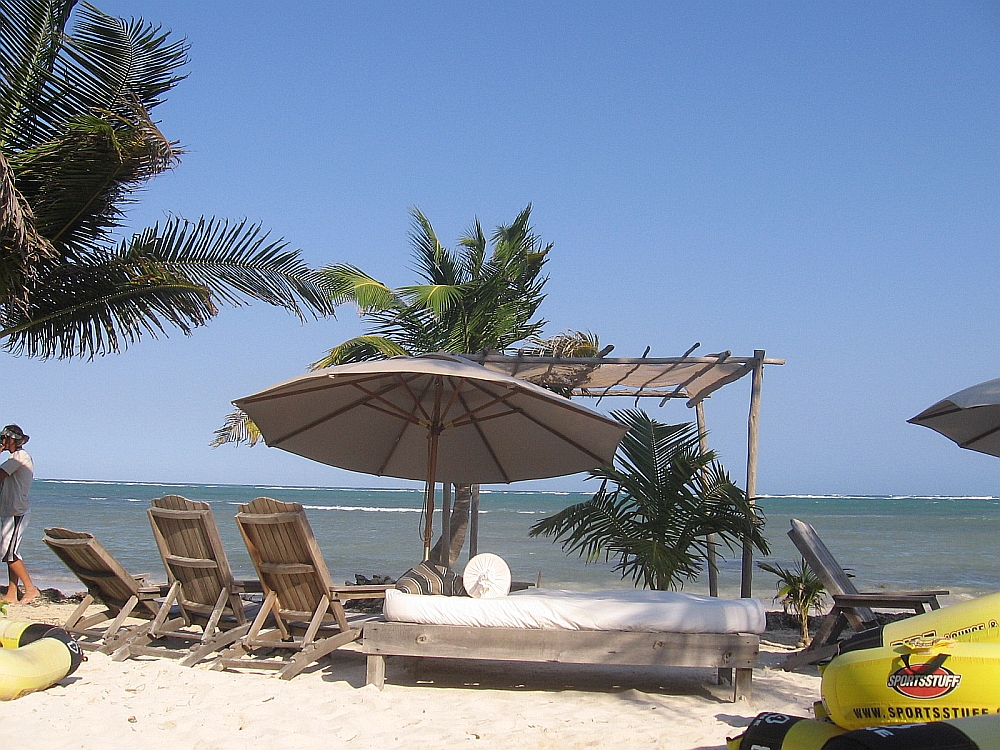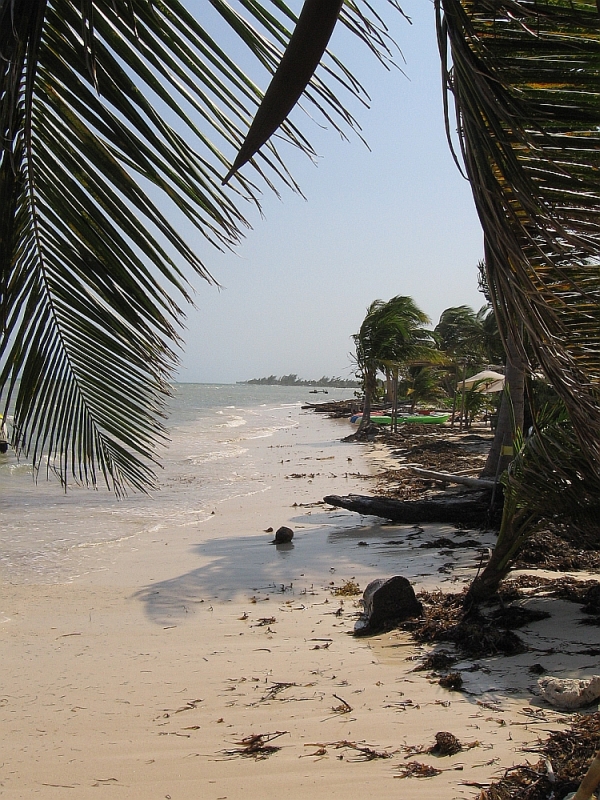 Because of the wind we are advised that we are not allowed to take the sea kayaks out, however there are some inflatable chairs, which we take out and float around in
Lunch is served which is a lovely choice of fish in garlic butter, tacos with chicken and beef with all the trimmings – there is as much as you want and it is good and hot and very tasty. The guys all decide to take the golf tourney on the quirky course that Maya Chan have devised – much hilarity ensues. The girls were keen to join in but it became apparent that with just 5 clubs and 4 balls that wouldn't work. So the girls enjoy the beach with books or mp3s whilst drinking.
The inclusive taxi back to port collects us at 4pm and when we arrive back in port Kev and I look at some of the shops. We buy a lovely chilli painted bowl to remind us of our first visit to Mexico and then return to our cabin to chill out and relax on the balcony with a drink. We watch as we sail away and the sea is still pretty rough so it makes for some interesting viewing as they cast us off from the pier.
At 7pm we meet at the Martini bar where I foolishly order a Sapphire French 75 – which has far too much gin for my taste – this is basically gin, lemon juice, sugar syrup topped with prosecco with a twist of lemon, Kev has a raspberry lemonade martini and then a lemondrop.
We have a meal tonight at the Tuscan Grill – another speciality restaurant with an Italian theme. Before we leave the bar though I just have to go up on deck to the Lawn Club to see the Wine and Cheese concert that I would like to have gone to unfortunately it clashed with our dinner booking. It was such a shame that the high winds had obviously deterred people, but some hardy souls were sitting on blankets on the lawn with blue tea lights, eating cheese and drinking wine while listening to the jazz band. I can imagine that on a beautiful calm evening this would be a wonderful way to spend the evening.
At 8pm we go to the Tuscan Grill and start with a plate of delicious breads including a tasty light tomato foccaccia, this comes with a selection of roasted garlic, tomato tapenade and olives. This is followed by a plate of antipasta – proscuitto, mozzarella, garlic sun dried tomatoes etc. etc. For starters Kev chooses a chop, chop salad, whilst I go for the Tuscan onion soup with a cheese crostini – this was delicious – really tasty and satisfying. I then choose the veal chop with parmesan polenta, spinach and a marsala sauce – delicious but a bit overpowered by herbs. Kev has a New York Strip steak with garlic chips. For pudding I share three gelatos with Kev, mango, strawberry and chocolate in a tuille basket. We then have a cappuccino. The boys all decide that a fitting way to end the meal is with a limoncello. We are all feeling the affects of the food, drink and fresh air so call it a night and retire to our cabins at 11 ish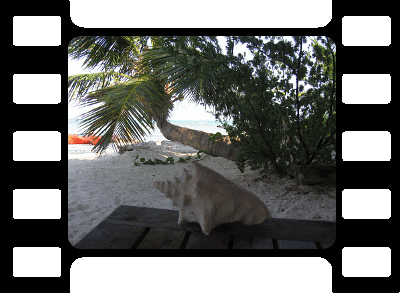 Costa Maya video