DAY 10 - THURSDAY 10TH MARCH 2011
Written by Tam
Participants: Tam, Kev, Deb, Matt, Gareth, Jane, Daryl and Karen
Wake at 7am to find we are already moored in Roatan. This looks far more like the Caribbean islands we have visited before – with wooded hillsides and little houses in the typical Caribbean colours and in stark contrast to yesterday's seas, todays are just like a millpond.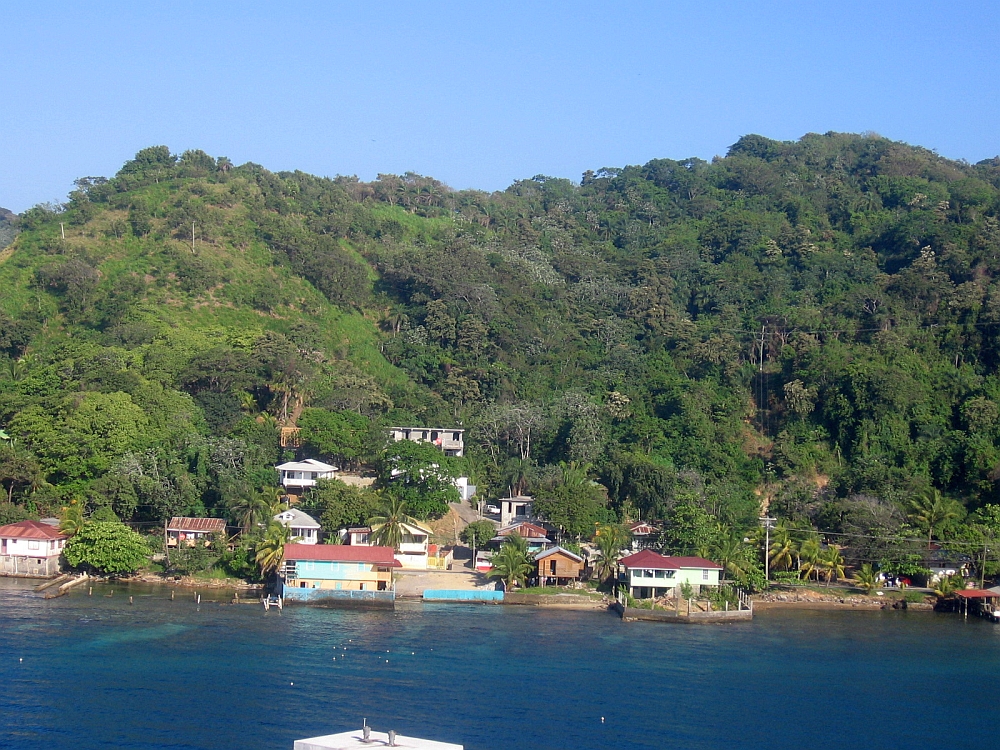 We can hear a cock crowing and the sun is shining and we both agree this is just the perfect start to the day. Breakfast was ordered last night so we enjoy that on the balcony – Kev has a ham and cheese omelette with toast and I have granola and the freshest tastiest croissants ever. To be honest this is exactly the sort of way we would choose to start the morning on a Caribbean cruise.
At 8.50am we meet the others and head to the dock where we have pre-booked a tour with Victor Bodden Tours. We are assigned Francisco as our driver – he asks what we want to do and we or rather Deb (as our designated driver's assistant for the day) does. We are given a bit of information on Roatan as Francisco drives us out of town and off to the East of the island which is 47 miles long and 12 miles wide at the widest point. Our first stop at the roadside is to view the NCL Spirit and Carnival Glory which are docked and there is also a shipwreck that you can view here. We are greeted by a family selling their wares of conch shells and necklaces. I cannot resist a conch shell for a dollar and I give the children a pencil each as I had read that things like that are in demand in Roatan which is a poor island.
We then stop at an overlook on the north side of the island where you could see quite clearly the different colours of the sea and where the reef was – Roatan is renowned for its reefs and diving.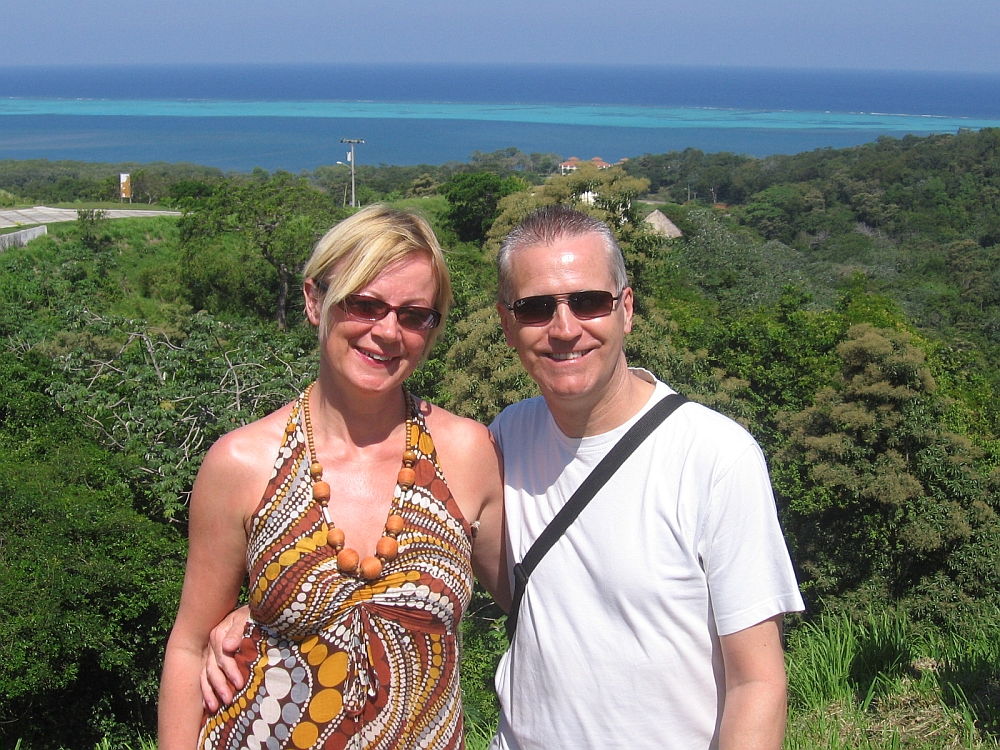 We have a brief bathroom stop at a hotel and then go up a hill past a mansion which is currently for sale – the view from there is incredible. On the way back you can see the poverty that exists on the island – such a stark contrast to the luxury of the hotel we had visited earlier. Little shacks crowded together along muddy backwaters – all in various states of disarray – from wooden ones to ramshackle corrugated iron shacks – most of which are on stilts which not only protects from flooding but provides much needed shade on those hot summer days. People are going about their everyday business and it is all very colourful with washing hanging out everywhere and children all smart and tidy walking to school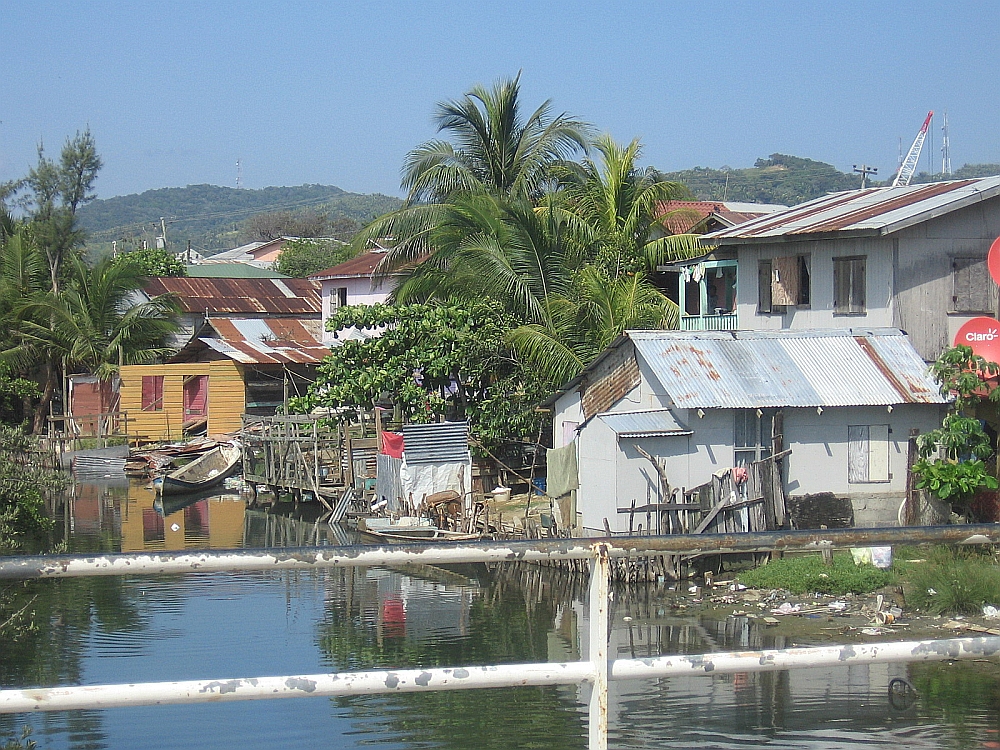 The narrow streets are crammed with little shops and cars parked haphazardly but it is great to see the real Roatan not the "safe" touristy hotels where poverty is a nasty word.
We were then driven high up in the hills where there were a few stalls selling various trinkets. It was a great place to take a photograph of the ship dwarfing the surrounding buildings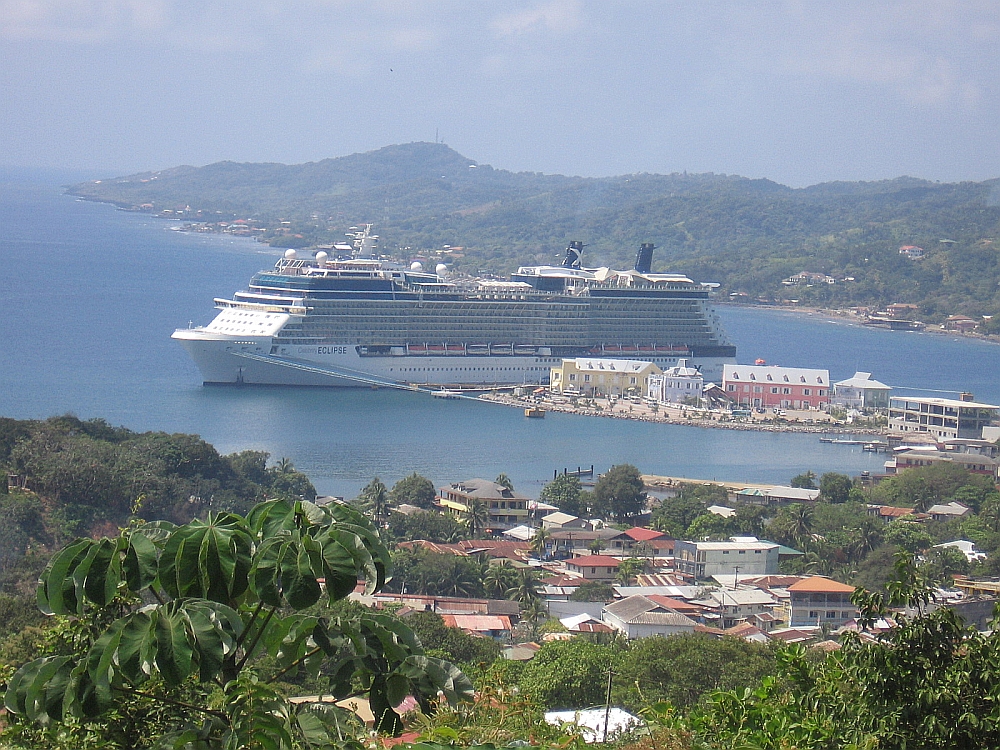 We go to Half Moon at West End where we stop at a waterside restaurant for local beers, cocktails and various seafood dishes. I have lemon fish and Kev grilled fish with baked potatoes and vegetables. Then most of us swim or snorkel. It is a great spot and I see far more fish than I did at Grand Cayman just from walking out from the water's edge.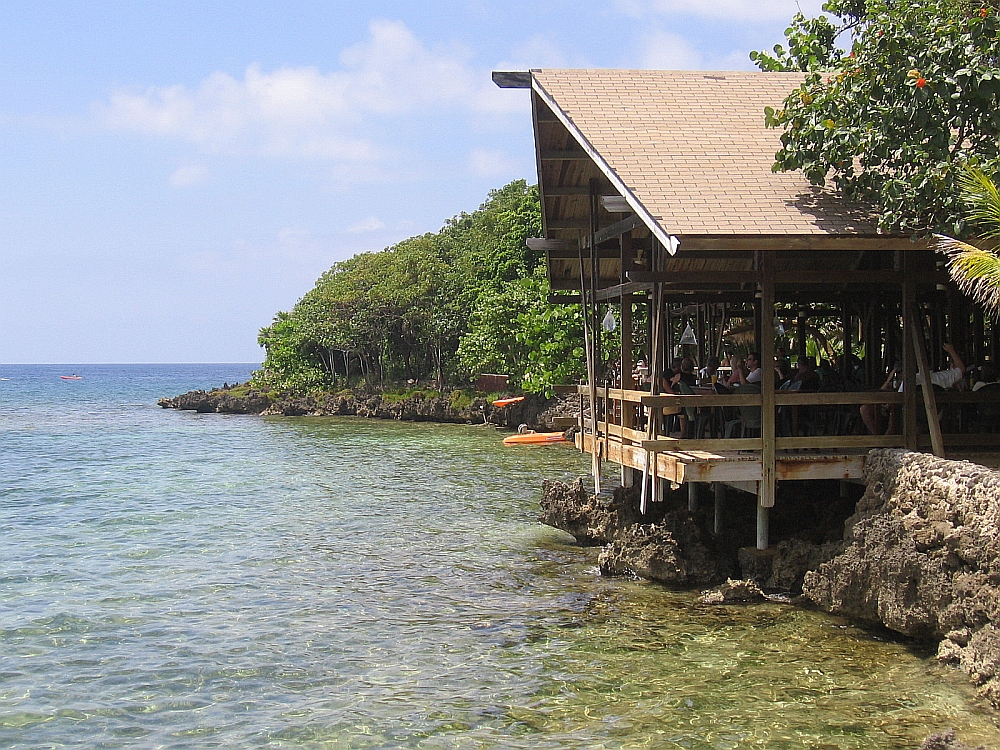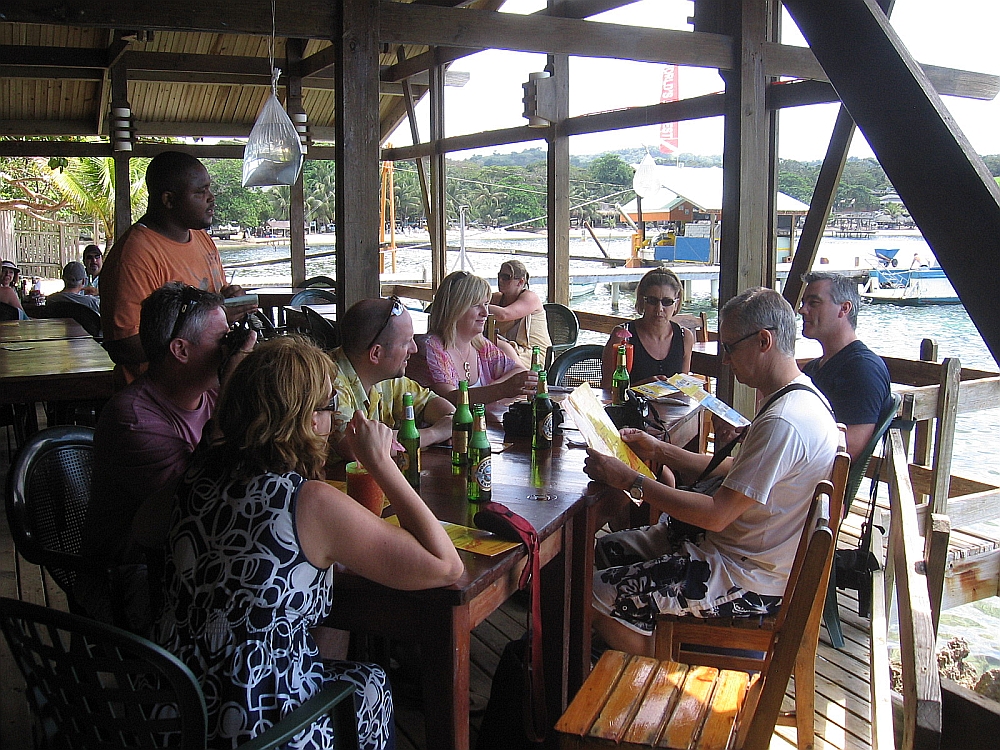 Finally we go to West Bay which is much busier and full of bars and tourists, but the beach is stunning and I would imagine that when there are no cruise ships in town it must be significantly quieter. The lovely thing is that although it is more touristy there are no high rise hotels in view so it still retains an islandy feel. The bar we choose to sit at has a guy singing reggae so we have beers and cocktails and a walk along the beach before returning to the mini bus for the journey back to the port at around 3.30pm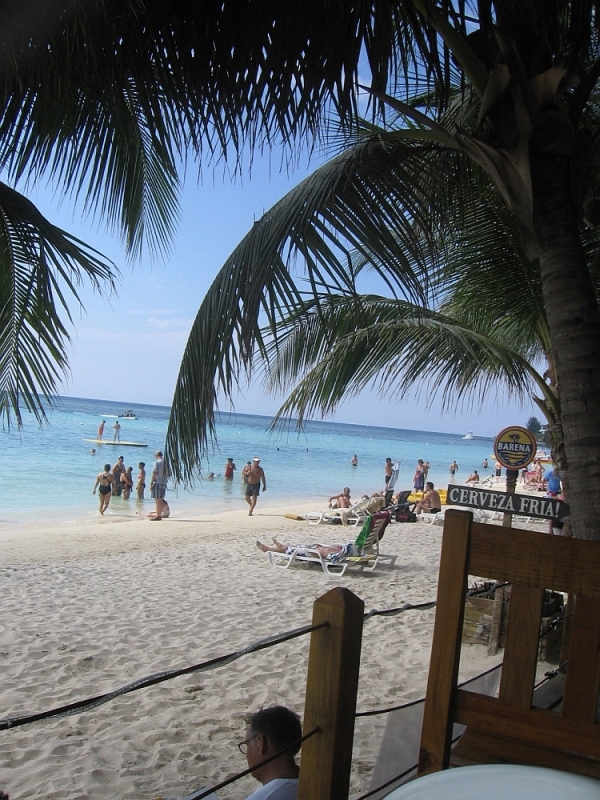 The cost of the tour was $60 per couple which included the tip and we felt we had been shown a great variety of what Roatan has to offer – Kev and I agreed that this was one port we would definitely like to visit again
When we got back Kev and I went to The Passport Bar where we had a cocktail and some wine which we then took back to the cabin to finish on the balcony. It was a beautiful hot sunny day and the water was so calm – it was the perfect way to finish our day at Roatan.
Tonight is formal night so again tuxs for the boys and dresses for the girls.
Meet at Michael's Club at 5.30pm and I have a kir royale while Kev has a chardonnay. The others join us shortly afterwards.
After the successful meal at Murano's earlier in the week, we all agreed that we should try and do it again. We were able to ask them at the end of our last meal there and were lucky enough to secure a table for tonight, albeit at a rather early time – 6pm
Tonights amuse bouche was pumpkin soup, I then had the quail and arugula salad with caramelised goats cheese and beets, Kev has peeky toe crab with caviar. Again a rather strange sweet raspberry sorbet before the main course. Kev and I both go for lobster prepared tableside which is a real sight. Whilst we both agreed it was nice we both thought it was too heavy on the mustard and should we ever have it again we would ask them to leave that out altogether as it definitely killed some of the subtle flavours of the other ingredients. Then the amazing cheese selection was presented and tonight they had some different cheese which was good for the cheese afficiendos amongst us. For pudding I just had to have the strawberries in balsamic syrup in a crepe that Jane had enjoyed on the previous occasion. This again was prepared tableside and was a real show and absolutely delicious. Kev was so blown away by the Grand Marnier Souffle last time that he went for that again.
The sommelier again made his recommendations and we enjoyed some fine wines before coffee, dessert wine and homemade petit fours to finish.
I cannot recommend this restaurant highly enough – the service, ambience and quality of food and drink was really top notch.
Daryl and Karen decided to head back to their cabin. The rest of us went to the Sky Bar for the end of the karaoke and then there was a 70's disco where Matt surprisingly showed an athletic display of his moves and poses. We put this sudden exhuberance down to the White Russian he was drinking. The excitement of all this proved too much so we all decided bed was in order.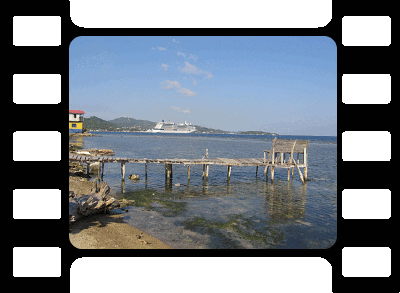 Roatan video