DAY 8- TUESDAY 8TH MARCH 2011
Written by Tam
Participants: Tam, Kev, Deb, Matt, Gareth, Jane, Daryl and Karen
Awake at 6am but as this means I have had 7 hours sleep I am pretty happy. Go to Café Baccio for tea and Danish, which we enjoy in the cabin before going to the Oceanview for breakfast.
Kev has fried eggs, English bacon and ham and toast, I go for another mixture of waffle, syrup, bacon, ham, beans and tomatoes. We sit on the outside deck and watch our approach to Cozumel.
We meet the others at 9.30am and disembark – head to the taxi rank where we are supposed to meet Gerry for Gerry's tour of Cozumel at 10am. There is no sign of him so we ask one of the ladies in charge of the taxis and she rings him – he says he has no knowledge of the booking in spite of us having email confirmation. To say we are disgruntled is an understatement. In the meantime Jane puts her banking skills to the test and negotiates another tour with a taxi at a cheaper price than the one we had booked. (Luckily we hadn't paid for Gerry's tour up front so we lost no money). The new tour is $160 for 4 hours – Jane negotiated them down from $200.
Miguel takes us in his minibus and we firstly go to Captain Sanchos for a look at the beach and some of the gang have beers whilst we take some pictures and enjoy the swings at the bar.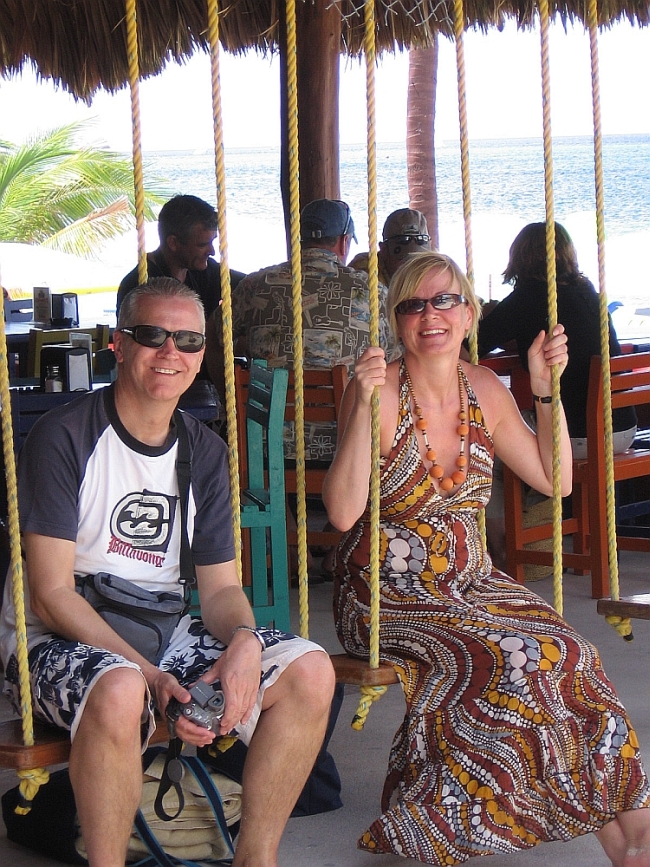 We then go up to El Mirador on the East Coast which is an amazing coast line with waves and rock formations – very rugged scenery and not at all touristy.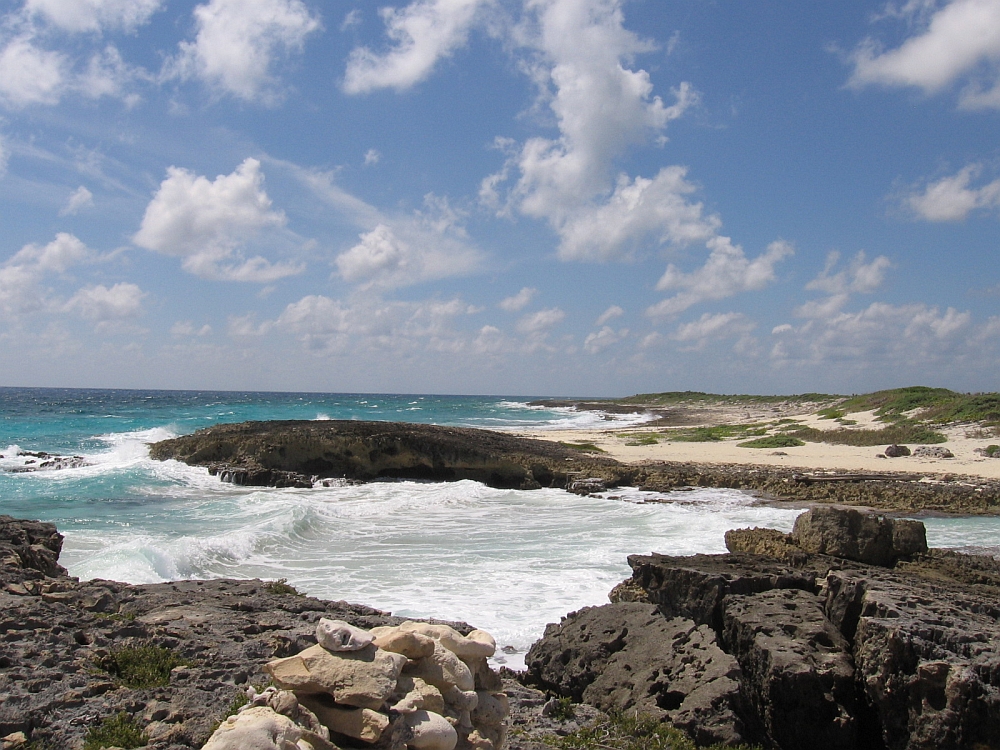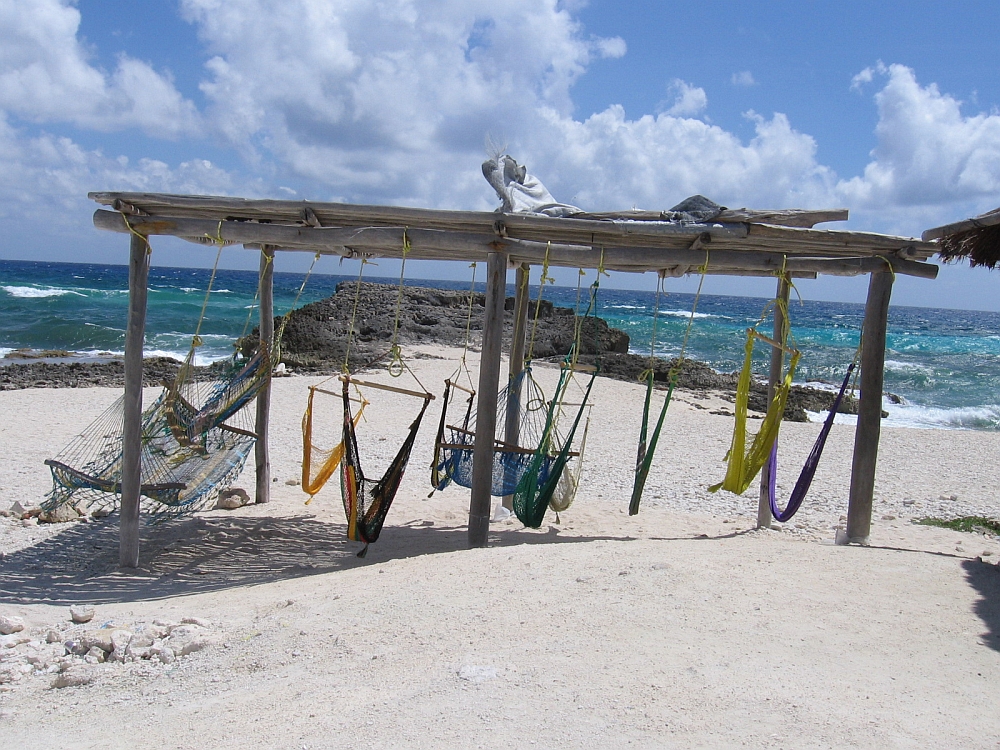 We stop and get out to take photographs before going to Playa Bonita beach bar, which we had researched before leaving. Have margaritas, Dos Equos, Strawberry daiquiri, nachos, enchiladas, fajitas etc. Lovely food in a fantastic rustic setting and only $45 per couple including tip. On the way out we are all given a shot of tequila with lime and salt.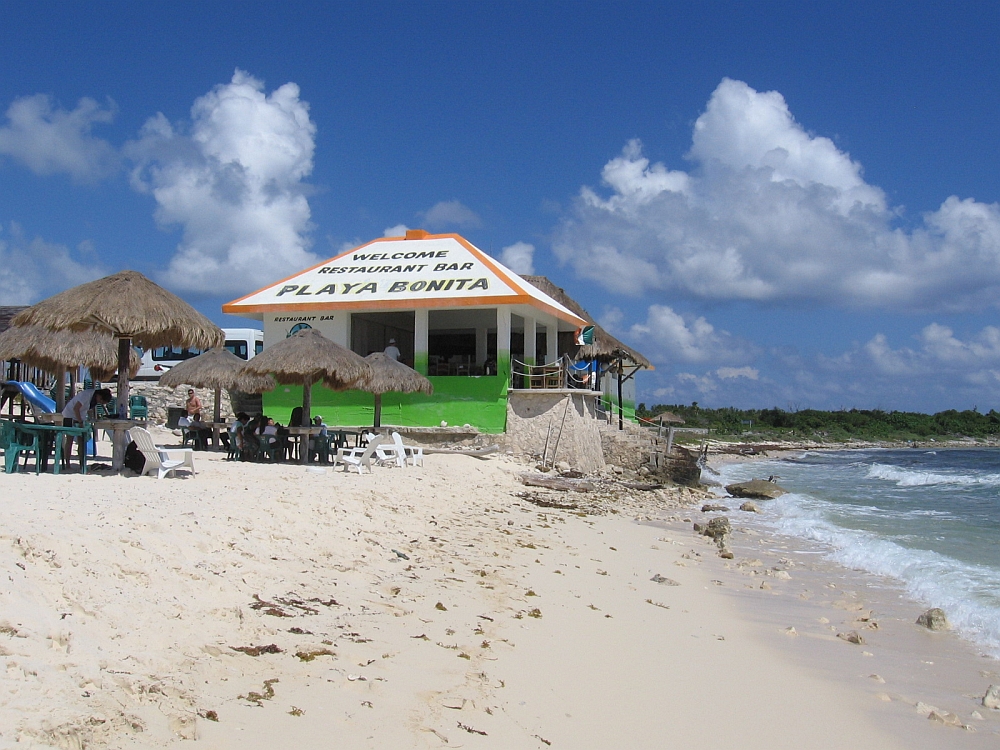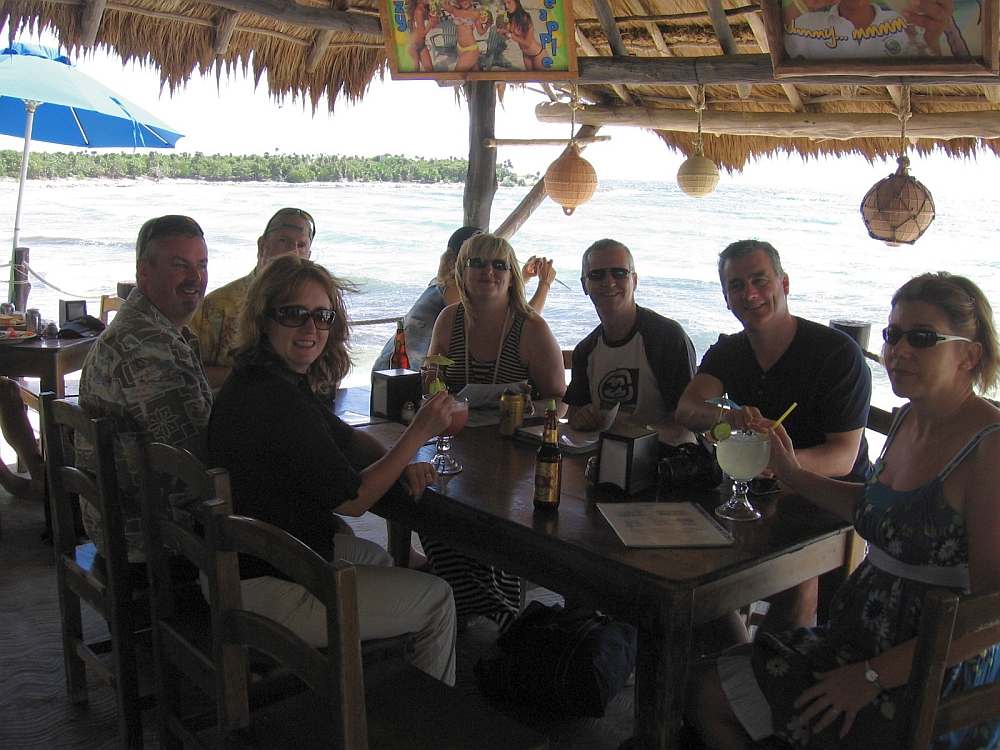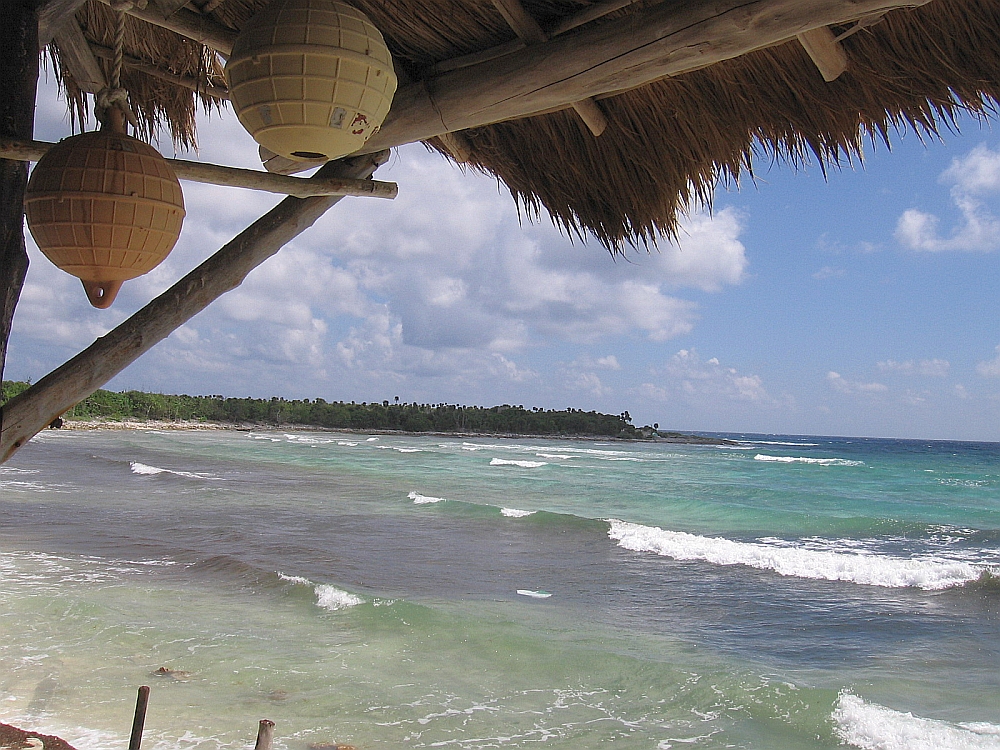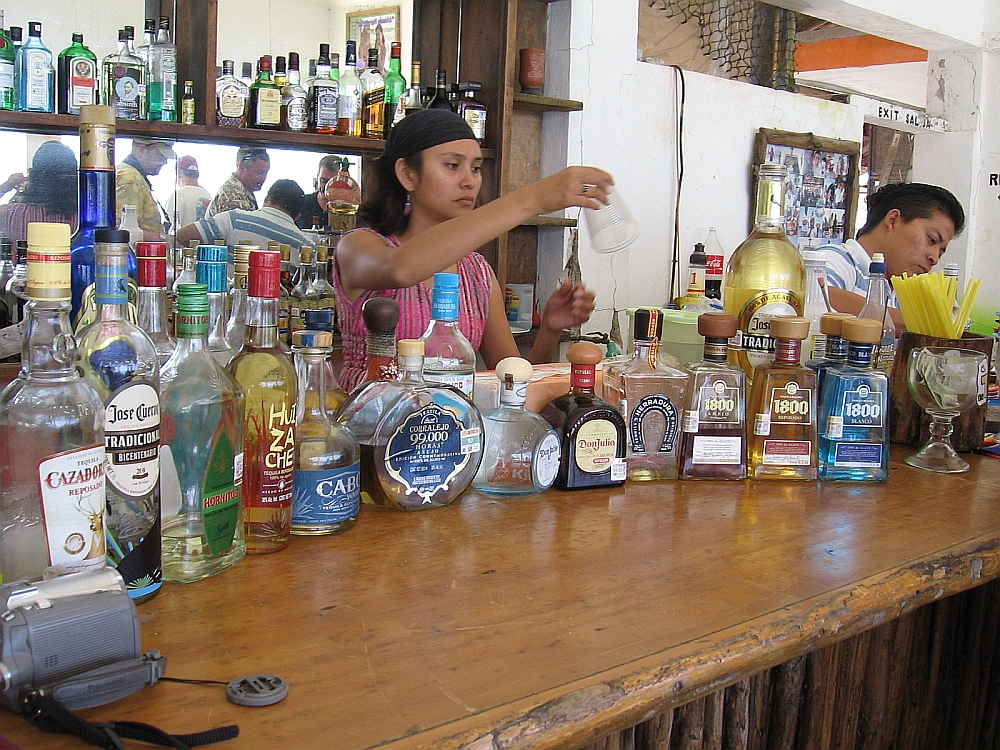 We stop at another beach and watch the windsurfers zipping through the surf - perilously close at times, as some of us decide to cool off in the breakers. The speed that these guys are travelling and gliding effortlessly right along the very edge of the shore is amazing - a real skill.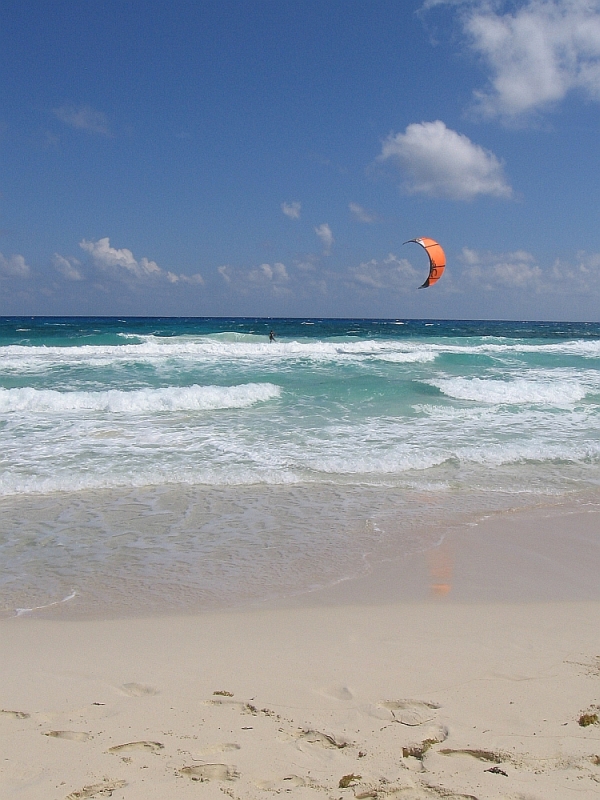 The majority of people decide they want to go back to the ship so we head back to the port. Kev and I have a look around the shops and find a handbag for India that we know she will love as it is made out of recycled food wrappers. Back on board we go to the Sunset bar where we see Deb and Matt and have a few cocktails before going back to the cabin to get ready for the evening
At 6pm we go to Gareth and Jane's cabin and they have had the dividers removed between their cabin and Daryl and Karen's so we have a lot of space to enjoy the final bottle of complimentary concierge bubbly as we sail away.
We then go to the Molecular Bar determined to try more of their delights. I have a Tan Russian – which is Russian Standard Vodka, Malibu Rum, grilled pineapple, coconut, lemon with a coconut and coffee foam, Kev has the Hawaiian Lava.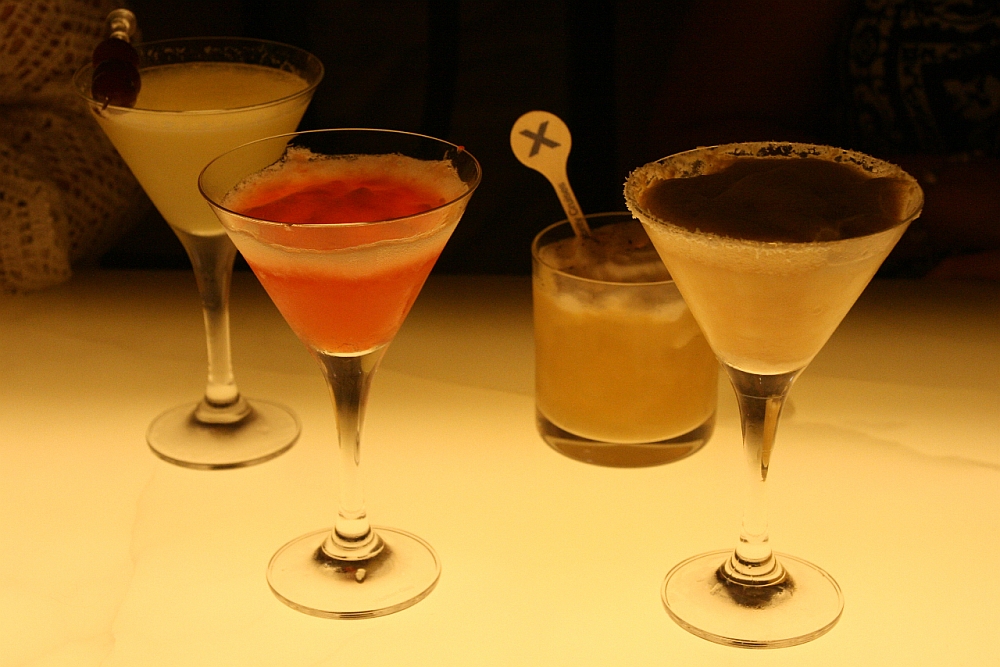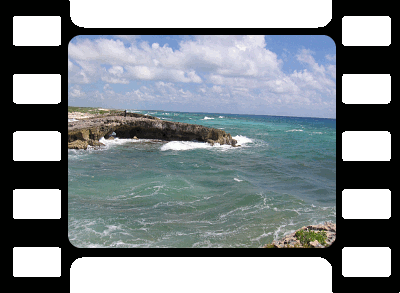 Cozumel video
At 8pm we go to the Moonlight Sonata for our meal. We were recognised by the sommelier and yet again she was very good. The food this time round was far superior to our first meal here. Kev had cold sliced veal to start with, I had sweet corn soup with chorizo, which was delicious, Kev then had steak whilst I had pork medallions in mustard sauce with lyonnaise potatoes, which I choose instead of the offered rice pilaff. Kev doesn't want a pudding but I can't resist the banana fondant. We both then enjoy a speciality coffee with tia maria which are also included on the drinks package.
After the meal we go up to the Sky Lounge for a Latin dance class. Rather surprisingly everyone is up for having a go – which causes much hilarity but is rather good fun. After the lesson the band plays Latin tunes so we can all put our newly learned moves to good use.
We retire to the cabins at 12 ish where a rocky night ensues as the seas became decidingly rougher.