DAY 7- MONDAY 7th MARCH 2011
Written by Tam
Participants: Tam, Kev, Deb, Matt, Gareth, Jane, Daryl and Karen
I wake up at 6.40am as the sun is rising. The sea is a lot calmer today and we are off the coast of Grand Cayman. We have breakfast at 7.45am in the cabin – which we had ordered from room service the night before. We both had eggs benedict, toast and marmalade, tea, juice and banana smoothie – rather a weird selection but all very enjoyable. It is lovely to see the deck so empty in stark contrast to midday on a sea day.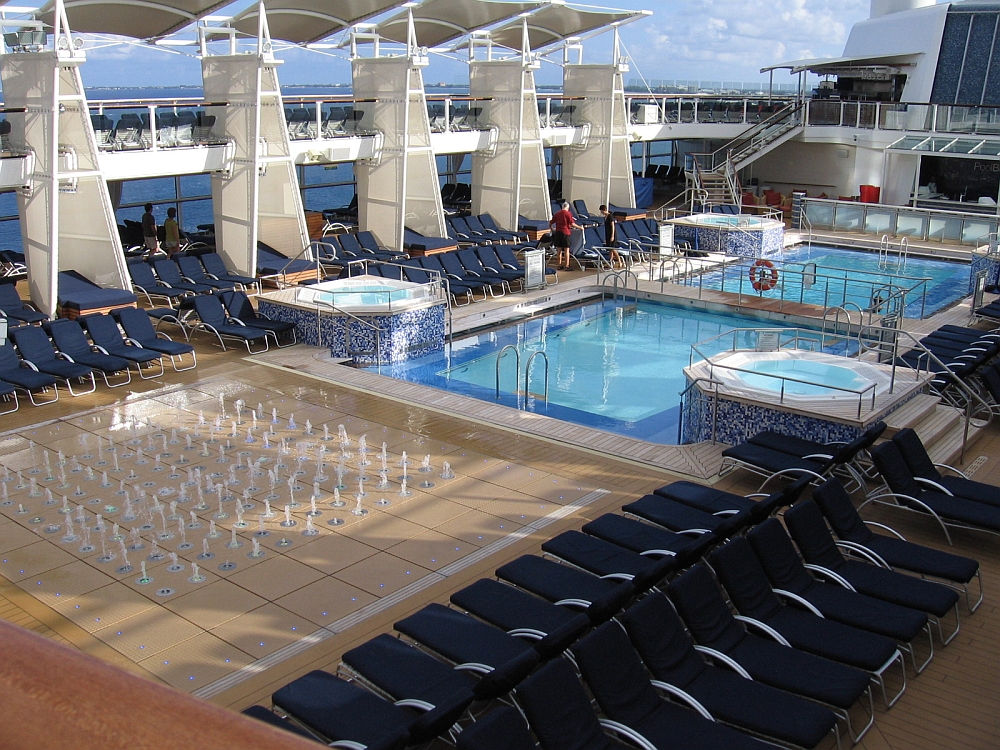 Six of us meet outside the cabins at 8.30am (Deb and Matt are doing their own thing today so are going ashore later) we go to deck 4 where the tenders are leaving for the island. This was the only island on our itinerary that we had to tender to
We are lucky enough to get straight on the tender and set off to the Royal Walter Cruise Terminal. We are met by Chip from Stingray Sailing and led straight onto a minibus and to a small harbour where we board the 40ft catamaran Far Tortuga. We manage to grab a place on the net which means we can watch the water zipping away beneath us.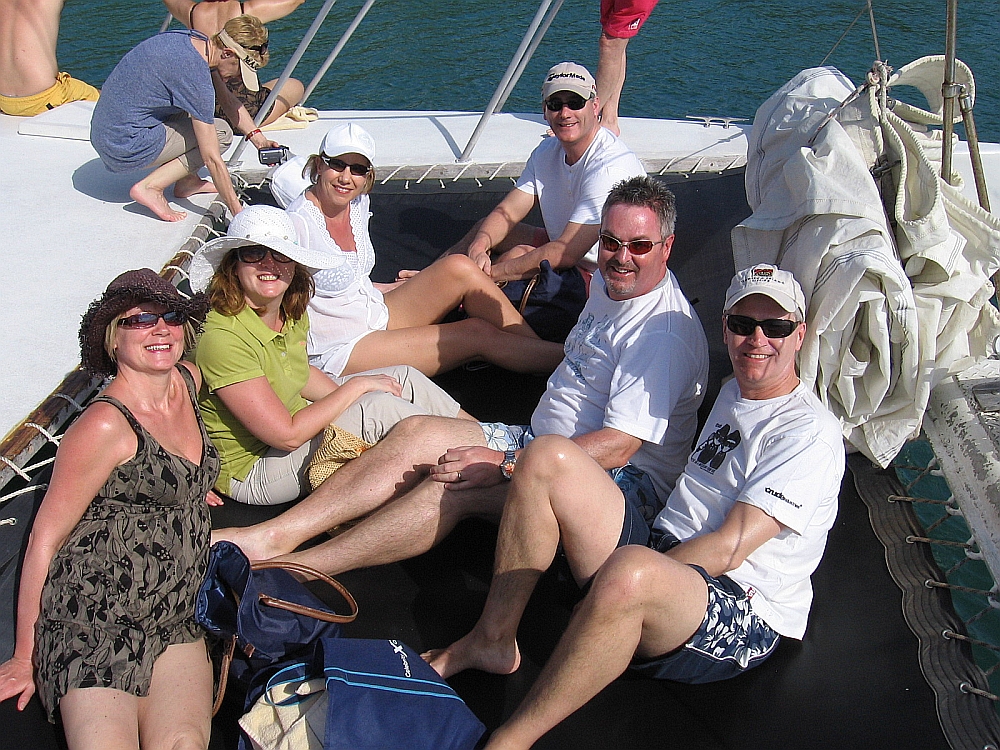 This was a tour we decided on as there was a maximum of 29 people at any one time and the tour included both the trip to the sandbar to swim with the stingrays but also a chance to snorkel off a reef afterwards. Then if the wind was right they would sail back by wind power.
As we reach the sandbar, which is set in the most amazing azure sea, we can see other boats there and the large shadows of the stingrays, which have gathered. We drop anchor and are allowed out – the water here is so shallow from 2 – 4ft and so clear down to the white sand floor. Chip has a bucket of fish and shows us how to feed the rays, he also gives us sound advice on how to touch them without being injured by their barb. It was the most amazing experience feeling their rough skin on top but their smooth underbellies and watching them swimming around so many people. There were a few shrieks when they would rub against someone who wasn't expecting it but on the whole it was incredible to be so close to these creatures in their natural habitat.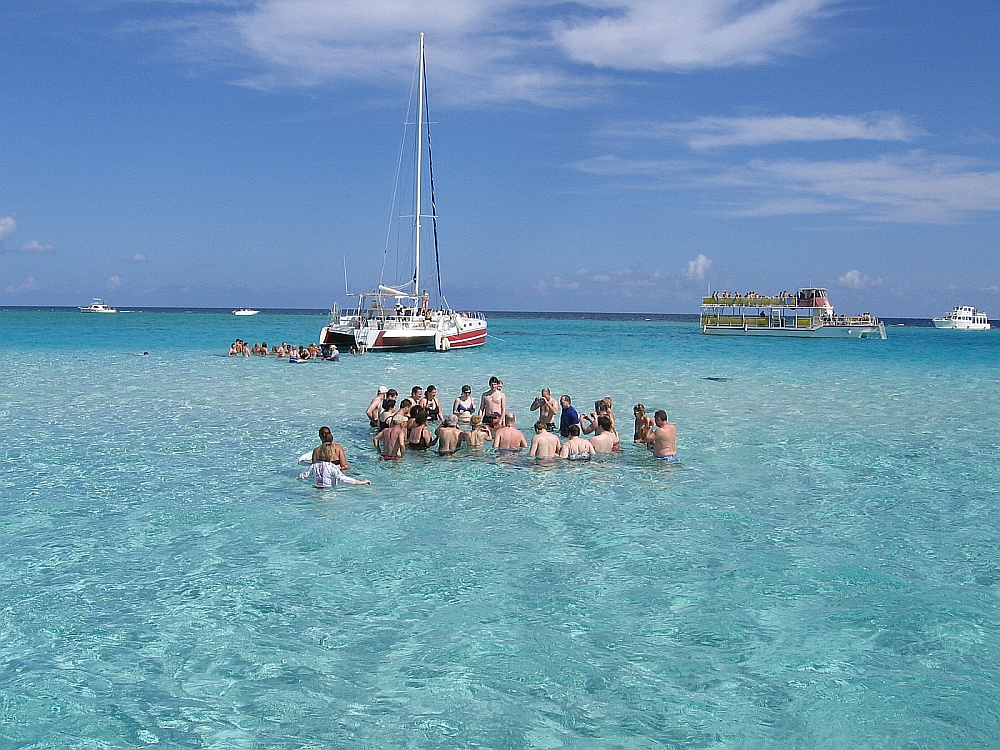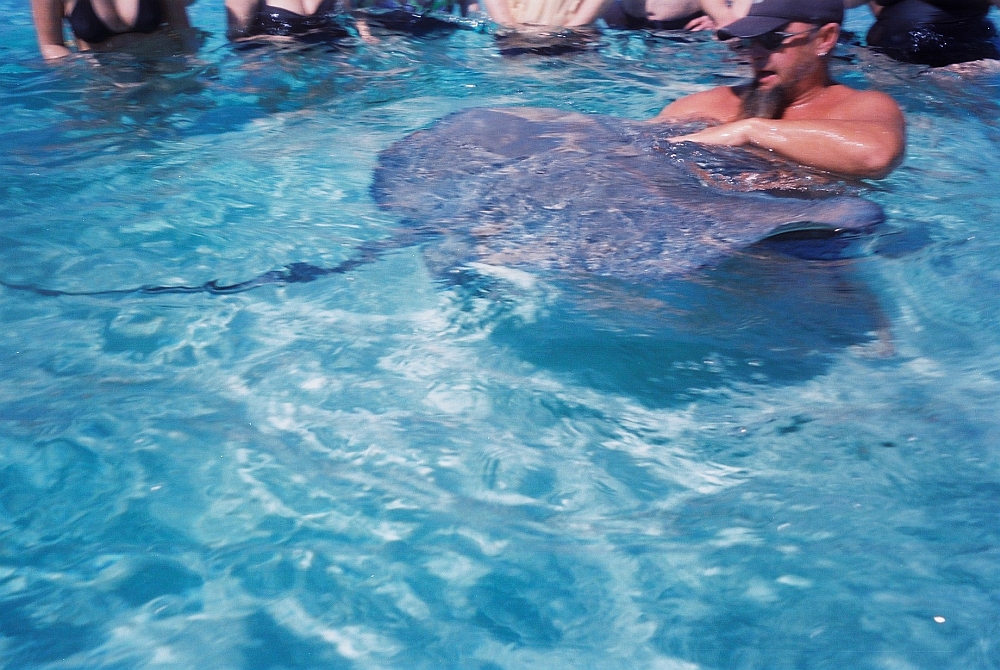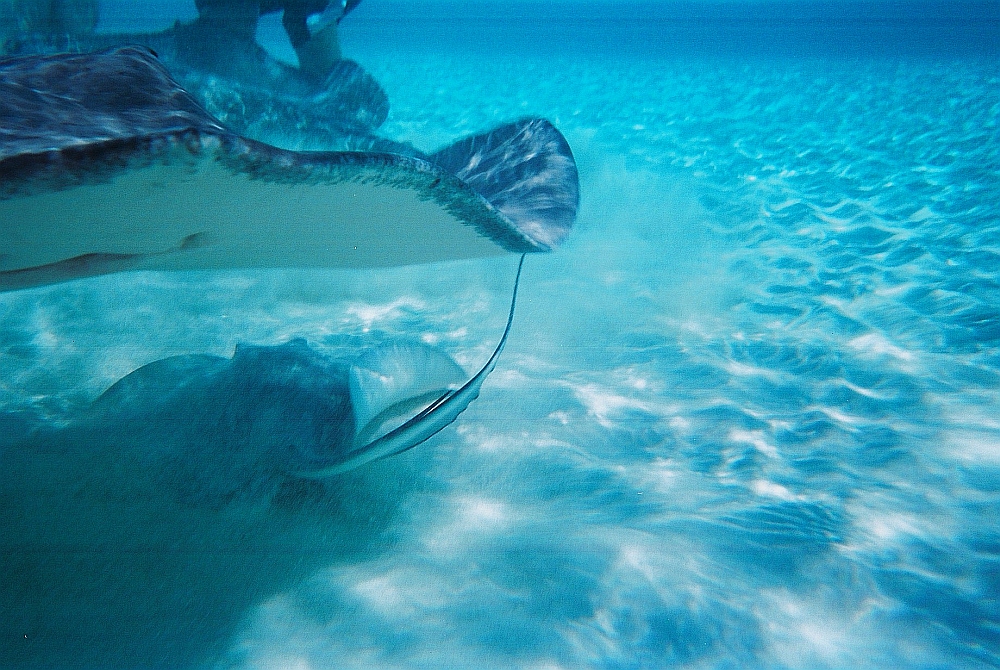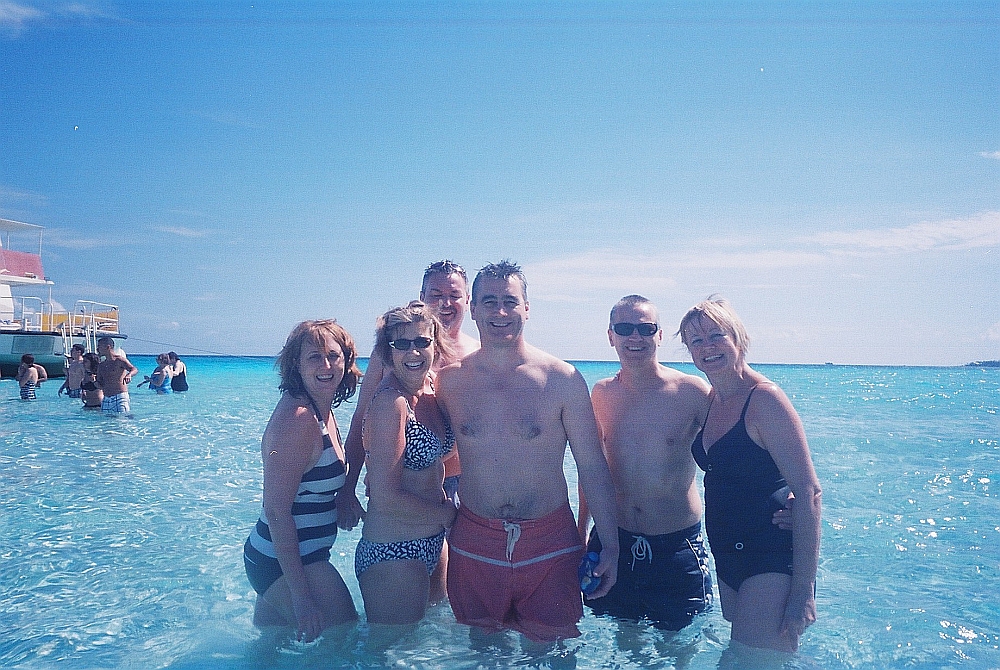 We then sailed towards the rocky reef beyond the sandbar and again the anchor was dropped so we could enjoy some snorkelling off the reef. Flippers, masks and life vests were handed out to those who wanted them. As well as the normal tropical fish you can see there was also a moray eel and a lobster. We all enjoyed the chance to snorkel and it was a lovely end to the tour.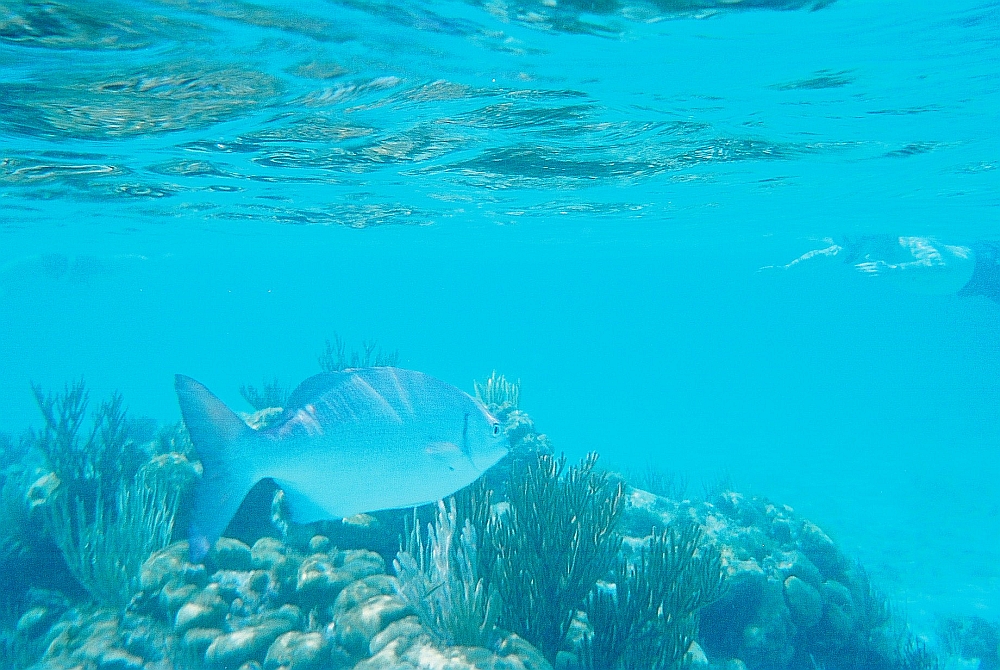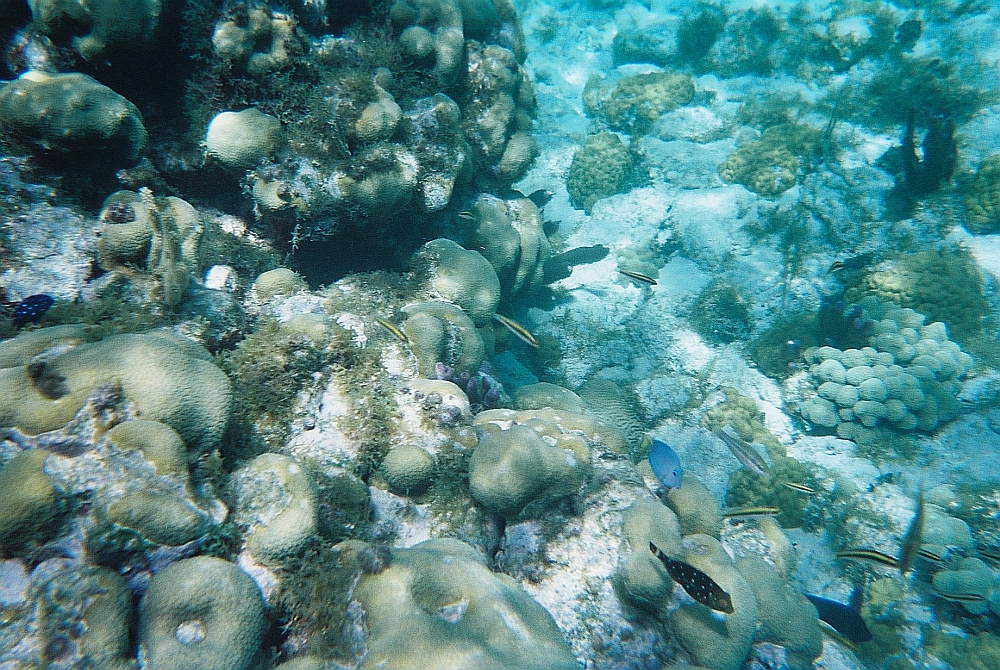 Back on board we lay on the net and they raised the sails to sail back to shore, however there wasn't enough wind though to enable the motors to be turned off.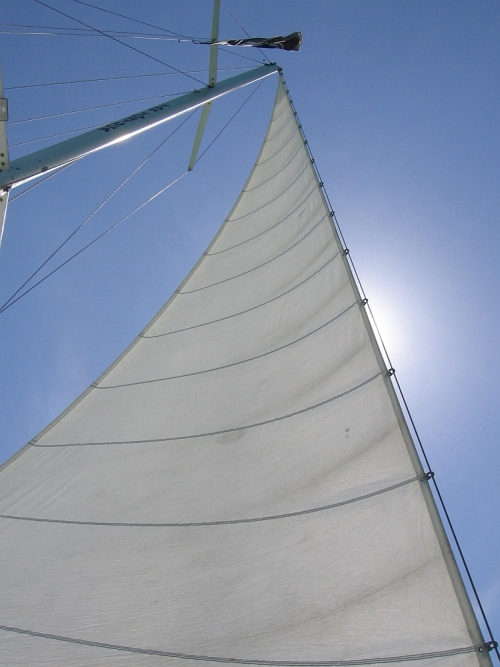 We were given fresh pineapple, melon and water, which was very refreshing after being in the salt water for so long. There were also sodas and beer available for those who wanted to purchase them. At one point Chip dived off the ship and surfaced with the most amazing starfish. We were all able to take it out of the bucket and have photos taken before Chip carefully returned it to the ocean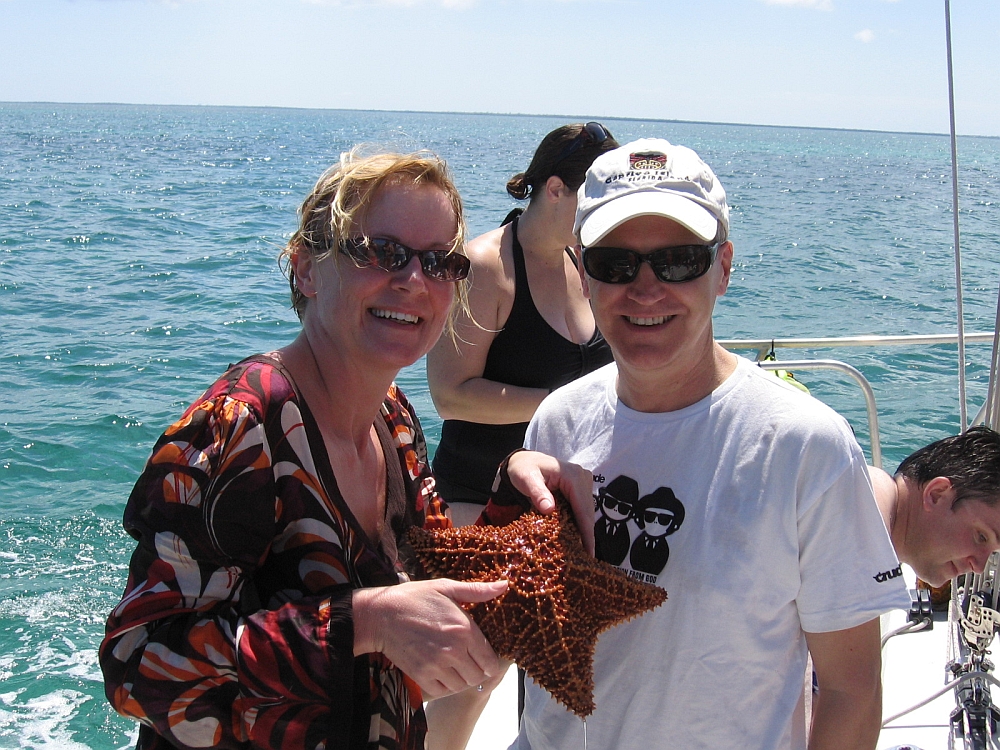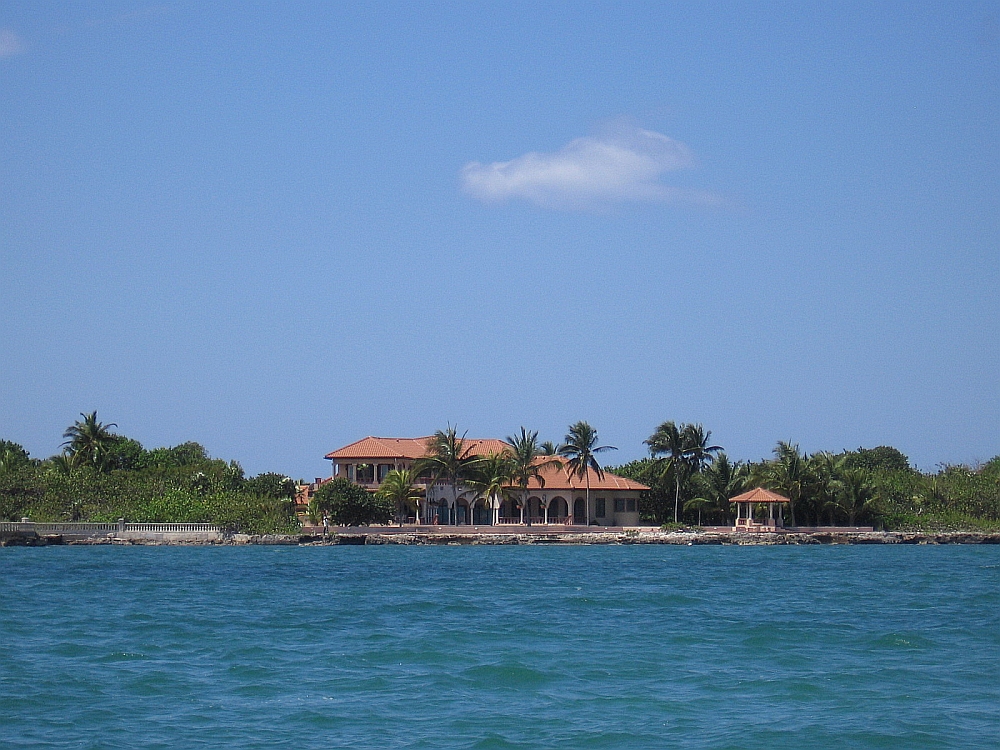 Back on shore Chip's wife Michelle took us back to the port. This was an excellent trip and I would highly recommend Stingray Sailing to anyone visiting Grand Cayman – a great family run business We go to Margaritaville where Deb and Matt are enjoying a drink or 4. Kev and I have a Landshark lager and Kev has a cheeseburger in paradise and I have a chicken salad with candied pecans – both of which were delicious.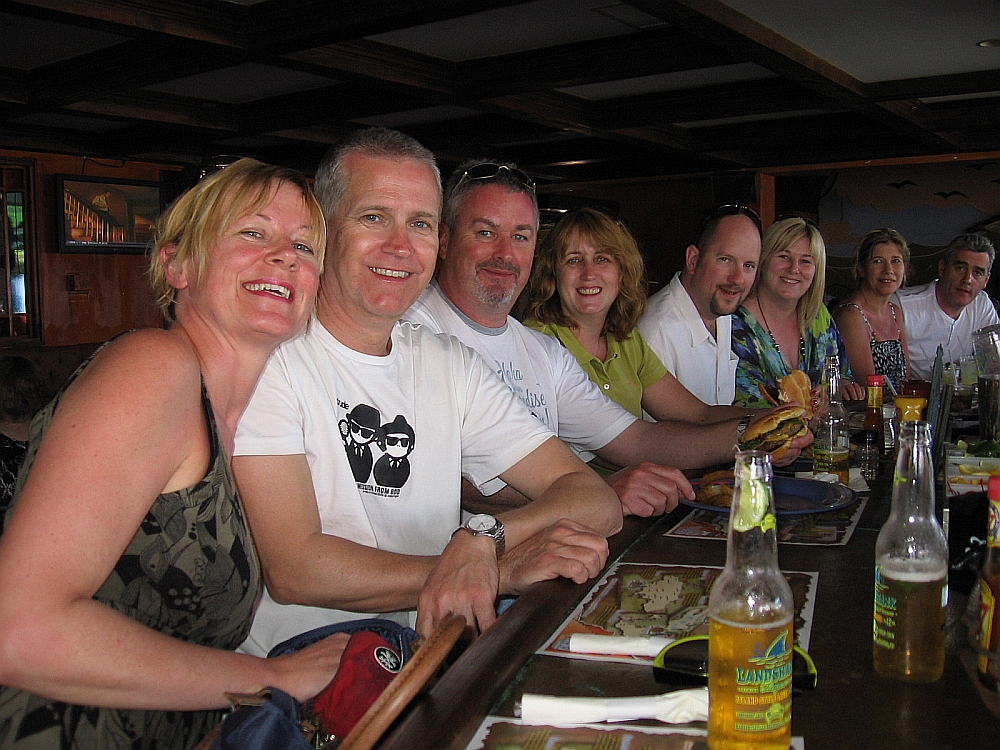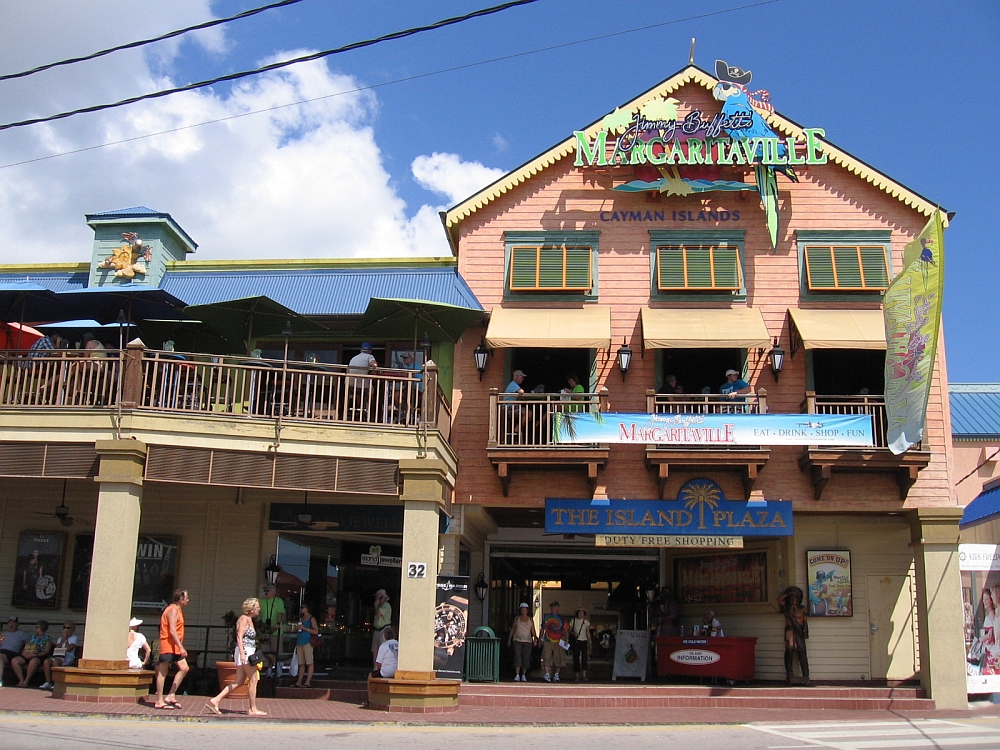 After lunch we go and look in some shops and Kev buys a t-shirt. Get the tender back to the ship at 3pm and enjoy the iced water and fruit punch that Celebrity supply before you get back on board and also the cold flannels – this is really a nice touch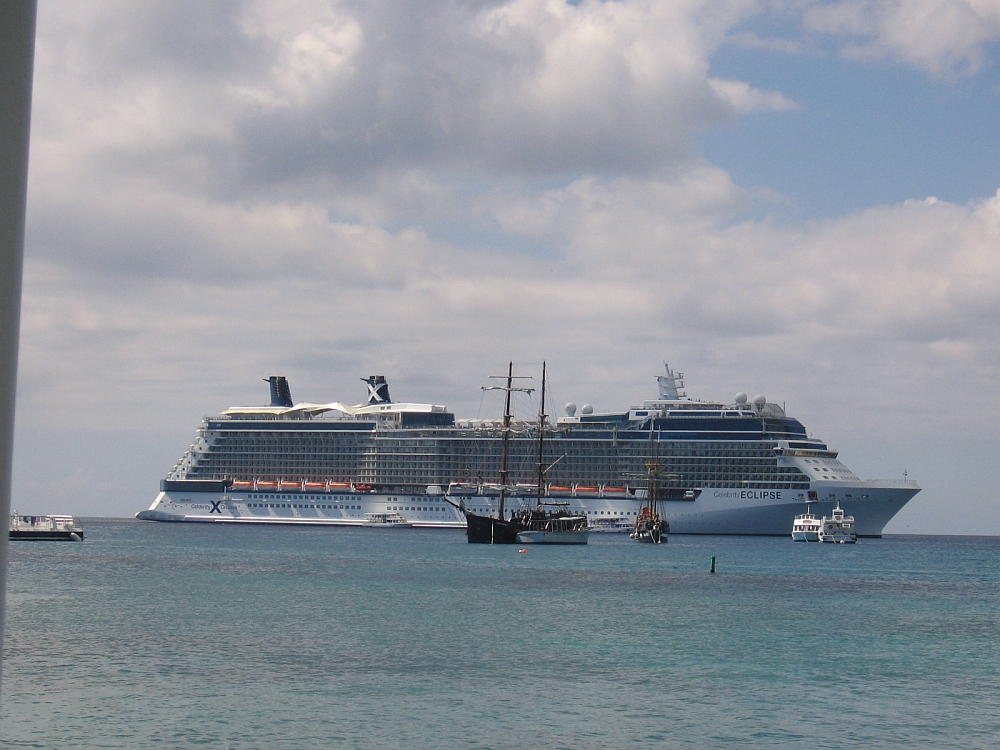 We go to the cabin to shower and change as we are meeting at the Sunset Bar for sail away.
We have a Mardi gras cocktail and a strawberry daiquiri. There is an enrichment lecture on at 5.15pm that I want to catch so I leave the others enjoying their drinks and head to the lecture. I found it fascinating it was all about recycling onboard the Celebrity ships and their green policies. There were only around 15 people but the information provided and the accompanying slide show was fascinating.
At 6pm I meet up with the others in the Martini Bar where I enjoyed a raspberry lemonade martini before we went to get ready for the evening meal.
Tonight we were going to try the cocktails in the Molecular bar – we had read a lot of things about these cocktails and the unusual mix of ingredients and the use of dry ice so the lure was too strong to resist much longer. I tried a Pair of Roses, which was prepared with fresh rose petals, whilst Kev has Hawaiian Lava. We all try each other's cocktails and the beautifully up-lit tables show off the cocktails beautifully.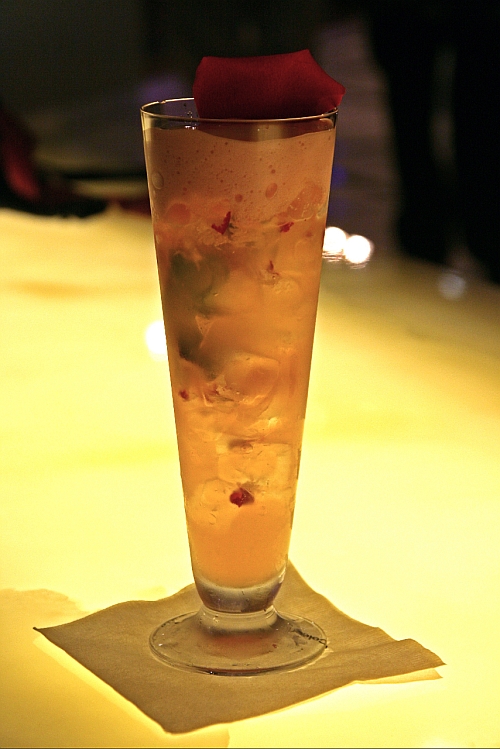 Pair of Roses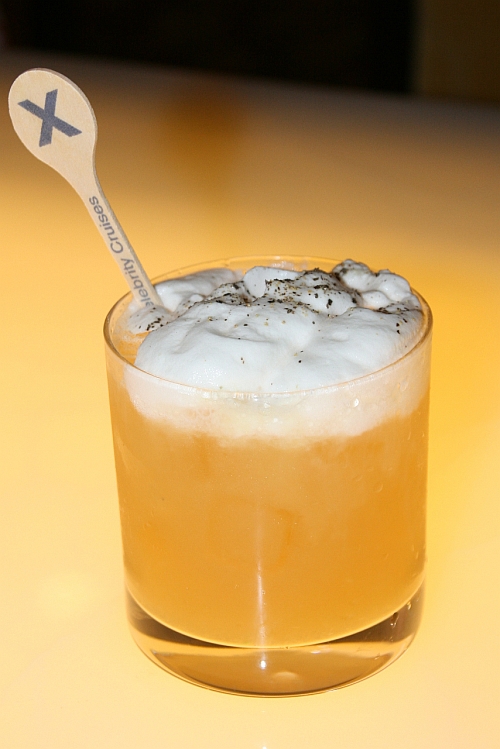 Hawaiin Lava
The meal tonight is in another speciality restaurant Qsine. This is a quirky restaurant which serves food tapas style but in a very different way. The choices are ordered on ipads and you are advised to choose a few dishes maybe 6 and then add more as and when you want them. Contrary to our waitress's advice we actually order 10 different dishes, which doesn't sound much between 8 of us, but believe me it was far too much and this somewhat spoiled the whole experience. We had Kobe sliders – which were mini hamburgers, sushi lollipops, cerviche crab with baklava pastry, painters fillet mignon, tempura vegetables, nachos (Daryl is given all the ingredients to make the guacamole), popcorn fish and chips served in a newspaper cone and a chinese selection. Deb and Matt decide enough is enough and having sampled more than a few delights in Maragaritaville head back to their cabin to escape the never-ending supply of food. Despite our protestations to our waitress that we only want something tiny for pudding we are presented with a chocolate tombstone, which is a massive slab of chocolate pudding and this comes out with a silver bullet – which is a flask with coconut ice-cream in it and fresh fruit. We also get a tray of grass with chocolate dipped strawberries on it like lollipops.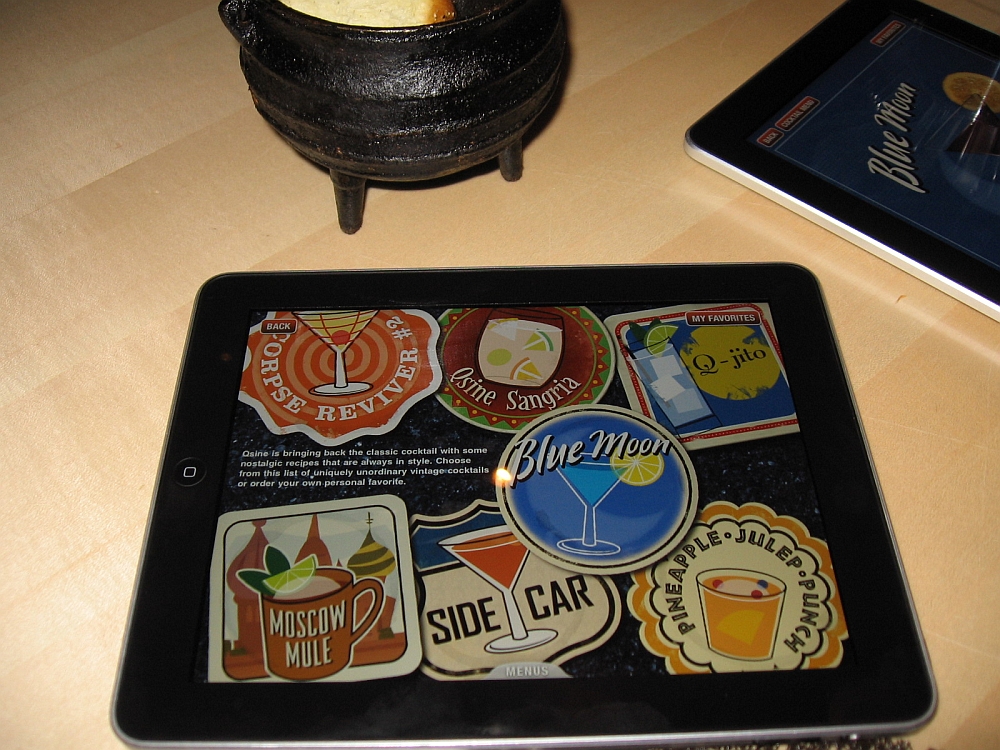 QSine Ipad menu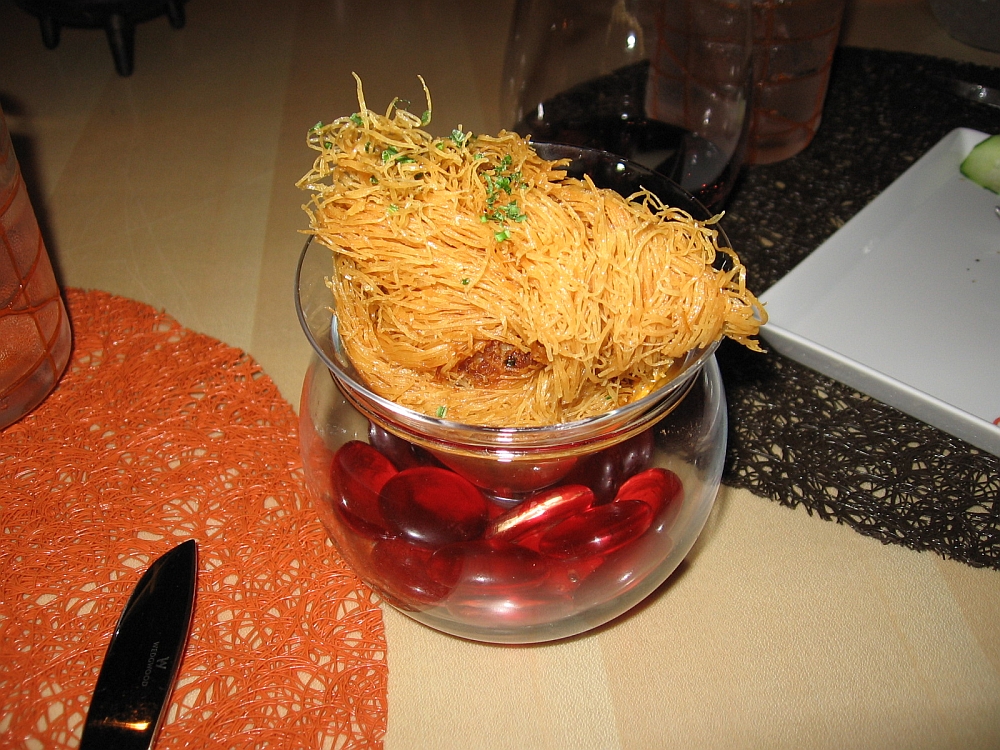 Cerviche crab with baklava pastry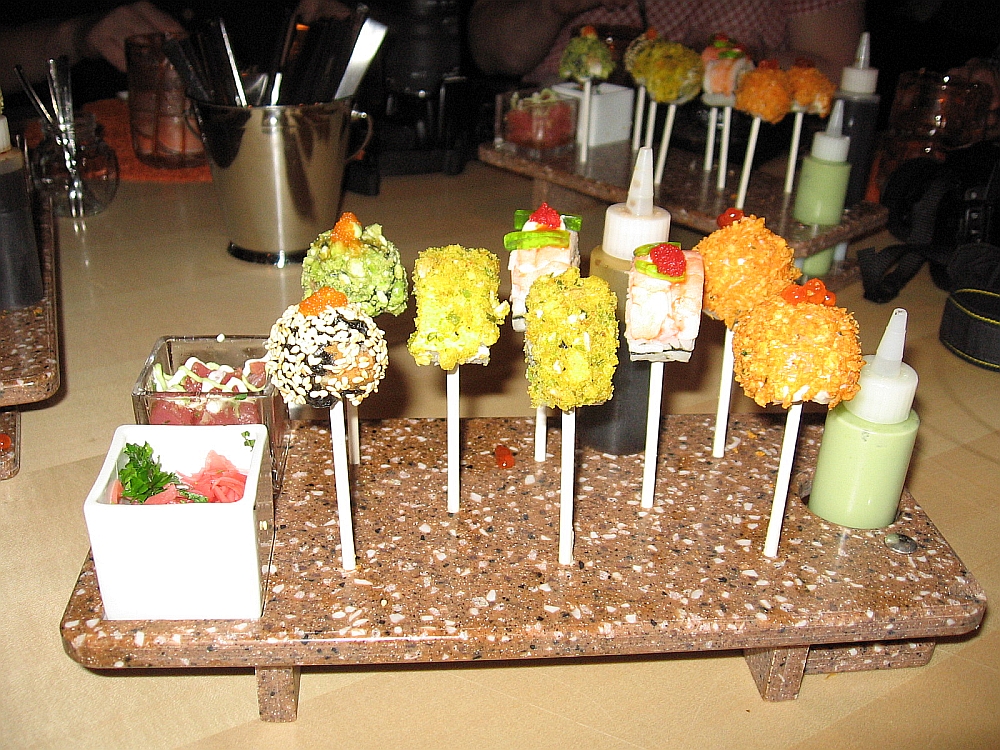 Sushi Lollipops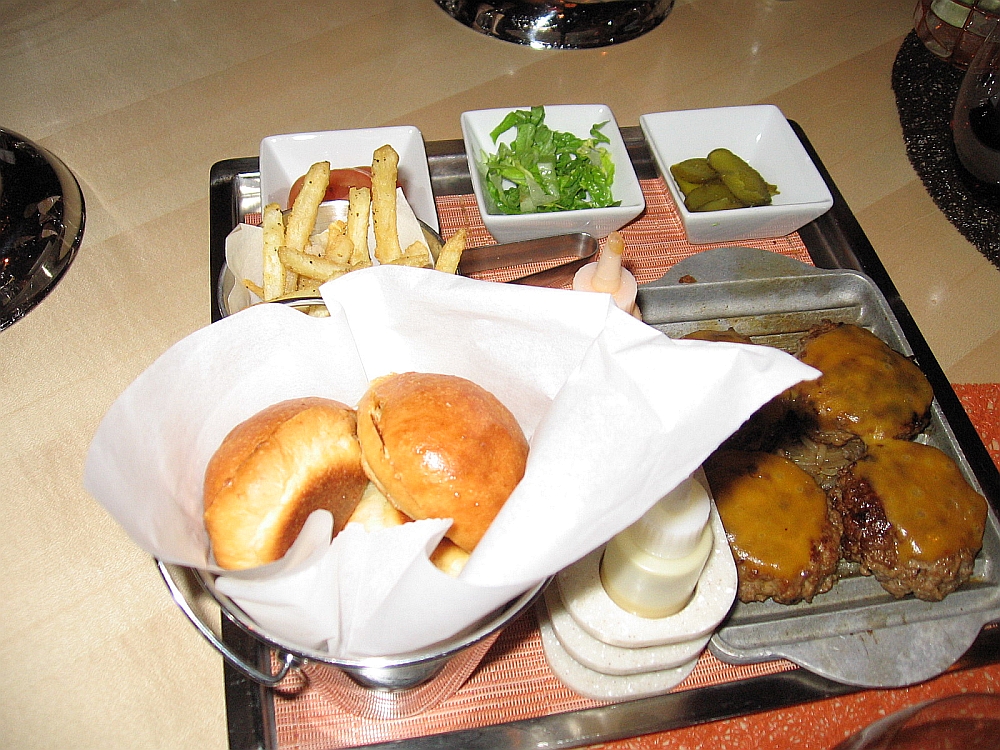 Kobe Sliders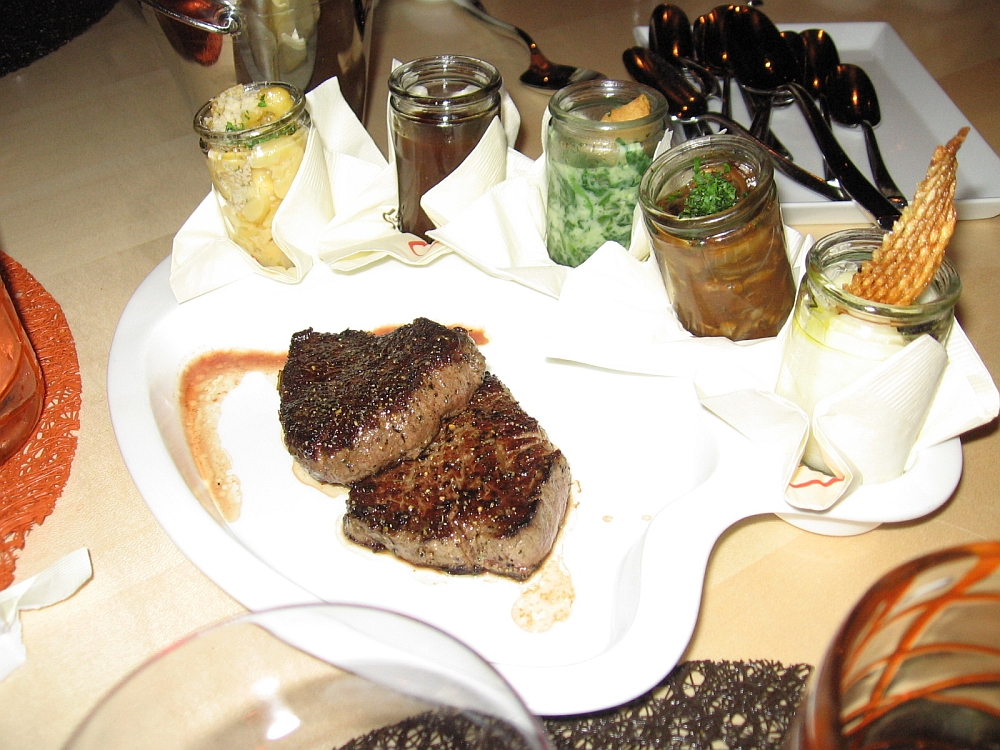 Painter's Filet Mignon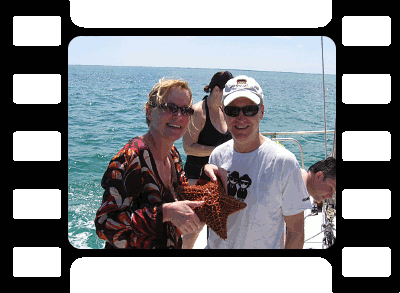 Video from Grand Cayman
We leave at 11ish and just miss the masque party in the atrium, which Gareth had seen when he popped out earlier. However, there is still a lot of merriment in the atrium and music being played – we notice people dancing in the lifts to the music so in our drunken, stuffed state we decide to do the same – so we pile in the lift and press the up and down buttons while dancing like lunatics while Kev takes video. An absolutely hilarious end to a great day.
We head downstairs to where the band is situated and have a little dance, then Gareth and Jane head back to the cabin. Daryl, Karen and ourselves go to the casino for a flutter Daryl gets $50 of chips as that is the minimum. It all goes on the roulette wheel but doesn't last long – however it was a lot of fun while it lasted.
Tonight the clocks are going back 1 hour so we will be able to catch up on our sleep.
Back to cabin at midnight