DAY 6- SUNDAY 6th MARCH 2011
Written by Tam
Participants: Tam, Kev, Deb, Matt, Gareth, Jane, Daryl and Karen
I wake at 5am and sit on the balcony enjoying watching the wake as we sail towards our first destination - Grand Cayman.
Kev is up at 7.15am so I go to Café Baccio for cappuccinos to go – speciality coffees are also included in the drinks package. We sit on the balcony and enjoy those before going out for breakfast. We bump into Gareth and Jane outside the cabins so we all go to the Oceanview Café for breakfast. An amazing selection and very well organised with individual stations for each option i.e. eggs, waffles, bacon, bakery etc. I go for a bagel with cream cheese and smoked salmon whilst Kev chooses a freshly cooked omelette. To drink I found a delicious juice of guava, passion fruit and orange juice. We have another explore of the ship seeing some of the parts we haven't yet visited then we go up to the Solstice Deck where we find a great spot with some lovely lounge beds. We decide that Gareth and Kev will stay whilst Jane and I go to the Connections meet in Qasar. Deb, Matt, Daryl and Karen are already there and we mingle for a while before we head back to meet up with the boys. I have a ginger, pineapple mojito whilst lying on the lounge bed soaking up the sunshine. Daryl, Karen, Deb and Matt go off in search of food, as they hadn't had any breakfast, so we left Gareth and Jane and went for a swim in the Aquaspa pool before having lunch at the Aquaspa Café. We had thoroughly enjoyed the meals here on our Celebrity Summit cruise and were looking forward to sampling it again. We had a chicken and grapefruit salad with extra salad and lemon dressing with tomato and basil breadsticks. For dessert I had fresh pineapple poached in honey with coriander – a delicious combination.
We go to have a closer look at the library and the I lounge taking pictures as we go, then head up to the Sunset Bar as more drinks are calling. Meet Gareth and Jane and shortly after everyone else turns up. We spend an enjoyable afternoon sampling drinks - including some delicious margaritas, whilst watching as we pass Cuba – which is surprisingly large. The boys have a go on the putting green – which is a nice touch with the fresh grass, however my one complaint is that with the grass each side of the ship, the seating area for the bar seems a little crushed and as one side allows smokers it seems that they can encroach upon the area non-smokers are. As a real hater of cigarettes I would have preferred a bit more distance between the areas as with the breeze, which has picked up this afternoon, I could really notice the smoke.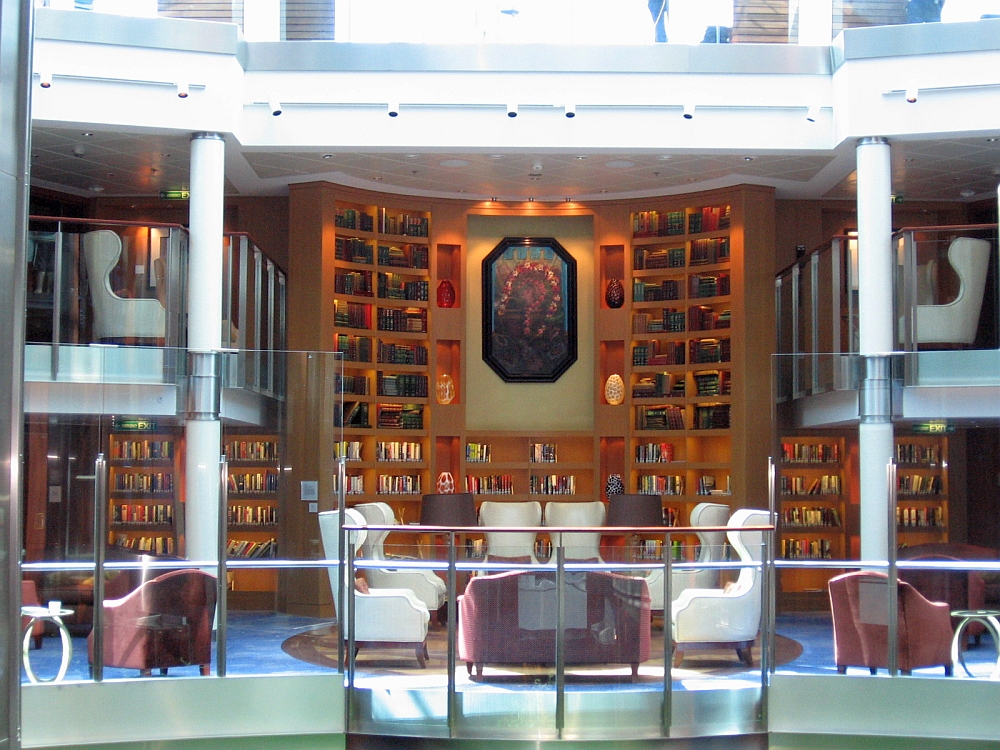 A lovely touch on this deck is the glass show – I have a wander and watch for a while as the glass blower attempts to make a unicorn – this show is very well attended and the whole area is very well set out with stools for people to sit on and a TV monitor to show close ups of the kiln and of the artists working.
We have an early meal booked tonight in the speciality restaurant Murano –which is a French style restaurant
We enjoy a drink in the Rendezvous Lounge at 5.30pm and I have a Raspberry Rizzy, which was very good. Everyone of our party is dressed up to the nines with the boys all in tuxedos. We are shown into the restaurant and led to a private dining room which houses an amazing wine collection all stored in temperature controlled units It truly is a beautiful setting for a meal and the service we receive is exemplary
We all have a shot of vichyssoise soup to start then I have fungi risotto with garlic chips and truffle foam, Kev has diver scallop in puff pastry with spinach, we then enjoy a filet mignon with cheese and potato, fungi and a jus. We are all then given a palate cleansing mango sorbet but it actually tastes too sweet to do that. There is then an amazing choice of cheeses and finally I enjoy a crème anglaise with fig and apricot compote whilst Kev has a Grand Marnier Soufflé, which he thoroughly enjoyed. We had glasses of sauvignon Blanc, Shiraz, sauterne and port. A totally wonderful meal with lots of laughs and wonderful service by everyone.
We leave at 9.30pm and go to Michael's Club where there is a man playing the piano. It is very comfortable and relaxing in here. We want to see one show and Ovations is on tonight, which is music from the shows – something I was particularly looking forward to. Had a drink and settled in to watch the show, which Kev and I enjoyed.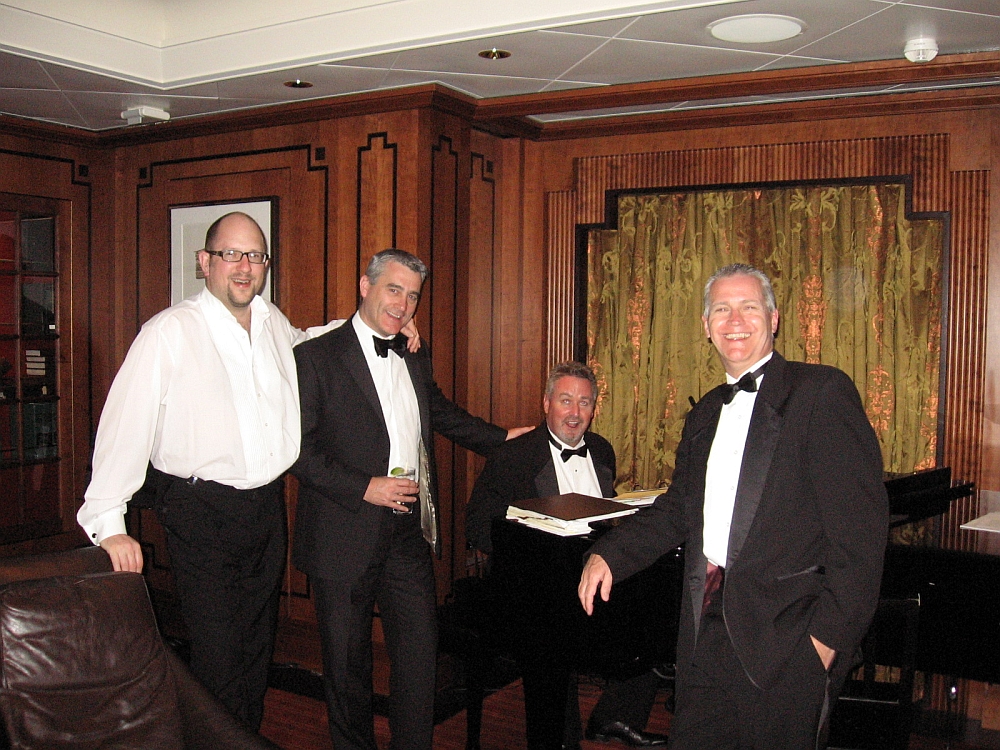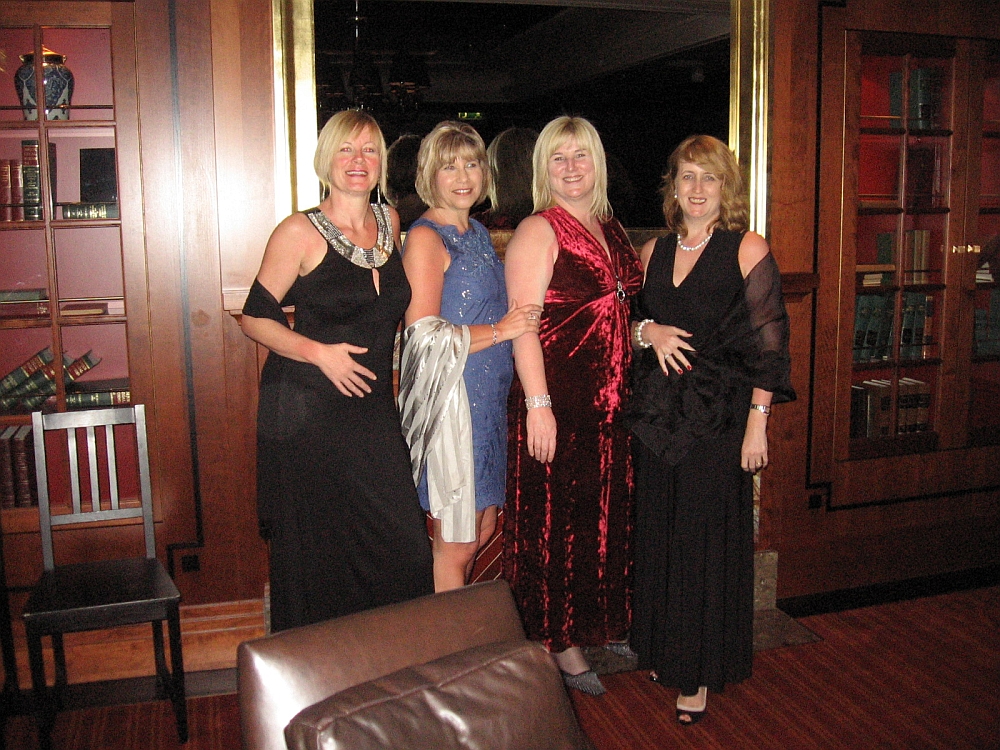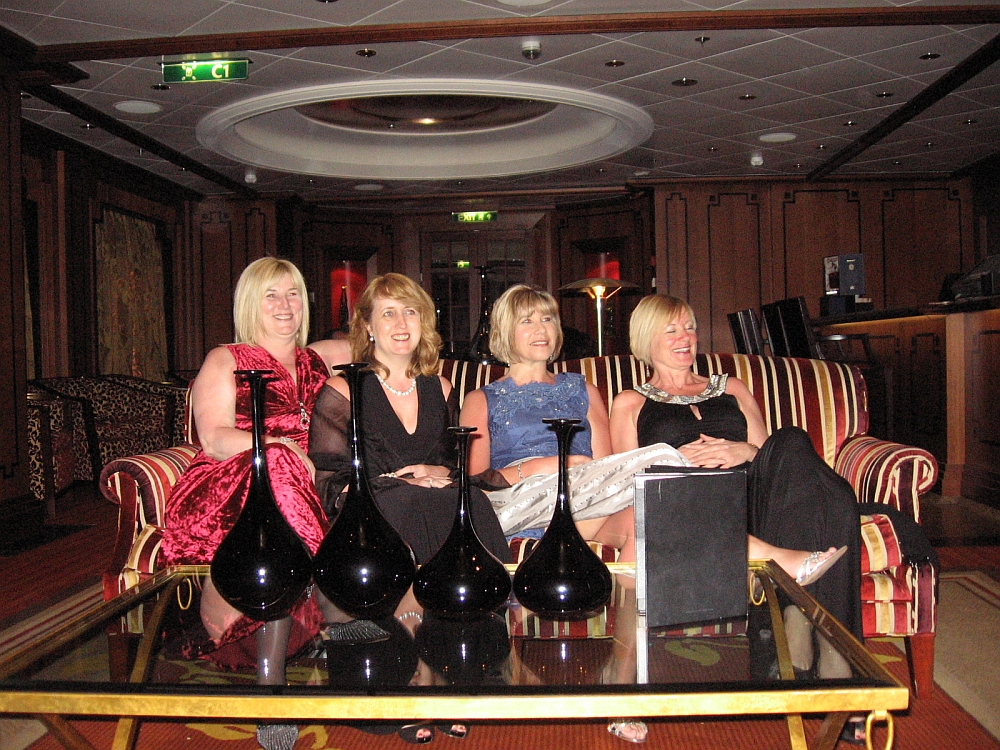 Michael's Club
At midnight our bed was calling so we retired for the night where we were met by a towel crab