DAY 5- SATURDAY 5th MARCH 2011
Written by Tam
Participants: Tam, Kev, Deb, Matt, Gareth, Jane, Daryl and Karen
Up, finish packing and have some breakfast before checking out and we are on the road at 7am.
The journey is really easy until just outside Miami, where the two Sunpass lanes start. Here the traffic comes to a standstill and then a crawl and our progress is very slow. (We later learn that it was caused by a horrific crash and a number of people were sadly killed)
Eventually we reach the car hire depot at around 11 am. A purpose-built facility that is very well organised and means we drop off the car with no problems. We are told that the shuttle to the port doesn't start until 12 noon and we decide that as there isn't much to do here we may as well hop in a cab to the port. Although the fare is specified on the side as a set rate of $24 dollars, the driver tries to charge significantly more and is suitably miffed when we give him just the set rate plus a couple of dollars – had he been fair he would have got more – after all we are about to go on a cruise and were feeling very happy. Still that's his fault for thinking we were green tourists.
We drop the luggage at the kerb and head through to the Concierge line to check in. All very fast and painless and before you know it we are boarding the beautiful Celebrity Eclipse the newest of Celebrity's Solstice class of ship – launched in 2010. We take a glass of champagne in the lobby and enjoy taking in everything whilst the ship is really empty. Head up to take pictures of some of the restaurants and bars and then go up to the Sunset Bar.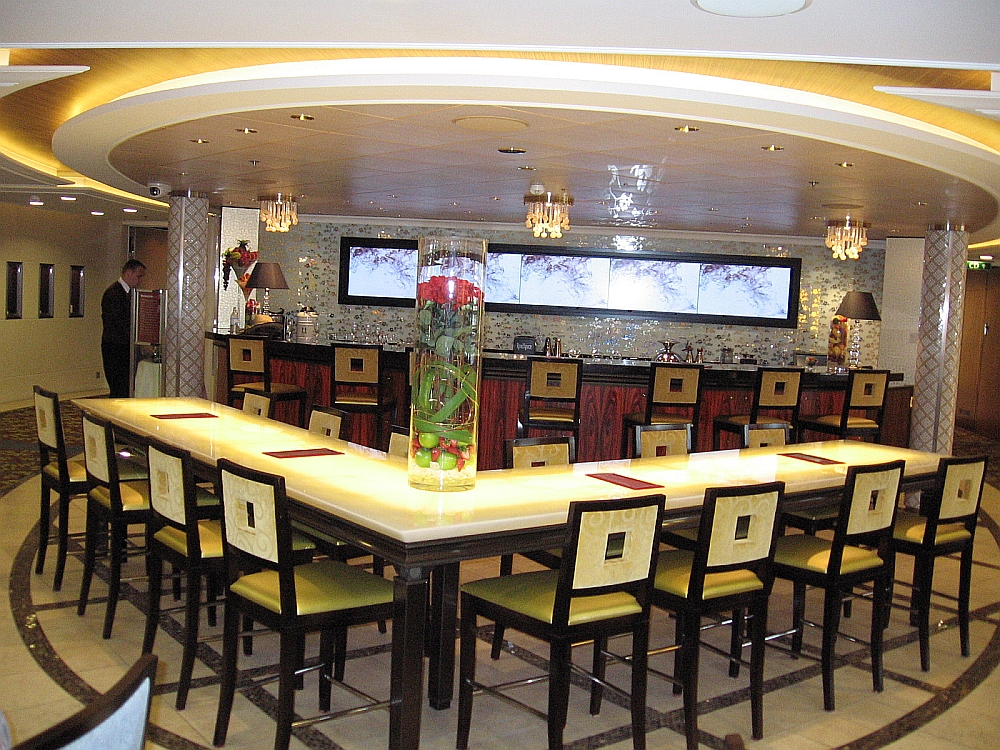 Molecular Bar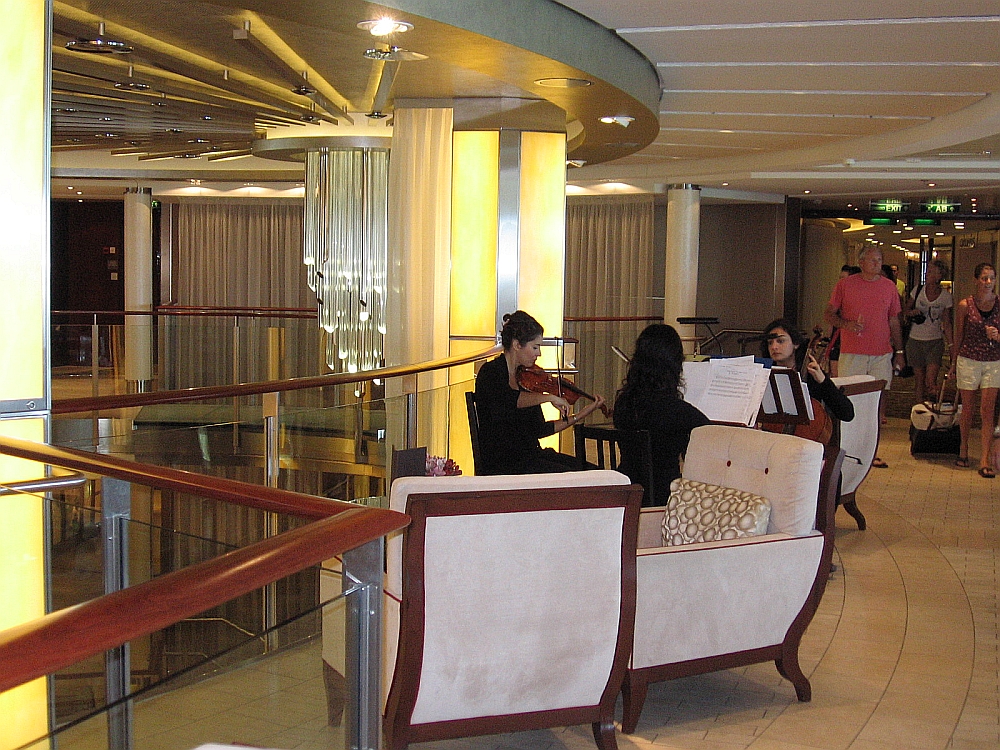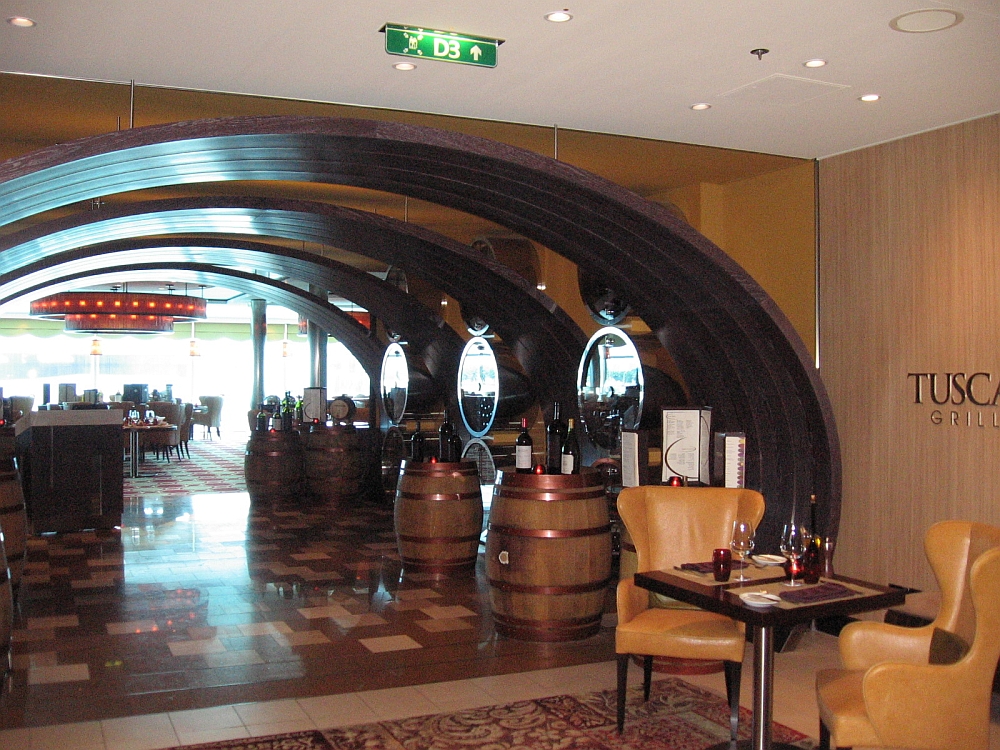 Tuscan Grill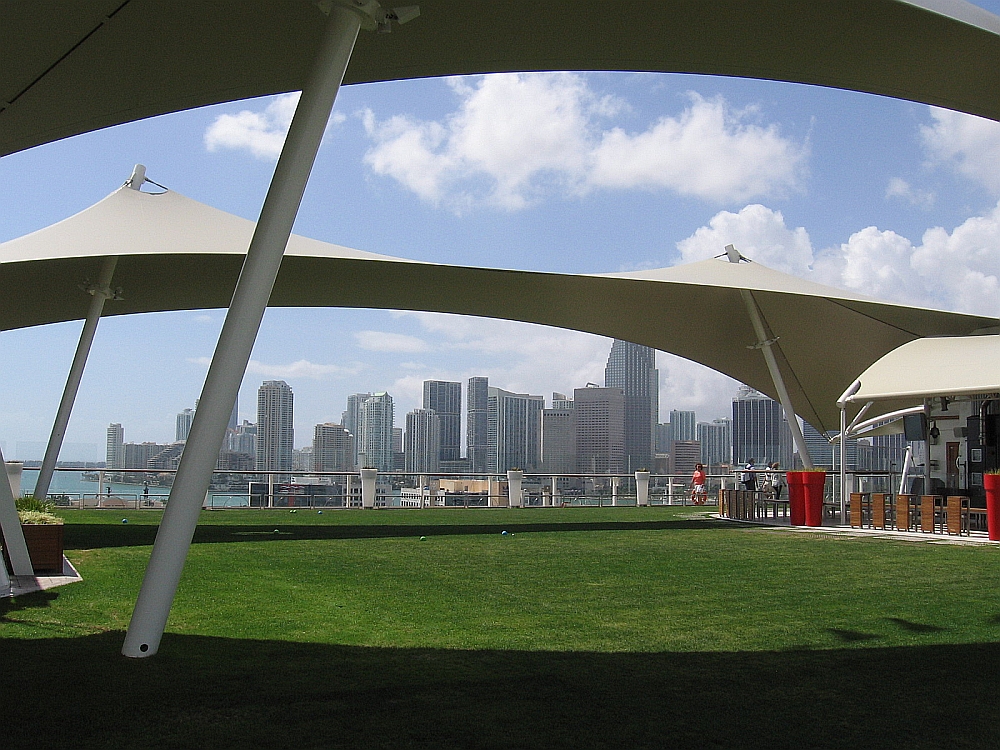 Croquet lawn and glass blowing show area
Gareth and Jane are already there and have thankfully grabbed a table with chairs by the grassy area. Deb, Matt, Daryl and Karen join us around 12.45. I enjoy a Summer Solstice cocktail whilst Kev settles for a Coors Light. Our first drinks on our super drinks package – a pre-paid package that cost the grand total of £489, but ensures that all drinks up to the value of $12 were included for the duration of the cruise. An awful lot of money, but we are determined to make the most of it and sample lots of new cocktails and wines. This, together with the fact that we have pre-paid the tips, means that apart from additional tips we really don't need to think about any onboard charges at all once we are onboard – a rather decadent holiday but a very special one too.
After enjoying our drinks in the sunshine we head to the cabin to drop some baggage off Our cabin is 9382 – we all decided to book aft cabins as there is nothing nicer than watching the wake as you leave a port and this way we would all have cabins relatively close together. Having read up on the hints and tips on Cruisecritic forum we established that 9382 had one of the larger rear balconies – hence we booked this as soon as we decided to book the cruise.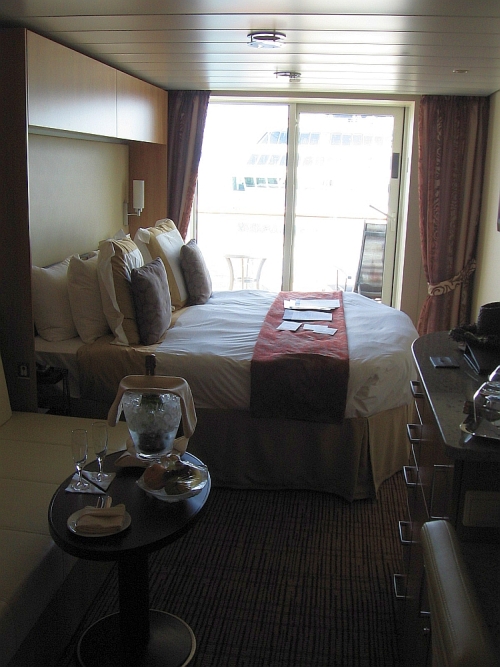 Aft cabin 9382
We head off to Bistro on 5 - this is an additional restaurant with a small cover charge of $5 per person. The Bistro on 5 serves paninis and crepes – just right for lunch on the first day when you don't want to overdo it before dinner. Kev and I split a cowboy crepe (filled with provolone cheese, steak slices, onions and spinach and a chicken panini this was followed by a banana, Nutella crepe – all of which were delicious. We had a glass of Pinot Noir and Cabernet Sauvignon to accompany the food.
We all decide that the next port of call should be the famous Martini Bar and we enjoy one of their 20th Anniversary cocktails – which is made from Grey Goose Vodka, fresh lime, fresh sage, Brut champagne and rose essence, topped with a ginger-passion foam. A very different cocktail, but not one I would have time and time again.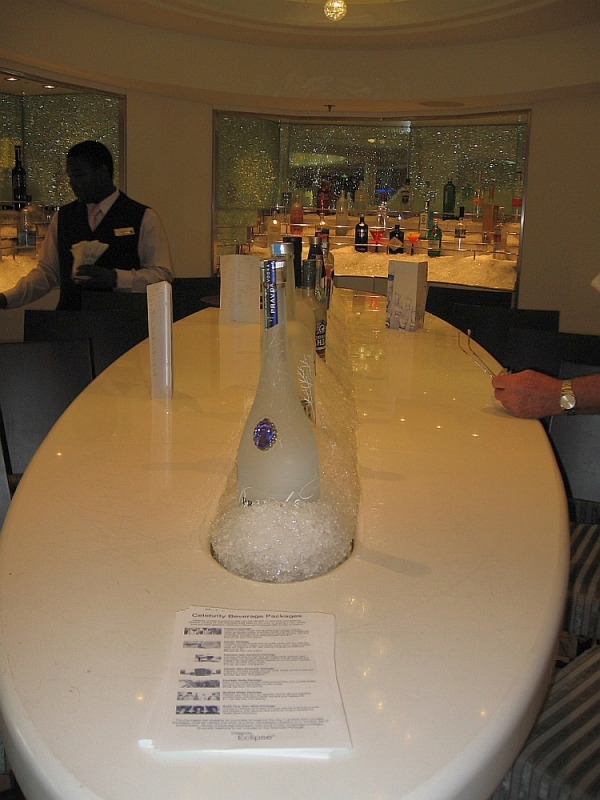 Ice Bar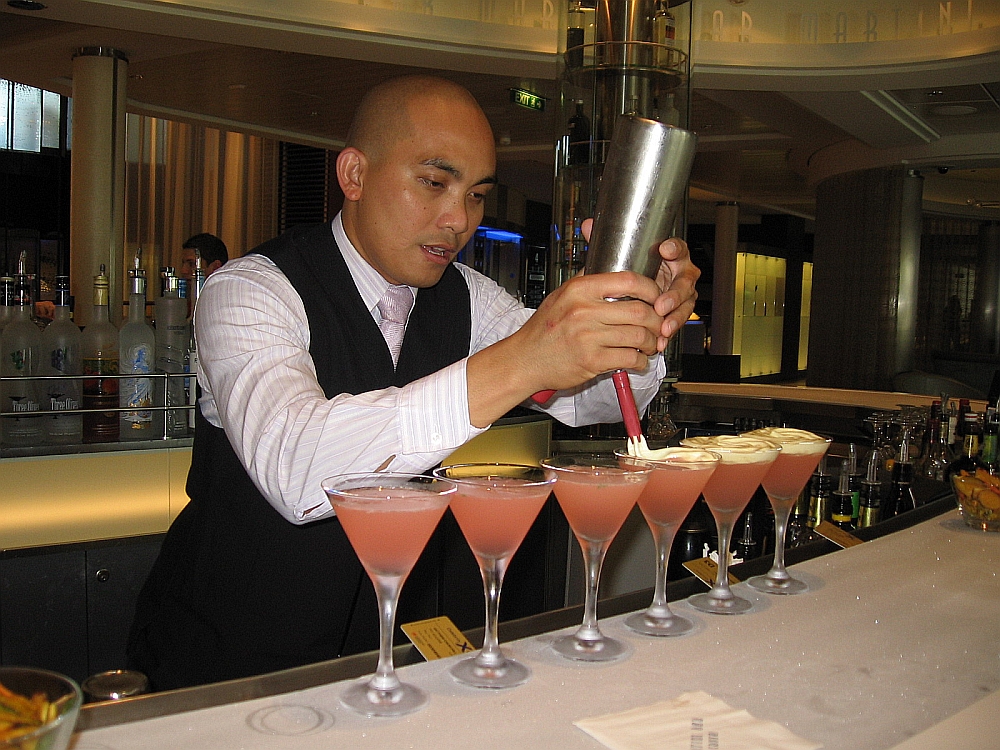 20th Anniversary Cocktail
Muster drill is next – by far the nicest setting for any muster drill as we are seated in Murano's restaurant. Afterwards we all assemble on our balcony as ours is the biggest of the four aft cabins that we have between us. We drink the concierge-supplied bubbly as we watch as we sail away from Miami – the skies are dark and brooding but luckily there is no rain.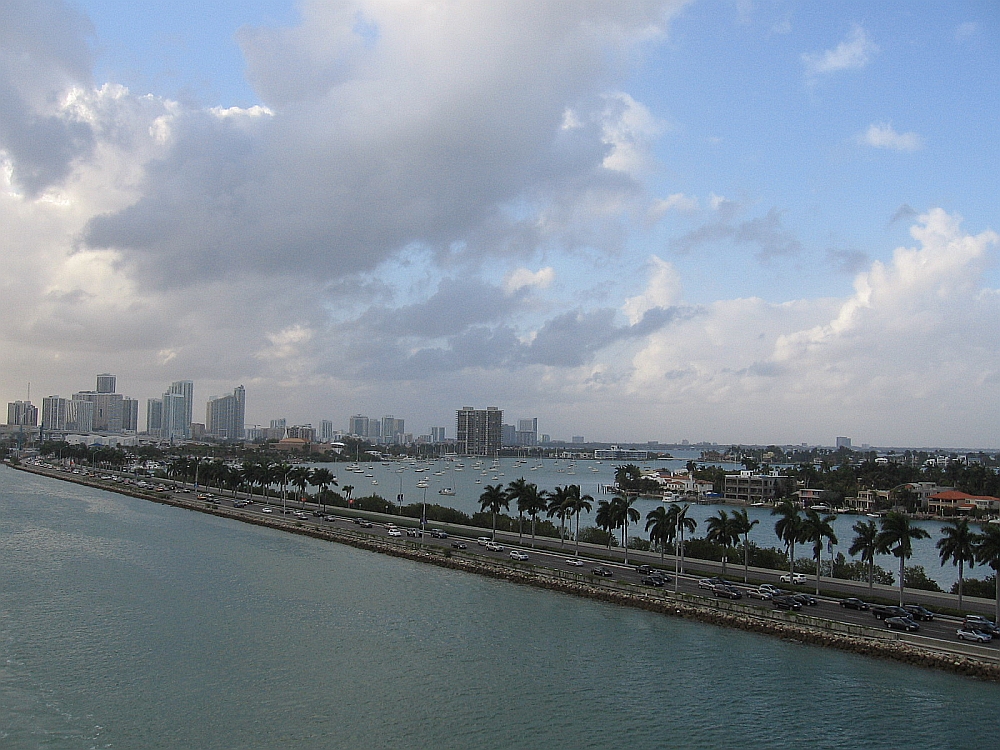 We all get ready for our evening meal and meet up at the Martini Bar at around 7.20pm. It is very busy here but the amazing bar is a real pull – with ice on the bar and the bartenders mixing an amazing array of cocktails in a very flashy manner. We manage to find a group of chairs and I have a lychee martini and Kev has a raspberry lemonade martini. There was supposed to be a Cruise Critic Meet but the bar is so busy we don't manage to see anyone that we think may be part of the meet.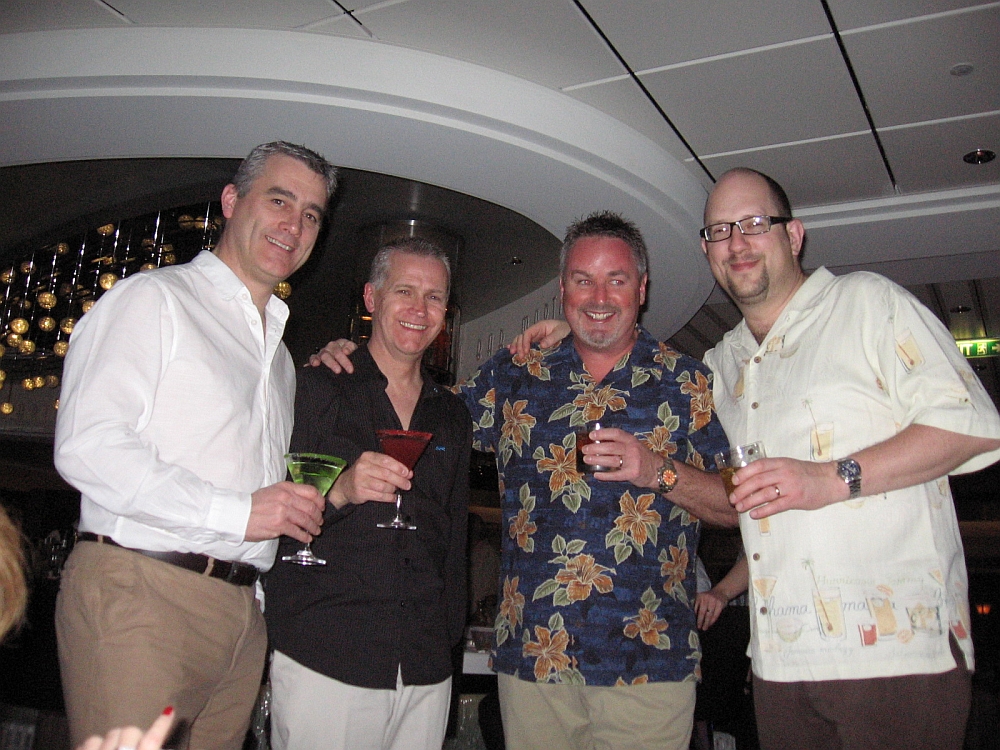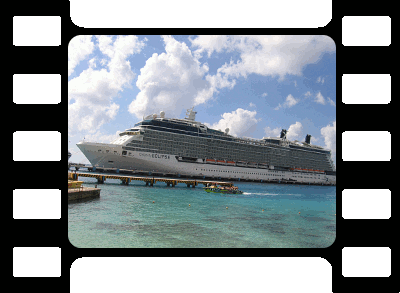 Here's the first video from the Celebrity Eclipse
We head to the Main Dining Room – Moonlight Sonata – which is elegantly decorated in white with a two story glass wine tower as the centre piece and huge chandeliers – giving it a classy Hollywood style. As we are doing Select dining – which means we can eat at any time – we are actually seated on the top tier of the dining room which means you get a good view of all the tables on the lower floor. Although in theory you can just turn up for Select dining we had read that it was better to try and advise a time you would like to eat especially with bigger tables. We had told them earlier that we would want a table for 8 at around 8.30pm. We did have a little wait but then were shown to a large round table.
To start with I had roasted beets with feta – nothing special and no discernable dressing, Kev had crab and avocado, which he enjoyed but it was a bit swamped by the heavy dressing. Kev then had rib of beef, which he said was delicious with loaded mashed potatoes. I had lamb shank cooked in harissa with couscous. The lamb was very tender and had a good flavour but the couscous was a bit bland by comparison. Dessert for both of use was profiteroles filled with praline ice cream. Unfortunately the choux pastry was incredibly hard so I resorted to just eating the ice cream. The lady sommelier was excellent and we enjoyed a chardonnay with the starter, a tasty malbec with the main and a sauterne with dessert. Finally we finished with coffee. The meal was over at 10.15pm – Gareth and Jane went for a walk to explore whilst the rest of us went to the Ensemble Bar near Michael's Club to have a drink. Daryl and Karen then called it a night so the four of us went to the disco, it was very quiet but as there was a bar there it seemed rude not to partake in another drink. We then went to the Ocean View Bar – there was supposed to be Karaoke on but there was no-one there. After lots of laughs we decided to head back to the cabins at around midnight