DAY 3- THURSDAY 3rd MARCH 2011
Written by Kev
Participants: Tam and Kev
The usual first night on holiday ensues. Wake up – look at the clock – 2.30am. Try to go back to sleep. Look at the clock – 3.15am, then 5.18am (notice the accuracy of the timings, there's attention to detail for you). Eventually we get up at 6.30am for a shower. To be fair, it is not because the bed is uncomfortable because it's fine. It is also the size of a small football pitch. You could happily get 4 people in here. Hmmm….. now if I can just find two Hooters girls with low morals and appalling taste in men .....
It shows the difference between men and women as Tam considers the bed big enough to hold a large pile of cakes.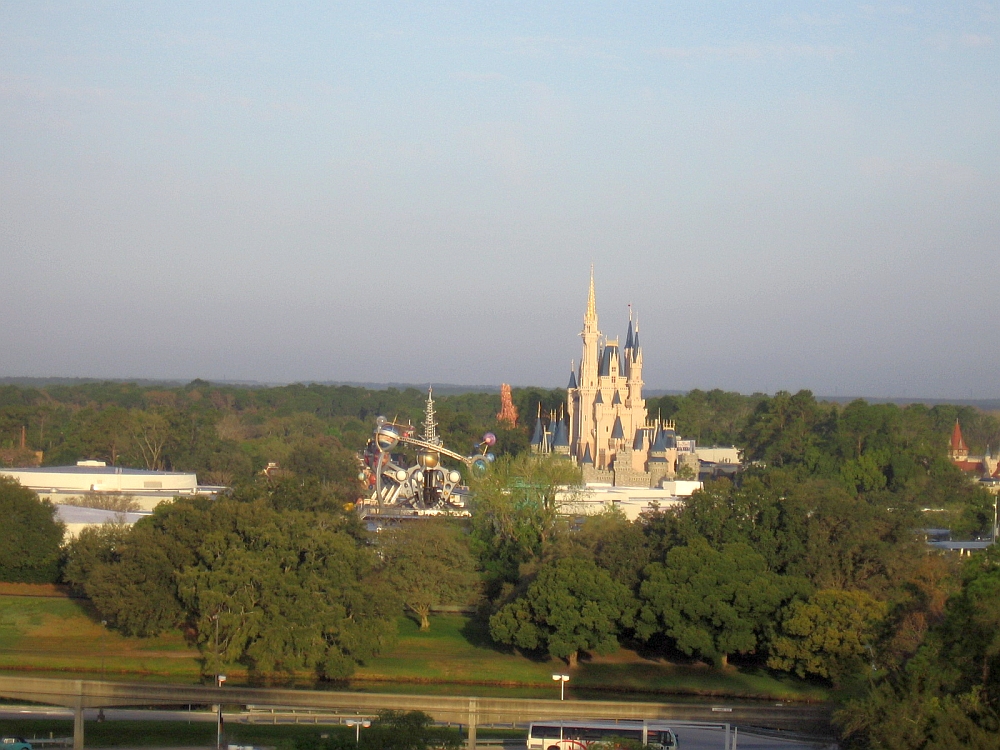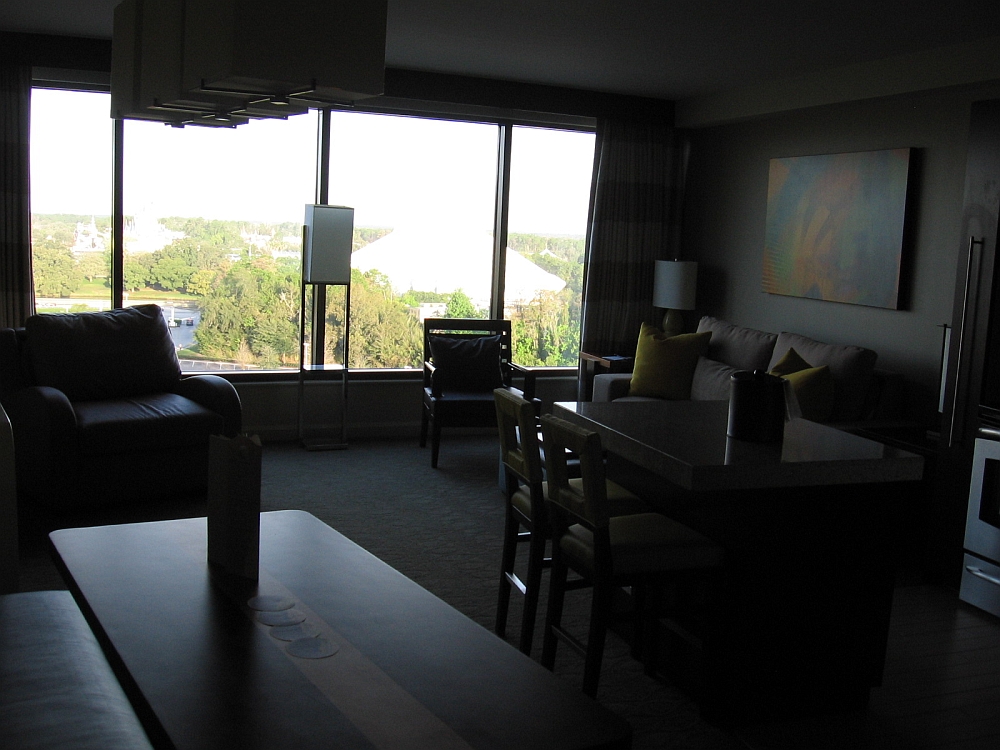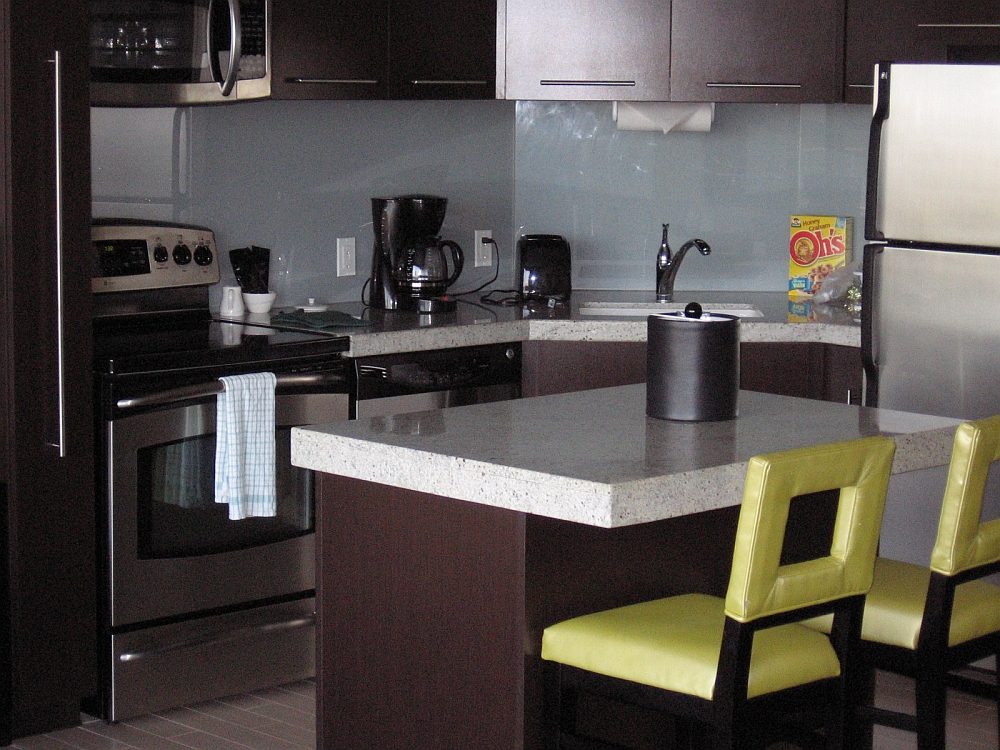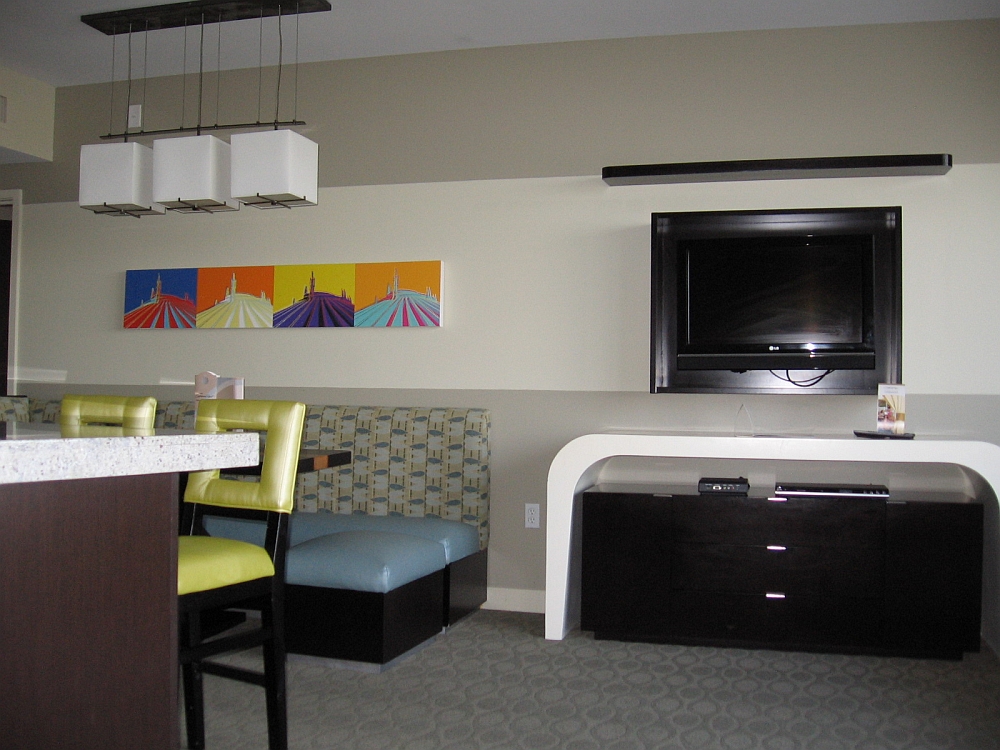 We eat breakfast in the room – cereal we bought in Publix yesterday. It says that it's 0% fat, but that's only because it's 100% sugar.
We leave the room at 8.15am and take the walkway across to the Contemporary to catch the monorail to the TTC and then on to Epcot. We go to Guest Services first because I found some old tickets at home and we weren't sure if there are any days left on them. Well, it turns out that there are so we get a free day in Epcot. Result.
We stroll through the entrance and immediately ride Spaceship Earth as it's a walk on. We then walk to The Land and grab a Fastpass for Soarin' before jumping on Listen to the Land. I shan't bother to give my opinion on any of the rides, as I'm sure you've heard them many times before. Let's just say we have a good time.
Tam now feels that the amount of sugar in her blood has dropped below 75% so we share a cheese Danish (best Peter Kay voice – cheese? Danish?), which is very nice. We then walk around a few of the Flower and Garden Festival exhibits before walking straight on to Test Track via the single rider line.
A slow walk round World Showcase follows until we drop off our excess baggage (no, I don't mean Tam, we have long sleeve clothing in case it turns chilly tonight) in the lockers by the International Gateway.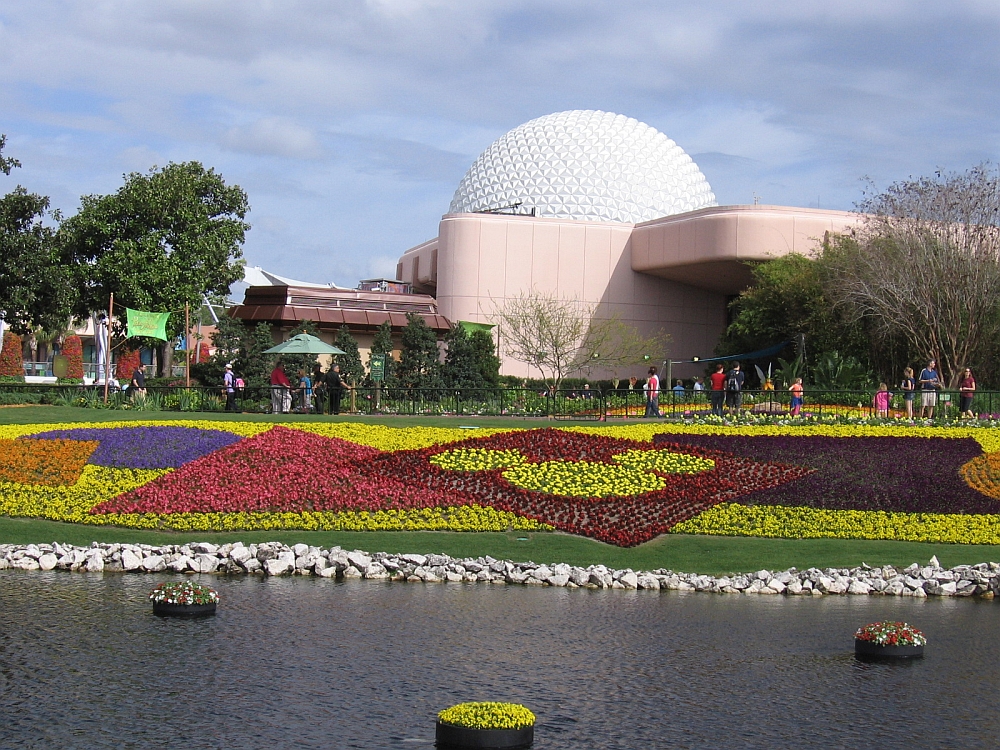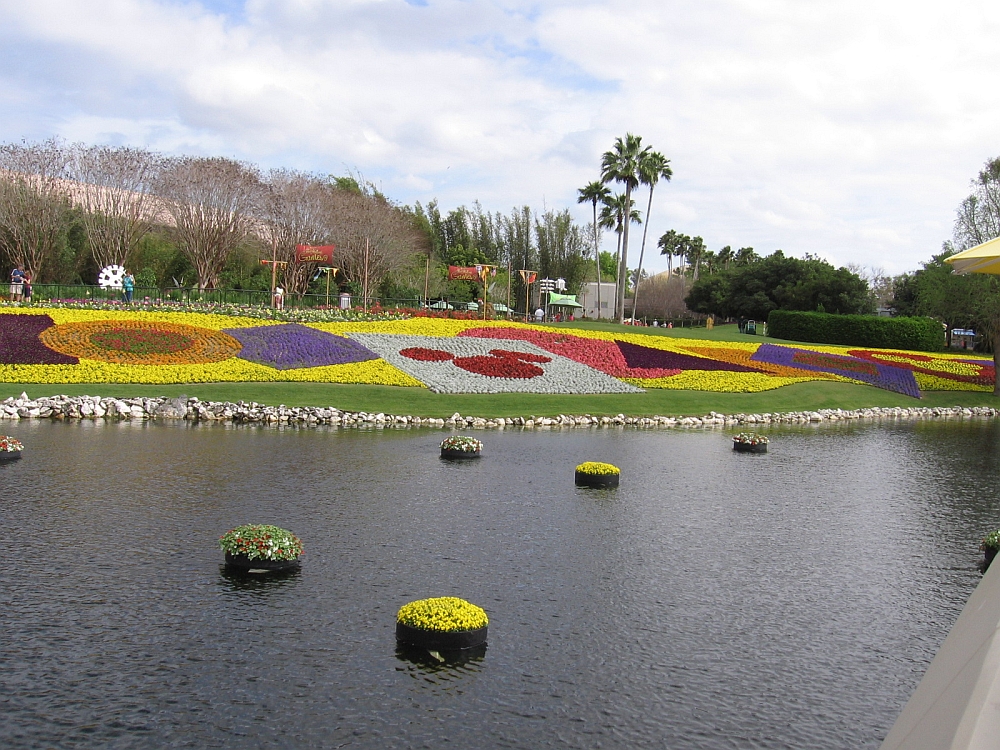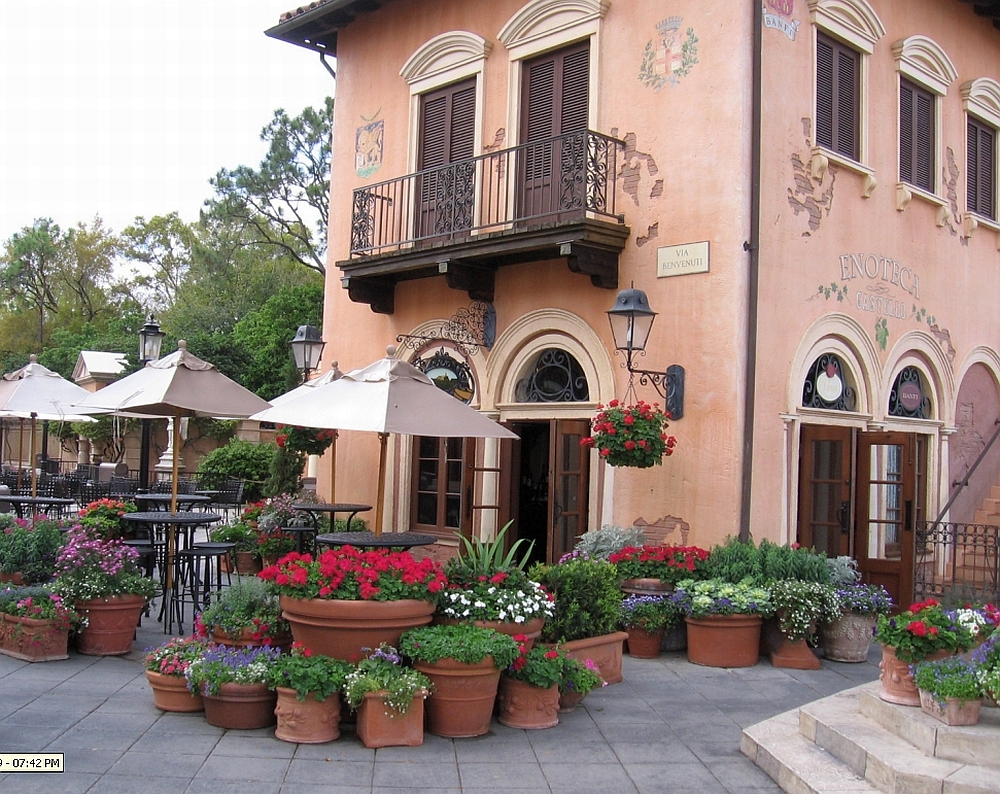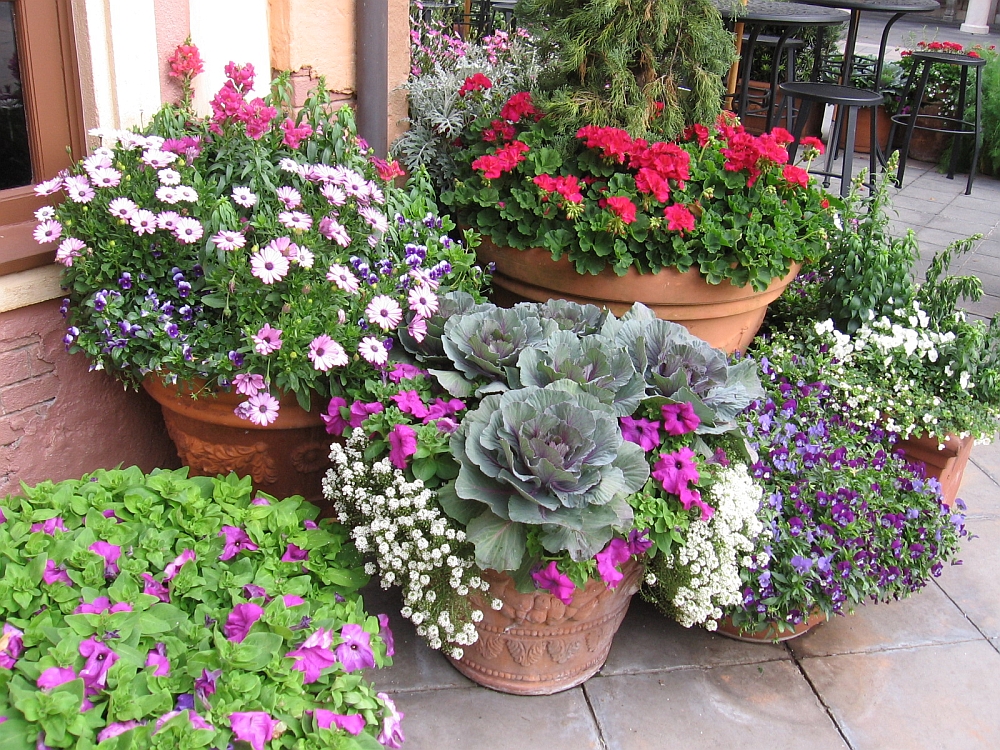 On to Soarin' where we use our Fastpasses, although we still wait the best part of 20 minutes. We are now due to start our exploration proper of World Showcase as it's approaching lunchtime. We intend to try the new Mexican restaurant, but are disappointed to find that it's only open in the evening. What's to be done when that happens? Head for the new tequila bar! It turns out that this is a lovely new edition to the Mexican pavilion. Probably only a dozen tables, but very atmospheric and pleasant. Tam has a Wild Passion Fruit Margarita and I try the Blood Orange Margarita. Not cheap at $12.50 each, but very nice. They both have hibiscus salt on the rim. Let me tell you, if you've never had your rim salted with hibiscus – now's the time to give it a try. It's both sweet and salty at the same time.
Being a bit peckish we also have Guacamole and chips along with Chicken Tostadas. Both are very nice. Tam asks the server to take our photo. Just as she does a young lady sits down at the table next to us and immediately apologises as she's inadvertently jumped into our photo. I tell her not to worry as she's better looking than us two anyway. Had she been swifter of thought she could have pointed that could apply to 95% of the patrons in Epcot today.
Our bill comes to $54.33, which includes an $8 tip (the service was very good).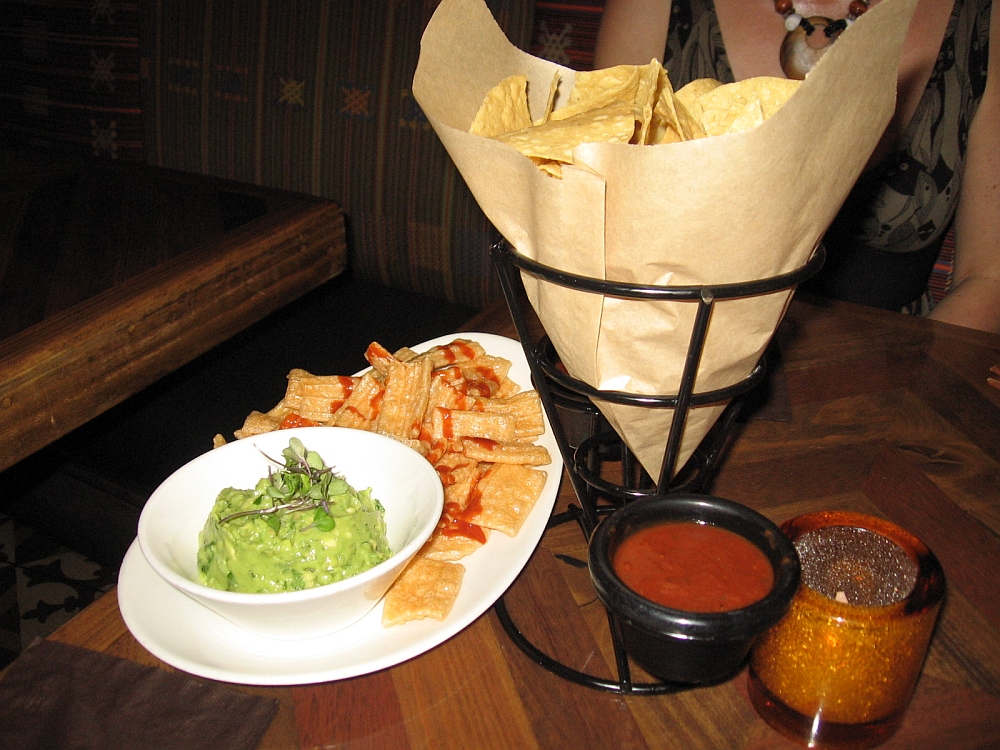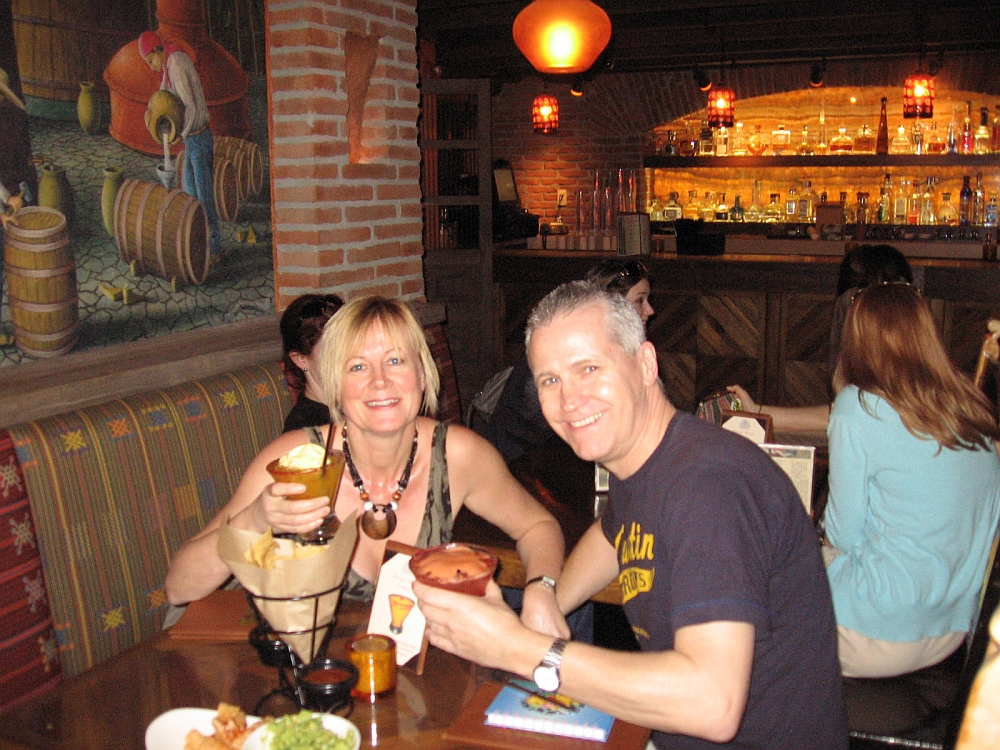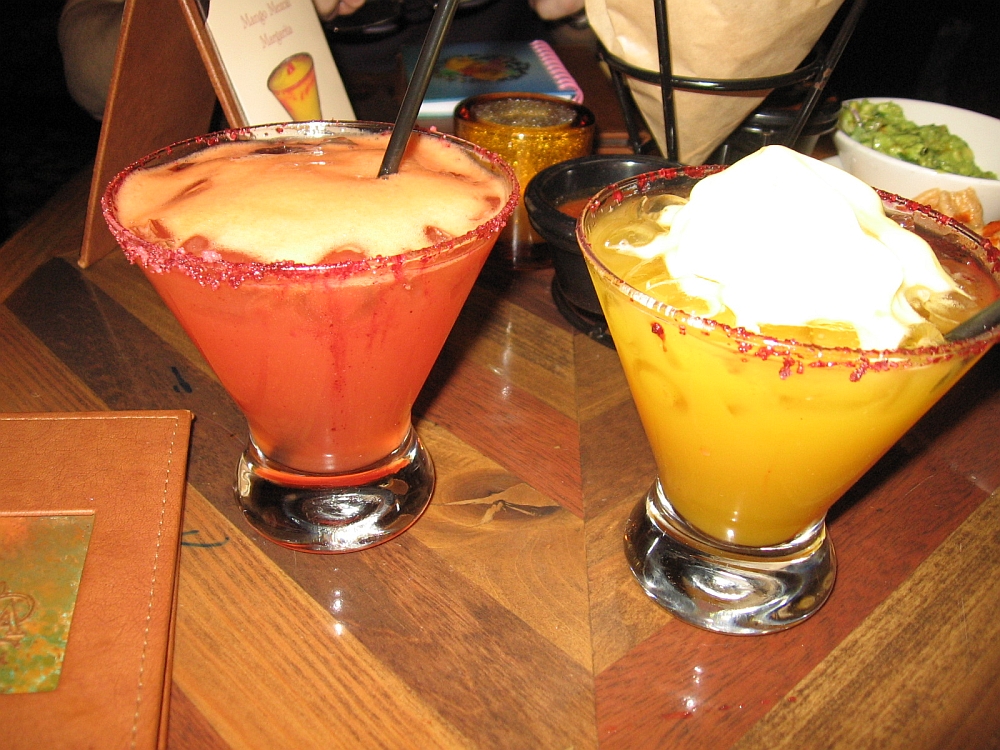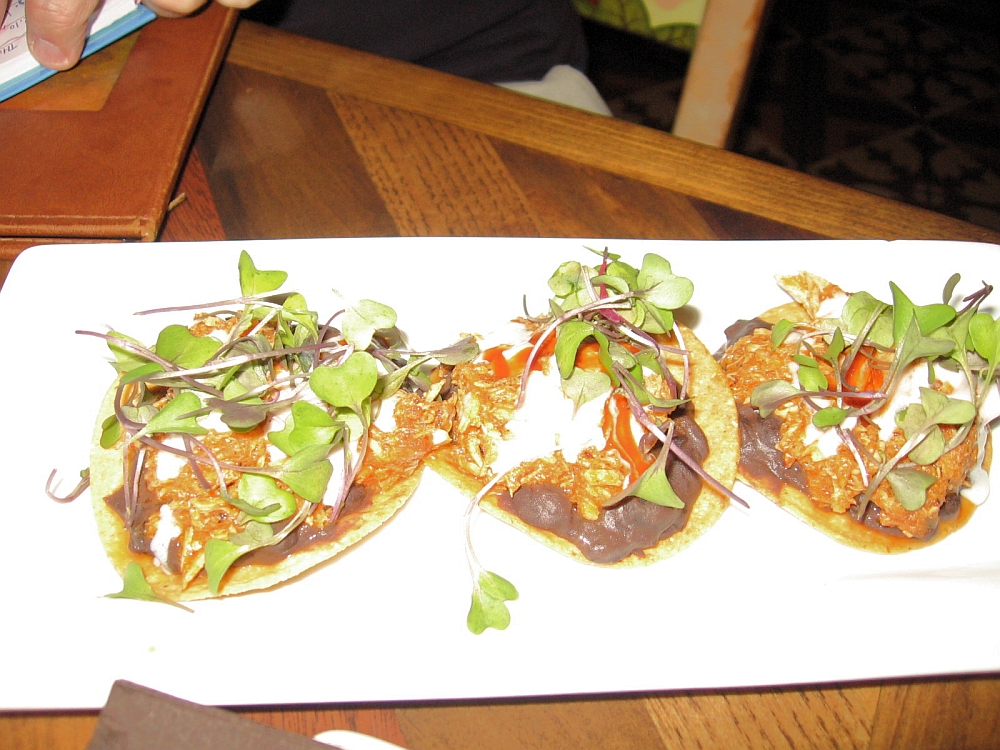 A stroll to the Chinese pavilion sees us partaking of a Tsing Tao beer. It is now very apparent that Tam is a little sleepy, so I suggest a slow walk round to the Beach Club where we spend a very pleasant hour lying in the sunshine – it's 78°F today with a light breeze. We shouldn't be too hard on Tam, she's had little sleep for the past two nights, although I suspect the visit from Mr Margarita and Mr Tsing Tao have also had an influence.
It's amazing that a spot only a couple of hundred yards from a theme park can be so quiet, just the toot from an occasional Friendship boat breaks the tranquillity.
It's sad that so many people keep trudging round the park all day getting grumpier and grumpier when just a brief amount of downtime can rejuvenate the batteries.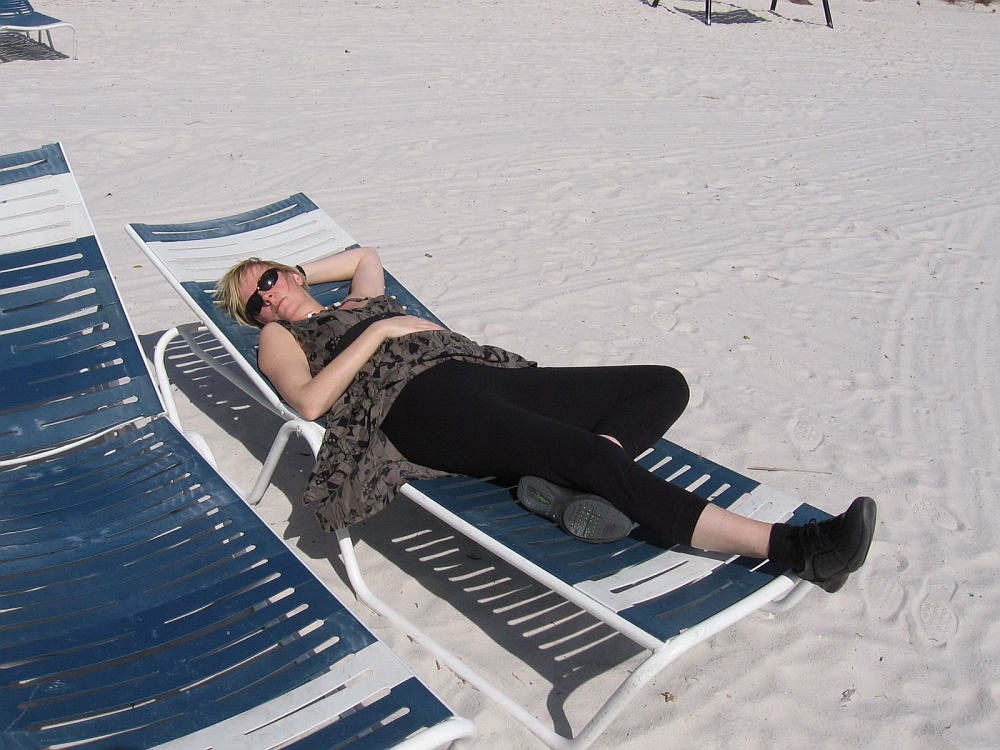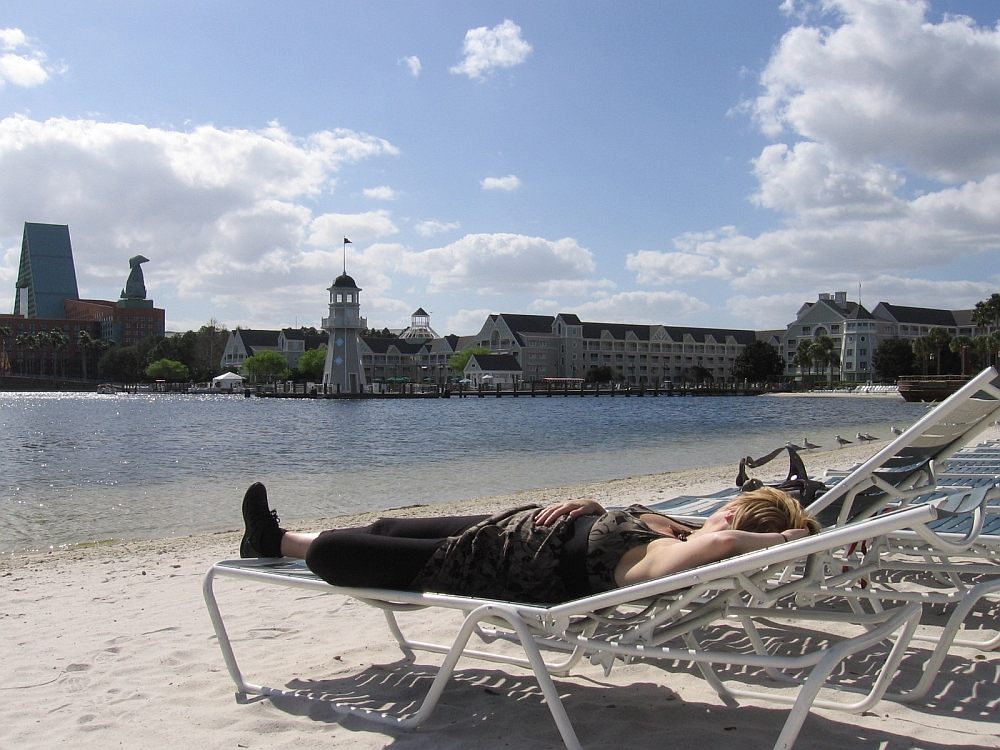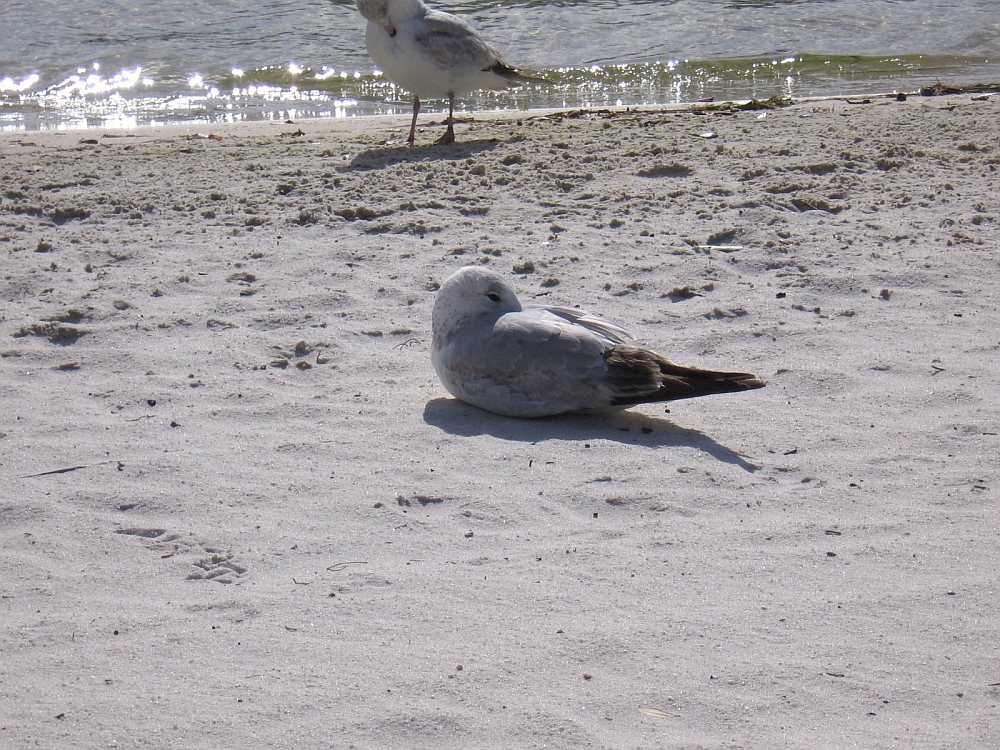 Tam awake and refreshed, we walk back to Epcot where we have a look around in Morocco. I'm sure I've read that this is the most authentic of all the countries in World Showcase as when Morocco were asked to participate they sent over a team of their own craftsmen to construct the pavilion. If this is not true I apologise and turn to my second theory – it was built by Hobbits on their day off from their normal Hobbiting activites.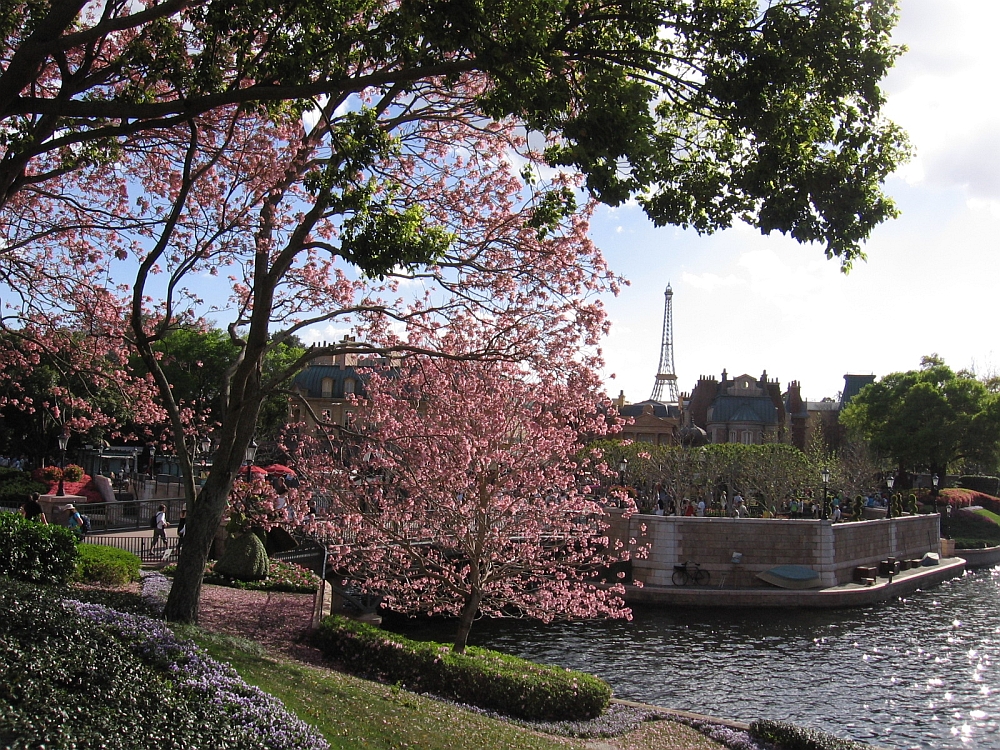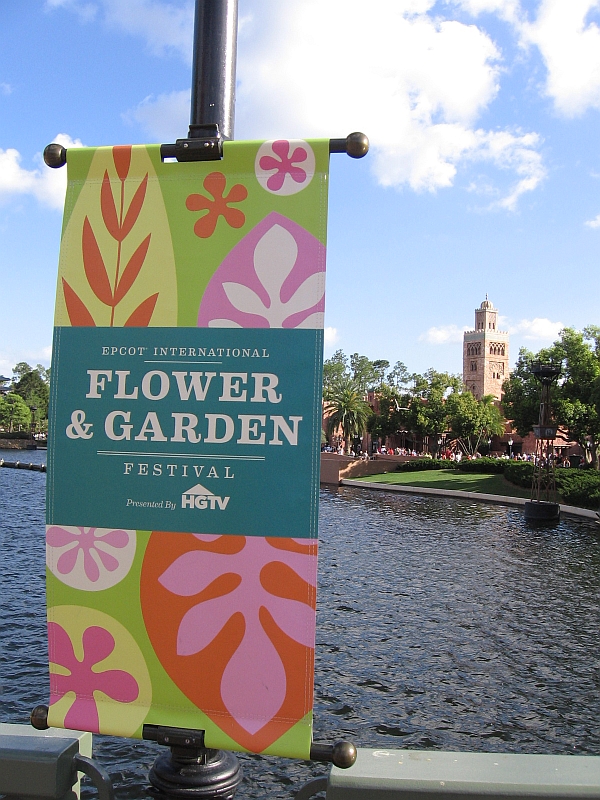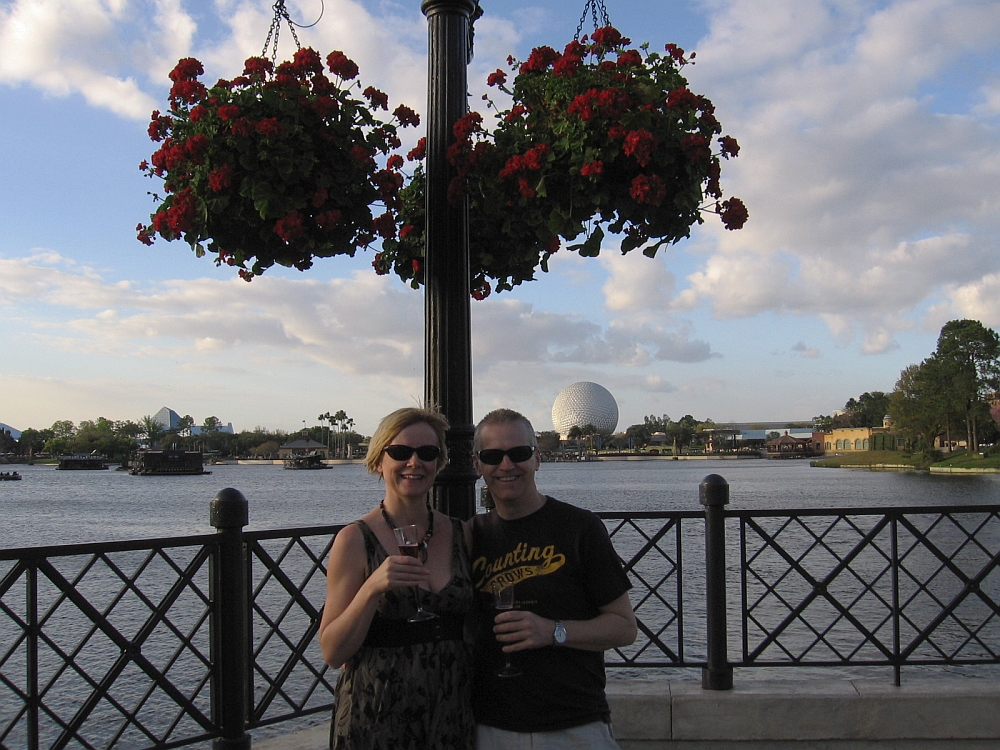 On to Italy where Tam and I try a Rose Regale for the first time. I know this is a much-loved drink by the ladies on the DIS, but it's a bit too sweet for me.
On to Japan where we have an ADR for 6.00pm in Tokyo Dining. We haven't eaten here before, so we think it will be a nice change. We both have the Bento Box, which is a selection of 4 different things. It's quite nice, but overall we will not be rushing back here. The service is very good and there is an interesting demonstration on how to make sushi shown on a large screen, it's just that I think there are better places for the money.
After eating we head round to the lockers to get our long sleeve gear for the evening as it's starting to cool down. I wouldn't say it's actually cold, but you certainly need a sweater of some description in the breeze.
A wander down to Canada where I grab a Moosehead and then back to the UK hoping to see the British Invasion. Well, either I've misread the timetable or they have cancelled for some reason as it's all quiet in good old Blighty. I've since found out that they've now finished in Epcot for good, so it's a real shame we didn't get to see them one last time. Singing along to Hey Jude on Millennium Eve with a 6 year old Georgia in my arms is a memory I'll never forget.
Tam is in the need of something sweet, so we go to the Caramel Candy Shop in Germany. We share a Pecan Caramel Bar and a Chocolate Marshmallow on a stick. The latter is just ok, but the Pecan Bar is very good.
On to Mexico where we ride the Grand Fiesta Tour before ending up in the shop where a lady is making a glass animal. This is so interesting that we watch the whole process from start to finish. Unfortunately it doesn't go exactly to plan and a few bits and bobs break off and have to be repaired at various times. The lady jokes with Tam that she is making her nervous. I can see why as Tam has her nose practically pressed against the glass safety screen. The end product is a penguin bride complete with veil and flowers.
It's now 8.15pm, so we go to find our usual spot by Norway for Reflections of Earth. I grab a beer and on my return find Tam talking to a couple that have just got off the Dream. They noticed Tam's DVC bag as they've just bought into Bay Lake Towers while on the ship.
It turns out that they are both police officers in a place called Henrico (pronounced Hen-rye-co) and tell us all about it. You get the impression from TV shows that all American cops are hardened, brash characters, but these officers are not the first I've met and they have all been lovely, friendly people.
I ask the gentleman whether his job is getting harder in these tougher financial times and he says that, yes, crime is on the increase, but he professes some sympathy for people who really have little option but to turn to crime to survive.
They give us a cloth patch badge (the same as they stitch onto their uniforms) from the Henrico police department, which is in Virginia. The centre piece of the badge is the head of Pocahontas – how cool is that?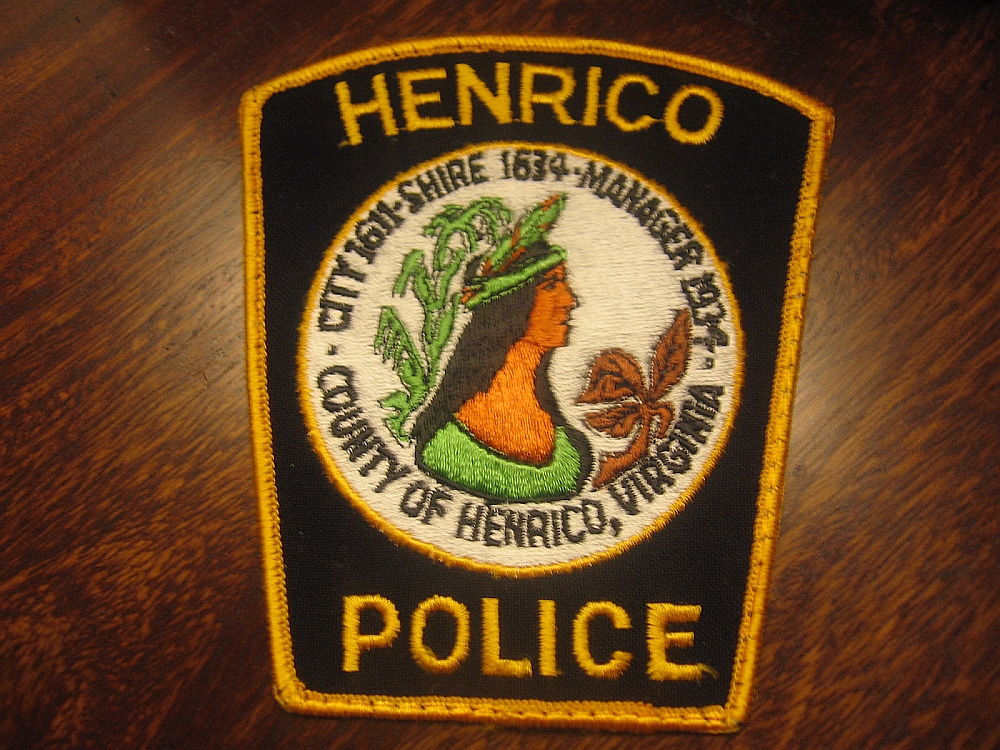 Reflections of Earth starts and we stand transfixed as always. After the fireworks are finished we say goodbye to our police friends and walk back towards the front of the park. This is a strange experience for us as we normally exit through the International Gateway to get back to our home resort at the Boardwalk.
The queue for the monorail is shorter than I expect and we are back at Bay Lake Towers quite quickly. Bed around 11.00pm after staring out of the window at the lovely view.