DAY 2- WEDNESDAY 2nd MARCH 2011
Written by Kev
Participants: Tam and Kev
Of course the night before the flight in the hotel goes exactly as it always does. Fall asleep happily and wake up at 5.00am never to return to the arms of Morpheus. The sub-conscious is a strange thing – as I lie in bed I don't feel enormously excited (steady ladies, steady), but I'm wide-awake. Tam is even worse as she woke up and looked at the clock at 1.10am!
We finally give up at 7.00am and I start to write up the trip report before showering.
Tam tries to make a cup of tea, but there is no milk, so she rings housekeeping. The lady tells her that the milk is in the small fridge directly under the tea making facilities. You can just imagine the woman on the other end of the phone muttering 'Stupid bint' as she returns the handset to the cradle.
We check out at 8.30am and walk over to the airport where we drop off our baggage at the British Airways desk having done on-line check-in yesterday. Tam asks if there are any upgrades available today and is politely told 'No', although I suspect that what the woman is really thinking is 'We don't give upgrades to people who are too thick to find the milk to put in their tea'.
Security is negotiated swiftly even though Tam has to remove the boots she is wearing and instantly regrets her decision to wear socks instead of tights as she stands there looking a bit of a numpty as they wander off with her boots to do whatever they do to boots on such occasions. On the plus side Tam tells me the woman has lovely hands after receiving a thorough security pat-down. Read into that what you will.
Breakfast is next in Garfunkel's as we have a 20% discount voucher. Actually we have 2, so Tam gives the other one to a table of 10 blokes, who thank her nicely whilst looking at her like she's escaped from the local sanatorium.
There are still a couple of hours before our flight so we wander round the shops – oh joy. It turns out that the only thing we buy is a tie for me, Tam is definitely losing her touch. We also look at the price of I-Pods as Georgia has been dropping subtle hints that she would like one. Subtle that is if you think repeatedly stating 'You're going on holiday and leaving me alone, the least you can do is buy me an I-Pod' is subtle. Tam (being a sucker) is considering the idea, while I think an I-Patch would be closer to my preferred price range.
30 minutes are spent sat down while we wait for the flight to open. I catch up on my trip report and Tam passes the time playing games on her new Acer Aspire One netbook, which she bought out of the money she made E-Baying a right load of old junk, or treasured heirlooms dependant on your opinion.
We board on time and are pleasantly surprised at the polite manner in which everyone remains seated at the gate until their section is called. The last few times we've flown with Virgin it's been a real free for all, so it's nice to board swiftly and pleasantly with BA. The other interesting thing is the number of children on board, very few. Maybe it's because the half term has just finished.
We pull back from the gate 10 minutes late and settle in to watch as many films as possible in the time available.
Film 1 – The King's Speech. I don't think there's much more I can say that hasn't already been said about this multi-award winning film. It really does take what could be a fairly stuffy subject and turn it into 2 hours of complete delight. The only thing that puzzles me is why Geoffrey Rush hasn't had more recognition for his role, he's every bit as good as Colin Firth.
Lunch is served during the film and we both have chicken in a creamy mushroom sauce. It's actually reasonably edible for airline food.
Film 2 – True Grit (the new Coen brother's version). I'd read that this was different from a usual Coen brother's film in that it has none of the usual quirkiness and sticks fairly truthfully to the original book. Whether that is true or not, it's a great film and it surprised me that the ending is different to the John Wayne version of the film.
Film 3 –Unstoppable. Basically it's a runaway train story, but very well done. At the start it says 'inspired by a true story', whatever that means. I'm not sure which bits are true, but if it all happened – it's amazing.
Film 4 (the last one I promise) – Monsters. This is a strange sort of film about massive alien creatures that have infected an area of Mexico. A young woman is stuck there and a photographer (who works for her very rich father) is ordered to find her and bring her to safety. Now this might seem like a fairly average SciFi plot, but it's just as much about the relationship between the boy and the girl as about the creatures.
It must seem as if I've liked all the films I've seen – that's because I have, but that's the beauty of a video on demand system with a lot of choice, it enables you to pick films you're pretty sure you'll like. There's no doubt that VOD makes a huge difference to how long the flight seems to take and we touch down in Orlando a little ahead of schedule at 4.20pm local time.
Immigration goes really smoothly as we are the only flight in. Baggage collected we head off to Dollar to pick up our hire car. If you are Dollar Express member you can go straight to the rental car garage to get your vehicle. A word of warning – it seems that if you don't use your Dollar Express card regularly it becomes inactive. The lady at the desk is very nice and processes everything for us, but warns us to reactivate the card before we use it again. You can do this by phoning them up.
We have never had a better trip through the airport than this and we are in our Economy car and on the way 40 minutes after landing.
We take the South exit from the airport to the Greenway until the nearest Publix where we stop for a few bits and pieces including beer and breakfast stuff. Back on the road we arrive in WDW (hooray!) and proceed to Bay Lake Tower. We check-in at the Contemporary for our 1 bedroom theme park view accommodation and are given room 8020, this is on the 10th floor. When we open the door to the room we are pleased indeed. It is even nicer than we expected. The view is wonderful – the car park is directly below you, but after that is Space Mountain and the Castle to your right, The Seven Seas Lagoon straight ahead and the Contemporary to your left.

We unpack in great haste as we want to get to the Top of the World lounge in time for Wishes at 8.00pm. The lounge does not disappoint. It is nicely furnished and practically empty until 15 minutes before Wishes begins.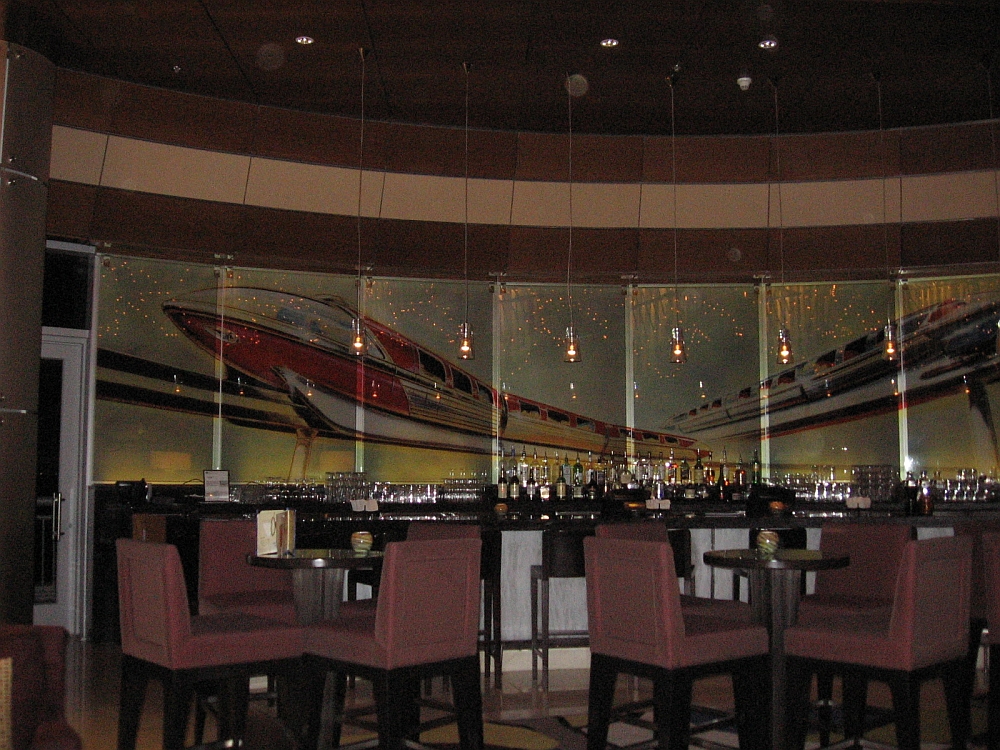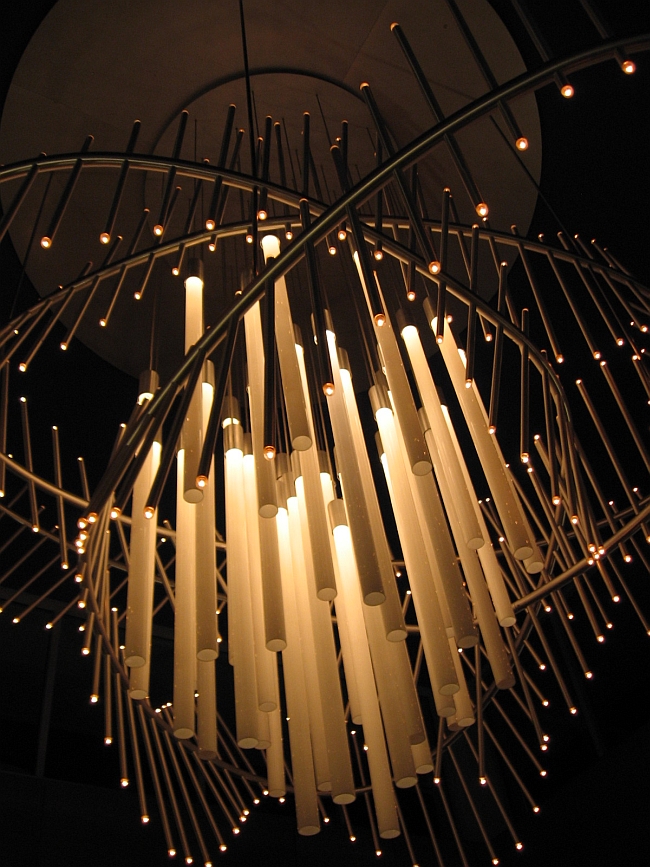 A beer starts off proceedings followed by a Margarita. As Wishes starts we go out onto the deck to watch. As many others have said before, it's amazing how far behind the castle the fireworks are. It's a lovely view and puts us perfectly in the mood for the holiday ahead.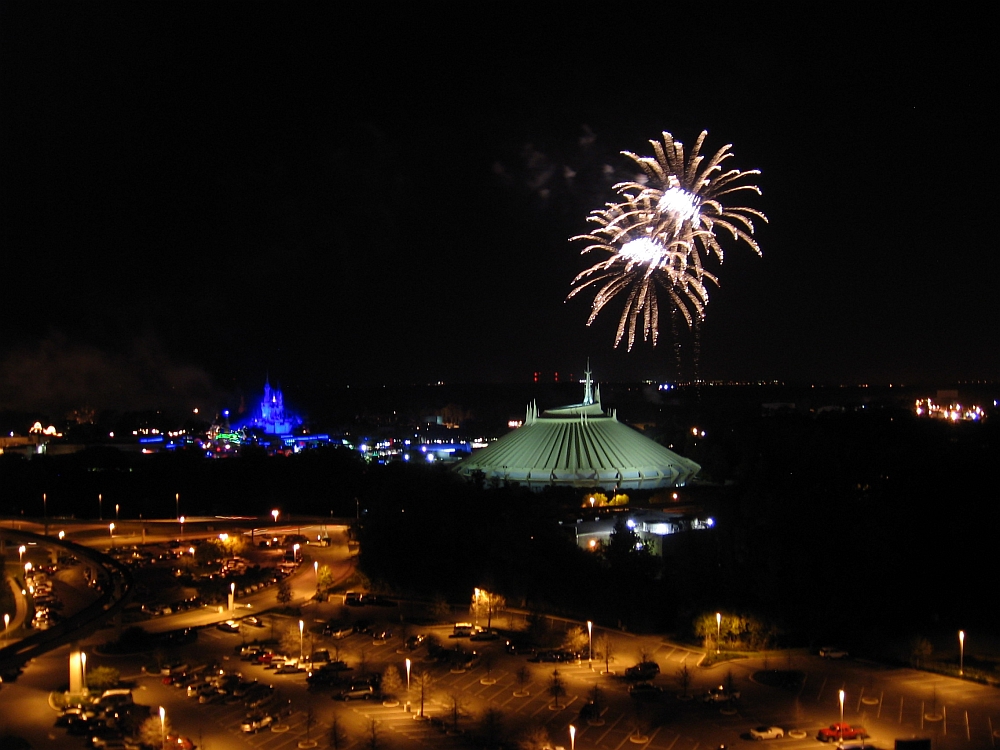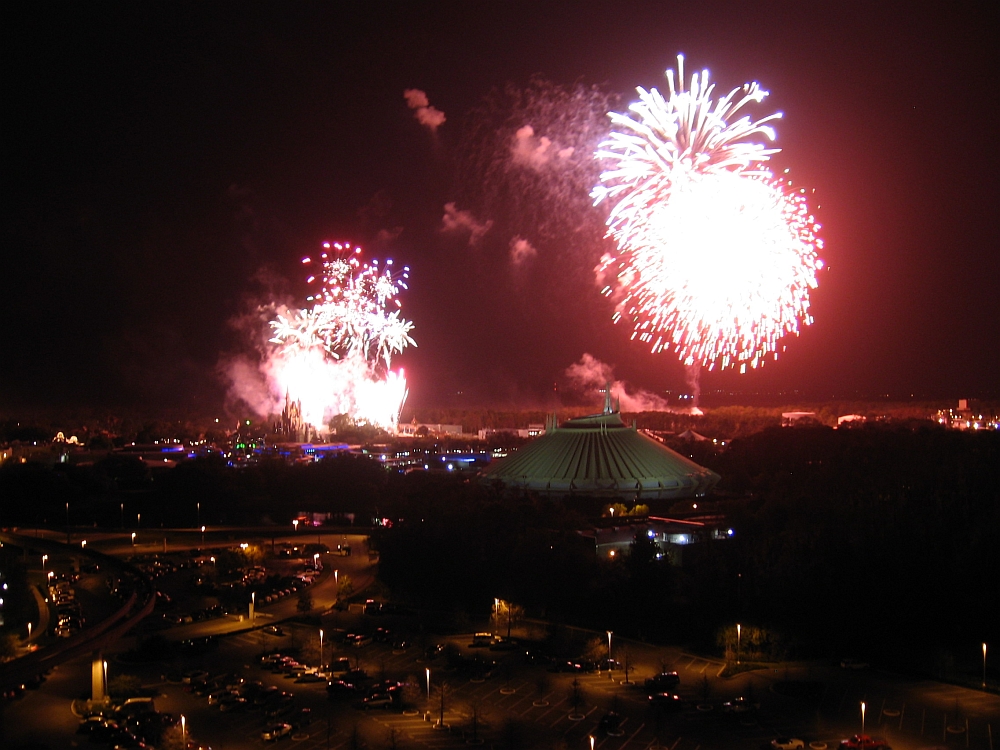 Back into the lounge and we order some food and a couple of glasses of wine. We have the Lump Crab Nachos and the Beef Tenderloin Flatbread with balsamic vinegar onions. Both are lovely with the flatbread being the preferred choice.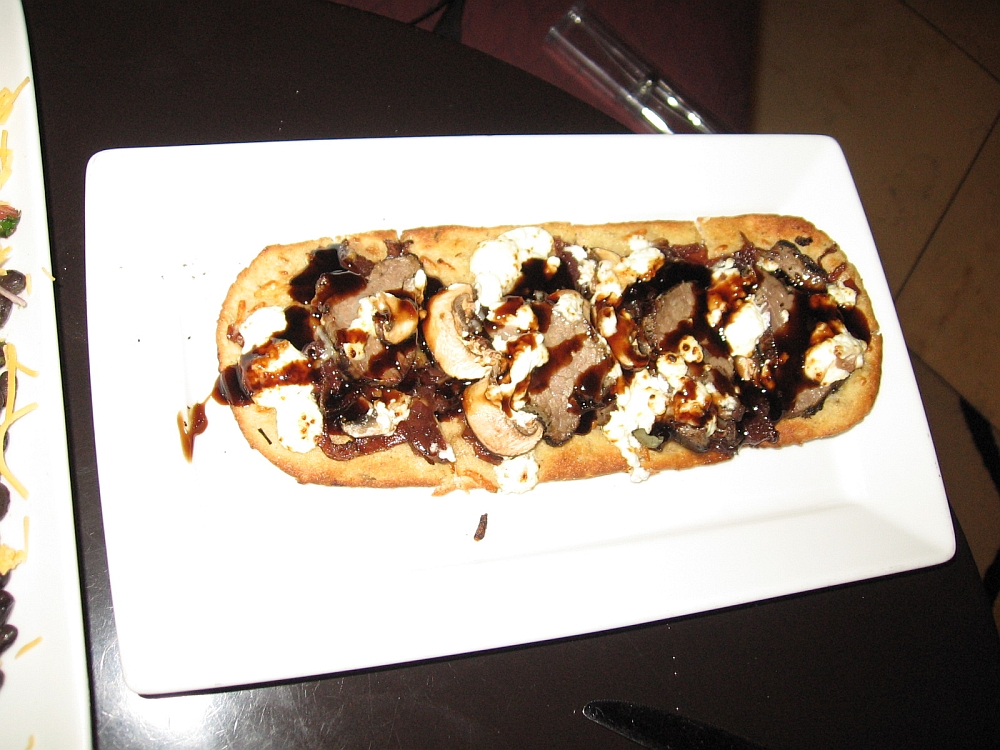 We've both enjoyed the Top of the World lounge. If we were here for longer we would definitely frequent it more. After paying the bill of $75 including tip we go back down in the lift and walk around the pool area for a while. First impressions of Bay Lake Tower have been very positive.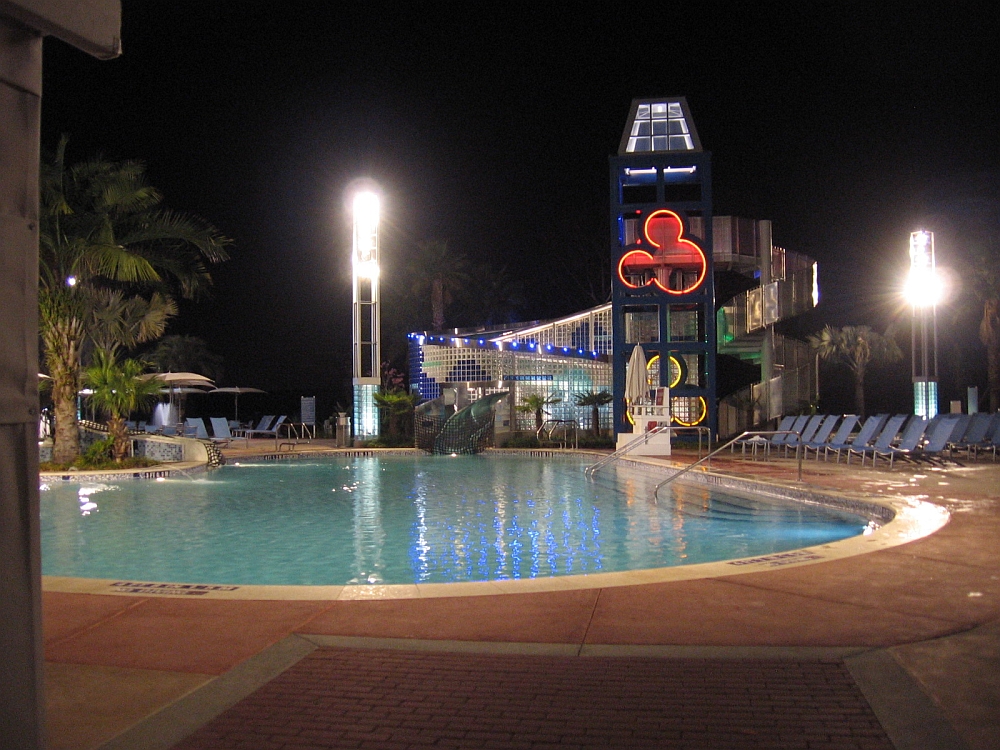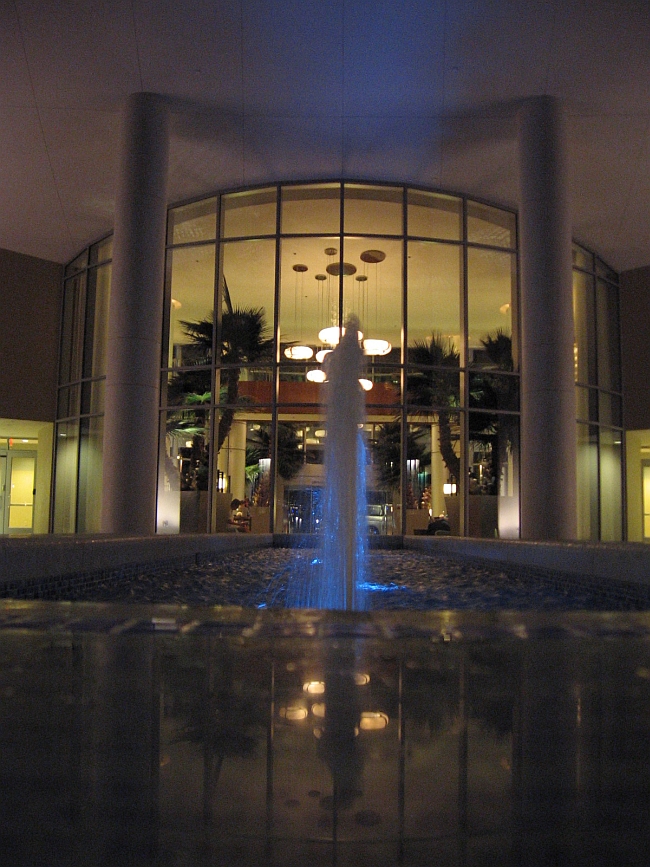 Back in the room I have a beer and write up my trip report while Tam connects her netbook to the internet. Some arrival days are good and some not so good, but I cannot remember an arrival day when everything has gone this smoothly. From leaving the Sofitel this morning to arriving in Bay Lake Tower, it has just been perfect. Our evening in the Top of the World lounge has been the icing on the cake. A fantastic start to what we hope will be a fantastic holiday.