DAY 1- TUESDAY 1st MARCH 2011
Written by Kev
Participants: Tam and Kev
If you read the pre-trippie you will know that this trip is primarily to take a 7 day Caribbean cruise to celebrate Deb's 50th birthday. Prior to this Tam and I are spending 3 nights in Bay Lake Tower. We also have 3 nights at Vero Beach after the cruise.
Just to further confuse things Tam and Deb co-wrote the pre-trip report, I will write about the first 3 days in WDW, Tam is doing the cruise and I will take over for the grand finale at Vero including lasers, fireworks and the 1812 Overture complete with topless dancers. Well, perhaps I have exaggerated this a little. It will actually be me with my shirt off waving a sparkler and shouting 'Bang' every 30 seconds. Not very exciting, but it's a huge improvement over The Old Grey Mare.
We leave work early at 2.00pm and go home to change and load up the car. The journey to Gatwick is very smooth and takes around 2 hours. We are using APH to park the car – a first for us. We got a good rate (£65 for two weeks), so we thought we'd give them a try even though they are 4 miles from the airport. In reality this doesn't take an awful lot longer than using one of the on-site car parks, as you still have to load your cases on to a bus, so the only difference is the extra few minutes on the coach
We are staying at the Sofitel for the night on a rate that I find highly pleasing. It's free as we booked it using Airmiles.
Check in is quick and we are in our room around 5.30pm where we shower before going down to the Kua Bar for a pre-dinner drink. Call me peculiar, but I always like to shower before going to the bar rather than going to the bar and then attempting to shower, it's just the way I am.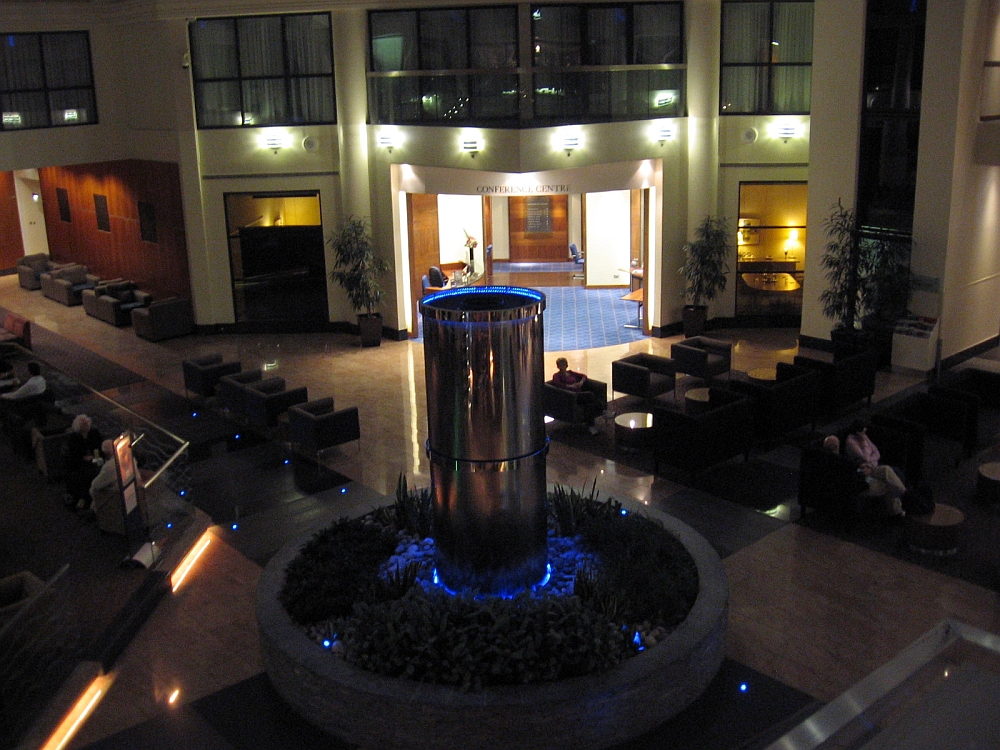 We both prefer the Sofitel to the Hilton (nothing wrong with the Hilton – we've stayed there a few times – just that the Sofitel is our preference), however the drink prices here do tend to make the eyes water a little. I have a bottle of Sol and Tam has a glass of Prosecco – total cost £11.49. This includes an automatically added 12% tip. Why 12%? What happened to good old 10%? Anyway, it's a pleasant bar and we enjoy our drink before going to dinner at Le Café, which is a Brasserie style restaurant and not to be confused with La Brasserie, which is a more upscale restaurant next door.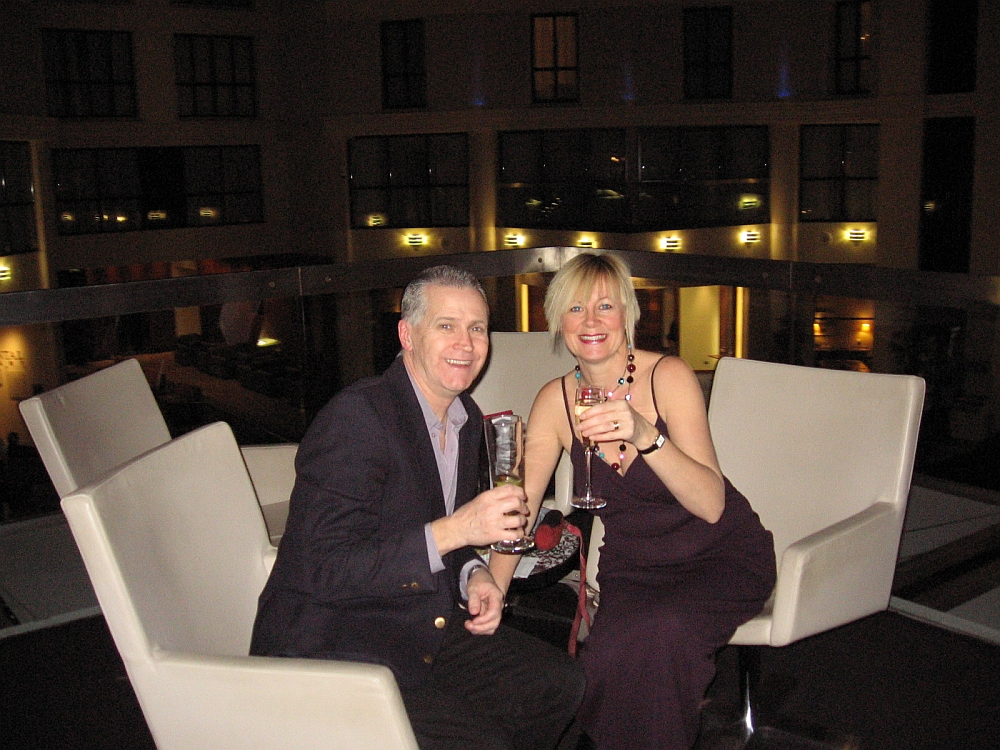 When we are shown to our table we are asked if we have any vouchers or coupons for money off. We don't have, so there follows a few minutes of wailing and gnashing of teeth by Tam and she hates to miss out on a freebie.
We order Spanish Chicken One Pot and an Aberdeen Angus Beef Pattie (burger to you and me). Both are very nice and are accompanied by a large glass of red wine. The wine costs £6.95 even though it's the cheapest on the menu, very nice though. The total bill comes to £50 including the obligatory 12% tip (not 11%, not 13%).
Off to the lobby bar next where I enjoy a pint of Guinness and Tam does her best to deplete the holiday budget further by ordering an Amaretto liqueur coffee at £6.95. She's high maintenance. Still, we both enjoy the evening and it's been a very pleasant and relaxing start to the holiday.
We are in bed and asleep by 10.30pm.