Day 14 October 2017
Written by Kev
I wake up and look at the clock - 7.55 am. This would be fine normally, but we are supposed to be leaving at 8.15 am to meet everyone in the Magic Kingdom. Oh, and it's Georgia's birthday. A quick bowl of cereal and Georgia opens her presents on the balcony.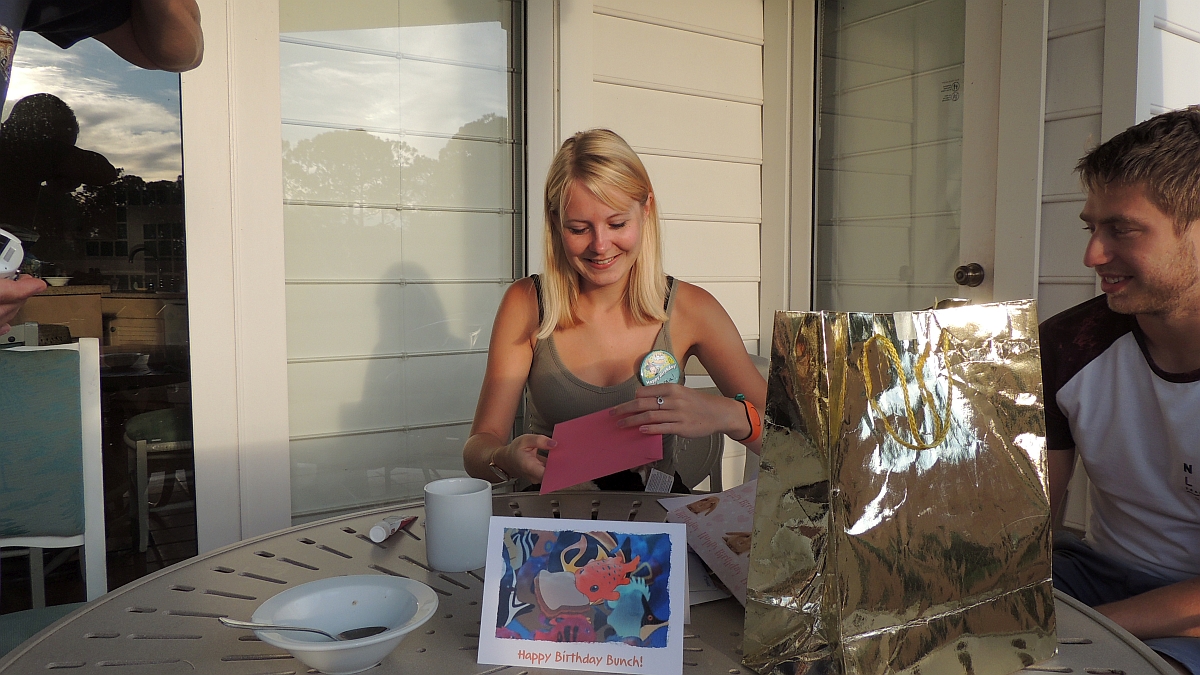 The birthday card at the front is of Pudge the peanut butter fish (from Lilo and Stitch) and it's one of Georgia's favourite characters.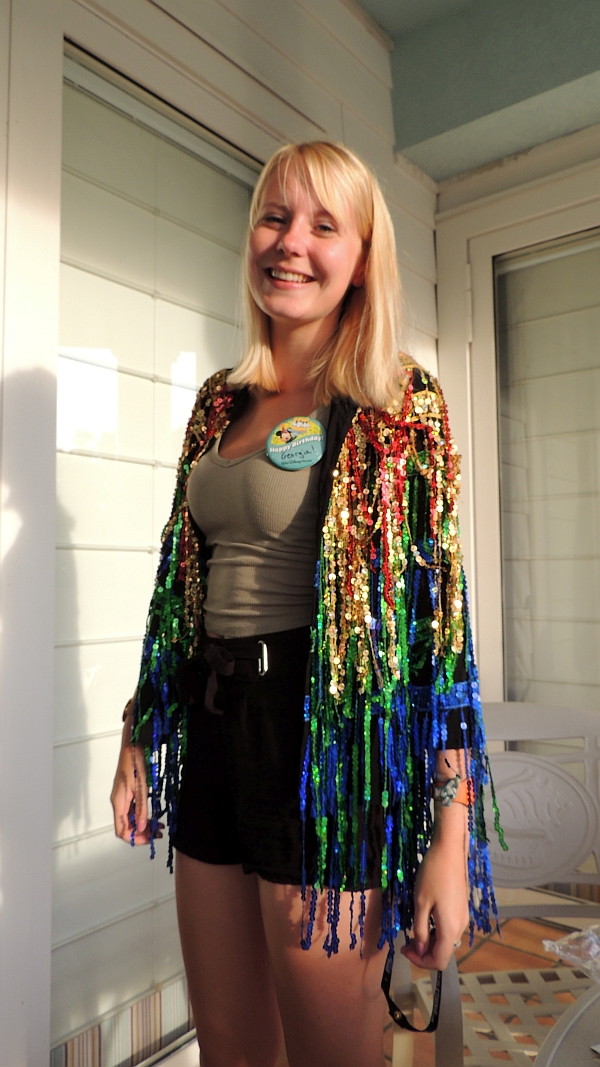 India bought Georgia this rather sparkly jacket. It's mostly going to be used for festivals.
We catch the bus to the Magic Kingdom to meet Sharon, Evan, Susan and Lu Beth. Surprisingly we arrive at 9.15 am, only 20 minutes late. Ever the gentleman, I tell Susan it's not my fault - it's Georgia's.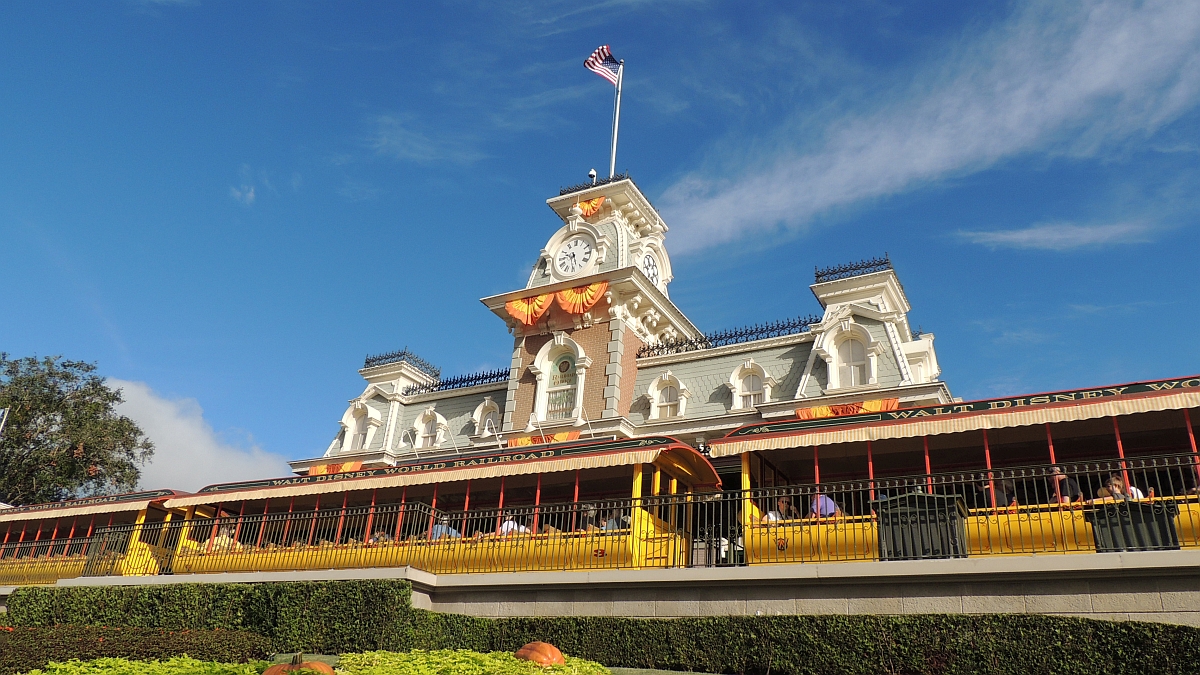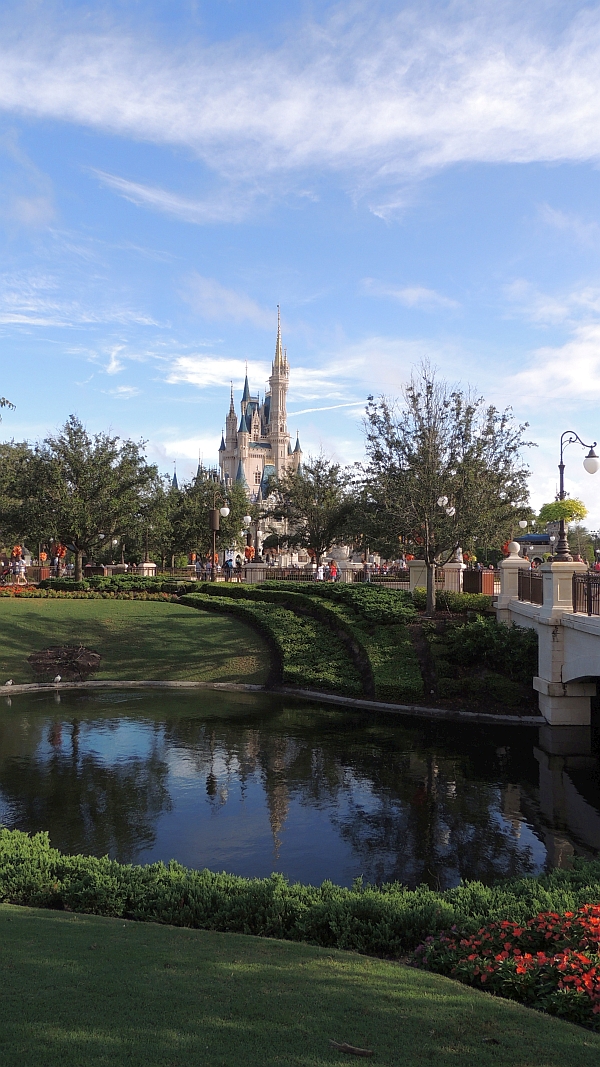 We ride Pirates of the Caribbean and all point at Georgia in the ride photo as it is her special day.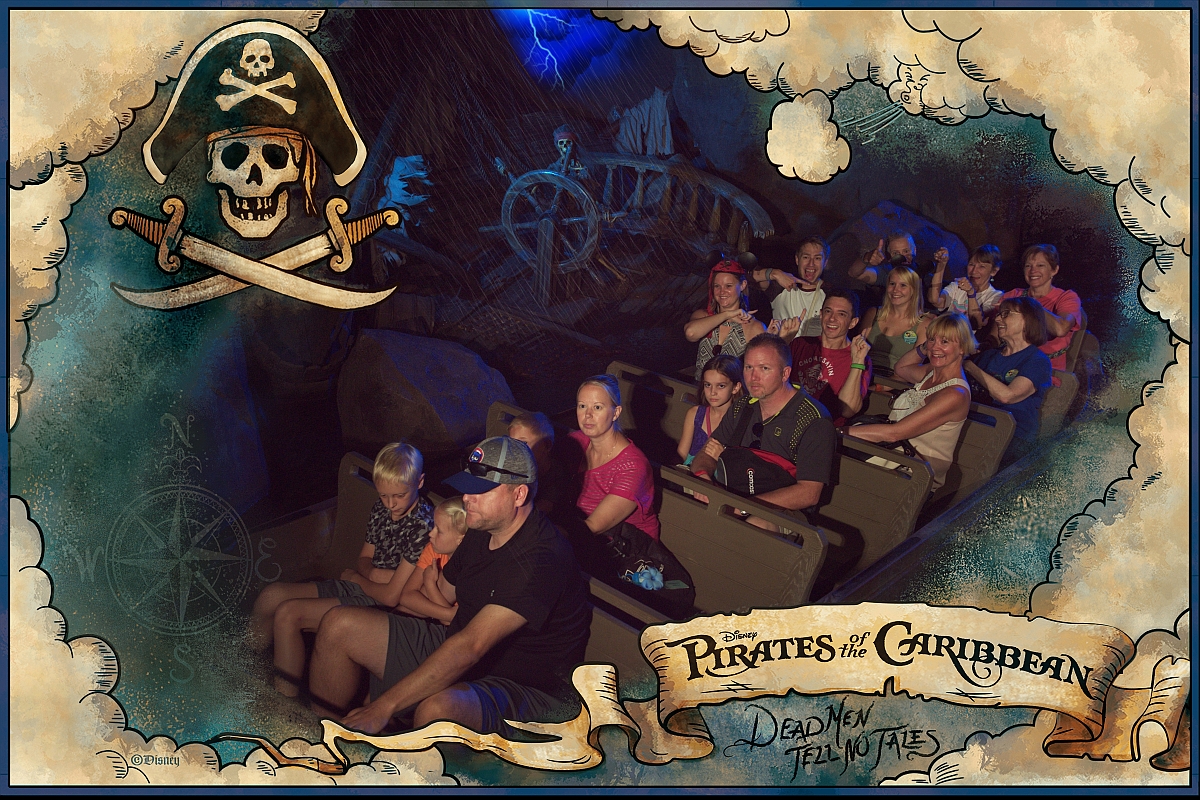 Next we do something that I've not done in a long time. No, it's not buy a round of drinks. We ride the Liberty Square riverboat. It's actually something that turns out to be very nice as it's not that packed and makes a nice change of pace from a crowded Magic Kingdom.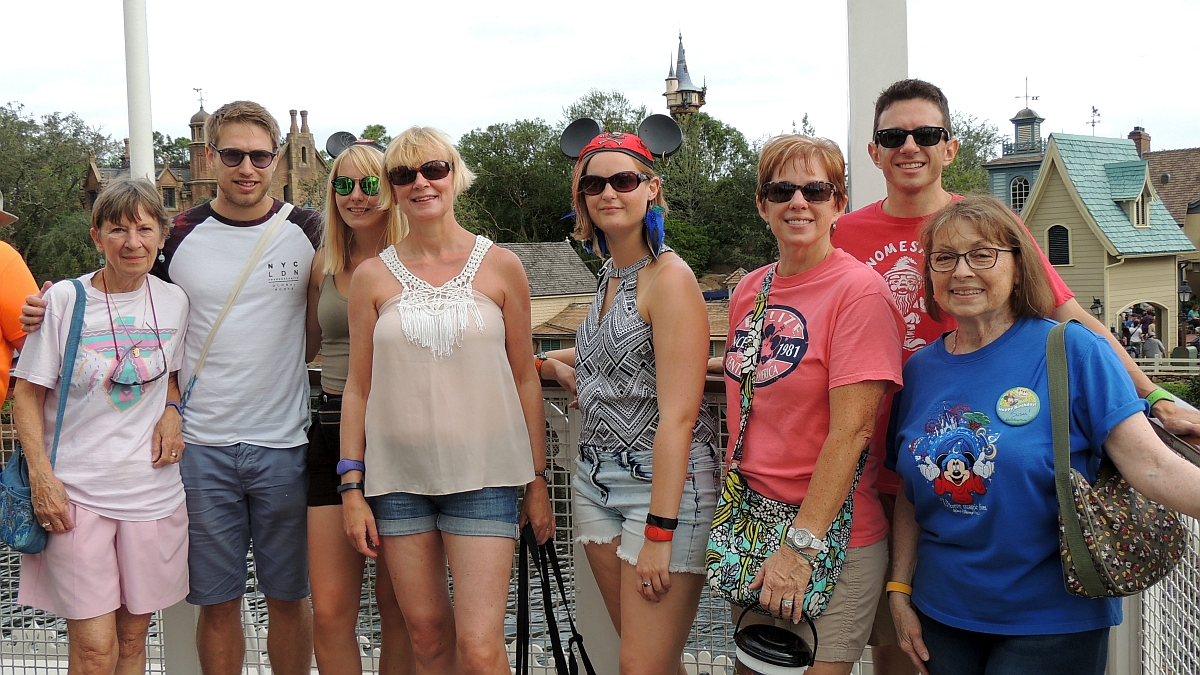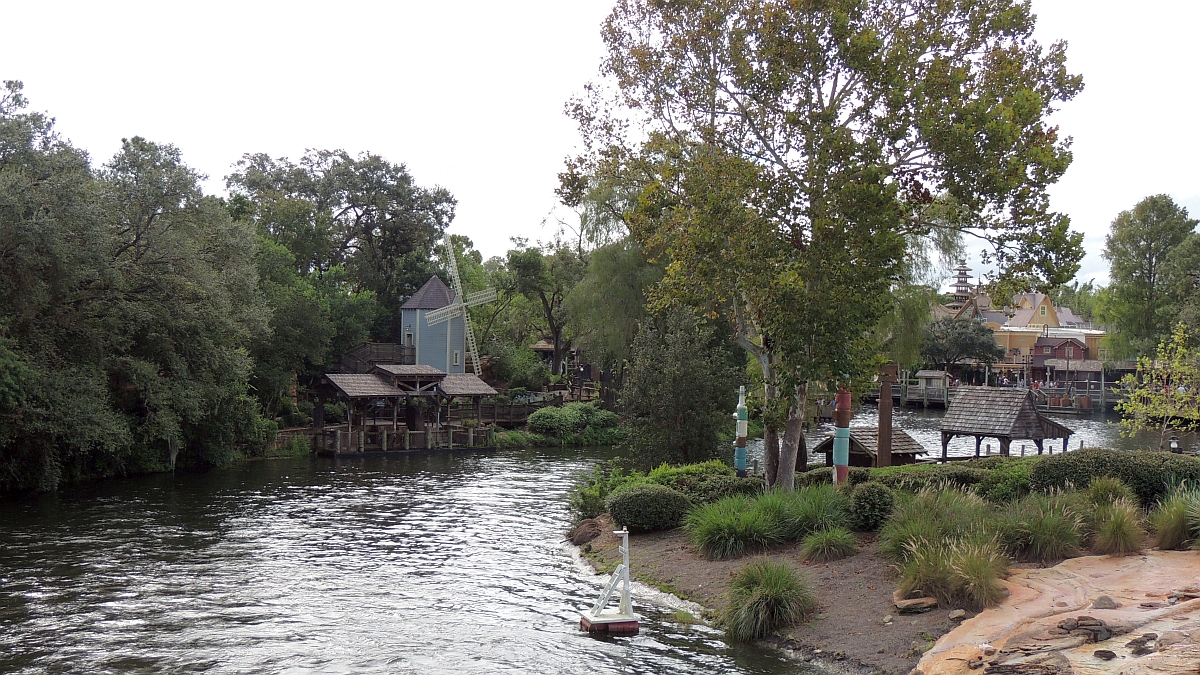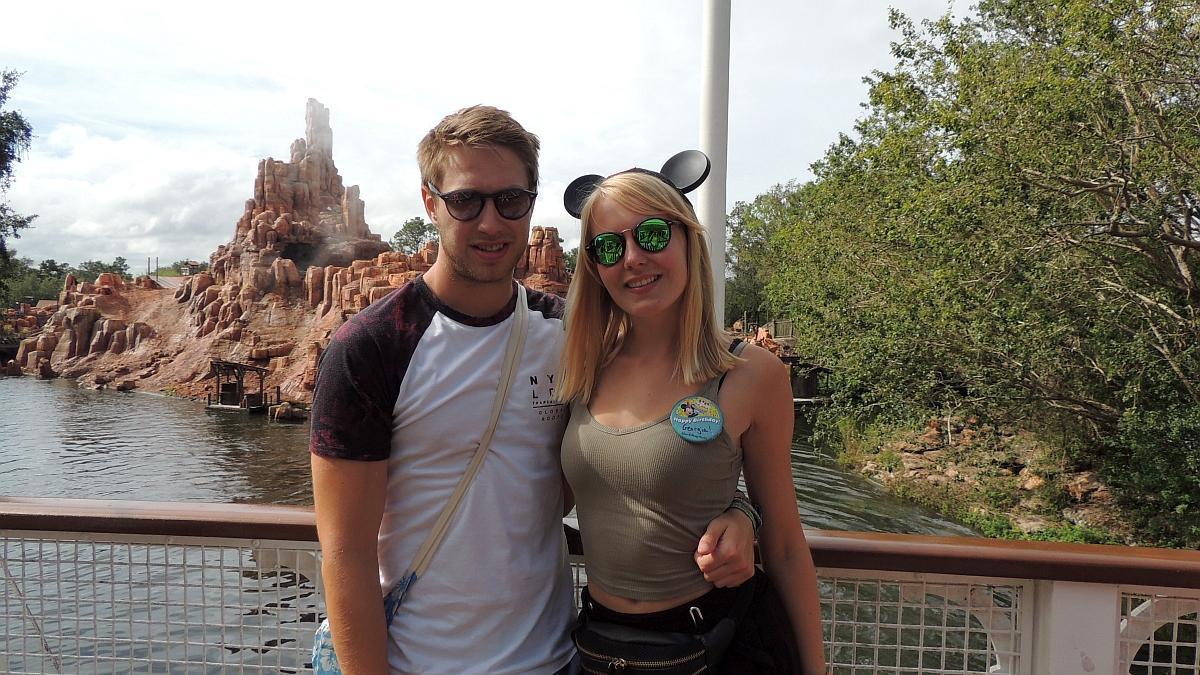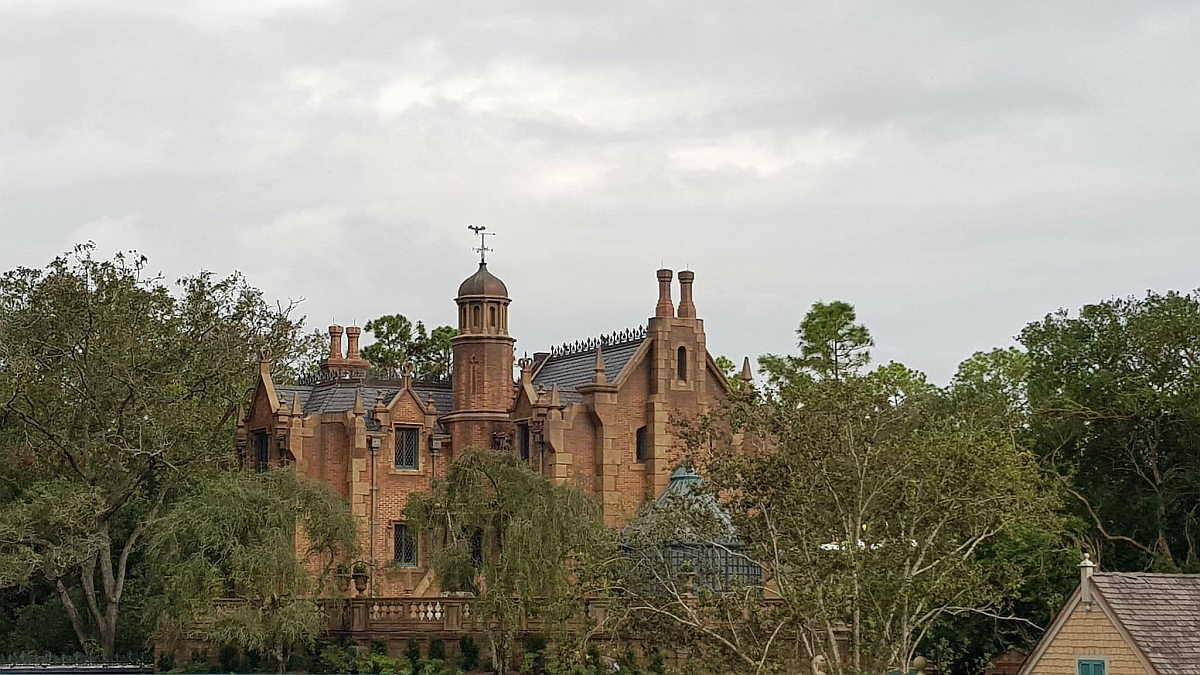 Big Thunder Mountain is next for everybody but Tam and Lu Beth. We have an early lunch at Columbia Harbour House, sitting upstairs where it's usually less crowded. Tam and I split a clam chowder and a sandwich.
The Haunted Mansion is next and afterwards Lu Beth gives Georgia a lovely HM top for her birthday. Susan also gave Georgia a birthday gift - a book called The Thinking Fans Guide to Walt Disney World (Epcot Edition) which has been signed by the author. We take a slow walk out of the park stopping off to watch a bit of the glass blowing show and the barbershop quartet.
We get the bus back to Old Key West and shower and enjoy a beer on the balcony before getting an Uber to drop us off at the Polynesian Resort. When we knew we would be in WDW for Georgia's birthday we asked her what she wanted to do. Her choice was to drink around the monorail resort bars. I was never going to argue. We arrive at the Poly at 4.00pm and meet up with the rest of the troop outside of Trader Sams. There is already a queue to get in that is being administered by a lady with a list. She tells us that we will probably not get in for an hour at least as there are nine of us. Ah well, something new to do on our next trip.
We get the monorail to the Grand Floridian where we have a cocktail at Mizners. Sharon gives Georgia a light up Haunted Mansion Christmas tree decoration for her birthday, which she likes a lot.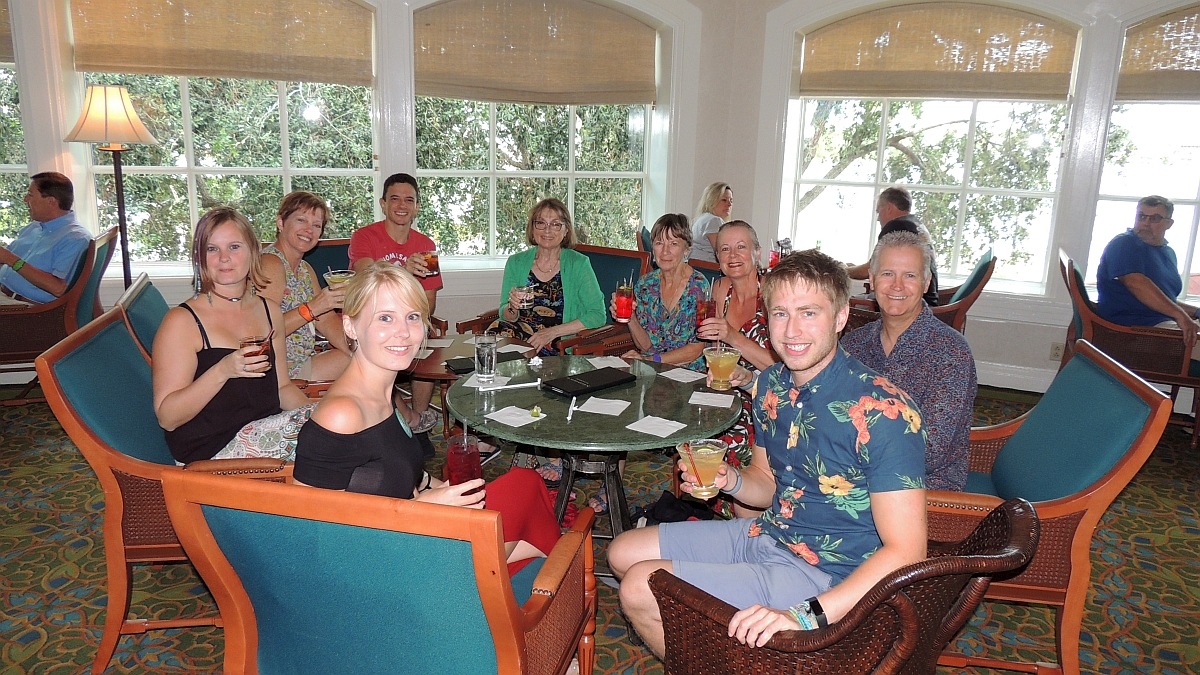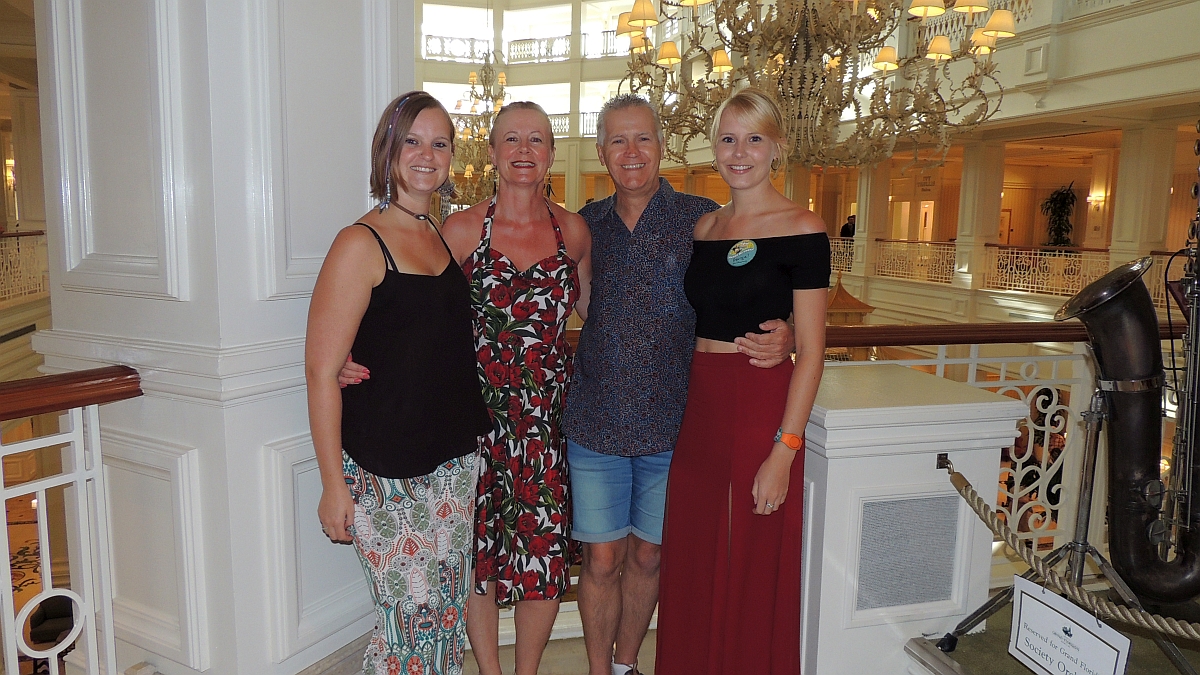 Back on the monorail and round to the Contemporary Resort. We walk to Bay Lake Tower only to find that the Top of the World lounge is not open until 6.00 pm, another 30 minutes. Just time for a swift beer at The Wave.
Back to the Top of the World lounge where I have a bourbon based cocktail and Tam, me and the girls split the flatbread, nachos and pulled pork sliders. The views are lovely as the afternoon turns into evening and many photos are taken. Tam and India share a rather alarming looking blue cocktail in a glass the size of a small child's head. Hmmm... there's an idea ..... it could be a bit like the meal served in a monkey's head in Indiana Jones and the Temple of Doom. I bet child services might have a word to say about that though.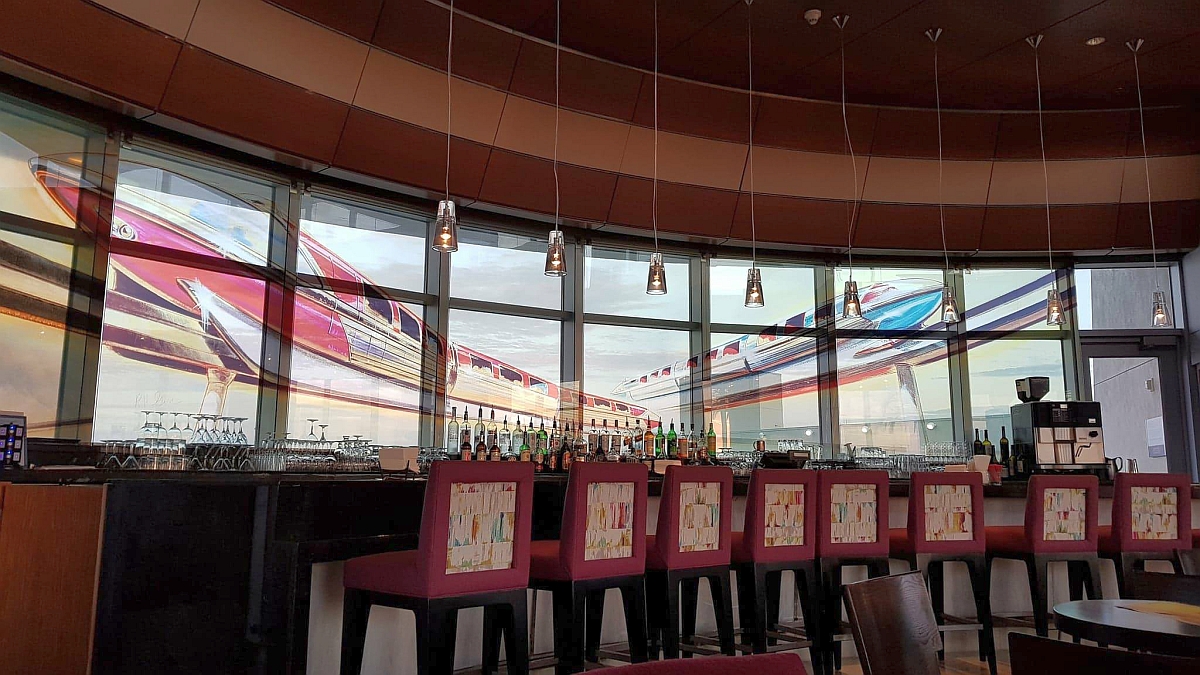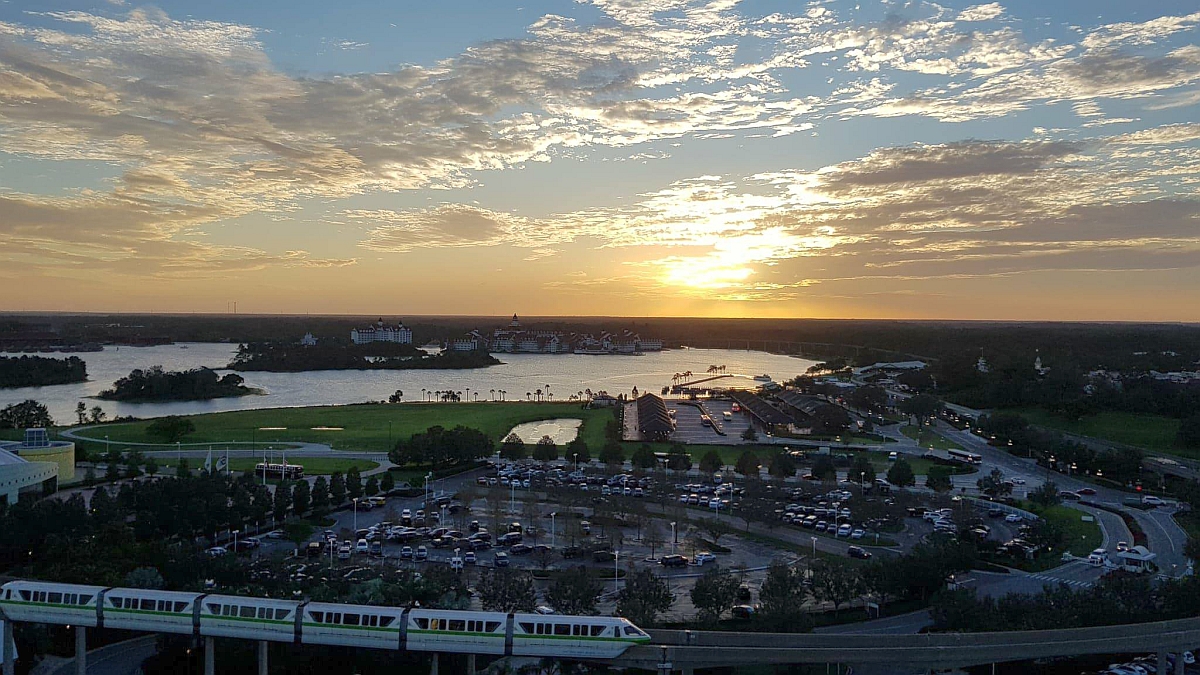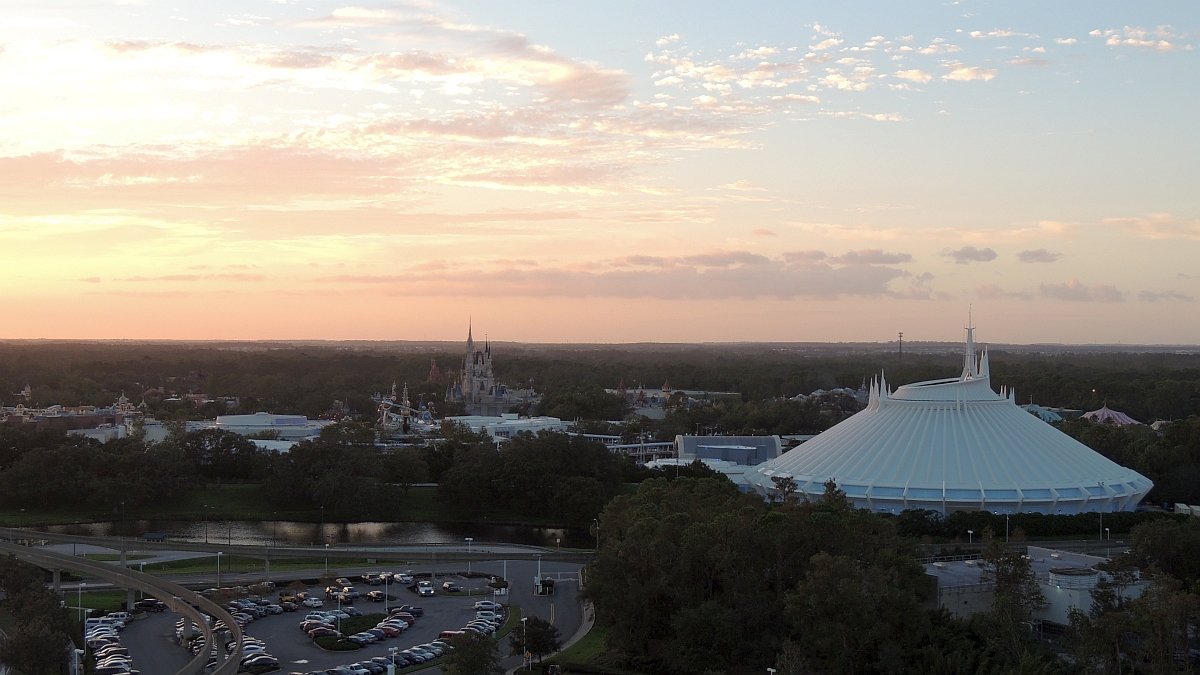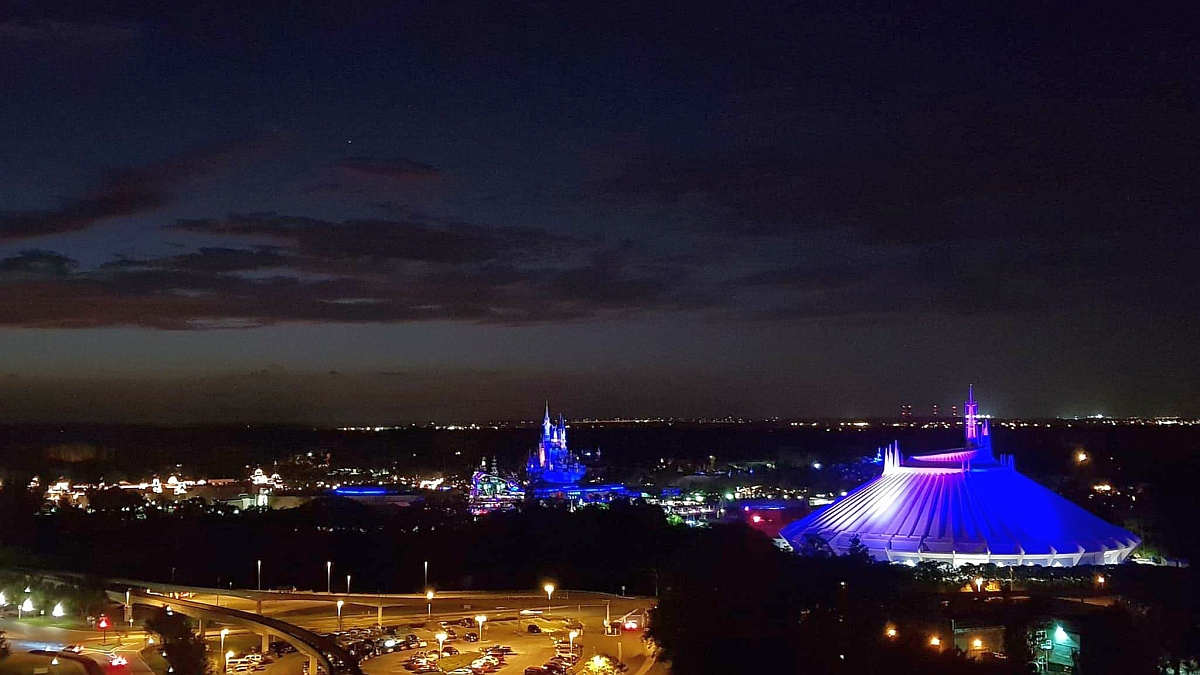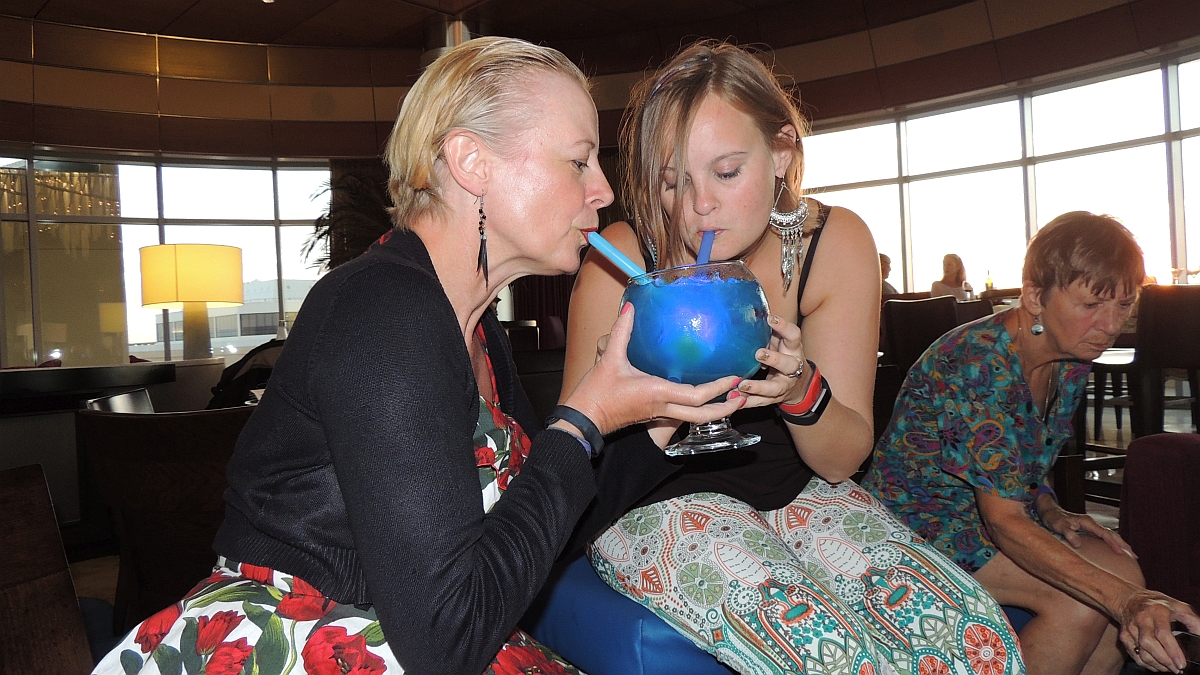 Even the straws are massive.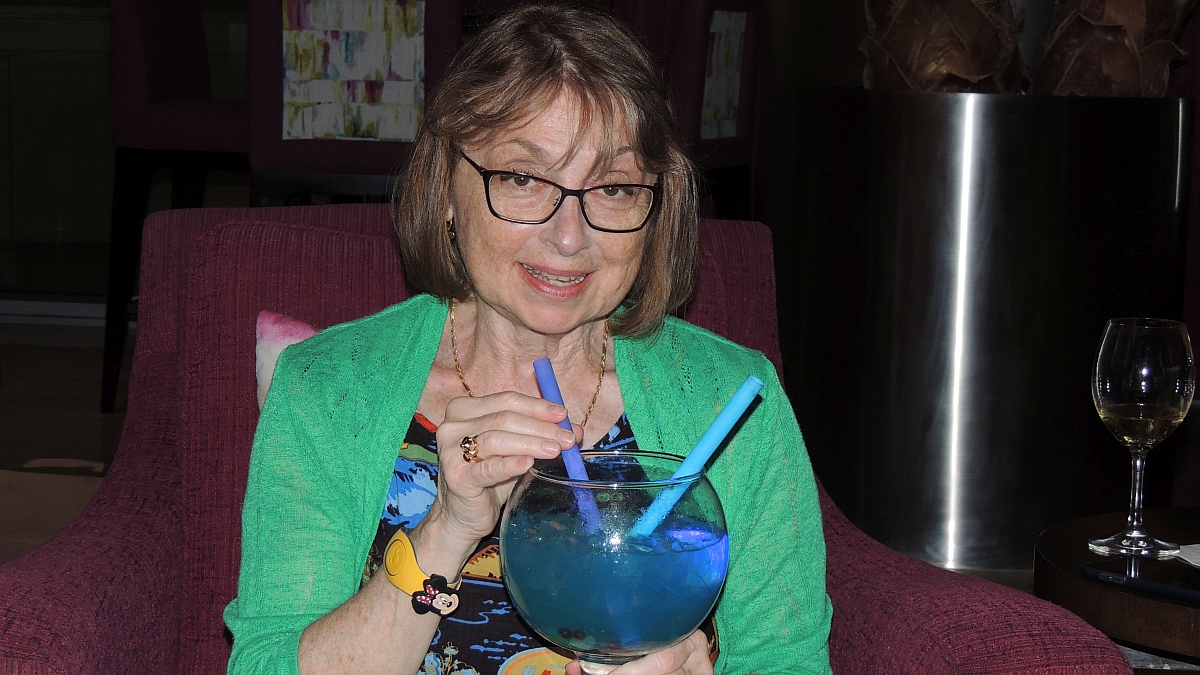 Susan tries to help out as well.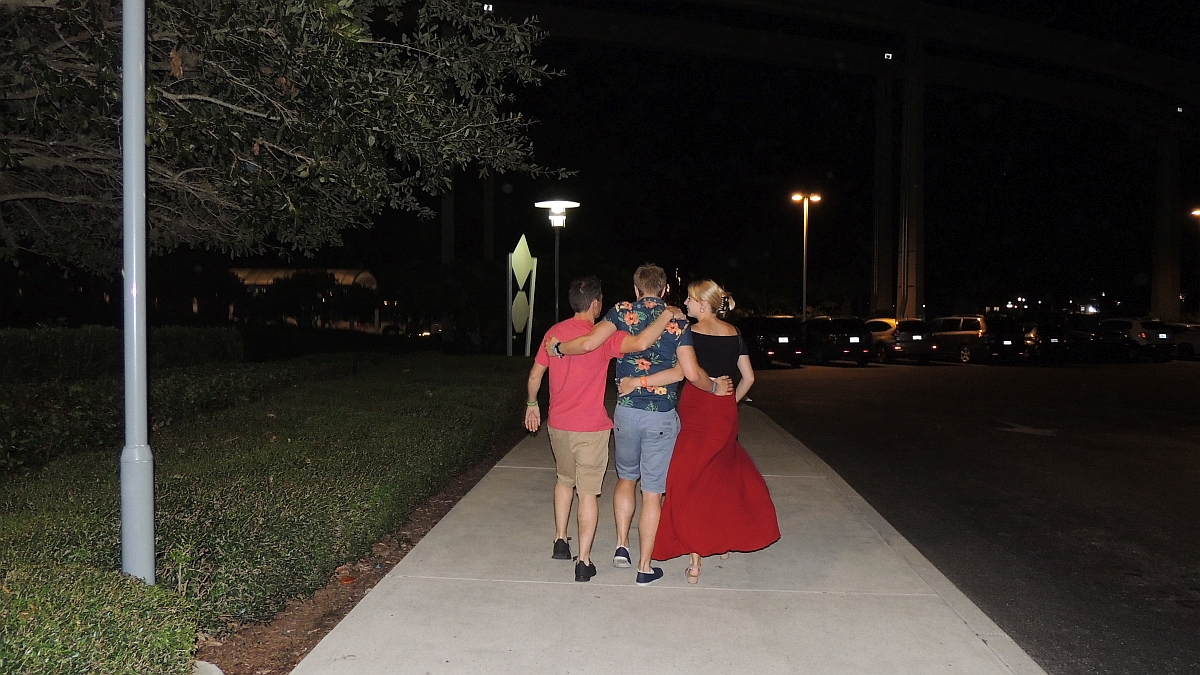 I think these 3 have enjoyed their trip around the monorail bars.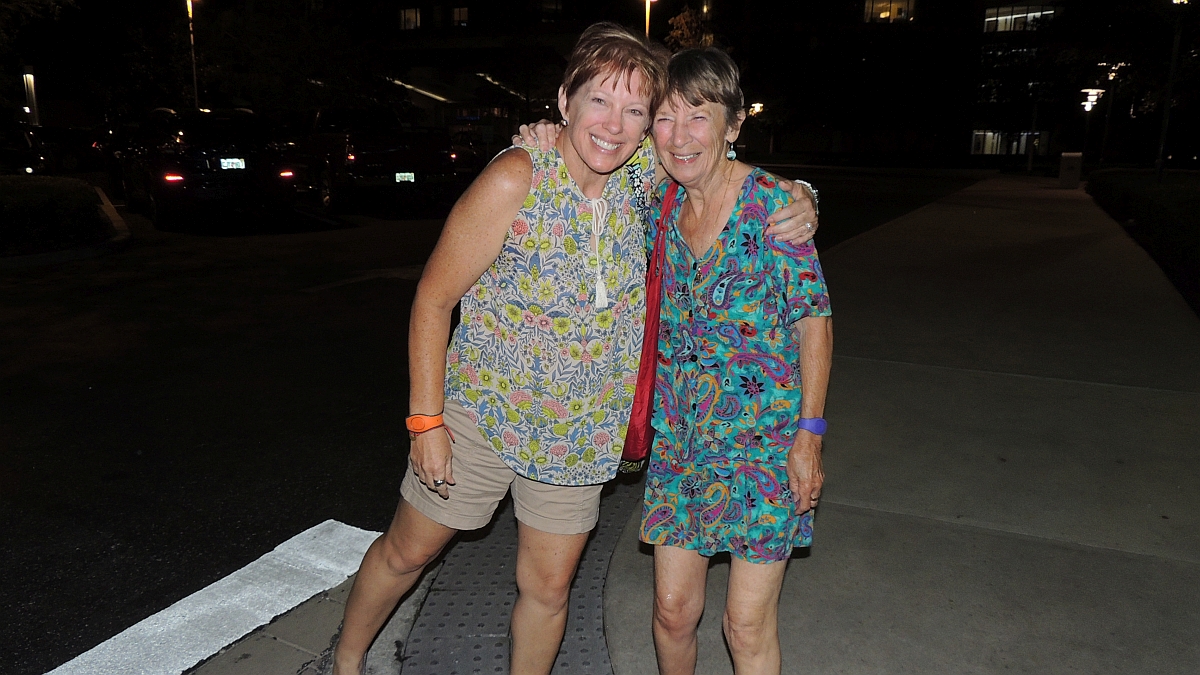 These two appear to have had fun as well.
Susan discovers that she's lost her credit card, so me, Susan and Inds go to the Concierge desk while the rest go into the Magic Kingdom in order to find a place to watch Happily Ever After. The Concierge is not particularly helpful, he doesn't even know there's a bar called Mizners at the Grand Floridian, but eventually manages to ring and Susan's card is there.
We make our way into the Magic Kingdom and it's packed. We get through the crowds as far as we can, but eventually cannot get any further and we are still quite a way from where the rest of the group have parked themselves. Luckily, with 30 minutes to go until the show starts, everyone stands up and frees up plenty of space for us to move forward and join the advance party. We have a good position on the left hand side of the hub close to one of the projection towers. The show is stunning and even better when you can fully see the castle.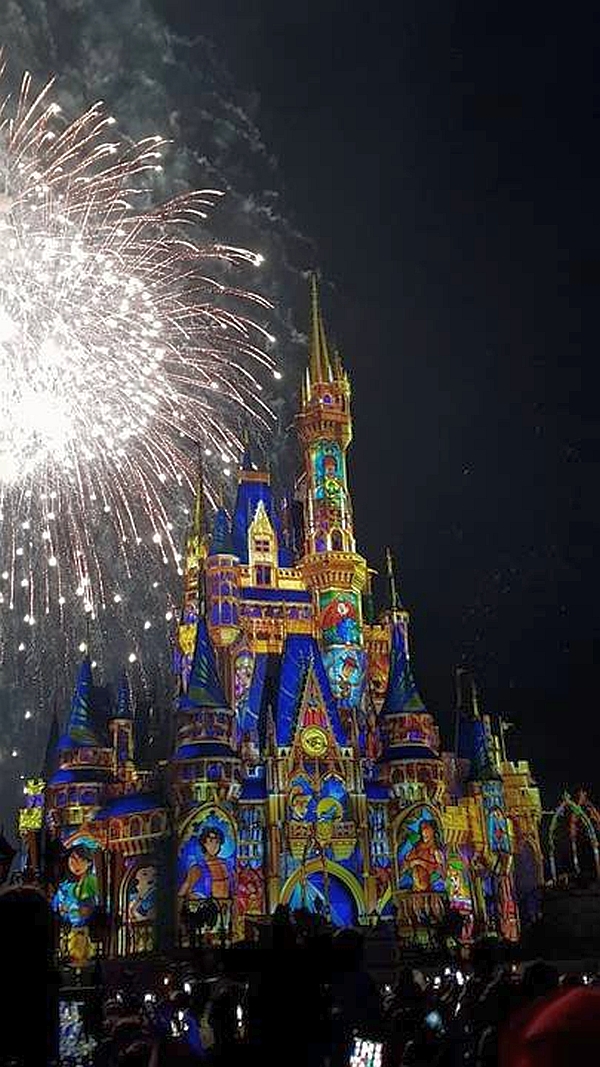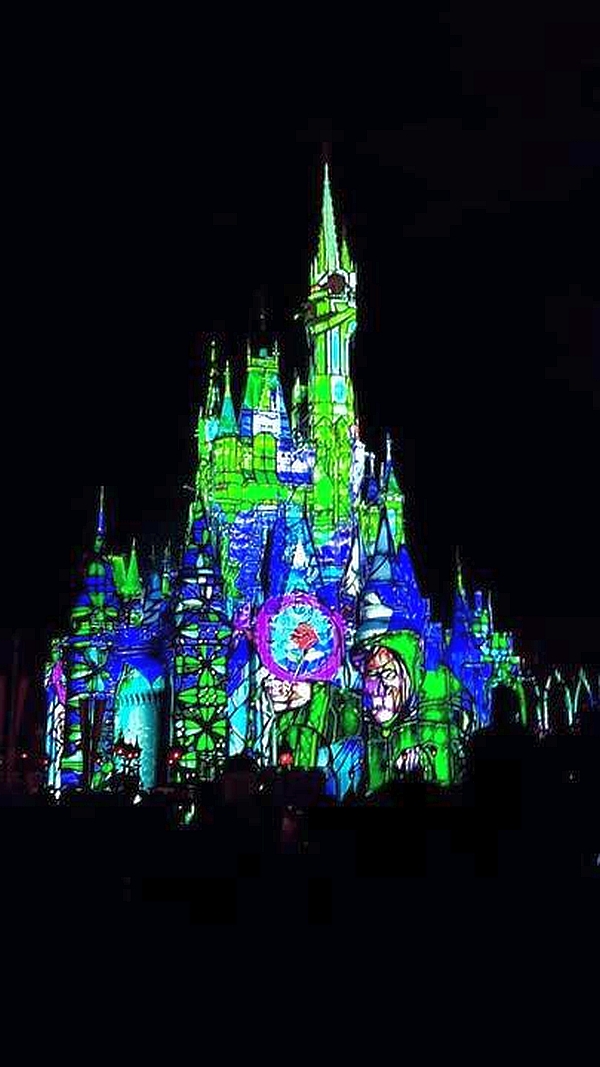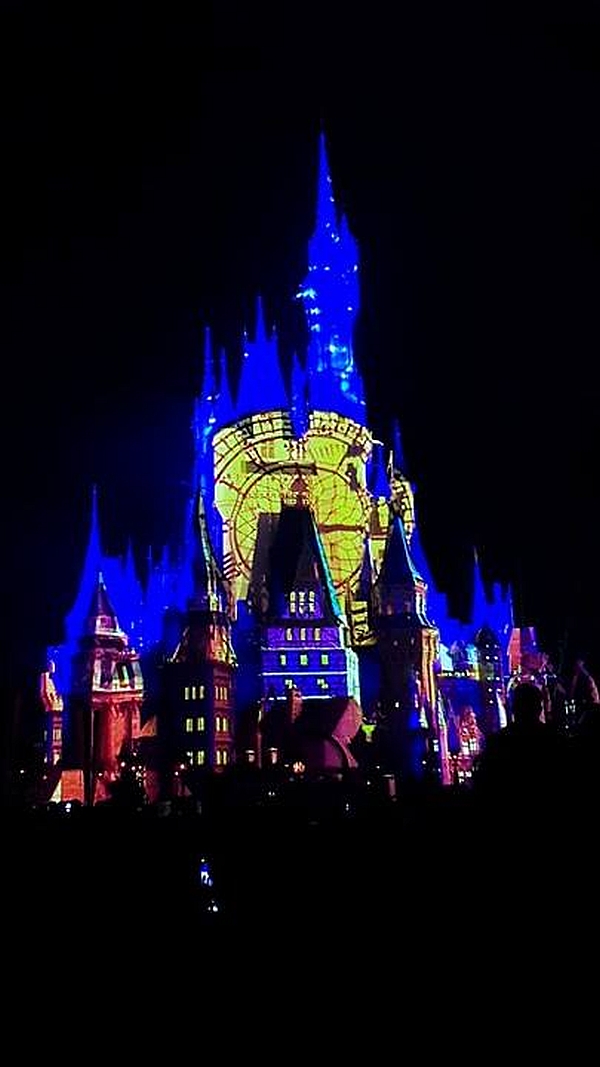 Unfortunately our photos are not particularly good at capturing the scale of this show, so here's one of Disney's Photopass pictures: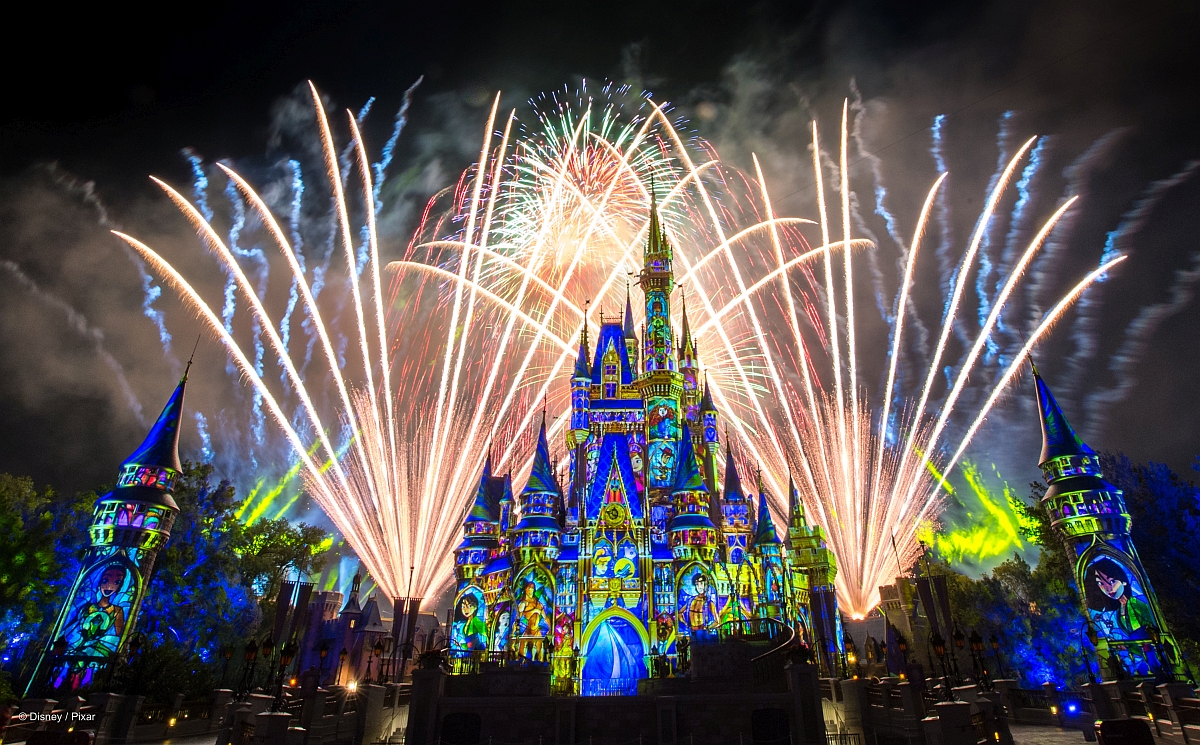 The evening is not quite finished yet as it's Extra Magic Hours tonight, so ride It's A Small World just for Charlie. You can't go to WDW for your first time and not do this ride. He actually thinks it's not as bad as we've all been making out. His least favourite ride has been Journey Into Imagination and I guess he has a point.
The Little Mermaid ride is next. This has a great queue area, but the ride is just average now. Why this wasn't a proper boat ride I have no idea.
We leave the Magic Kingdom and say goodnight to our friends before walking across to Bay Lake Tower where we go for one last drink at the Top Of The World lounge. Old Fashioned in hand I enjoy the view for one last time.
The bus takes us back to Old Key West and I fall into bed at 1.30 am.
Day 14 video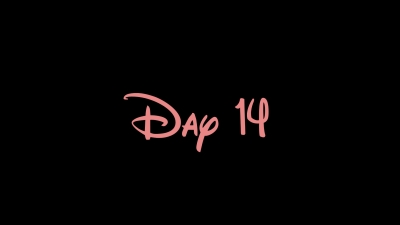 [OCTOBER 2017 REPORT HOME PAGE]