Day 11 October 2017
Written by Kev
After our late night I rise at 9.15 am. Georgia and Charlie are having even more of a lie in, so me, Tam and India walk to Goods To Go and get a coffee and Danish before catching the bus to the Animal Kingdom where we transfer to a bus to Blizzard Beach. Having to change buses to get to the waterparks is a really pain in the backside and it takes an hour before we find ourselves at Blizzard Beach.
We find a spot in the shade and relax for a while. Georgia and Charlie join us 45 minutes later.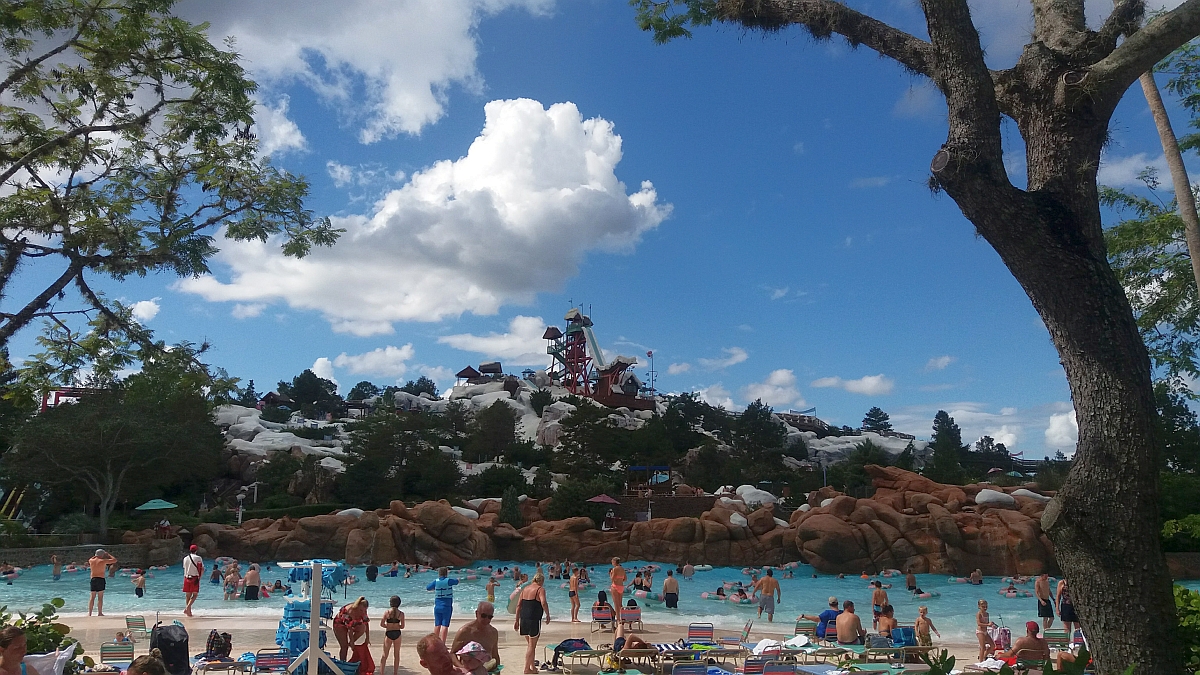 Our first ride is Teamboat Springs where we can all fit in one raft. This must be the longest water ride in Disney and it's great fun. Tam's still worried about hurting her neck too much, so she sits it out as the rest of us do the Double Dipper and then Toboggan Racers.
Lunch is at Lottawatta Lodge where we have burgers and fries. Charlie is not one to let a thrill ride pass, so he does Summit Plummet and then he and India do a few more slides while the rest of us relax and enjoy the sunshine.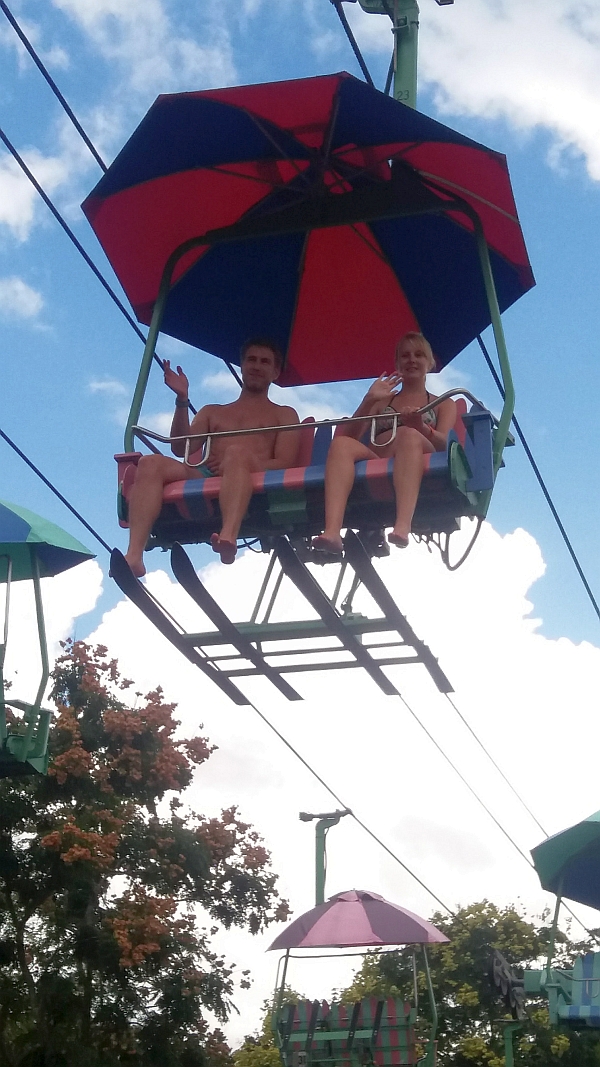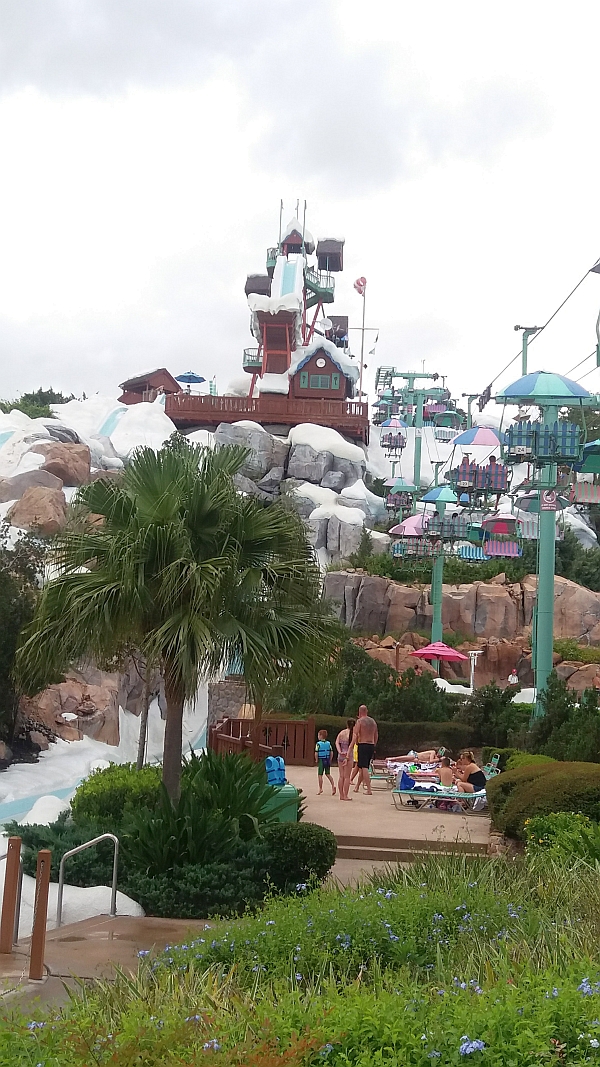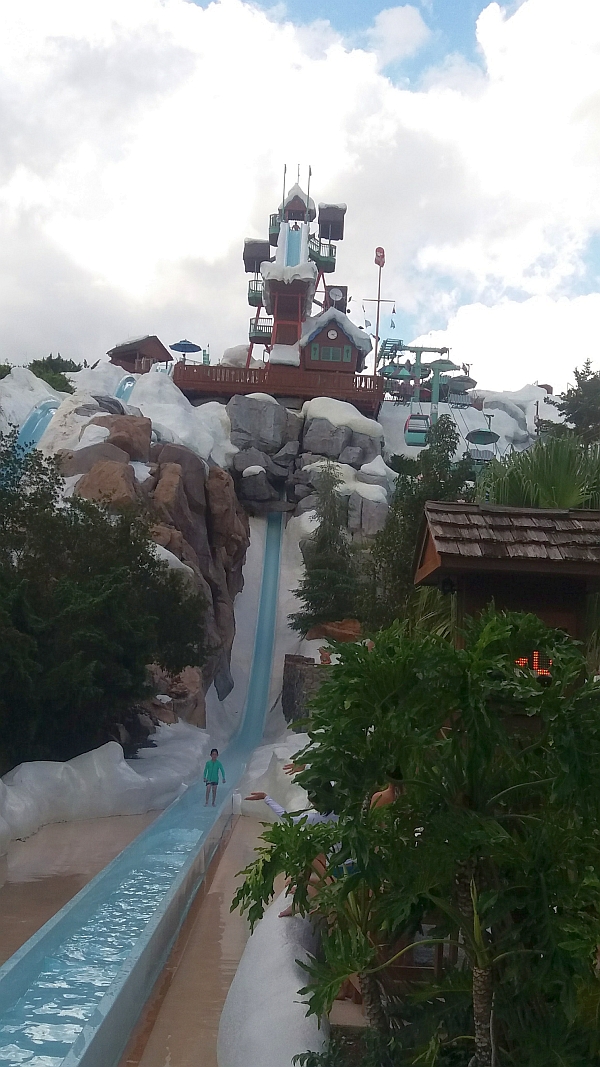 We leave the park at 3.00 pm. We can't be bothered to go through the rigmarole of the double bus ride, so we get a Uber back to Old Key West at a cost of $14.
A beer is enjoyed on the balcony where we spot turtles swimming in the canal.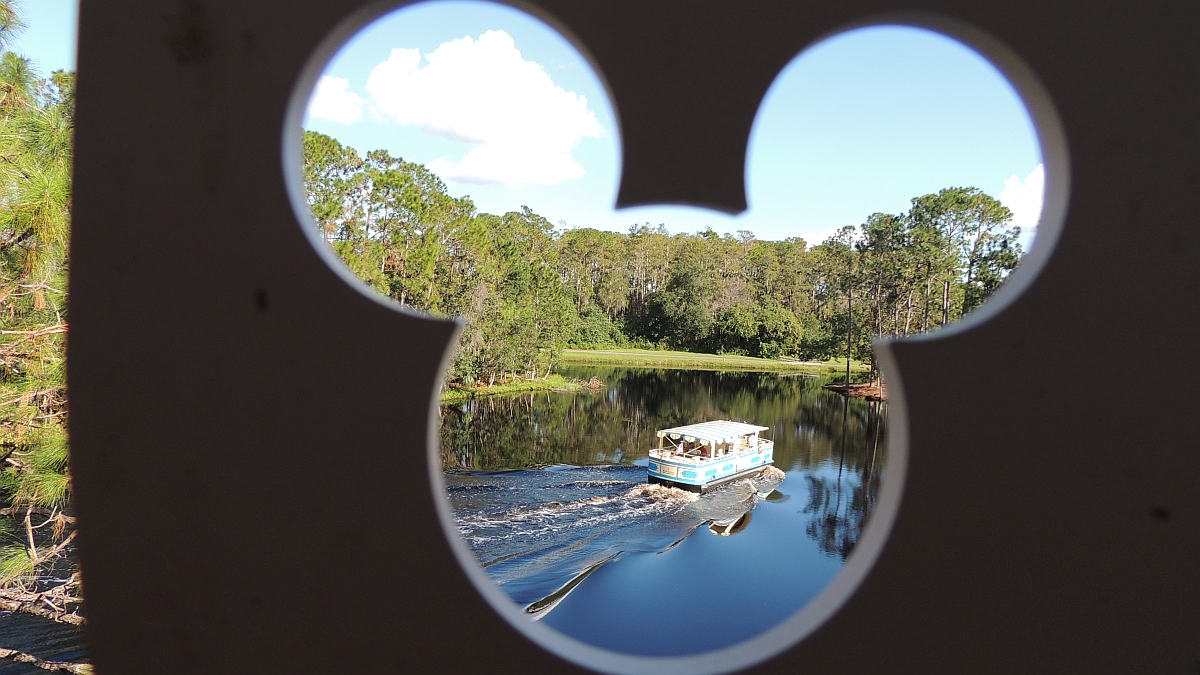 The tranquilty is spoilt somewhat by a rather noisy helicopter that flys over a couple of times. It sounds like it could do with a bit of oil on the rotors. Let's face it, nobody likes a squeaky chopper.
Apart from a couple of sprinkles (not enough to wet the ground) the weather has been glorious again - sun with some cloud to help with the heat.
After showering we walk to the Hospitality House to catch the boat to Disney Springs. Unfortunately one has just left, so we have to wait for the next. At this point Charlie realises he has left his wallet in the room, so he runs back to get it. 15 minutes later the boat arrives. As it's loading up we spot Charlie in the distance legging it in order to make it in time. There are shouts of 'Run Charlie!' from people on the boat and a big cheer goes up as he climbs onboard. Mind you, I don't think running in 90° heat is a good thing and poor old Charlie is not feeling too good by the time he sits down.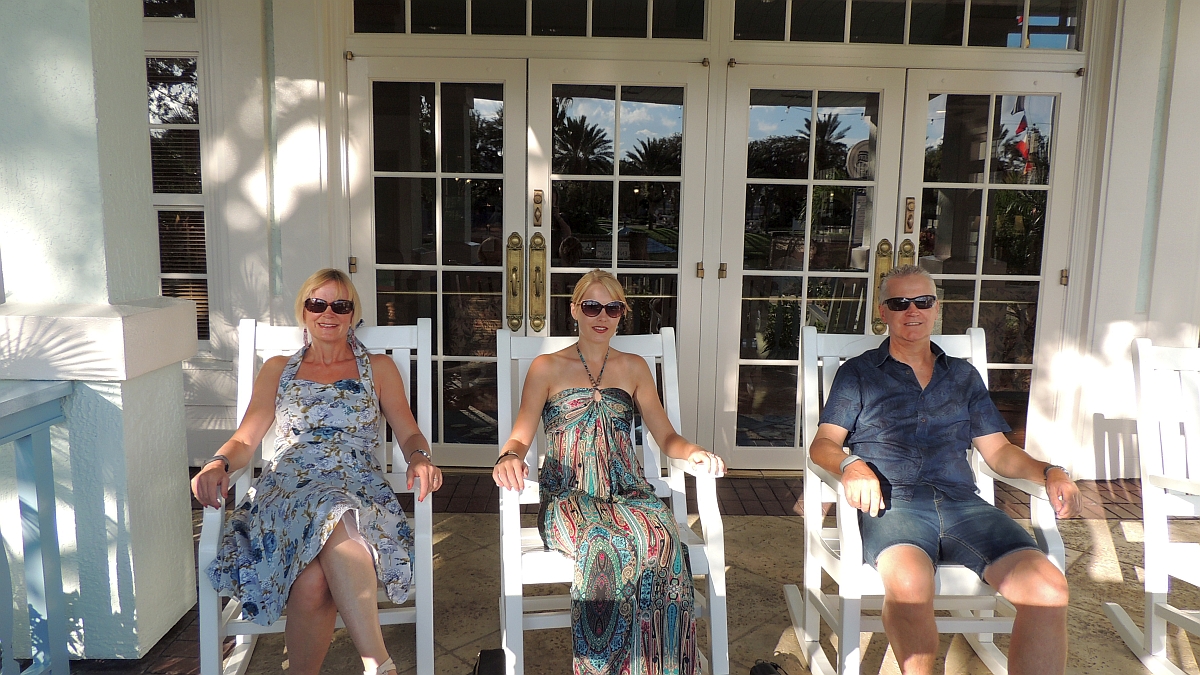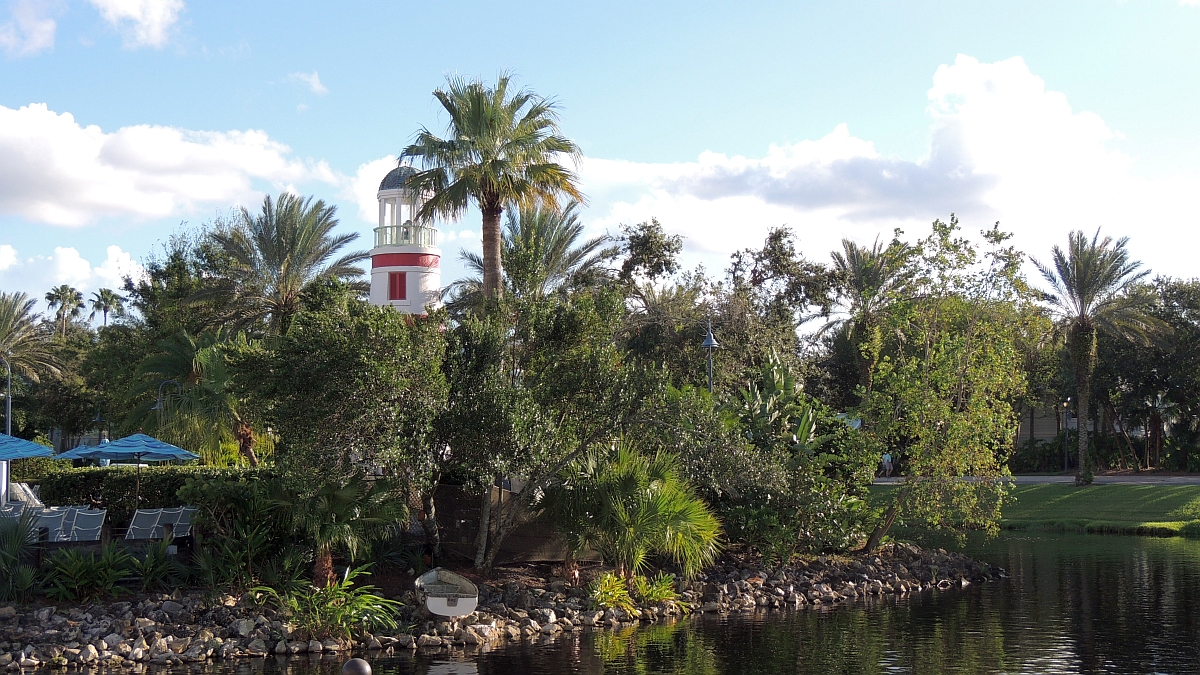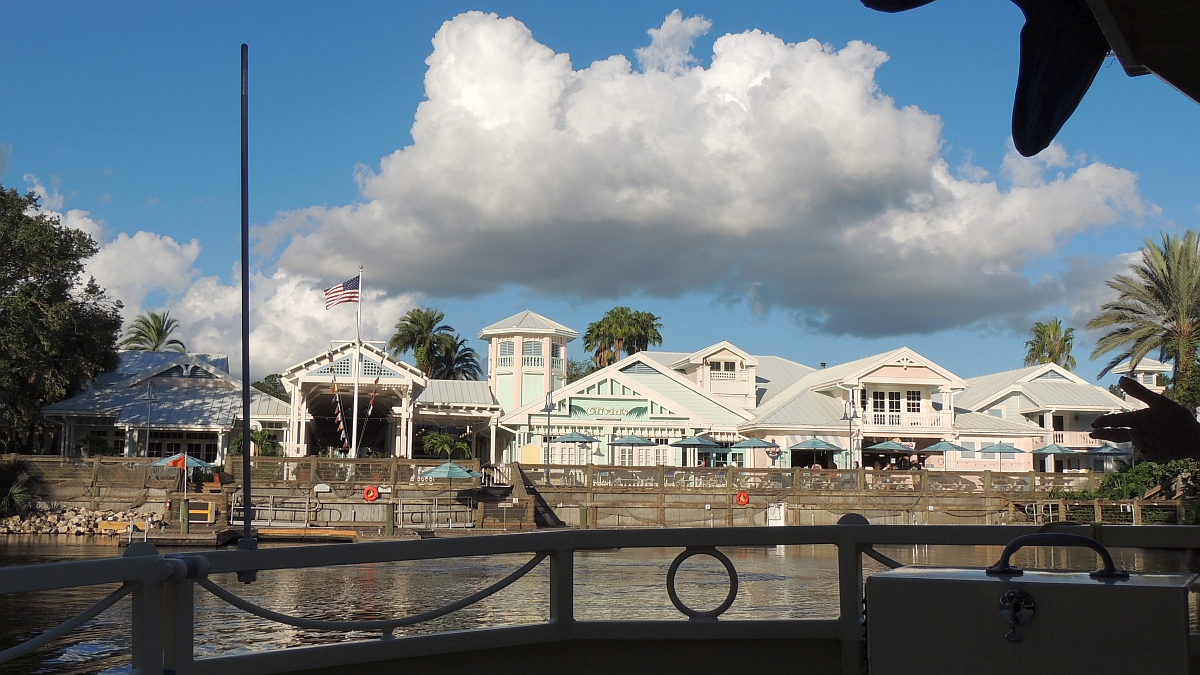 When we arrive in Disney Springs we go straight to Jock Lindsey's Hangar Bar where we get to sit in the bathyscope. This is our first time in this bar and I like it very much. It's the right blend of informal fun and good alcohol. I have a very nice bourbon based cocktail.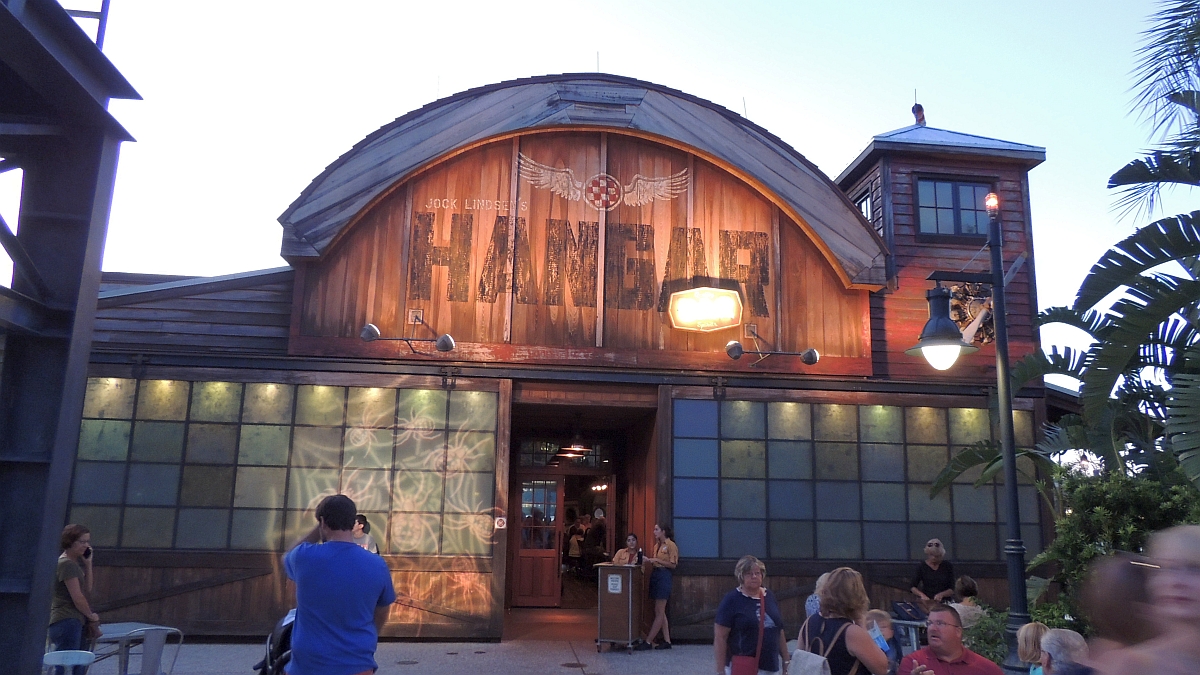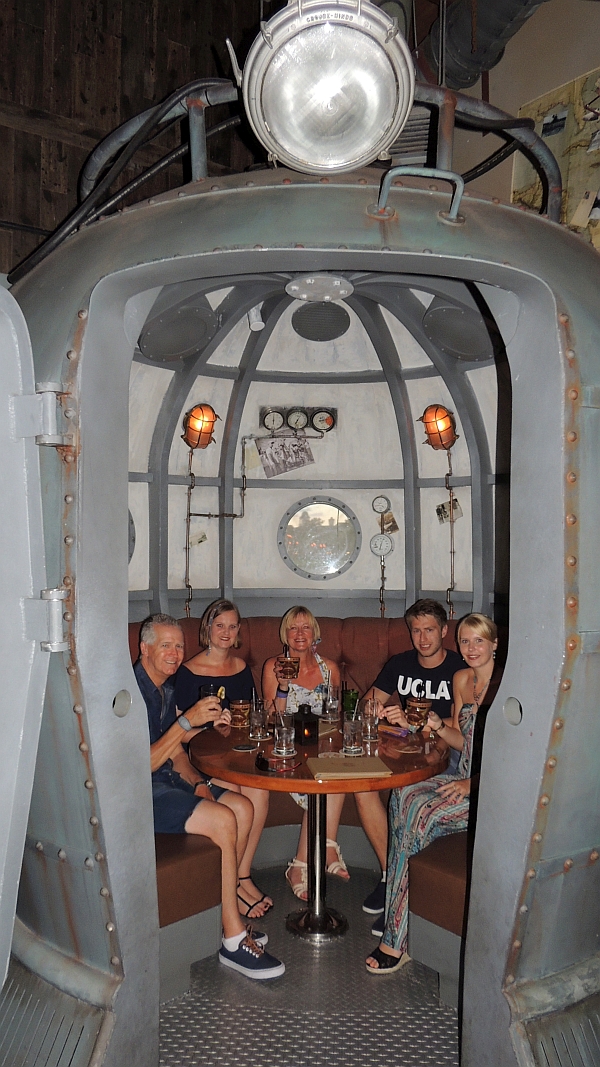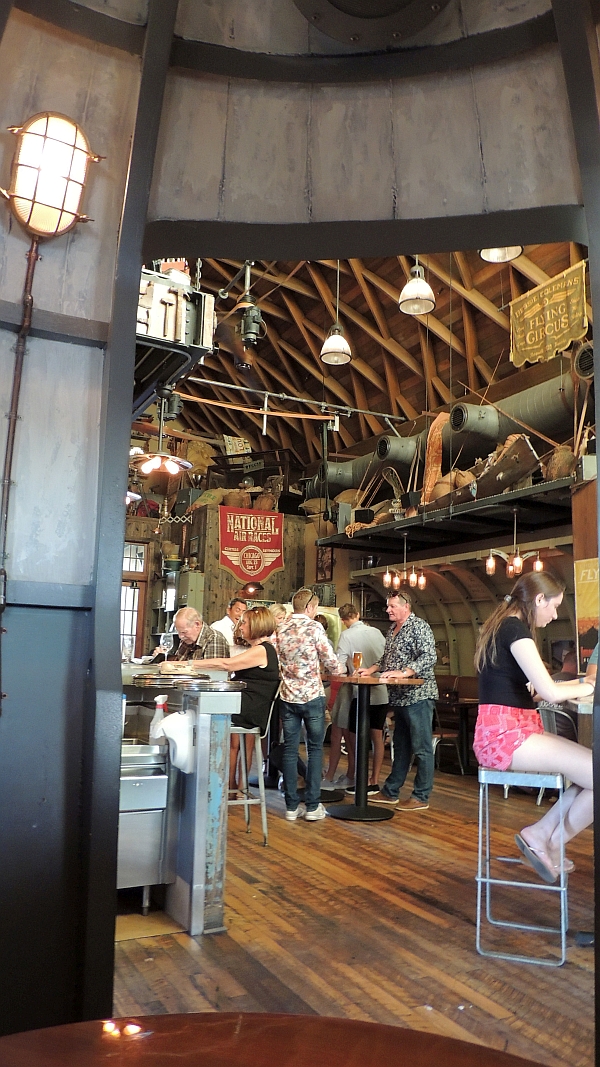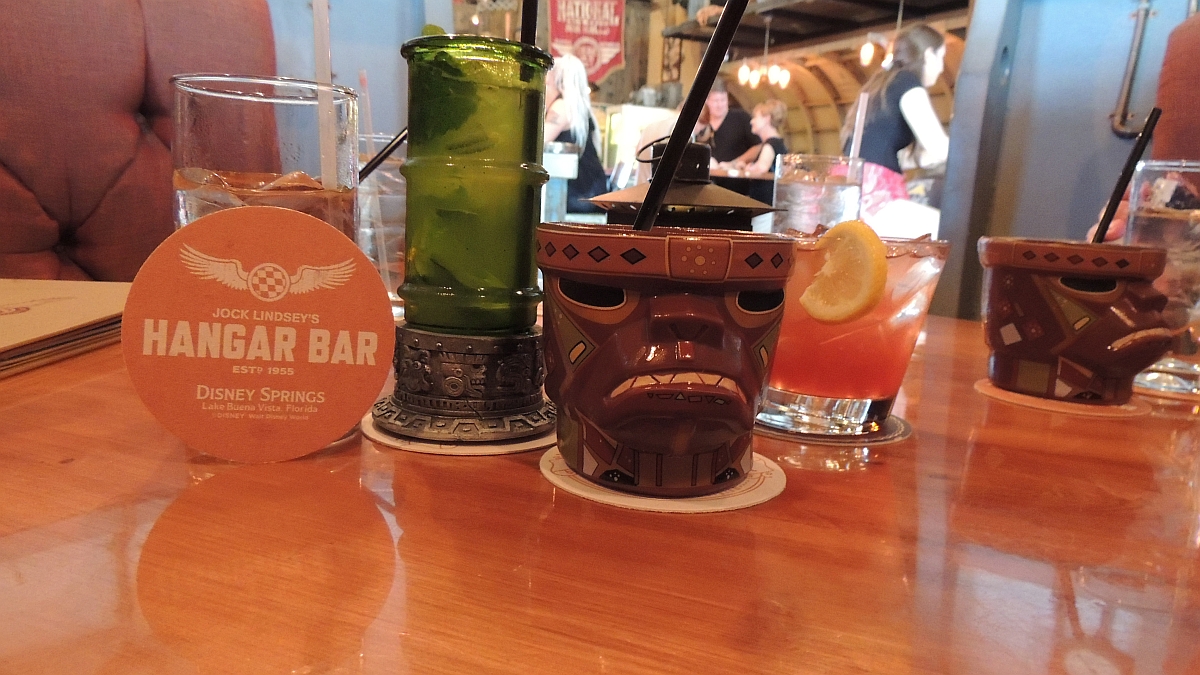 Actually, although the bathscope thing is pretty cool, I wouldn't sit there again, you feel a little bit out of things. I think I'd prefer to be sat in the bar or outside by the water.
Poor Charlie is not feeling too well. I blame the triple whiskys he was necking last night. He blames dehydration and running for the boat.
Paddlefish is next and we sit on the top deck to have a drink. I've got very mixed feelings about this place. Parts of it are spectacular and very well done, but it's already started to show signs of wear and tear. The standing tables at the front are clearly designed for people to socialise while looking out over the water towards Saratoga Springs. Unfortunately there is absolutely nobody there and the sound system isn't working properly and keeps cutting out.
They have no Chardonnay, in fact very little white wine at all - not good when you are tring to attract the wine bar crowd. The tables are chipped and the service is spotty at best. This is a 'nearly' place for me. It could be amazing, but somehow just misses the mark. I guess I'd give it another try on our next visit to see if they've ironed out the problems.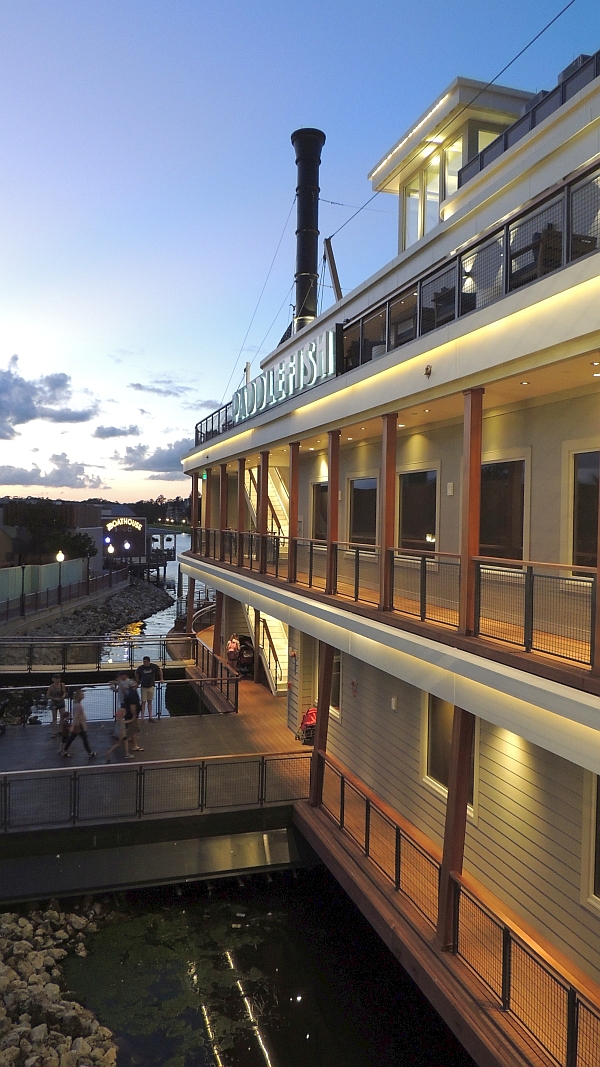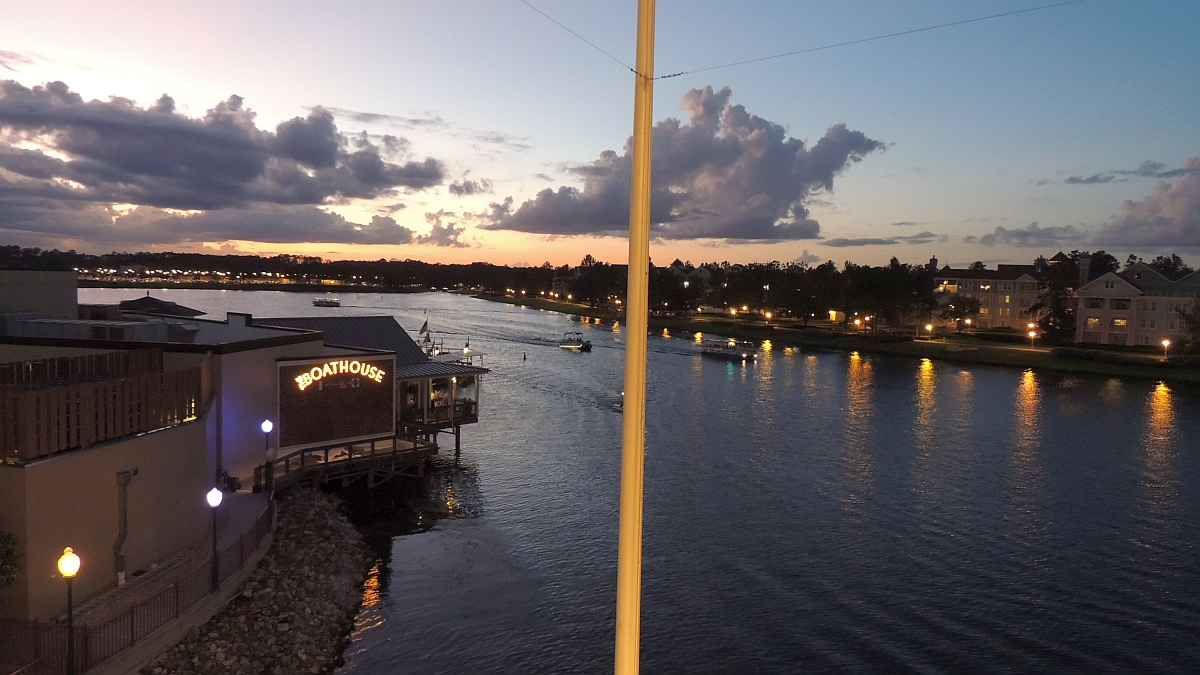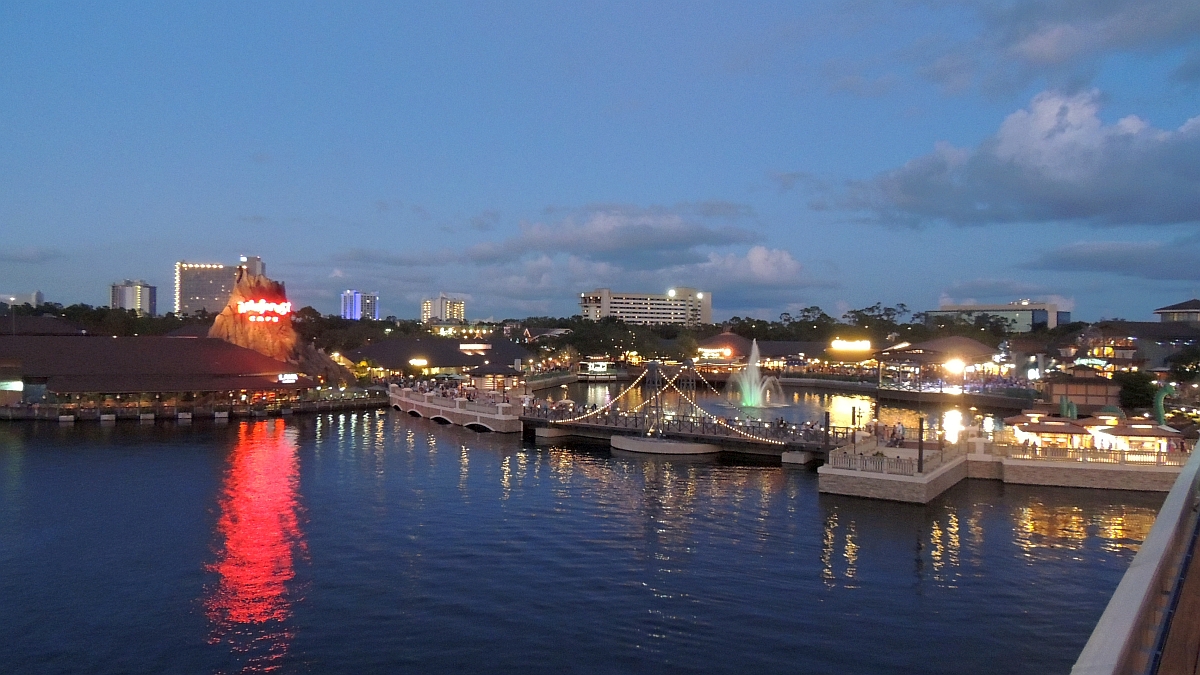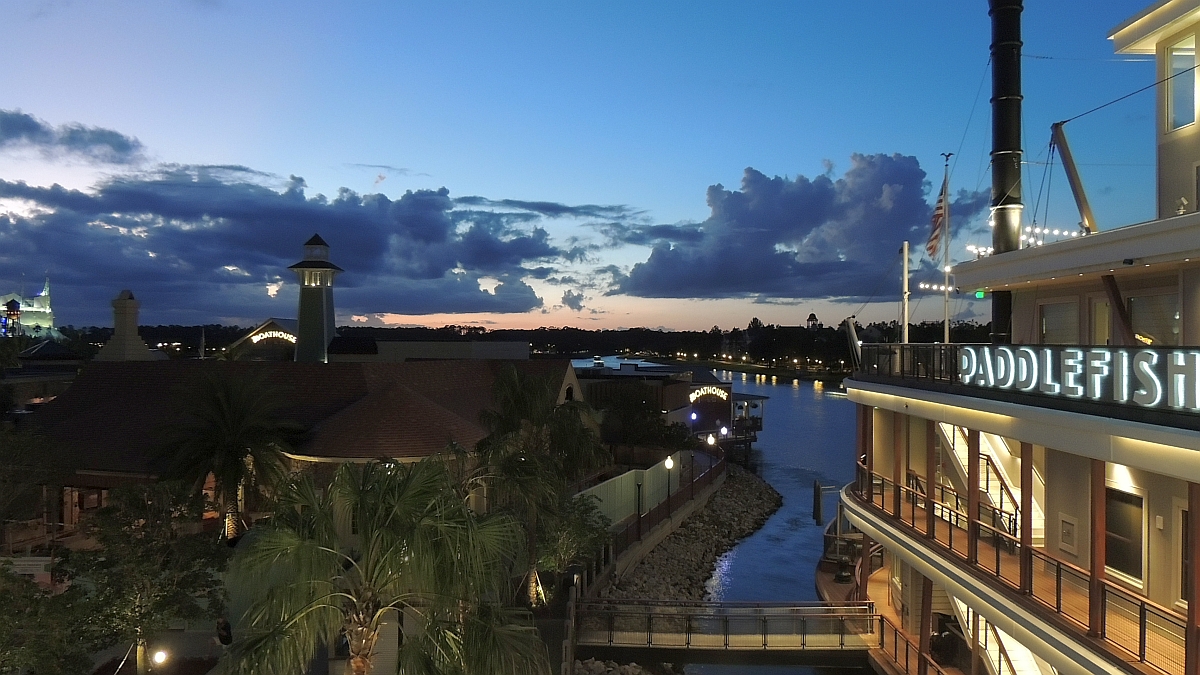 Charlie is feeling a little better, so we go to The Boathouse for our evening meal. The place is very busy and we are called to our table after 10 minutes. The Brioche bread is very nice and India and I have steak, which is slightly overdone, definitely more 'medium' than 'medium rare'. Tam's meal is cold. She sends it back, but doesn't enjoy it much when it returns. At this point Charlie has had a relapse and decides the best thing to do is to go back for an early night. The rest of us have desserts, which are fine but huge. We have two between the four of us. I have an Old Fashioned to finish things off. I know many people rave about The Boathouse, but it's a bit too big and noisy for my liking, especially for a signature restaurant. Mind you, on another night in a different spot in the restaurant the experience might be totally different.
We get the last boat back to Old Key West at 11.30 pm. Even this doesn't got quite as planned as there are a few noisy people onboard. Not the relaxing trip back across the water in the balmy Florida night that I was anticipating.
The whole evening has not gone quite as well as I'd envisioned when planning it. That's ok. Sometimes things just don't work out perfectly.
Bed at 12.30 am.
Day 11 video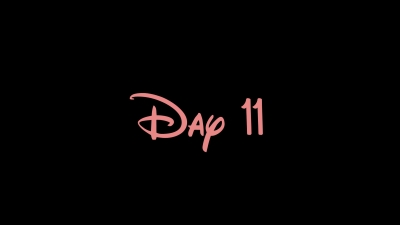 [OCTOBER 2017 REPORT HOME PAGE]