Day 8
29th November 2018
Written by Kev
I'm taking over the trip reporting duties today. Not to worry though, Tam will return very shortly.
Today is our second stop in Vietnam and we are docked at Chan May for our trip to Da Nang and Hoi An.
We get up at 7.00am and have a swift breakfast before meeting in Café Al Bacio. Tam did most of the work arranging our excursions and posted on Cruise Critic for other people to come along with us. We tend to prefer private tours to the ones the ship organises as they have fewer people and are cheaper.
We are joined today by:
Cathy and John from Canada.
Caroline and Bill from California
Maryanne and Fred from California
Carol and Larry from North Carolina
They are all lovely people and help to make our tours great fun.
It's raining hard as we get off the ship and make our way to the meeting point where we find our tour guide Xuan (pronounced Soon). We drive for about an hour and this includes going through a long tunnel. Miraculously, as we emerge from the other side the rain has stopped and it's warming up nicely. Xuan tells us we are quite lucky as it has rained almost non-stop for the past few days.
Our first stop is at a beach where there are many little round boats that the locals use for fishing. Xuan takes many photos during our day and we can download them later.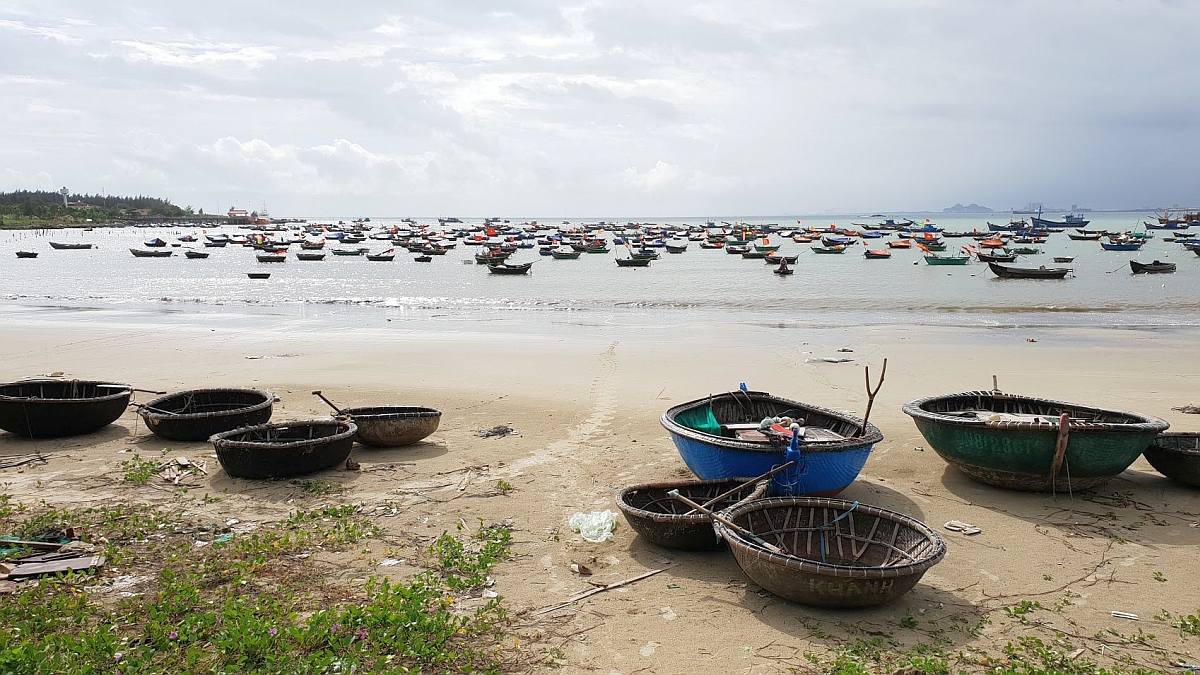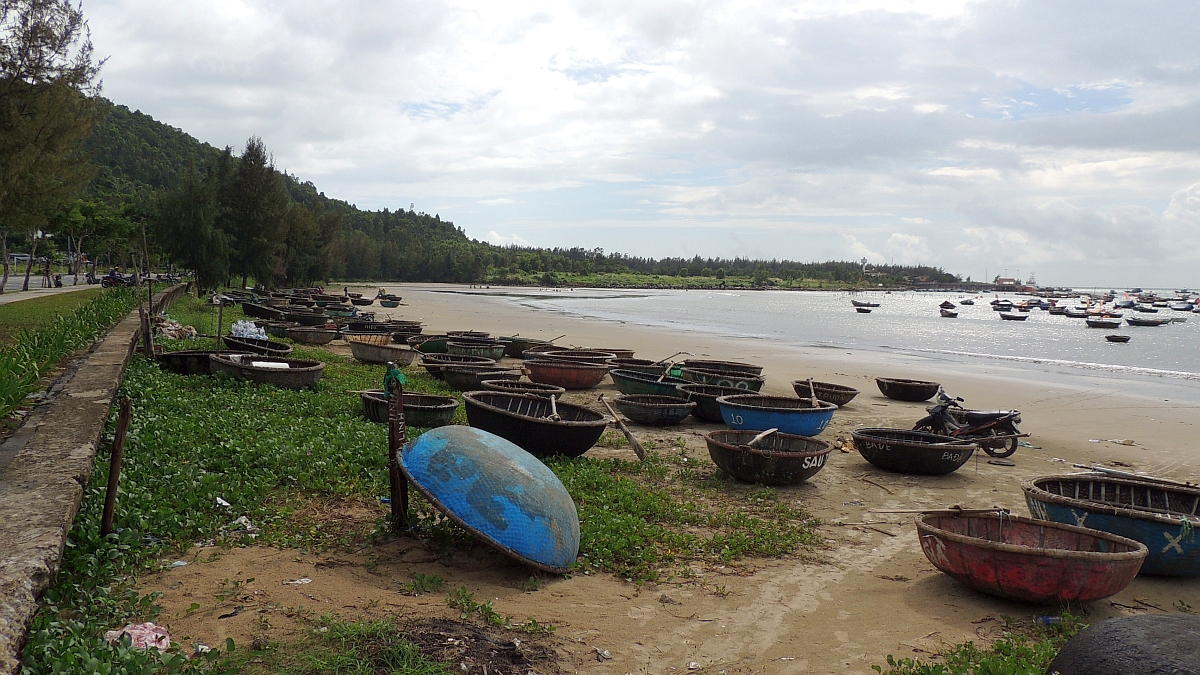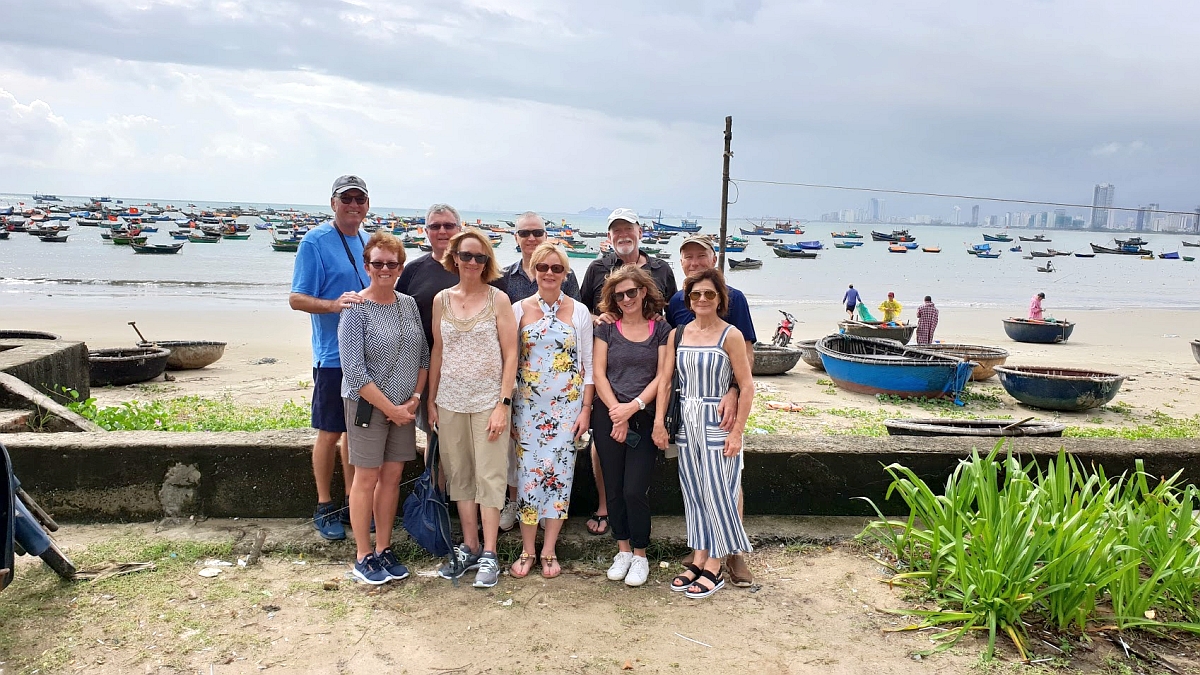 On to Da Nang where we stop at a large shop selling marble sculptures so we can use the bathroom. The reason for so much marble soon becomes apparent as we walk across the road to get a lift up the Marble Mountain. Apparently they used to mine marble here, but too much was being removed so they stopped, but the workshops carving the sculptures still remain.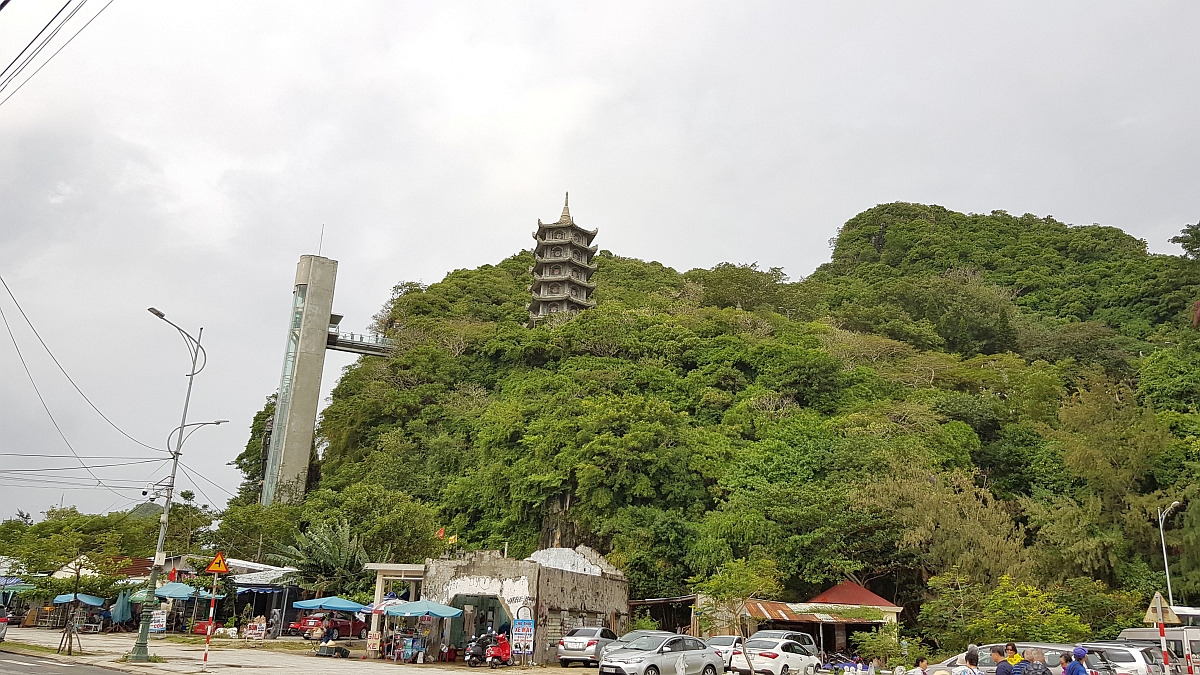 We walk past a pagoda and up some flights of steps to a cave that has a Buddhist shrine inside. It's very pretty and atmospheric as the roof is open to the elements. I expect to see Indiana Jones sliding down a rope to join us at any minute. After many more photos we return to the bus.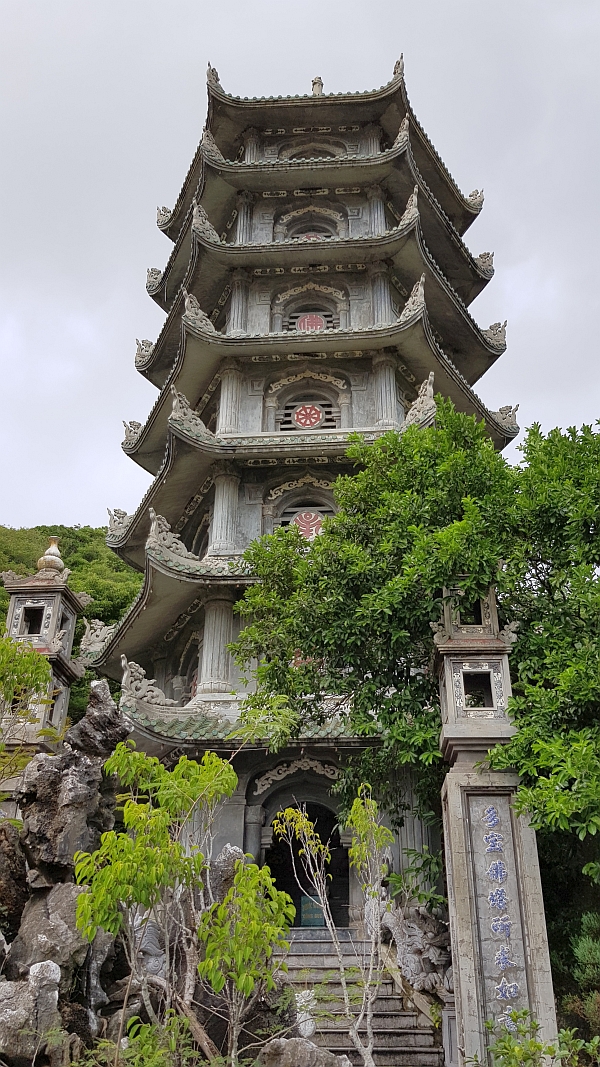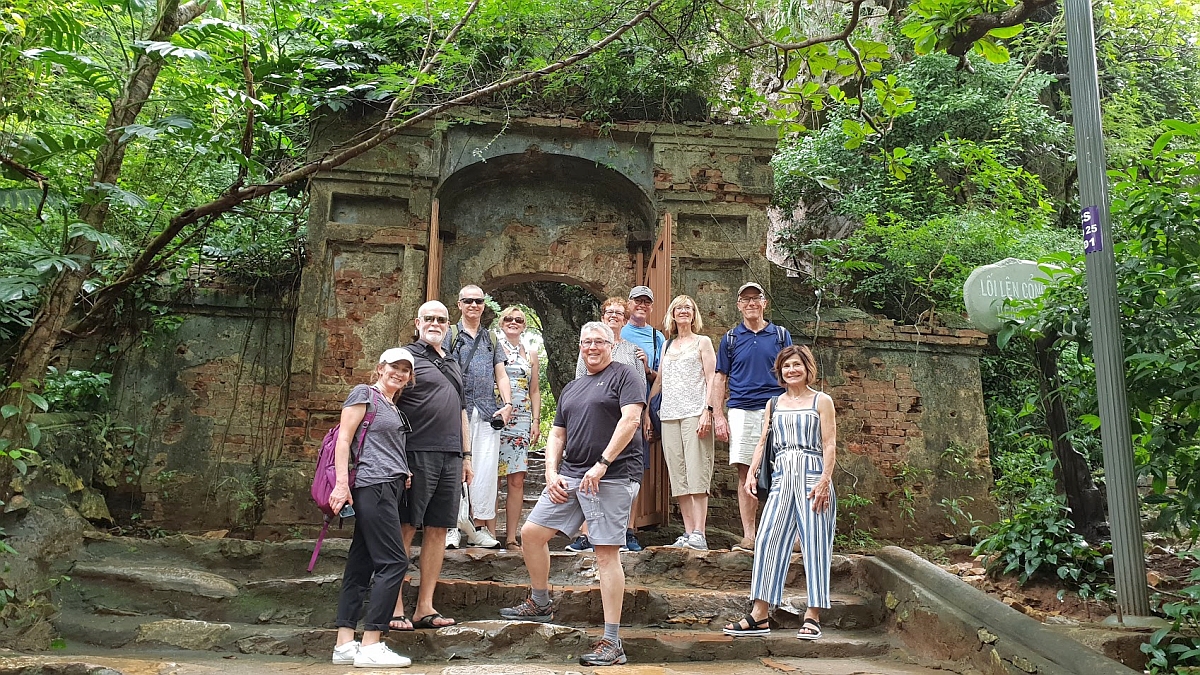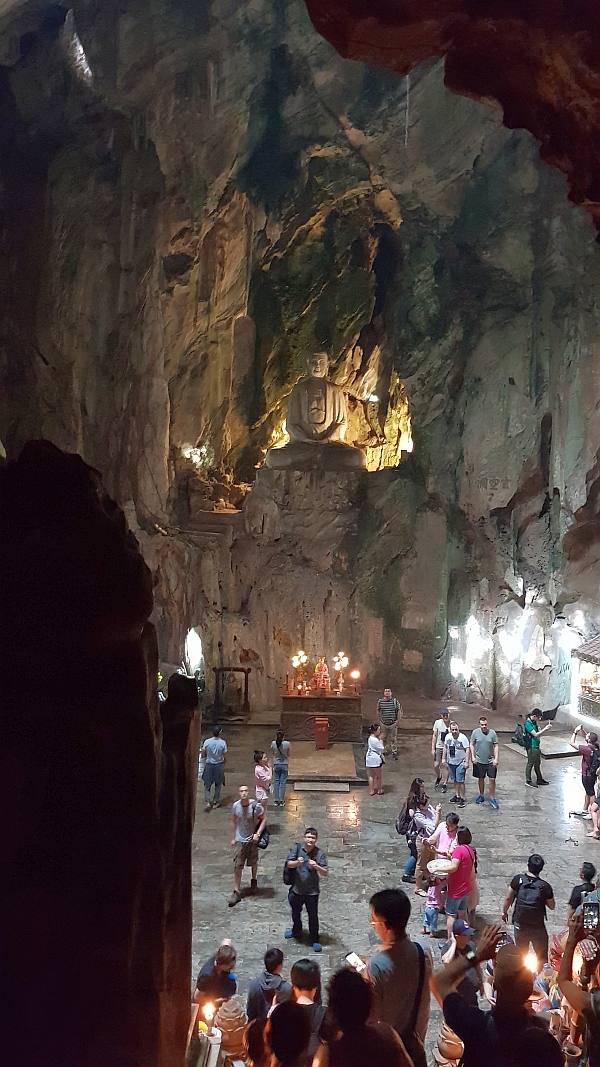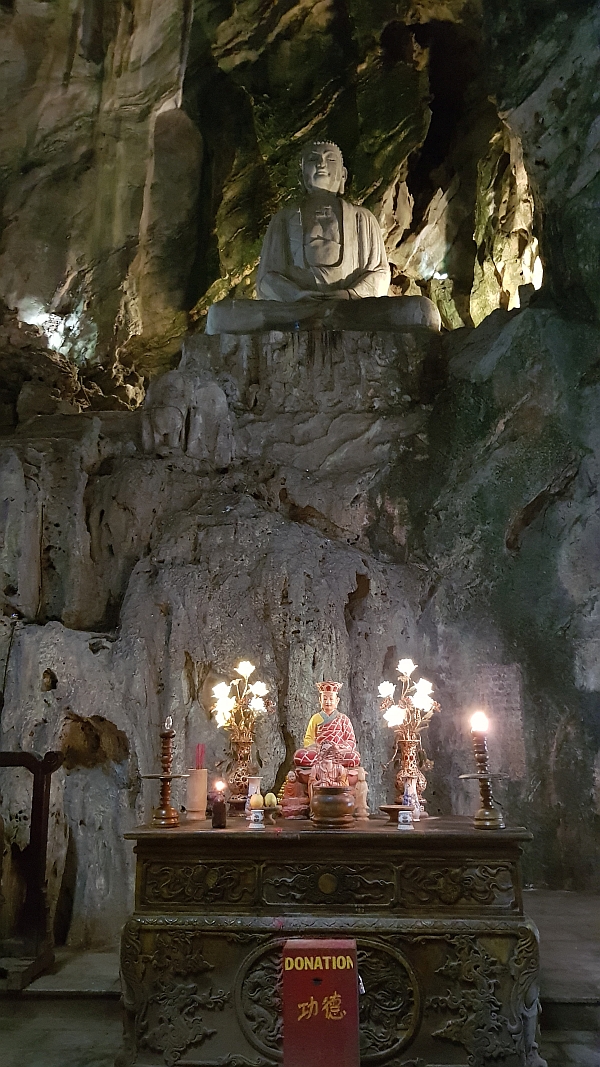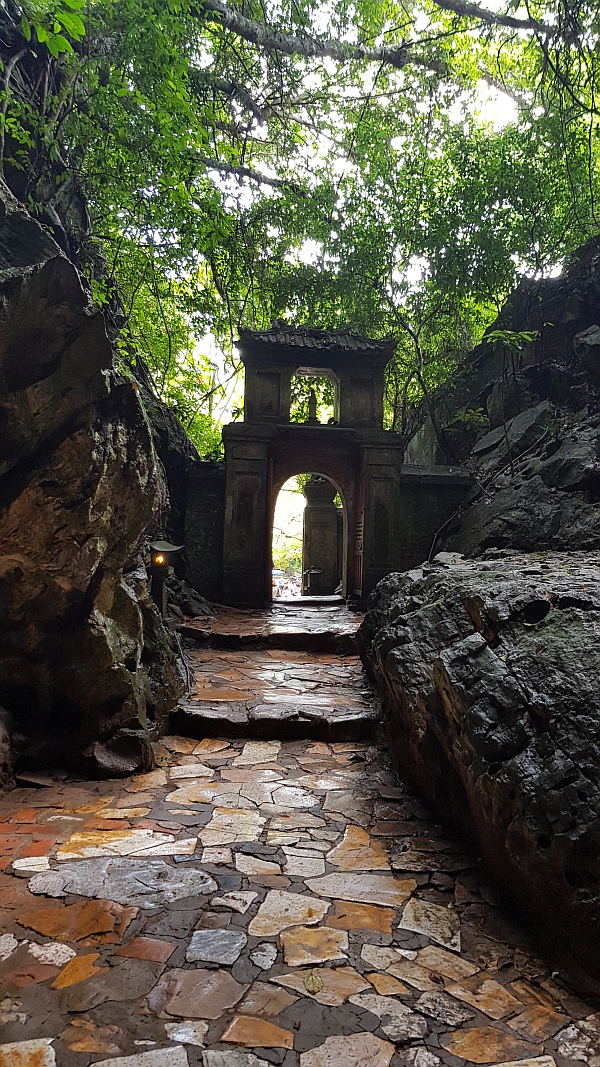 We drive on towards Hoi An, but stop by the side of the road on the way to have our photos taken with a water buffalo. The beast seemed quite relaxed about the whole thing – no mean feat when you've got Tam reclining all over you.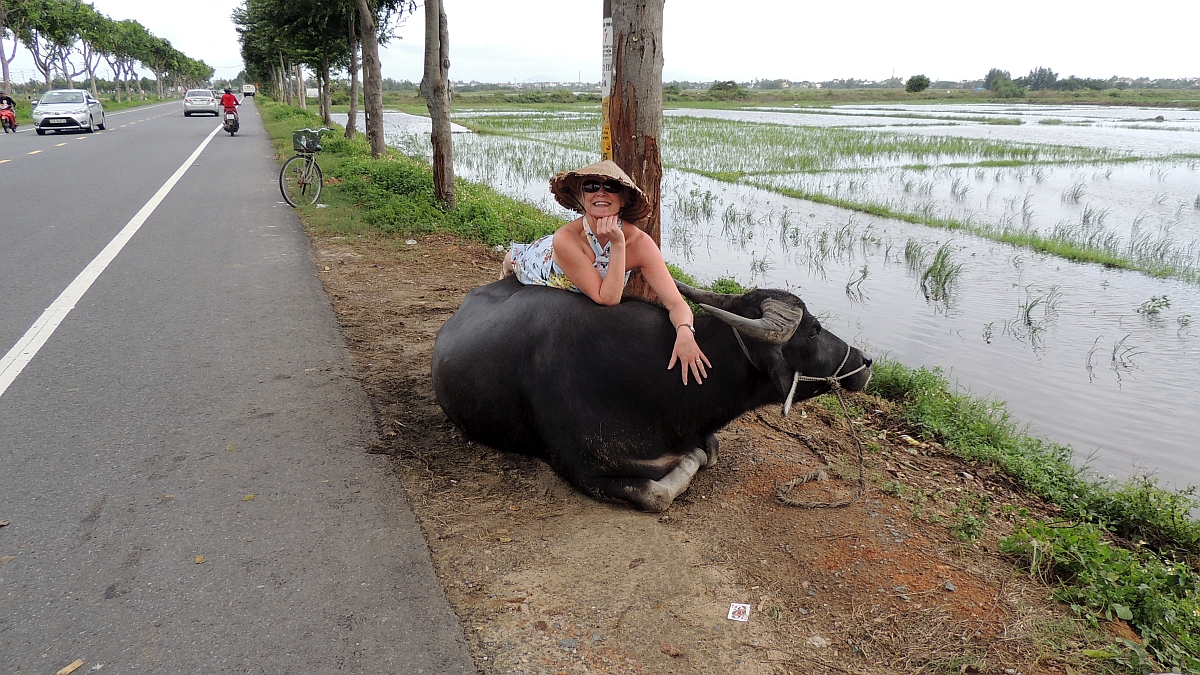 The only problem was the slightly pungent aroma. Still, the water buffalo didn't seem to mind too much.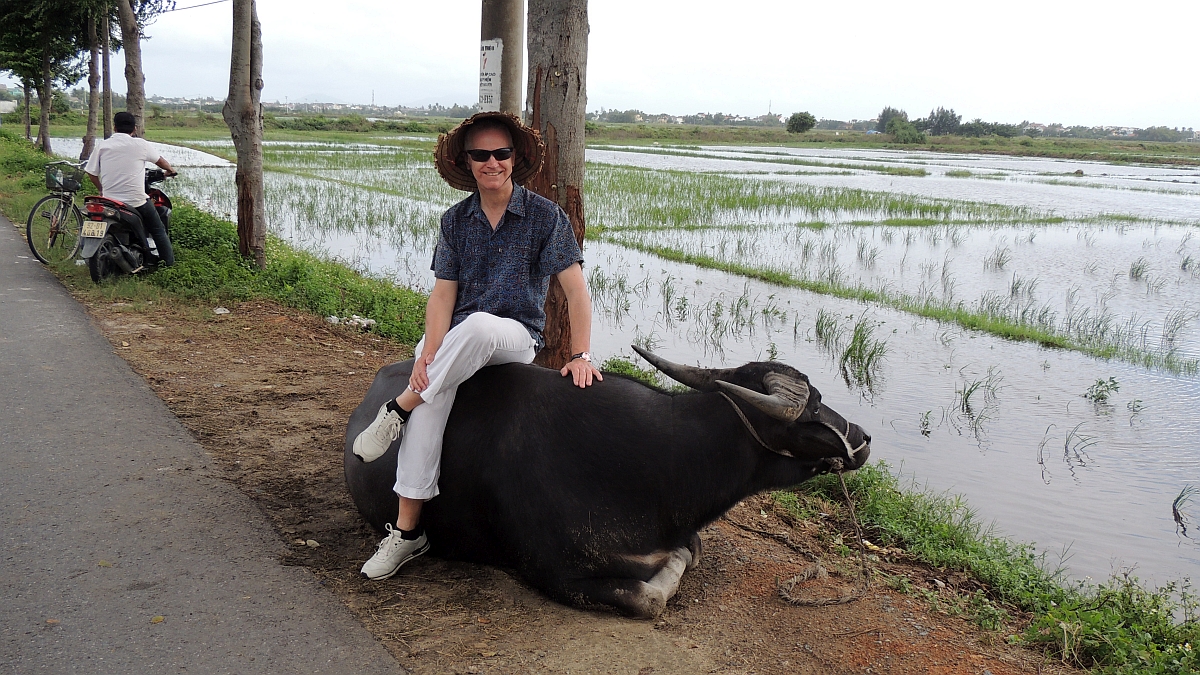 On to Hoi An where we wander through the old streets and through a food market and then a fish market down by the river. All the time Xuan is telling us about the history of the place and the local culture.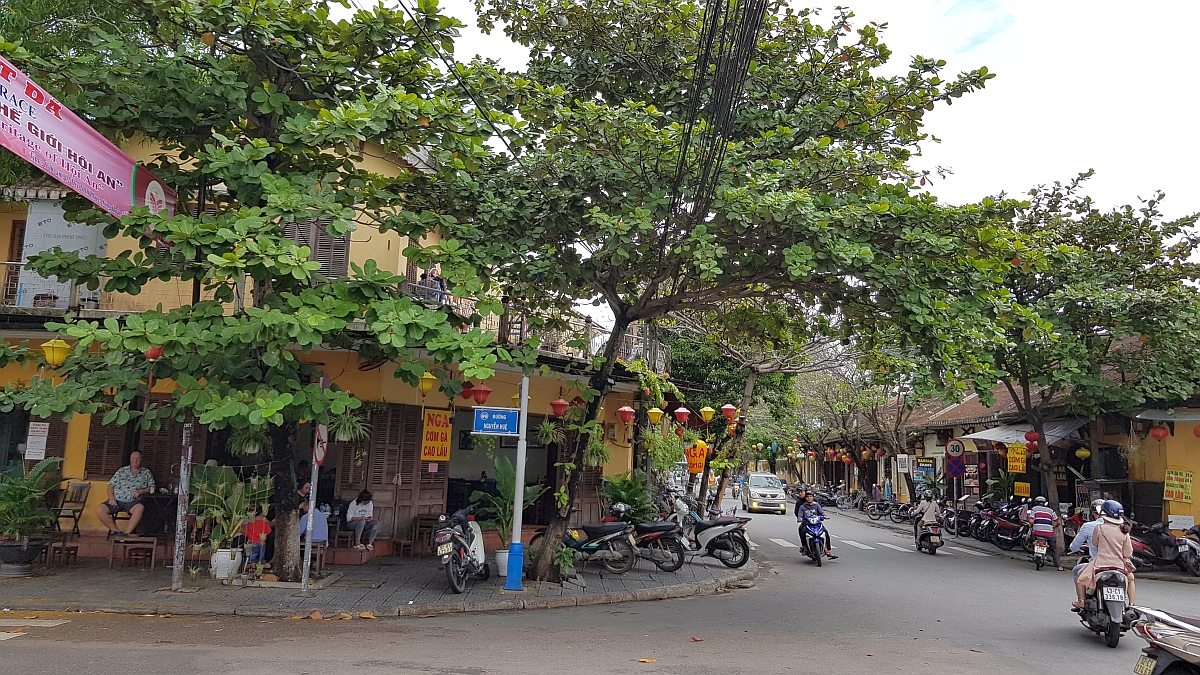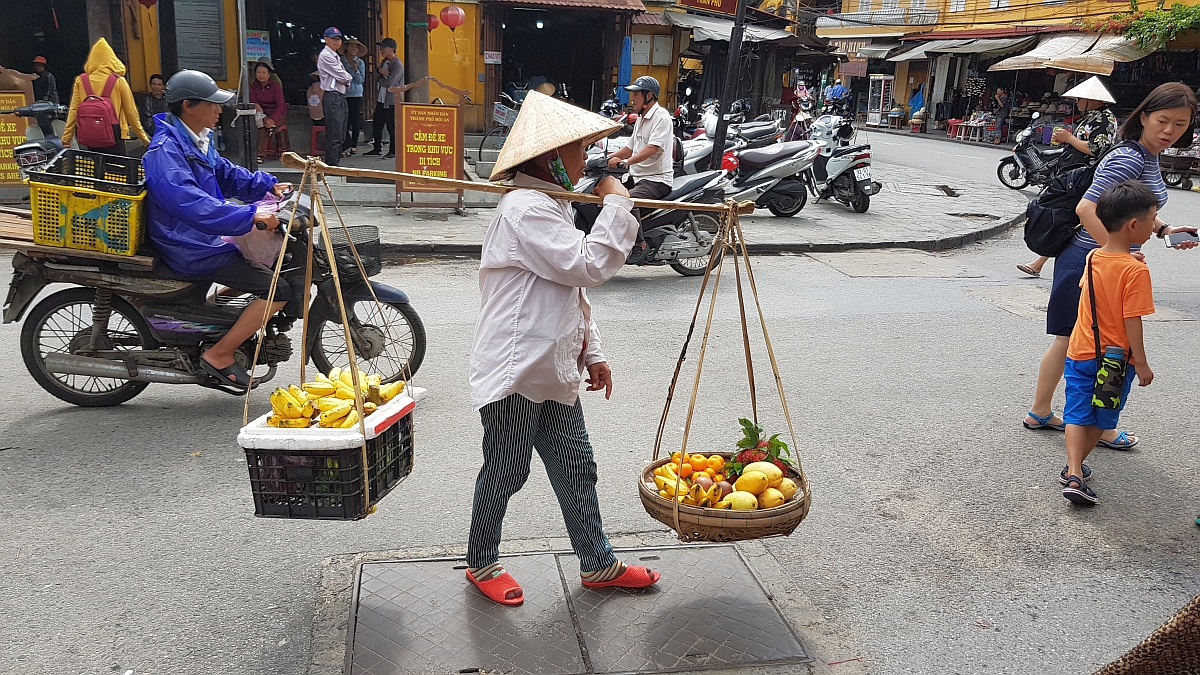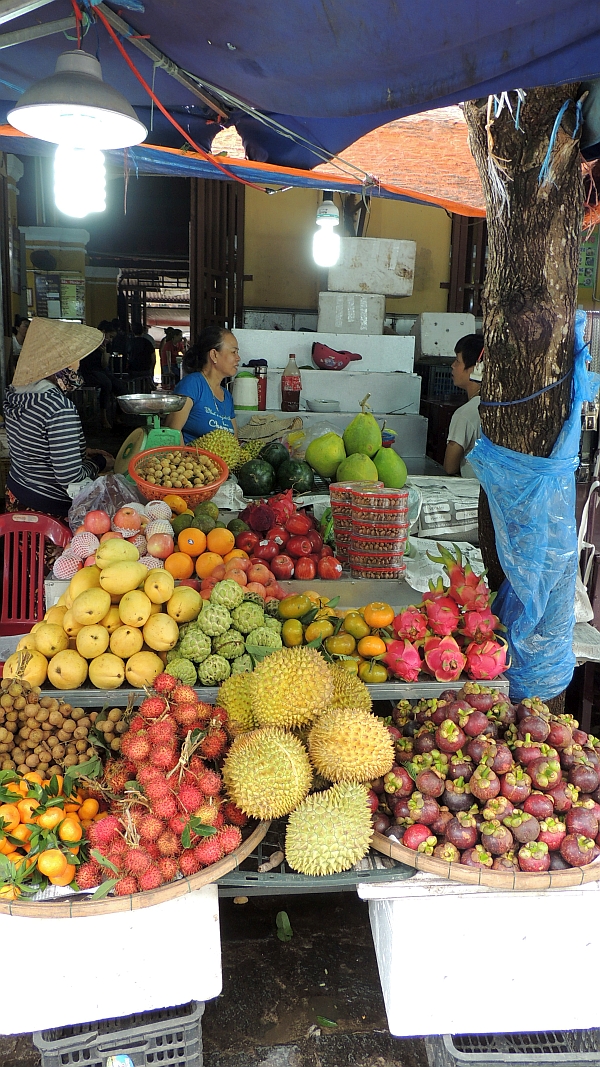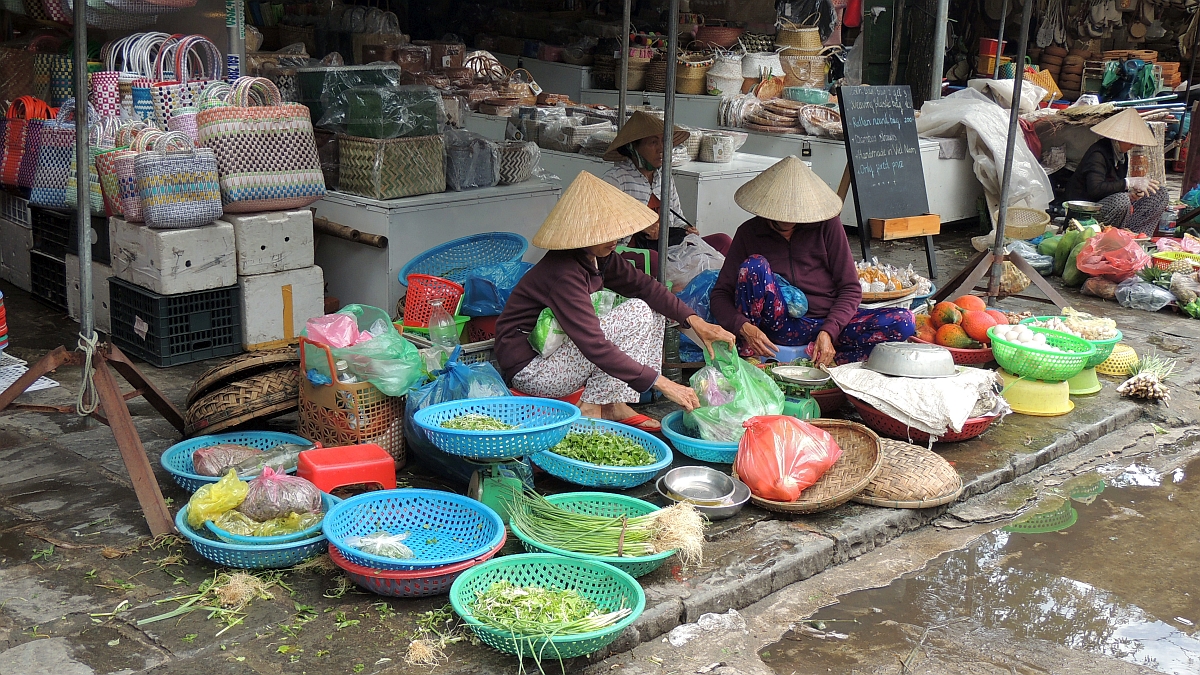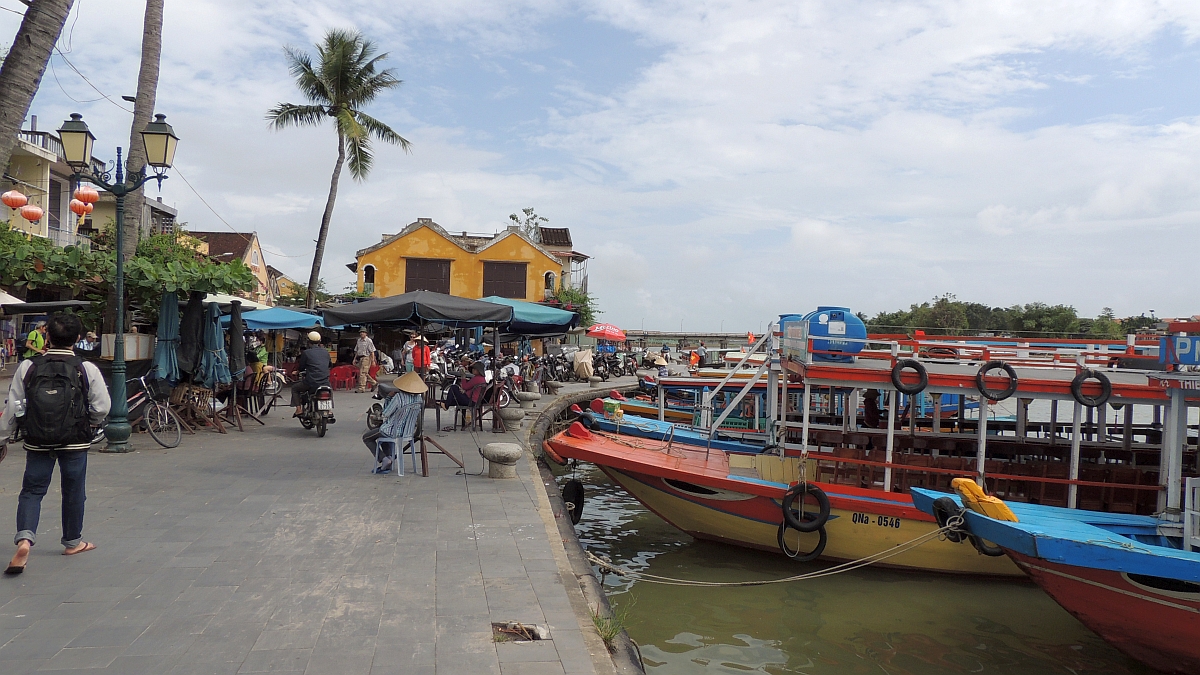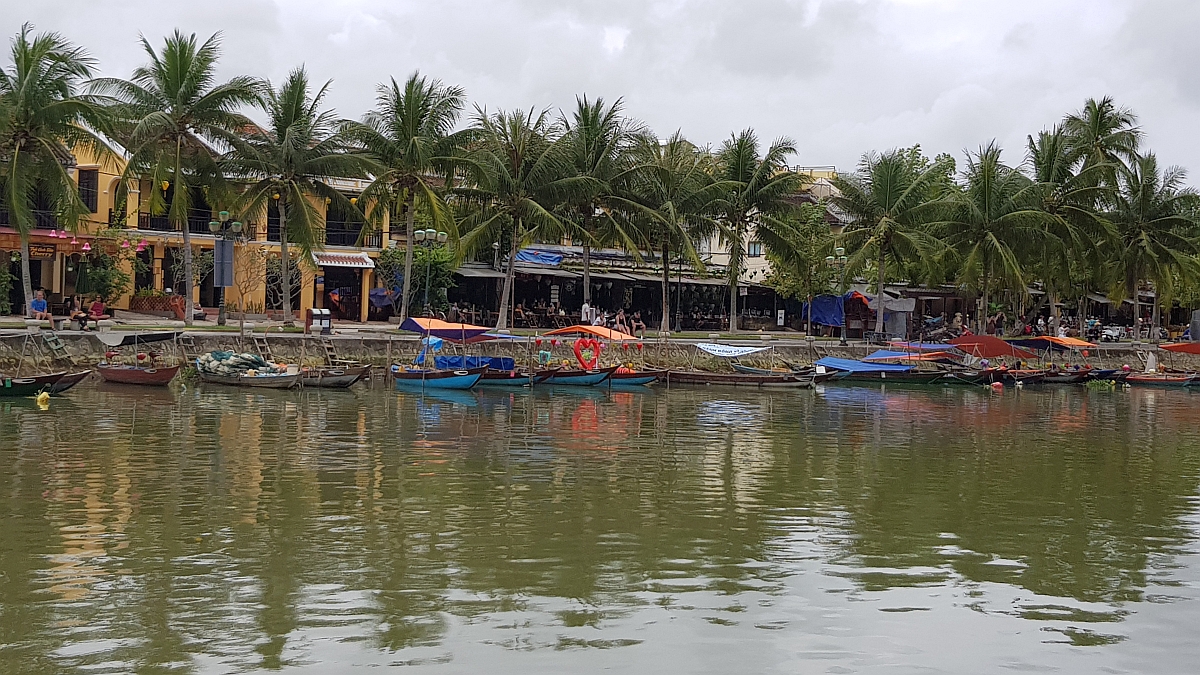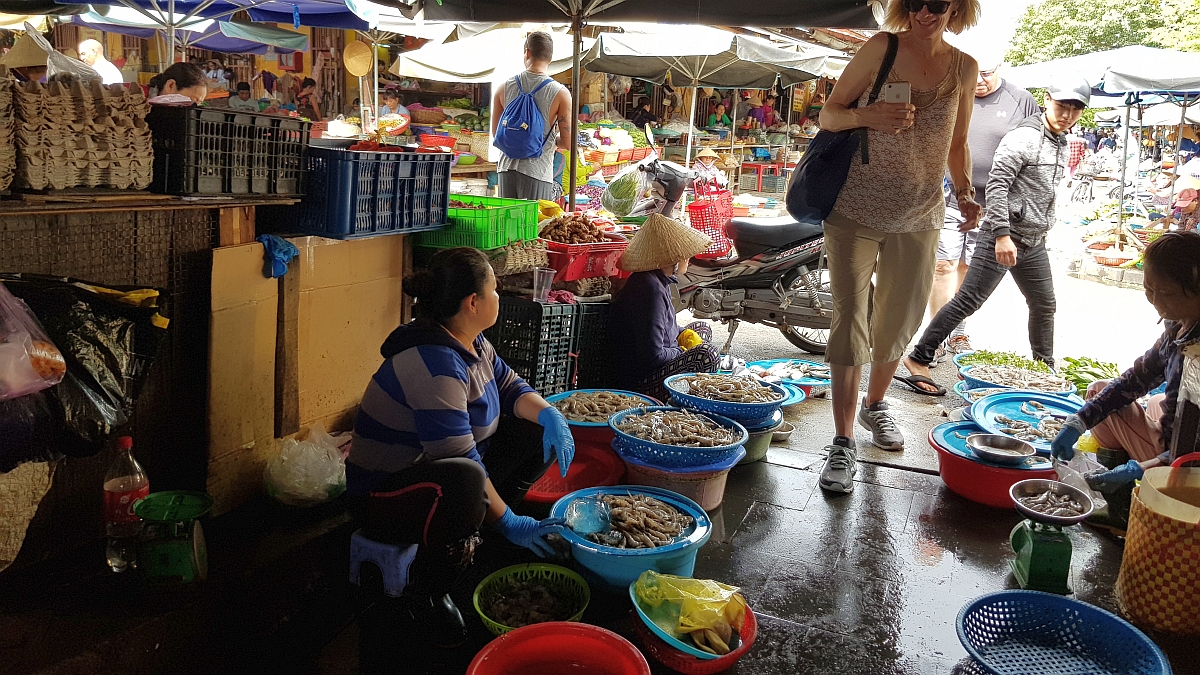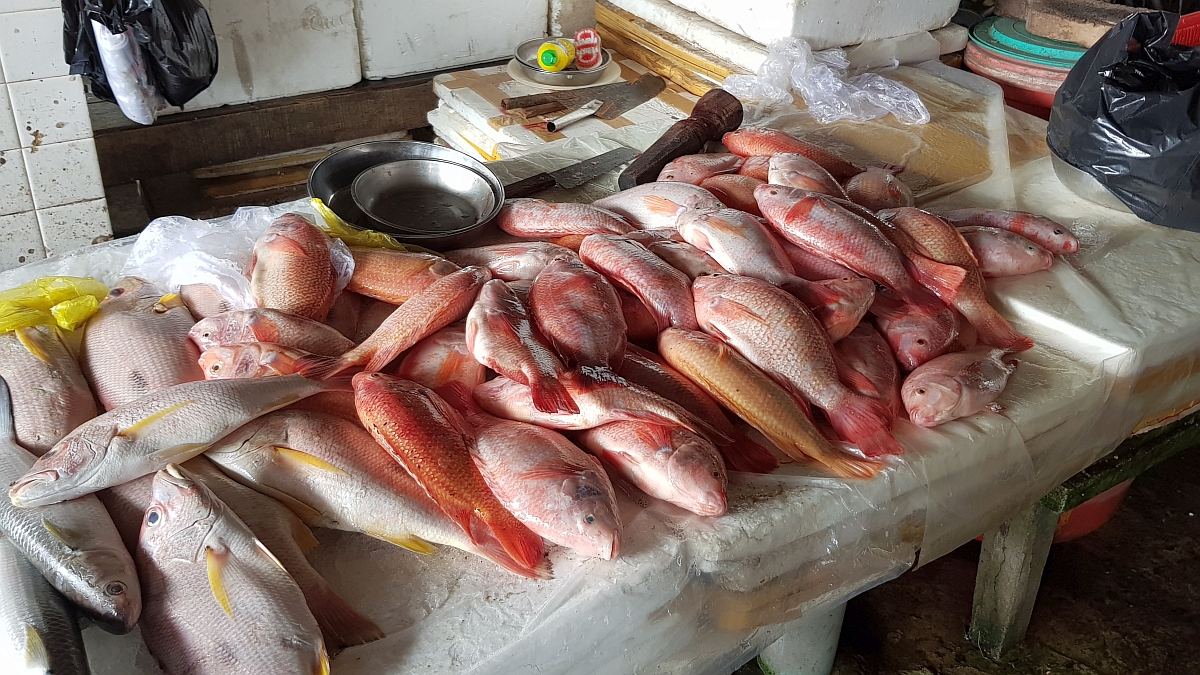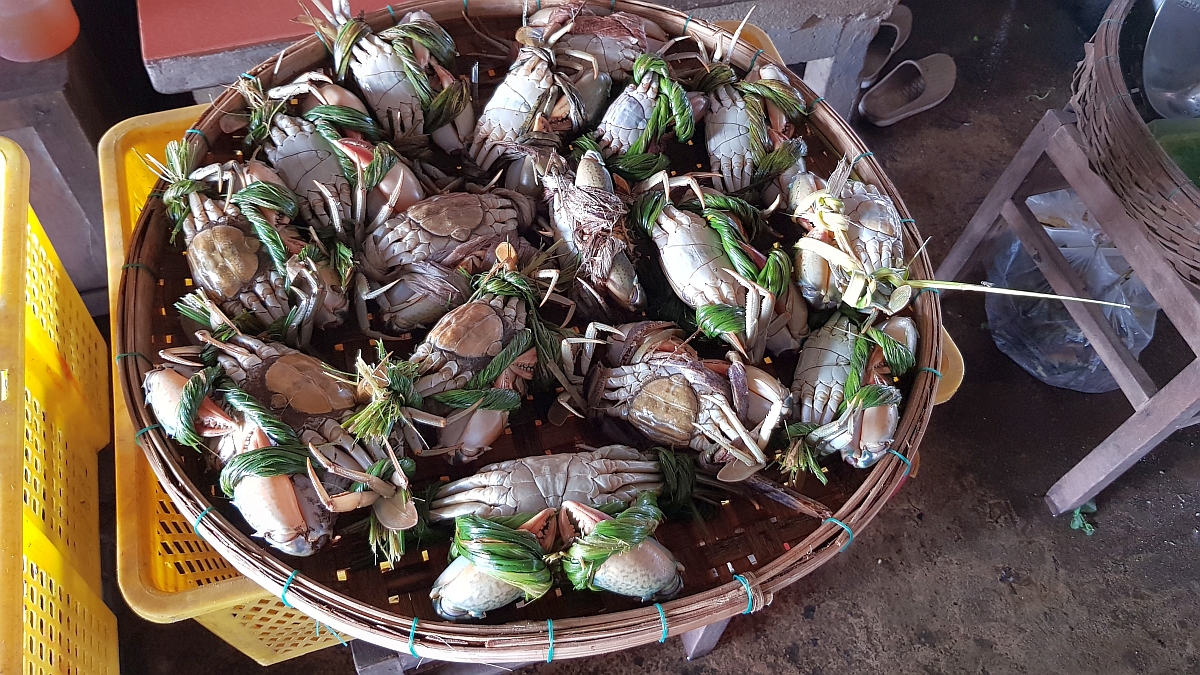 Xuan takes us to lunch in a restaurant garden that we get to by wandering up some very narrow little lanes. I'm not sure you could find it without local knowledge and unsurprisingly it's called Secret Garden. We are all so glad we did as it is a delightful spot and Tam and I enjoy a couple of local beers each along with prawn spring rolls, shrimp and prawn dumplings and Vietnamese chicken rice.
The food is exceptional – everything is fresh and crisp and Tam and I decide that Vietnamese is now very high up on our list of our favourite food in the world.
At some point in the meal we are talking about the royal family and Tam makes a bit of a faux pas when she gets Megan Markle mixed up with Angela Merkel! Let's just say that one of them I would like to spend a romantic evening with and one of them I would choose to run a country. I'll leave you to decide which is which.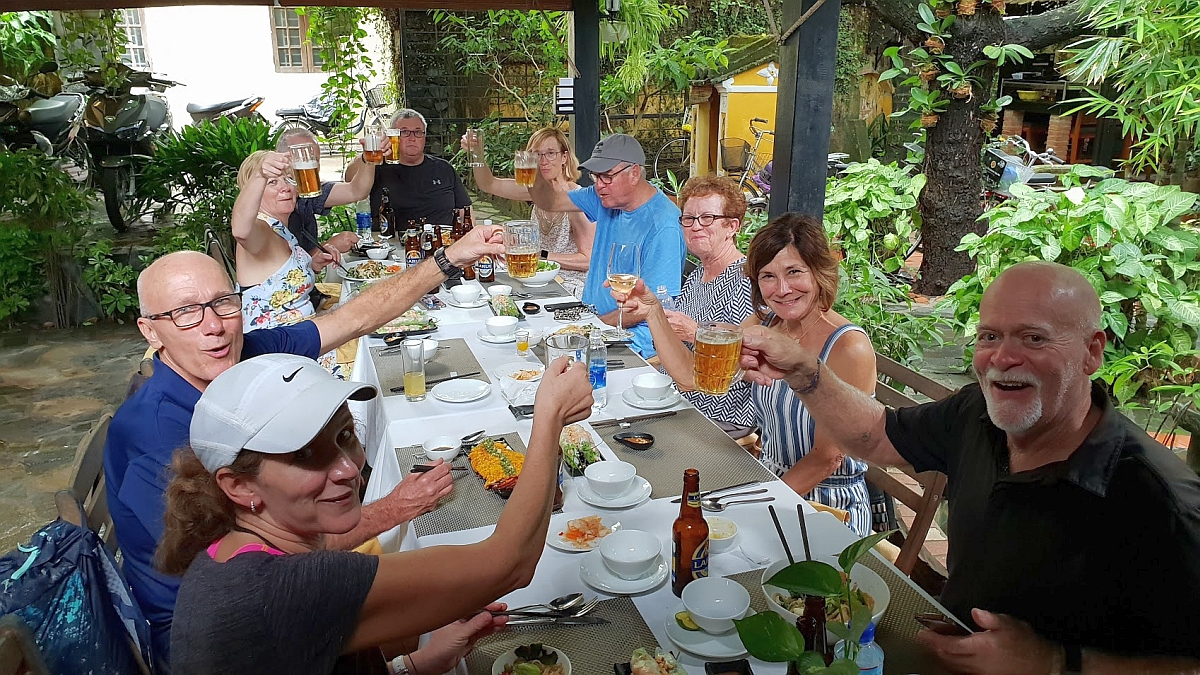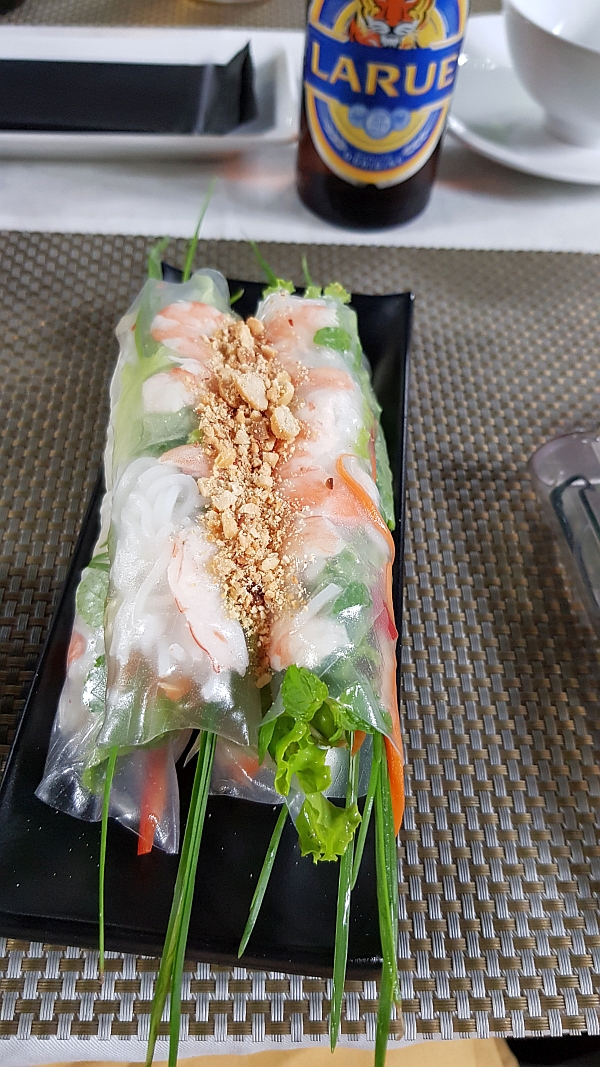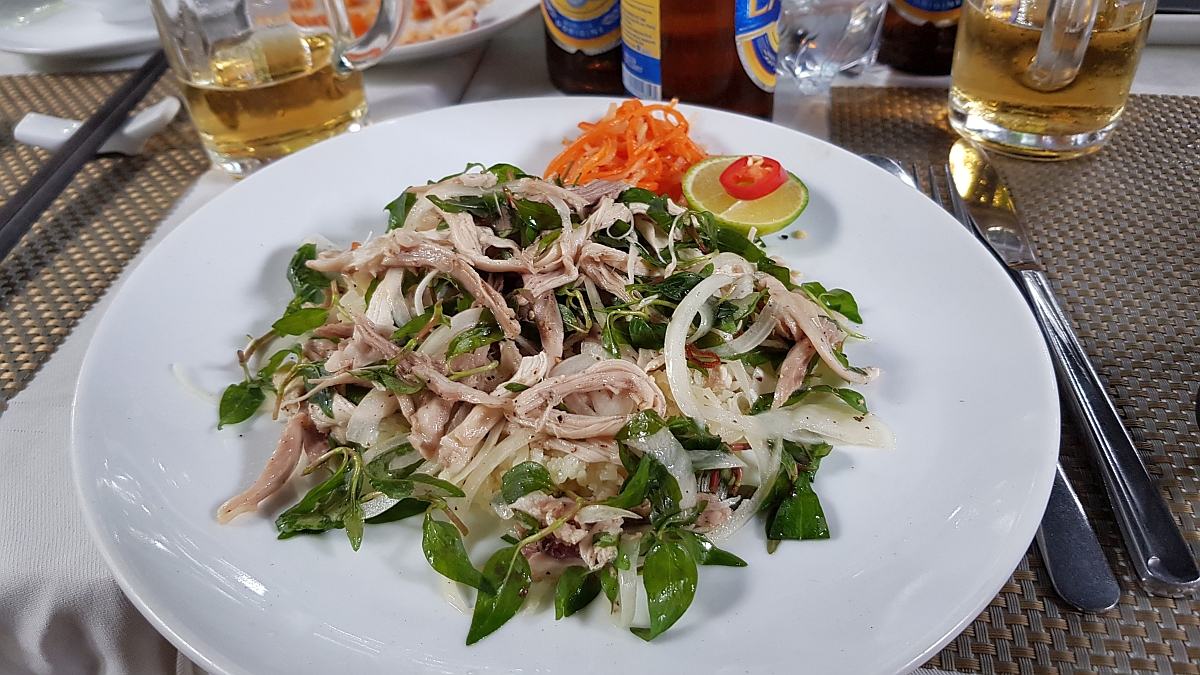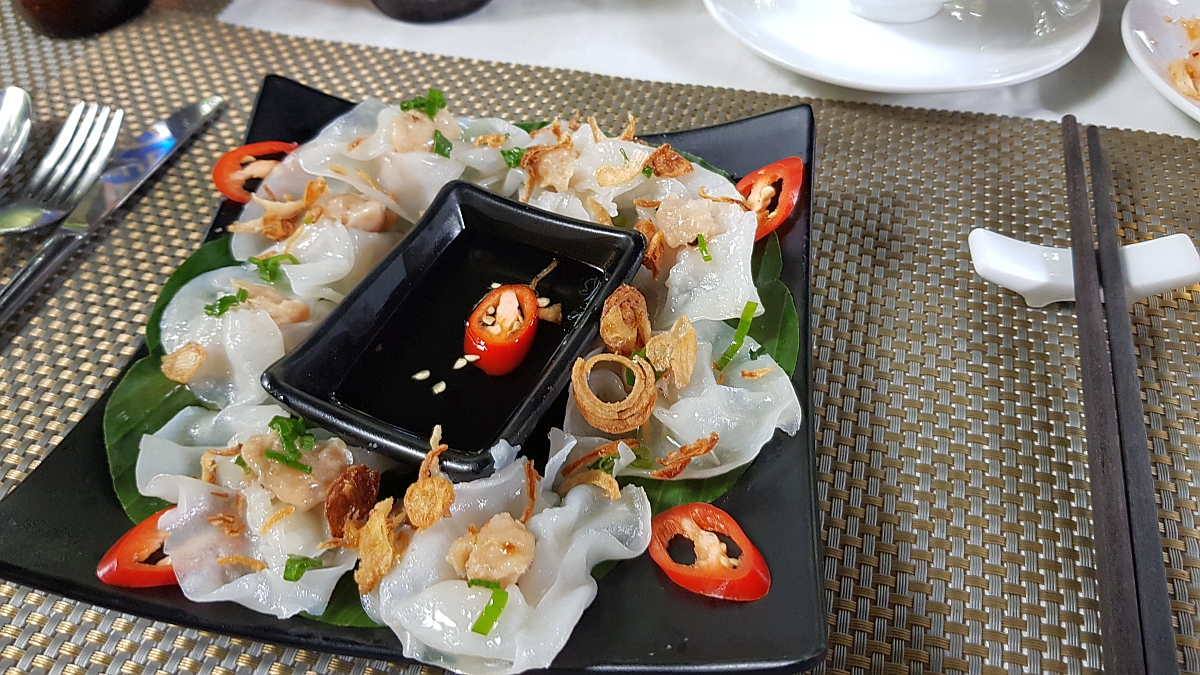 After our lovely meal, Xuan takes us to a rooftop coffee shop where he buys us a Vietnamese Coffee. This is like an Espresso, but with condensed milk. As you can imagine it is very sweet, but I quite like it. He also produces some exotic fruits for us to try, a Mangosteen and a Red Dragonfruit.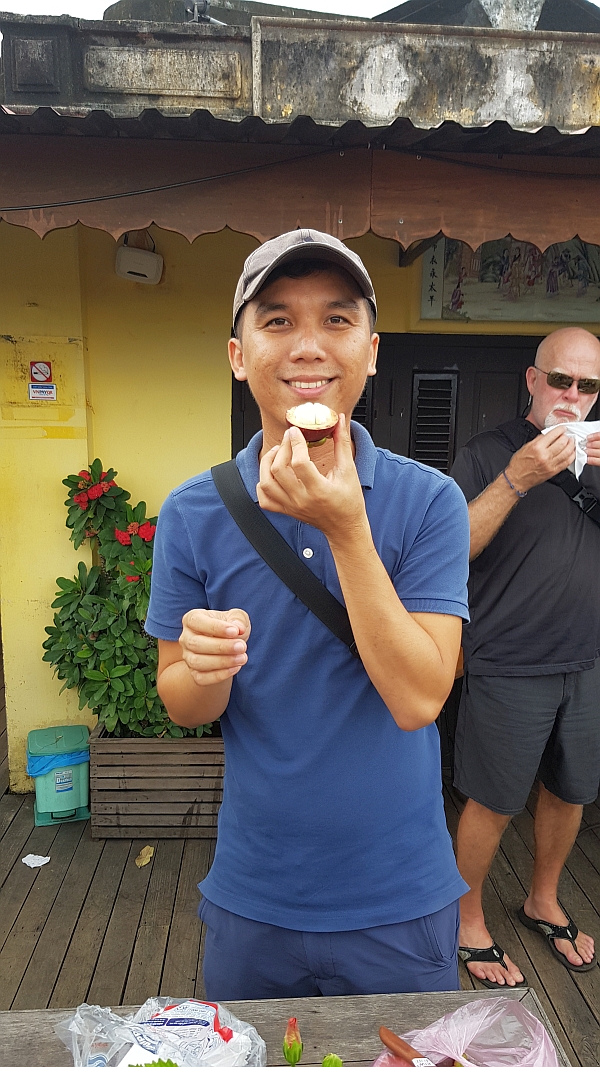 Our excellent tour guide - Xuan.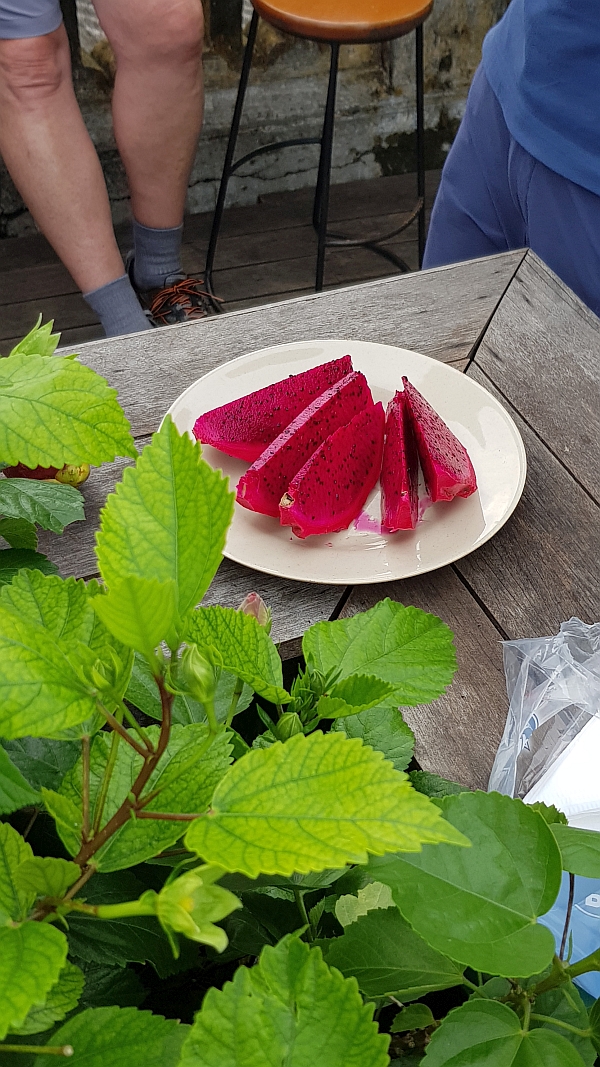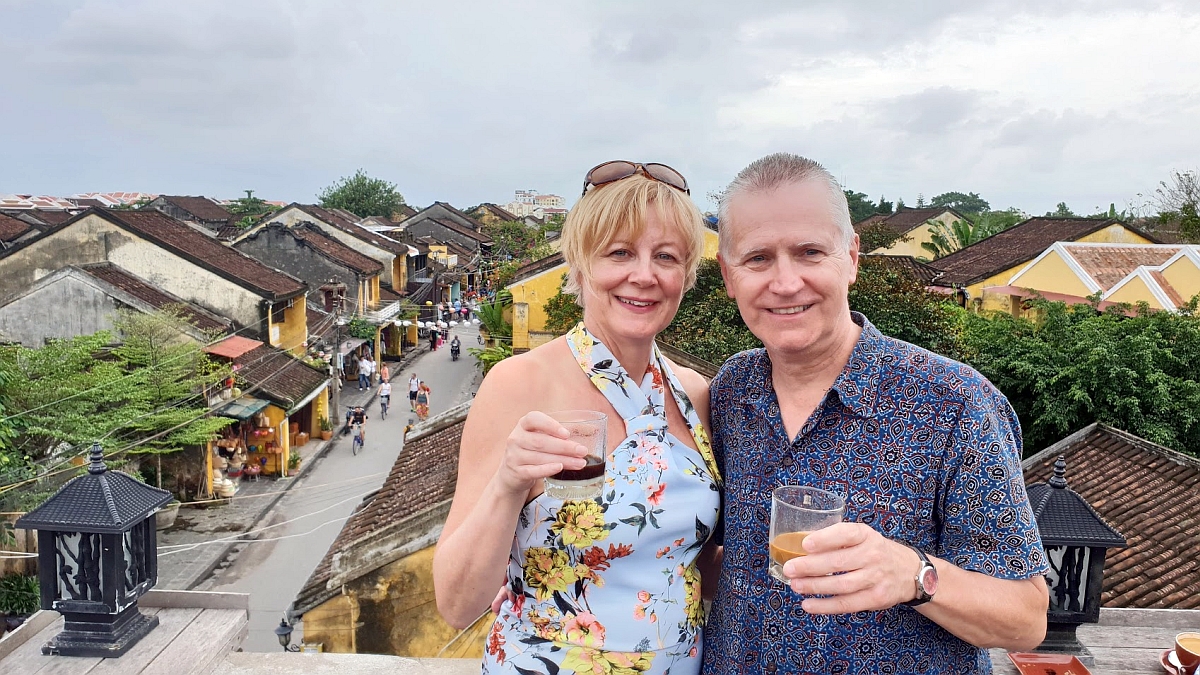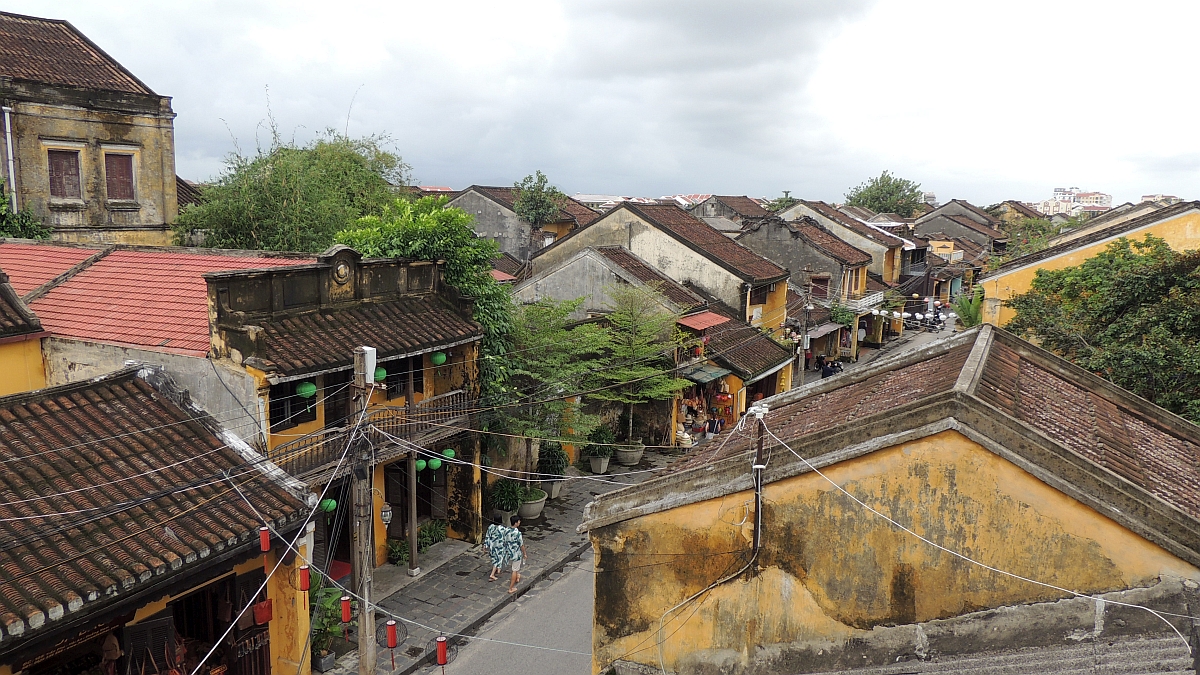 Next we visit a Chinese temple and then have our photo taken on the Japanese Bridge – it's THE place for photos in Hoi An. I have to say that Tam and I fell in love with Hoi An. It isn't exactly quiet, but the bustling streets and shops have a very warm and happy feel to them. The locals help as well as everywhere we have visited they have been smiling and welcoming.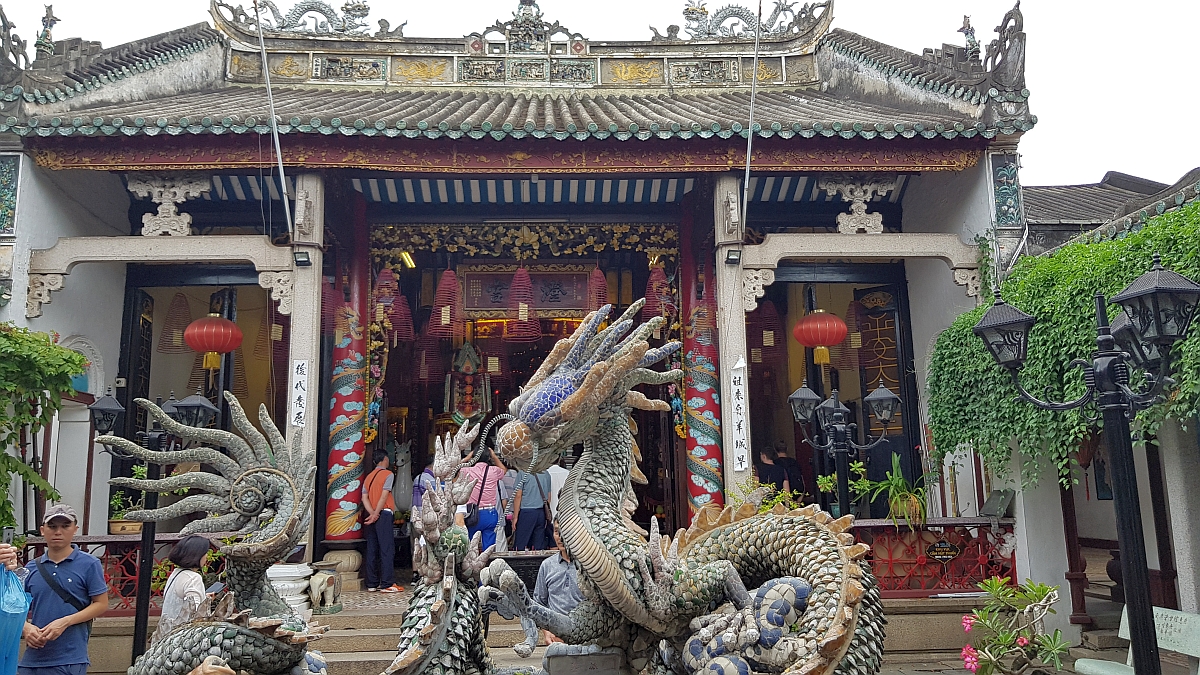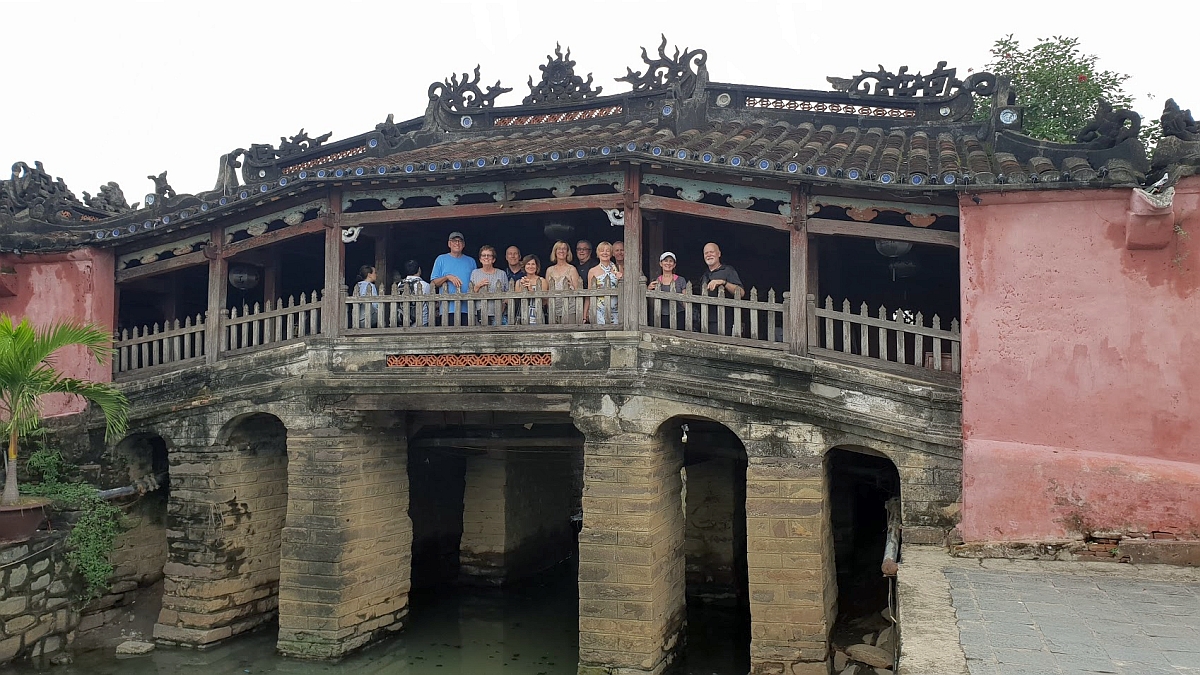 Back to the bus where we stop briefly in Da Nang on the way back to the ship to have our photo taken in front of the Dragon Bridge. Xuan tells us that it actually breathes fire at night.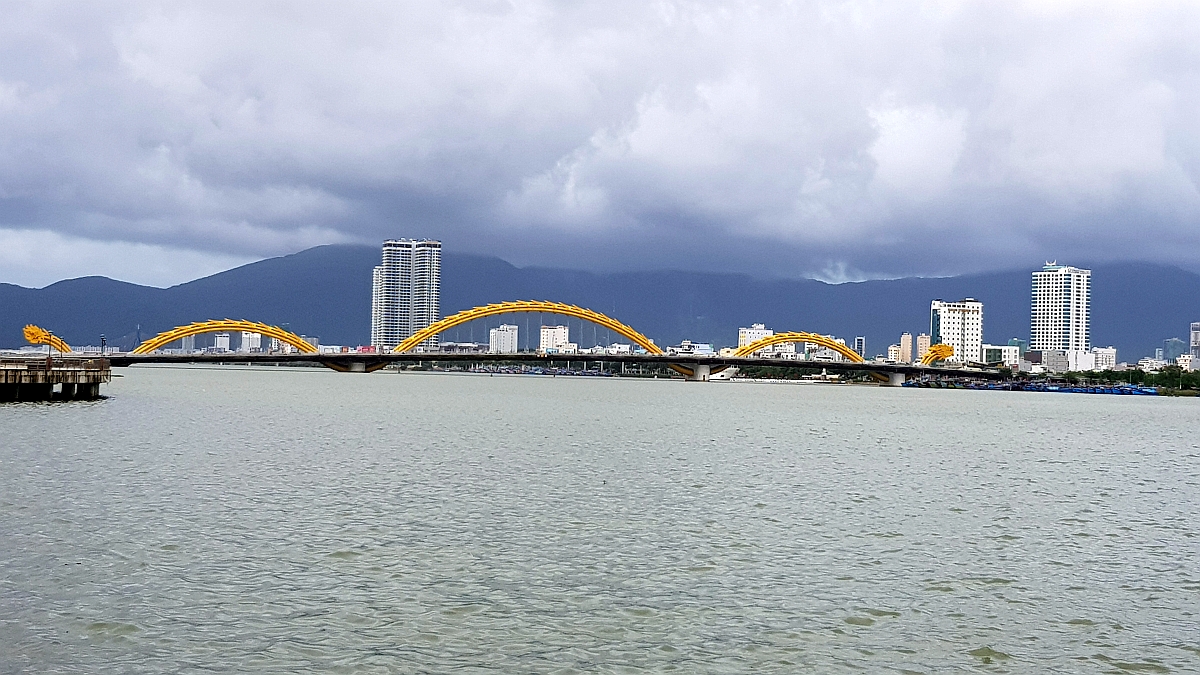 It's about 90 minutes back to the ship and we return through the tunnel again only to find it raining again on the other side. It must have been our lucky day.
We say goodbye to Xuan and the driver. I can't praise them highly enough. If you are ever in this part of the world and want to do a tour, look up Xuan - https://www.tourwithxuan.com/ - he has excellent ratings on Tripadvisor as well.
Back on the ship we shower and go to the Martini Bar where Tam has a Porn Star Martini (no jokes please) and I have an Ensemble Whiskey Sour. I find as usual that most cocktails on the ship are not that good, they normally add some sort of soda or sweetener. Tam looks at the menu and asks me 'Why don't you ask for a Lime 10?' I have to point out to her that she is looking at a drink with lime that costs $10. Not really been her day, has it? Anyway, I'm not enjoying the cocktail, so I get a Chardonnay before we go to the theatre to see a very average comedy juggler. Honestly, some of the jokes are older than me!
We have dinner in the main dining room (the Metropolitan Restaurant), where I have the Veal Escalope. This is by far my worst meal to date. The meat is fatty and chewy and not very pleasant at all.
We end up after the meal in Café Al Bacio, which is one of our favourite spots on the ship, and meet up with Cathy and John from our trip today. We have a very nice time chatting to them for a couple of hours before heading off to bed at 11.30 pm. It's certainly been a full day, but we've loved it all. Thankfully there's a sea day tomorrow, so we can relax a bit more.
[NOV/DEC 2018 REPORT HOME PAGE]