DAY 7 - TUES 22nd SEPT

The girls and I get up at 8:00. Tammy has been up since 6:30 and has collected the coffee from the food court. Now you may think she is being a saint, getting up early and cosseting the family but I know her secret agenda. She has been having a sneaky Cherry Danish! Didn't bring one back for me, either. (mumble, grumble.)

The weather is foggy but not too bad, so off to the Magic Kingdom.

We aim straight for Splash Mountain. Georgia says she wants to do this even after seeing the drop. I realise we have made a mistake after the second small drop when the wants to get off. She survives, of course, but is frightened. We had to buy the picture, the look on her face is pure terror. India enjoys it, which is good as this is the first time she has ridden too.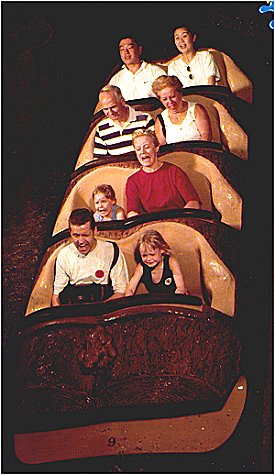 Tammy is pleased that India likes Splash Mountain as this means she won't have to ride it again this trip as India is shaping up into my ride buddy.

On to Big Thunder Mountain which is India's second favourite ride. After her fright Georgia does not want to ride so we do the baby swap with India riding twice.

Pirates of the Caribbean is next, which we all come through without any problem.
On to the Swiss Family Treehouse which is looking very smart after the rehab. Georgia is having a little sulk and is not keen on having to walk around the treehouse, so a sit down in the Tiki Room seems like a good idea.

I have to say that I think the New Tiki Room is a big improvement. It was in need of modernising. I have read that some people think it will date very quickly but I would think that once the audioanimatronic figures are in place it would be fairly easy to re-programme a new soundtrack in the future.

A rest break for coke and cappuccino floats later, we are off to the Country Bear Jamboree. Georgia falls asleep but I don't think that this is a critical appraisal of the show on her behalf.

Now, I know you must all be a bit concerned that everything must be drying out, after all we haven't seen any rain for at least 5 hours. Fret no more, here it comes again. We jump on the riverboat for once around the river, which is pleasant but is always nicer in the sunshine. (What isn't?)

After lunch at Pecos Bill's we go to the Haunted Mansion. Georgia is fine with this but India is scared in the graveyard by all the things that pop out from behind the gravestones.
It's funny how you appreciate different things on different trips. I really enjoyed the old Mansion this time, not that I don't always but sometimes things can lose their impact after many repeats. It was a pleasure just standing and looking at the outside and noticing things like the bat weather vane, which I have never noticed before.

We find a place to stand and watch the Remember the Magic parade, close to the stocks in Liberty Square. It is raining hard so everyone has umbrellas up. The parade starts late and India and I are stood on a small wall so she can see. Just as it gets underway a rather rude lady jumps up on the wall right in front of India and proceeds to wave her brolly around in order to make it even harder to see.
I have had enough, I jump down off the wall and lift down the lady. I then tell her 'Madam, if cannot control your umbrella, then you do not deserve to be in charge of it.' Then I fold up her brolly and break it over my leg.
All right, all right, so I am exaggerating slightly. What I actually do is go 'tut' quite quietly, but I think I make my point.
With a bit of jigging around we manage to get a view for India.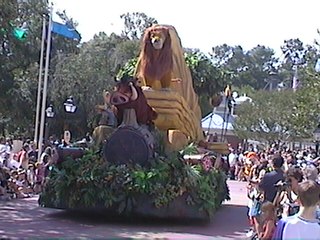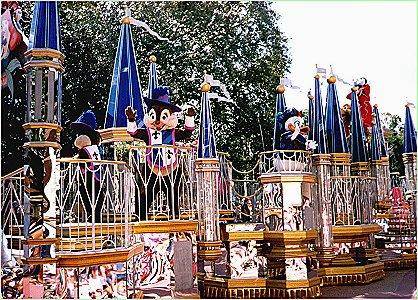 The pictures above were not taken on this rainy day, but you can't get too much of a Disney parade, can you?

Even in the rain, without the stops for children to play games and with the lady characters holding umbrellas (by the way chaps, look out for Pocahontas, a definite babe) this parade is 100 times better than Mickey Mania, which was the afternoon parade last time we were here.
All those large mouse parts walking around singing 'Rock the house with the mouse.' Weird.

We return to the hotel where I take the girls for a swim in the rain while Tammy has a rest. We decide to go to Planet Hollywood and then on to Pleasure Island. As it turns out it would have been better to go to Epcot for Illuminations as this is only the second dry night we have had since we have been here.

We arrive at Planet Hollywood around 6:30 and only wait about 5 mins to get in. It is another 25 mins or so until we are seated.
Tammy has a burger with bacon and cheese and I have chicken breasts with mashed potato. We actually eat half of each others, that way we can try two things. I know that this place is loud and a little brash but we both thought the food was excellent and not badly priced by WDW standards.
The girls have burgers and fries but India is not very well and doesn't eat anything.

A decision is made to go straight back to the room but just as we reach the bus stop India decides that she feels better and wants to go to the Adventurers Club. After many 'Are you sure?'s, off we go to Pleasure Island.
Of course, when we get there we find that the Adventurers Club is closed until 9:15 for a private party, so we go to the Rock n Roll Beach Club instead. A band are playing and the girls are happy on the arcade games. It's great for the pocket because, at their age, they don't even want to put money in, they are content jumping on the bikes and cars and pretending to drive.
A game of table football sees Tammy and Georgia beat me and India. I still maintain someone must have slipped a tranquilliser into my beer to affect my performance so drastically.

India feels ill again. (I know how she feels, getting beaten by Tammy at table football makes me feel ill too.) The poor thing has been so good but all the excitement and late nights have caught up with her, so it's straight back to the hotel and in bed by 9:30.