DAY 6 - MON 21st SEPT

Sleep in until 8:00. Have you noticed we are getting later every day in getting up? Probably a good thing, you can't push the little ones too hard.
The weather looks more promising so we clamber on the bus to the MGM Studios at 9:00.
I love the way all 4 parks seem to welcome you in. The Magic Kingdom is Main Street with it's view of the castle and at the Studios it's the walk up Hollywood Boulevard towards the Chinese Theatre. The background music adds to the atmosphere.
We head straight for the Voyage of the Little Mermaid which the girls enjoy, trying to catch the bubbles. I know lots of people like the big rides but really this is the type of attraction that Disney does like no one else.

On to the Great Movie Ride, cowboy side. Once again the girls are good, not minding the dark or the alien scene but India is on the floor with her fingers in her ears for the gunfight at the bank. They both love the Wizard of Oz, I still get amazed by the Wicked Witch, this must be the best audioanimatronic figure in any of the parks.

We hurry across to the Hunchback of Notre Dame and just get in before the start. We are seated a couple of rows from the front on the left hand side with a small child sat behind us causing havoc for most of the show. His parents don't seem the least bit worried at his antics, if it was one of my children acting like that I would be most embarrassed and do my utmost to try and prevent them spoiling everyone else's pleasure. We will definitely see this show again.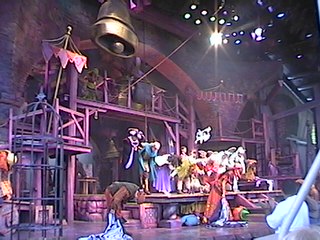 Having said all that, this show was brilliant. All the leading players were superb, their voices were so strong it sent shivers up and down my spine several times. It was also interesting to see how they dealt with sections of the story that must have been very difficult to fit into a stage show.

(I particularly like the effects of the houses burning and the cauldron spilling fire onto the floor below. Also the fact that the costumes are so bright and vibrant: - Tammy)

Star Tours is next This is India's favourite attraction, she rides this as often as she can. Even I can ride this, as many people have written, it does not bother me in the same way as Body Wars. Poor Georgia does not like this very much and is crying softly to herself half way through, I get the impression she has been putting on a brave front on some of the rides up to yet and it is starting to tell on her. We will be careful about the things she goes on from now on.
Partly because Georgia is a bit upset we stop for an early lunch of hot dogs and fries at the Backlot Express.
On to Muppetvision 4D, which we arrive at just as it is about to start so we miss the pre-show. Both the girls like this. My favourite is the Swedish chef, probably because we both make the same amount of sense to people.
A dash across to Beauty and the Beast sees us enter the theatre just as it starts and just as the rain begins to pour down. We are under cover but, unfortunately, the stroller isn't and is full of water when we leave.
The Mulan parade is cancelled due to the weather and we never did get to see it.

We return to the hotel and because the rain is not too bad we have our first swim of the holiday. Like most small children the girls love the water. India can swim about 10 yards, not enough to go anywhere out of her depth, but Georgia cannot swim at all and so has one of the Disney life jackets. It is quite funny to see her bobbing along with her long blonde hair floating behind her and her head sticking out from the top of the jacket.

We get dressed up to go out as tonight is Priority Seating at Gullivers followed by an evening on the Boardwalk.
We get the bus to MGM, then the boat to the Swan and Dolphin. This is the first time that I have looked around these hotels and they are both very nice. Now, if I can just work out how to get the money to stay here for 2 weeks.......
As we leave the Dolphin, Tammy is walking ahead of us as the girls and I are looking at a model of the hotels. As she leaves a lady on the door gives her a Mickey poncho, it is still raining, of course.
I think 'Wow, that's nice, giving away ponchos because of the rain' and when the girls and I exit we pause by the lady. 'Are you with the convention?' she asks.
Ooops! No we are not, so no ponchos. I can see how she thought Tammy was though as she is dressed up in a short black evening dress, looking even more foxy than usual. I guess a father in t-shirt with two small children in tow is less likely to be a conventioneer.
When we get outside I tell Tammy about the poncho and we consider going back in and giving it back but are too embarrassed. If anyone from Disney is reading this, I am only too willing to return it to you, just send me the flight ticket and I will be there. I don't feel too bad later in the evening when we see piles of the ponchos at the doors to the night-clubs that have been left by people.

On to Gullivers for 6:30 seating. This place is supposed to be a giant bird cage with a huge domed ceiling. It is very nice but feels a little cold. (As in atmosphere not temperature.)
This is a character meal and Rafiki and Timon circulate. Timon is great fun and makes a noise a little bit like a small raspberry when things do not go right. When he reaches us the girls want autographs so the pen comes out. Unfortunately it falls to bits in Timon's hand. Raspberry. Tammy fixes it and it falls apart again. Raspberry. Fixed again, Timon keeps turning the pen off as the button is on the top. Raspberry. Raspberry. Raspberry.
Of course, by this time the girls are laughing themselves silly.
Eventually we sort things out and have our meal. (Reverting quickly to Tammy's notes for details of meal.)
Tammy has lamb in marsala sauce, rice pilaff and stuffed tomato. I have fillet mignon, jacket potato and stuffed tomato and we split a side order of garlic mashed potato. The food is very good. Total including 2 child's meals, 2 milk shakes, 3 beers, (hey, Tammy had one of them) 1 Sprite tax and tip was $100. The $50 dollar coupon is accepted with no problem at all.
I think that this place is very good value with the coupon but I don't think we would make a return visit without it.

After leaving us Timon crept up behind a young girl on the next table. After he left she leant across to me and asks 'Are you Kevin?'
It turns out to be Molly, Beth and Gary Hodges' daughter. Beth and I had swapped e-mail and knew we were going to be eating in Gullivers at the same time but what are the chances of being seated right next to each other?
This is the first time we have met anybody from RADP (despite wearing our pins every time we are in the parks) and if everybody is as nice as Beth and her family then we will be very lucky.
We discuss where we have been and what we plan to do and all too soon we have finished our meal so we say our goodbyes and leave for the Boardwalk.
By the way Beth, Molly struck us as being very confident and intelligent, you should be very proud.

We drop the girls off at the Boardwalk Harbour Kids Club at 8:00. Although it is quite well equipped with games, videos, toys etc. we are not all that impressed with this place.
It is not helped by the elderly lady that books the girls in. She isn't exactly unfriendly, just not particularly welcoming. I would expect somebody more outgoing and happy to be in charge of a children's club.
At least I can control the children for the rest of the holiday with threats of returning them to the strange old lady at the Boardwalk!

Anyway, Tammy and I go off to the Atlantic Dance Club.
Strangely, there is no one on the door as we enter. Straight to the bar and after a couple of minutes we are served, but we have been looking around and realise something is not quite right. Everybody is reasonably well dressed and they are wearing name tags, then the DJ announces that the general public will be allowed in after 9:00! We are in the middle of an automotive convention.
It is now 8:30, we have just bought a drink, so what would you do?
We decided to brazen it out. I don't think that I fit in very well with my bright orange t-shirt, jeans and RADP badge proudly displayed but nobody comes to throw us out.
After 9:00 the swing band comes on, they are very good and a few people are dancing with one couple standing out. They are very good and seem to keep going non-stop with some very energetic dancing. Never mind sports or jogging, this must keep you really fit.

As we are to pick the girls up at 10:00 we decide to leave and go to Jellyrolls but with the cover charge of $6 we decide it will not be worthwhile for 30 mins. (Something else to save until our next trip.) Instead we sit outside the brewery and have a beer between us. It has just stopped raining and there are very few people about so it is very pleasant to sit and look out over the water with the lights from the Yacht and Beach Club, Swan and Dolphin twinkling in the distance.
I try to take some video but there is condensation on the lens. This is a problem that I found all holiday. When the camcorder had been in the room overnight in cool, relatively dry atmosphere and you took it out into the hot, humid Florida air, then condensation would form all over it and I had to wait for a couple of hours for it to acclimatise again before I could use it.

We pick up the girls from the Wicked Witch of the West. They have not had a bad time, just not a very good time. It has cost $20 for the 2 of them for 2 hours.

(When we picked them up they were snuggled up under blankets watching a Disney video with some other children - so they looked happy enough: Tammy)

We all have a wander around the Boardwalk and then go into the Boardwalk Inn for a look around. Now this place is impressive. I never really thought about it as one of the places we would like to stay at before but I would definitely like to now. I can see why it costs so much to stay here.

We have learnt from our previous night and decide to take a taxi back. The lady on the front desk calls out to the front and they say there is already a taxi waiting, so off we go to the All Star Music. It costs $8, including tip.

Tammy lets the girls have a few minutes in the games room before we all go to bed at 11:00.

The next part will follow soon, if you can bear to read something written by a poncho stealing, gate crashing family. Oh, the shame of it all.