DAY 5 - SUN 20th SEPT

Up early again at 7:30.
Quick breakfast and on the bus to the Animal Kingdom.
The only problem is, as we get off the bus, it starts to rain. It is grey, overcast and miserable. Tammy and I look at each other. This is not how we want to see Disney's new park.
A quick decision is taken and an about turn sees us waiting for the bus to Epcot. As we wait we see the bus for the Contemporary, so we hop on and get the monorail from there.
Ask to ride in the front again but this time we are told we cannot because they have just stopped allowing passengers to ride with the driver due to bad weather! We never did get to ride up front, ah well, something to be top of the list on the next trip.

In Epcot we head for the Universe of Energy, basically trying to hit all the things that mean we can spend a lot of time inside.
I prefer this latest version with Ellen although it probably wouldn't stand too many repeat visits. The dinosaurs are fun as always and the girls cope well with the noise and dark.

A quick hop to the Wonders of Life sees Tammy going on Body Wars while the girls and I play around on the interactive exhibits. Goofy is in attendance dressed as a tennis player so photos and autographs follow. We intend to have a photo with every character so that they can put them into their autograph books to provide a long term momento.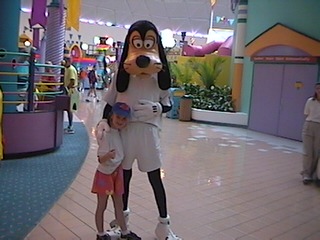 We have an early lunch of chicken caesar salad and waffle with bananas and raspberry sauce then go into the Making of Me. Tammy has already had a little talk with India so we get no awkward questions but I learn a thing or two and keep on at Tam for the rest of the day.
'But how do the tadpoles get to the egg, eh, Tam, eh?' She says she will show me tonight. Does this mean we will have to watch a film again?

Cranium Command is fun, as ever and has me shouting 'Shape up, Scuzzy' at the girls all day.
Tammy is hoping that the Odyssey restaurant will be open as she harbours fond memories of coconut cream pie from a trip 5 years ago. It seems a shame to see this building not in use.

On to Horizons which is starting to look like it is in need of a rehab before we seem to run out of steam in the dreary conditions and decide to head back to the hotel.
Apparently the bad weather is caused by a tropical storm out to the west and on top of that Hurricane Georges is waiting out to the east. Trust our luck, plan a trip for 18 months and hit 2 storms in one go.
They say on the TV that Georges may be the worst hurricane since Hugo and we were in Florida for that. If you e-mail me I will tell you next time we have a trip planned and you can avoid being there at the same time as us, I think we must be a jinx.
You would think that we would be used to the rain coming from the UK but the main problem in Florida is - how do you dress for it? It is so hot outside that you can't overdress and those ponchos make you sweat but if you wear shorts and a t-shirt and get wet, the air conditioned rides are uncomfortably cold.
Our poor maid must have suffered during our first week having to clamber around drying shoes and socks.

Anyway back at the room we all have a nice rest before showering and heading off to the Poly for our 7:30 Priority Seating at 'Ohanas.
We arrive early for a look around. We have been to the Poly before but it seems nicer this time. The girls enjoy looking around the waterfall and seeing the parrots and I enjoy a beer.
We are shown to our table and seated after'Aloha's' to one and all. Funny, I never knew I had so many cousins.
At this point I should mention that most of the meal information comes from Tammy's trip notes. Mine says something like 'Had nice meal' while Tammy goes into chapter and verse about every course and every piece of food. So here is what we had, courtesy of my greedy wife.
Tammy starts with a Parrot Cocktail made of amerretto and cherry brandy amongst other things. It comes with a little glass parrot mixing stick and one cocktail umbrella. Oh dear, one of anything is bad news when you have two daughters. I ask the waiter if we can have another umbrella for daughter number two and he returns with a cup full of them! Good man.
I stick with the beer, why change the habit of a lifetime?
The all-you-can-eat menu begins with pork dumplings and vegetable spring rolls. The dumplings are delicious but we don't ask for more because we have seen what is to come.
The main course is served on a lazy susan ( I am assured by Tammy that this is the correct culinary term, looked like a turntable to me) and comprises chicken baked in a banana leaf, lightly smoked salmon, oak grilled turkey breast, king prawns and mesquite grilled steak. The meats are barbecued over a large flaming pit in the centre of the restaurant and are brought to your table on long skewers.
If this all sounds nice, let me tell you, it tasted better. For dessert we have fresh pineapple covered in caramel sauce.
During the meal the children are organised in a game where they have to push a coconut around a pathway using a broom. India takes part and has fun but Georgia is a little too shy. She's not too shy to get some sweets that all the children are given after the game though.
The only bad thing about the whole evening is that Georgia had a child's meal of hot dog and fries but was still charged $8.95, the same as if she had the full menu. Oh well, you can't let little things like that upset you when you are on holiday.
The whole meal costs $94 including tax and tip and a couple of beers. It really is more of a dining experience than just a meal and the girls go around saying 'Aloha' for the next day or two.

We are finished by 9:00 so we wander down to the covered dock (it is still raining) to watch the Electric Water Pageant, which is nice to watch if you happen to be around when it is on. I would not make a specific journey to see it.

Our journey back is a bit long winded. We take the monorail to the TTC, I know we could have walked but we are feeling lazy. The bus to Downtown Disney and then the bus back to the All Star Music. Should have taken a taxi. Ah well, live and learn. Bed at 11:00.

By the way, Tammy does show me about the tadpoles back in the room. She uses a notebook and diagrams to explain all. So THAT'S how it happens! I still don't believe her though, I've seen the stork in Dumbo and this seems much more likely to me.