Kalkan May 2023
Written by Kev
We've been to Kalkan 6 times now and I'm sure the photos on the web site are getting a bit 'samey', but at least we stayed in a different villa and Tam and I enjoy looking back through our holidays and remembering what we got up to.
We didn't hire a car this time instead we booked a pick up from the airport. We used Enes Rent a Car at a cost of £120 for both directions and they were very efficient and friendly. We realised that we have already done many of the things there are to do in the area and decided that this would just be a relaxing time mainly enjoying the villa during the day and eating out in Kalkan town in the evenings.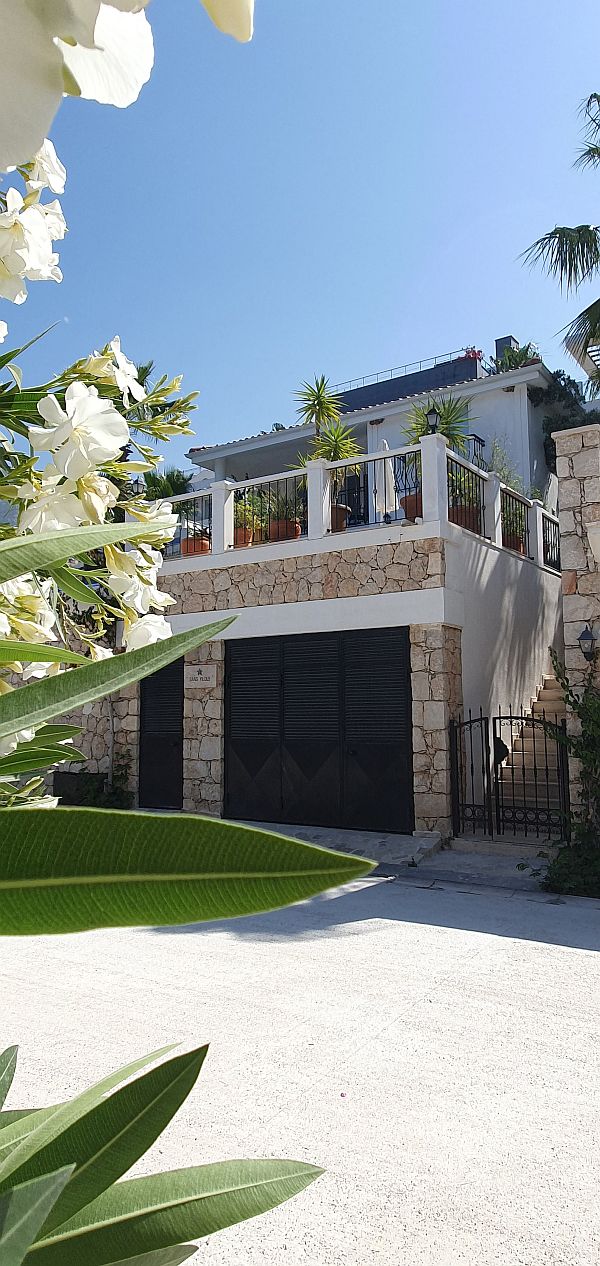 This was our villa, Sans Yildizi, it had two bedrooms and a pool. It was absolutely fine for us and in the quiet area of Kisla. It cost £920 for the week. You could walk into town, it probably took around 30 minutes and we did it a couple of times, but as with everywhere in Kalkan the hills make it a bit of a trek so a taxi is usually the better option if you are going out for the evening.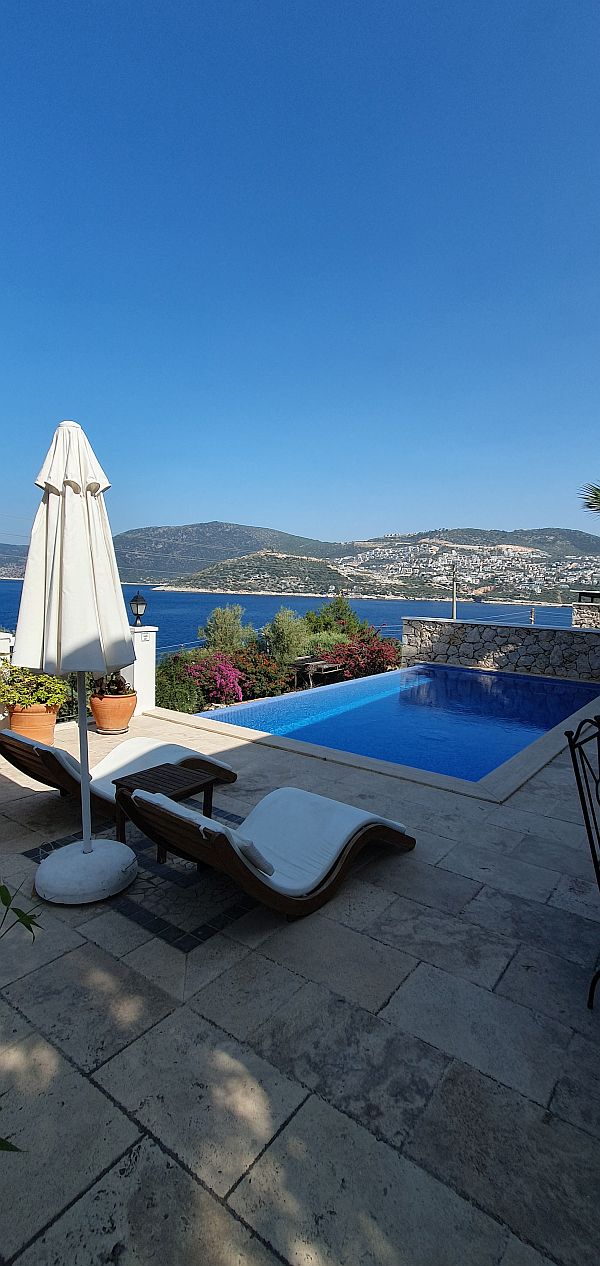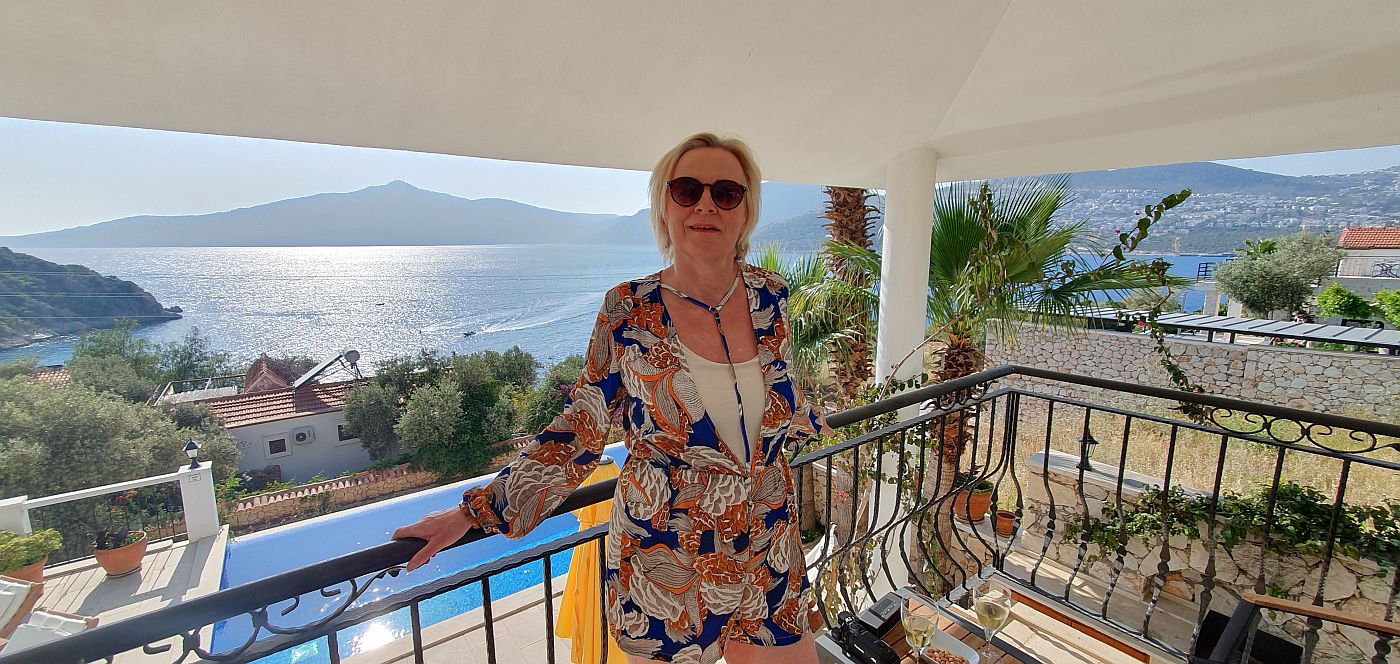 This is the little balcony off the main bedroom. The perfect place for a drink and nibbles before heading into town.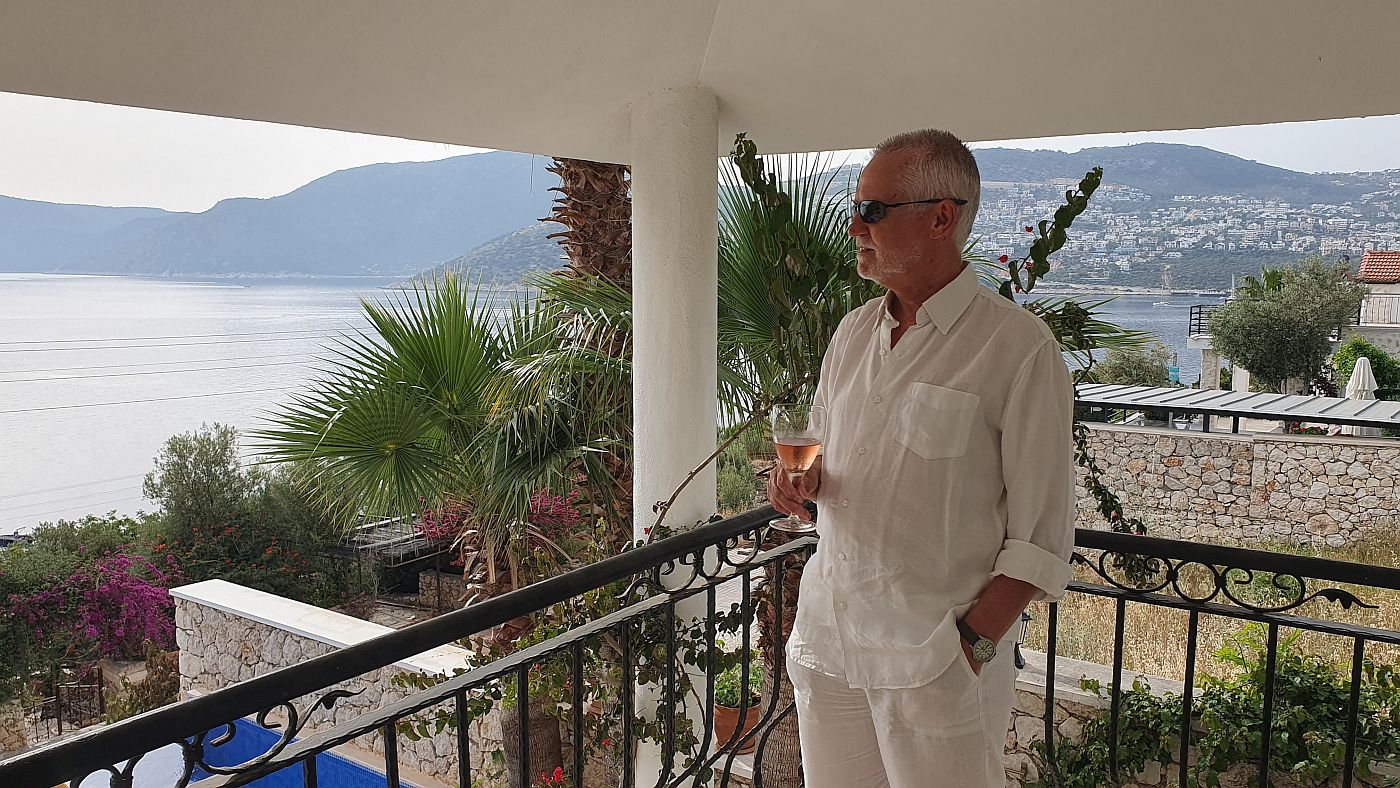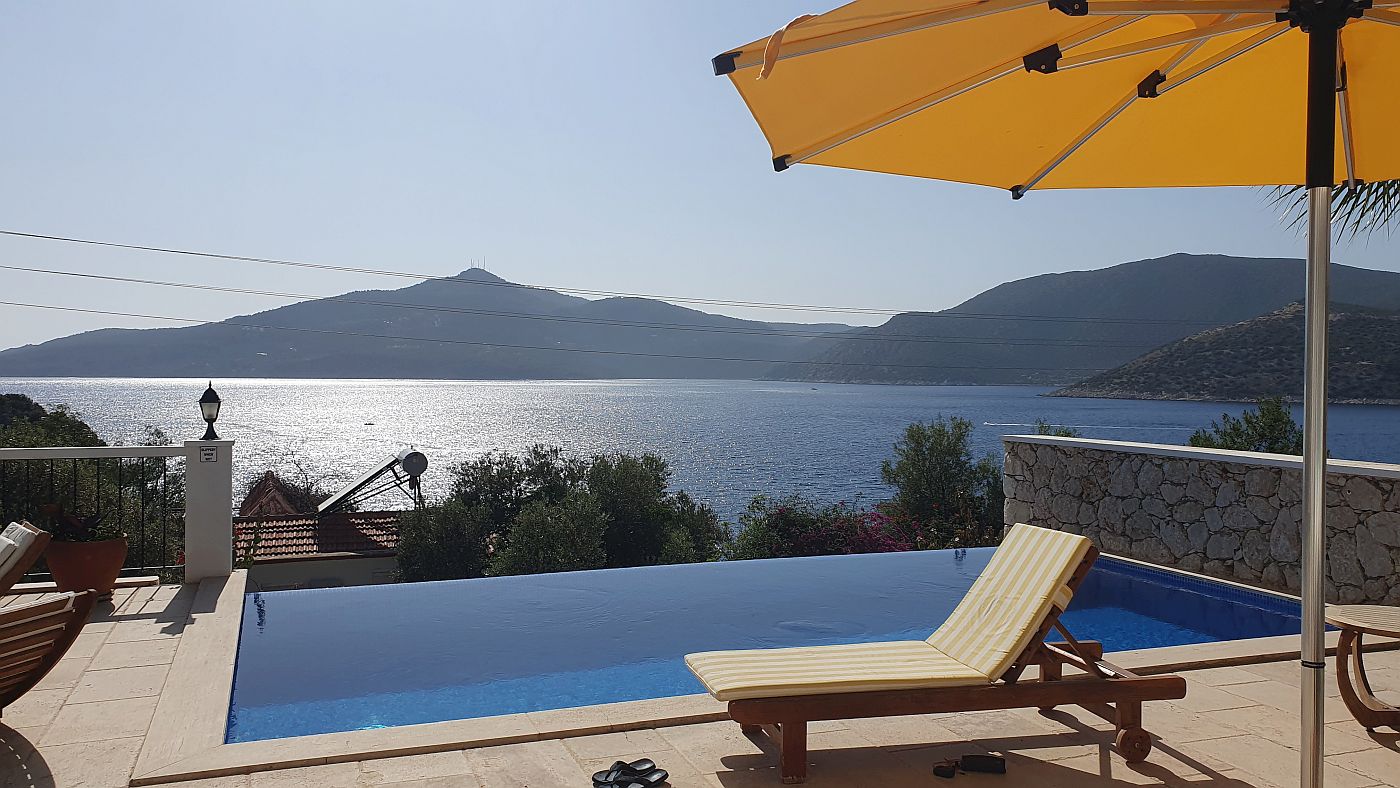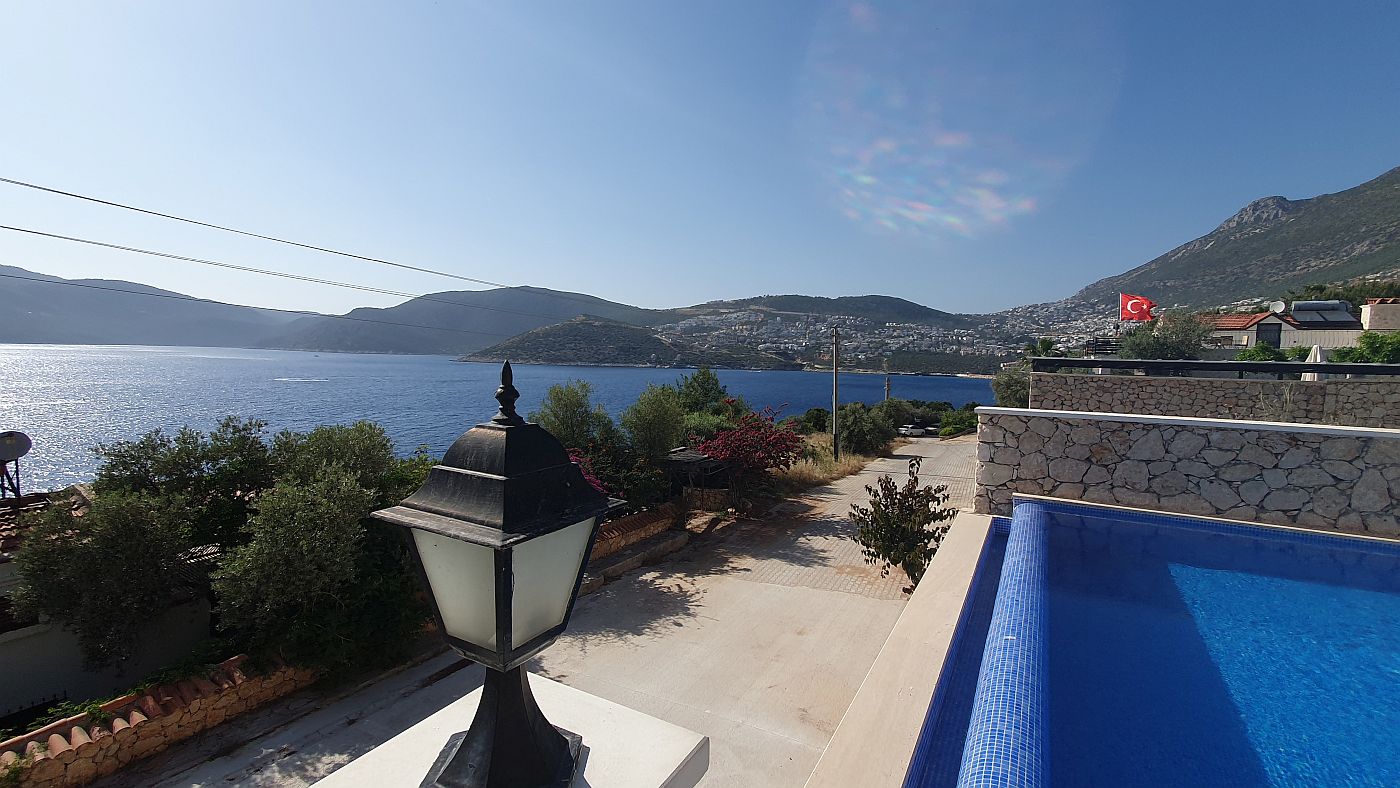 The little road in front was never a problem. There were very few cars and the most noise was from Cosmo the dog belonging to the small hotel opposite as he chased off any cats or dogs that entertained the idea of entering his territory. Mostly he sat outside enjoying the sunshine, which was perfect for the whole week we were there.
Now this fellow made friends as soon as we arrived. We unpacked and sat outside with a beer. He (no idea whether it was male or female in reality - I didn't look that closely!) immediately strolled over jumped onto the sofa and curled up on my lap. Now I'm not a big cat person, but you couldn't help warming to this one. Whenever we were on the patio around the pool he was there. He just seemed to enjoy the company. We called him Bob and also happy cat as he sometimes dragged along a friend, but this black and white creature was the opposite of Bob. He was happy enough to lie around and eat the dry food we put out for them, but Tam made the mistake of trying to stroke him one day. She still has all her fingers, but only just. This became grumpy cat.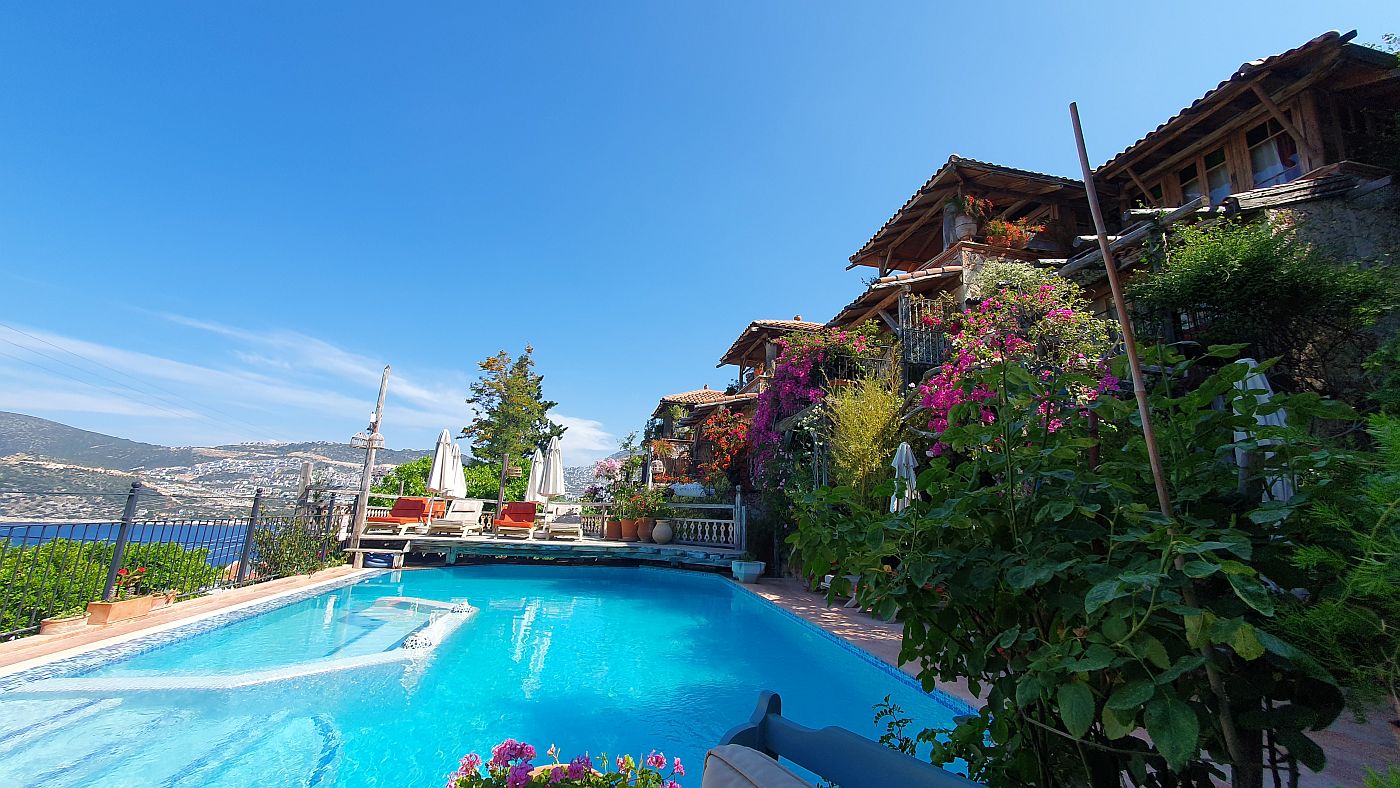 We were just down the road from the Fidanka Hotel, which we knew was lovely, so we went there a couple of times for a drink. It is a delighful place and we may well stay there one day, although it is hard to beat the privacy and relaxation of your own villa.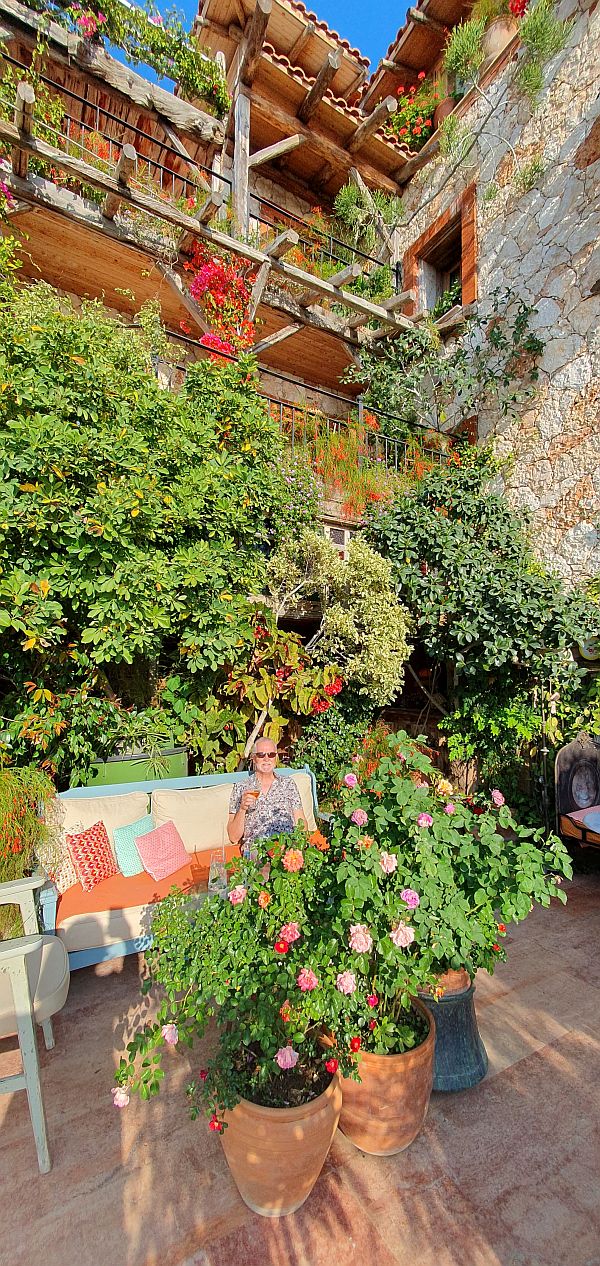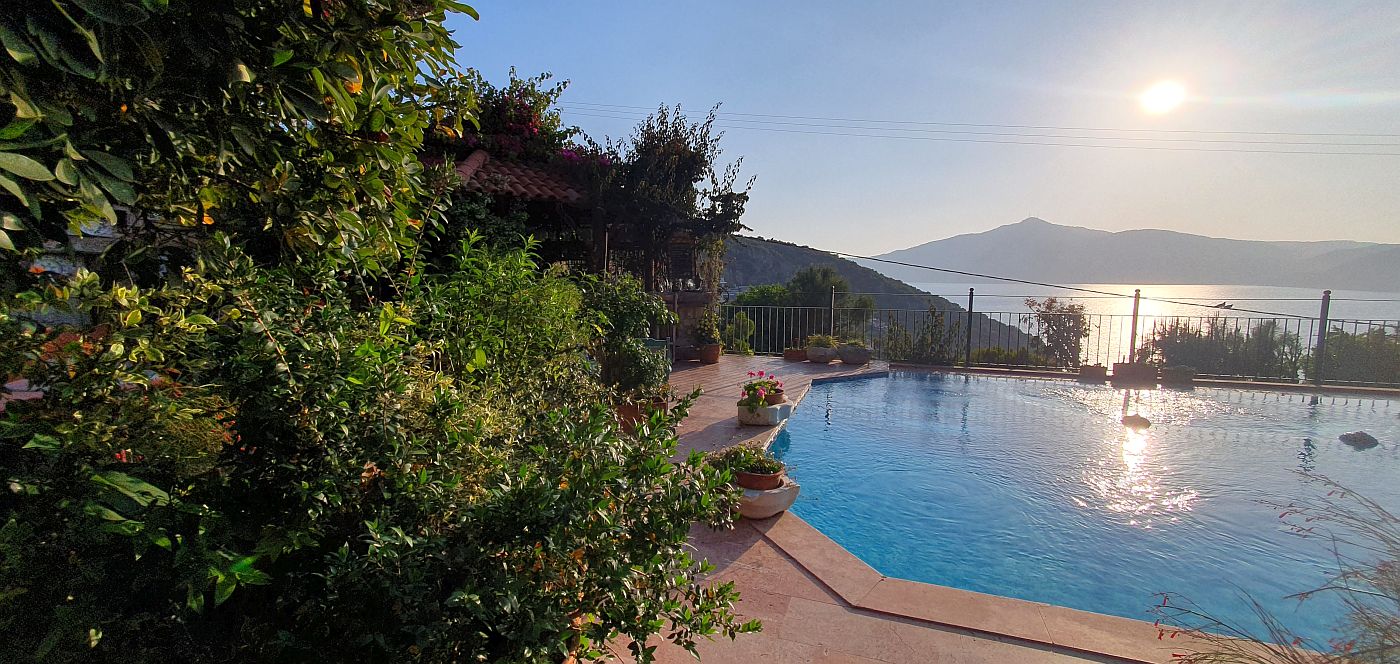 The next few photos are of some of the places we ate and drank. I don't think we had a single bad meal. All the restaurants in Kalkan are good with some being excellent. We did notice the increase in prices from our last trip. Inflation is rampant in Turkey and this reflects in the currency with the excahnge rate being very good. You would think this would be an advantage, but in reality the prices are much higher to reflect the increase in costs the businesses have to endure. Much of the alcohol (especially spirits) is imported and heavily taxed. Local beers and wines are still reasonable value with a large Efes being between £4 and £5. Most meals we ate were not extortionate, around £12 - £15 for an entree, but just not as cheap as in years past.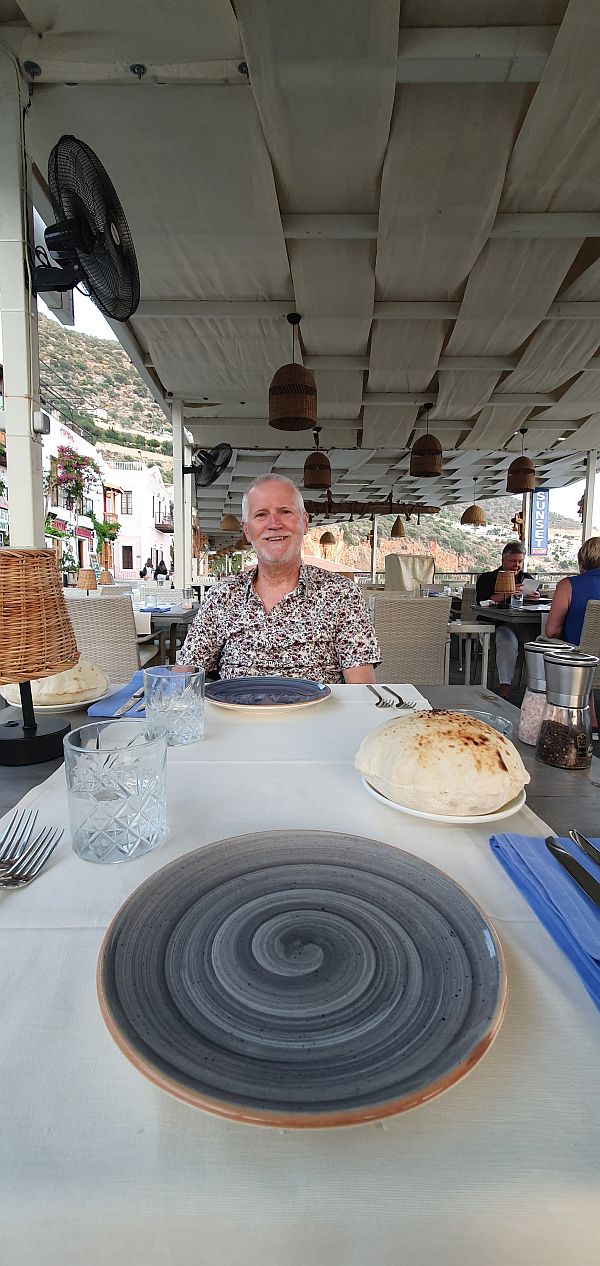 Love the huge puffy bread. This is the Korsan Meze restaurant down by the beach. We really wanted to eat at the Fish Terrace rooftop restaurant, but it wasn't open yet as it was so early in the season. This place is owned by the same family and just below it.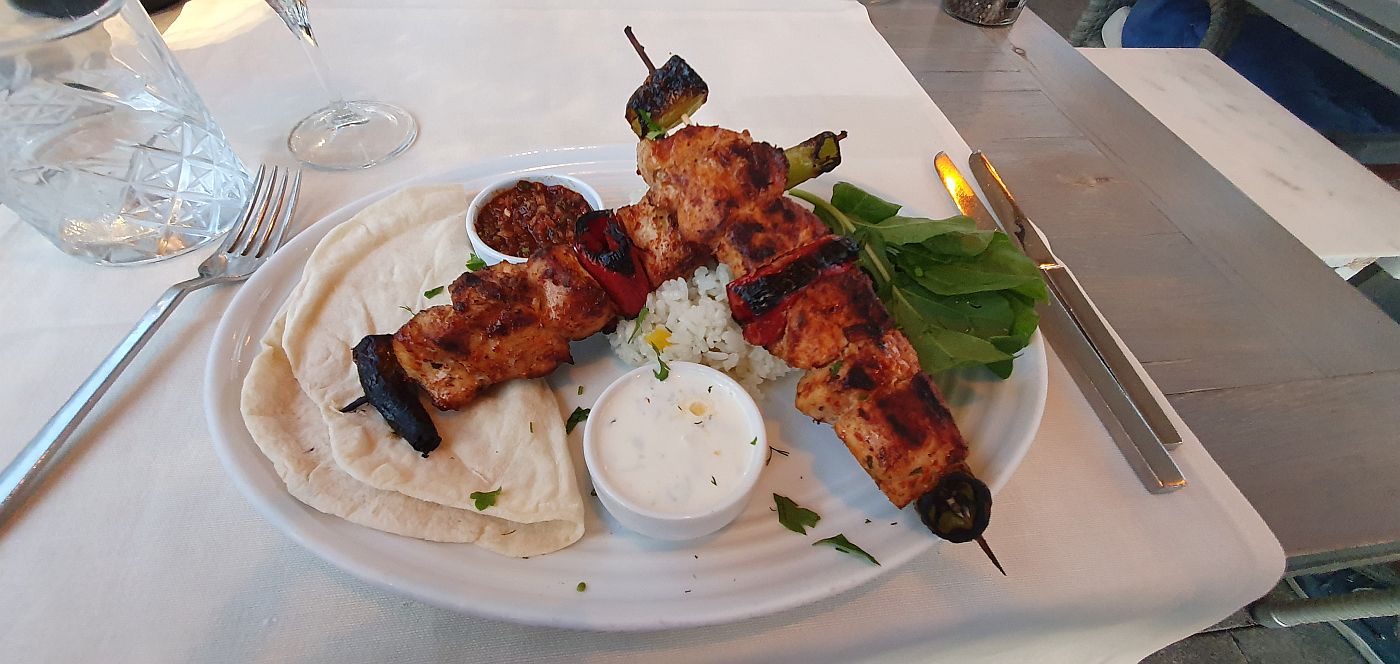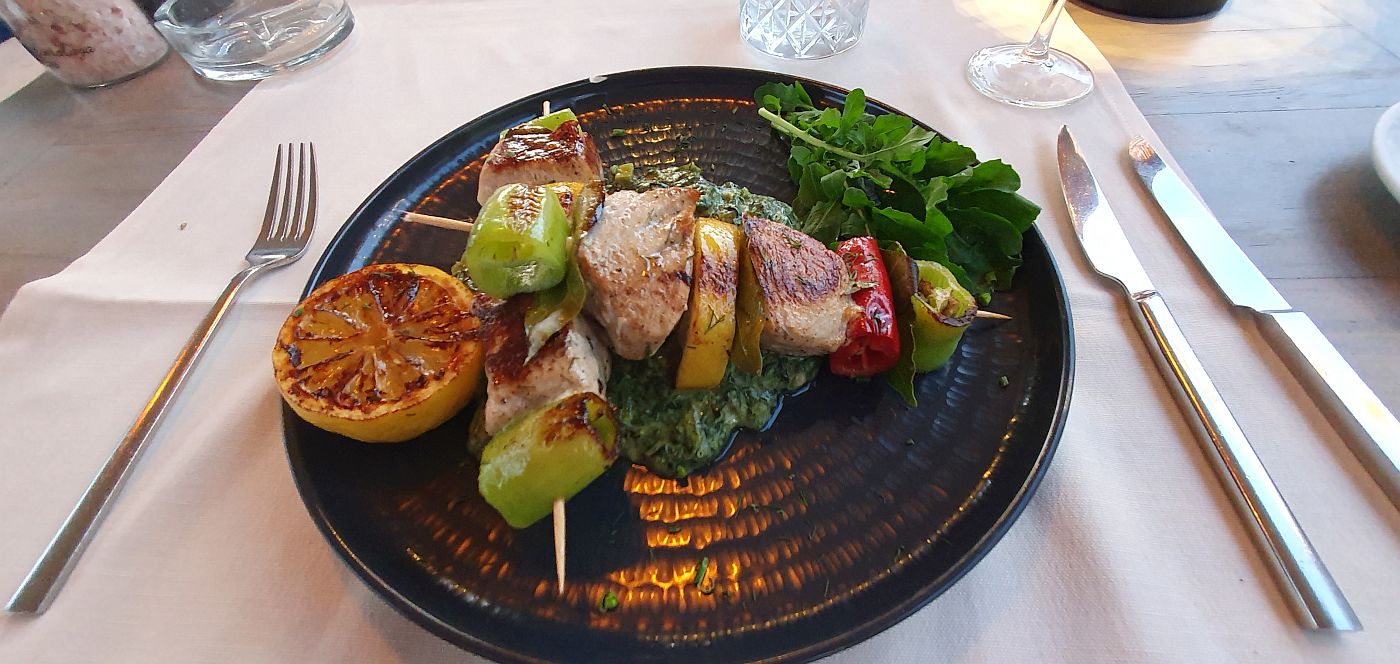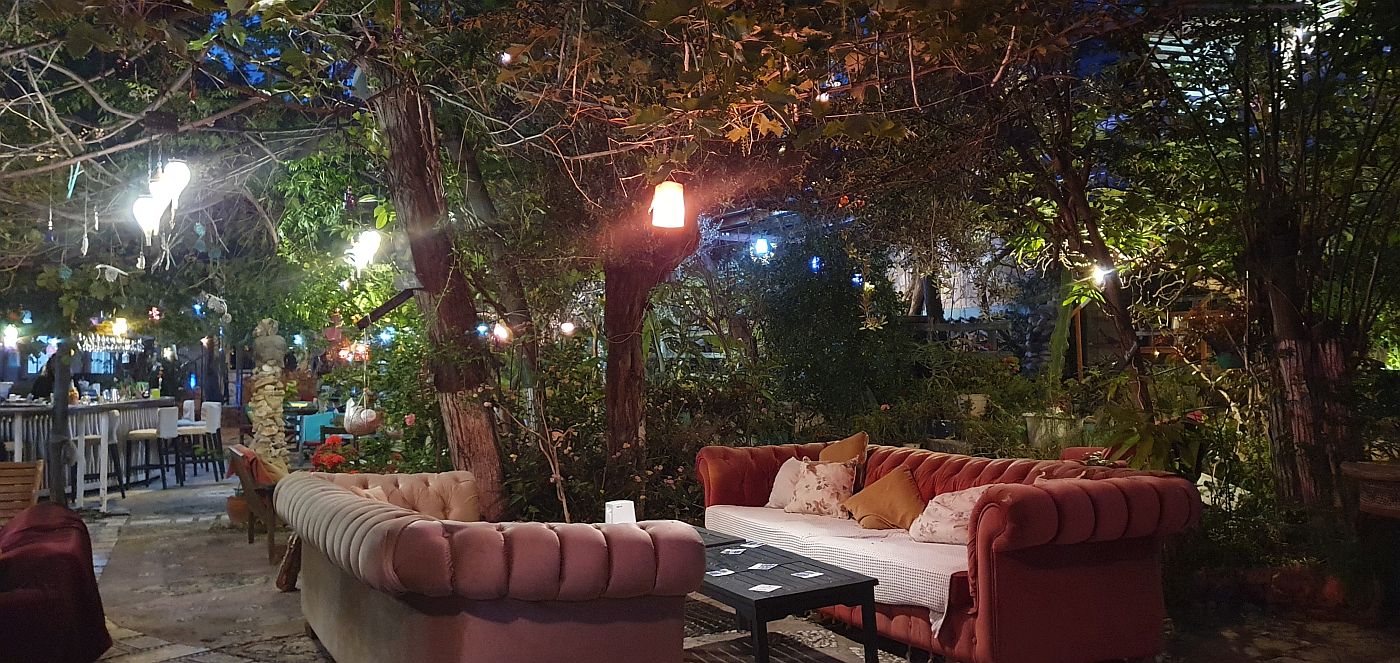 We made our usual visit to Botanik Bar. Again it was very quiet this early in the season.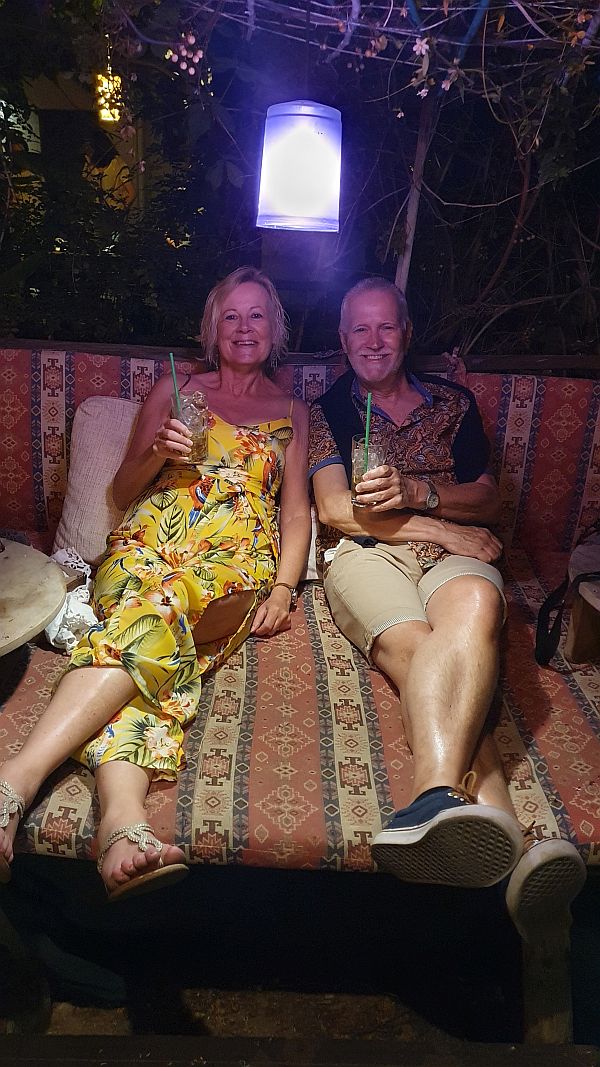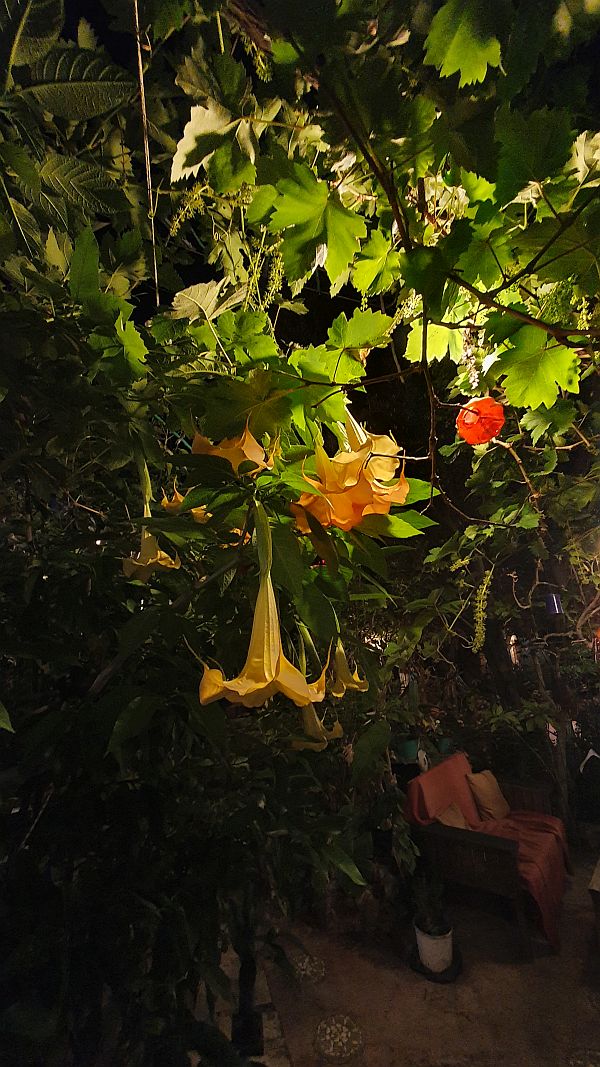 Lovely place, but being outside you do have to watch out for the insects in the evening. I don't think we were bitten, but there's a few of them flying about.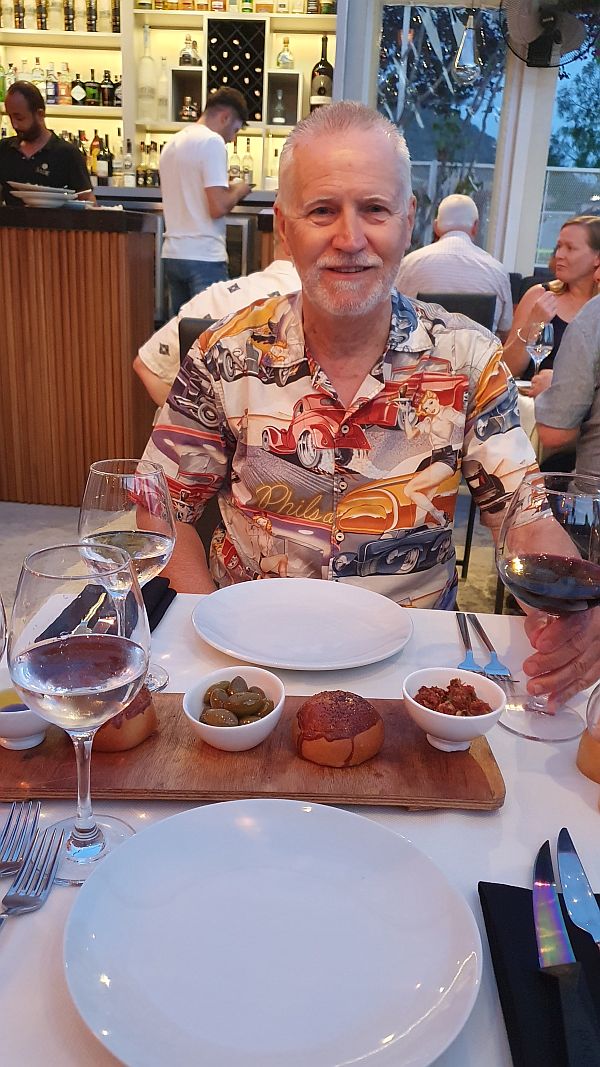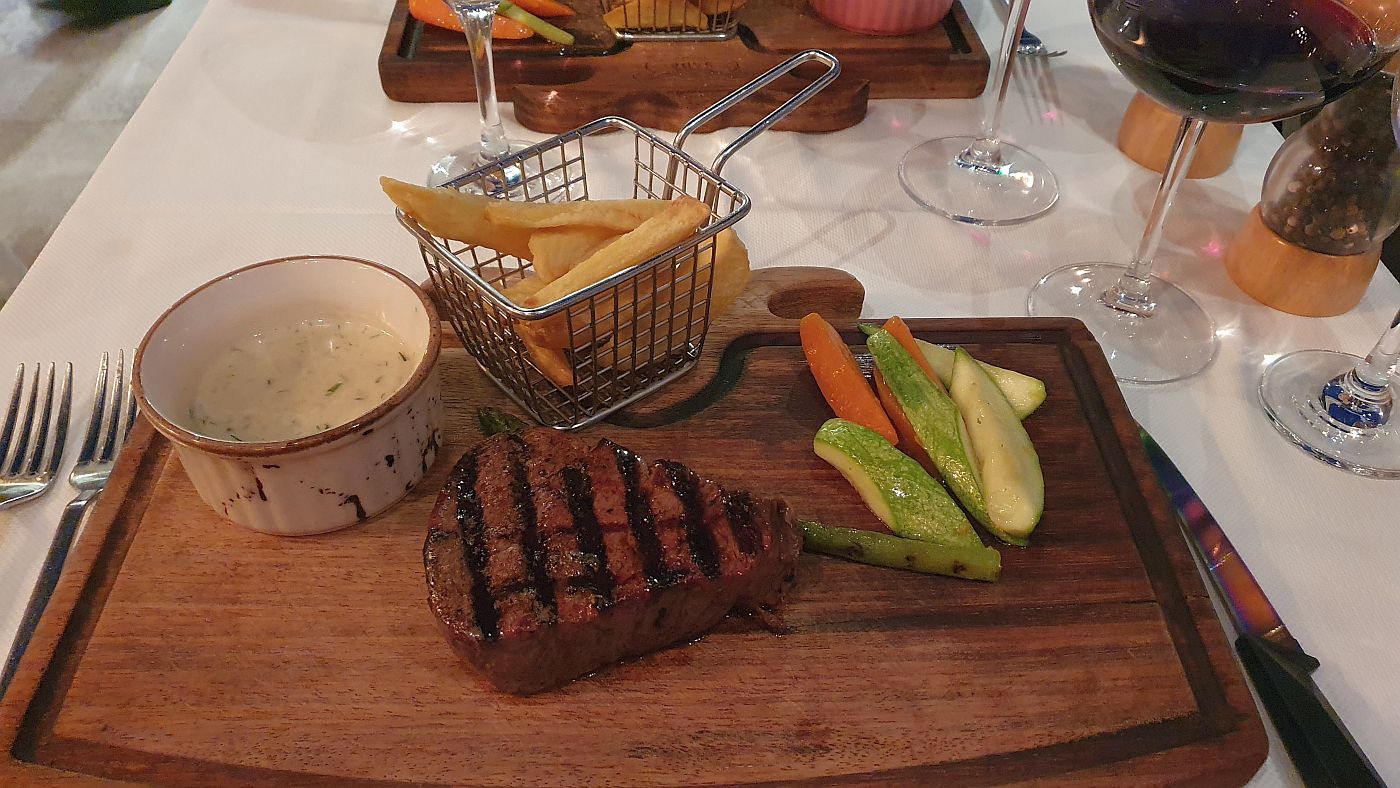 About the only restaurant that we have to do every trip is Sade. The steak here is excellent.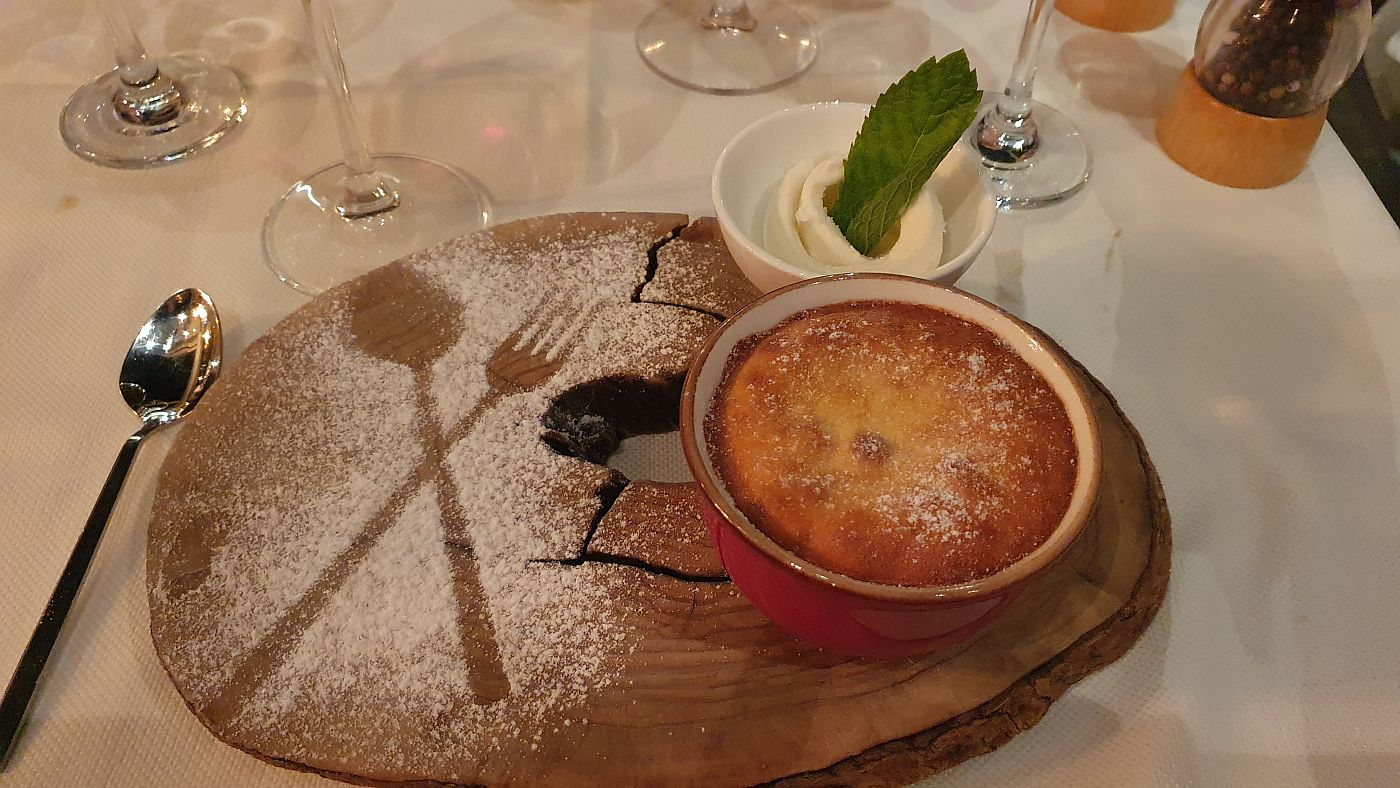 Their amazing white chocolate souffle never fails to impress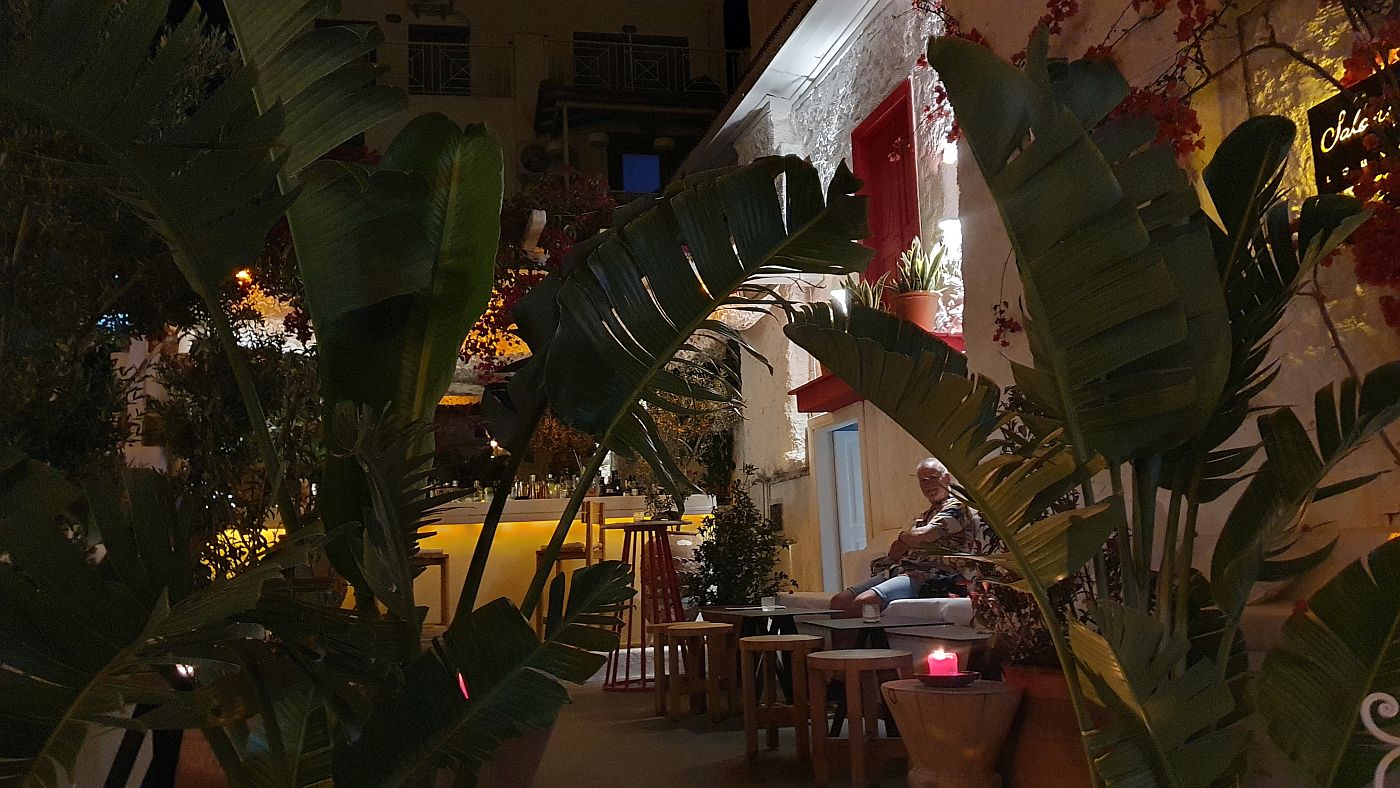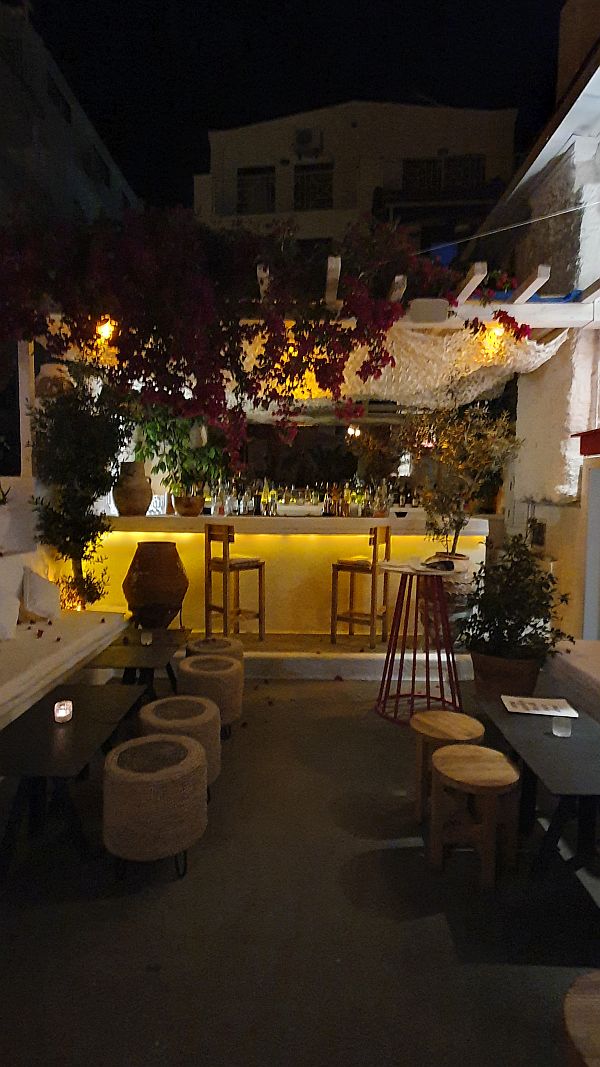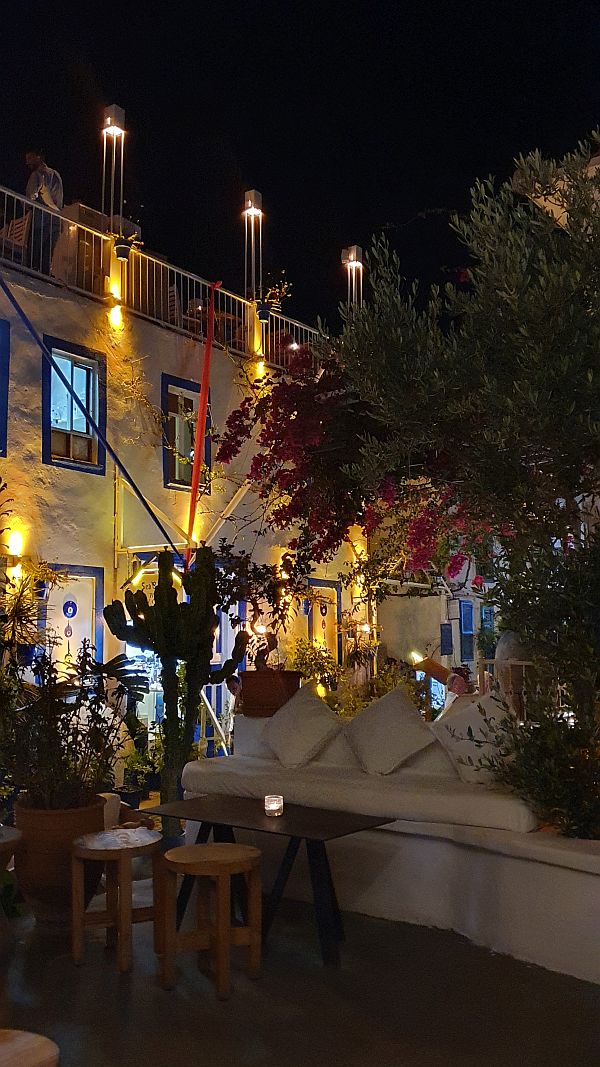 We found this new bar although that might not help much as neither of us can remember its name.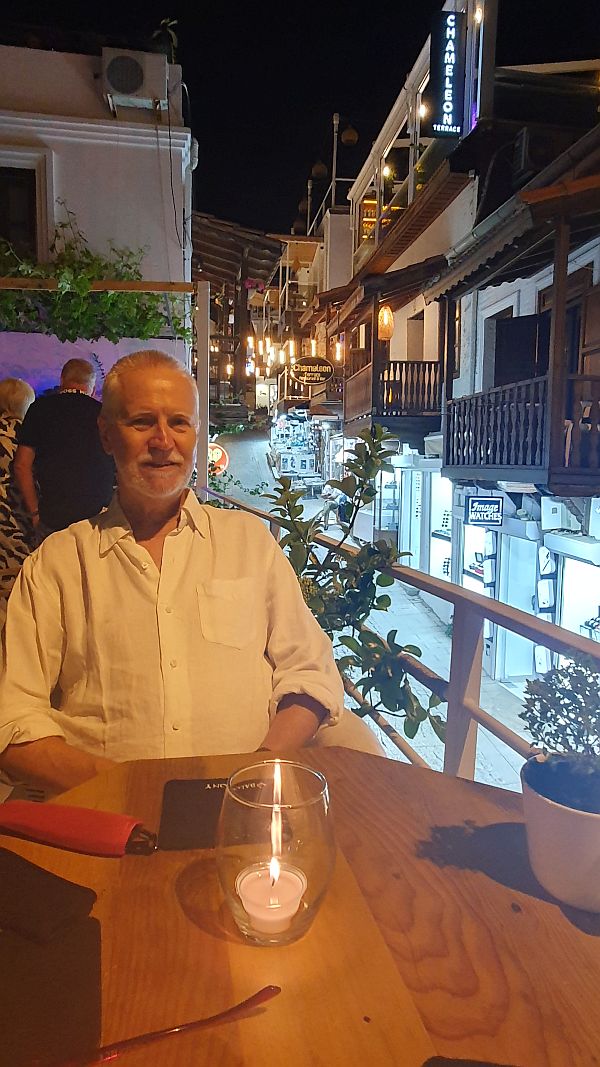 This was new to us as well. The Balcony Bar. I think that it's been there a couple of years, we'd just never been there before.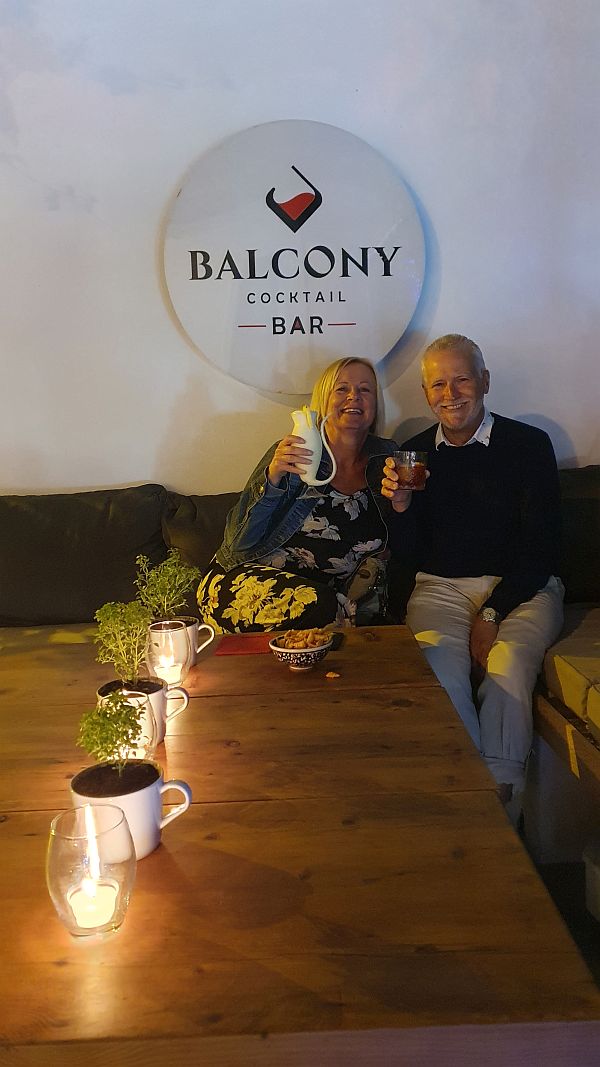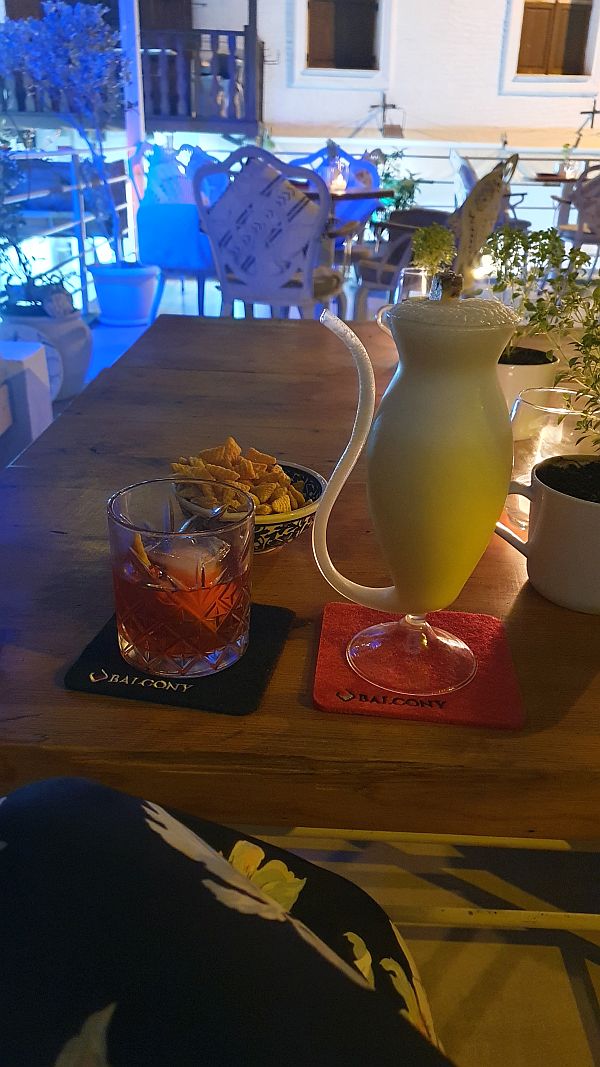 I had a Negroni and Tam had this strange looking thing. I'm not sure if you're supposed to smoke it, drink it or take it to a tea party in Wonderland with Alice.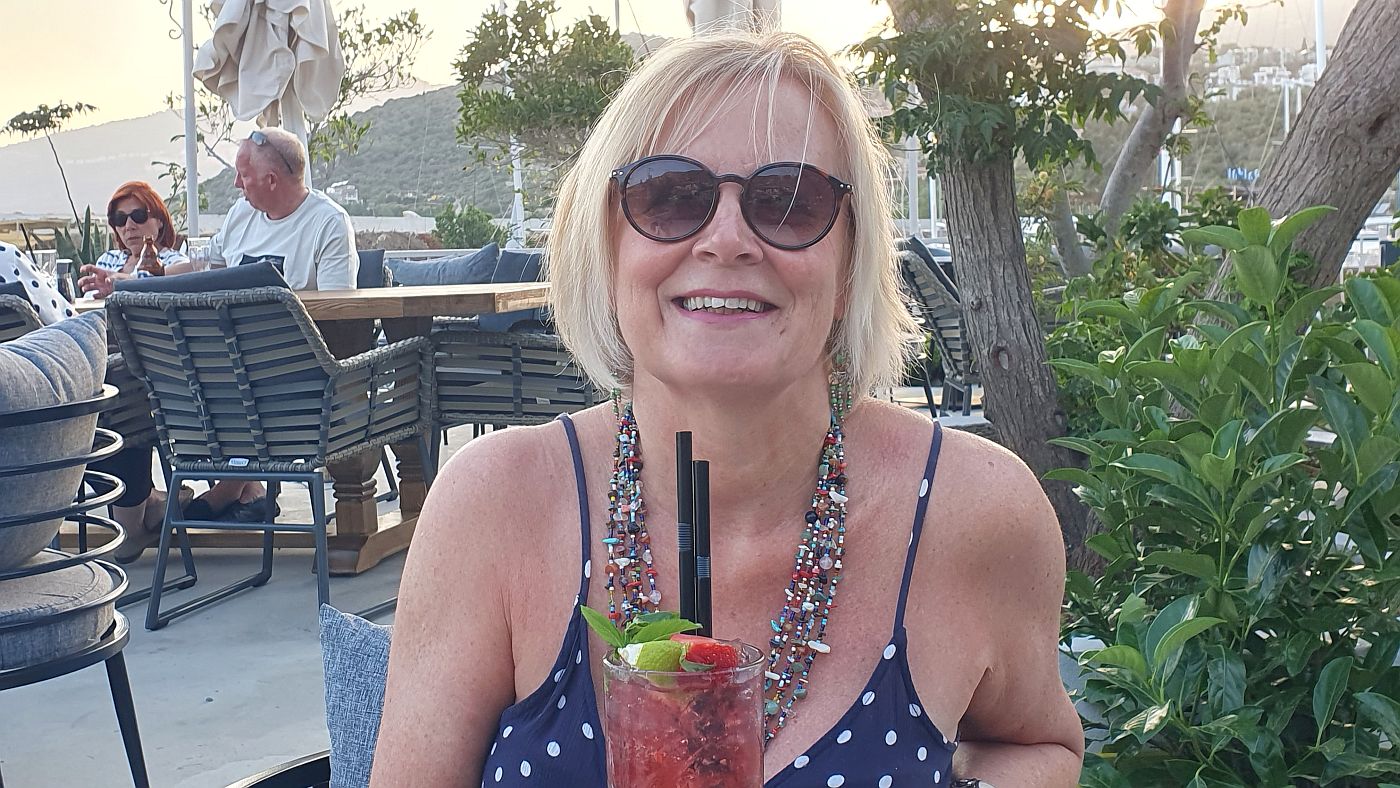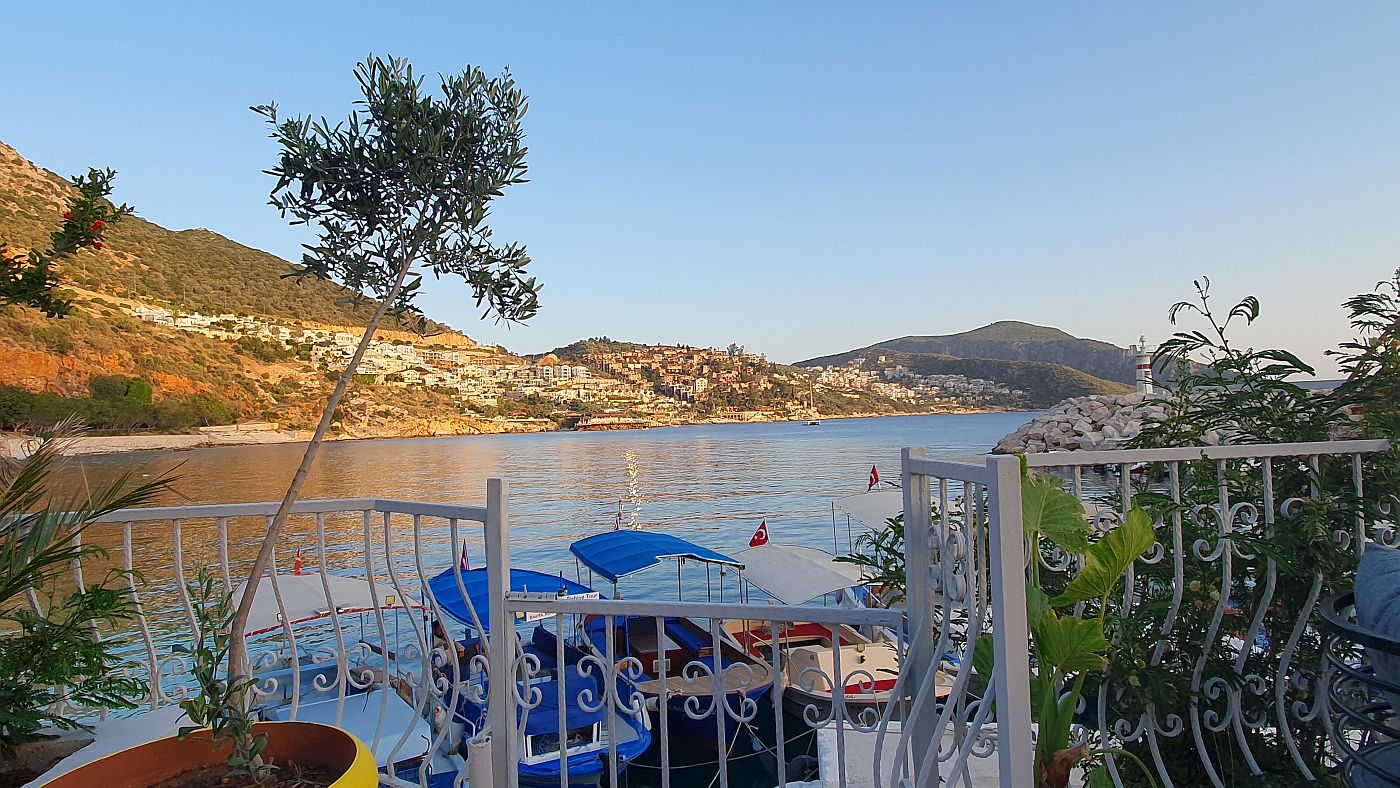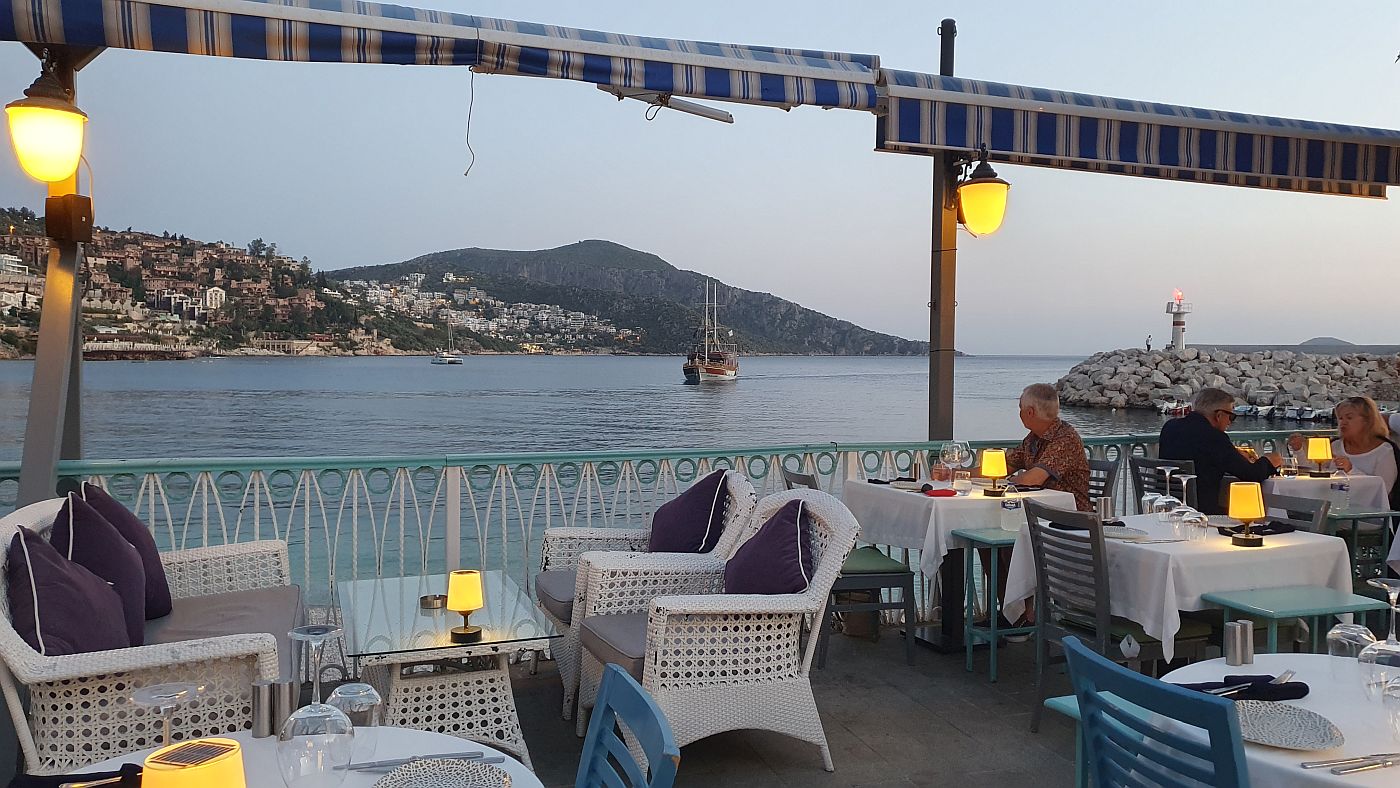 This was a first for us - Seaport Restaurant overlooking the beach and harbour entrance.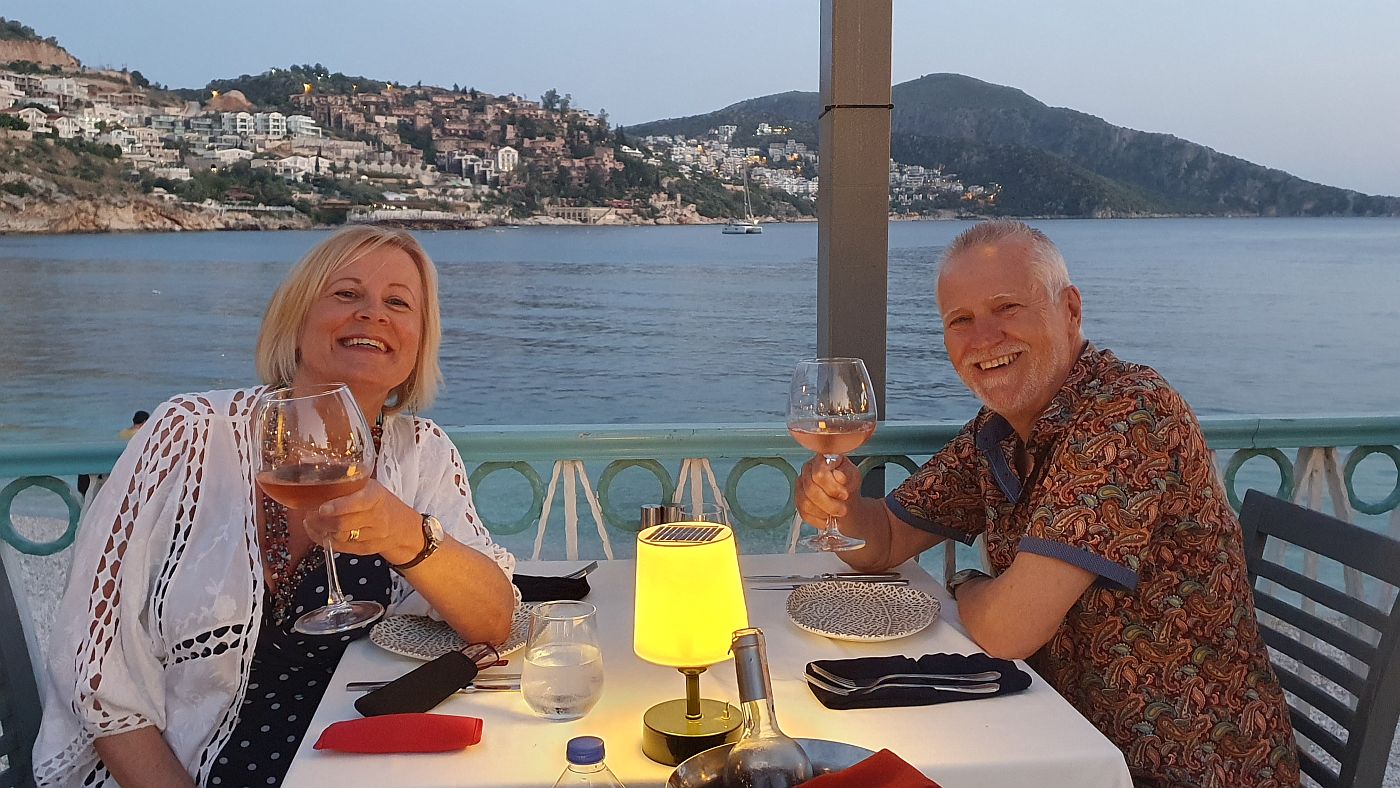 This was a lovely meal. The service was very friendly (as it is at most places in Kalkan) and the meal was lovely alongside a bottle of local Rose wine.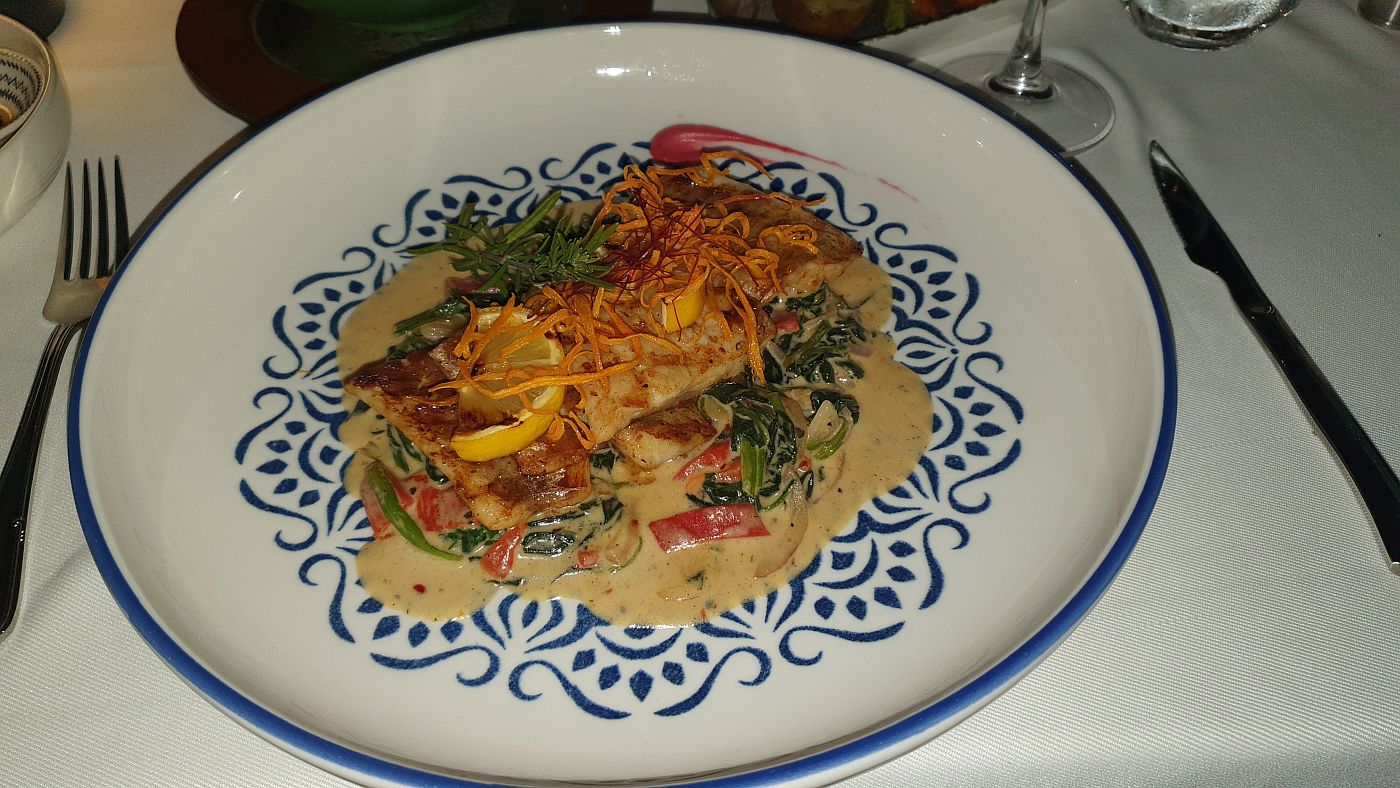 I must have had the fish, but I can't remember what it was! I probably should go back to taking notes.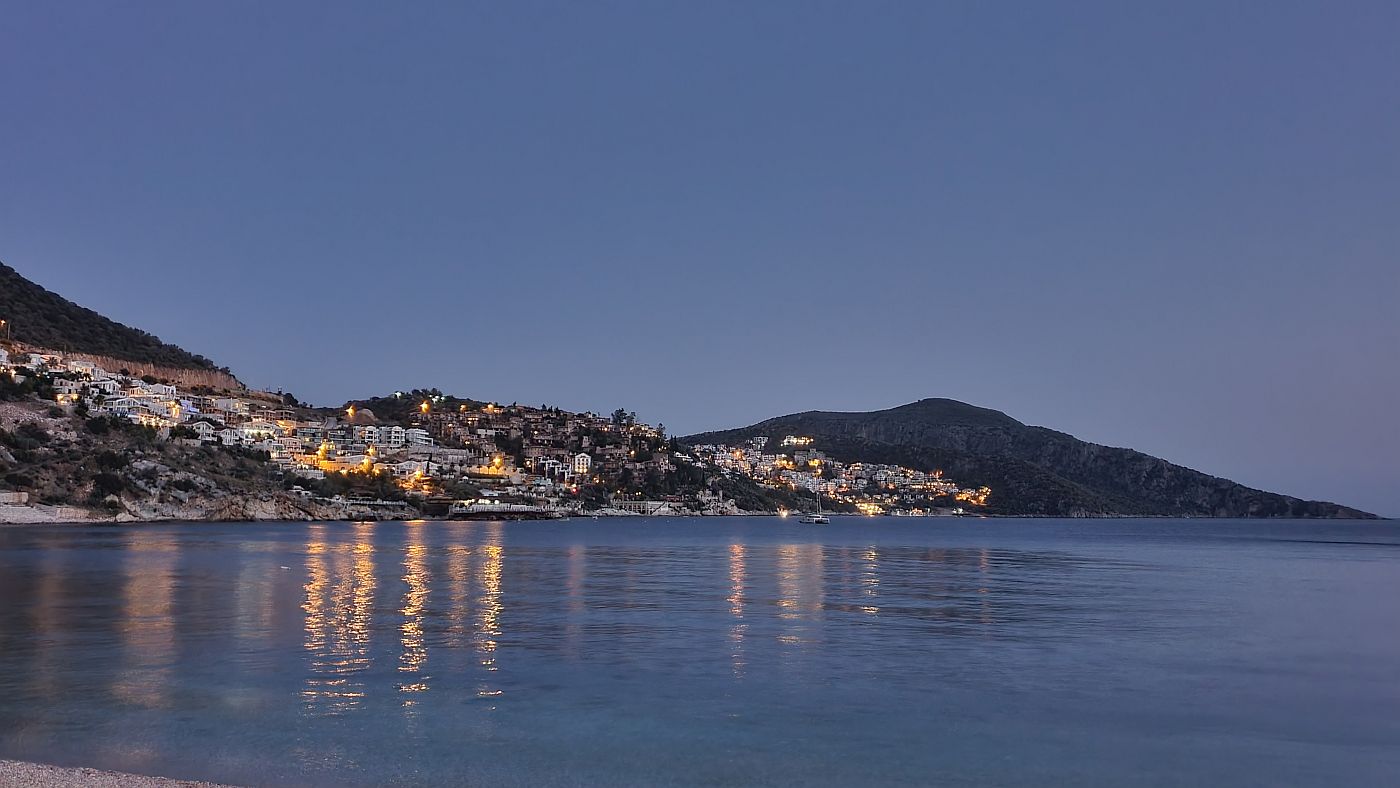 Our villa was to the right of the boat and up the hill a bit.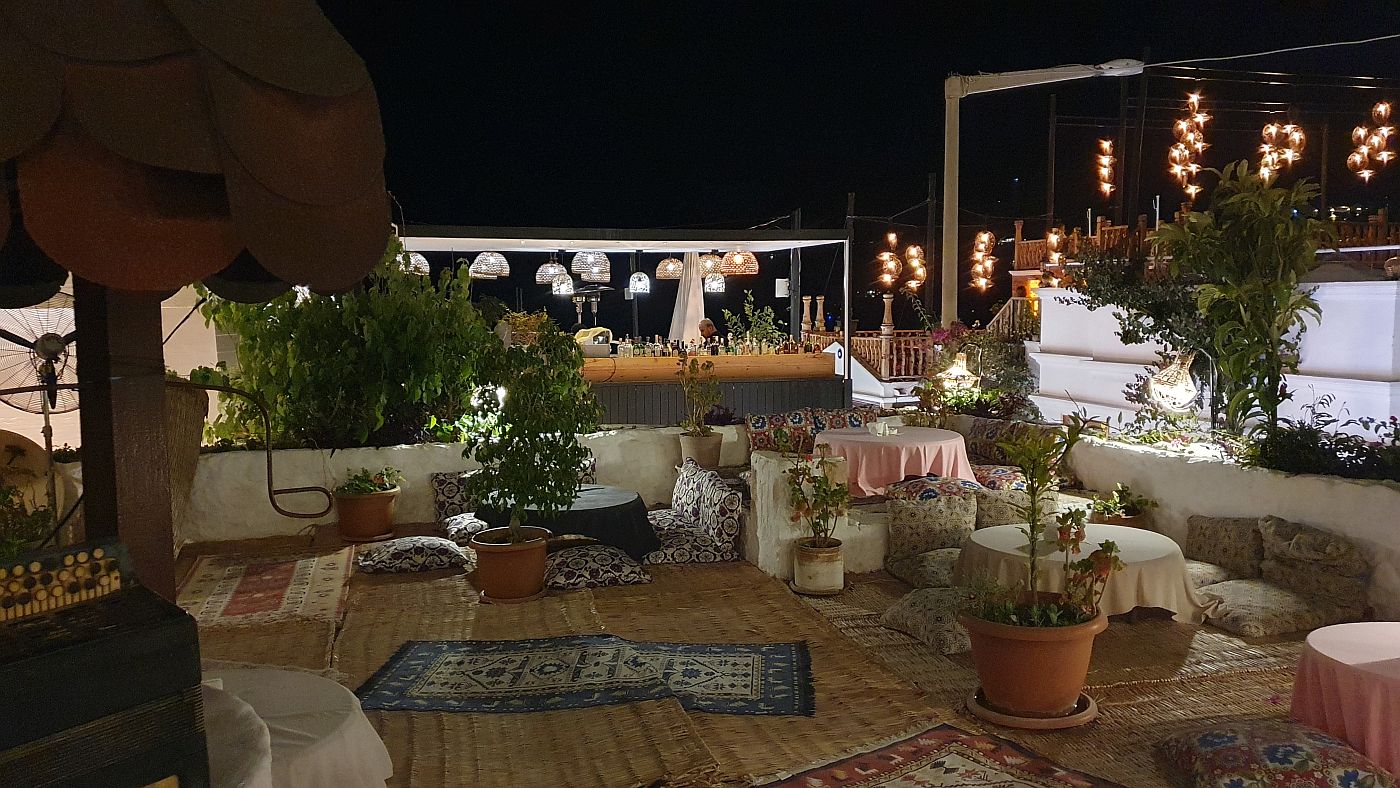 We had to have at least one drink in Belgin's Kitchen. It always seems so Turkish.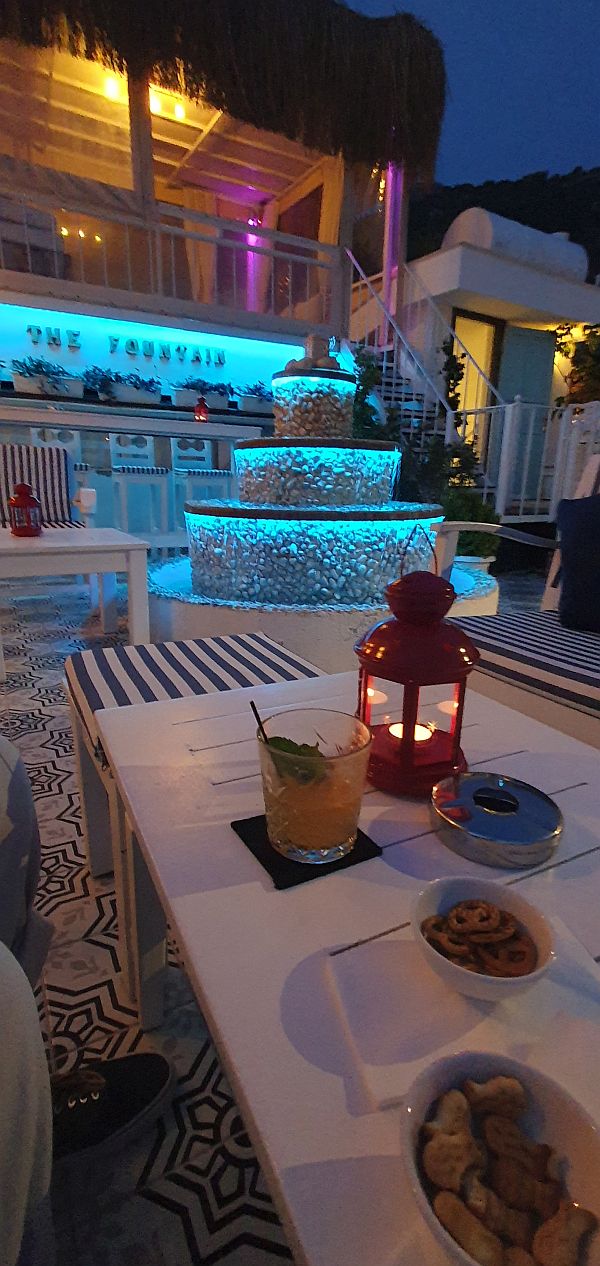 And also the Fountain Bar.
Here's just a few more general Kalkan photos.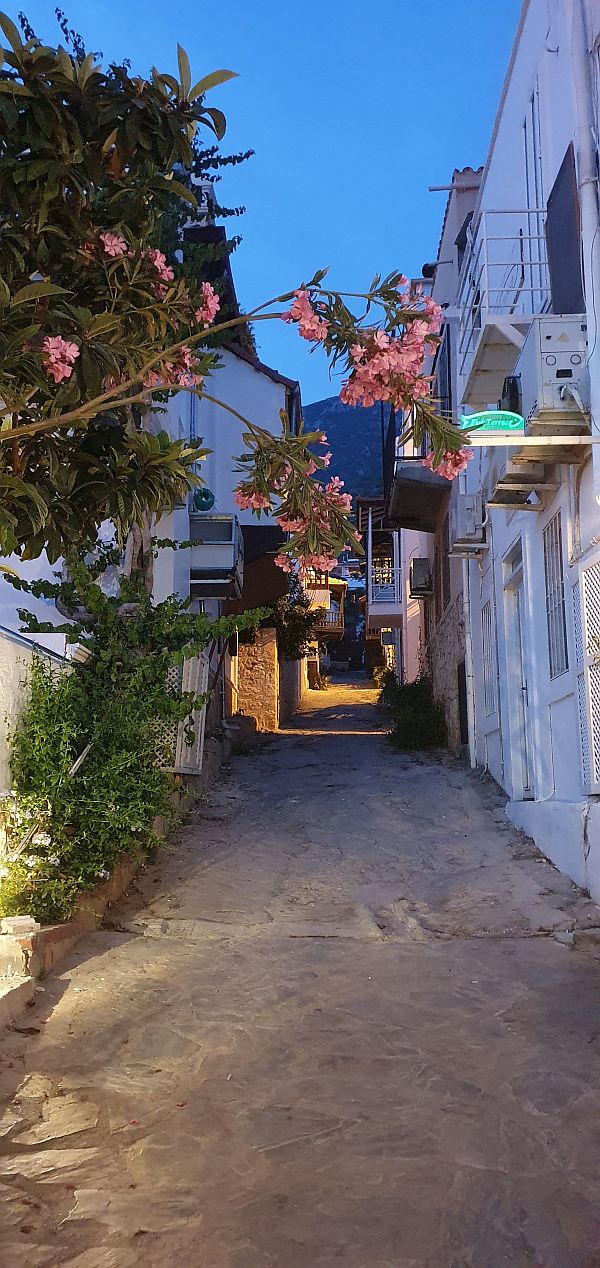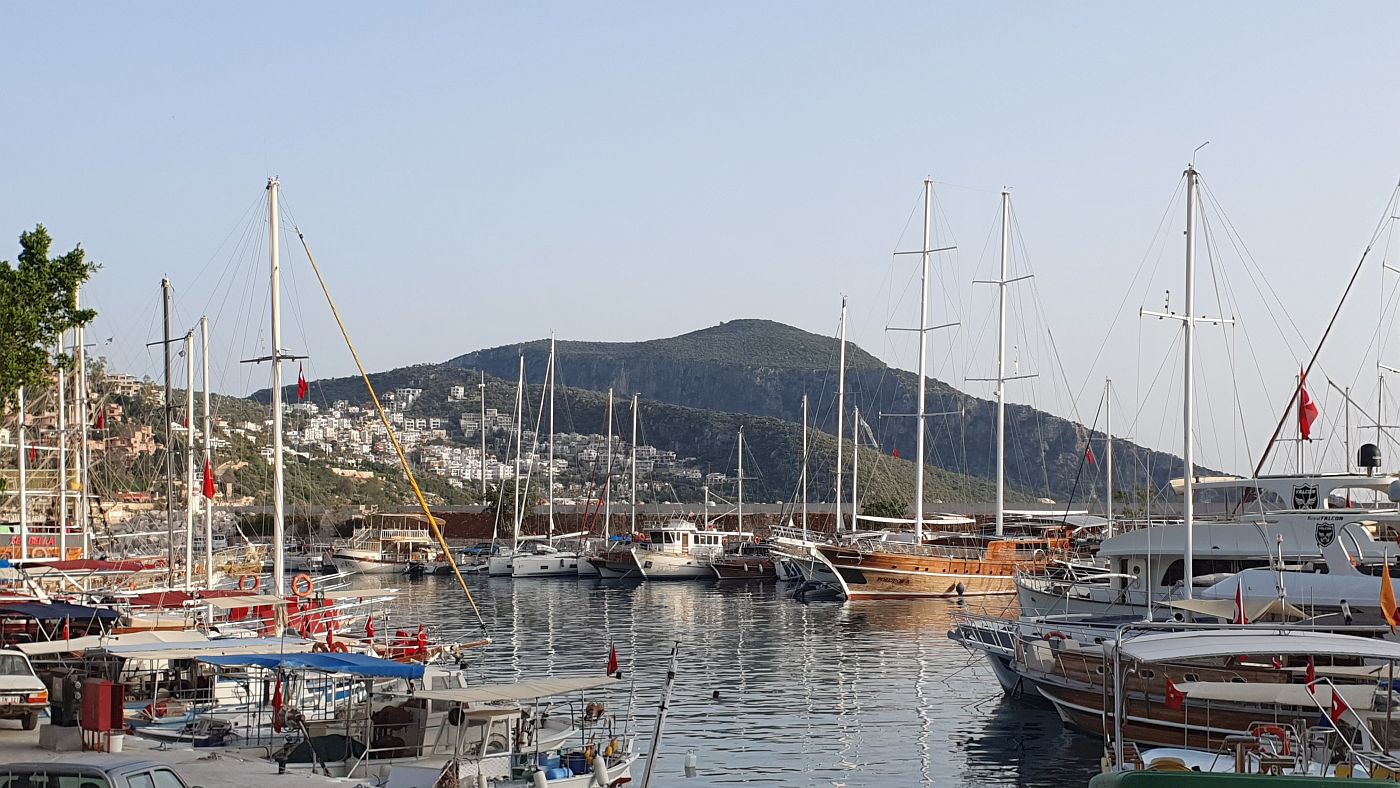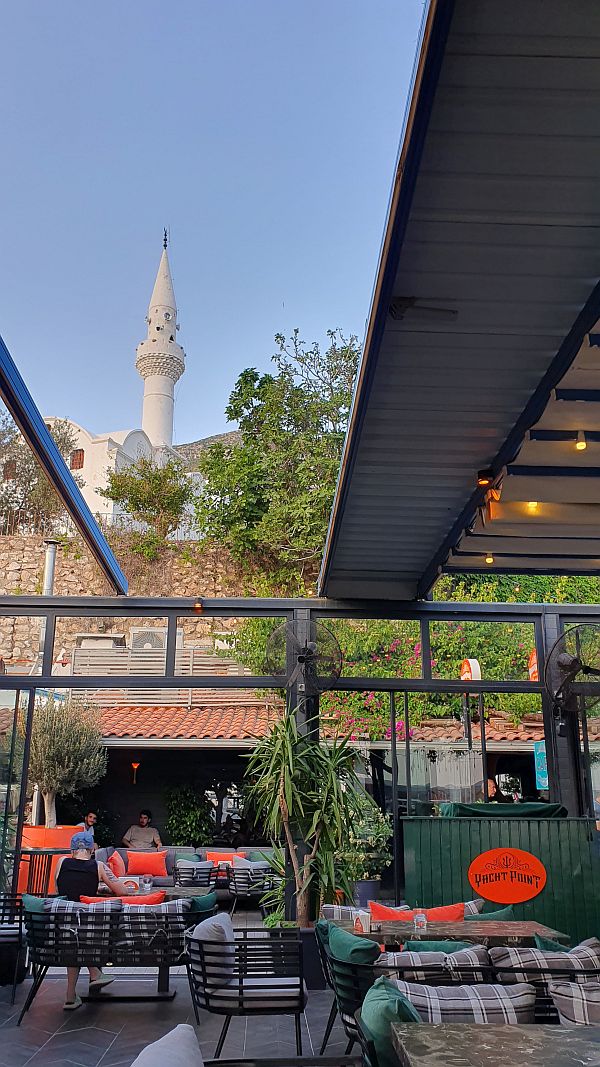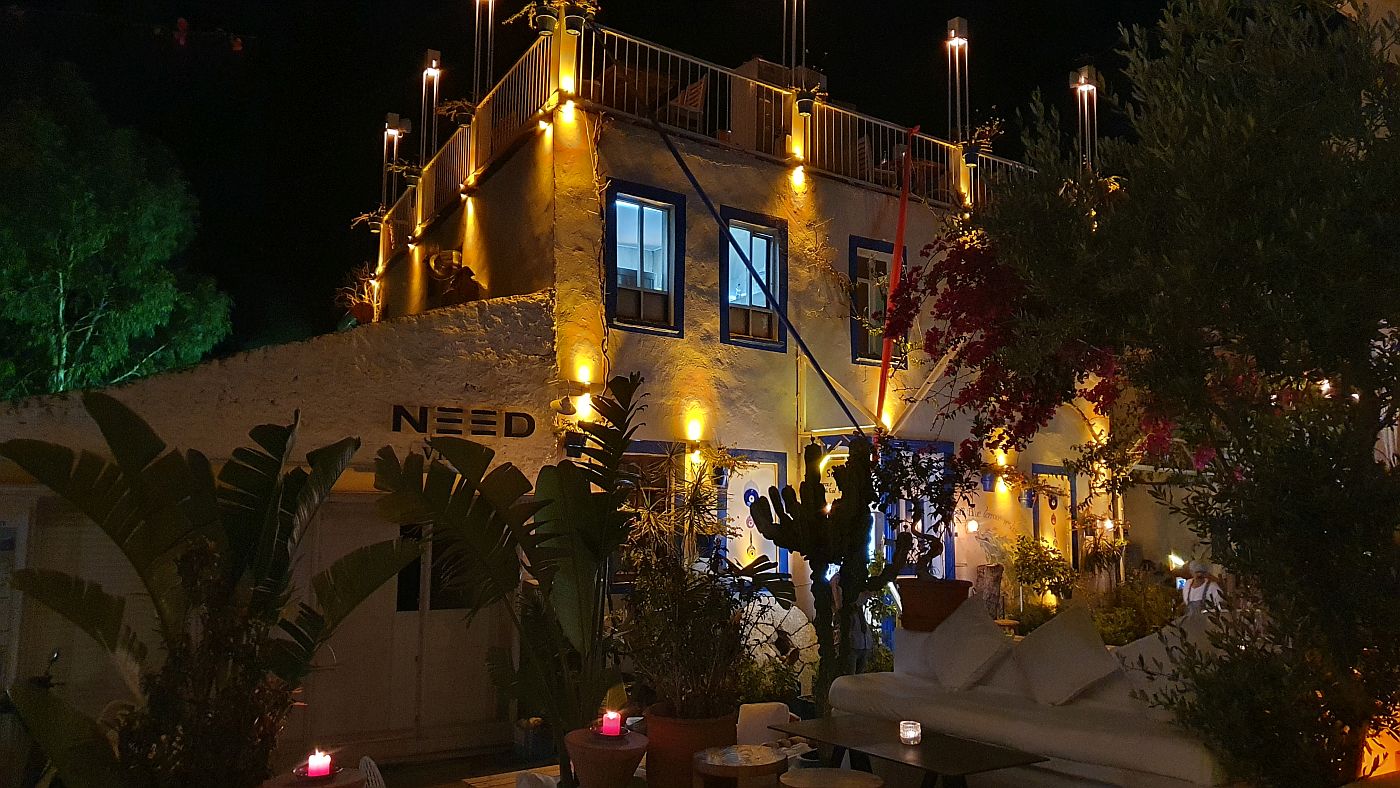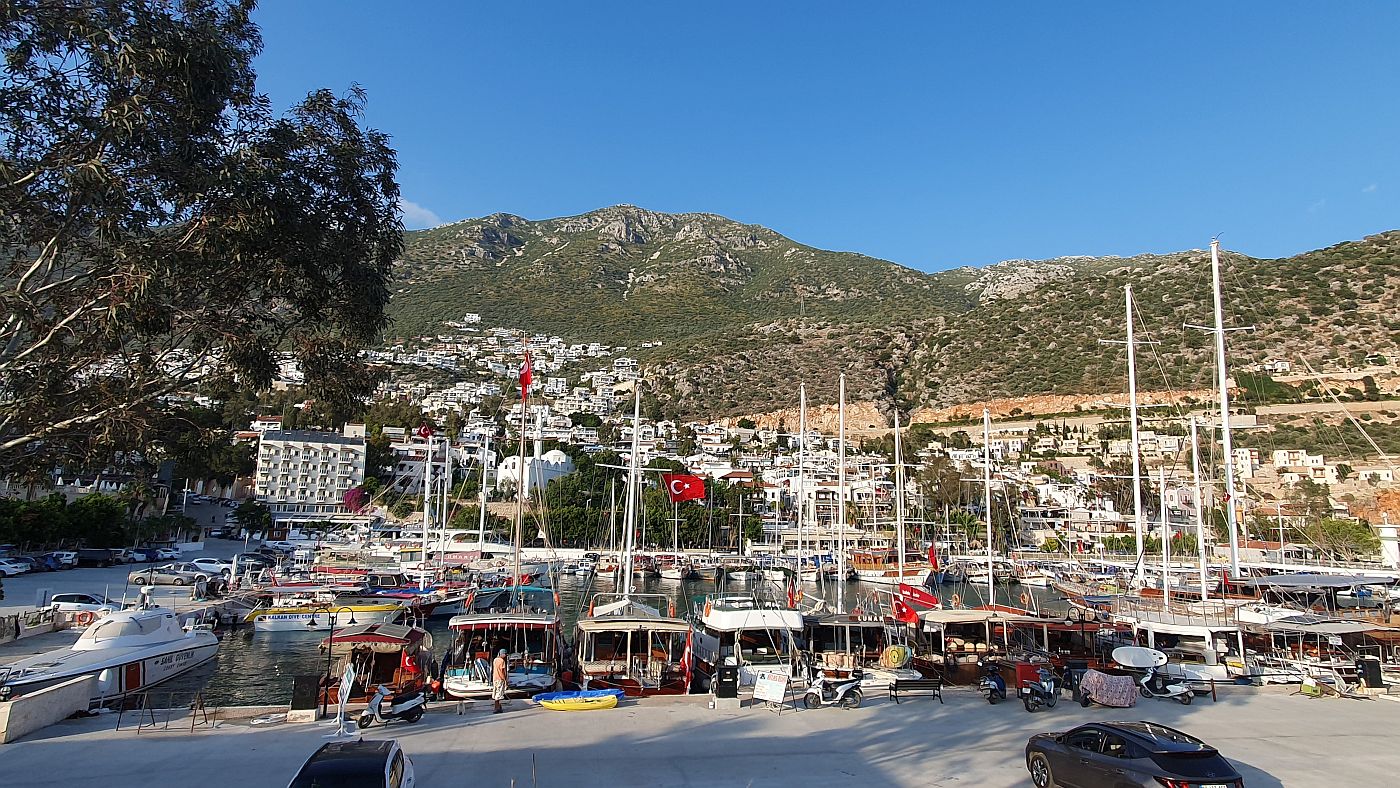 We keep returning to Kalkan as it has everything we want in a holiday where you just want to relax, enjoy good food and drink and friendly service. For us May and late September/early October are the perfect times to go. It's not too busy and not too hot. I'm sure we'll return again in the near future all being well.
Finally here's a video I made of the holiday. It's worth watching just to see Tam's reaction to getting into the fairly cold swimming pool.
The music is Call Me The Breeze by Beth Orton.