Scotland May - June 2023
Written by Kev
When the Bruce Springsteen tour was announced we decided to do all the venues he was playing in the UK - Edinburgh, Aston Villa and Hyde Park. The first show was in Murrayfield Stadium in Edinburgh and it seemed like a really good opportunity to see a liitle bit more of Scotland if we were travelling all that way.
India decided she would like to join us for all the gigs, so it was the 3 of us that set out north. Rather than fly and book a hire car when there we thought it might be a bit of an adventure to drive. It's approx 370 miles and we set out just before Sunday lunchtime on 28th May.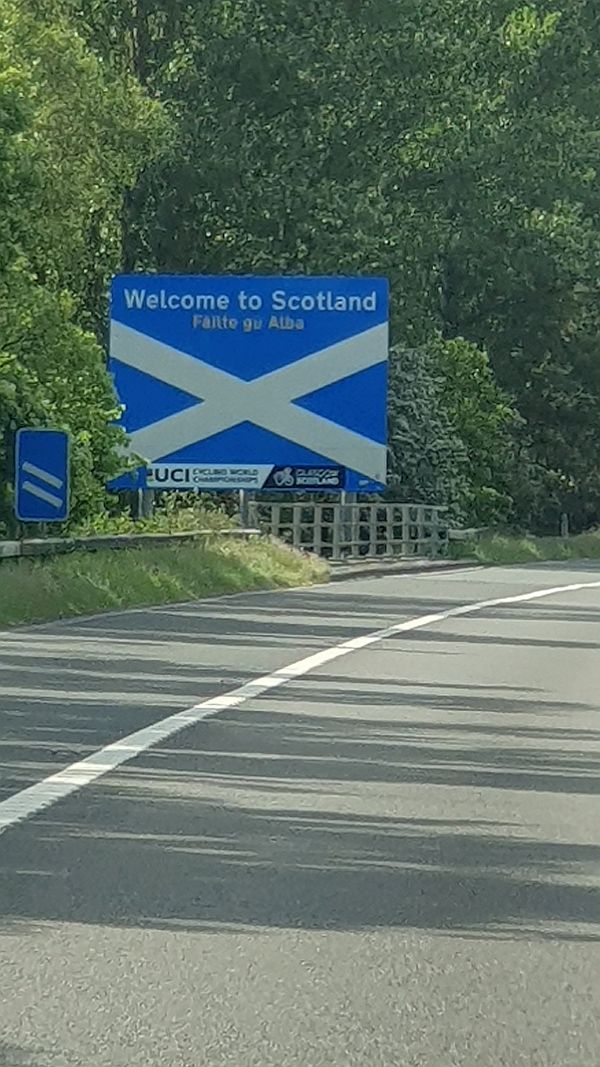 We got about 90% of the way there before an overnight stop in Biggar. Tam and Ind looked at where we could stay and booked it during the journey up. They chose the Kirkstyle Hotel, which had a two bedroom apartment and it was fine for one night. The pub across the road was called The Crown Inn and we went there for dinner.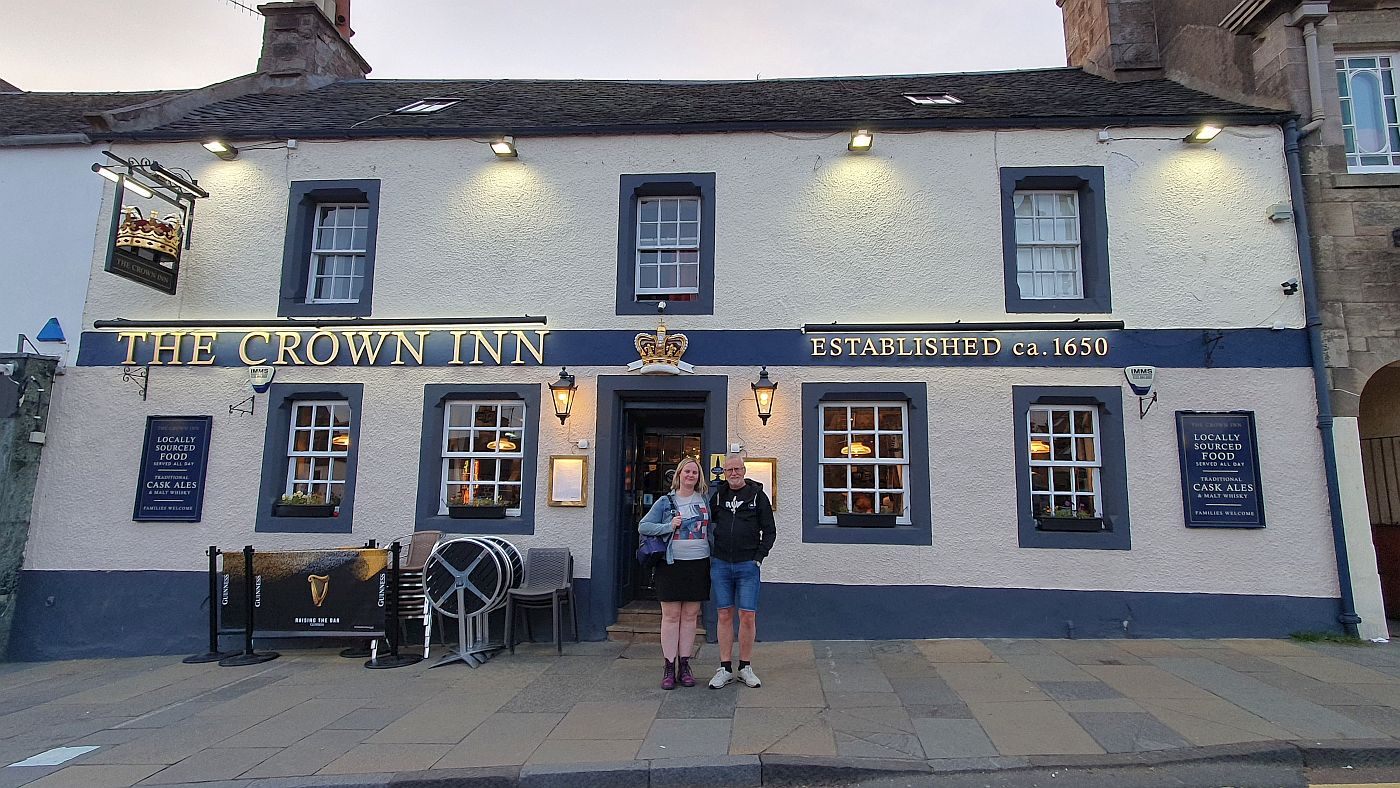 The menu was huge with lots of different styles of food, so I wasn't sure how good it would be, but the food was excellent. I had a steak pie, which was as good as any I've ever had with large chunks of tender beef. I think Tam had a curry.
The next morning we were off to Edinburgh. The A702 road leads from the motorway across to Edinburgh and the views along the way were lovely.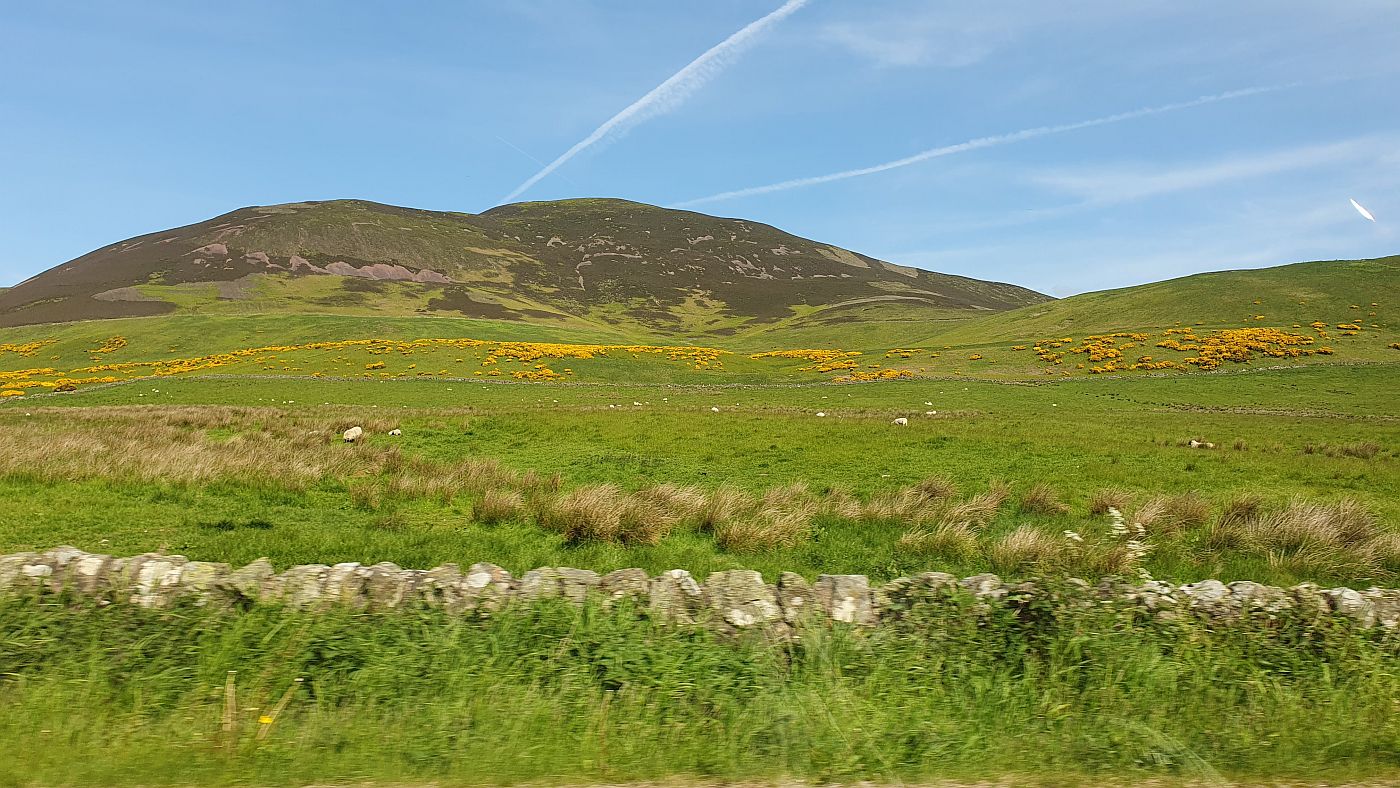 We were staying 2 nights in Edinburgh and had booked an Airbnb out by the stadium. It was only really a one bedroom, but had a pull out sofa in the living room for India. It was very small, but the landlord had informed us of this when we booked and we could just about put up with each other in a cramped space for a short length of time. It's main selling point was that we could walk to Murrayfield and could get either the tram or bus into the city centre.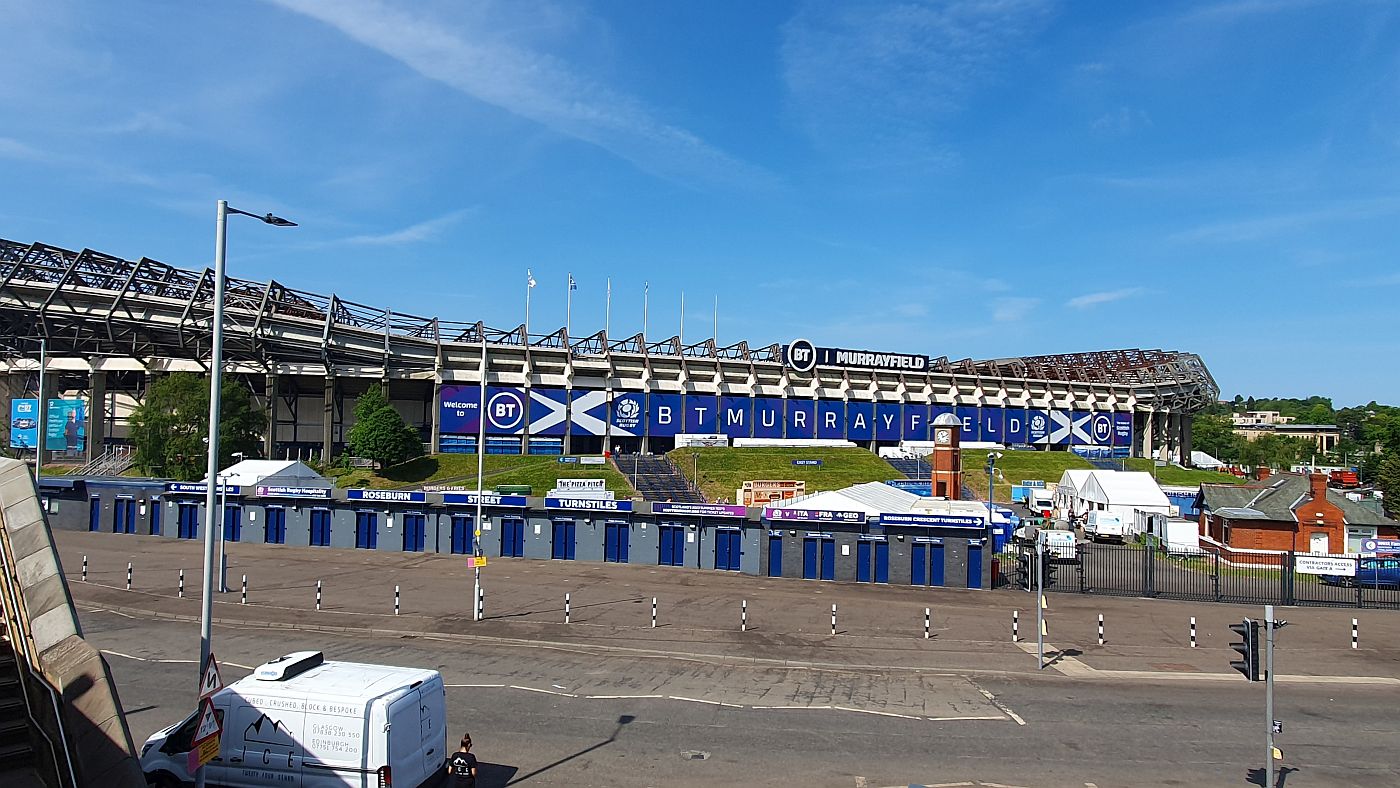 We jumped on the tram and we're in the centre in just a few minutes. As you can see from the photos we were very lucky with the weather. When the dates were announced I must admit I was somewhat concerned by how the weather might be in Scotland in May, but it was beautiful the whole time we were there.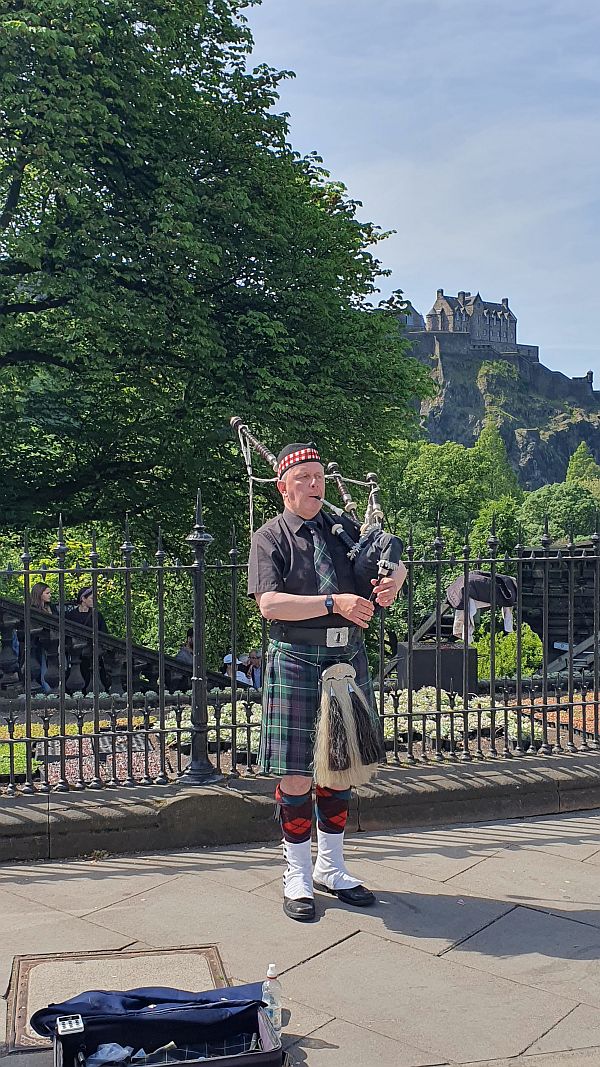 This chap had heard of our arrival and turned out to welcome us.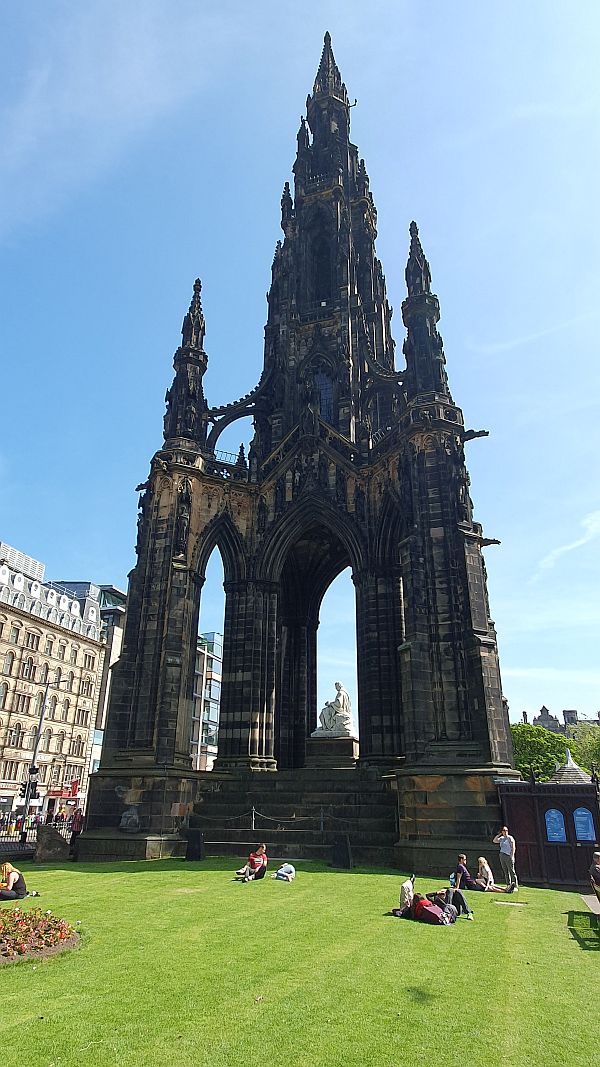 The concert was tomorrow so we had the majority of the day to enjoy the sights.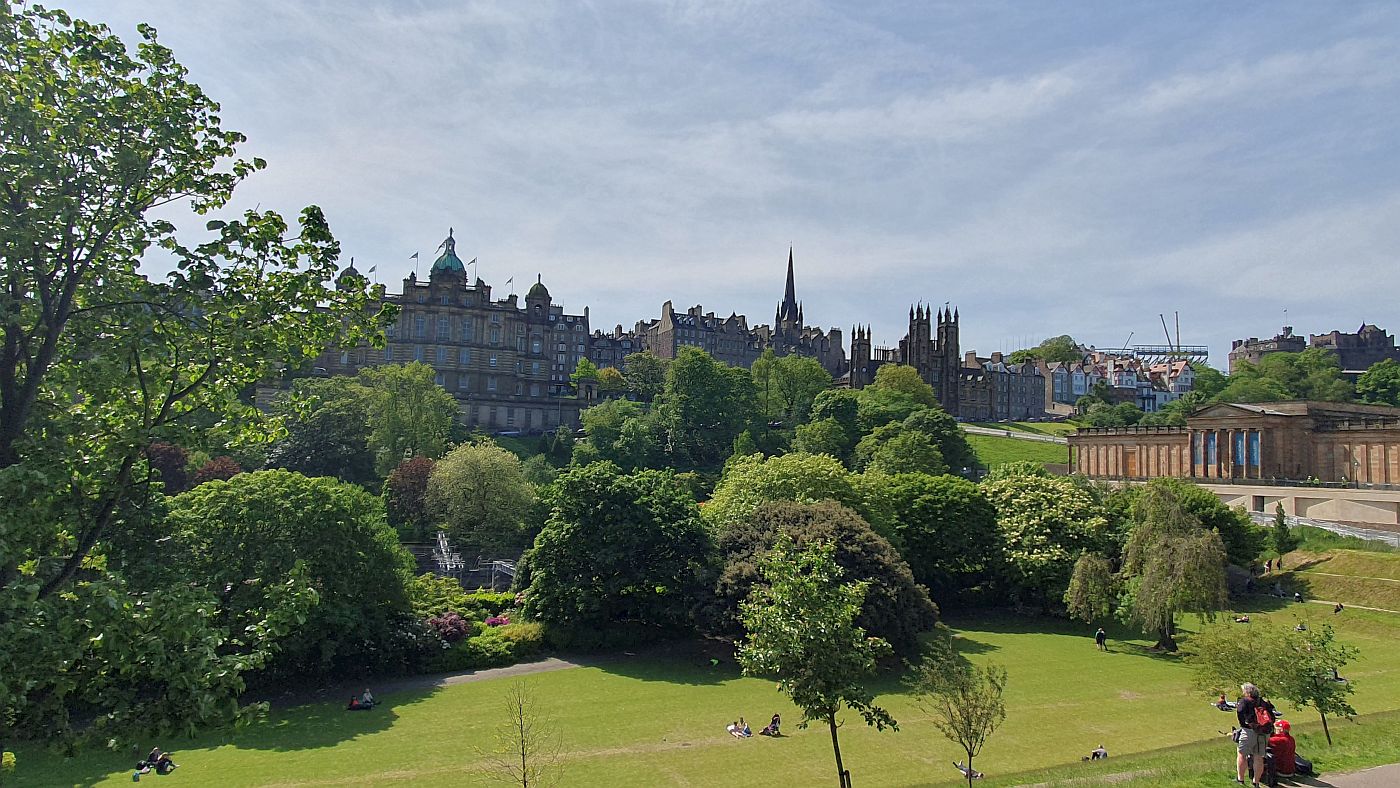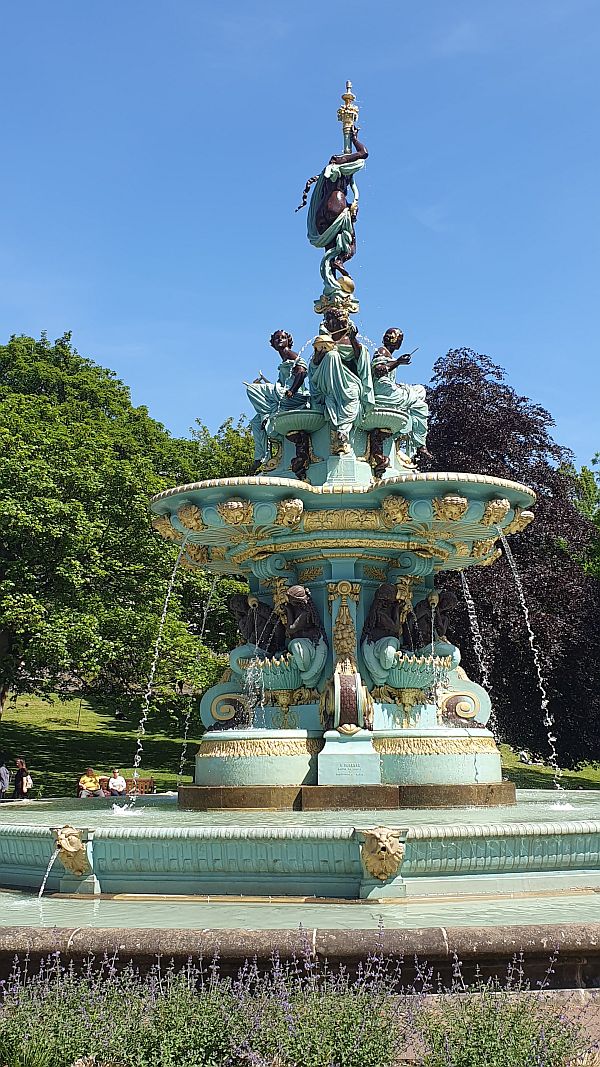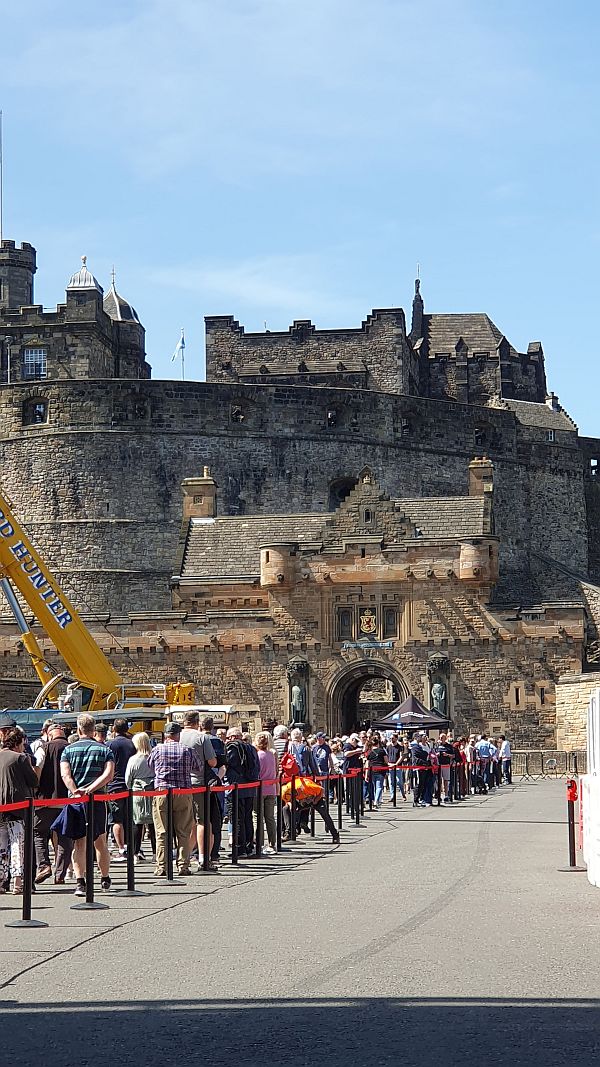 We walked along Princes Street, through the gardens and up to the castle. As you can see, the crowds to get in weere quite large so we didn't bother. We didn't really have enough time anyway.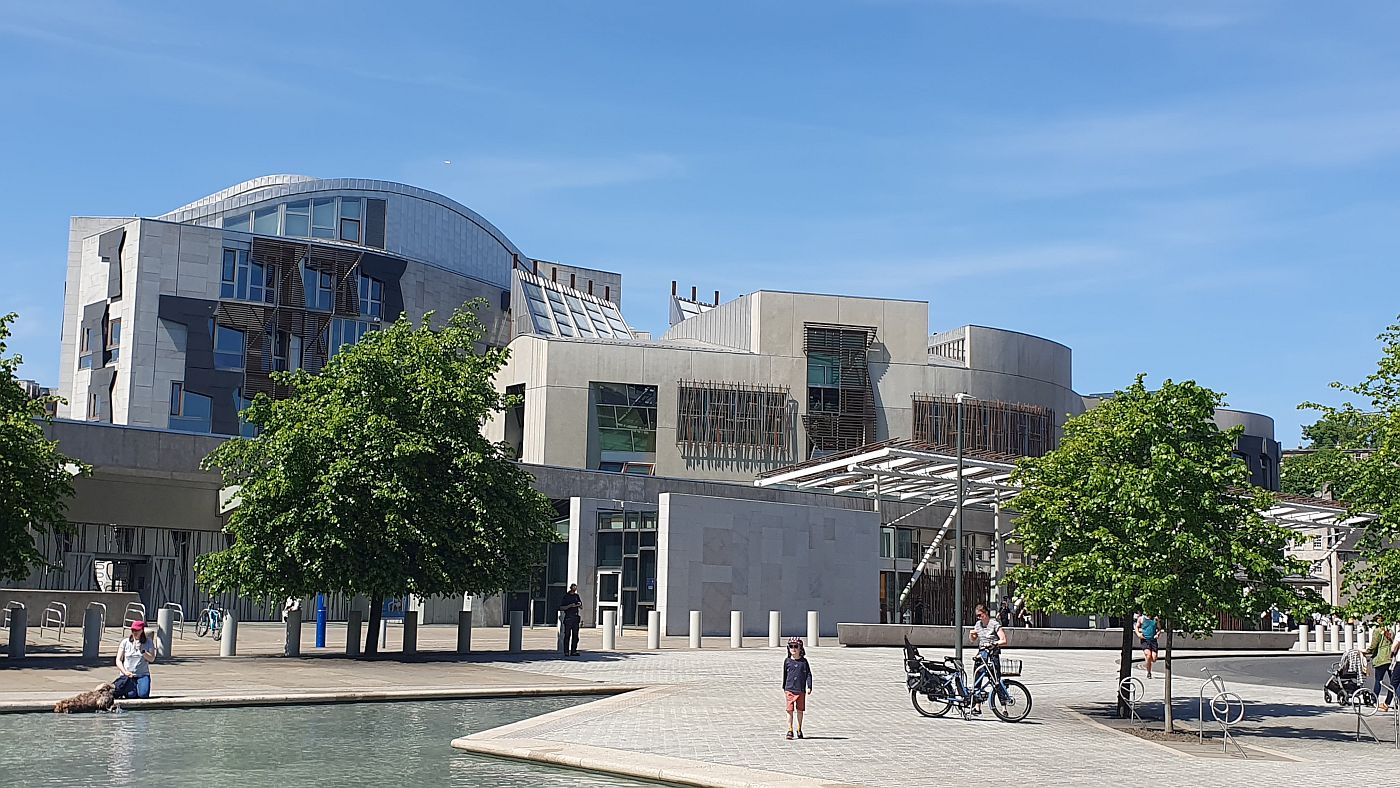 From the castle we walked down the Royal Mile to the Scottish Parliament Building. I think the small person in the foreground is a child and not a politician, although it's hard to tell the difference these days.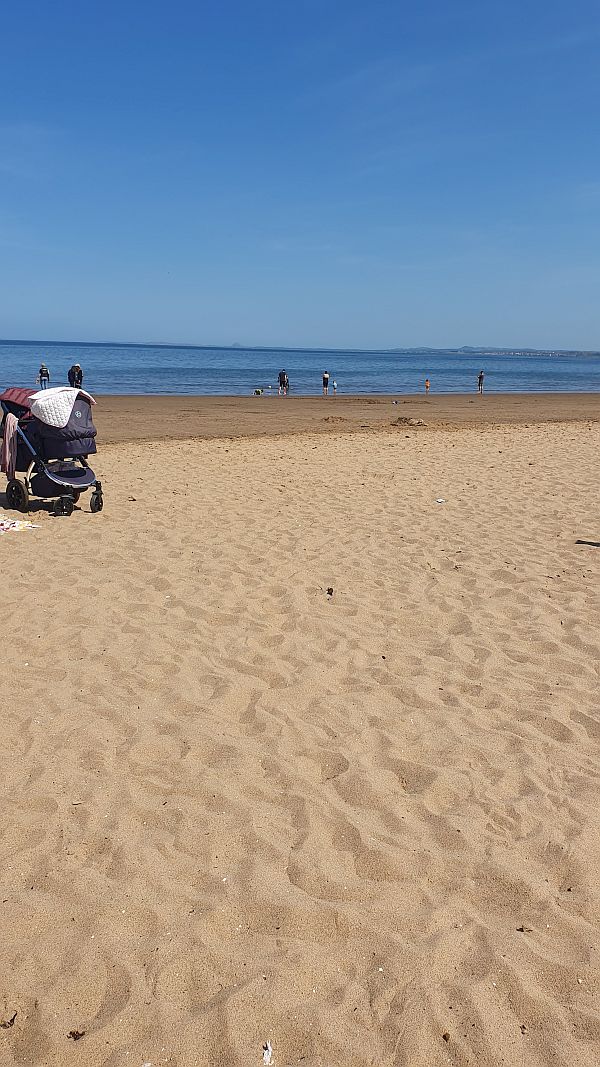 I'd been to Edinburgh the previous year to watch the final day of the Open Golf at St Andrews and had found Portobello Beach. In my ignorance I had never thought of Edinburgh being by the sea, but just a few minutes on the bus took us here. Bear in my mind that this is the North Sea and therefore cold enough to freeze a brass monkey's more tender parts, so there's no way I was going in. India, however, is made of sterner stuff and in she went.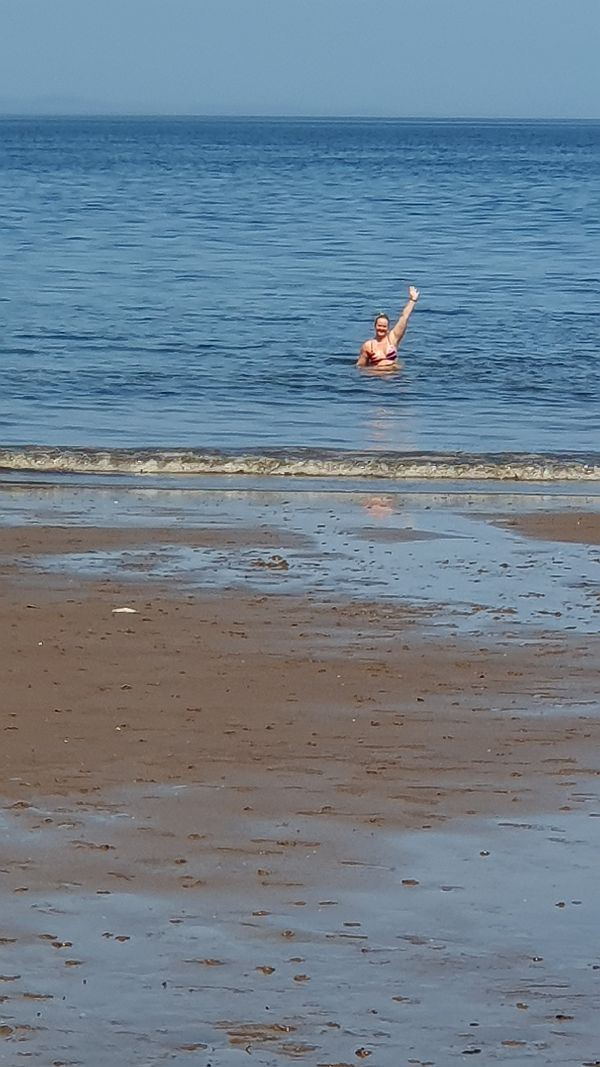 After all this exercise (it's hard work sitting and watching you know) a drink was in order and we found the Bellfield Brewery. It had some very pleasant ales and we also shared a small snack.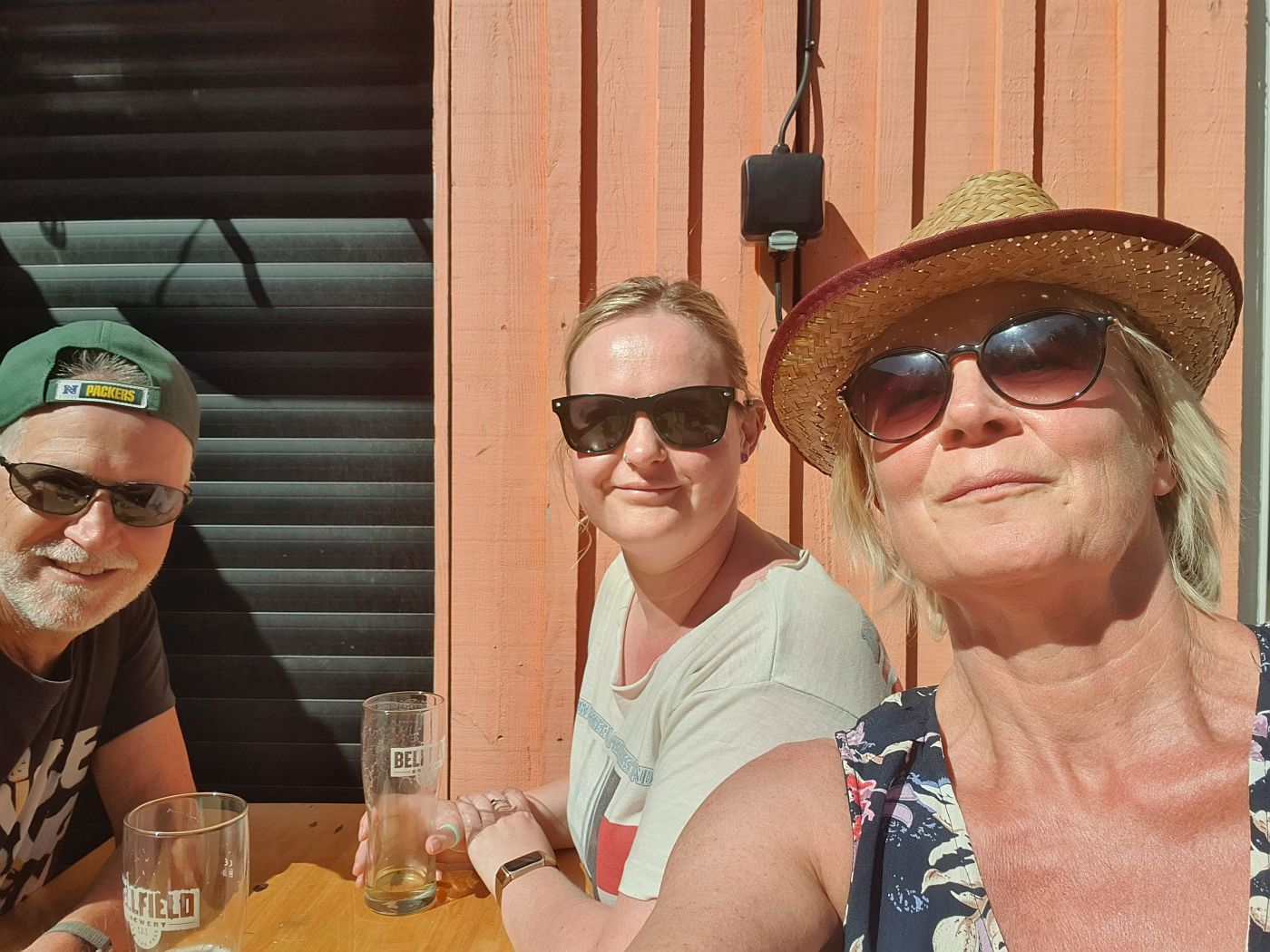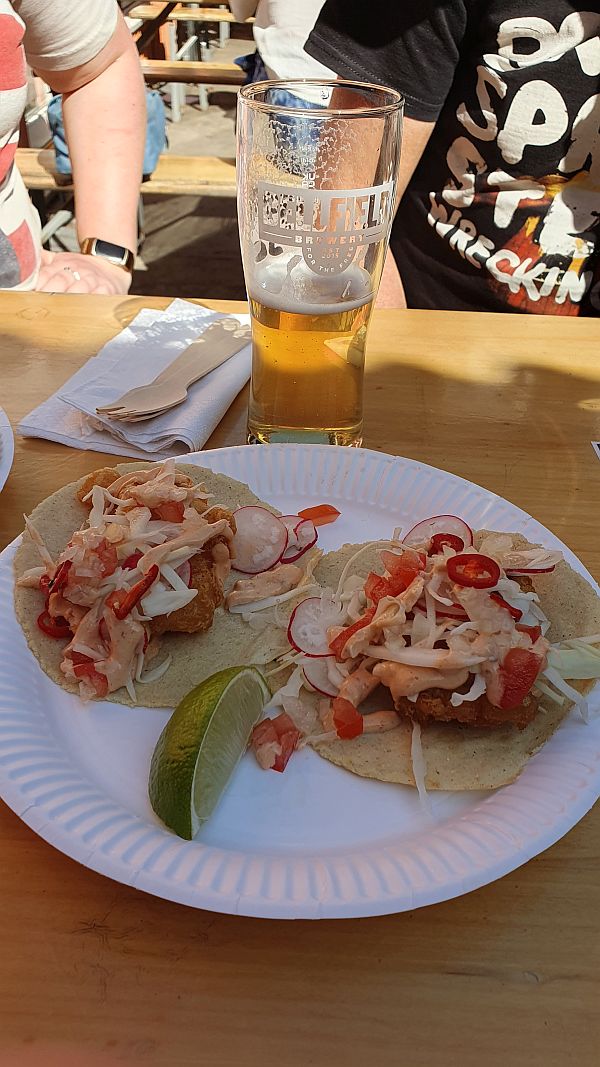 Luckily there was a bus that went from close to here all the way through to our accomodation. A quick shower (not easy with 3 people in such a small space) and we were out again. I'd looked at a few restaurants online and we'd picked The Dome. We hadn't booked, but turned up to have a drink and waited for an hour or so until a table was available. It was a good decision as the drinks and food were very good in a very nice setting.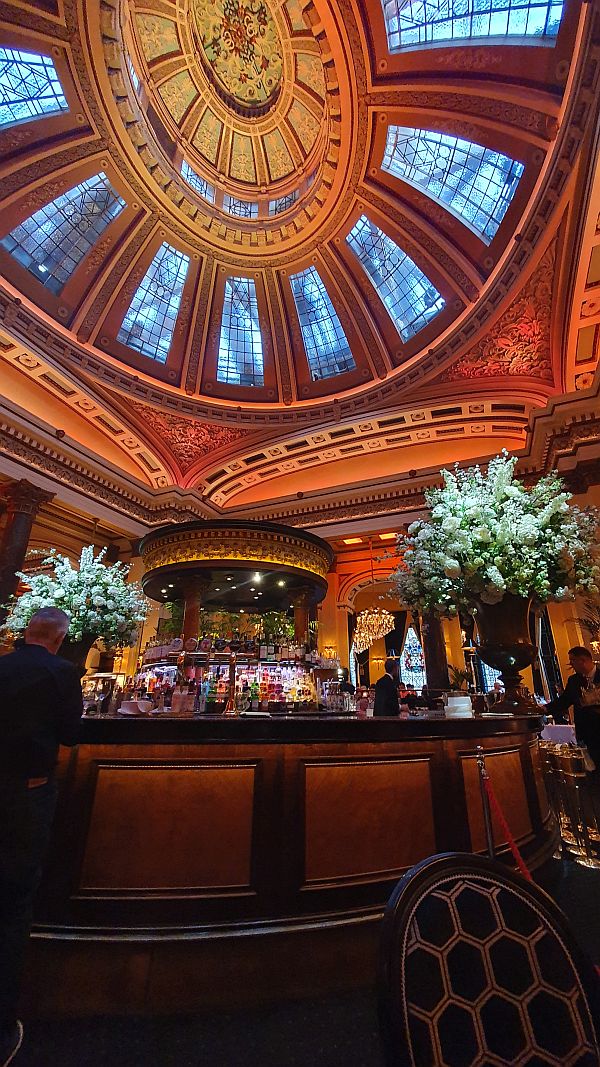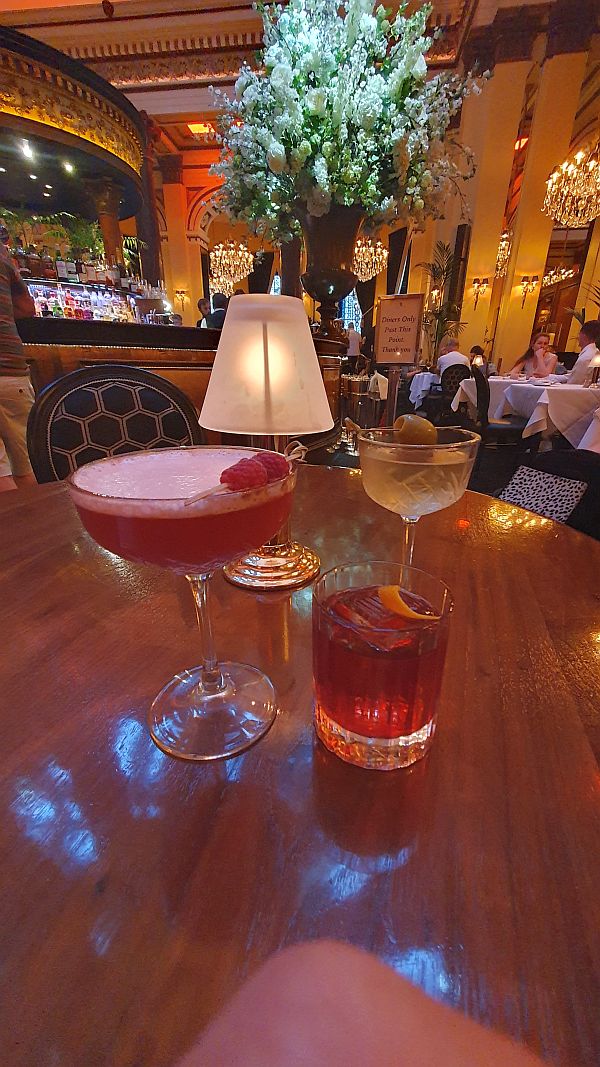 Prizes for guessing the body part in the bottom of this photo. An elbow? A knee? Someone's chin? An exposed .... I think I better stop there. India had the dirty martini. Mine was an Old Fashioned and Tam had the pink frothy thing.
The next day was all about the Springsteen gig. We were up fairly early and went to the stadium for a look around before walking along to Saughton Public Park.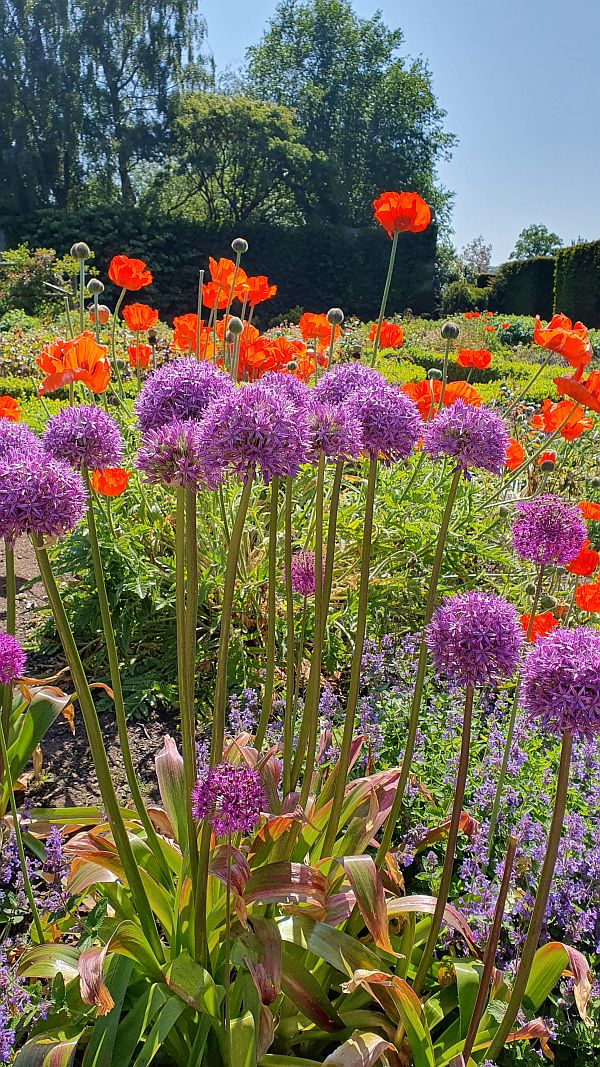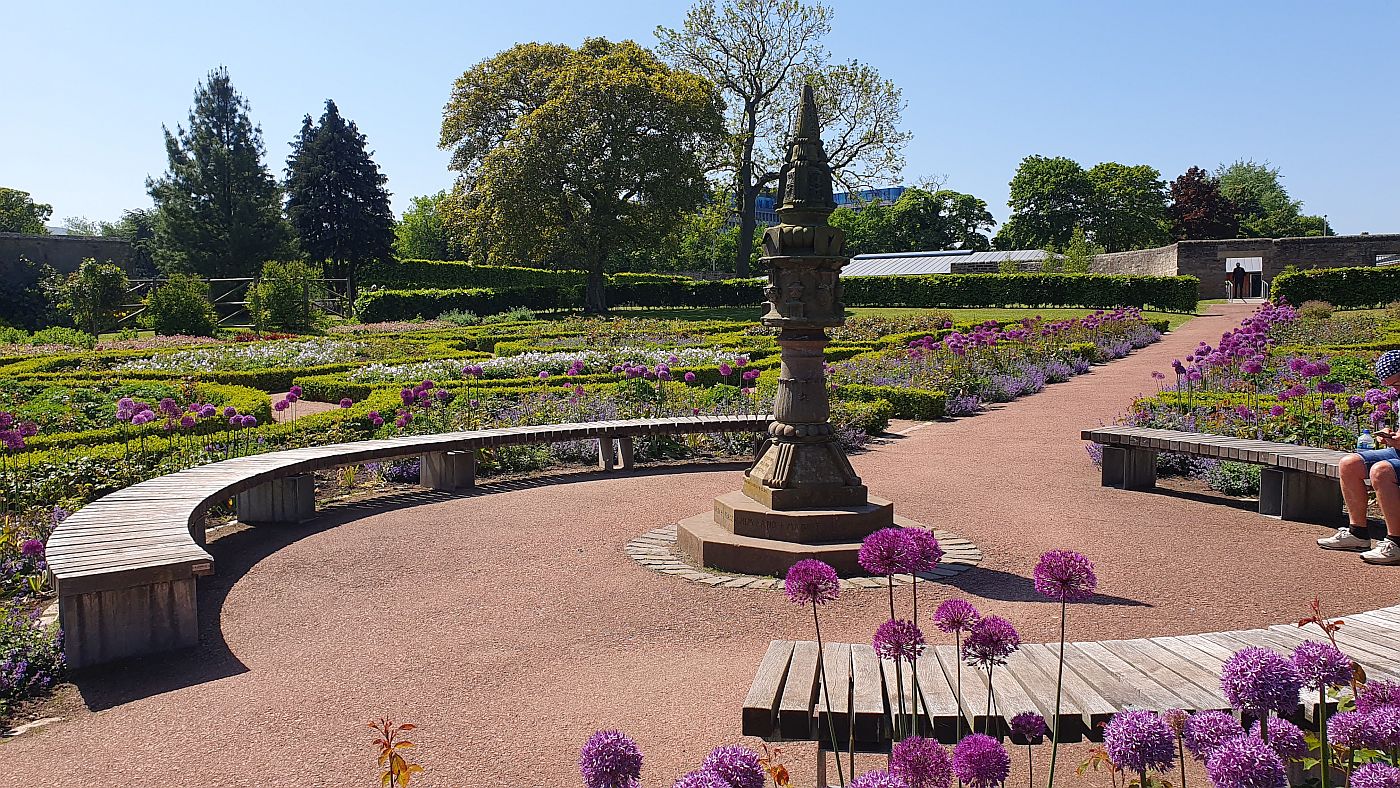 The gardens here are quite extensive and very pretty. That's me in the far right of the picture. In case you are wandering why I'm looking at my phone the lineup and split times for Glastonbury had just dropped and we all spent a considerable time looking through it all to see what we were likely to see and (probably more importantly) what we were likely to miss. We had a drink in a bar close to the stadium before entering in plenty of time.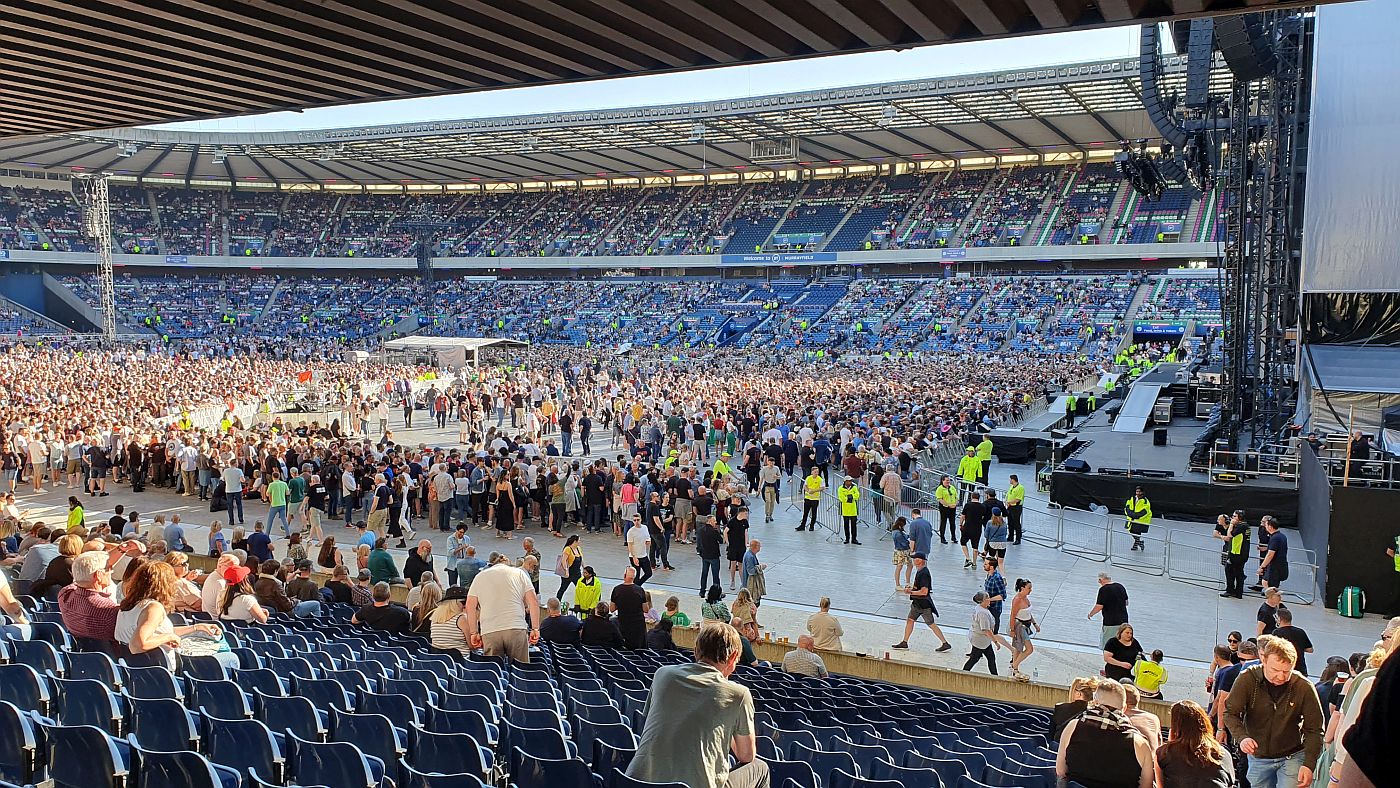 We'd been lucky enough to get pit tickets and so could come and go to the bars and loos fairly easily. Murrayfield is quite old by stadium standards and there are no bars in the concourse area. They are all seperate stalls set up around the outside and so got very busy, otherwise it was a decent venue.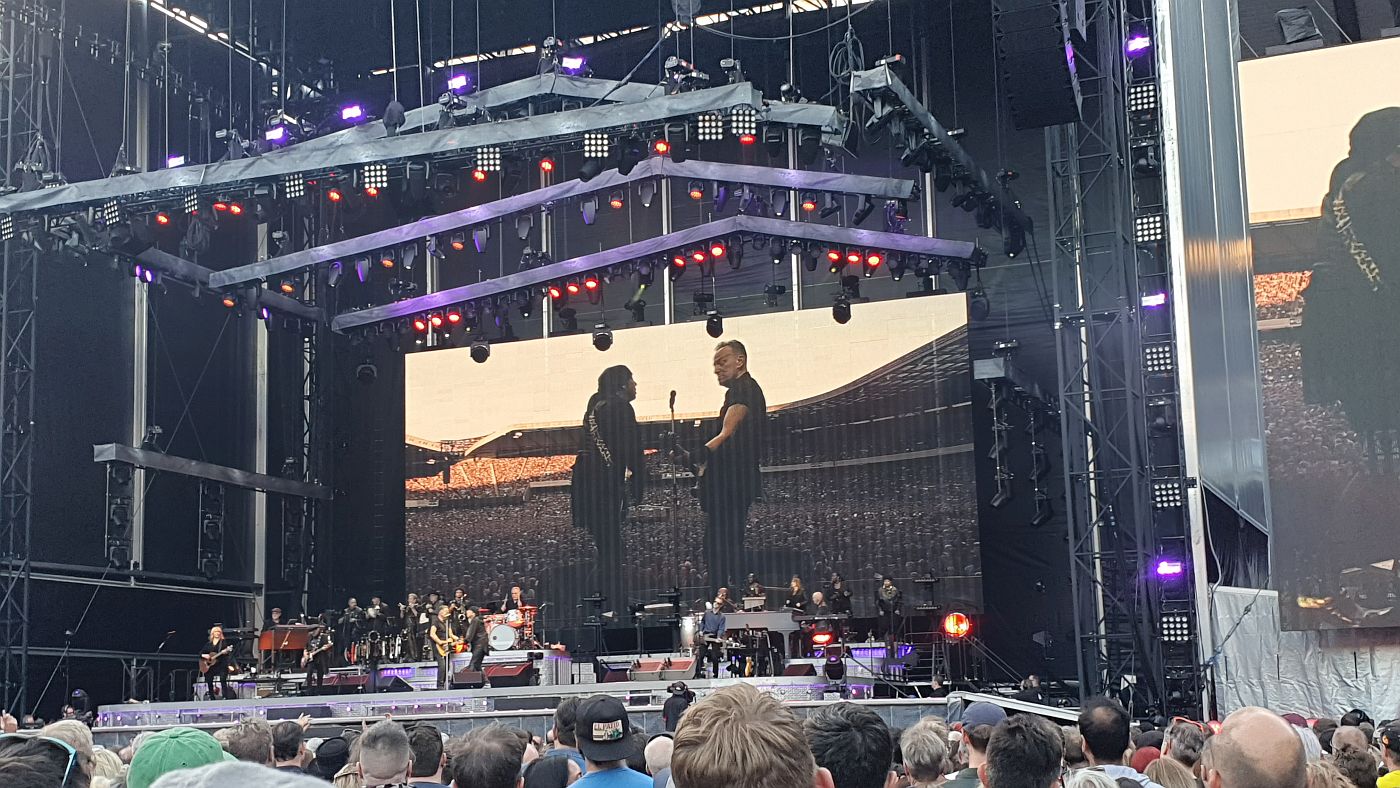 We started fairly close to the front. Unfortunately we had a couple of chaps in front of us who were very enthusiastic. Nothing wrong with that, I quite like people who are into the gig rather than just standing and watching, but these guys had no concern for how they were affecting the people around them. They kept backing up into me to the extent that they either pushed me or stood on my toes. I even gently pushed one of them forward at one point and he apologised but continued doing the same again. Eventually I got fed up and left to get a beer. On return I went to the back of the pit and it was much better with quite a bit of room. I went to fetch Tam and India and from then on we enjoyed it much more. Springsteen still managed nearly 3 hours and was as good as ever.
The next morning we were up early and on the way to the second part of our Scottish trip. We were going to Loch Lomond for 2 nights, but stopped off to see the Kelpies on the way.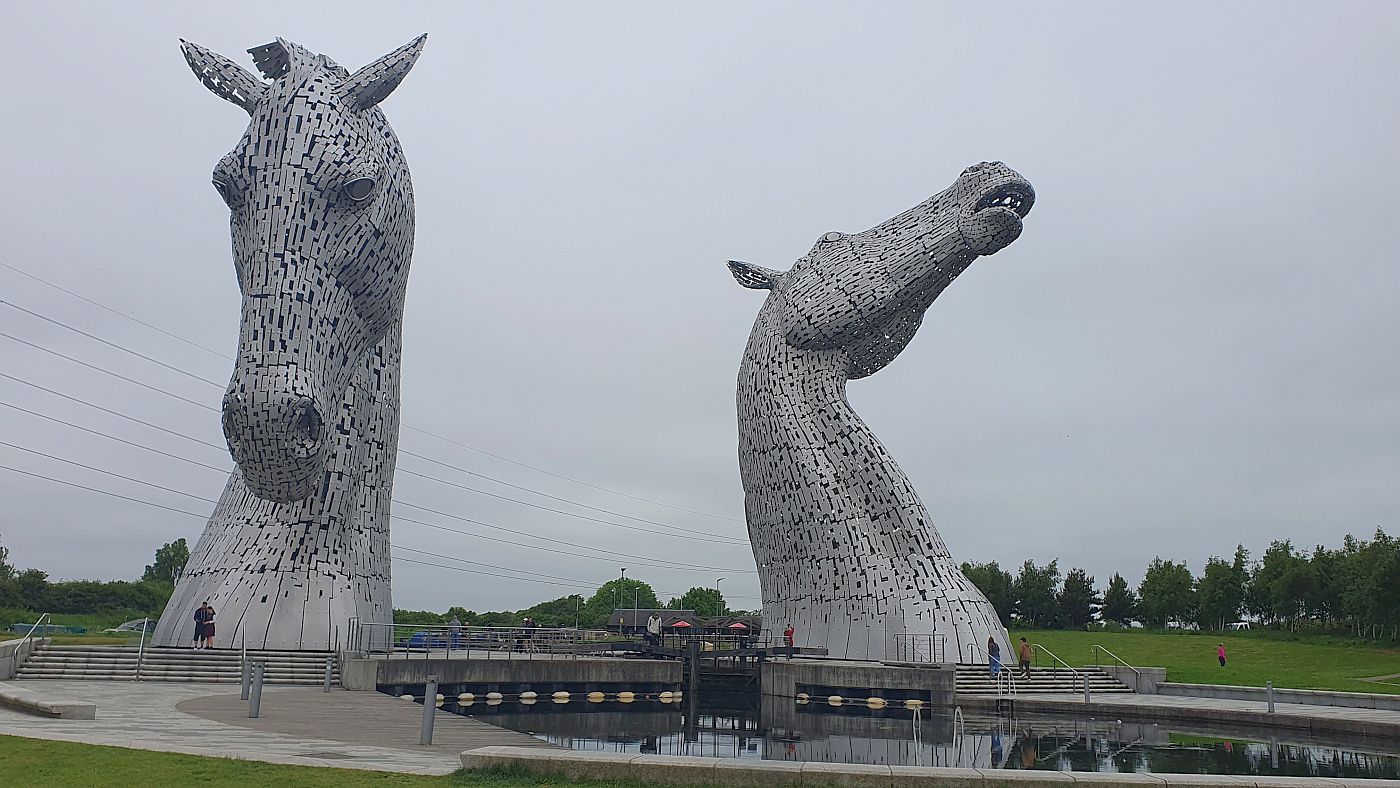 These 30 metre high scuptures are located just outside of Falkirk alongside the Forth and Clyde canal. They certainly are very impressive and well worth a stop off on our journey.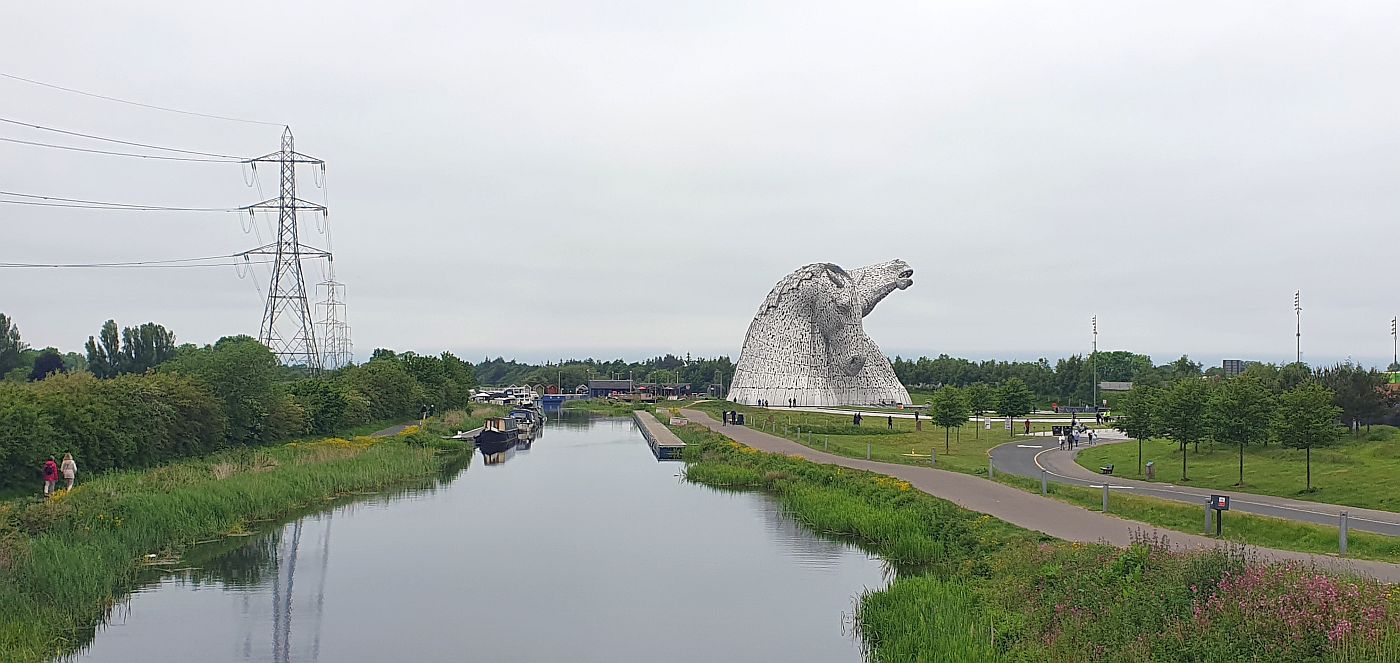 The thing that amazes me is how they managed to bury the rest of the horses underground! As you can see it was a little overcast, but that cleared off shortly and ended in another fine sunny day.
Our next stop was at the Falkirk wheel. This is a rotating boat lift connecting the Forth and Clyde canal to the Union canal and it opened in 2002. It is a really impressive structure and we watched it rotate to lower a boat into the basin.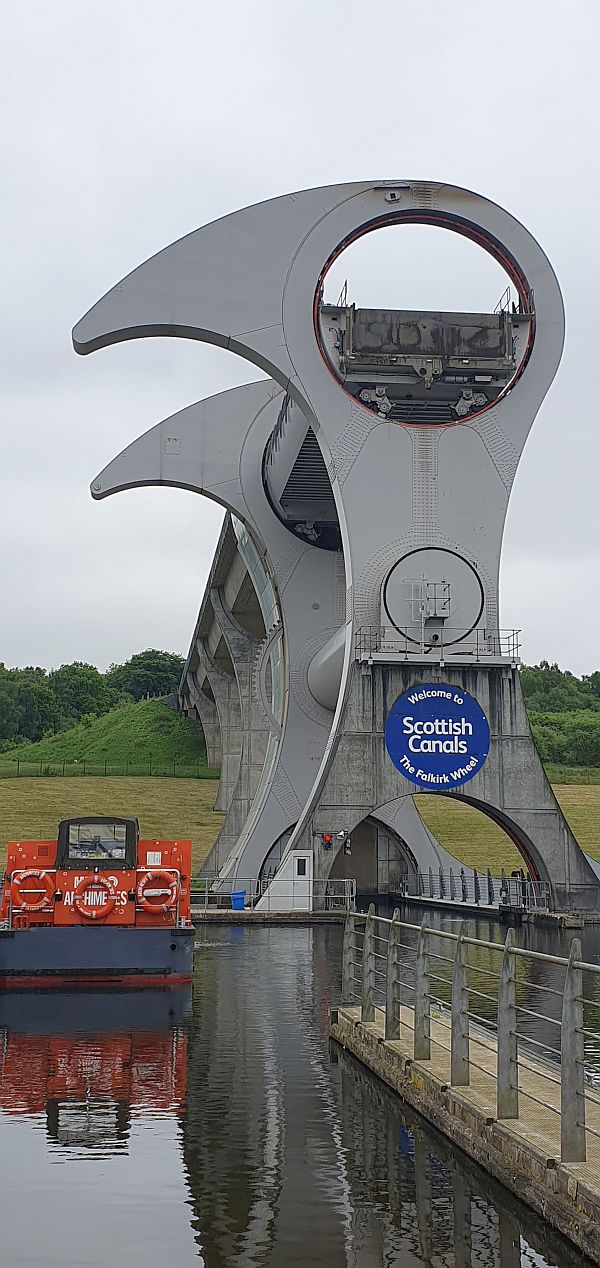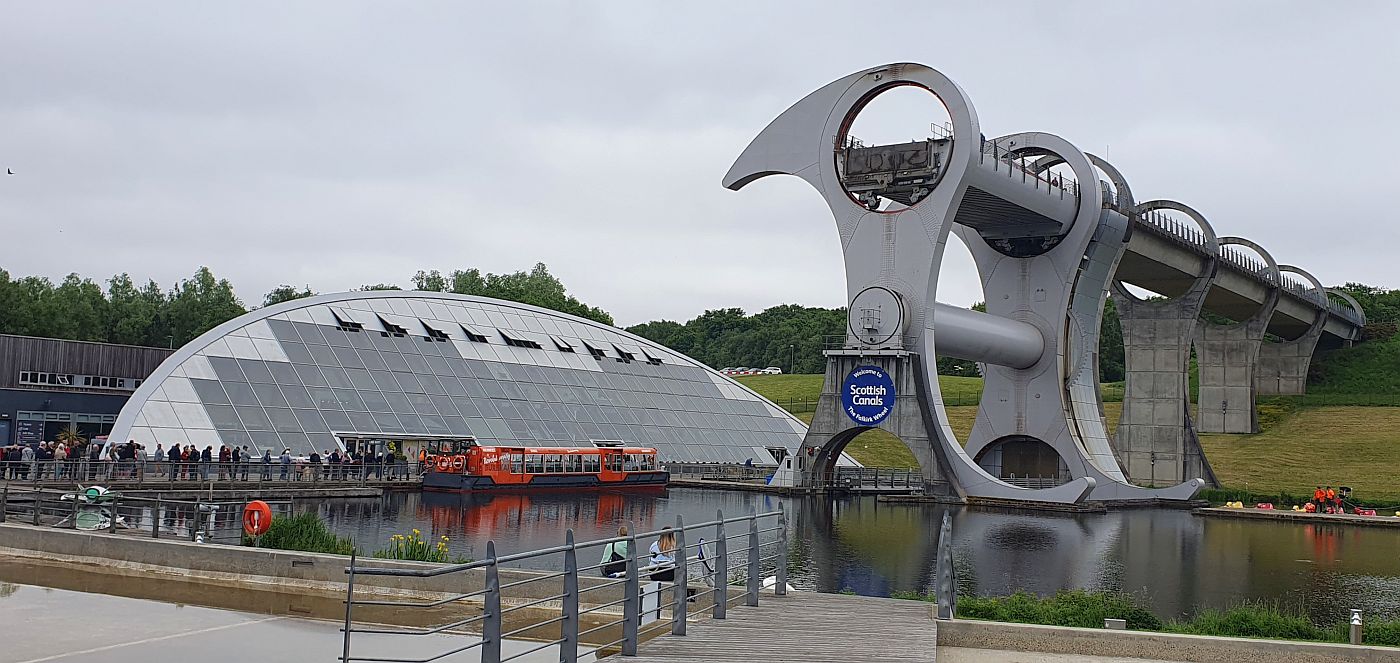 A boat drives into either the bottom or top of the structure and the whole thing rotates through 180 degrees. Amazing. You can take a trip on the wheel by getting into the red boat you can see here, but we didn't have the time.
Our last stop before Loch Lomond was a visit to the 3 Loch Drive. This is a 7 mile drive along a gravel road that goes past 4 lochs. Only kidding, just the 3. I'm so glad we managed to fit this in as it was exceptionally beautiful and very quiet. We stopped in several places and there were one or two people camping waterside. It must be amazing at night under the stars.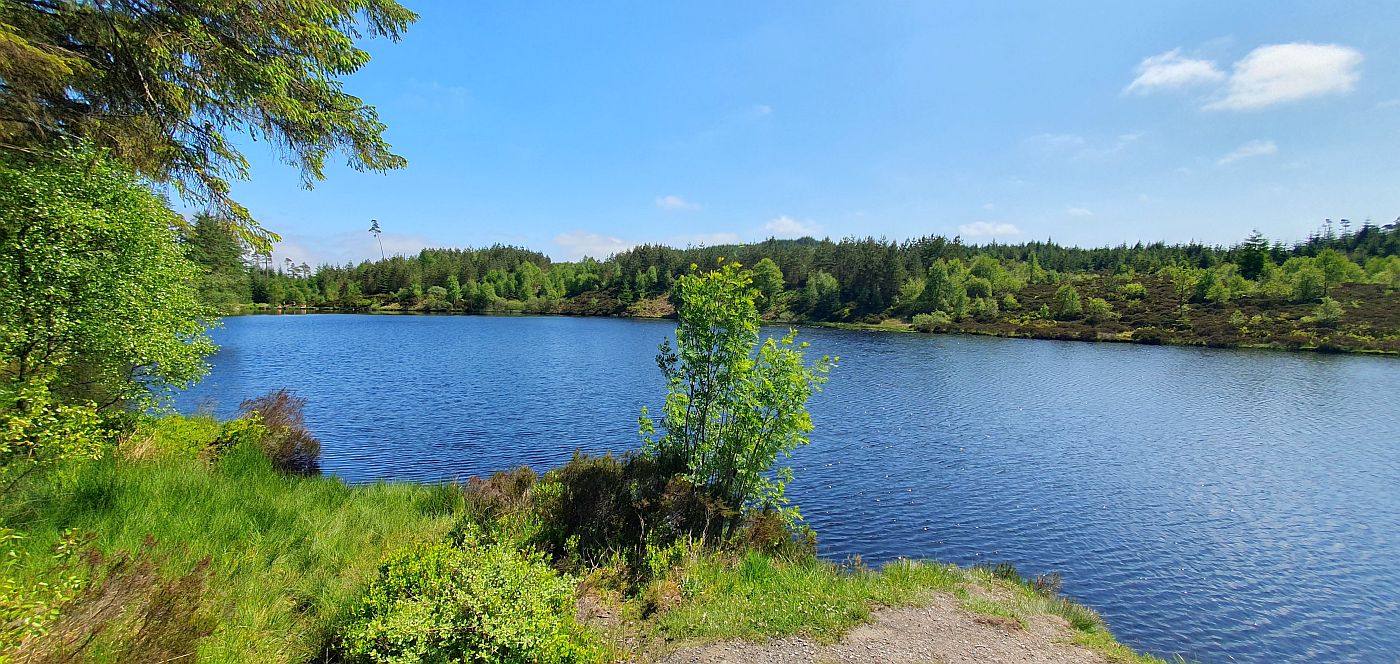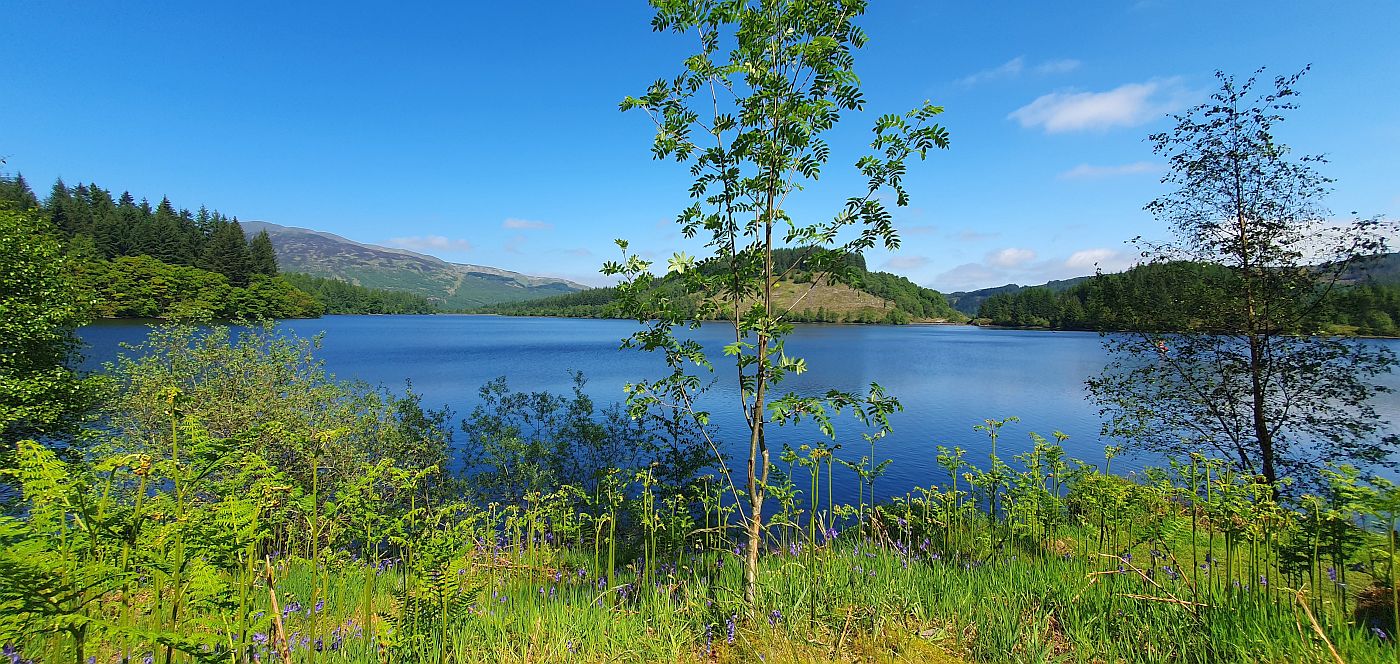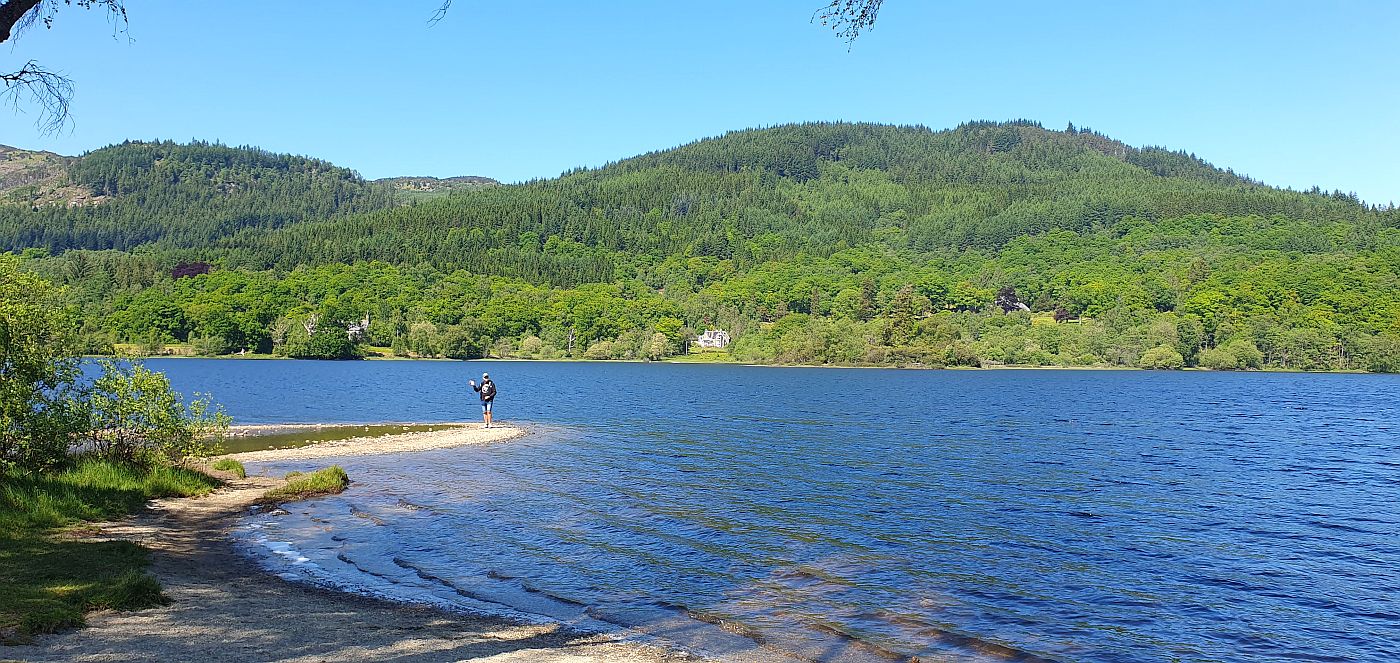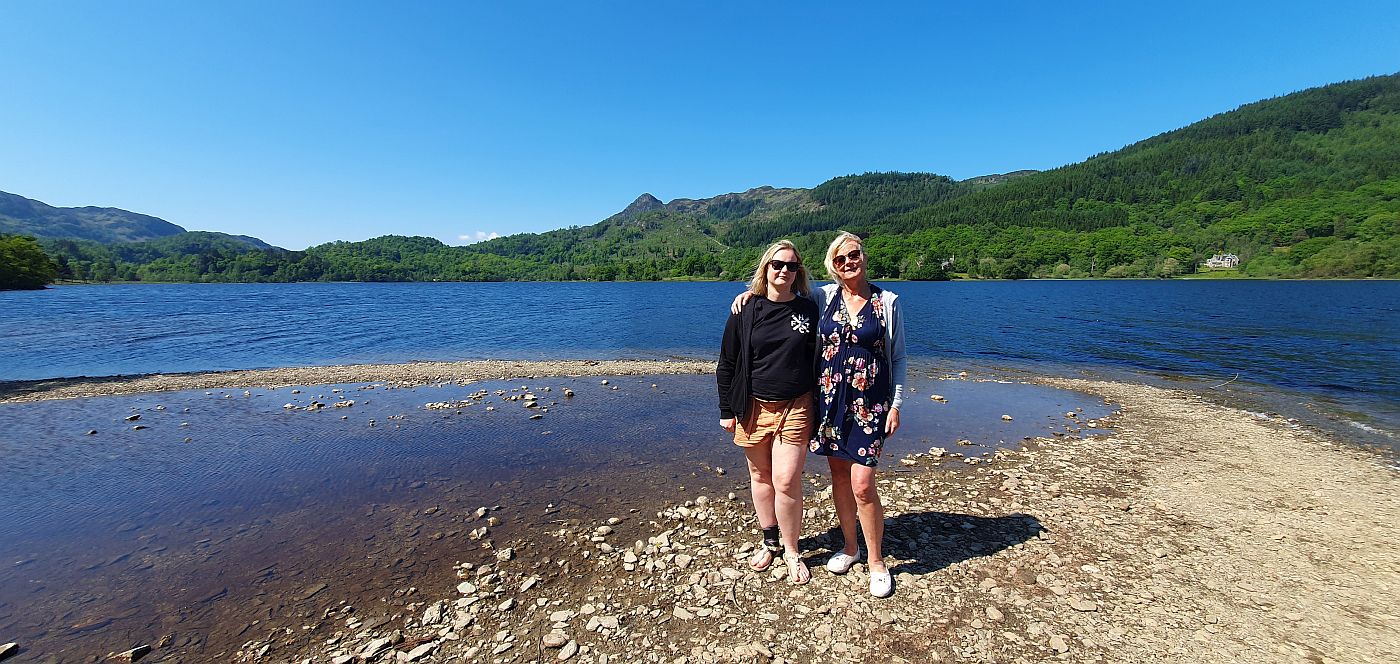 So our next 2 nights were spent in the Oak Tree Inn in Balmaha on the banks of Loch Lomond.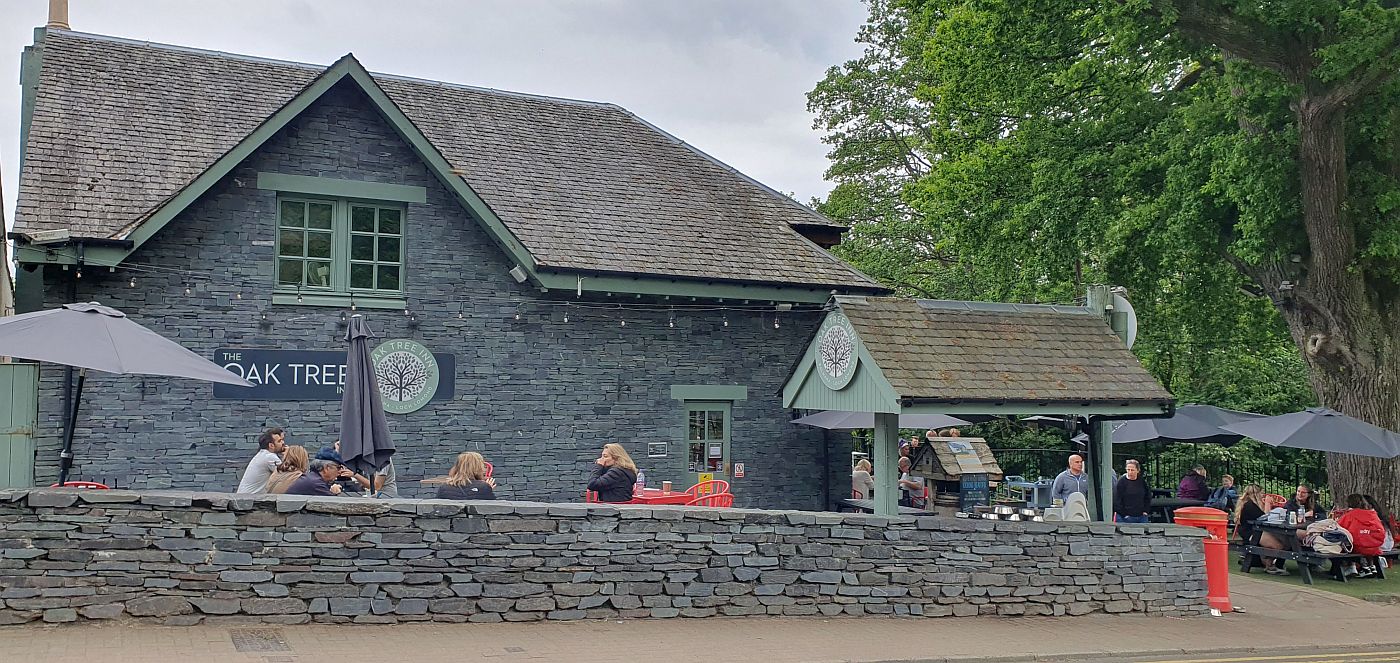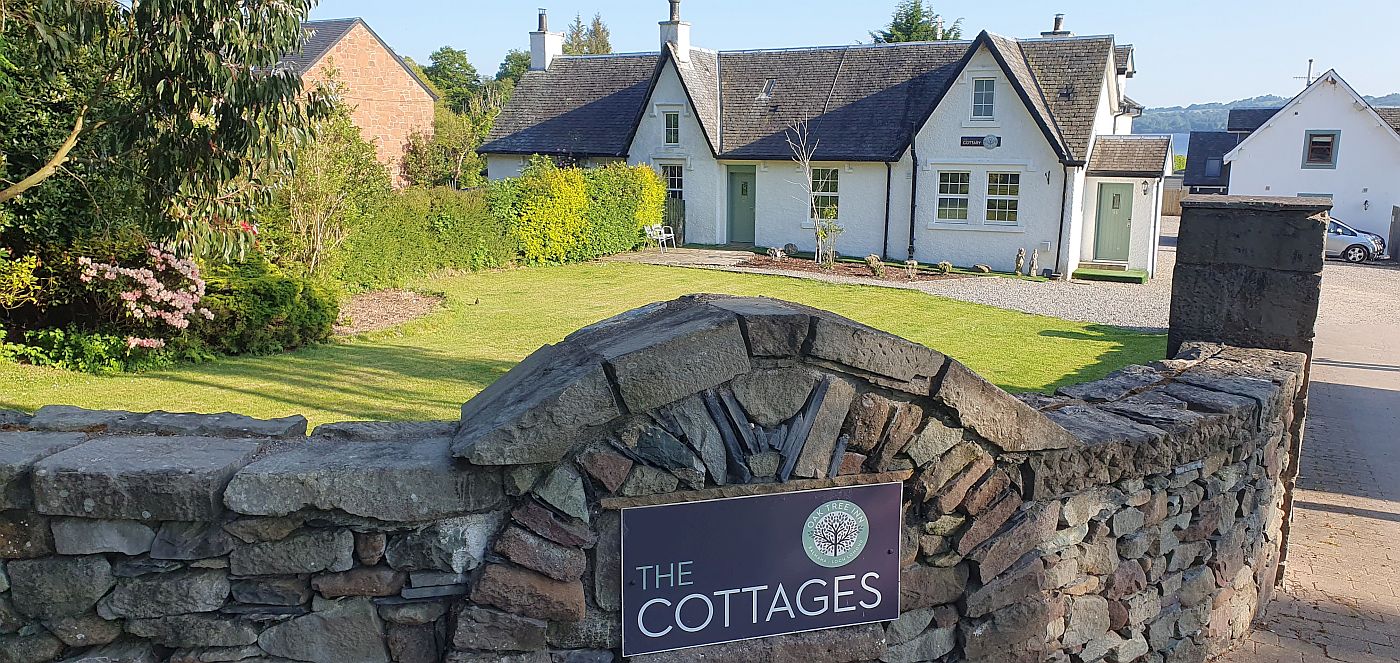 As well as the pub, restaurant and shop there are cottages of various sizes and we stayed in a nice 2 bedroom.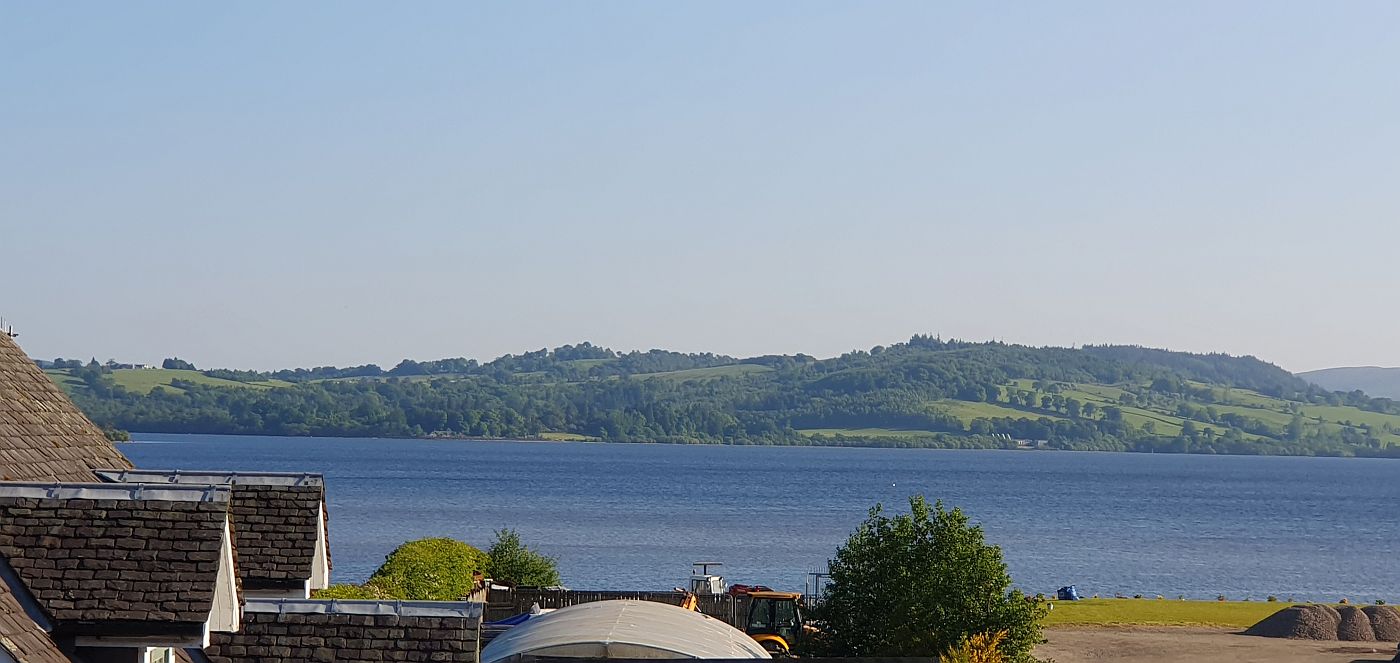 This was the view from our little balcony.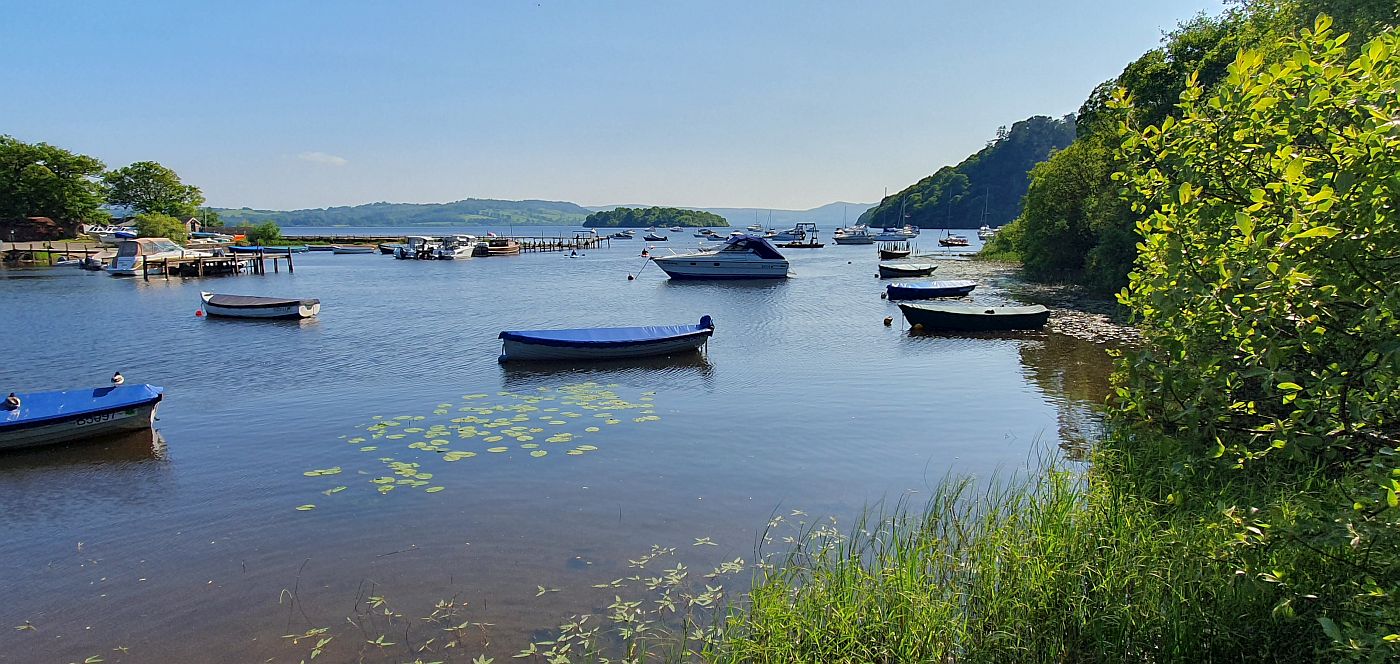 There is very little in Balmaha apart from the Oak Tree Inn, but there are plenty of walks and boat cruises to enjoy and we did both.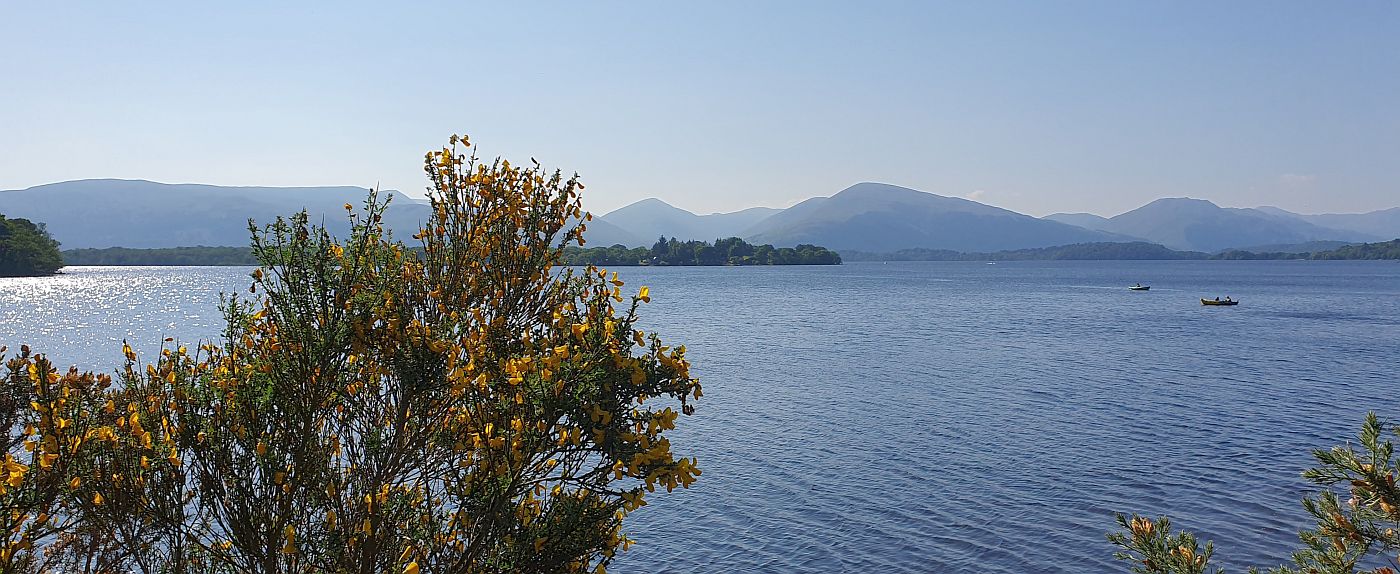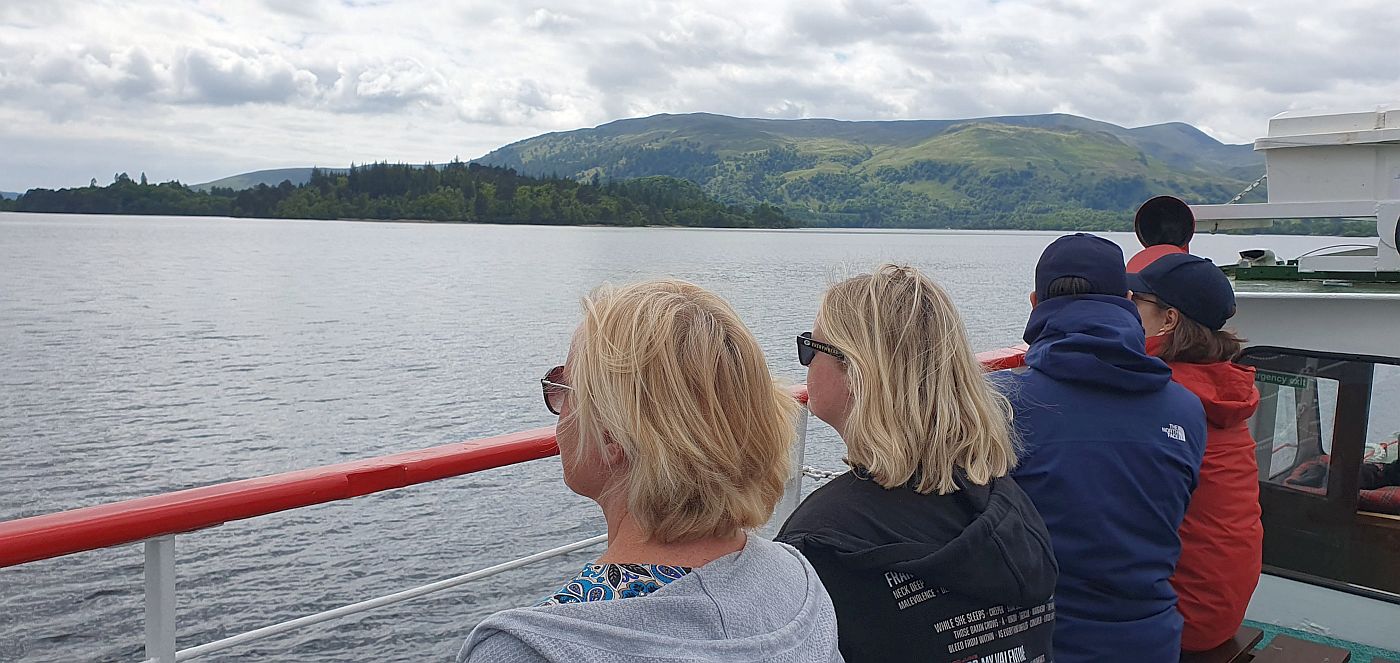 We did the 90 minute circular cruise from Balmaha that also stopped at Luss. This was very interesting and gave lots of information about the Loch and its history. One fact that amazed me is that the deepest part of Loch Lomond is deeper than the North Sea.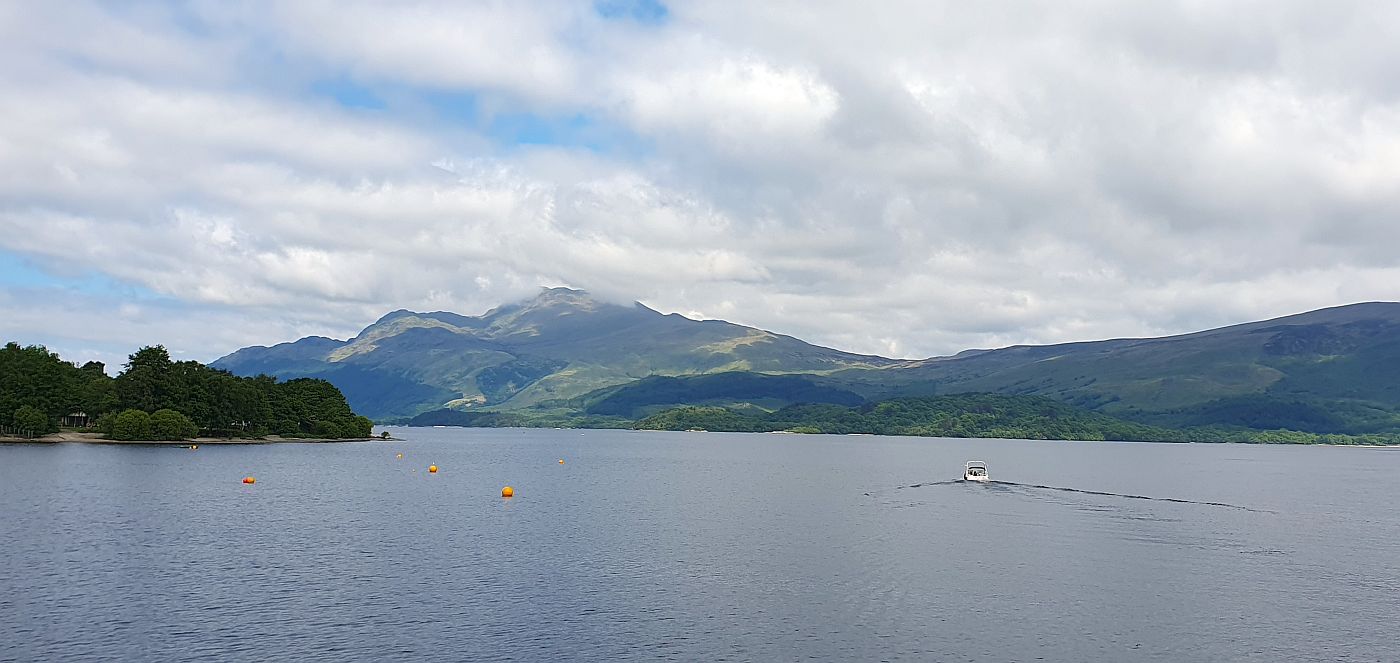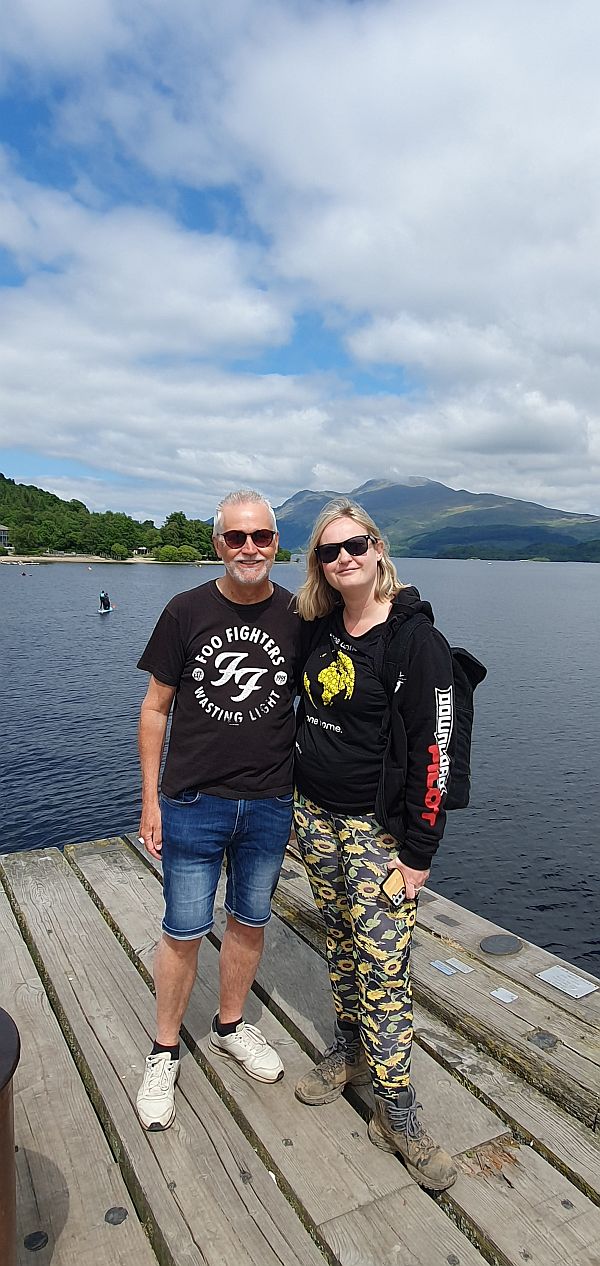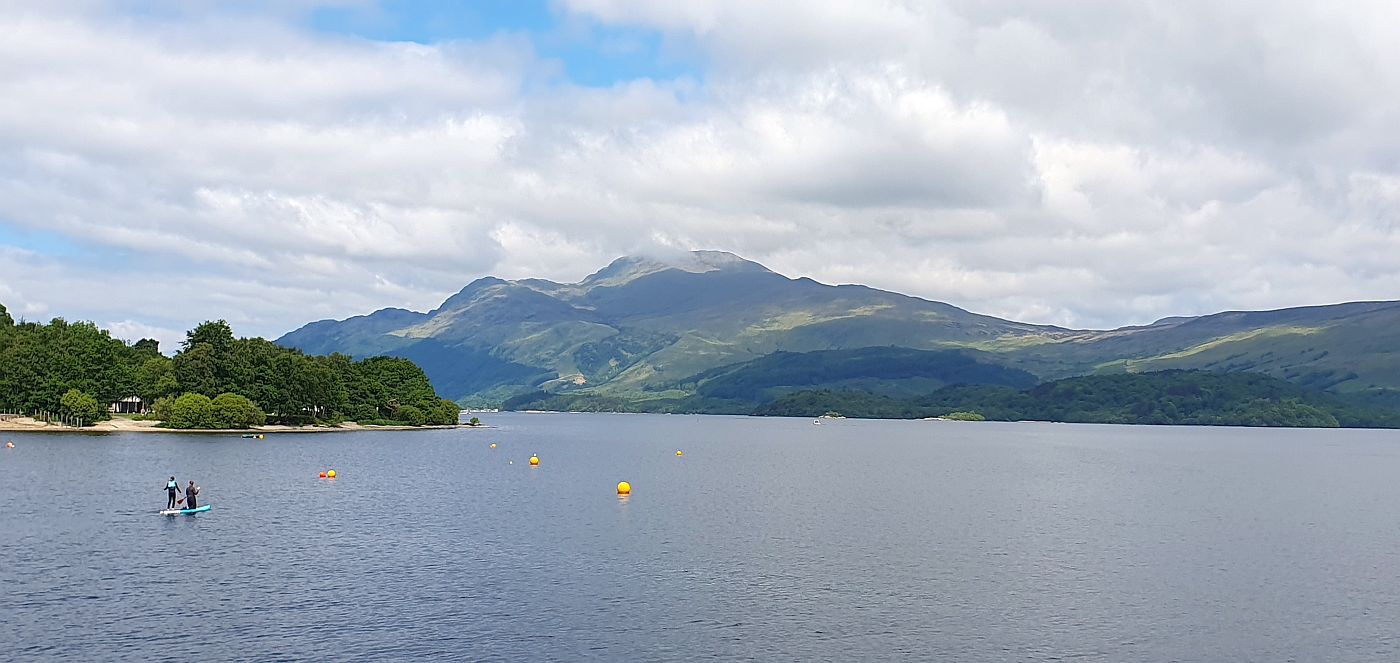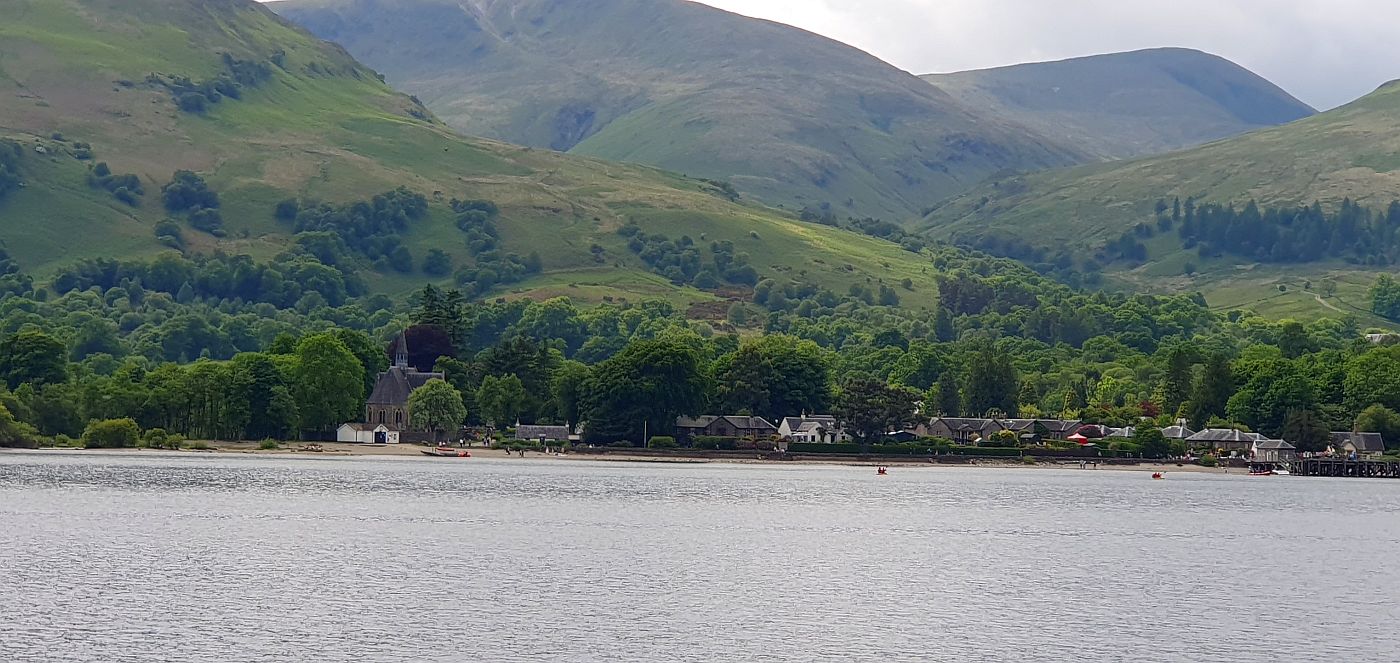 This is Luss which is a beautiful little village. We drove around the loch and had a walk around here.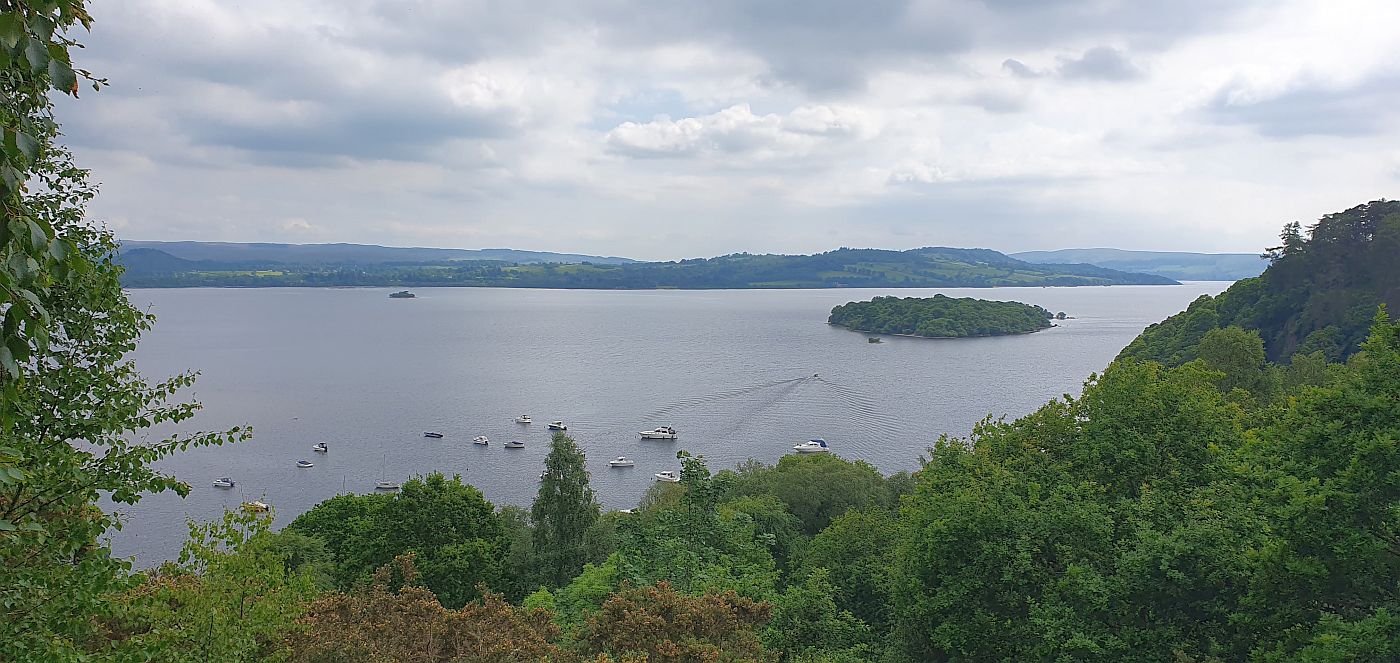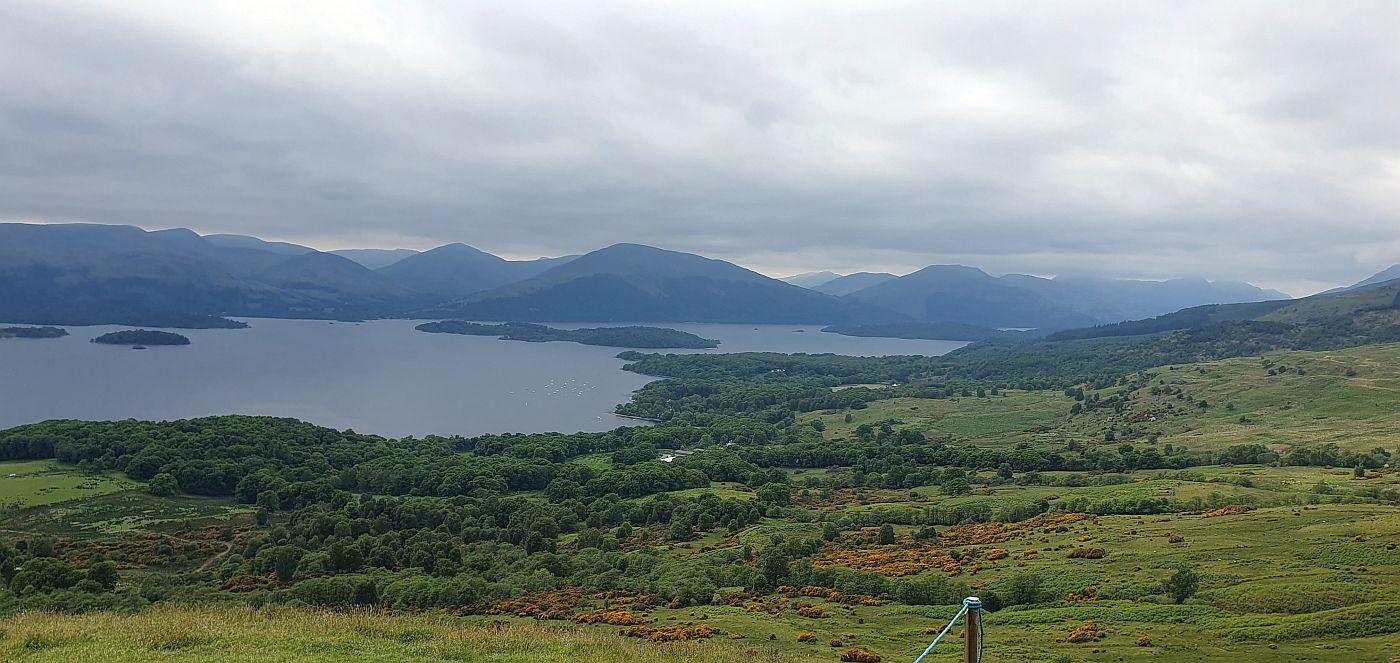 After the cruise Tam and I took a walk up to Conic Hill. It's about 3 miles, but we only went half way up as we'd left India behind in Balmaha. Unfortunately she'd gone over on her ankle when we were in Edinburgh and it was still a bit painful. One thing that we were told on the cruise was that the string of islands you can see running across the loch in the picture above provide a sort of border. To the left (south) it's the lowlands and to the right (north) is the highlands.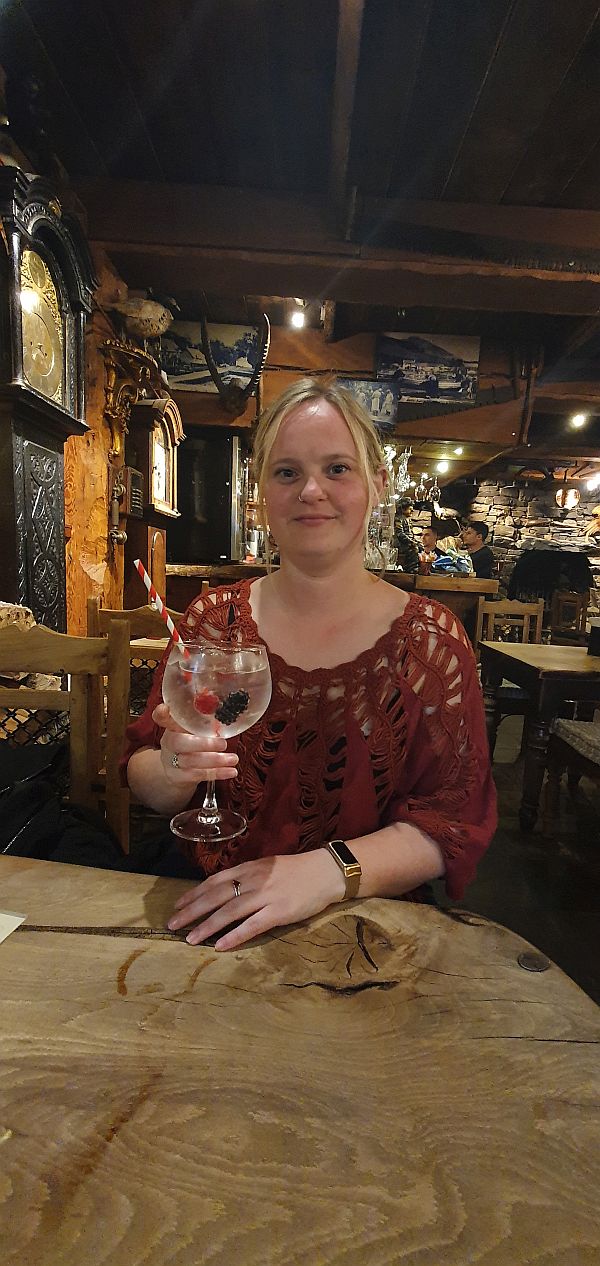 There was a nice restaurant at the Oak Tree Inn and we dined there both nights. They did seem obsessed with grandfather clocks. There were 5 or 6 in the bar alone.
We thoroughly enjoyed our time in Balmaha and I can see why people love Scotland so much. The countryside was beautiful and we were very lucky to have such lovely weather and to avoid the midges!
We were coming towards the end of our short holiday, but there was still more to do. We were heading for London at the end to stay with Charlie and Georgia and take in the Disney 100 celebration show at the O2, but on the way down we had a night in Whitby. It seemed a good idea to break the journey up a bit, but this didn't work out quite as planned. The route took us through Barnard Castle. Unfortunately there had been an accident in the area and the traffic was horrendous. After all sorts of detours we arrived in Whitby around 5.00 pm after a 7 hour journey. Still, we made the most of it. We checked into the pub we were staying at, had a quick shower and went straight out to look around.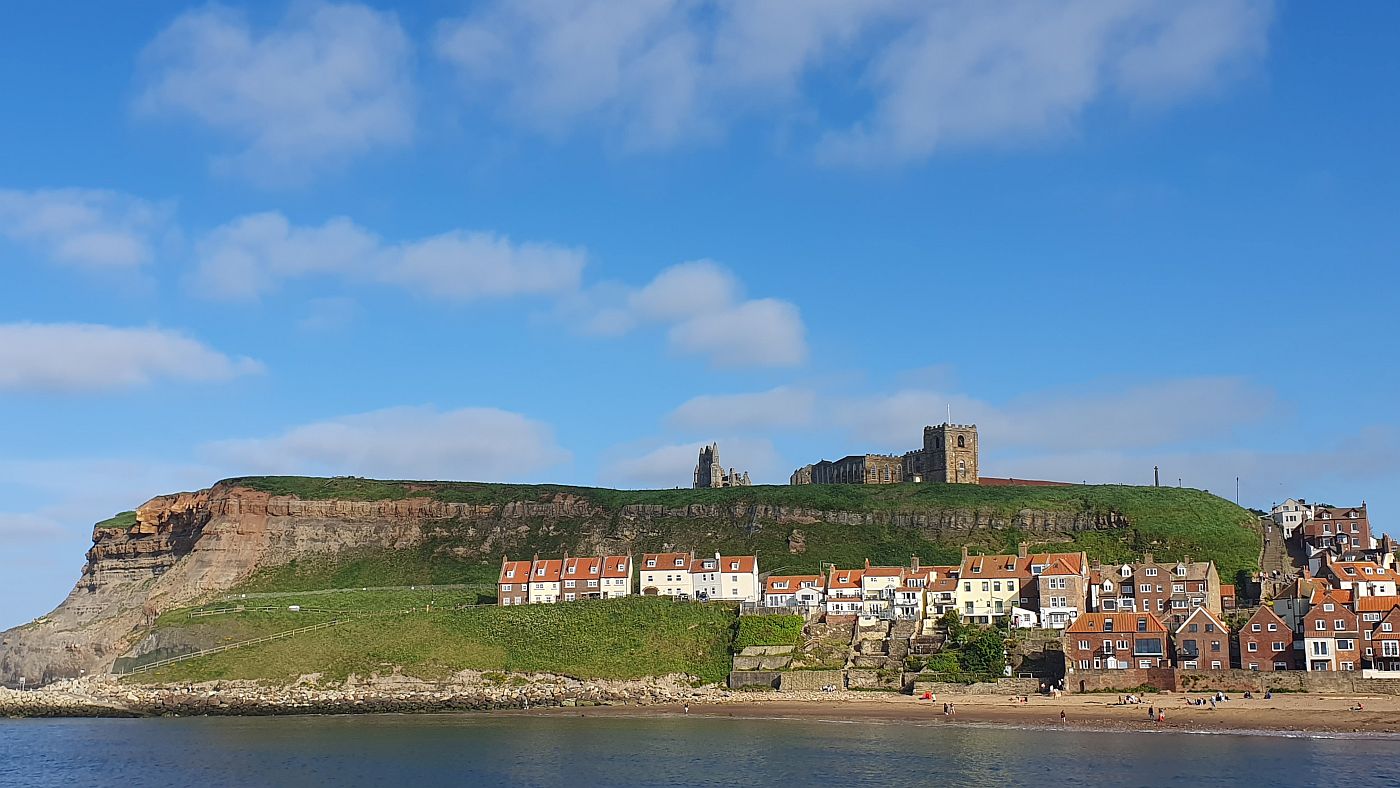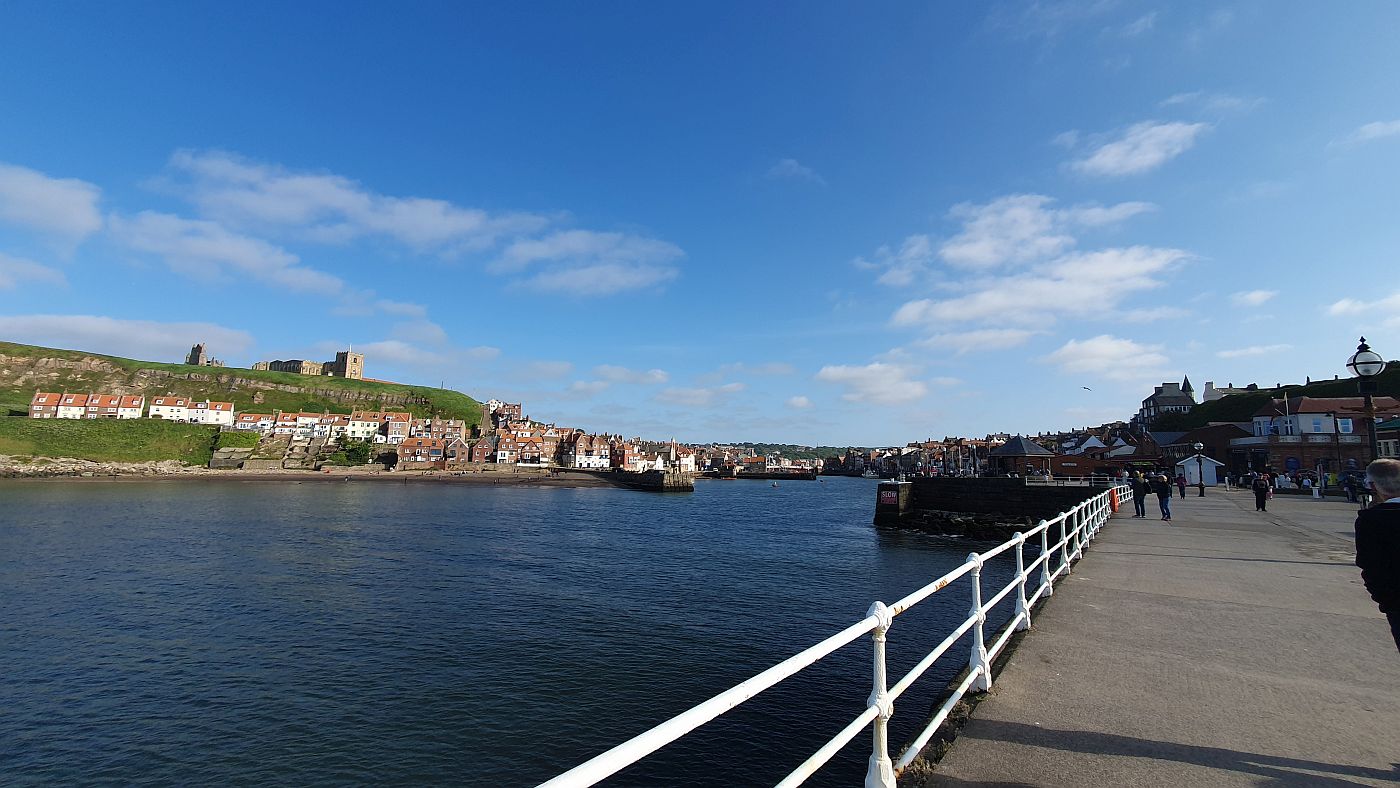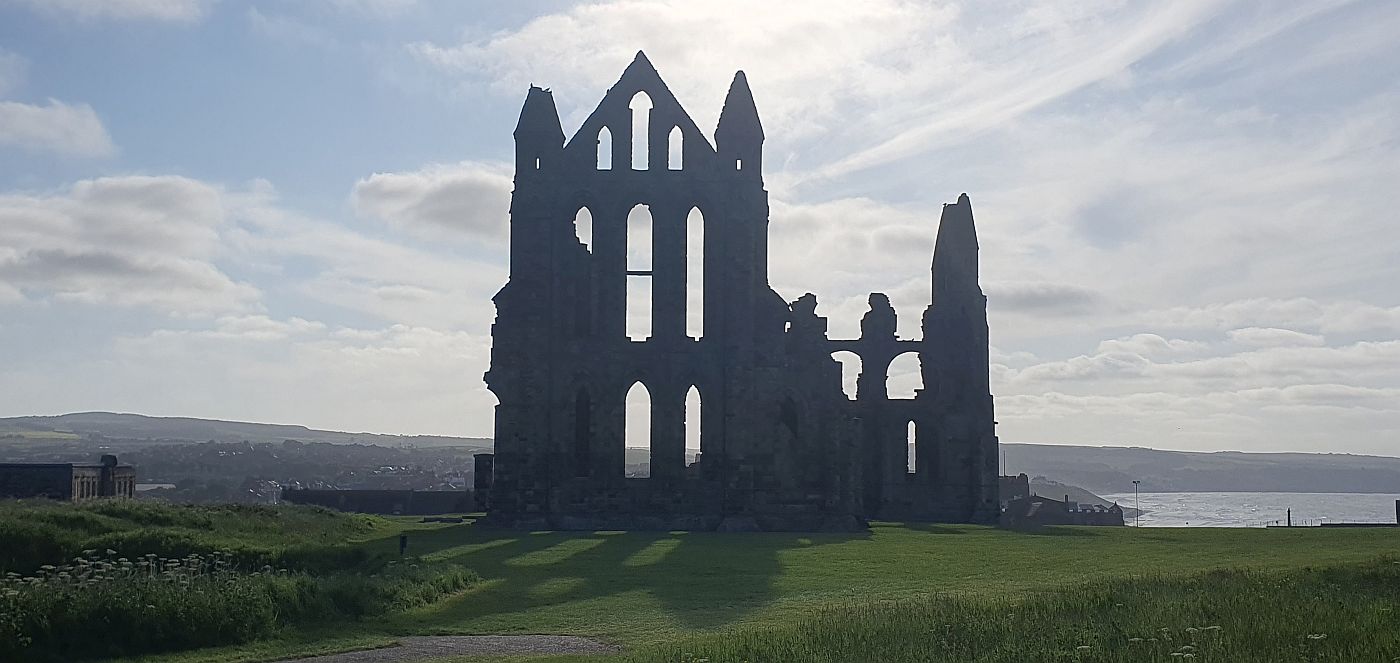 Whitby is famous for inspiring Bram Stoker to write Dracula and the town and gloriously creepy abbey feature heavily as it is supposedly where Dracula's ship went down and where he came ashore.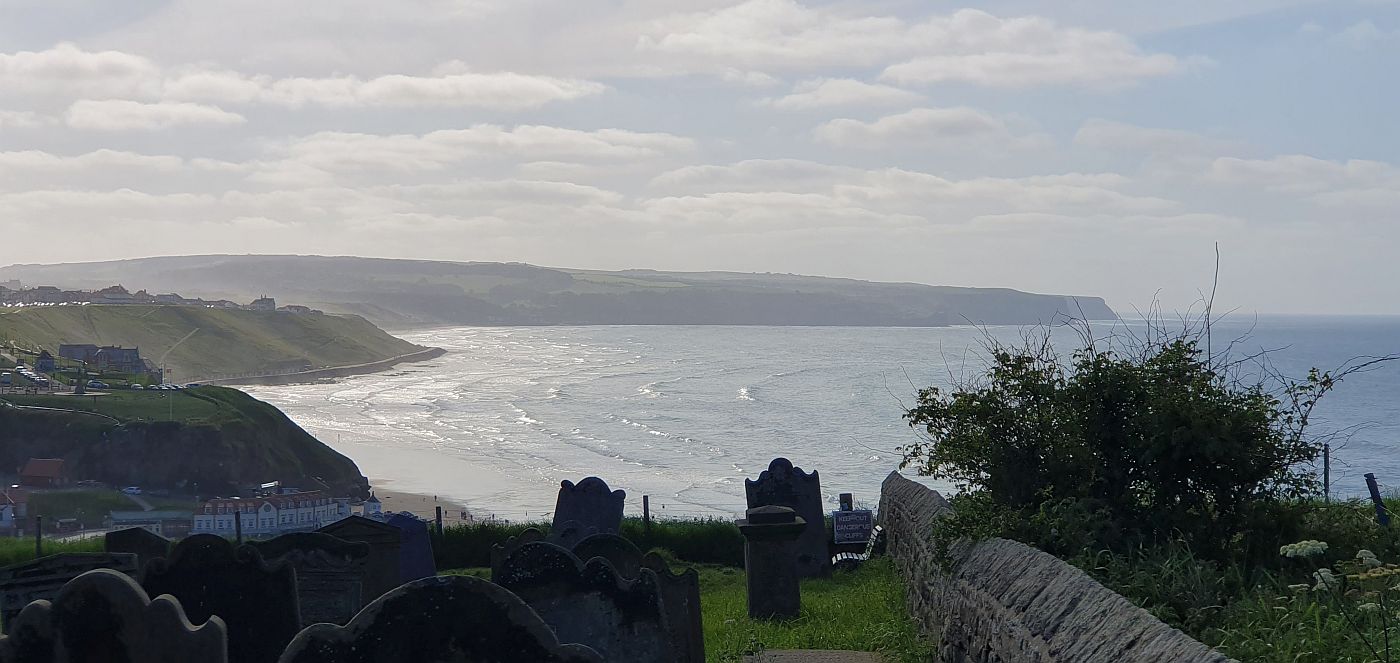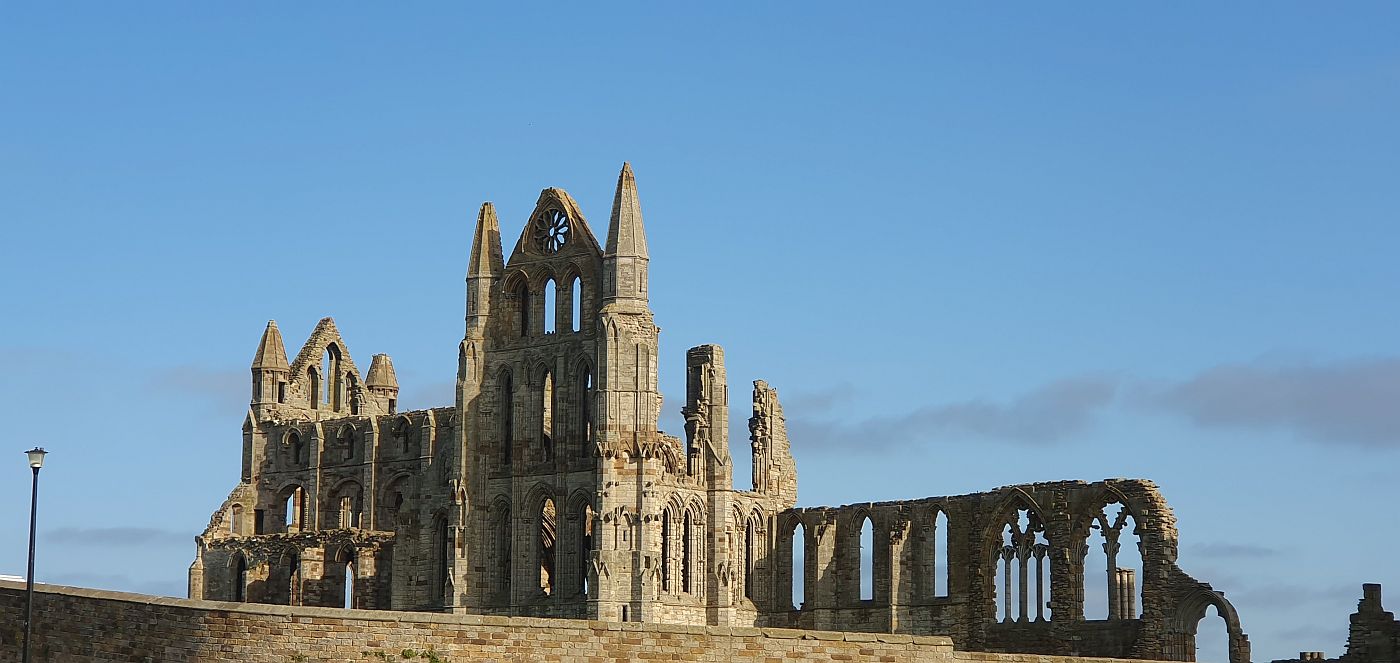 The next day we travelled down to London and spent a couple of nights with Charlie and Georgia before heading home. We certainly managed to fit in plenty in our one week trip, but that's how we like to do things generally. If there's something to see - let's see it - we might never pass this way again.