DAY 9 - THURSDAY 8th NOVEMBER 2012
Written by Kev
Participants: Tam, Kev, India and Georgia
I wake up at 5.00am, but go back to sleep until 7.45am.
The curtain on the balcony is drawn back to reveal a glorious sunny morning with the surf crashing onto the beach. There is a slightly chilly breeze, but it's still pleasant in the sunshine. India is already up, but Georgia has to be nudged gently awake. This is achieved using a 6-foot long pole.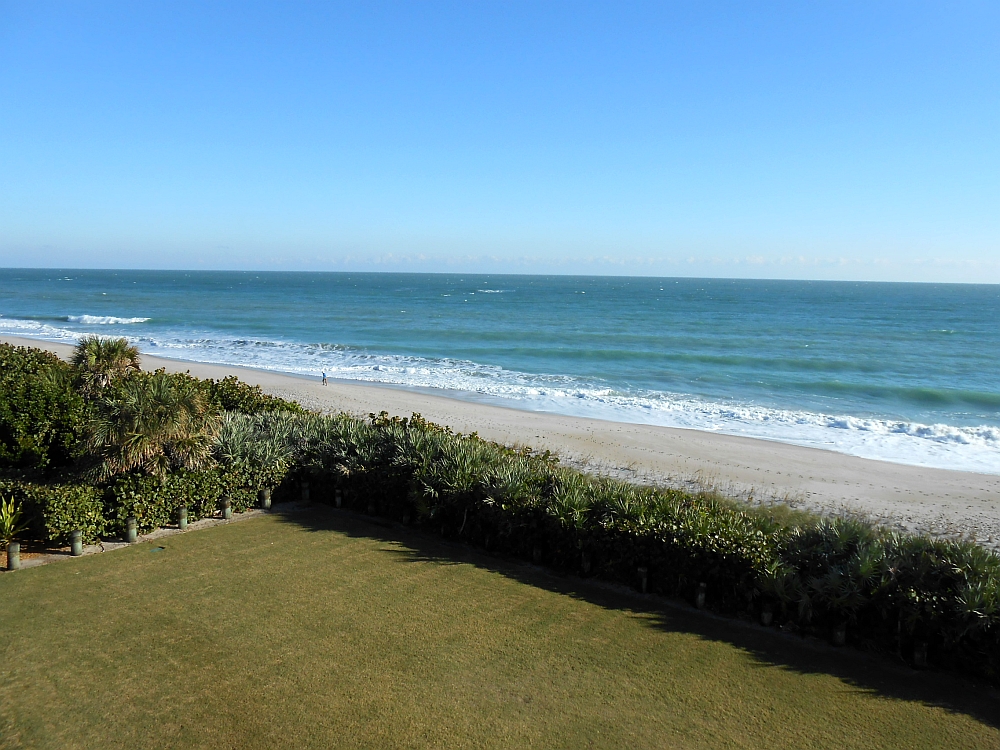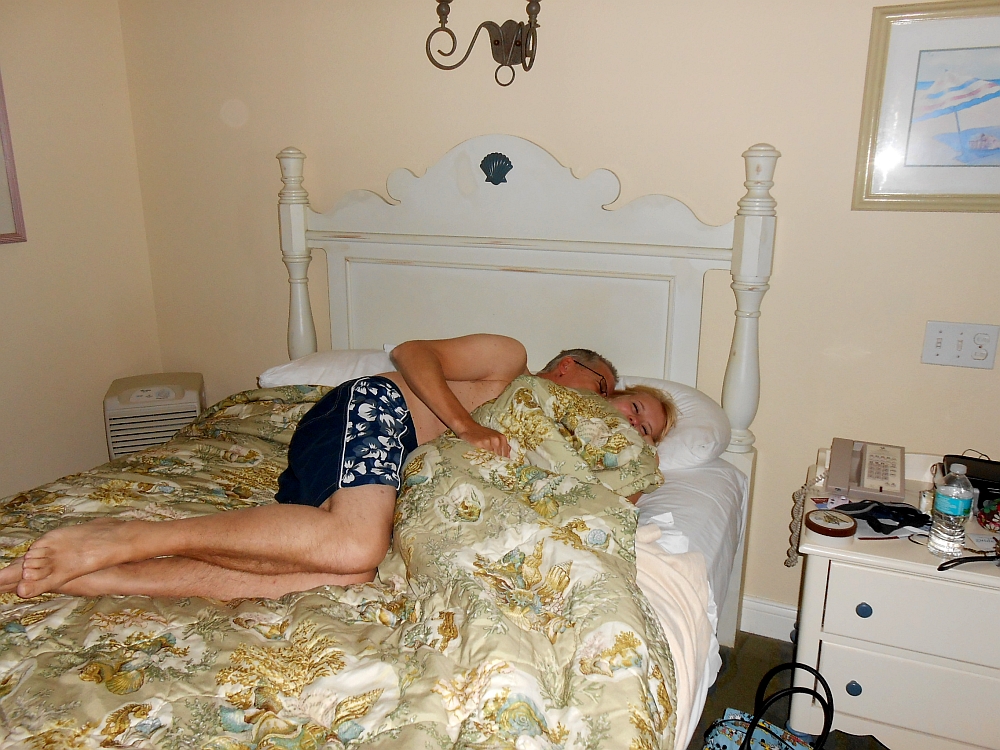 Tickling is also an effective way to get someone out of bed.
Breakfast consists of cereals and tea and we then get ready for the day's activities, which are planned to include cycling along the coast, eating a late lunch at Captain Hiram's and relaxing at the resort.
We have a quick look around the shop before India asks at the front desk if they have any leaflets on the local wildlife, but is told they don't. However, the lady asks what we are doing and, when told we are cycling, advises us that there are a couple of nice places to eat in Vero down by the beach, so we decide to cycle there later instead of going to Captain Hiram's.
Off to Ebb and Flo's where it costs $60 to rent 4 bikes for the day. We set off around 10.00am and follow the same route as Tam and I did last year along the Jungle Trail to Pelican Island National Wildlife Refuge. It's fairly simple to cycle as it's so flat, but we see little in the shape of wildlife except for a raccoon's bottom disappearing into the undergrowth.
At the wildlife refuge we walk along the boardwalk to the observation point. There is no one else around, so it makes for a pleasant experience. By the way, it's been a bit chilly on the bike ride as there is a stiff North-Easterly breeze, it's ok in the sun, but definitely on the nippy side in the shade.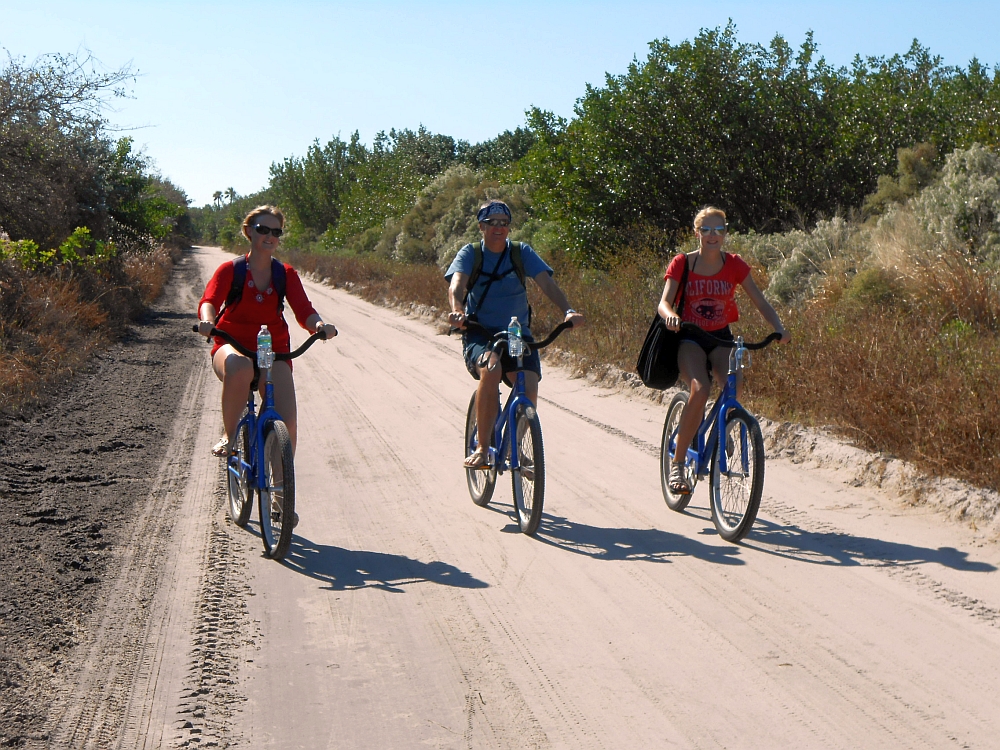 We nearly broke into a verse of 'Doh, rah, me'.
On the way back we stop off at the beach in a couple of places where we dip our toes in the water and are surprised to find that it's quite warm. I had expected the Atlantic to be cold at this time of year, but it's not bad at all. It's far too rough (and chilly, weather wise) to actually swim, but the beach is deserted and we still enjoy it.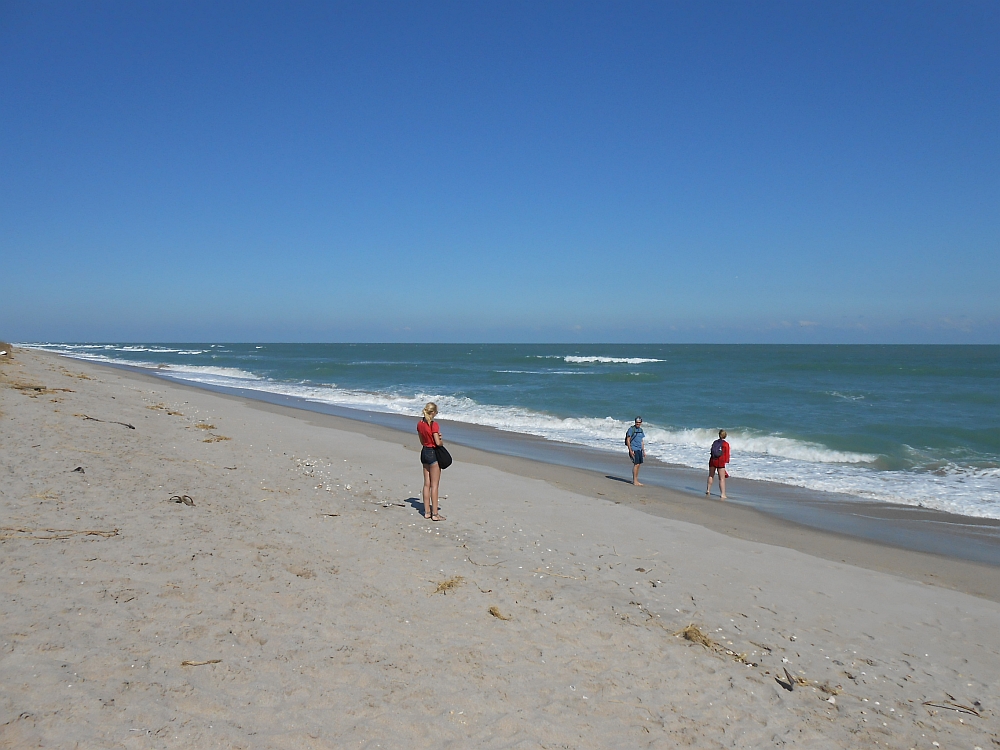 We now start to cycle down to the restaurants the lady at the front desk told us about. About an hour later we are still a little over half way there according to the rudimentary map we have. A decision is made to return to the resort whilst muttering about the lady behind the desk and what we would like to do to her. The ride back is harder than the ride down as it's into a brisk headwind. We arrive back at 1.45pm. The decision to turn back was probably a good one given how long it would have taken had we cycled all the way to the restaurant and back.
We jump into the car and drive to Vero and find the infamous restaurant that caused 2 hours of unproductive cycling. At this point check-in lady is finally forgiven as we eat at Mulligan's, a place right on the beach.
The food is mainly of the 'burger and wings' variety, so this is what we have, except Georgia who has New England Clam Chowder. We eat outside, but it's fine as one side is shielded from the wind by a drop down screen. The food is enjoyed by all, especially the Teriyaki Wings with Blue Cheese Dip. The bill comes to $90 including beers and tip. There is a car park next to the restaurant where stalls are starting to be set up. I guess this area comes to life in the evenings.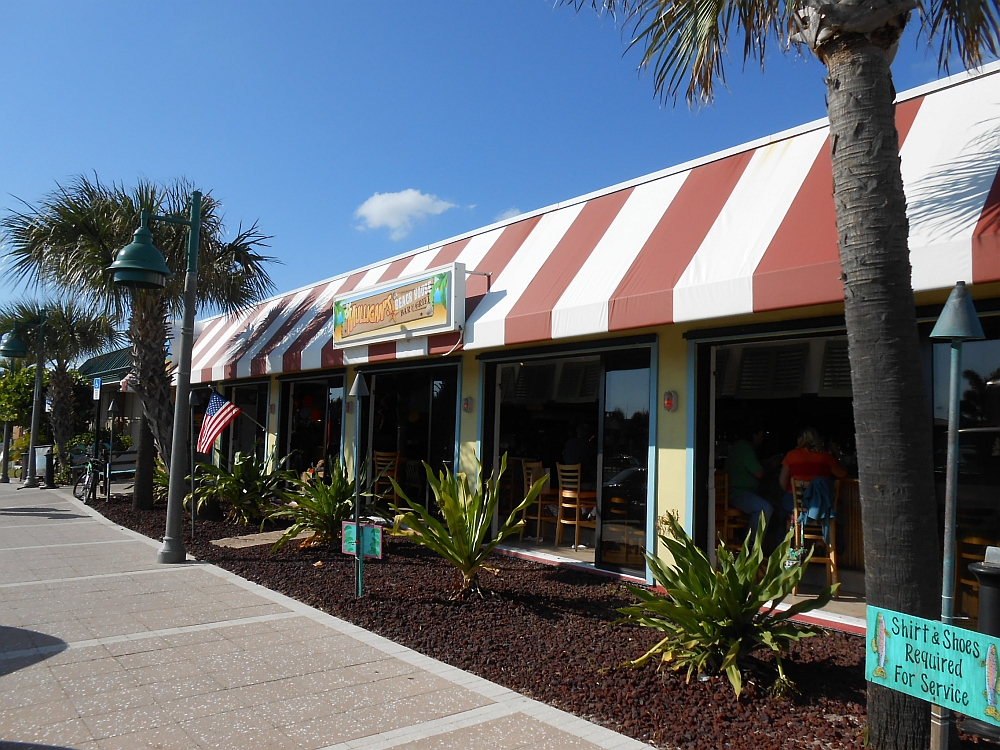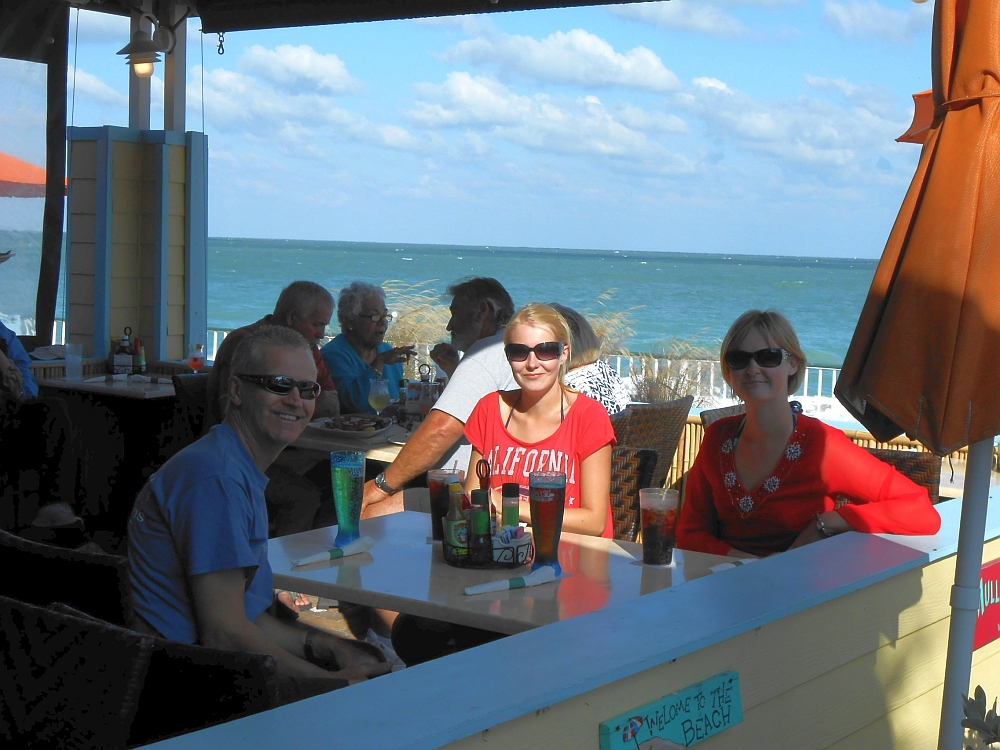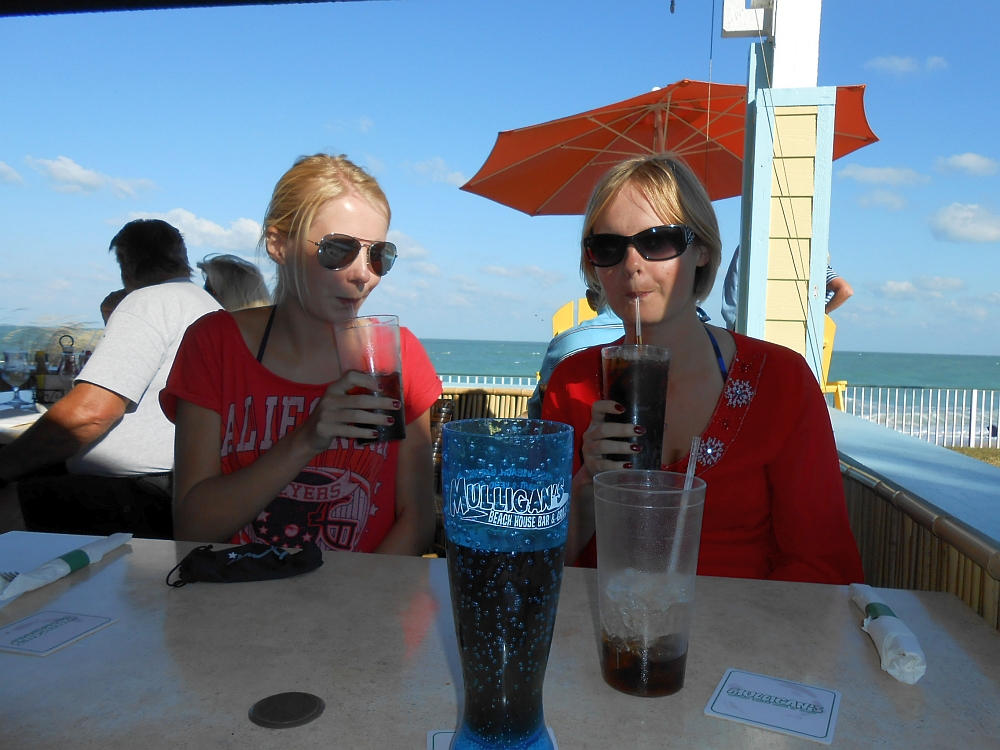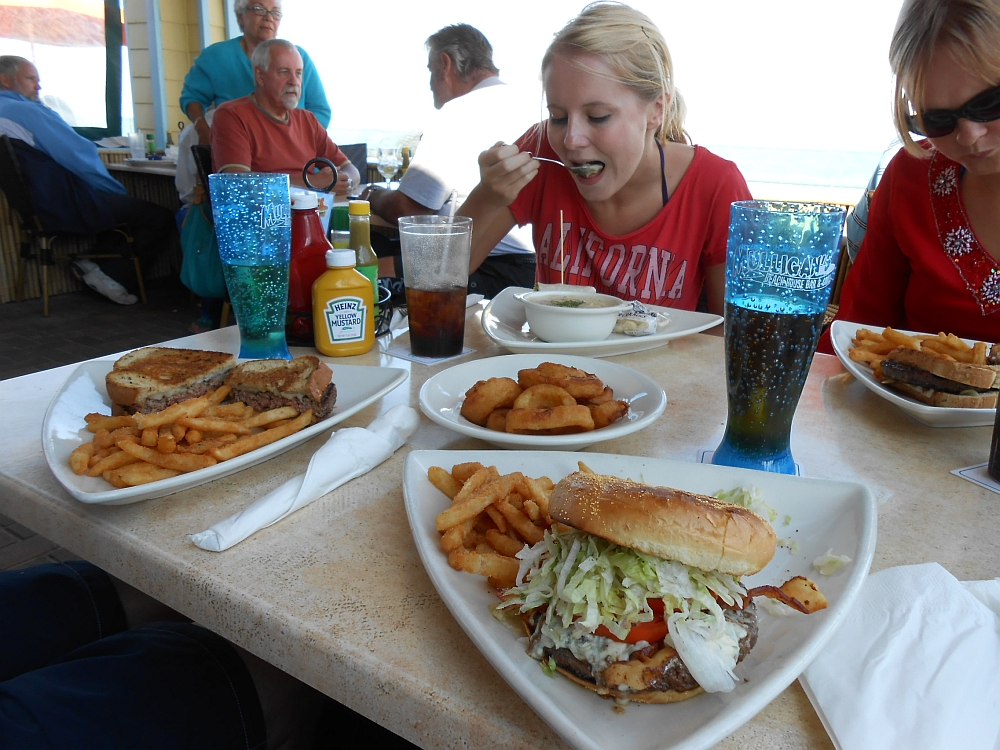 Back at the resort by 4.00pm and Tam and I intend to re-enact a favourite activity from our last visit by sitting on the lawn in the warm sunshine enjoying a bottle of chilled Chardonnay. Well, best laid plans and all that – we find a spot that's not too windy, but as the sun gets lower in the sky it's getting far too chilly to enjoy the wine. We last for 10 minutes before beating a retreat to the room. Drinking the wine while laying on the bed and watching the local news on TV is not quite the fun experience I had in mind, even the adverts offering to cure erectile dysfunction can't lift my spirits (or, indeed, anything else). They do offer some strange products on US TV. Still, the weather forecast for tomorrow is warmer at 74°F, although still breezy. It's also going to get back to 80°F by the weekend, so it's all good. India cheers me up even more with the news that it's 7°C in Falmouth (her home town) today.
The extended bike ride has taken more out of everybody than we thought. The ladies are mostly snoozing while I write up my trip report. Getting them to move and have a shower proves difficult and impossible in Georgia's case. She decides she is staying in bed this evening and reading her Kindle.
Tam, India and I get ready and leave for the Green Cabin Room at 7.30pm. The burgers we had for our late lunch are still filling us up, so there will be no food this evening. I try a Red Stag Lemonade, which is bourbon based and very nice. Inds has a Skinny Coconut Mojito, which she isn't keen on and Tam has a Tropical Infusion.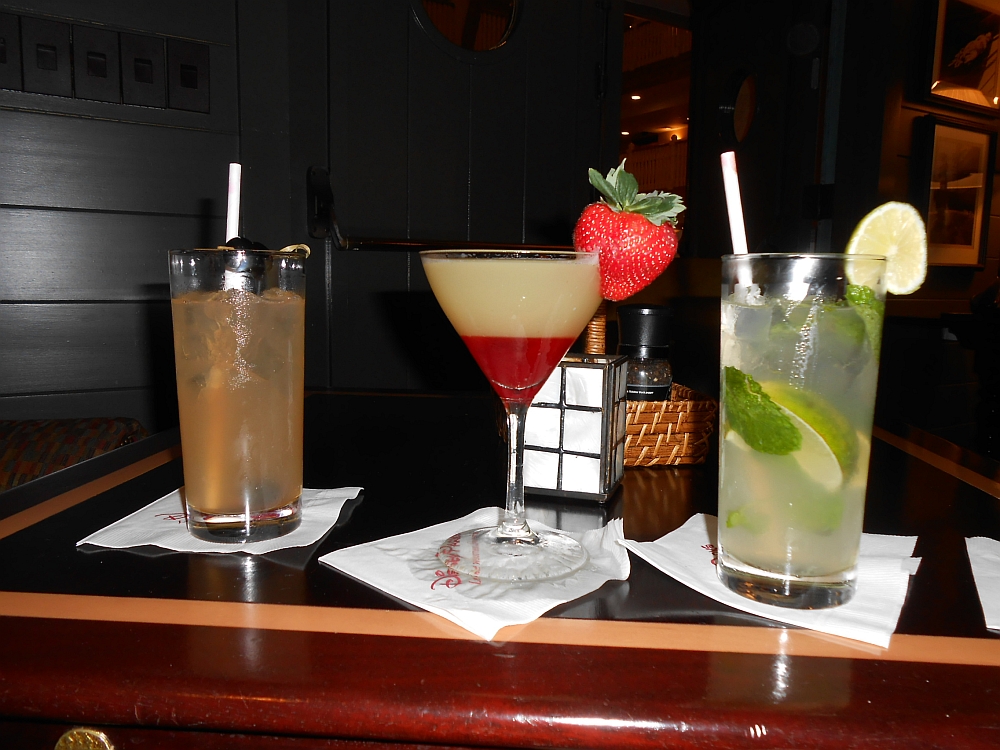 We talk about what to do tomorrow and decide that a quiet day would be a good idea, renting a cabana on the beach. I switch to an Agave Nectar Margarita, which can't be bad as I followed it up with another. The lady server remembers us from last night and asks where Georgia is. Tam tells her that she is in bed with her Kindle. The look on the ladies face suggests that she doesn't know what a Kindle is or why you would want to be in bed with one. She probably knows a cure for erectile dysfunction though. It's a strange land, America.
Tam gives up the fight and retires to the room while India and I finish up our drinks and talk about this and that.
Bed at 11.00pm.
[NOVEMBER 2012 REPORT HOME PAGE]