DAY 8 - WEDNESDAY 7th NOVEMBER 2012
Written by Kev
Participants: Tam, Kev, India and Georgia
So, it's my job to take over the trip report for the next stage of our holiday. I hope Tam's done a good job to date.
We get up at 7.30am and finish up the last bits of packing. We have to be at the boat dock at 9.00am for our ferry at 9.30am, so I need to make two trips in the golf cart to get the luggage and family safely transported in time – the luggage being the most important thing, obviously. It's only about a 5-minute ride, so Inds and I set off first with the majority of the luggage. She stays at the dock while I return to pick up the remaining baggage – and I don't mean Tam and Georgia.
We say farewell to The Little Ark, she's been a good home for the last 5 days. North Captiva is a fantastic place to stay if you want to get away from it all, most of the time you can have a whole beach to yourself. It's a bit like being a modern day Robinson Crusoe, although I had three Woman Friday's.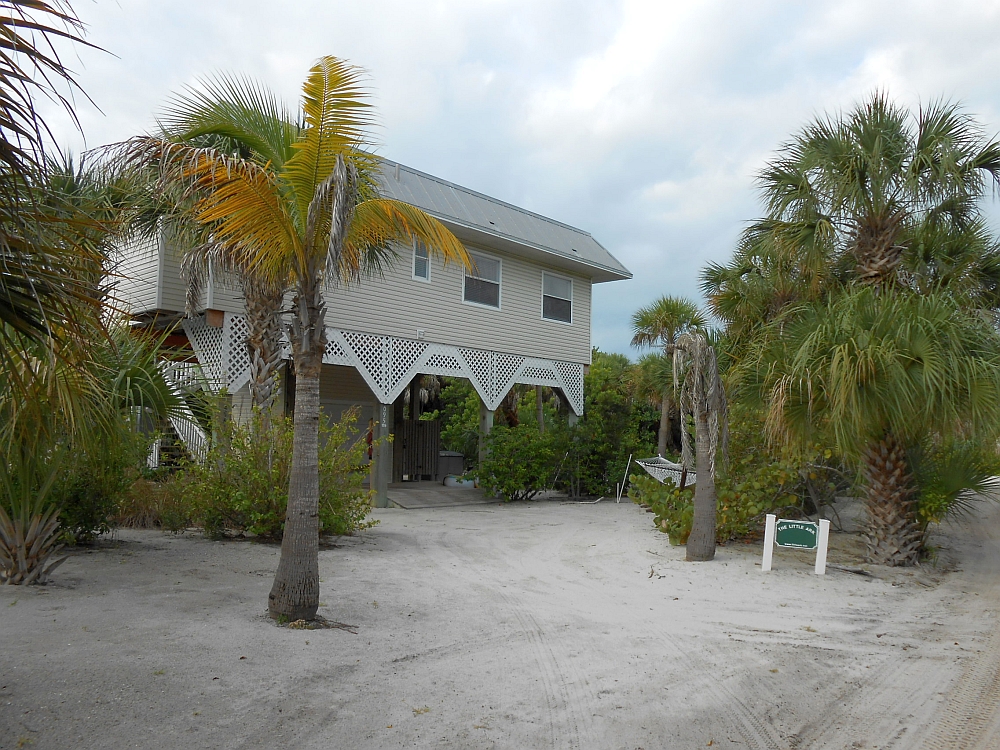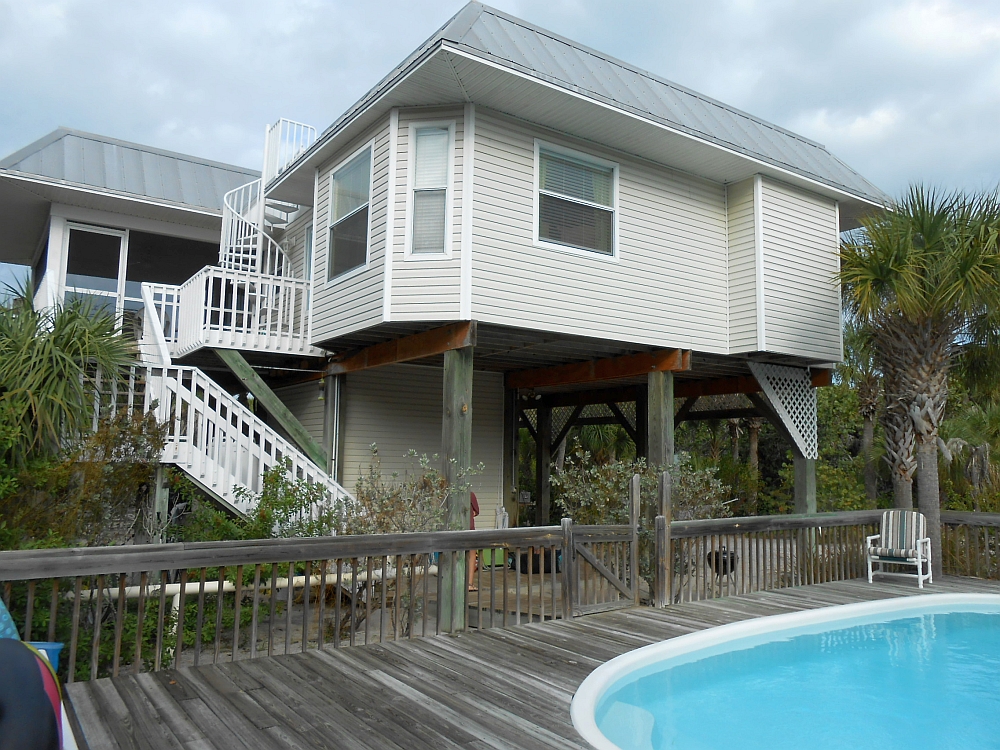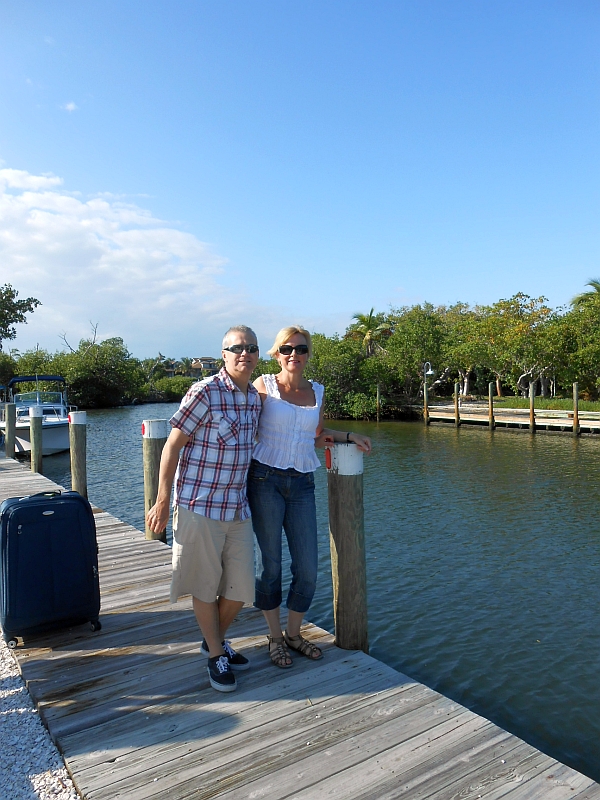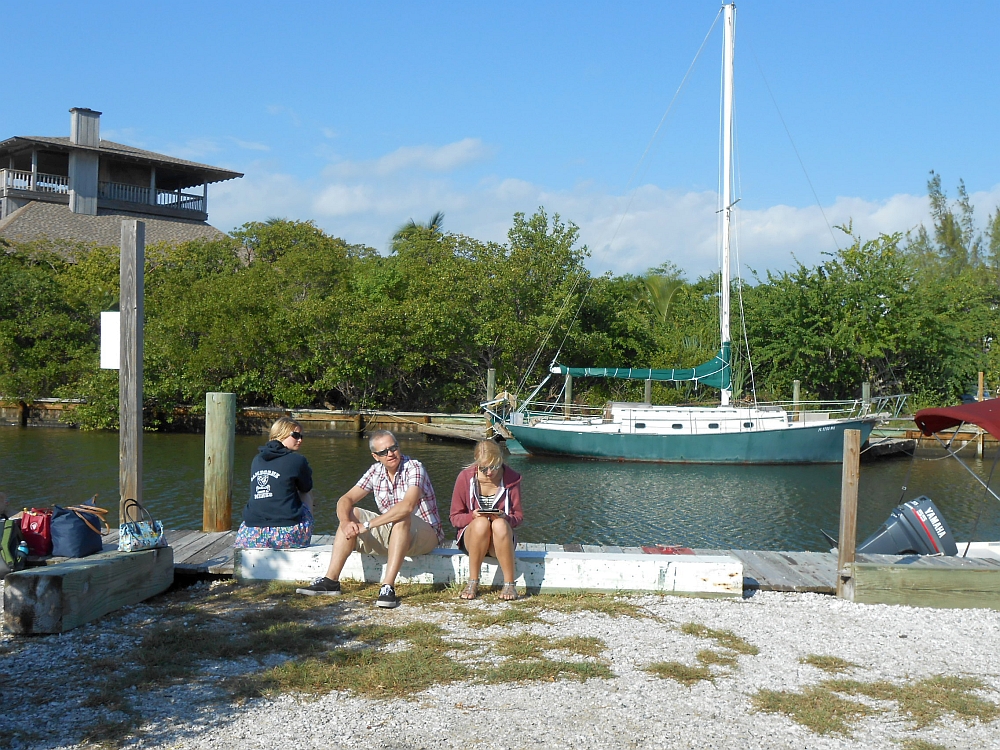 The Island Girl charter boat arrives on time and everything is loaded up. To call this a ferry is a bit misleading. There are two huge engines on the back and when they open up the throttle the thing zips along like a speedboat, it's a fun ride.
As we leave the island there are many, many birds around – pelicans, ospreys, anhingas and…. er …… that's about the total extent of my Floridian bird knowledge, you'll just have to accept that there are loads of them, whatever they are.
Back on Pine Island we load up the Ford Escape and set off for Vero Beach, where we will spend the next three nights., but first we need to take care of breakfast. We have already sorted out the location of a Perkins and we arrive there at 11.00am.
The menu is carefully studied and then Tam, me and India all pick the Banana Fosters pancake breakfast. Georgia opts for the Banana Fosters triple pancakes only. Sensible girl. When our meals come the plates are huge and stacked with two fried eggs, 2 rashers of bacon, breakfast potatoes and 3 thick pancakes smothered in bananas, cream and sauce. Right – get stuck in!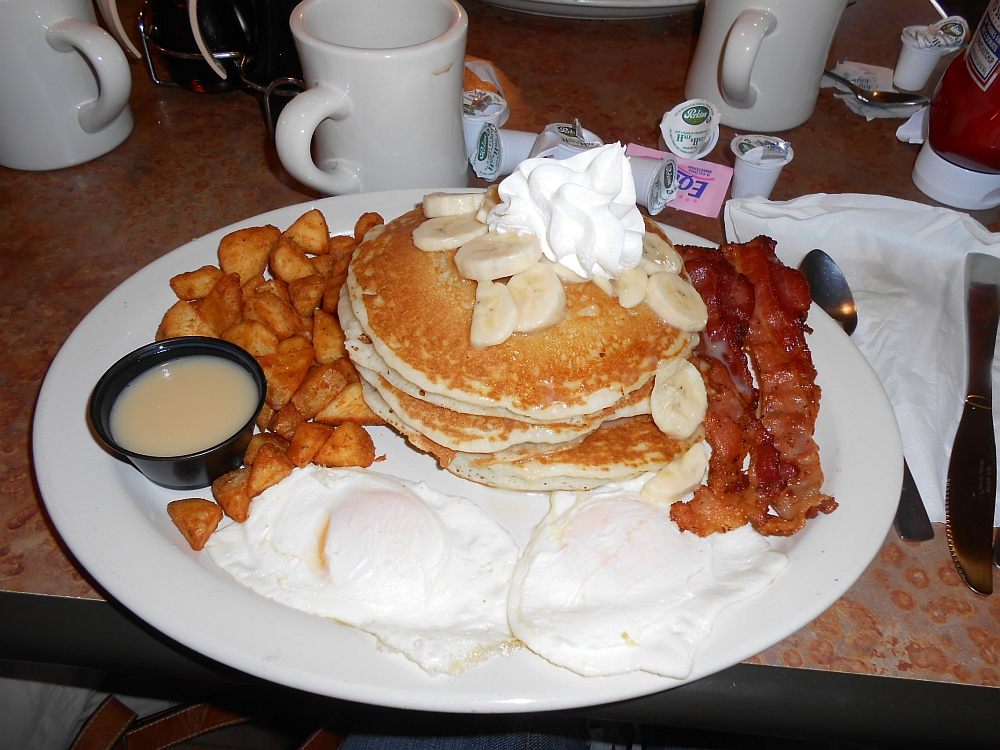 Oh, you beauty!
We all give it our best shot, but it defeats all of us. At least I manage to leave only one pancake. Georgia sits there smugly as she informed us that there was no way we would finish it.
Stuffed to the gills, we hit the road again for the 170-mile trip to Vero Beach. It's a pretty uneventful journey as I have a good navigator in India. This makes a wonderful change as Tam normally has the map reading duties. To say this is not one of her strong points is somewhat of an understatement. The number of times I have been driving and there have been harsh words due to Tam having the navigational sense of a drunken ant are too numerous to mention.
Anyway, Inds does a spot on job and we arrive in Vero Beach where we stop at a Publix to stock up on some odds and ends before continuing to Disney's Vero Beach Resort. Here we book into our two ocean view inn rooms at 3.45pm. The rooms are very nice with a view directly onto the ocean. Now I realise that this is somewhat implied by the 'Ocean View' part of the room description, but some rooms look out onto the swimming pool, so a big raspberry to you, smartypants.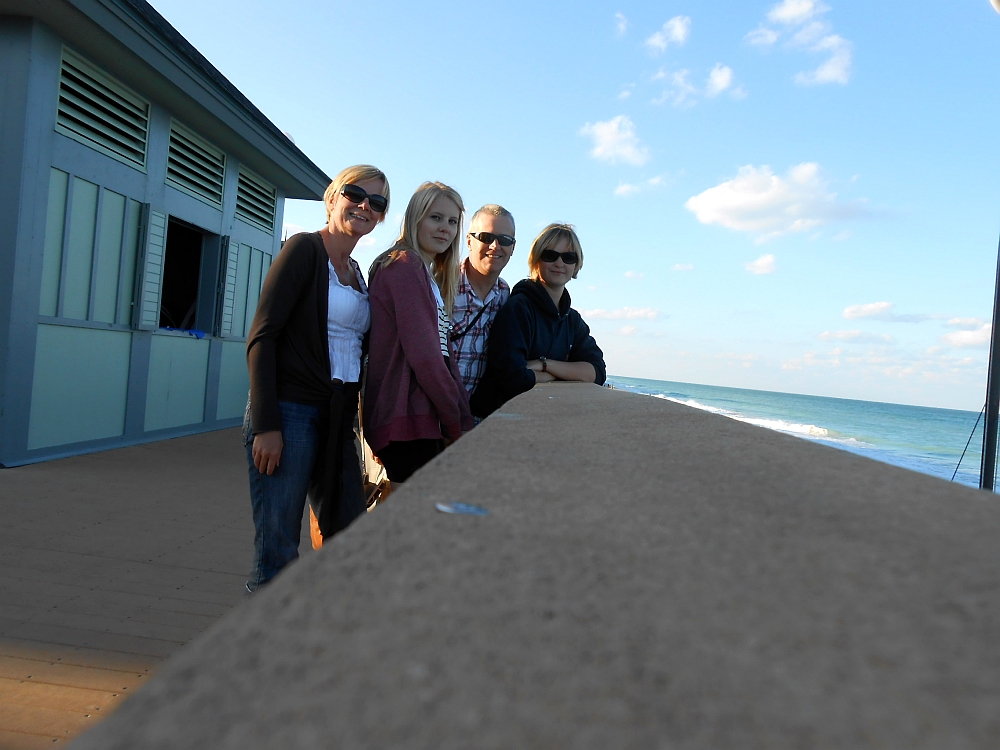 It's another of Tam's self timer photos. I'm beginning to like them.
We have a quick look around to get the girls acquainted with the place again as it's 12 years since they were last here.
Back in the rooms we unpack and relax with a beer before showering and getting ready to go out for the evening.
We are spending the night in the Green Cabin Room, which is my favourite part of the whole resort. Quelle surprise, eh?
I have a Berry Margarita, Tam has a Bahama Mama and India opts for a Citrus Infusion. Poor old Georgia, being underage in Florida, has to settle for a Coke.
We peruse the menu and Tam is perplexed to find that the Asian Chicken Wings that she so enjoyed last time we were here are no longer on it. Luckily, Tam doesn't overreact, only declaring that her whole holiday has been ruined. After the girls take turns to slap her round the face she regains her composure.
Between the four of us we order the Chicken Wings (non-Asian – steady woman!), Pork Wings, Chicken in a Soft Pretzel and Chicken & Boursin Flatbread. A nice glass of Cabernet Sauvignon is also enjoyed – except Georgia who luxuriates in a particularly fine vintage Coca Cola - a 2005 reserve, if I'm not mistaken.
Our discussion mainly focuses on how you can have Pork Wings. I prefer the theory that the old adage about pigs flying may be correct after all. It is fair to say that this is not universally accepted by the group. We are none the wiser when the food turns up as the Pork Wings look like very small lamb shanks. Piggy shanks perhaps?
At least all the food is very tasty, although the Chicken Wings are nowhere near as good as the old Asian variety, which allows Tam another opportunity for a grumble with her top lip quivering just a little.
We finish off the evening with another round of drinks – Georgia's options being limited, she makes the unusual decision of having another Coke. The girl may be using the bathroom a lot during the night methinks.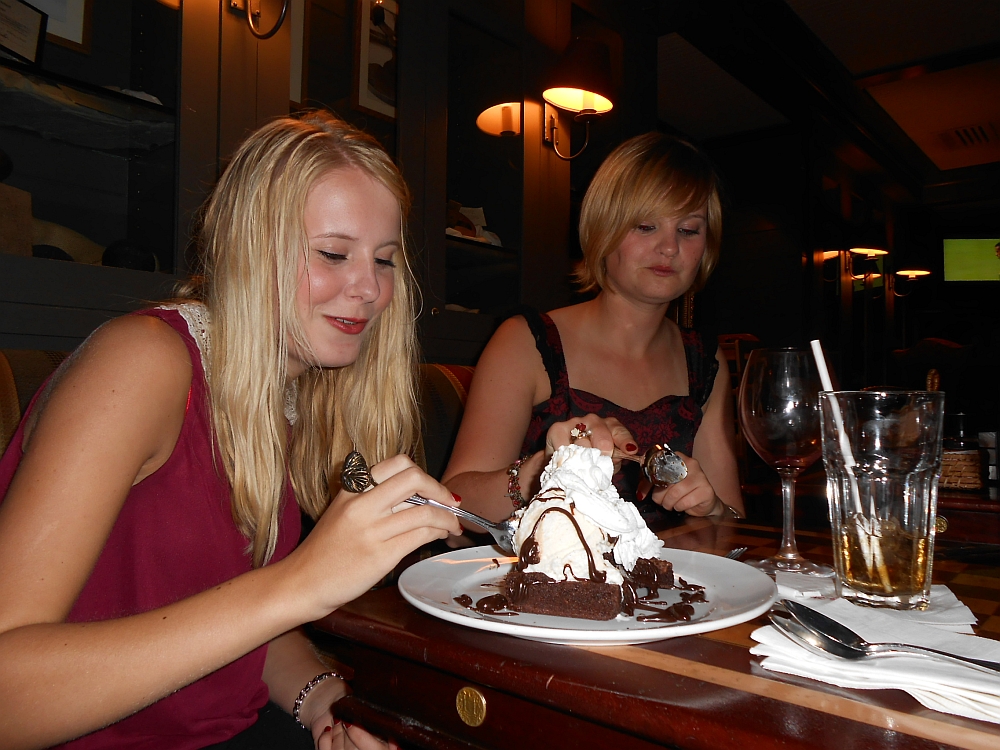 Oh yes, I'd forgotten the girls shared this little fellow.
We discuss what to do at Vero over the next two days and decide that tomorrow we will hire bikes for the day and repeat the tour Tam and I took last year to Pelican Island National Wildlife Reserve as the weather is turning cooler over the next few days. Now 'cooler' is a relative term, as it's still going to be around 70°C, with clear skies, but it will be cold at night.
Bed at 11.00pm.
[NOVEMBER 2012 REPORT HOME PAGE]