DAY 5 - SUNDAY 4th NOVEMBER 2012
Written by Tam
Participants: Tam, Kev, India and Georgia
The clocks went back last night so what with that and the jet lag our body clocks are all over the place.
It's quite foggy whilst we eat our breakfast - so we entertain ourselves until the sun burns it off. Kev watches the Grand Prix on line and the girls and myself play Uno Flash, which is a lot of fun.
Go to the North Captiva Island Club and get out 2 double kayaks. There are quite a lot already out so we were lucky there were any left. I hook up with India and Georgia goes with Kev. We have a lovely paddle up the coastline of the nature reserve. There is a mist on the water still and it all looks quite mystical – we can see some fisherman standing on their boats further out and it makes for some interesting photos.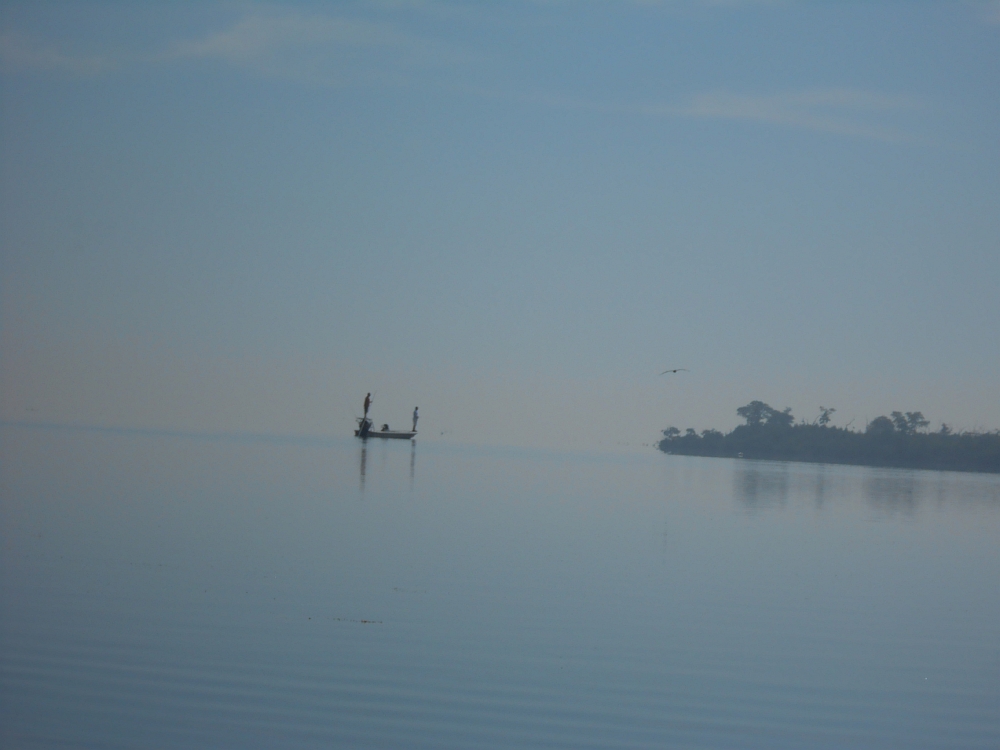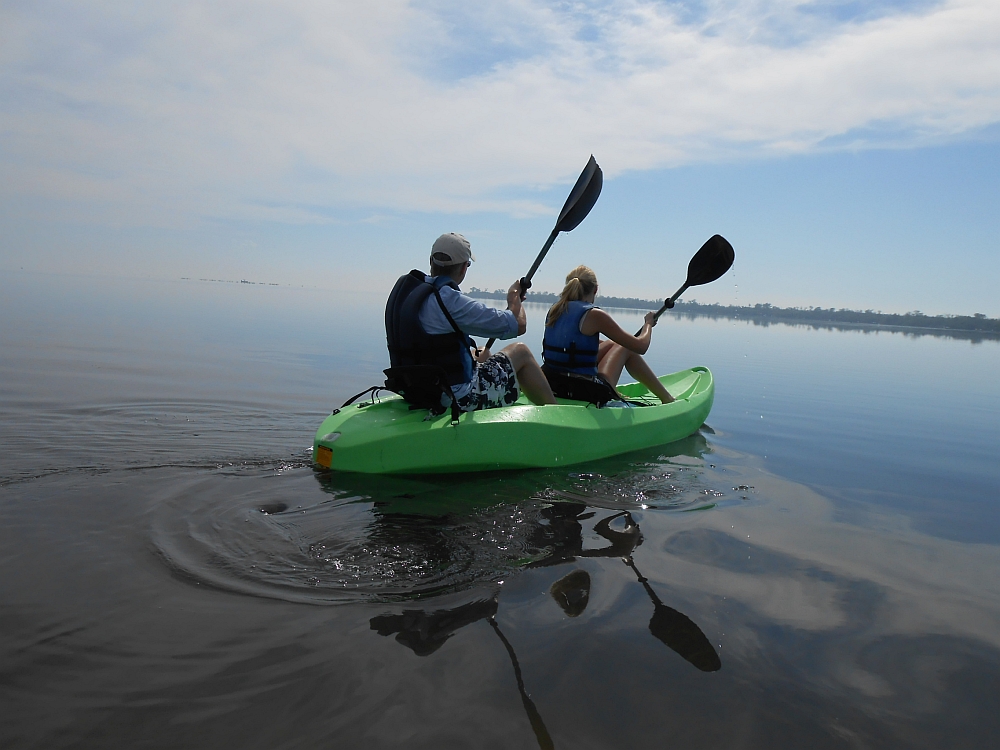 [Kev - What grace! What style! Georgia and I show off our natural athletic ability.]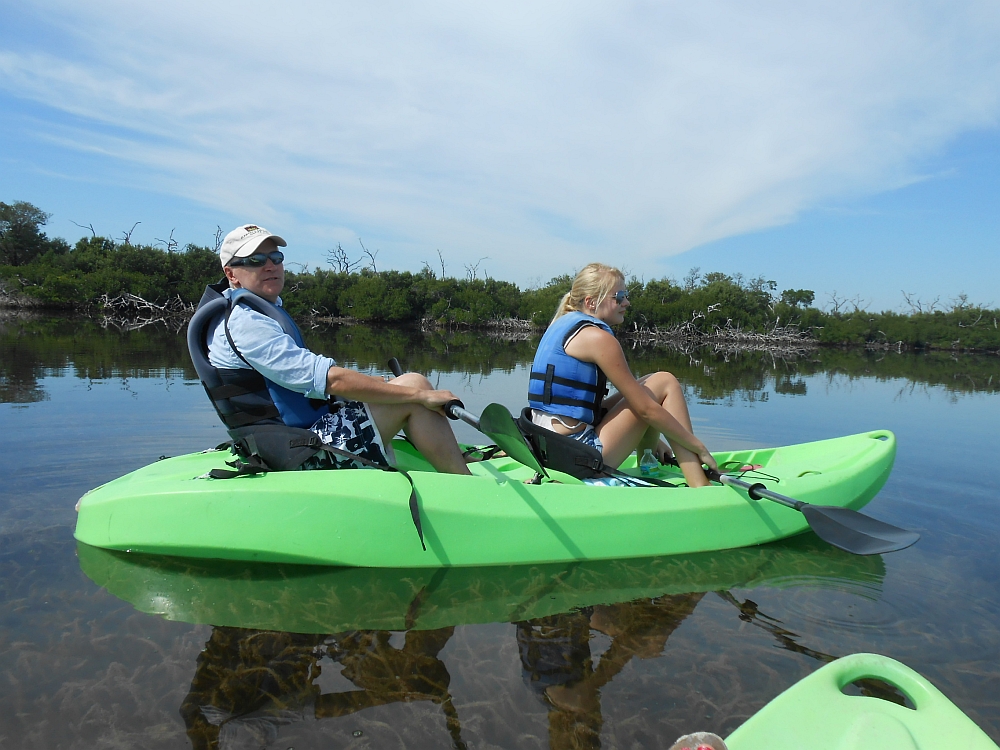 [Kev - athletic ability all worn out, we settle for relaxing and wheezing a little.]
The mist eventually burns off and it gets warm – we paddle out to a spit where the girls get out to paddle and look at all the crabs. It was a lovely relaxing way to spend a couple of hours and the water was so calm.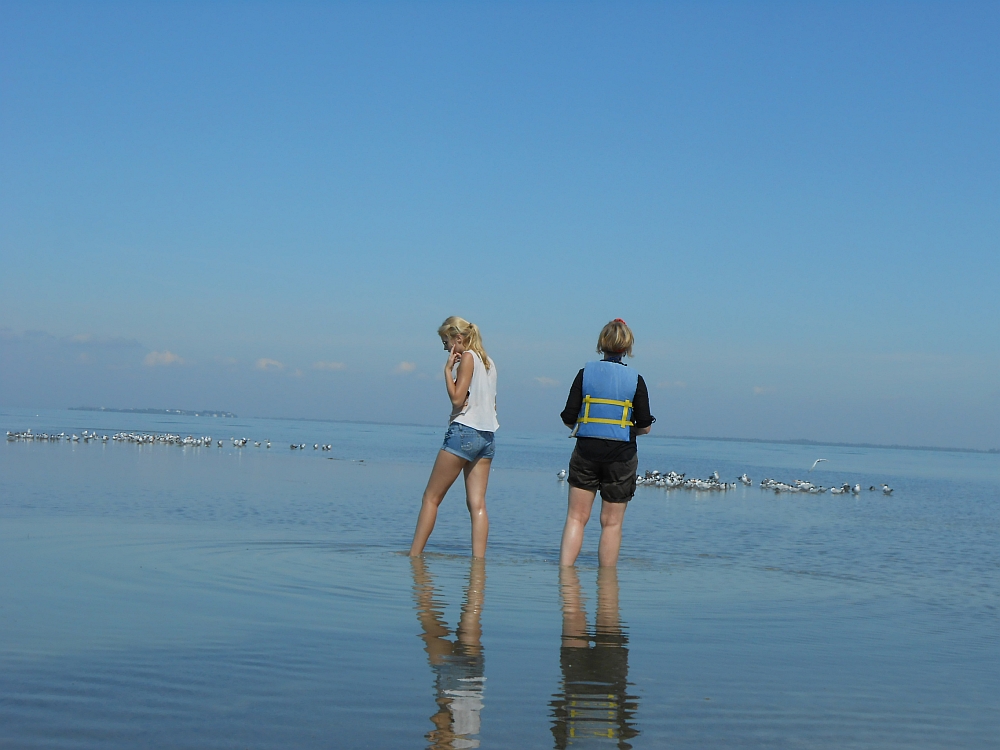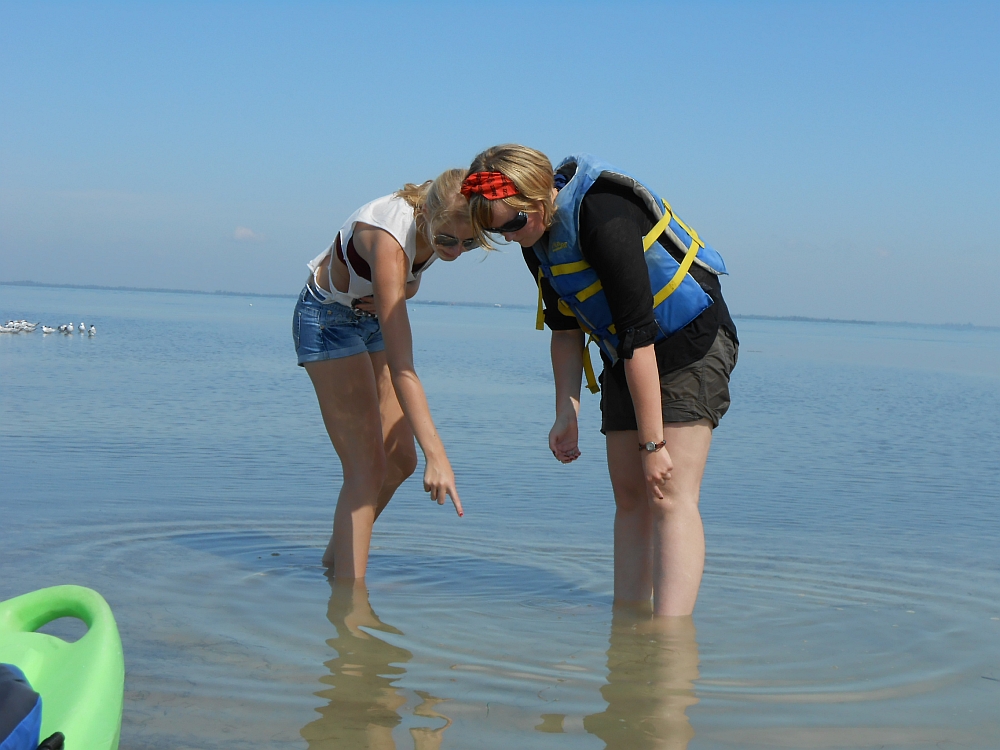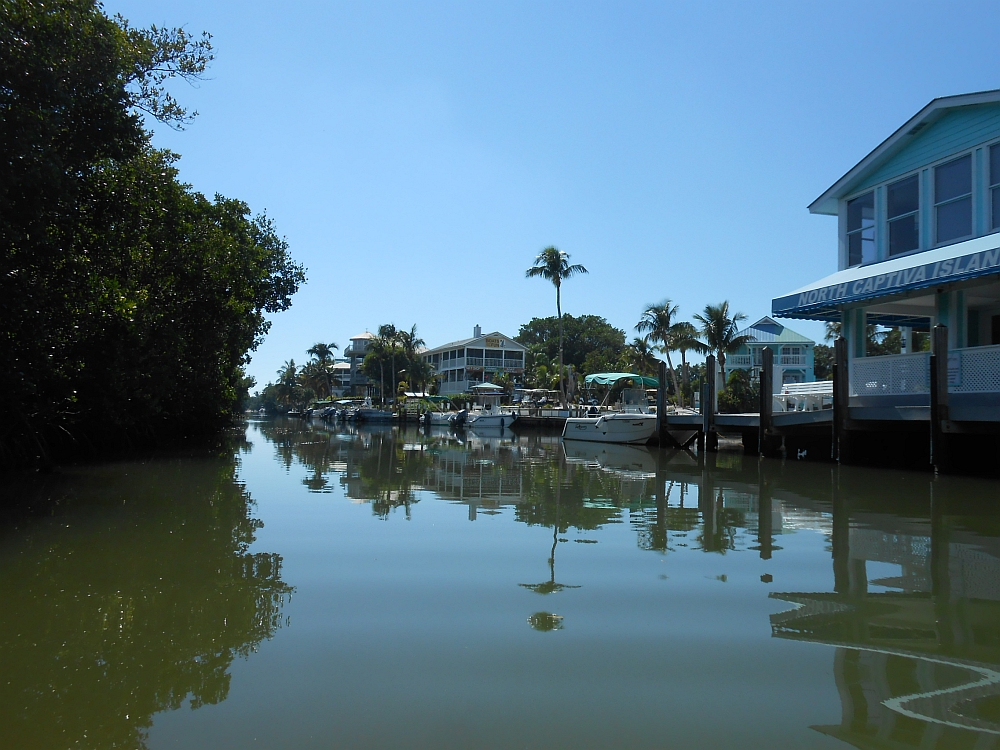 Back on dry land we go to the shop and buy a nice bottle of wine to take to the Over the Waterfront restaurant tonight – as it is not licensed.
We have lunch by the pool of toasted ham and beef sandwiches and Lays.
India and I sit by the pool and read our Kindles, Georgia has a nap and Kev goes for a walk up the shore. When Georgia gets up we go to meet him as he has been gone hours. Unfortunately we didn't know whether he went left towards the nature reserve or right towards the airstrip – we picked the wrong one and reached the airstrip without passing him. It was a good walk and we saw some of the lovely beach houses – there were a few people on the beach on our walk but it wasn't crowded at all.
[Kev - I walked 2 or 3 miles down the beach into the nature reserve. I think I passed two people in all the time I was out.]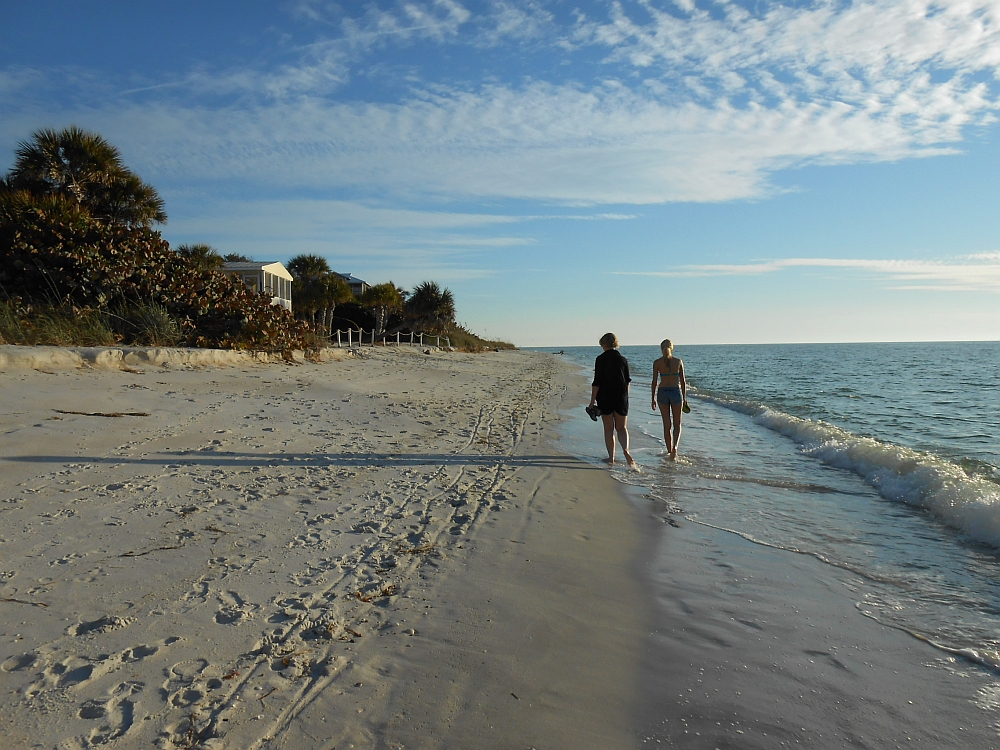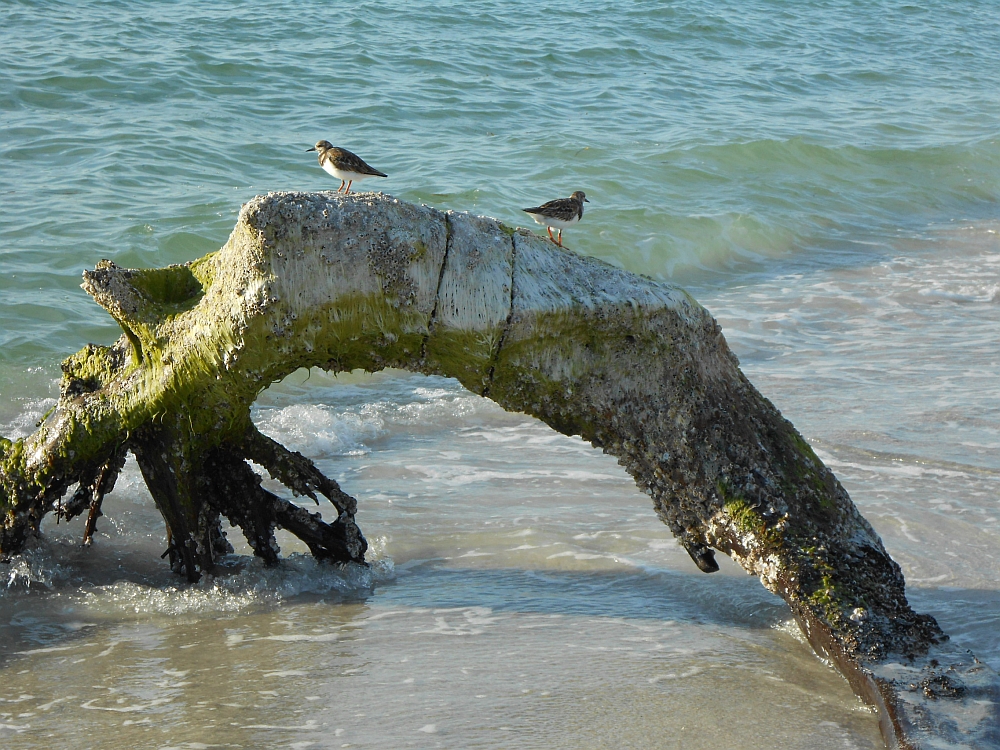 [Kev - Scuttlers! Although they tend to be sitting and watching rather than scuttling.]
Back at the villa Kev waves from the roof – he has got back and made himself a Cuba Libre. We watch the sunset again, which is accompanied by the most amazing clouds – a real sight to behold.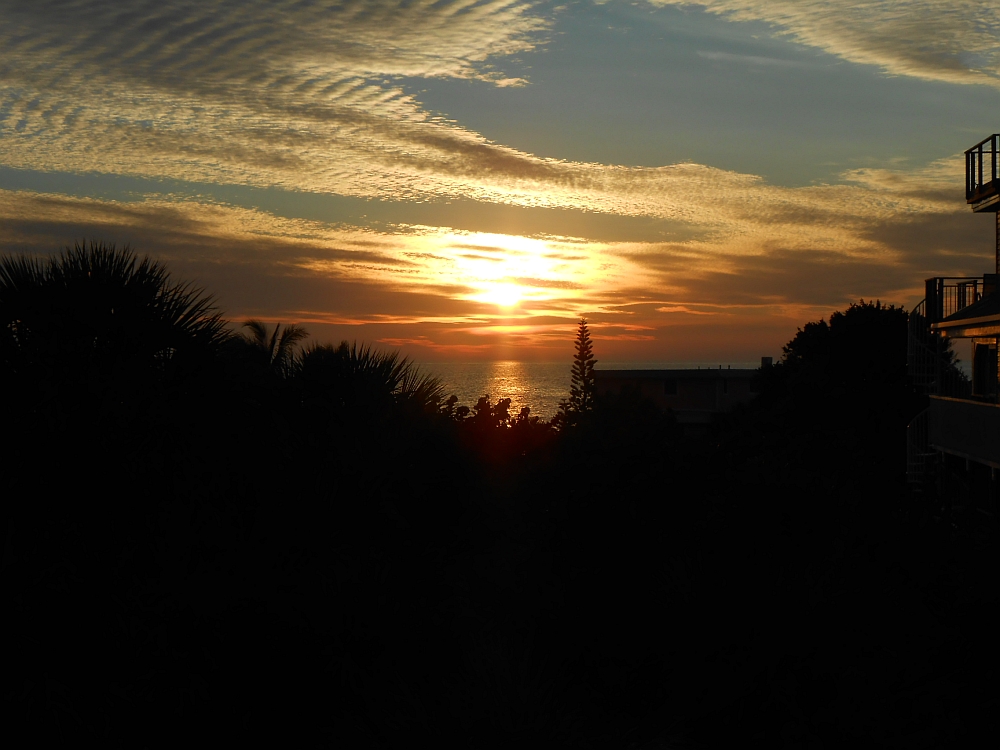 Get ready for our evening out and get in the golf cart – this is when we realise that the lights on the golf cart don't actually work. There is a torch in the front and this is obviously why – I grab another torch from the kitchen and the girls sit on the back with their torch and I shine the other one at the lane so Kev can see where to go. It's a hilarious journey – the wine and drink in a bag clinking by my feet and us trying to light the way – I have certainly never arrived at a restaurant in such an unorthodox fashion before and doubt I will again.
Dave runs the Over the Waterfront Restaurant and is doing everything, host, cook, waiter, barman, washer upper and entertainer. It has very basic décor – nothing fancy and there is already a large table of diners there, probably around a dozen – how he has managed to serve and cook for all of them on his own is beyond me. The restaurant probably holds 20 people inside and there are some other tables on the outside deck.
We have some delicious warm bread and butter and decide what to order. We each start with salad with dressings – we choose either blue cheese or the balsamic dressing – which was lovely. Kev and India then go for the rosemary chicken with cheese in puff pastry served with a delicious mash and ratatouille. Georgia has shrimp in a Cajun cream sauce served on rice, which she splits with Kev, as it was quite spicy for her. I have the cheese and crab stuffed grouper in puff pastry, which was delicious. Dave is so funny – he has a Winnie the Pooh Bear dressed as a waiter which he has singing "That's Amore". Then he has a Christmas band of toys singing. How he manages to juggle activating the toys together with chatting, cooking, clearing and washing up is quite awe inspiring. For pudding we go for the Bananas Foster as we have heard good things about it – it certainly doesn't disappoint. He was however a bit miffed that we didn't choose his Key Lime Pie so he gives us a huge slice to go for free.
I didn't manage to finish my grouper so Dave asks if I want it packed to go – when I say I would he asks what's my favourite dinosaur!!! I state a triceratops – his face drops but he grabs a roll of foil and before you know it my grouper is encased in a foil triceratops of sorts. He does say that he normally gets asked for tyrannosaurus and he only knows how to do those!
It was a lovely evening, very entertaining and great food – the bill was $118 – obviously we had our own drink so this made it a lot cheaper. India very kindly paid as a thank you for taking her on holiday but we left a $30 tip as Dave had made it such a fun night.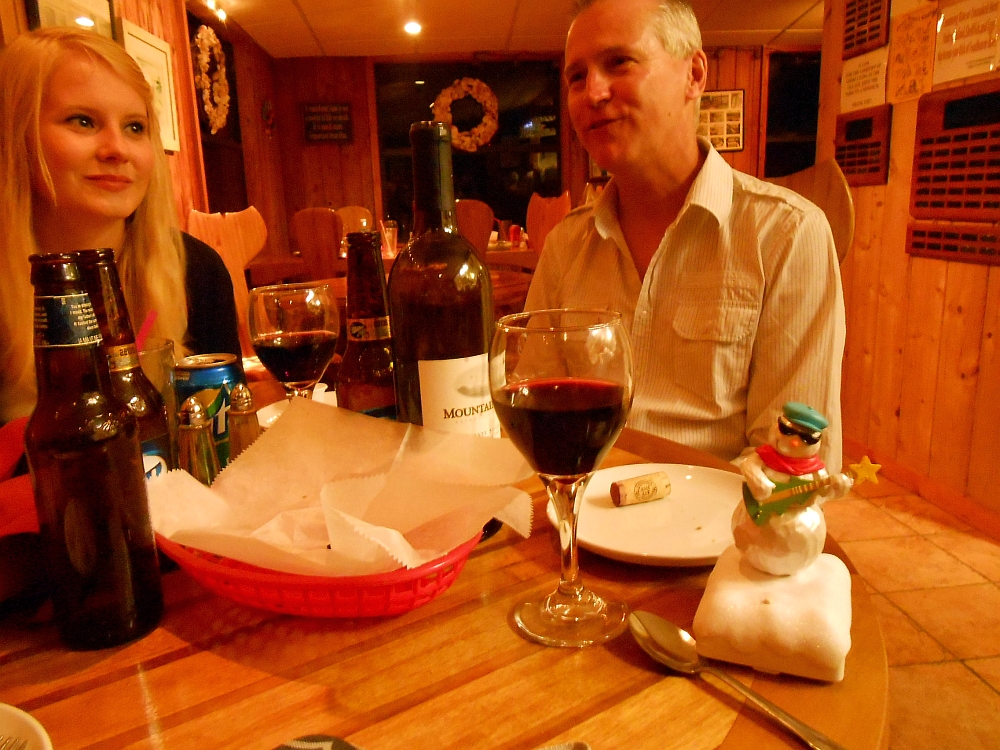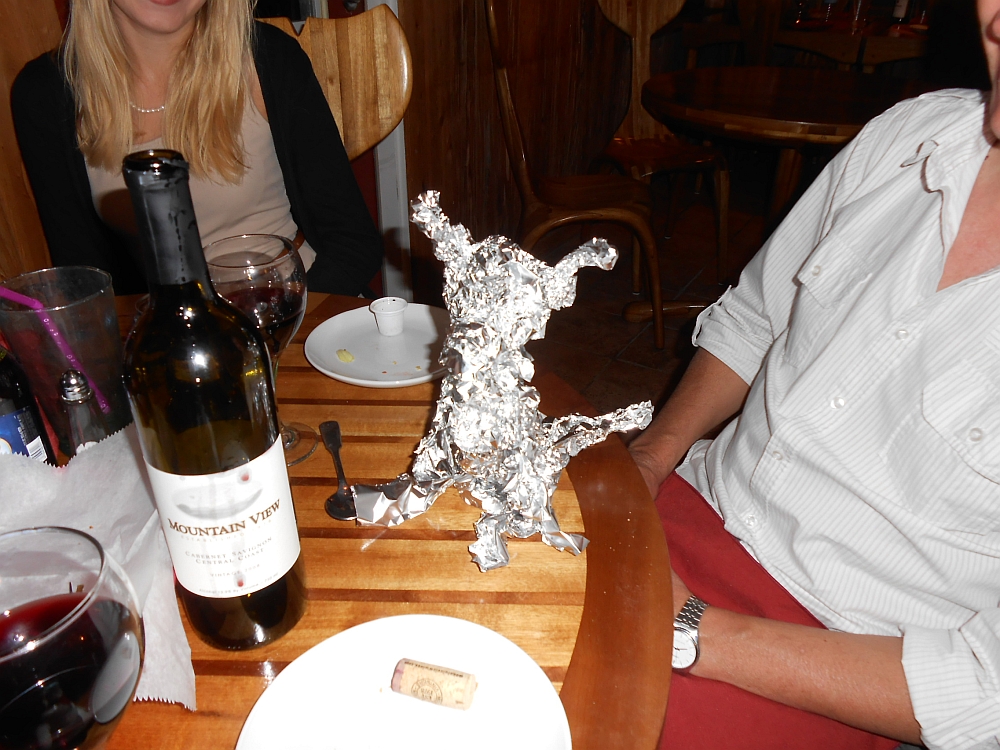 [Kev - a triceratops? Dave is a top class host, but I'm glad he didn't do the special effects for Jurassic Park.]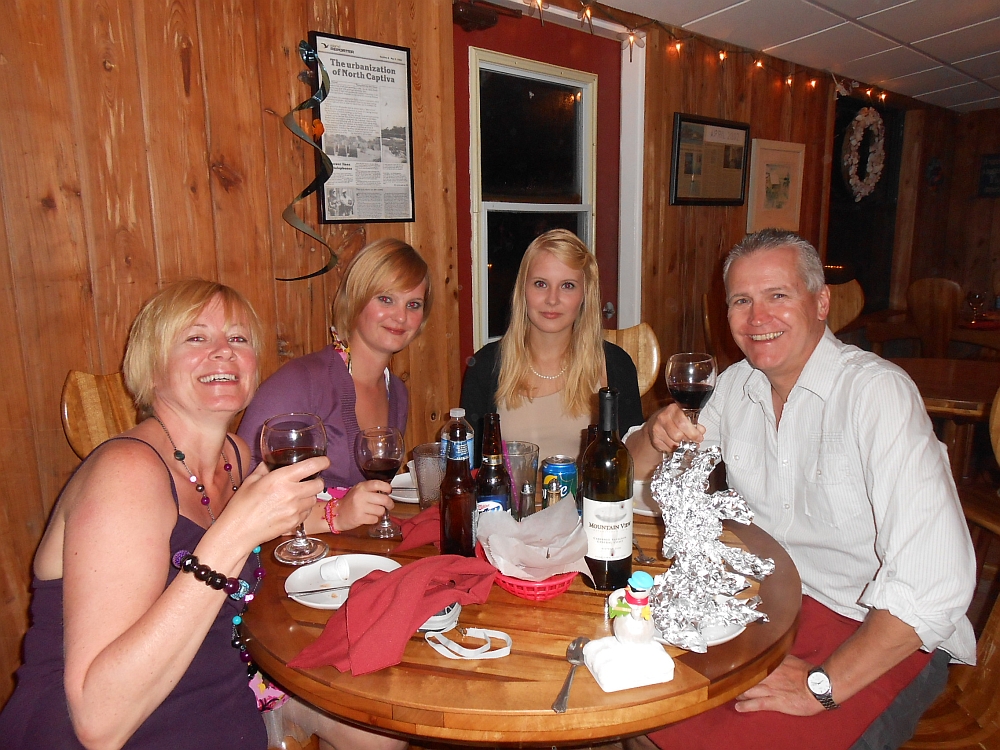 The journey back was even more hilarious as by now we had drunk a bit of wine and beer and we were in fine spirits – luckily we only passed one other cart on the way home and the torches managed to show us the way safely through the sandy lanes.
The girls have a game of Battleships and then we have a game of Snatch – a brilliant game that the girls gave me for Mother's Day. Kev is relaxing listening to music and drinking Cuba Libre and he can't resist a jolly jape about watching three women playing with their Snatch!! We all groan at his childishness but in fairness this isn't the first time this game has resulted in double entendres.
[Kev - oh come on! If somebody is daft enough to name their game 'Snatch', they are just asking for trouble. I'm just glad we left the other game in the compendium at home. It's called 'Front Bottom'.]
[NOVEMBER 2012 REPORT HOME PAGE]