DAY 4 - SATURDAY 3rd NOVEMBER 2012
Written by Tam
Participants: Tam, Kev, India and Georgia
I wake at 6am and Kev isn't much later – we head up to the roof to see the sunrise but can't actually see much as it is quite misty and you can't see the horizon on the other side of the island very well.
After breakfast we decide we must work out how to collapse the Tommy Bahama chair we took to the beach yesterday – it looks to be impossible and we are loathe to push it too hard in case something breaks off. We think that the only answer is to search the internet – Georgia finds the solution and she goes downstairs and manages to collapse it without anything falling off.
[Kev - we nearly had to phone our friends Jules and Ian as we know they have got one of these chairs. In the end it just took a bit of brute force and ignorance - one of which I have in abundance - I'll leave it to you to work out which one.]
We go out for an explore on the golf cart – first stop is North Captiva Island Club – we had paid an additional $70 so that we could use the facilities here which includes a pool, bar, shop and most importantly kayak rental. It worked out cheaper to pay for the membership than to hire the kayaks separately.
In the little shop there is a good range of crafty goods but also some nice wines and food for sale. India decides to buy a toe ring and some earrings and Kev buys a shot glass to use as a measure for cocktails back at the house. We pick up our pass and then go to Barnacle Phil's.
[Kev - crafty goods? Are these goods that are somewhat sly and cunning?]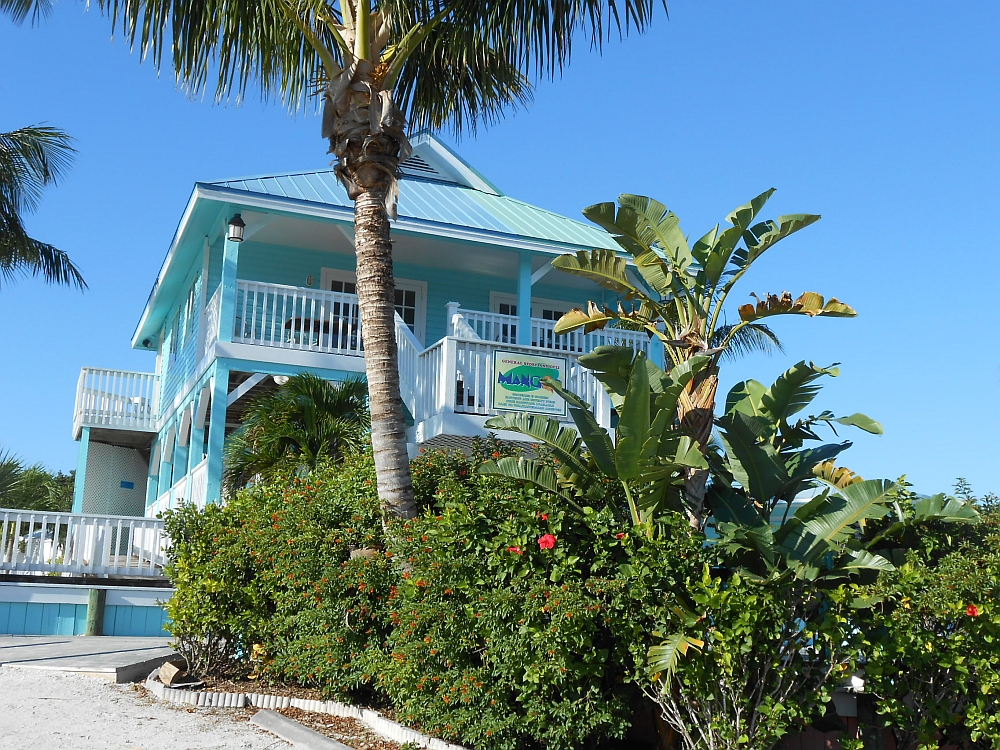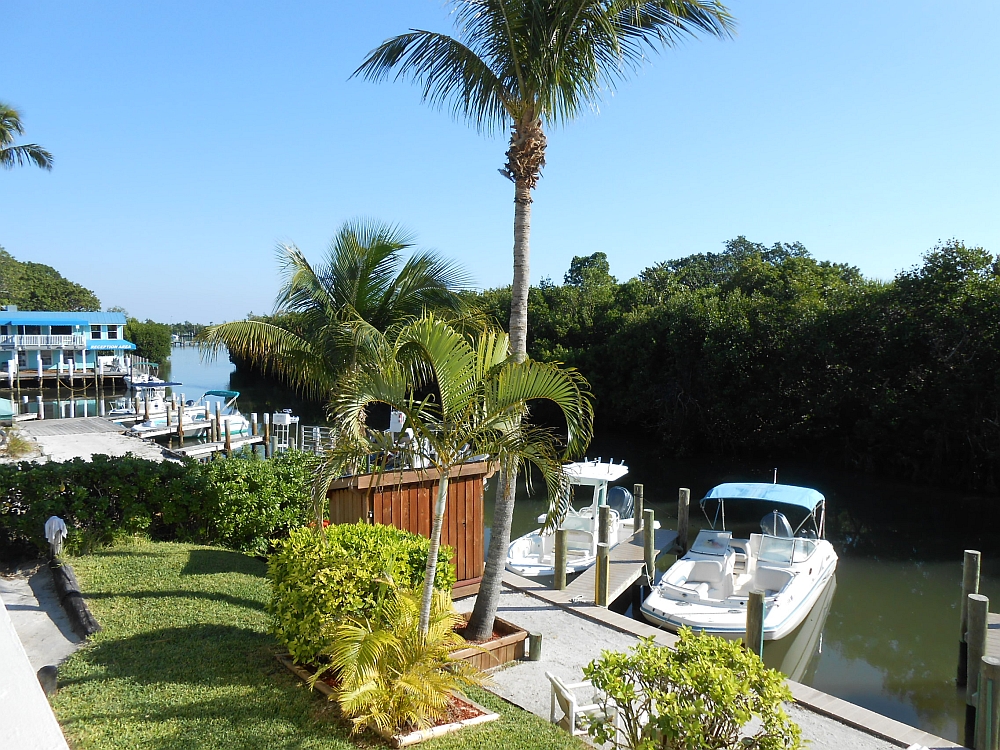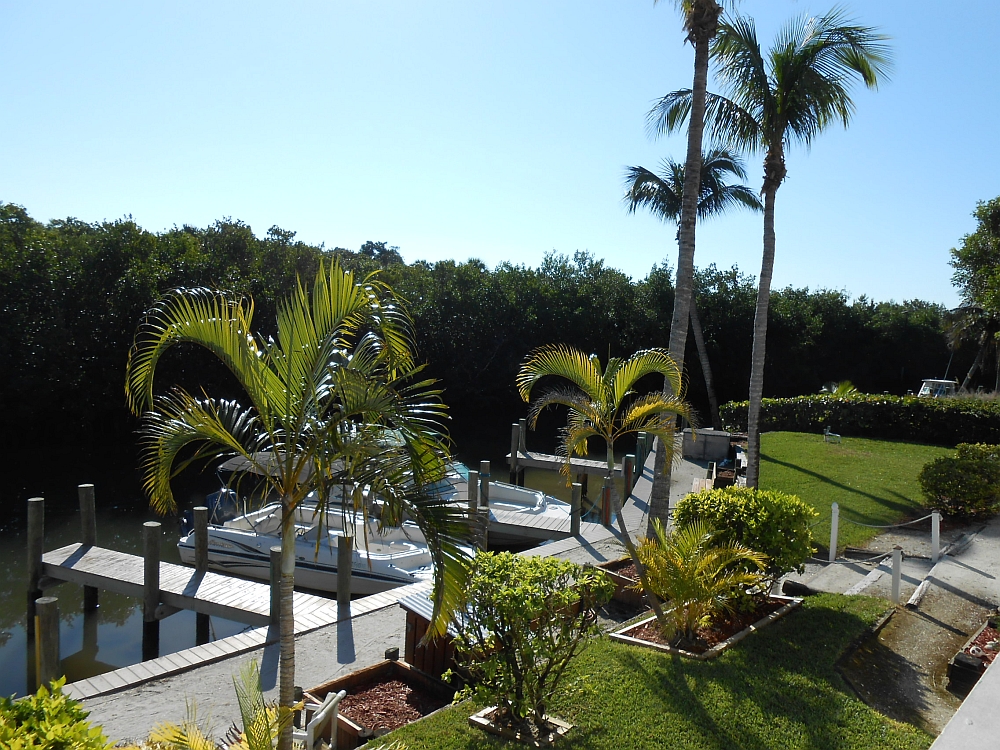 The bar wasn't open but we have a look in the shop and decide to sample one of their ice creams – Vicki, who met us off the boat, told us that they were particularly good. There are various flavours on offer including some seasonal varieties – Spiced Pumpkin Pie and Caramel Apple. He allows us a small taste of both – we all agree the Pumpkin isn't to our liking – a bit too spiced - but the Caramel Apple is delicious. So we have 3 caramel apple and 1 butter pecan in waffle cones. If we had realised just how much ice cream he would cram into them 2 would have been more than enough. The price is just $5 each. They also do a 3 scoops for $7 although if what we had was classed as 1 scoop I can't believe anyone could manage 3 but it's a good way of trying different flavours. We sit on the deck outside the shop which, being on the first floor, means we have a good view over the water.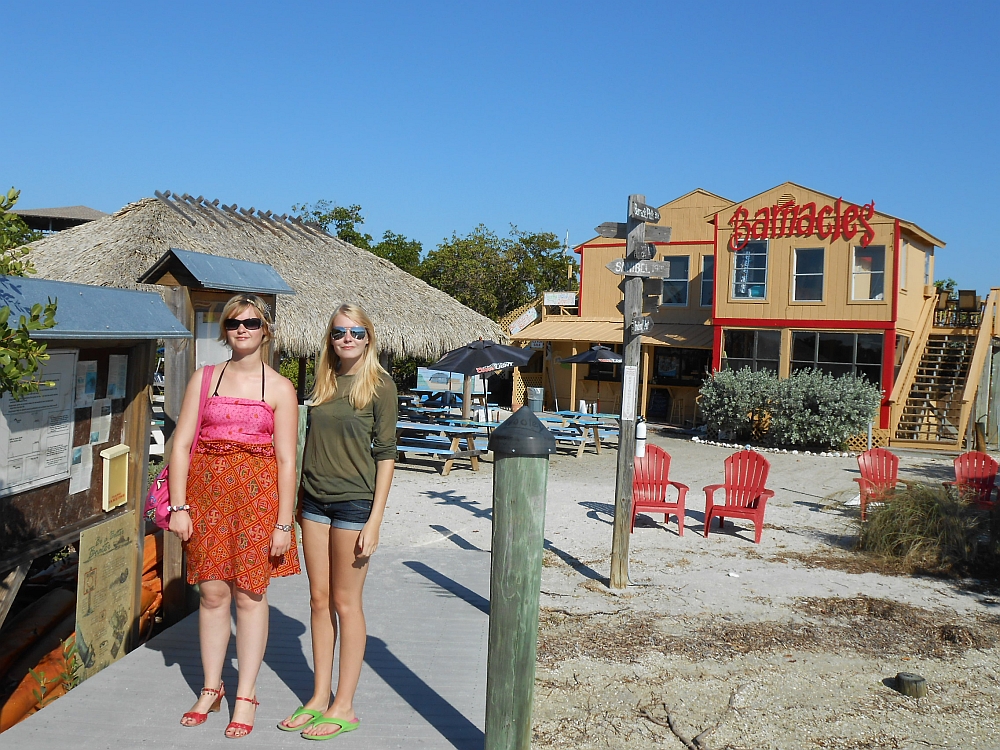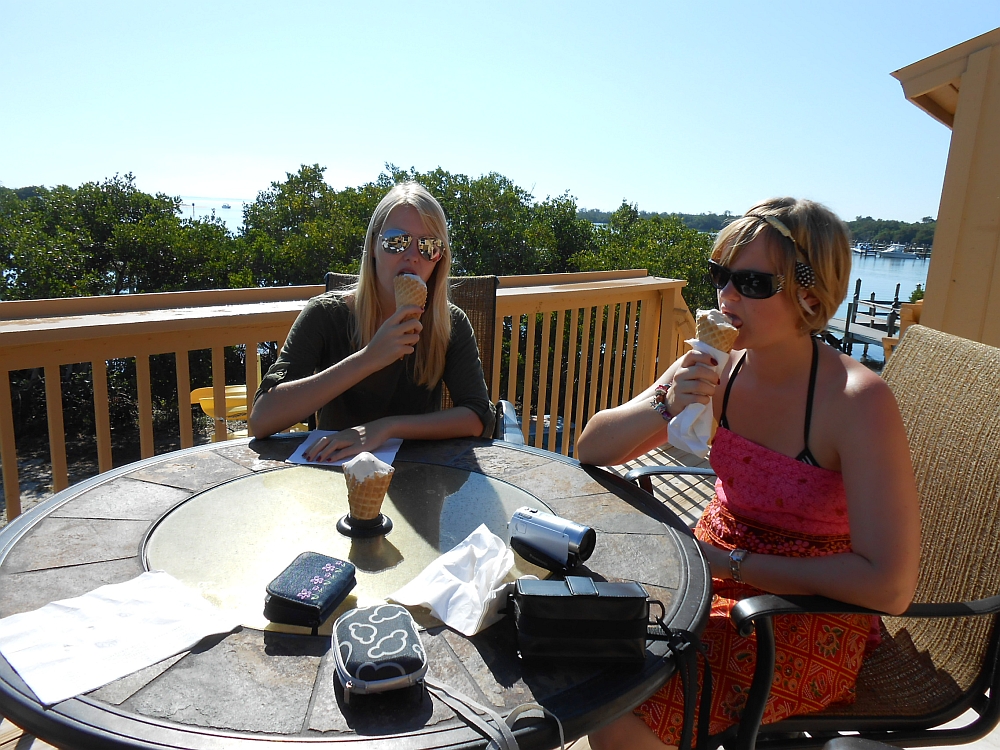 [Kev - notice the device in the centre of the table that Tam found to hold her ice cream. I won't tell you where I put mine.]
We want to dine at the Waterfront Restaurant and Marie the owner of the Little Ark made us a reservation for 7pm tomorrow so we drive off to find it. It's not that obvious but we eventually find it – it is in the grounds of the Safety Harbor Club and is on a small wooden pier jutting out over the water – very peaceful and picturesque.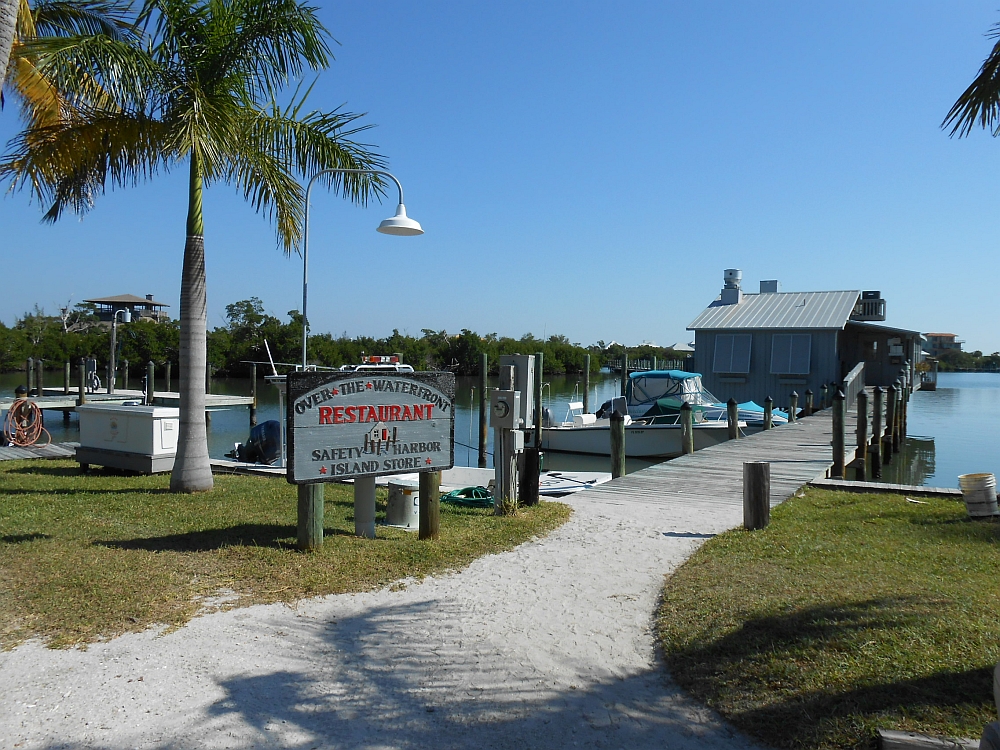 On the way back to the villa India and I both have a go driving the cart, which is surprisingly tricky in places where the sand is deep. We stop at one of the beach access points and again the beautiful sandy beach is deserted. Then we find the entrance to the nature reserve – have a short walk along the path but decide we will do the main walk to the edge of the island another time, as it is quite a long way.
Relax by the pool with margaritas, sour cream and onion lays – standard fare for us when in America. For lunch we have sandwiches and wraps filled with the ham, beef and salad that we have.
Georgia declares "I can't believe I have to live most of my life without Lays – it just seems so inhumane!" – well we all knew she loved Lays but we didn't realise just how much of an impact not getting them in England had on her life.
After lunch we take the cart down to the beach – laden with the beach chairs and the inflatable tube. While the girls float around in the sea Kev and I walk along the shore – there are lots of the little birds around that we saw when we stayed in Captiva – Kev calls them scuttlers after the way they "scuttle" away when a wave comes towards their feet. At one point on the beach we see a bride – what a beautiful setting for a wedding.
[Kev - I loves me a scuttler. I could watch the little devils for hours as they forage around the edge of the water.]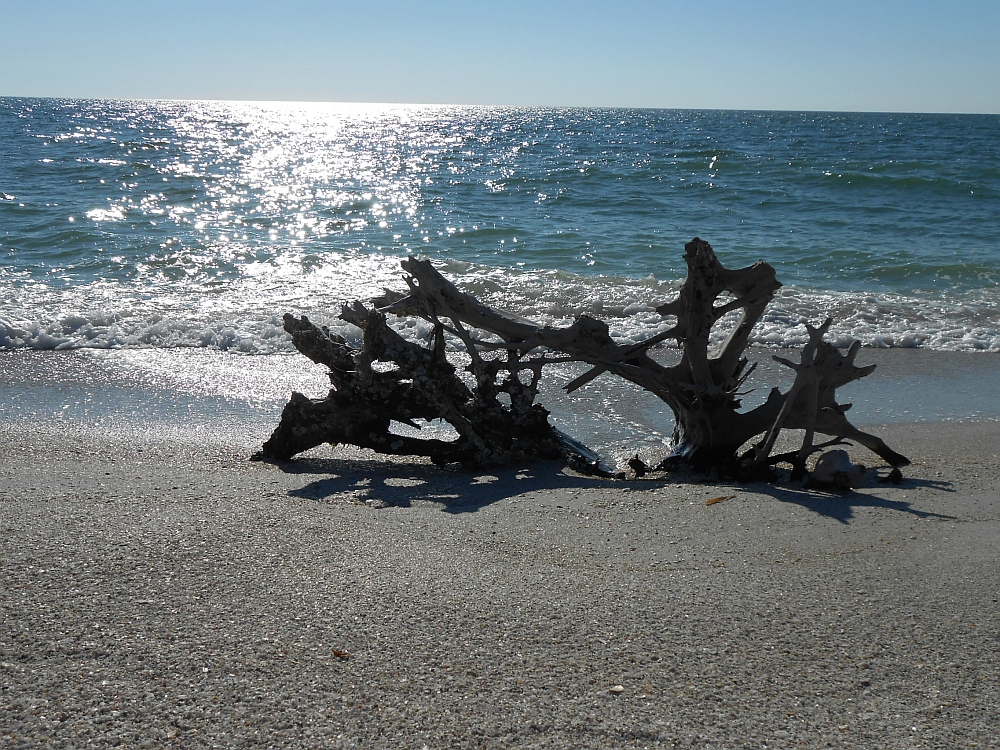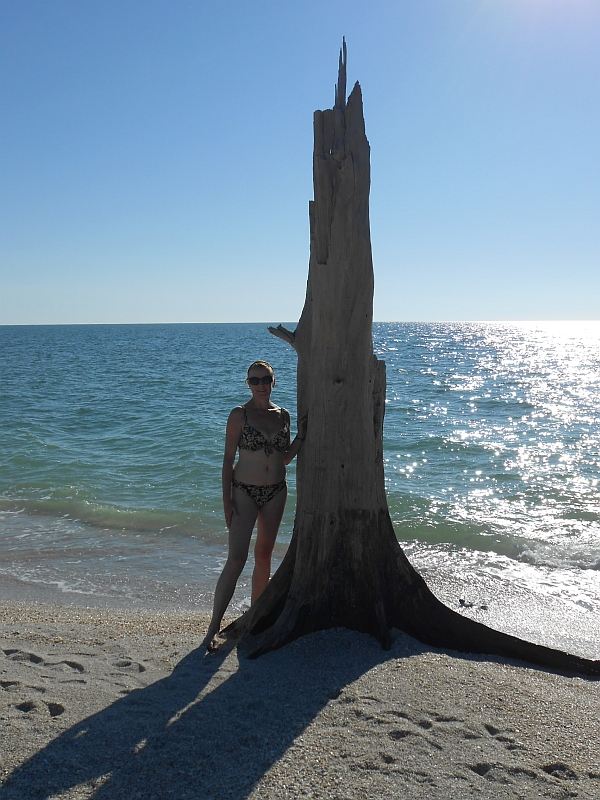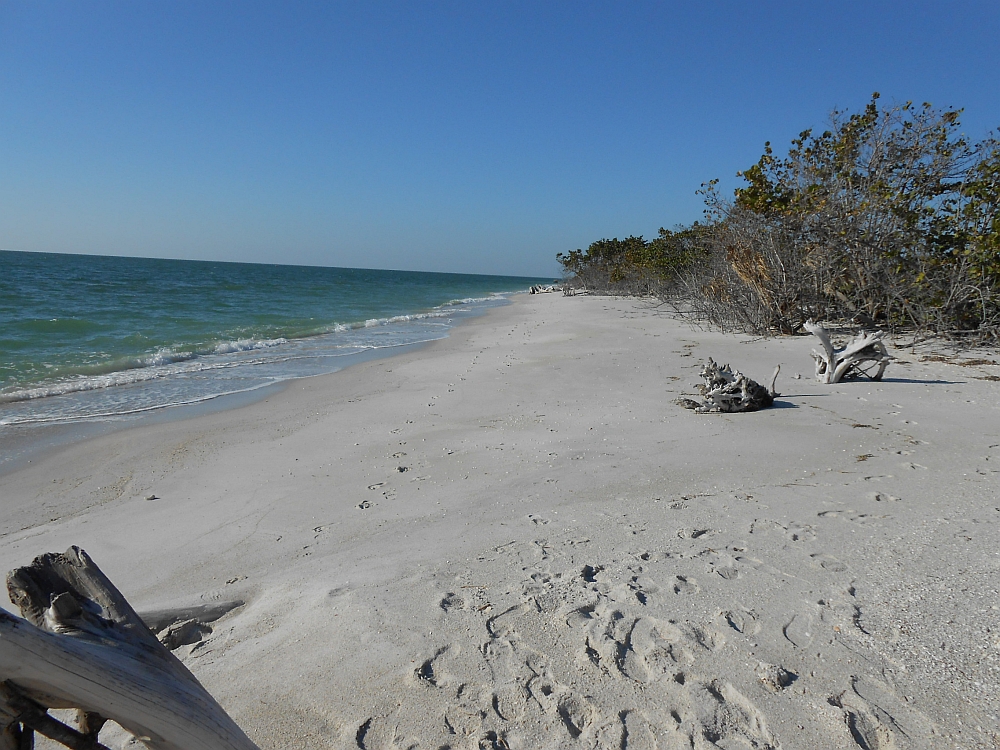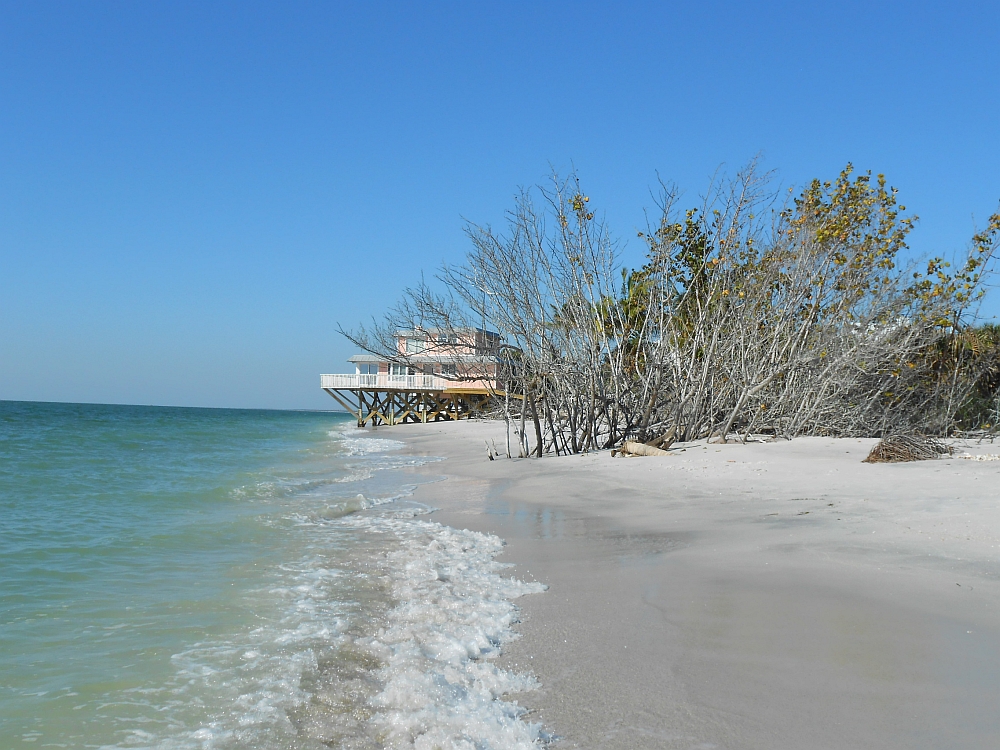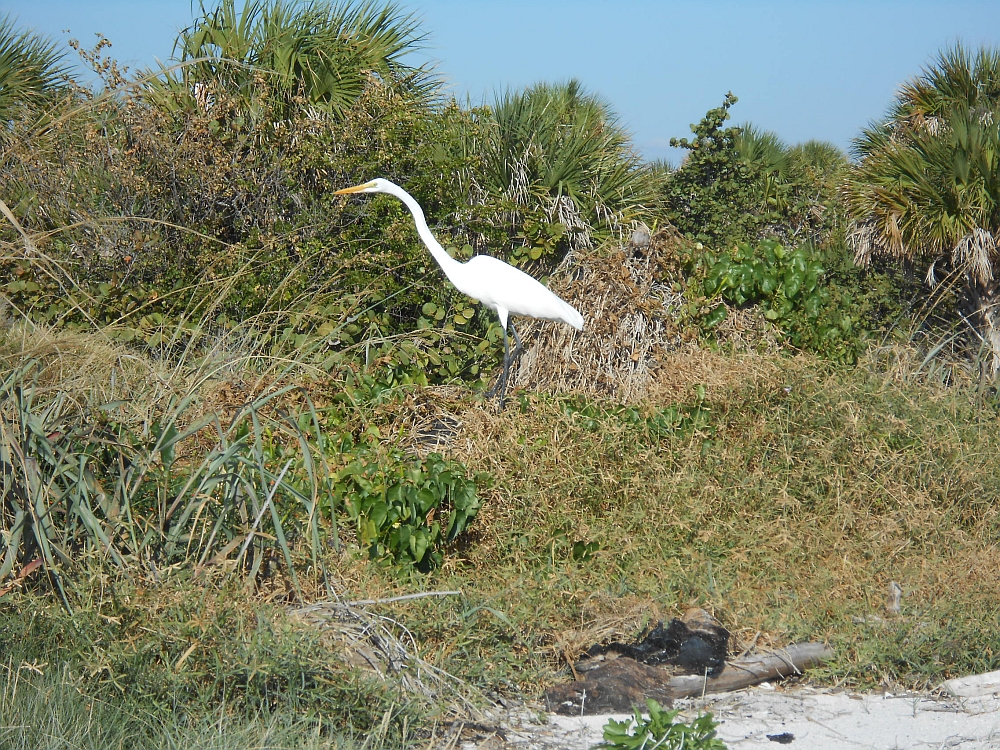 We head back for more relaxation by the pool but at 6.30pm walk back to the beach to witness the most amazing sunset. We then take some cold beers up to the roof deck and get in the hot tub and watch the sky change from orange to red - getting darker and darker – what an incredible place to see this from. The sky then becomes black and due to the lack of light on the island the stars were incredible.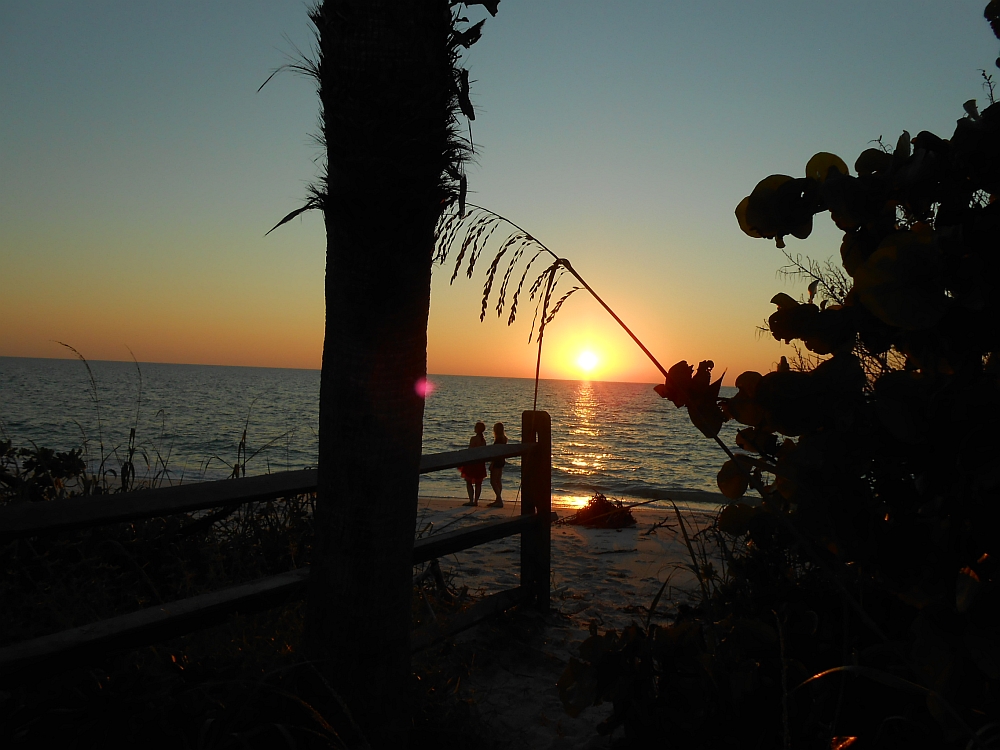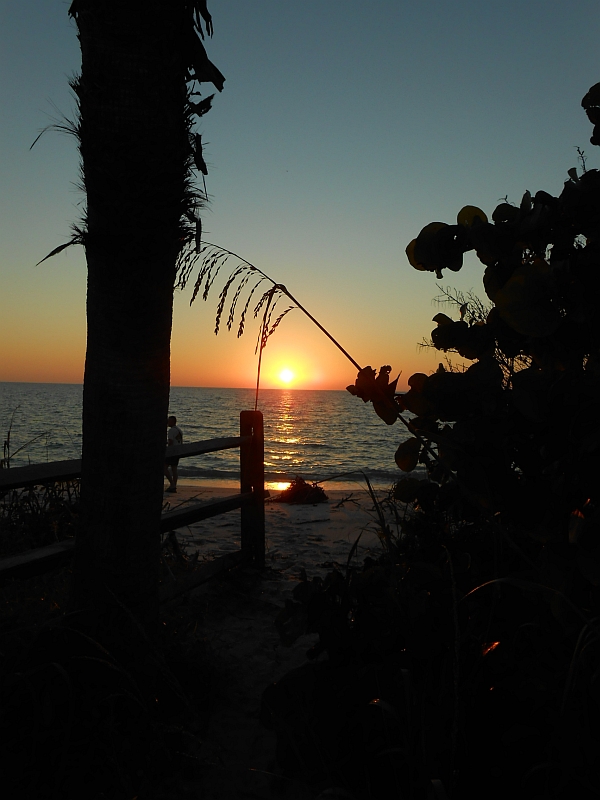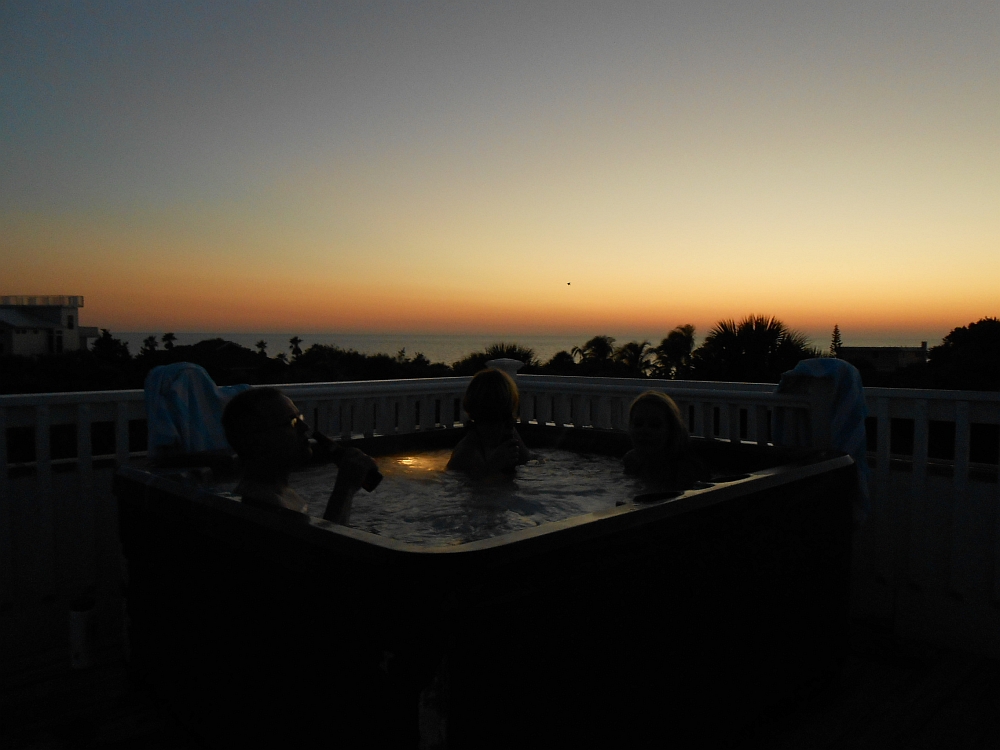 [Kev - a beer, a hot tub, a sunset - there's not much that could make this picture any better.]
Kev fires up the barbecue and tonight we enjoy the tuna, Cajun catfish with baked potatoes and barbecued corn on the cob – cooked in their husks. Another delicious meal – you can't beat barbecued food eaten on a screened porch in North Captiva – no traffic noise just peace and quiet.
Tonight's game of choice is Apples to Apples and Georgia wins again – she is certainly on a roll. She then decides to tackle a jigsaw – it's all fun and games here you know!.
India's highlight of the day was hearing on the news that some people had been arrested for wrestling an octopus out of a harbour. Luckily some good Samaritans stepped in and rescued it.
[NOVEMBER 2012 REPORT HOME PAGE]