DAY 18 - SATURDAY 17th NOVEMBER 2012
Written by Kev
Participants: Tam, Kev, India, Georgia, Sharon, Deb, Matt, Mark, Mandy, Karen, Simon and Susan (old Uncle Tom Cobbley and all - that will puzzle any American readers).
The day starts well as Tam and I wake up around 7.00am. Tam (who isn't the biggest Disney fan in the world) comes out of the shower singing 'A Whole New World'. I feel the magic may be at work here.
This is our last full day and the forecast is for temperatures up to 75°F, partly cloudy with a good chance of showers this afternoon.
We are out of the room and into the Boardwalk Bakery at 8.30am for breakfast. There is a bit of a queue and I have a Cheese Danish and coffee. The girls have hot chocolate, which is boiling hot. As we exit a guy bumps Georgia and she spills it onto her hand. He doesn't even say sorry. There's no way he couldn't have known as Georgia cried out. The ladies in the bakery give Tam a bag of ice to put on it and luckily it's not too bad.
We enter Epcot via the International Gateway just after 9.00am and store our eveningwear in the lockers. On to Soarin' where we meet up with Deb, Matt and Sharon. We get Fastpasses and then ride Listen to the Land.
On to the Nemo ride in Living Seas where I manage to break my sunglasses and have to buy a new pair. At least they weren't expensive. I don't think I'll ever own a really good pair of sunglasses; I'd be too worried about losing them or sitting on them. And I'm a cheapskate.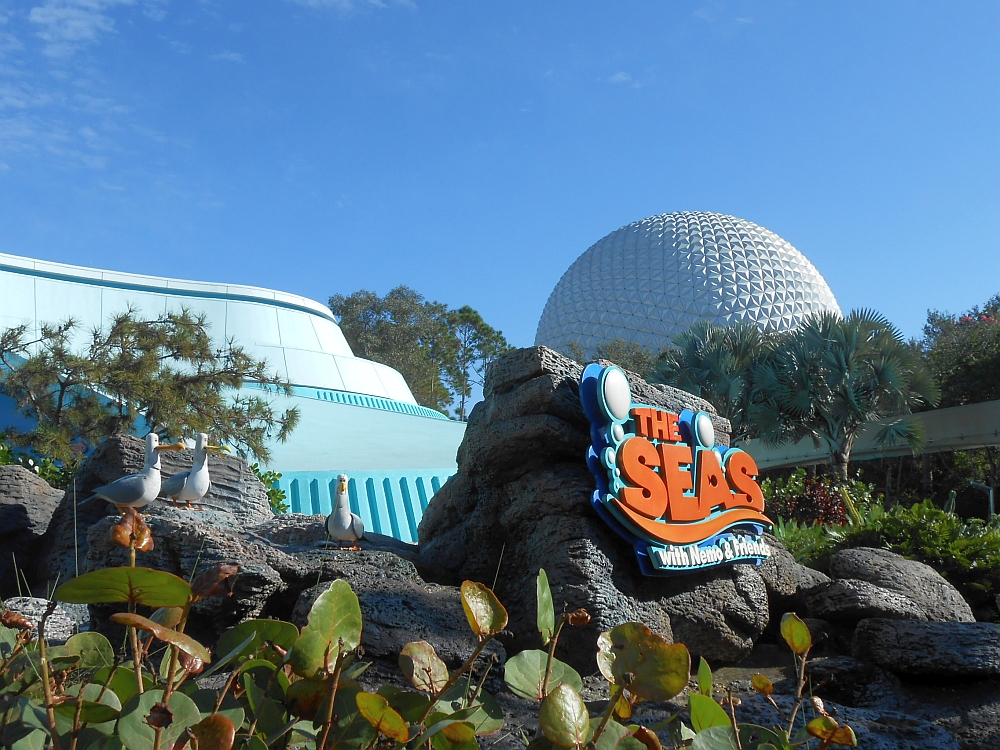 Deb and Matt leave now as they are going shopping and we'll meet up again later, so the rest of us ride Spaceship Earth. As we exit Tam suddenly decides that she can't remember if she left her hair straighteners on in the room or not. What a first class plonker. This is not a totally unknown event, we have often had to return home just after leaving to ensure that we are not going to be imminently burnt to the ground and not once have they been actually left on. Despite me telling her so, she still decides to walk all the way back from Spaceship Earth to the Boardwalk to check. Like I said, a first class plonker.
The remaining 4 of us go to Mission Space, but the wait is 40 minutes, so Fastpasses are obtained for the 3 that have their room cards. Tam has mine with her. She has now moved up from 'first class' to 'grade 1' plonker.
We walk back to meet Tam outside Soarin'. 30 minutes later Tam returns. Grrrrr. Were the straighteners on? No. Double grrrrrrr.
After Soarin' (top row, as much fun as ever) me, Tam and Georgia ride Journey Into Imagination, while Sharon and India walk across to Mission Space, vomit side.
We meet up again outside Mexico and go into the tequila bar. Well, it is almost 1.00pm. Tam and I have a pineapple margarita and India tries a blood orange margarita. These are not cheap at $14 a pop, but they are lovely. I tease Sharon that she has a kiddie drink, a frozen margarita. We also have some chips and dip. We talk about retirement ages, pensions etc. Exciting stuff, huh?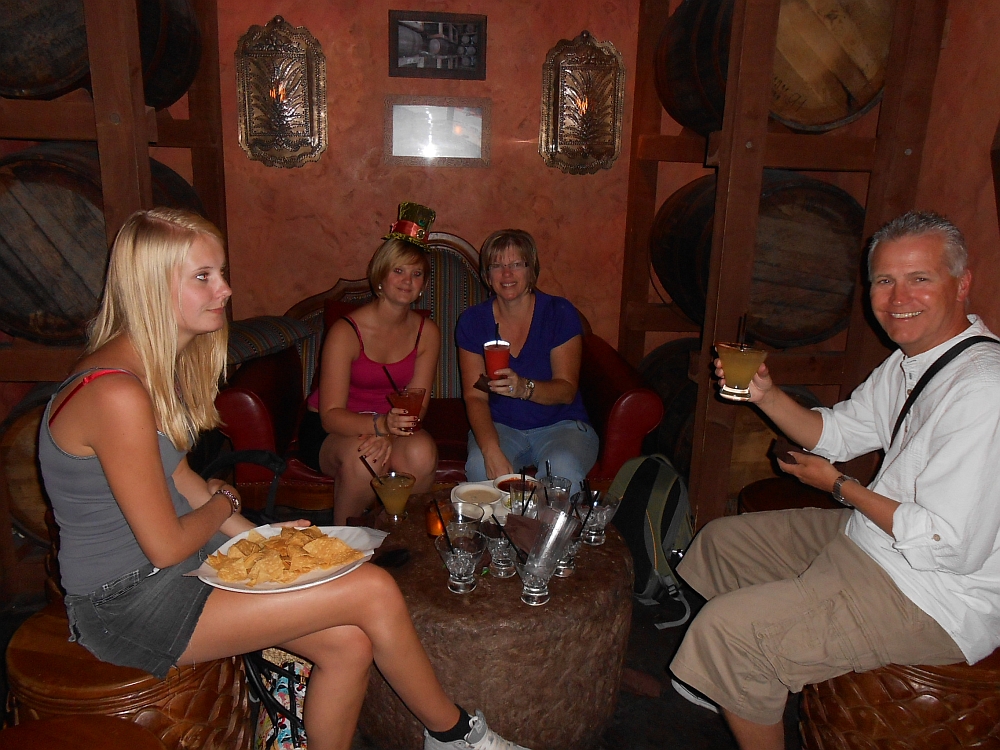 After our rather liquid lunch we do the Gran Fiesta ride, which is average at best. Maelstrom is next as it's on the way round to China for Tsing Tao with Orange Chicken and Pot Stickers. The acrobat show is just about to start so we settle down to watch. I'm sure they've changed the group from the last time we were here as they are no longer young children, but it's still well worth seeing.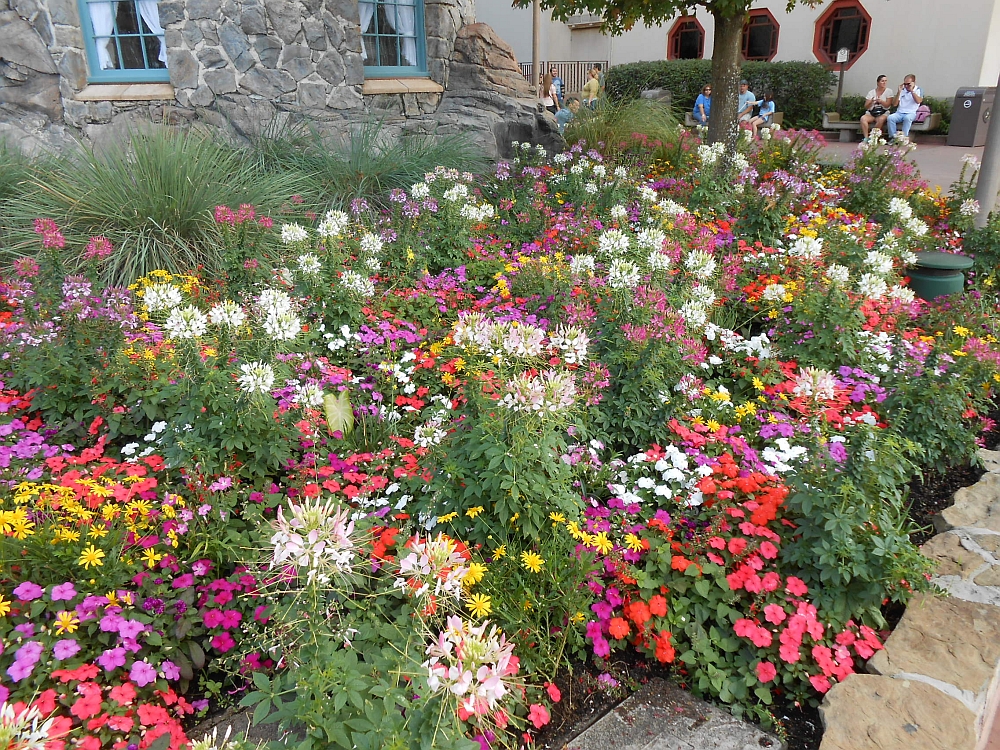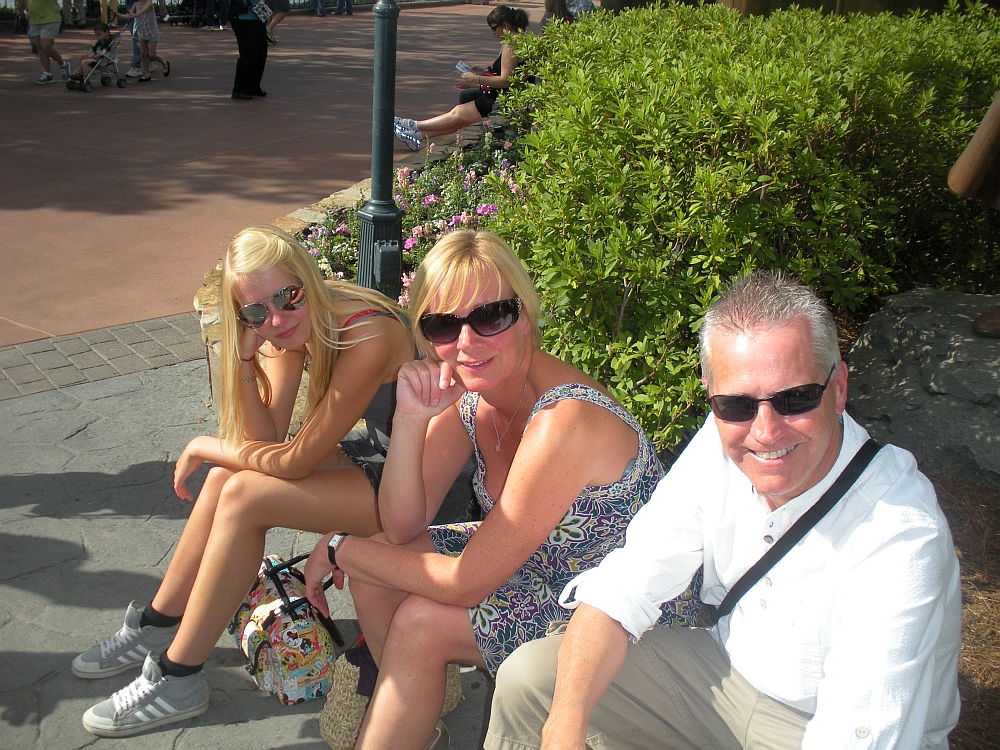 India and Georgia stop in Germany to get caramel apples. $6 each! Heck, that's nearly enough for half a margarita!
Onto Italy where we stop off at the Tutto Gusto wine cellar. It's quite nice, but would have been better if the main door wasn't open spreading sunlight into the darkened cellar. Talking of sunlight – the weatherman cocked up again as it's lovely and sunny until 2.00pm and then mostly scattered white clouds. It briefly threatens to sprinkle in the evening, but never really rains.
Meanwhile, back at the cellar: we try the flight of wines, the first of which is supposed to be Prosecco, but we can't work out why it's not fizzy. We find this out when we get to the last wine and find it is fizzy. The girl serving us put the drinks on back to front.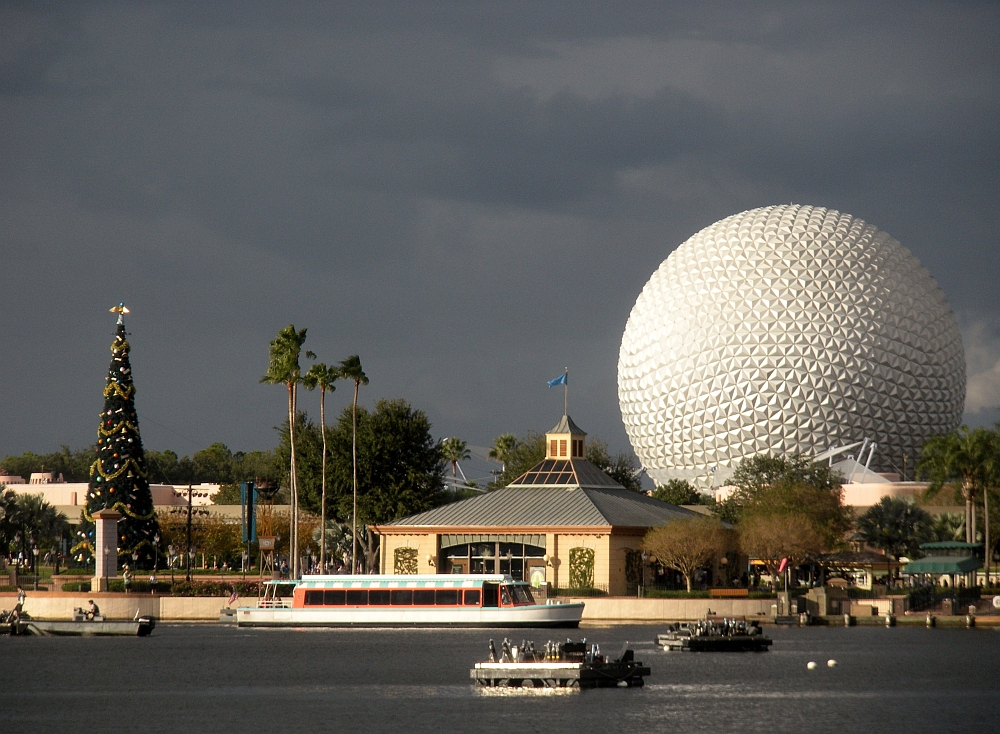 Onto the American Adventure where we watch the voices of liberty before entering the show. Amazingly Sharon has never seen this before, so I can't resist the opportunity to tease her a little more. Being the only American in the party, she has taken my litany of bad jokes and leg pulling very well.
After the show we meet up with Deb and Matt again and walk round to the International Gateway to get our things out of the lockers.
The Rose and Crown is next where we get beer and cider and meet up with Mandy, Mark and Karen outside.
It's just a short walk across to the park to watch the British Revolution. We have some very happy memories of watching the old British Invasion, but the new band are pretty good, although their American voices don't sound quite right somehow. They play music from mostly the next decade on from the old British Invasion with songs from The Clash, The Police and Queen. Not exactly up to date, but good fun.
On round to Canada where we meet up with Simon and Susan Veness (of Brits Guide to Orlando fame). Phew, it's getting crowded in the trip report with all these people! A Moosehead is appropriated and I chat to Simon as we walk around to Norway to stake out our place for Reflections of Earth.
There's just time to fetch another lovely margarita from the tequila bar in Mexico before the start. At the entrance to the bar there is a bit of activity and a few Disney security people are hanging around looking like they are keeping an eye on something. I don't see anything happening, but it's the closest I've ever come to seeing any sort of anti-social behaviour in Epcot, alcohol fuelled or otherwise.
Back at Norway Matt is attempting to take a group photo. He's got a spiffy new tripod and he sets this up on a rubbish bin and tries to take a photo using the timer facility. After several goes the flash is still not going off, much to the amusement of all involved. Tam sits her cheap little digital camera on the bin and it works first time. Queue ribald laughter from the throng. To be fair to Matt, his photos are likely to be of a much higher quality than ours, but it's funny nonetheless.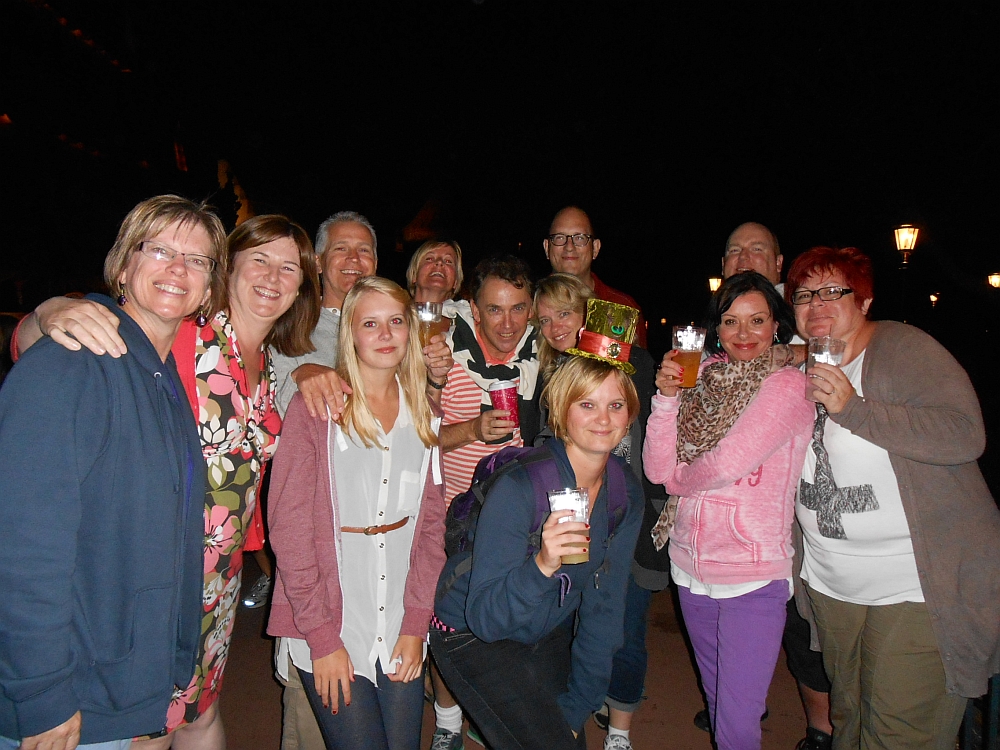 L to R: Sharon, Deb, Kev,Georgia, Tam, Simon & Susan, Matt, India, Karen, Mark and Mandy
After the ever-lovely Reflections of Earth we all walk around to Mousegear, where some of us (mostly men) stand around outside chatting, while the rest (mostly women) are inside shopping.
We sadly say goodbye to everyone as it's been a very happy night meeting old friends and new before making our way back through the International Gateway to the Boardwalk.
Back in the room I write up my trip report in a slightly inebriated way. When I say 'write up', it's closer to scrawling rough, close to unintelligible notes before falling into bed at 11.15pm.
[NOVEMBER 2012 REPORT HOME PAGE]