DAY 17 - FRIDAY 16th NOVEMBER 2012
Written by Kev
Participants: Tam, Kev, India, Georgia, Sharon, Deb and Matt
Up and at 'em at 7.30am. We've only got one day in each park so there's no time for lazing around in bed!
The weather isn't going to play ball for the last two days of our holiday according to the weatherman. It's going to be cloudy all day and much the same tomorrow with a good chance of rain. Hey ho. Jeans and jumpers will be the order of the day.
As we leave the room a lady stops us and tells us she is just checking out and would we like some Corona that she has left. It breaks my heart to decline her kind offer as we still have a few beers of our own to get through and not much time left to do it.
We get the bus to the Magic Kingdom and arrive just after opening to meet up with Sharon.
The first order of the day is to get Fastpasses for Space Mountain. From there we walk up through Fantasyland. The new section is open for Annual Passholders only today, but one of the CM's at the entrance says to try again later as it may be open to all after 11.00am. On to the Haunted Mansion where we all enjoy the new queuing area. India does her best Phantom of the Opera impression on the rather magnificent organ out front. I'm sure there's a joke attached to that last statement, but I don't think I ought to go there.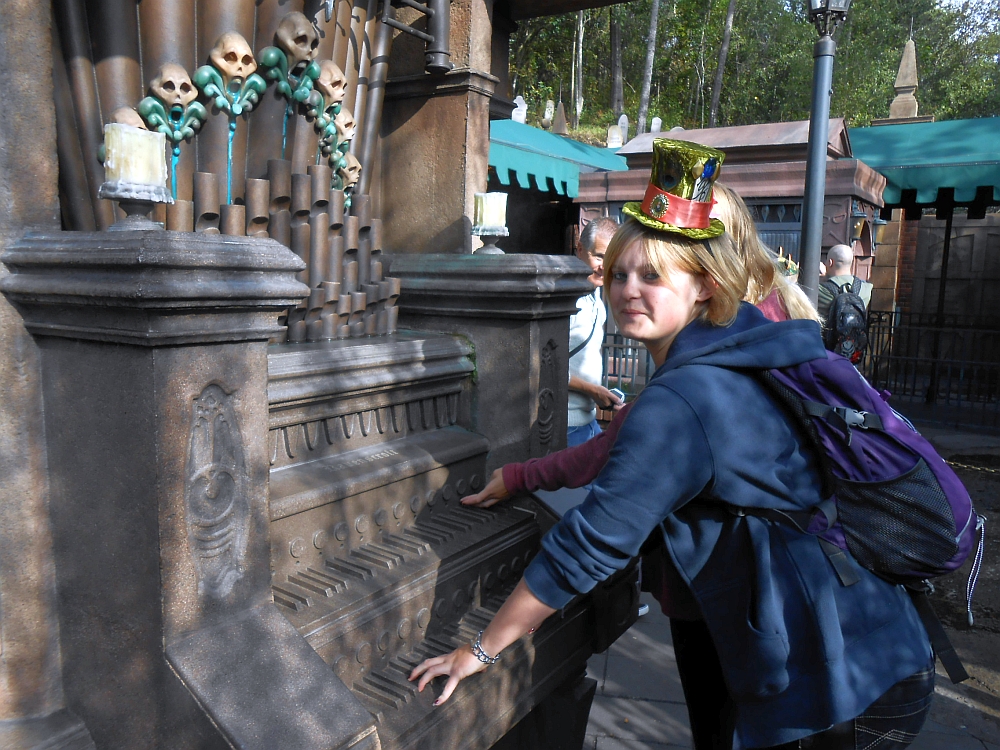 We all ride Big Thunder and then go across to Splash Mountain, where Tam and Sharon decide to sit it out. They say it's because they don't want to get wet, but I think they're just chicken. As it turns out, they do have a point as India has the front row and gets more than a little wet. Space Mountain is next where we use our Fastpasses.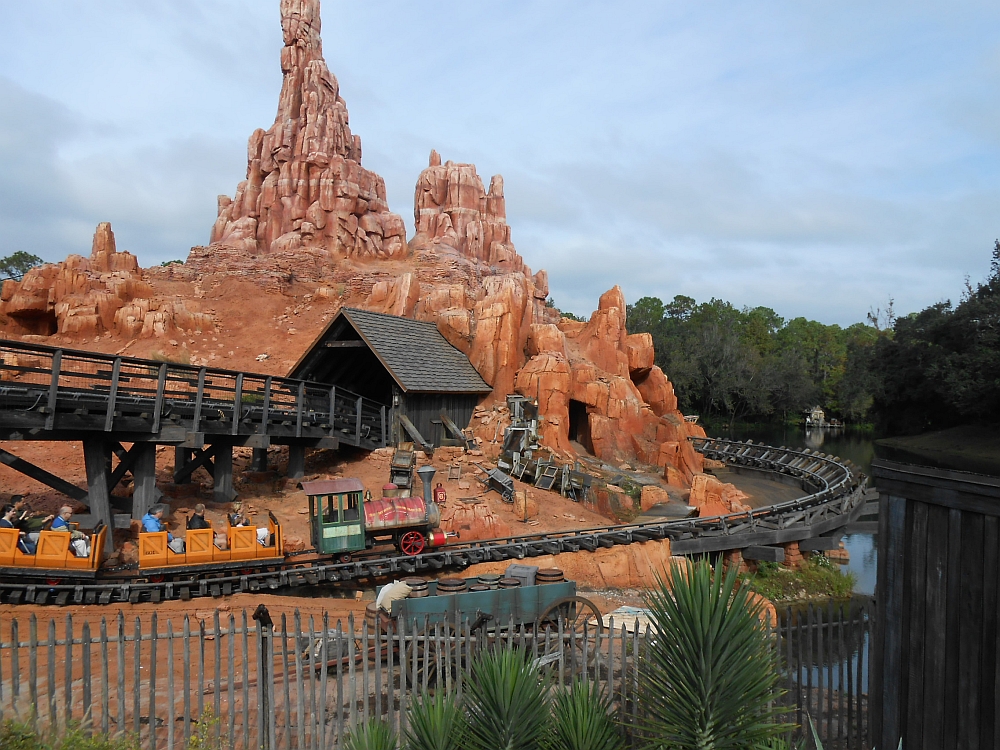 On to Fantasyland. The new section is open and we are incredibly lucky in being able to secure an ADR for the new Be Our Guest restaurant for this evening at 6.55pm. This is the last available time as the park is closing at 7.00pm for Mickey's Very Merry Christmas Party.
We have a look around and then ride Under The Sea (Journey of the Little Mermaid). Now, I have to say that I think this is an example of something that could have been so much better. The theming of the building is wonderful and the queue area is also very good, but in my opinion this should have been a true boat ride in the style of Pirates. Don't get me wrong, it's not a bad ride, it just could be a more immersive experience.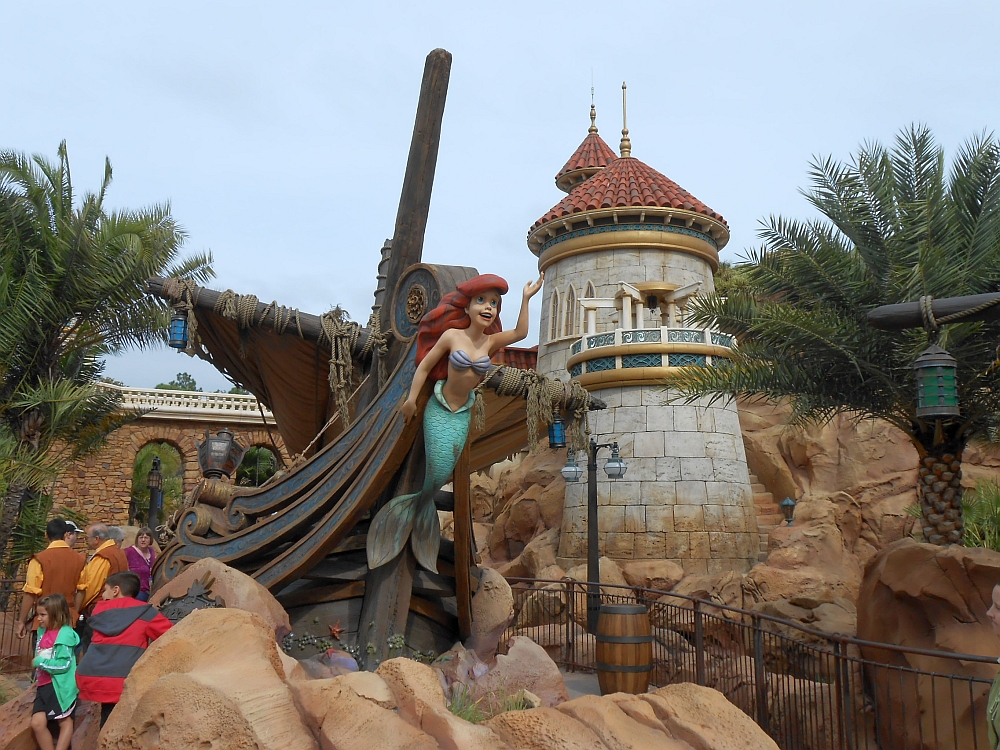 On to look around Gaston's Tavern. This is just how I imagined it would be. In fact the design of the whole area is excellent. It is certainly a great addition to Fantasyland. One thing that surprised me is how big the Seven Dwarves Mine Train ride will be when it is finished. I thought it would be something along the lines of Goofy's Barnstormer (or whatever it's called now), but it's going to be more akin to Big Thunder in size. As we are looking in the shop by the Tavern a voice from behind tells Sharon that she ought to purchase one of the t shirts at the far end of the shop as they are flying off the shelves. She looks round to find Gaston looming over her. Of course, the t shirt he is recommending has a picture of him on the front. Still, I think the ladies are impressed by his muscles.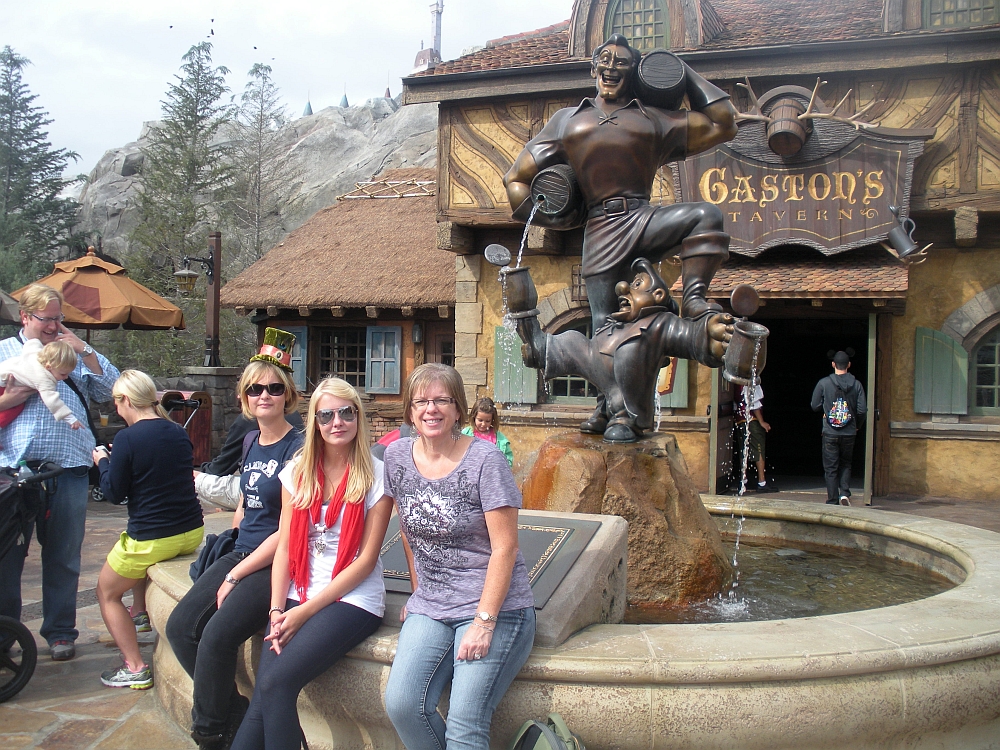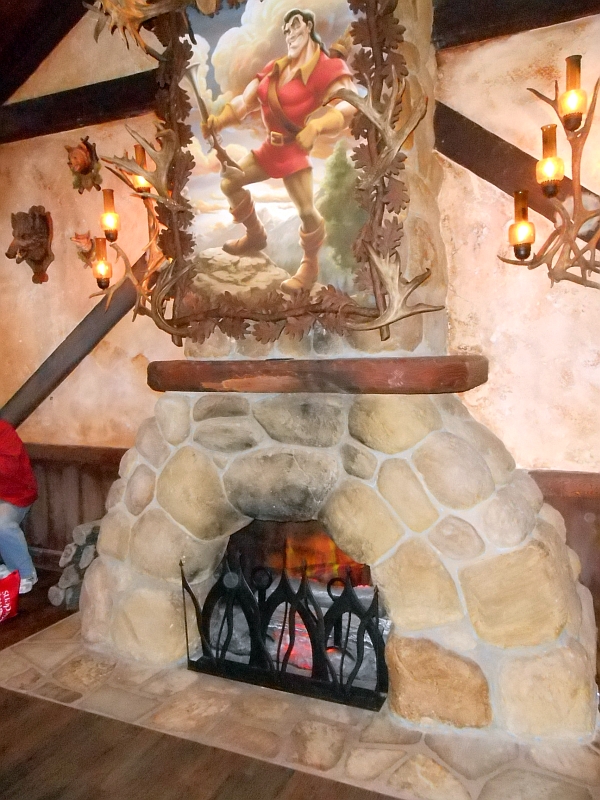 Lunch is now required, so we go to Pecos Bill's where Tam and I split a pulled pork sandwich. Philarmagic is next followed by Peter Pan. The crowds are not that bad for most things, so we are getting quite a lot done.
We queue for Enchanted Tales with Belle next. The wait time is listed as 40 minutes, but is closer to 25. This is very cleverly done, especially the mirror that grows into a door. I think it's a 'do once' attraction for adults, but children will certainly enjoy it.
We meet up with Deb and Matt in front of the Main Street Bakery, so it would be rude not to partake of the offerings. Tam and share a cinnamon roll. Heck, these things are the size of a small loaf of bread! We walk down Main Street as we need to go to Guest Services to cancel our ADR for the Kona Café and the girl that helps us is going on the Disney cruise next week, so we tell her all about Remy's.
Over to Buzz Lightyear where I am looking very smug as I come off with a score of 165,000 until Matt reveals he had 812,000! I have still not entirely ruled out foul play. A quick ride on the Peoplemover and we walk to Storybook Circus for a look around before catching the train to Frontierland where we ride Pirates of the Caribbean with a 15 minute wait.
Deb and Matt leave us at this point and the remainder of the party go across to ride the Haunted Mansion again.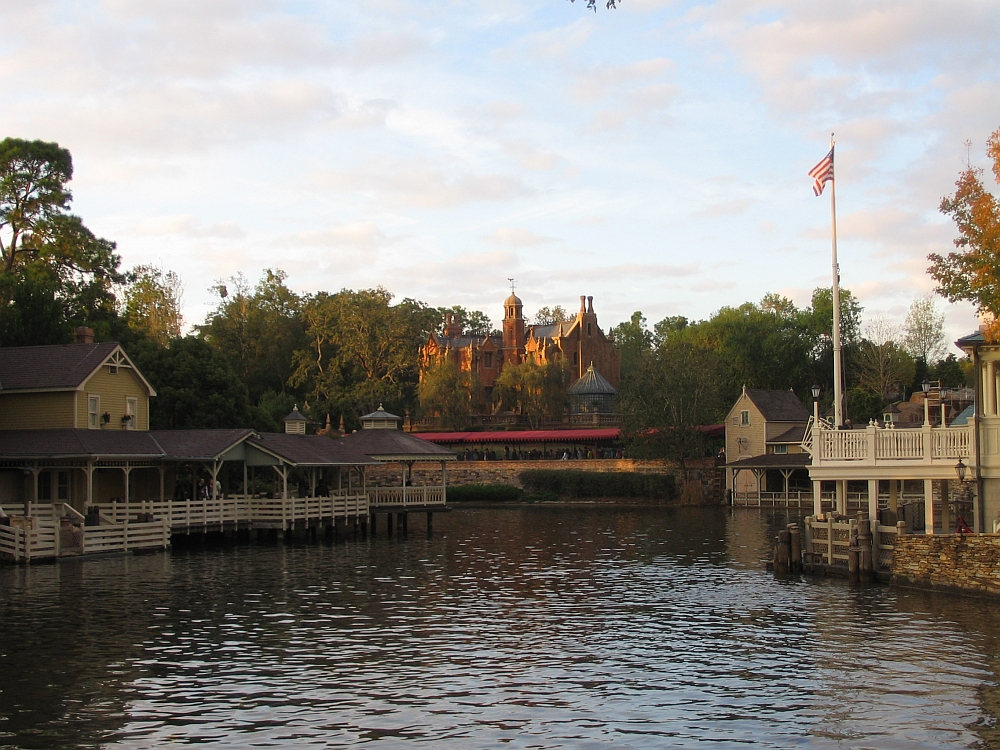 After this we go to the shop outside the Winnie the Pooh ride as Tam wants to buy a soft toy for her new nephew/niece that is due in April 2013. She is ideally looking for a classic Pooh, but can't find one and ends up with an Eeyore. Of course this enables the ladies in the group to make endless poor taste poo jokes:
We are going to the poo shop.
Mum is going to buy a poo.
She prefers an old poo to a new one etc. etc.
Honestly, I don't know where they get it from.
It's now getting dark and by happy coincidence we find ourselves in front of the castle for the lighting ceremony. We've never seen the castle lit up for Christmas and it's a lovely sight as the little show ends with it transformed into a winter wonderland.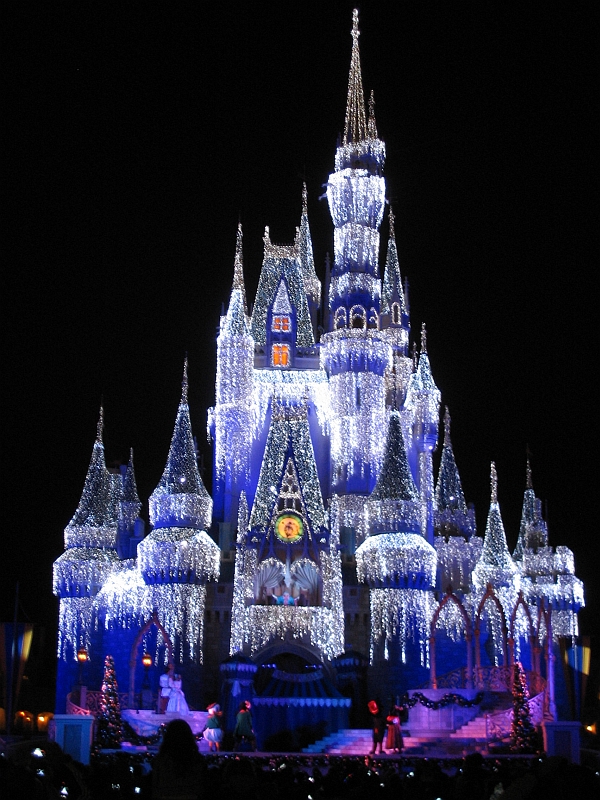 It's nearly time for our ADR at Be Our Guest, but we just have time for Sharon to phone her son Evan and for us all to have a chat with him. It's a shame he couldn't make it this time. At the restaurant they are running a bit late, so we are called to the desk at 7.10pm. We are seated in the Master's Quarters, which is the smaller room off to the side of the main ballroom. We immediately know we are going to enjoy it in here. It's very nicely laid out with the portrait of the young Prince and a red rose in a jar that slowly loses it's petals and what a joy to finally be able to order wine with your meal in the Magic Kingdom.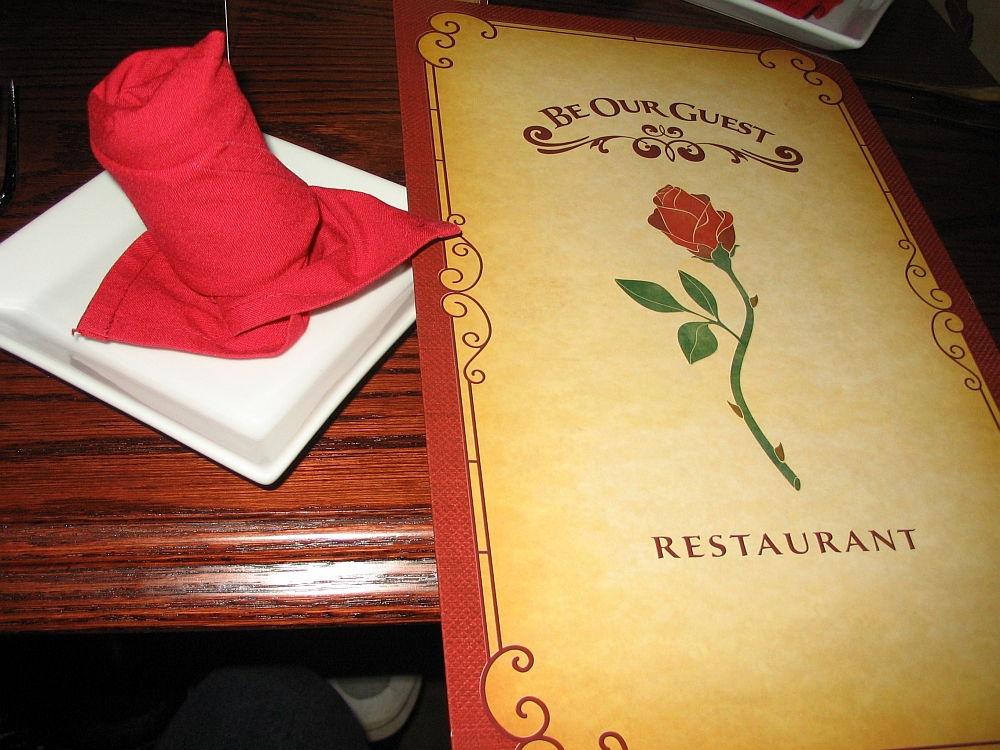 India and I have the cold meats followed by steak. Tam has mussels and the pork chop, while Georgia enjoys the salmon. Sharon has the garden salad followed by shrimp and salmon in puff pastry.
The service is enthusiastic, if not of the highest standard. India and I asked for our steak to be medium rare, but it actually arrives totally raw in the middle. The server is apologetic and changes it without question. Two bottles of Cabernet Sauvignon are also enjoyed.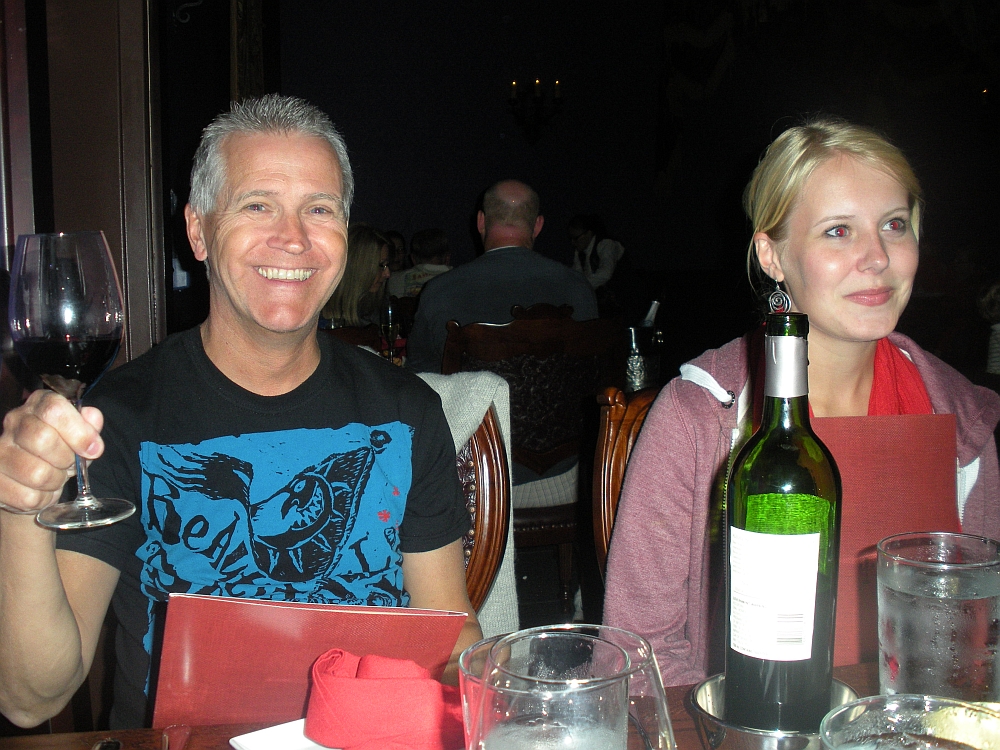 The rather manic smile shows how much I'm enjoying a glass of wine in the Magic Kingdom
We are too full for dessert, but our server brings us a portion of the Grey Stuff, which she says we have to try. It's a sort of sweet, creamy mousse. Tam is trying to see the bill and India attempts to illuminate it by tipping the light towards it. This has the unfortunate effect of depositing the electric tealight inside straight into the Grey Stuff. After two bottles of wine this is deemed to be the comedy event of the year and we are all in fits of laughter.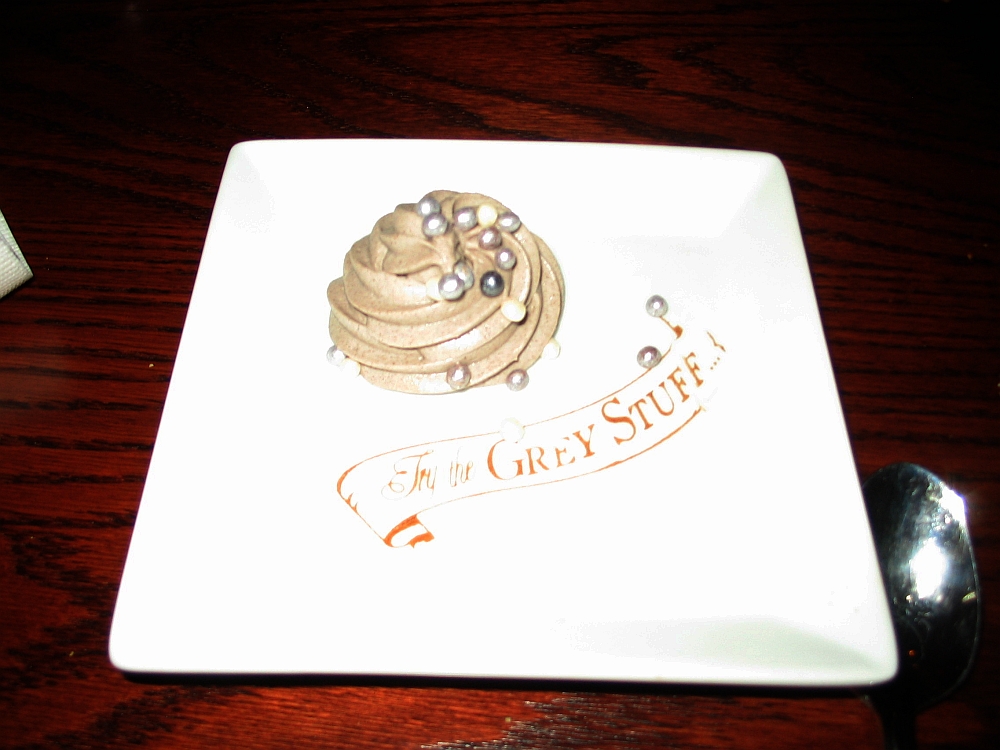 The 'Grey Stuff' before the tealight incident. Actually, it looks more like the brown stuff in this photo. I don't suppose the lyric would have been quite so successful had it read 'Try the brown stuff, it's delicious'.
The bill including tip comes to $270. It's quite a lot of money, but we've had a great time here and I'd definitely do it again.
We exit the restaurant at 9.00pm. We should have been out of the park at 7.00pm as Mickey's Very Merry Christmas Party is now in full swing. One of the staff at the front of the restaurant asks Tam if we would like an escort from the park so we won't get hassled. No thank you, we will make our own way out. If we accidentally happen to see Christmas Wishes on our way out, how unfortunate would that be?
At 9.10pm we arrive in front of the castle and an announcement declares that the castle transformation will take place in 5 minutes. This is a projection show, which makes it sound a little dull and stuffy. It is anything but. Several times over the past couple of years I have shown Tam videos on Youtube of amazing projection shows onto buildings and said 'Why don't Disney do something like that?' Well, now they do and this is it. Amazing is not a strong enough word for it. We watch it transfixed. It's beautiful.
This is closely followed by the Christmas Wishes fireworks. This is a cut above the standard show and includes fireworks in the shape of smiley faces, love hearts, cubes and planets. I can even forgive the Christmas music.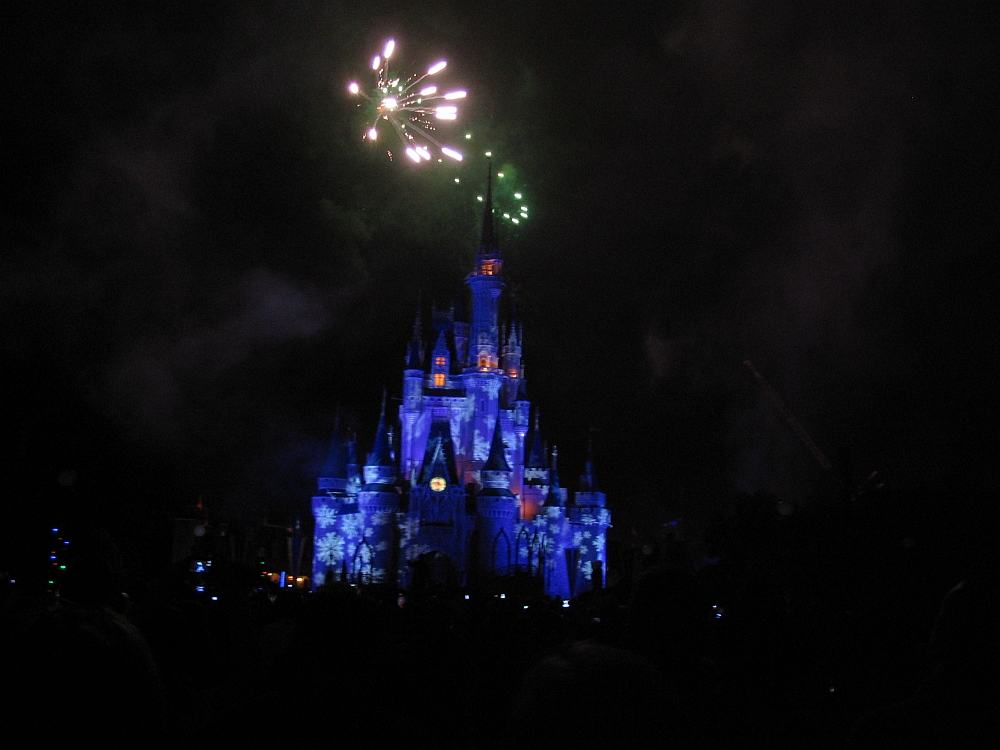 The combination of the lighted castle, the projection show and Christmas Wishes is nothing short of inspirational. We've loved the whole thing.
Before you judge us about watching all the Mickey's Very Merry Christmas Party shows without paying the entrance fee, I should point out that between the 5 of us we have paid more for our meal than had we bought tickets. Not that I recommend this behaviour, just making an observation.
We walk down Main Street and it starts to snow. The whole effect is lovely. The music, the lights, the decorations just could not be more perfect. We have been in the park for 13 hours now. We may be tired, but we are also very happy.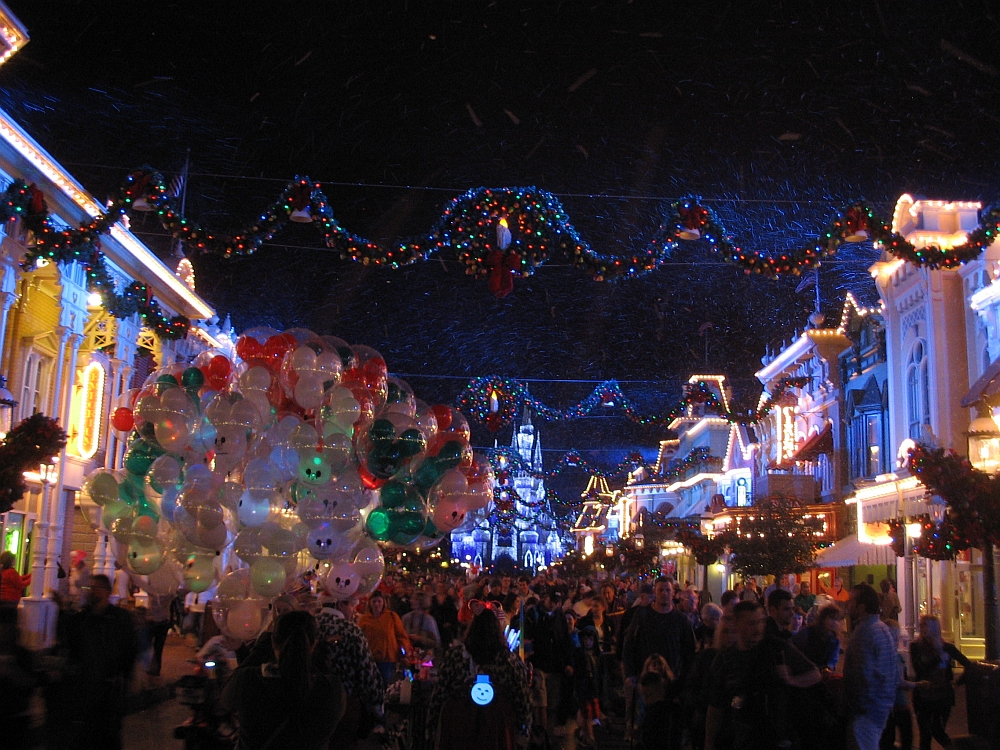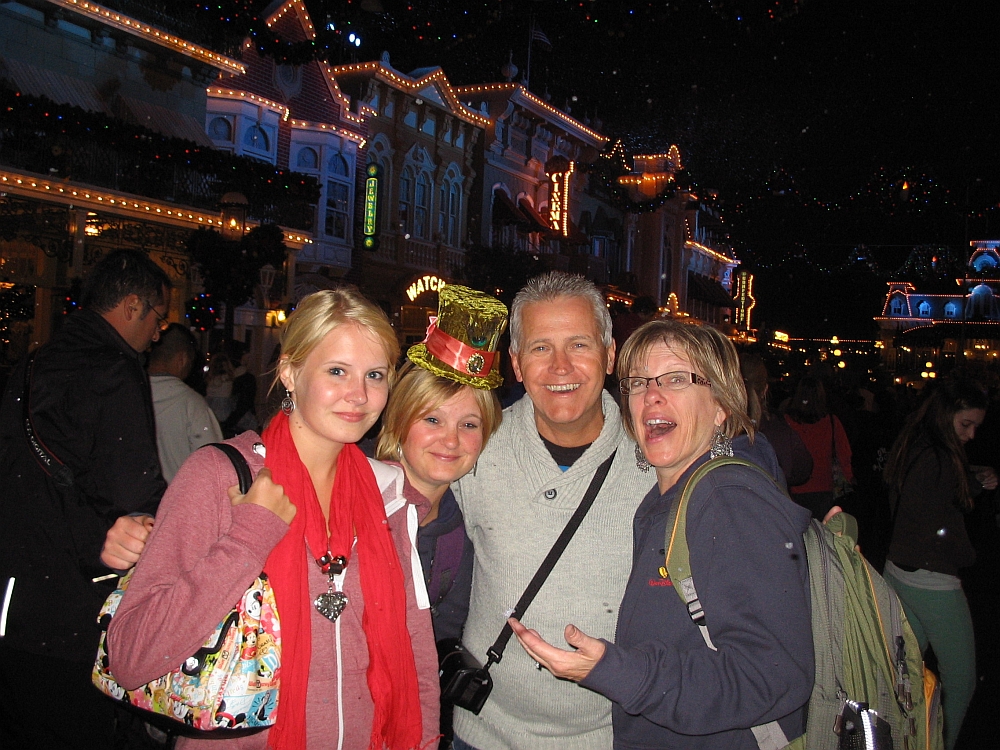 We say goodnight to Sharon and catch the bus back to the Boardwalk. This is a great advert for the Disney transportation system as a bus pulls up just as we arrive at the stop and we are back in the Boardwalk 12 minutes later.
A bottle of Berringer Rose is opened back at the room. This may seem like overkill, but we have two bottles of wine and a number of beers in the fridge and only 1 day left to drink them!
I write up my trip report while staring out the window over the Boardwalk to the illuminated Spaceship Earth beyond. Yesterday was a wonderful day, but I think today just topped it. It's been full of new experiences and surprises.
Bed at 11.30pm.
[NOVEMBER 2012 REPORT HOME PAGE]