Day 8 (India & Georgia)
Day 2 (Tammy & Kev)
Friday 14th March 2014
Written by India
We spend the whole morning lounging around the resort as we are heading to Wekiwa Spring today but are waiting for it to warm up as we will be canoeing or kayaking down the river. When it is warmer we drive over there heading up the I4 which is horrible stop-start traffic and I can see why Anna hates driving this road. We go to a nearby Publix just before we arrive and pick up some salads, fruit and crisps for a picnic lunch. It's $6 to park at Wekiwa Springs which is one of Florida's State Parks. When we get there it is absolutely beautiful and you can see the springs bubbling up in the swimming area. We rent a canoe for $18 for 2 hours, paid for by a $20 note we found on the floor in Epcot, we like free stuff. The 3 of us take it in turns to canoe down the river (2 at a time) passing lots of turtles sunbathing along the way.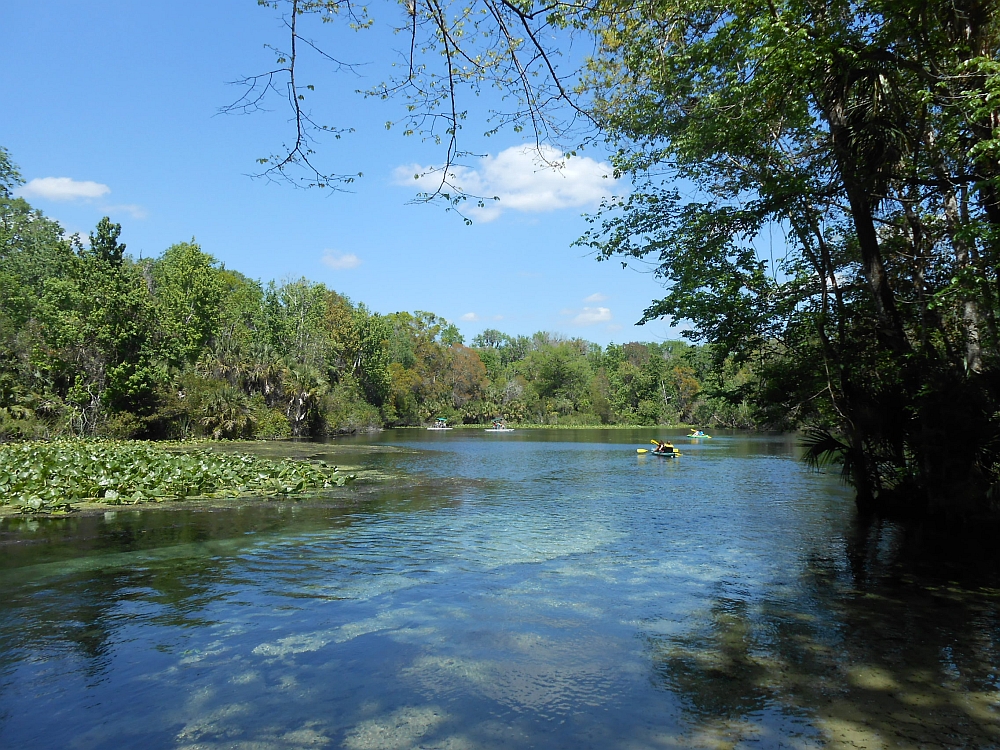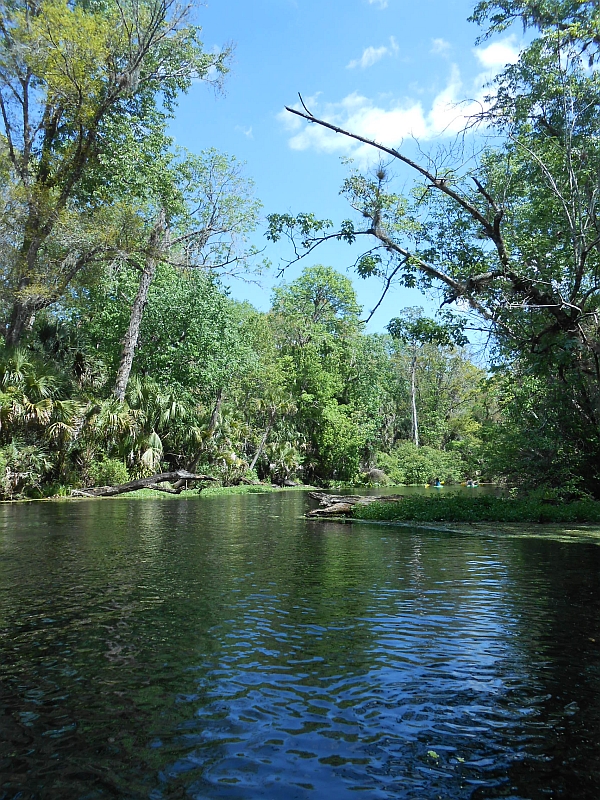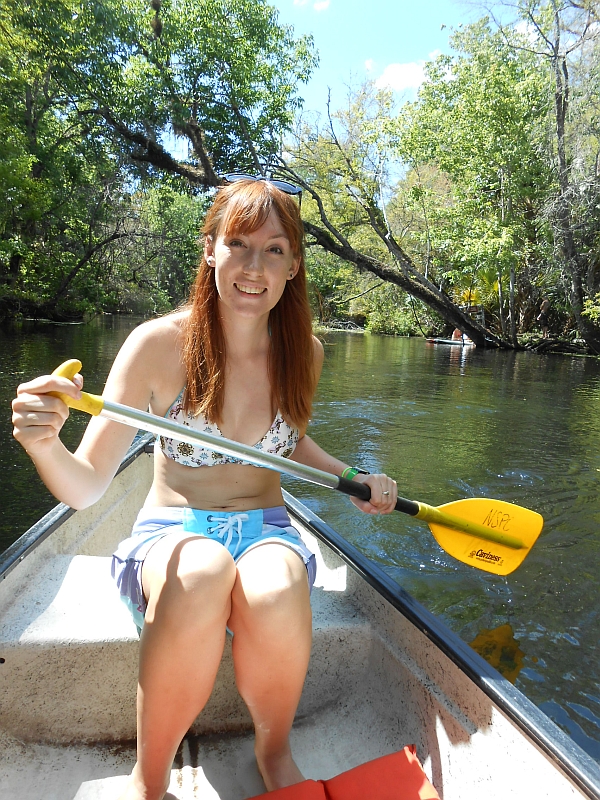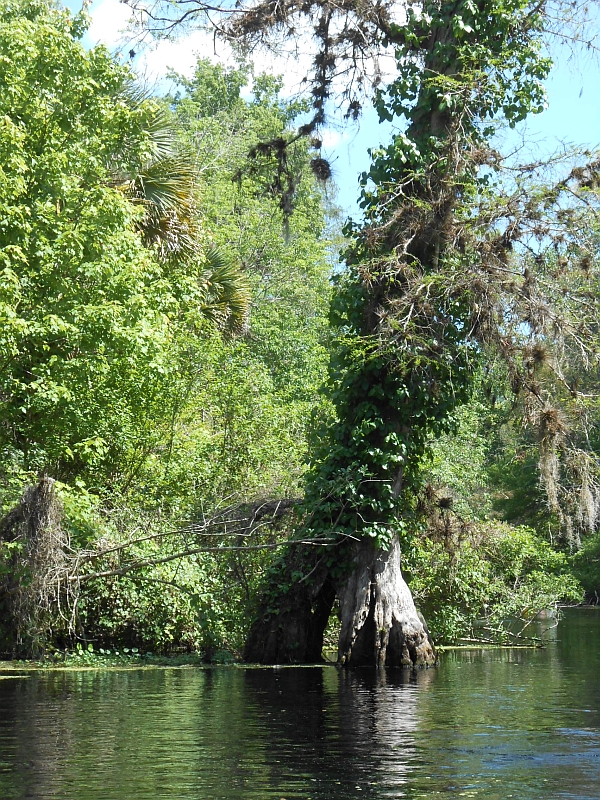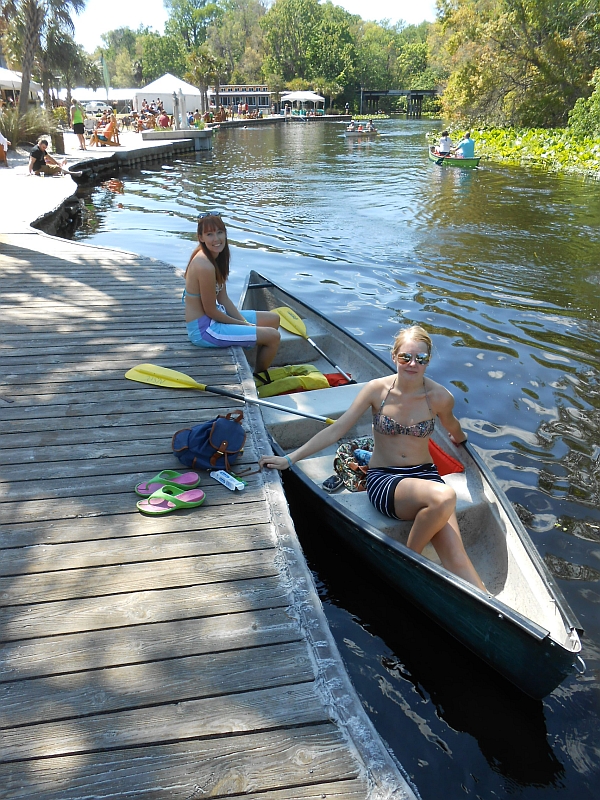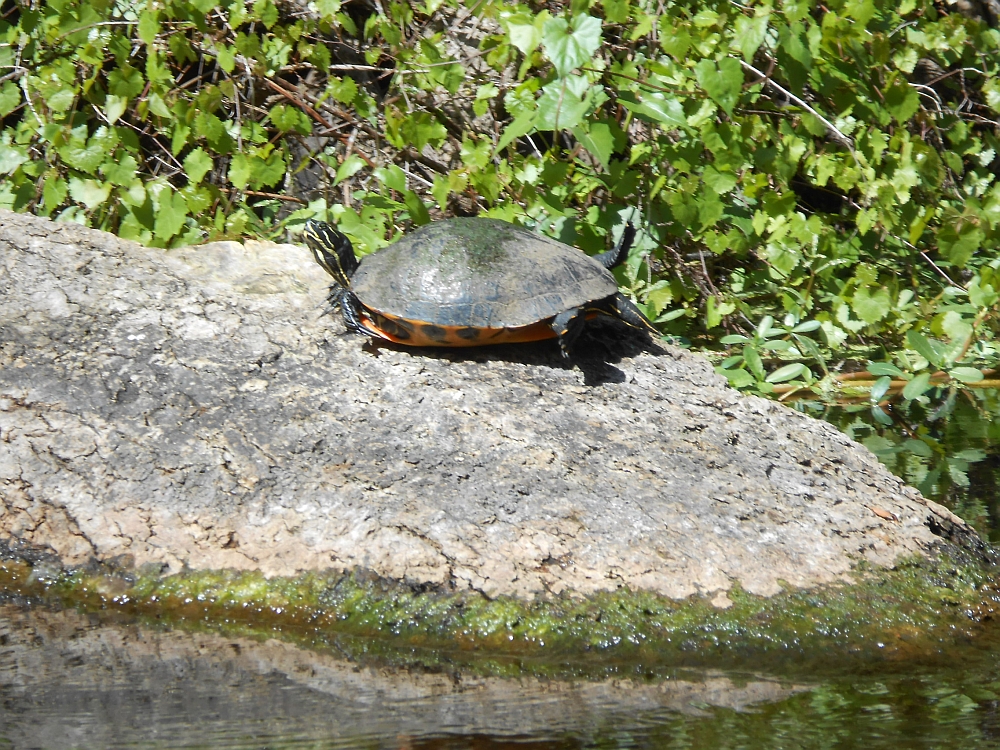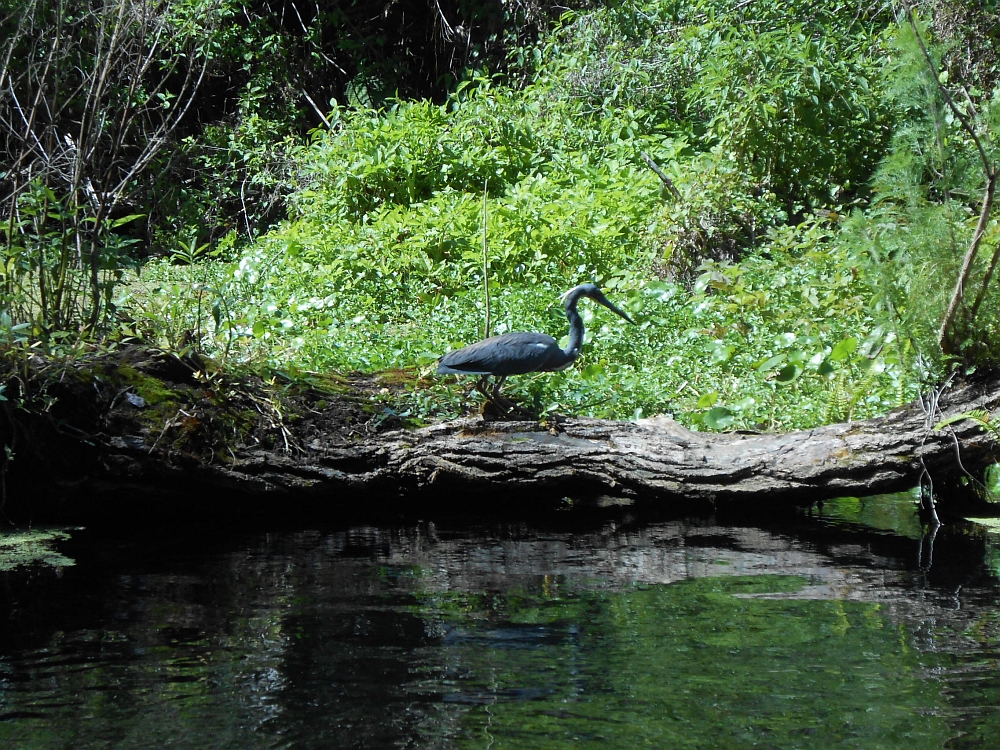 About 20 minutes down the river is Wekiwa Island where there is a bar and a lot of people sunbathing. It is a really cool place and I'd like to go back there for a drink at some point, most people have driven there but some have moored up their canoes and kayaks at the side as we have. On the way back we see one alligator hanging out under some weeds at the edge of the river, unfortunately this is the only one we see and we don't see any snakes.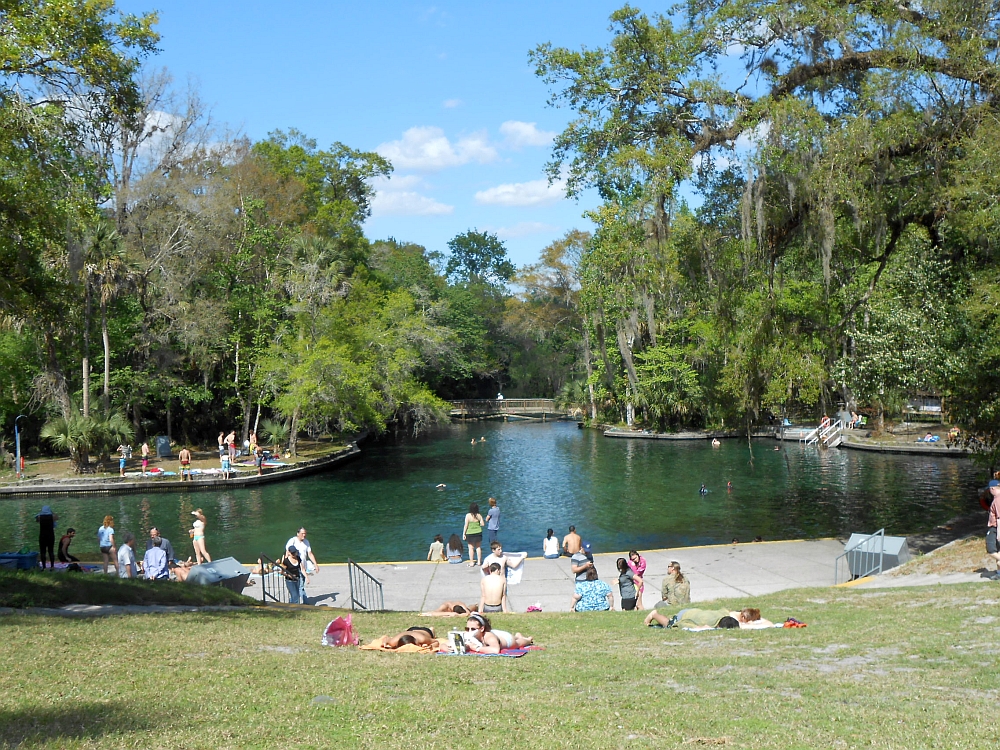 Back at the landing we return our canoe - it is worth pointing out that if you want to hire a canoe or kayak you will need some photo ID to hand in that they can keep until you return the boat. We settle on the grassy hill overlooking the swimming area where the springs are, eat our picnic and read in the sunshine. At one point a very inquisitive squirrel runs off with one of the cases of a muffin I have eaten, I get really close to grabbing it back off him before he runs away again. Just before we are about to leave I realise I haven't swum in the water yet. The sun is just starting to dip behind the hill so I swim around in the remaining sunny areas; it is very clear water and a little cooler than I was expecting (for some reason I had hot springs in mind) but it's very refreshing and peaceful particularly as some loud spring breakers have now left.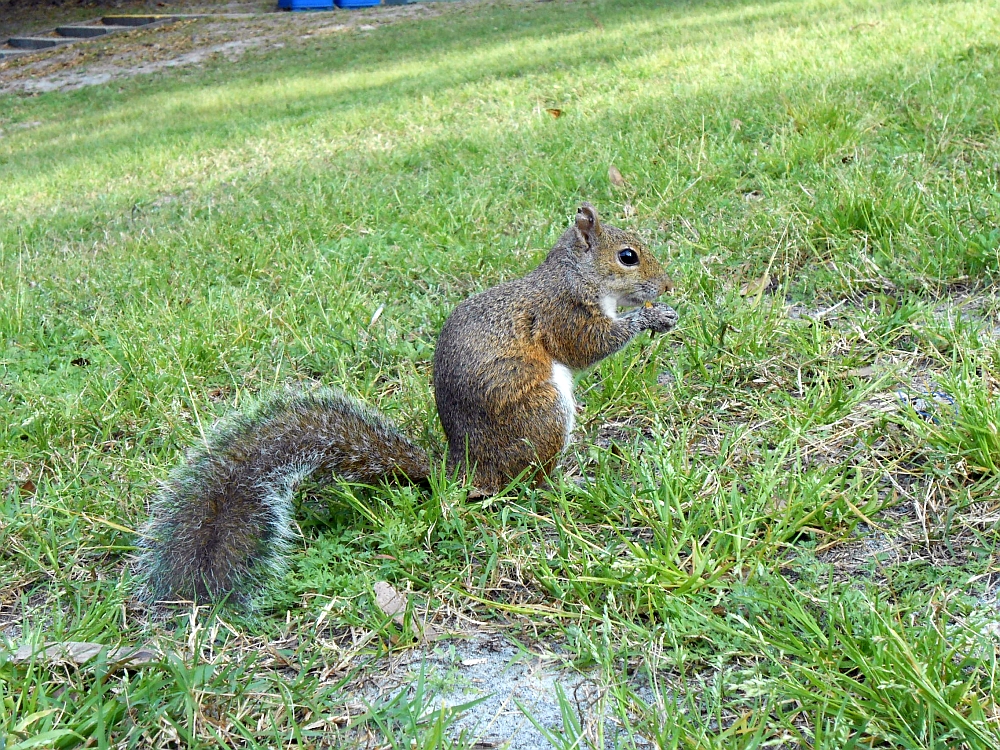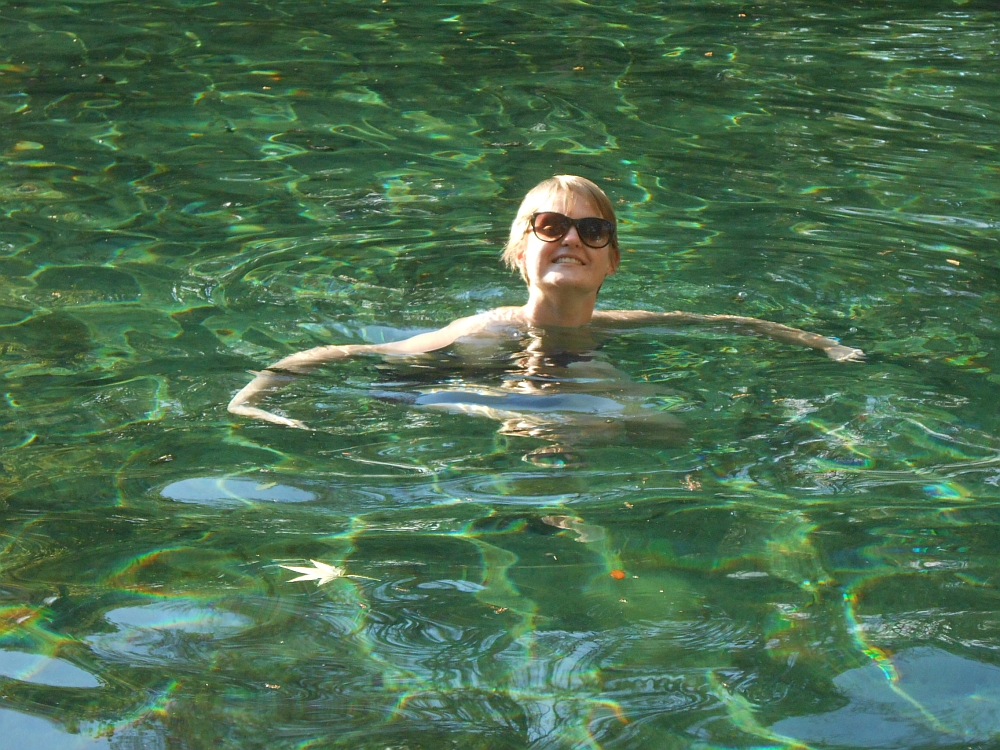 We've exhausted the sunbathing spots on the hill so decide to head to Downtown Disney to use some Character in Flight tickets that Anna has bought for us all to use. Unfortunately it is not flying today due to high winds and despite further attempts throughout the holiday we never get to go on it which is a shame as it is not likely to be something I would do off my own back due to my fear of heights. We have a mooch around some of the shops anyway and then head back to the hotel. Anna has to work tomorrow so heads back home to get herself sorted.
It's about 8:30pm so George and I head to Sassagoula where she has Alfredo chicken pasta and I have a small pizza. Mum and dad should have arrived at Kidani Village by now so we give them a call to see how they are and discuss plans for tomorrow. After we're off the phone I head to bell services to check whether we can send a bag of stuff for tomorrow evening across to Kidani Village as we will be staying there tomorrow night. They say that it is fine and if we send it tomorrow morning it should arrive around 4pm. I head back to the room where we both read and have showers before bed at about midnight.
Day 2 (Tammy & Kev)
Written by Kev
We are both awake by 7.30am, so we shower and repack ready for the airport.
Bag drop at the Virgin desk is very swift and we are done within 5 minutes. On through security and into the departure lounge.
Tam needs to do a spot of shopping - nothing new here, her holiday wouldn't get off to the correct start without a browse around the expensive airport shops. Oh, if only it stopped at browsing. A bottle of Cinema perfume is purchased along with a lipstick from Bobbi Brown that the lady assures us is long lasting. As it turns out, her idea of 'long lasting' and mine appear to be somewhat different. My definition would be 'lasts a long time'. Hers might well be 'leaps off the lips at the first opportunity' as it lasts no longer than all the other lipsticks Tam has. This would be fine if it were not for the fact that this little beauty costs £16. Still, what did I expect? What the hell does Bobbi Brown know about cosmetics? Singing (I use the term loosely) and whacking Whitney Houston are surely his fortes.
But wait - the woman has not yet finished. Zara is apparently an establishment that holds wonders untold for the female of the species. In this den of inequity she manages to purchase a dress, a pair of trousers and a handbag. She justifies this enormous expenditure by telling me that the handbag is to be a gift from the girls for her forthcoming 50th birthday.
Thankfully the shopping has finished for the day and we go to the No.1 Lounge. We booked it at £24 per head and thought it would be a nice place to relax before the flight. This proves to be the case as there is plenty of seating available and it's roomy and spacious. You can help yourself to cereal and a few other bits and pieces as well as tea and coffee and soft drinks. You also get a hot snack - we both have bacon rolls. The bar is free, except for champagne and higher priced drinks, so I have a Peroni and Tam has a gin and tonic while we discuss her incredible disappearing lipstick.
It's a very pleasant environment, so we take advantage with a rum and coke for me and a glass of red wine for Tam. Tam also uses the free wi-fi to look at the weather forecast. Oh joy of joys, things are looking up on that front as well. It's only supposed to be wet on Monday now. Still, the way the Florida weather forecasts change, I'm expecting anything from a scorching heat wave to a biblical flood with a plague of frogs thrown in for good measure.
We leave the lounge just after midday. It's been a very pleasant experience, much more enjoyable than the hustle and bustle of the departure lounge.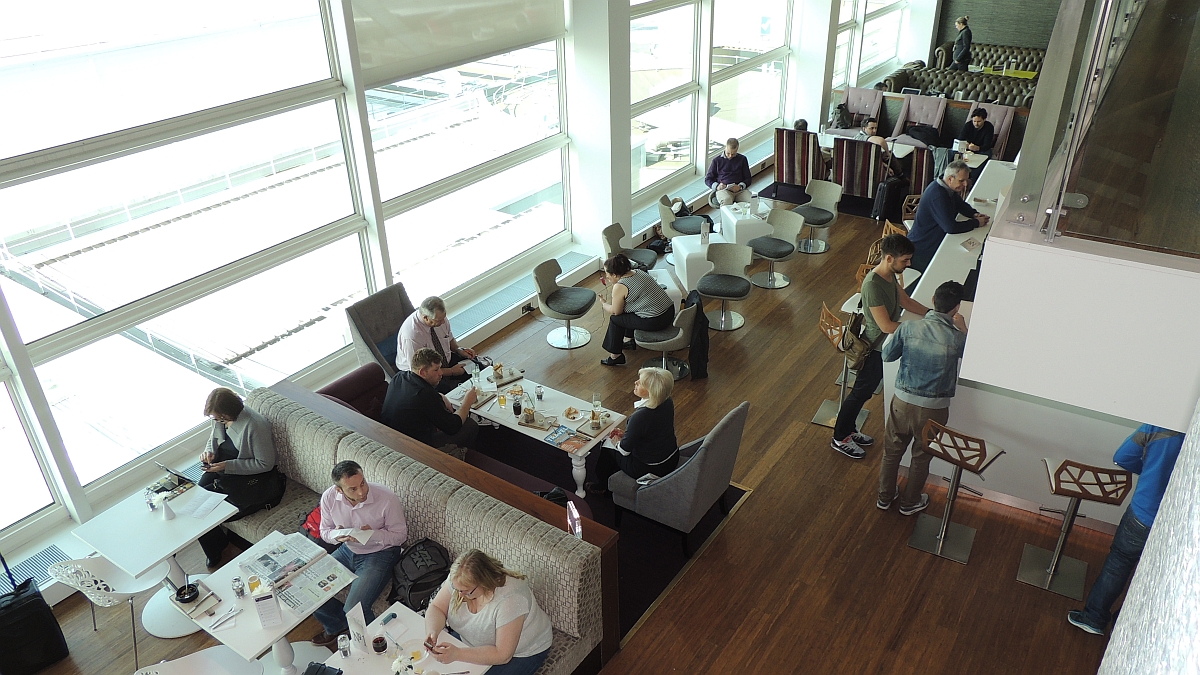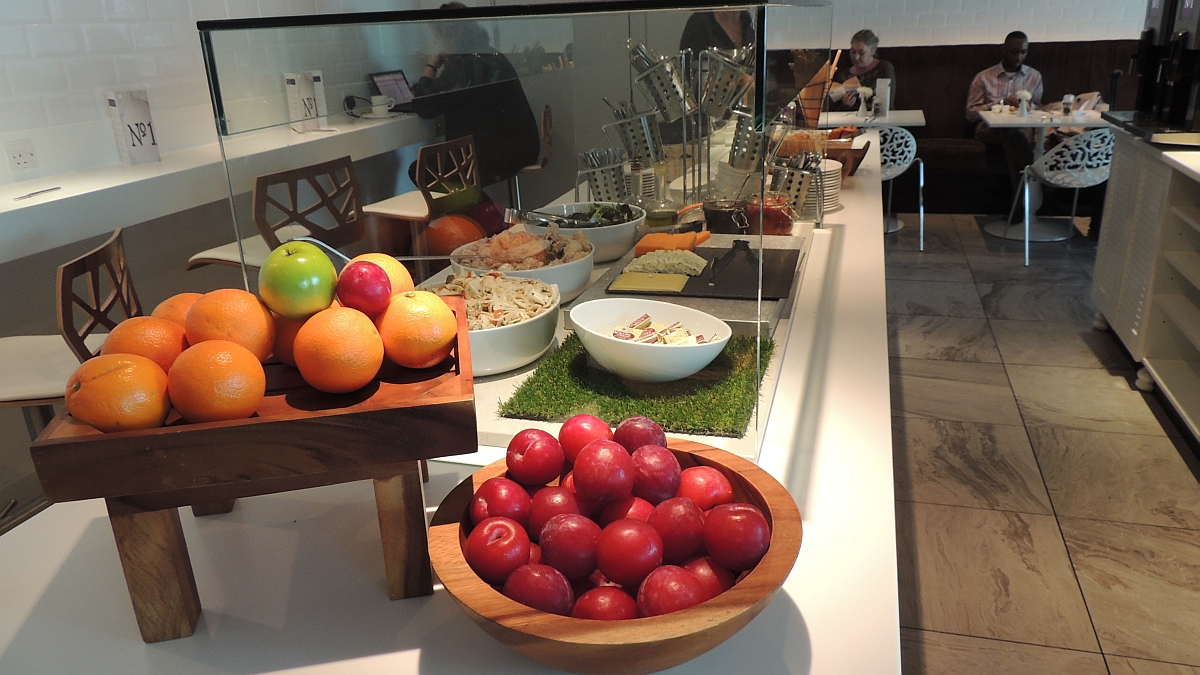 A good job I'm not superstitious as our boarding gate is 13. Our seats are being called for boarding just as we arrive, so we get straight on the plane and up the stairs as our seats are in the bubble. We take off on time and the Captain tells us that we have a quick flight time of 8 hours 20 minutes. I'm a bit surprised as the westbound flight is usually over 9 hours.
Tam and I both watch Frozen, which we really like. Disney did a good job with Tangled, but I though Brave was just ok. This is a definite return to form.
Lunch starts with pasta salad. I wanted this to be bad so I could write that it was pasta sell by date, but unfortunately it's quite nice. The beef lasagne is ok, but a bit wet.
I watch 3 more films - Captain Phillips, Blackfish and Kick Ass 2. I enjoy all of them, but Blackfish was disturbing. For those that don't know, Blackfish is about Killer Whales and how they are captured and held in captivity. In particular it deals with deaths caused by captive Killer Whales and focuses on the part Sea World plays in all this. I guess times and attitudes change. I've been to Sea World several times, but not for many years. Of course I understand that this film tells the story from one side only, but having read arguments for and against, I think it's safe to say that I'll never go to Sea World again.
Amazingly we arrive in Orlando just under 1 hour early. We sail through immigration and pick up our luggage in reasonable time once we figure out that my suitcase is merrily riding around on the Premium Economy carousel. We are using Disney's Magical Express for the first time and it goes relatively smoothly, if a little lengthy. We get on the bus at 6.45pm and wait for a while before stopping at Art of Animation, Pop Century and Animal Kingdom Lodge prior to arriving at Kidani Village at 8.00pm.
On the way we have the obligatory titter as we pass the Gaylord Palms. Now in my mind Gaylord Palms is either an 18th century adventurer and explorer who discovered an ancient tribe in Darkest Peru, or a tabloid headline that would bring further shame to the House of Lords. It would need just a small gap in the words - Gay Lord palms. How or what he palms I'll leave to your imagination.
We check in and are given room 7230, Sunset Savannah view and not too far from the lobby. Our first impressions are very favourable. The Kidani Village lobby is a smaller, but more homely version of the Animal Kingdom Lodge. The room is very nice, although we can't see much from the balcony as it's already dark. Our only problem is with a bedside light not working, which we report.
There is a note on the bed to look in the fridge. We do so and there is a cake from the girls wishing me a happy birthday for next Thursday. I guess they're not too bad after all.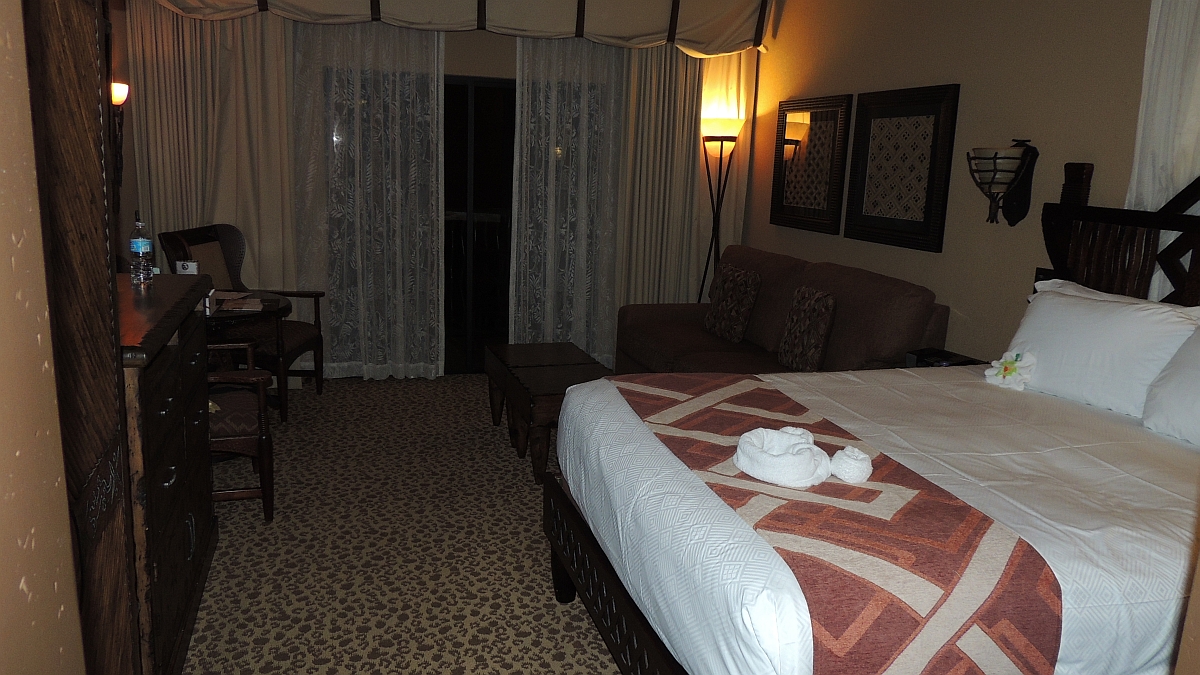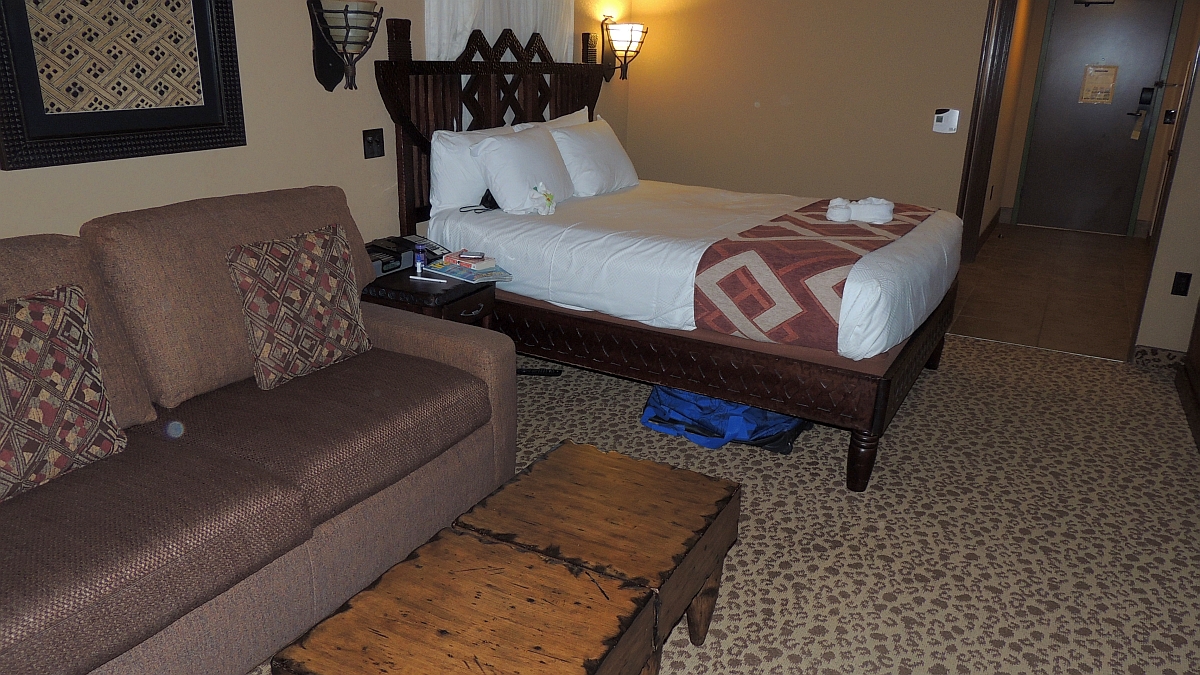 We unpack swiftly and talk briefly to the girls on the phone before heading out to explore. After a brief look around we go to Sanaa where we sit at the bar and enjoy Agave Nectar Margaritas and the Bread Platter. The lady serving at the bar advises us not to have two lots of dips as this would be too much and she is right as there are 9 different types. The breads are freshly cooked, the naans being particularly nice. A very pleasant start to our Disney stay.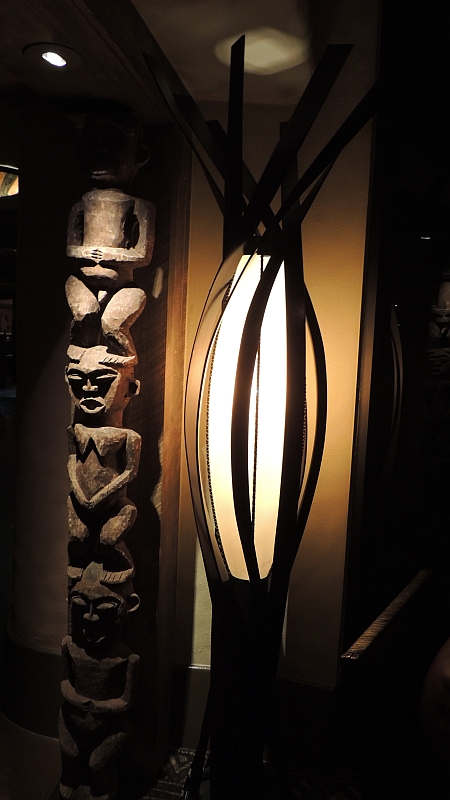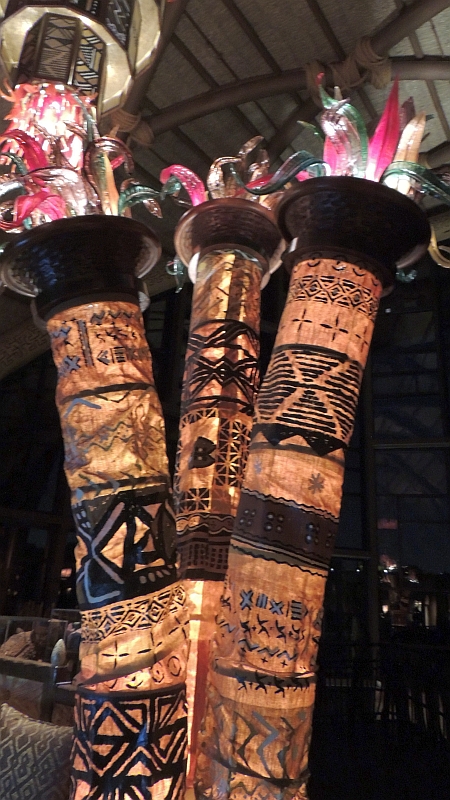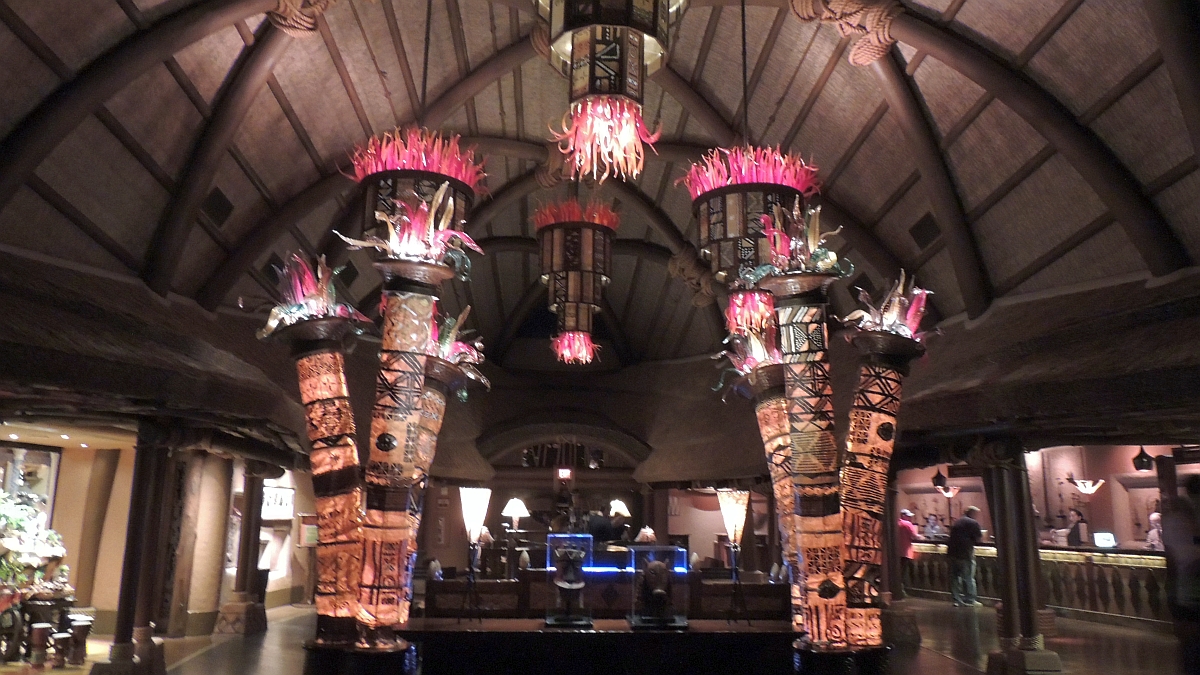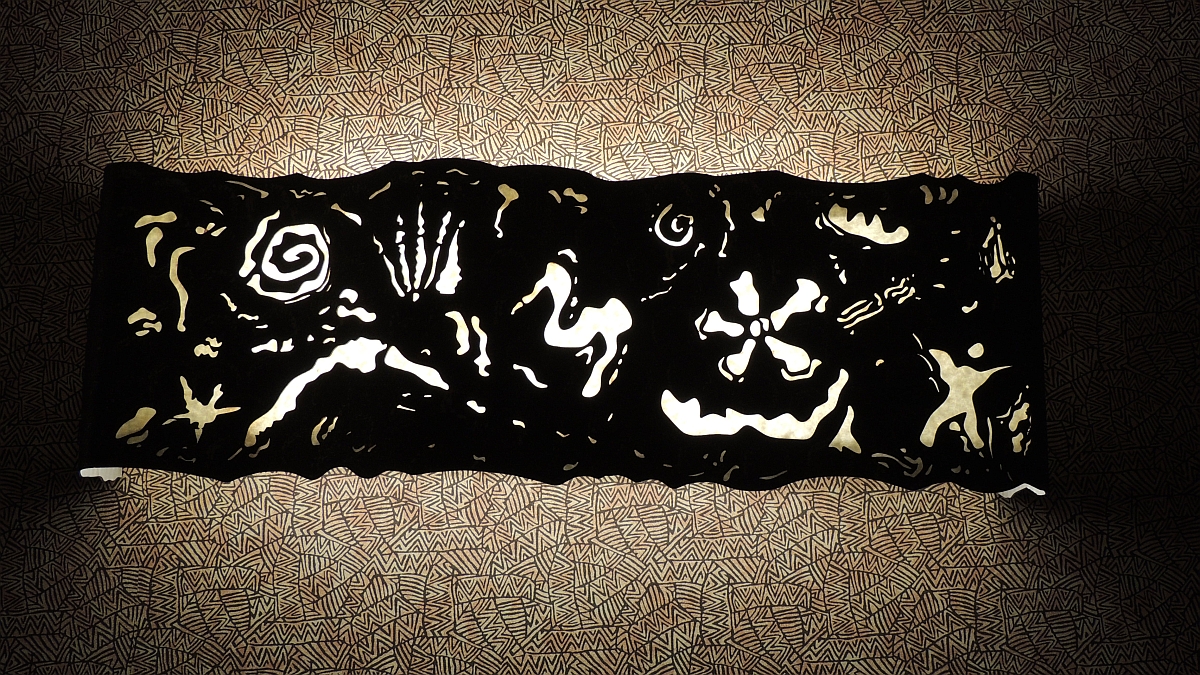 After our meal we walk across to Jambo House for a beer at Victoria Falls. Tiredness is starting to catch up to us now as it's approaching 11.00pm. I know Tam is tired as she has twitchy legs. This is a peculiar affliction known only to her. She claims her legs twitch uncontrollably when it's time for her to go to bed.
Back to the room where Tam breaks out the Melatonin, which is a natural substance that is suppose to help you sleep and combat the effects of jet lag. We shall see.