Day 7 (India & Georgia)
Day 1 (Tammy & Kev)
Thursday 13th March 2014
Written by India
We have a lie in until 9:30. We haven't decided what we want to do today but Anna suggests Wekiwa Springs for the afternoon. George and I decide to head over to Magic Kingdom for a few hours first. We go and have our first sit down breakfast in the food court of waffles with fruit and bacon. Anna has to run a few errands so she will pick us up later. At the bus stop there is a really cold wind after yesterday's weather so we head back to our room to pick up jumpers as a bus seems to be taking a while for Magic Kingdom despite every other bus arriving, some twice. We eventually get on a bus and when we get to Magic Kingdom the park is completely heaving. We hear a lady on the bus talking about cheerleading championships and we see a few groups of them around so we attribute it to this. George and I stroll through most of the shops on Main St. mostly to stay out of the cold wind. George is wearing shorts and is getting cold so she buys some long Disney socks to wear and with her letterman jacket she looks like she should be in the Mickey Mouse Club. Given the weather we decide to WhatsApp Anna and let her know that tomorrow might be better for Wekiwa, she agrees and is going to meet us later.
We go for a wander through Adventureland and decide to do The Tiki Room as we didn't realise it was open with refurbishment boards up. They have got rid of Iago and Zazu and it is now back to the original show which I prefer. We carry on through Adventureland, stopping to buy a POTC dress that I really like in the shop and then through Frontierland and Fantasyland. In Gaston's Tavern we grab a LeFou's Brew to share which is very tasty.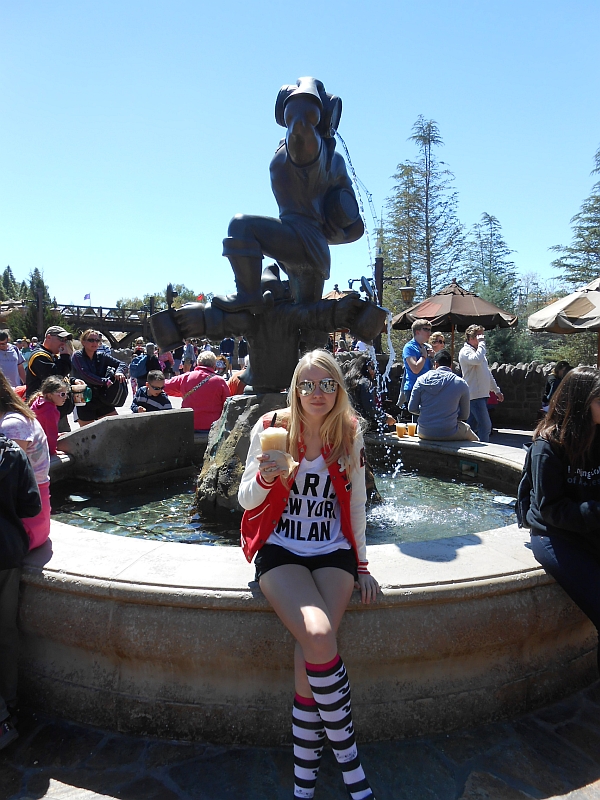 We walk on through to Storybook Circus and look at the big top shop and then head to the hub to meet Anna. As she is running a little late we grab lunch, I have a corn dog from Frontierland as I have never had one before and George has nachos from Casey's Corner. I sort of like but don't like the corn dog; I don't really understand the sweet batter around the hot dog but I've come to learn there are some things about American food I will never understand like the cinnamon obsession, but crispy bacon with pancakes and peanut butter with everything is something I am totally on board with. Anna meets us at Casey's Corner and we watch Festival of Fantasy from near the entrance to Adventureland where we get a decent enough view of the parade coming over the bridge from Liberty Square. I really like the parade as it is proper Disney without lots of shouty overenthusiastic CMs, the steampunk Maleficent dragon is particularly cool. It is coming up to 4pm by the time it's over and we've decided to head back to the room before going to Hollywood Studios this evening.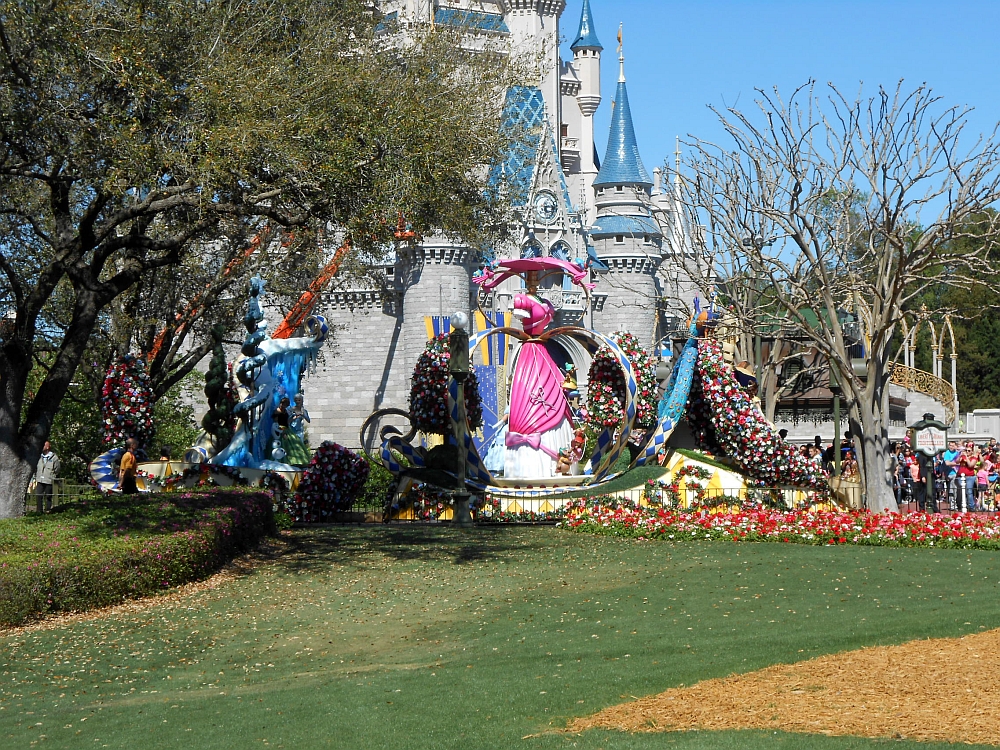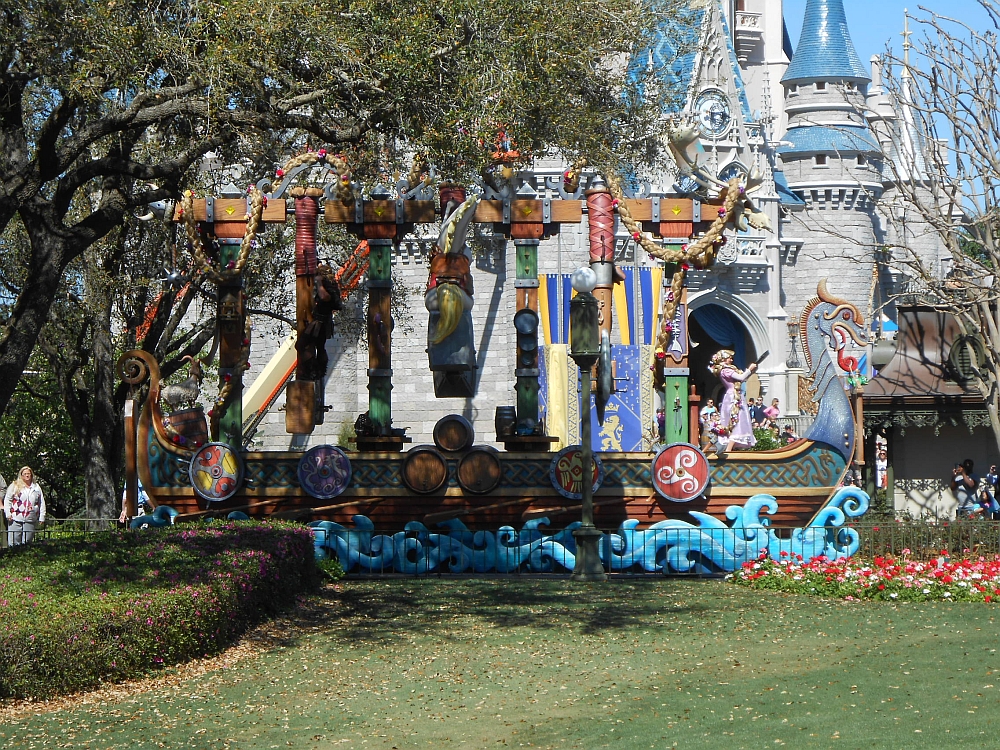 Back at the room I call Kidani Village to arrange for a cake to be waiting for dad when him and mum check-in tomorrow. We decide to head to the pool to relax for a bit as the cool wind has died down. As we pass the lawn we see some cheerleaders practicing routines and notice that they are staying in many of the rooms around us which is fine as long as their peppiness doesn't wake me up in the morning. I have a quick swim and we all read round the pool for a bit before getting changed and heading to Hollywood Studios. When we arrive it's 7:40pm so we decide to get a fastpass for the 8:30pm Fantasmic which means we can get in from 7:35 to 8:15, I don't really know how this helps us but we do it anyway. We head off to get food from the ABC Commissary but end up going a really long way through the very quiet Streets of America which makes a nice change from the huge crowds in Magic Kingdom. We all choose couscous, quinoa and rocket salad - George and I have ours with salmon, it's tasty if a little too much vinaigrette and makes a nice change from normal park food.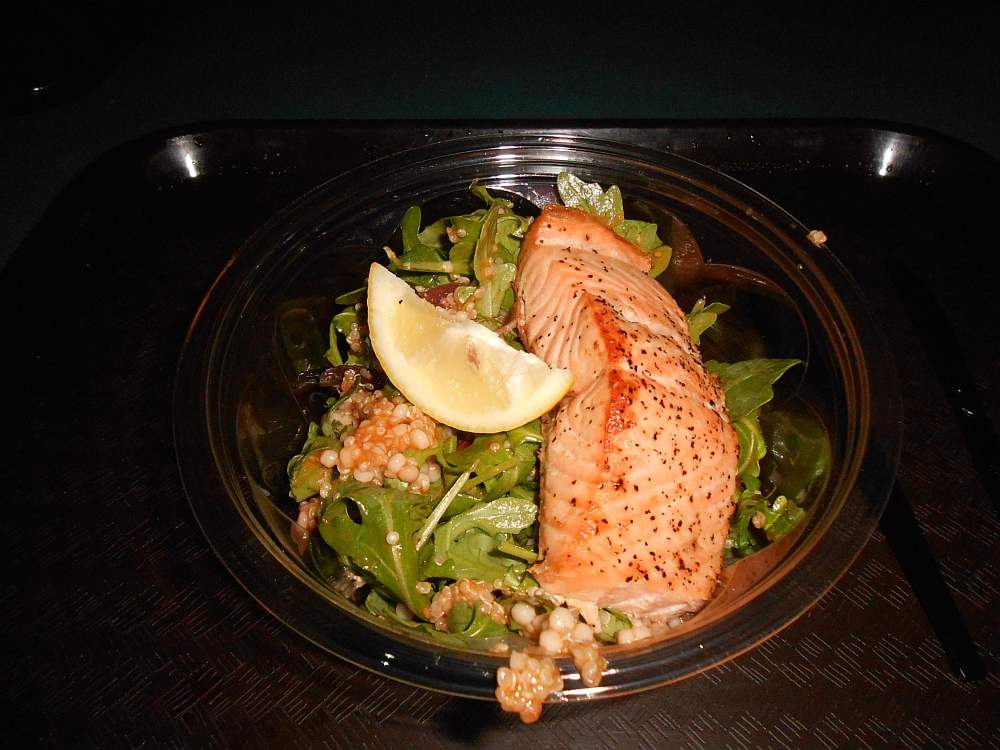 At 8:13 George points out the time which we had completely forgotten to keep an eye on so we rush over and they are doing last call for fastpass entry. We enter and the place is really full so we end up in the left most section - Beast. I have no idea what you gain from having a fastpass, maybe there is an area reserved for people with fastpasses but this wasn't highlighted to us. We watch the show which is as enjoyable as ever if a little distorted by the extreme angle to the stage but there is a bonus of sitting here that Anna highlights to us before the show starts and you should definitely keep an eye out for if you ever get placed in this section. The big boat goes by with all the characters on and heads round the corner so Mickey can do his thing at the top of the mountain. At this point there are a few small fireworks and from where we're sat we can see all the characters run inside the boat, presumably so they don't get set on fire but poor Ariel is unable to move, being a mermaid and all. So they just shove a sack over her head and leave her there, tail hanging out the bottom. It's hilarious to see and makes up for the less than ideal viewing spot.
When we leave the amphitheatre we ask the photopass lady to take a photo of us wearing our 'deformed' Mickey ears having drawn out who had which at the car. George has Gun (or Guni, no one is really sure), Anna has Biggie and I have Coming Fall 2014 and we pose for front and back photos with the sorcerer's hat in the background. Afterwards we head back to the hotel and are in bed by about 10:30pm.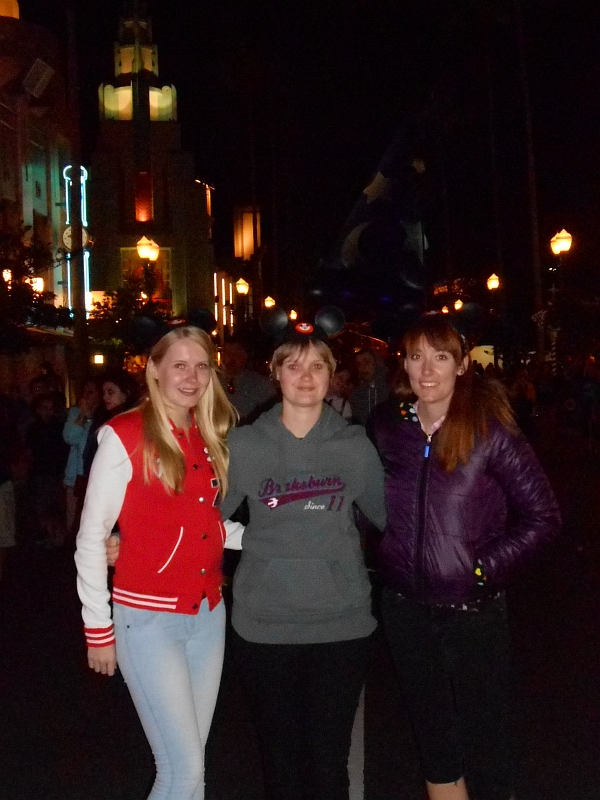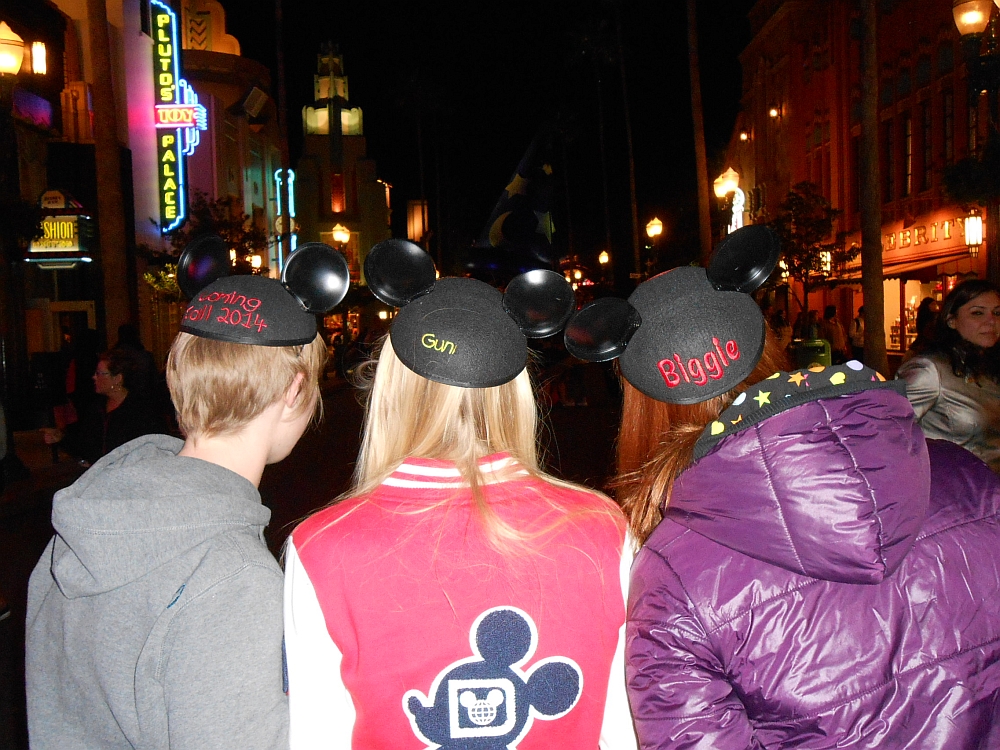 Day 1 (Tammy & Kev)
Written by Kev
This might get a bit confusing for a couple of days as we overlap our holiday, but it will all sort itself out in the end in a Back To The Future sort of way.
So, the day arrives when Tam and I start our holiday to Florida. Of course, the girls have been out there for nearly a week now enjoying themselves. How they can possibly do this without their wonderful father is a mystery to me, but there you go.
Tam and I both have to do the boring work bit until our holiday starts, but it's not too bad as we get to finish at 3.00pm before returning home to change and throw the cases in the car. By 3.30pm we are on the road to Gatwick. This journey takes a little longer than normal due to the heavy rush hour traffic, but we arrive in reasonable time at 6.15pm.
On the way up Tam and I talk about why we are not feeling quite so enthusiastic about our holiday as we usually are. Her theory is that we are leaving during winter, but we have done this before. I think it might be because we are only going for one week to Florida, which is something we have never done before. It doesn't help that the weather forecast for the week ahead is not looking too good with a fair amount of rain. This is not good at all. I have to have a good hard talk with myself to get things back on track. Good lord, we are British after all. I resolve to stiffen my upper lip, straighten my pith helmet and look forward to an absolutely spiffing time in the Colonies.
Lip stiffened and resolve strengthened we drop the car off at the short term car park at the South Terminal. We have never done this before, but it is very simple. You drop the car at the valet car office and they take it off site and park it for you. On your return you walk from the terminal into the short term car park and your vehicle is waiting for you. Seems a sweet deal to me.
Off to the Premier Inn at the North Terminal where we check in for the night. This place is right next door to the Sofitel. I can't think why we would ever use any other hotel than this at Gatwick again. It costs a fraction of the Sofitel rate, but you can use all of their facilities if you want to. And we do.
Bags dropped in the room, we walk across to the Sofitel to find something to eat. We decide on the Brasserie Restaurant as Tam has a gourmet card that gives us 25% off. I have no idea what a gourmet card is, but if it gives us 25% off - I'm happy.
Tam has the short ribs, while I go for the fish and chips. This makes it sound a little less than it is. The fish is flaky and moist and the batter is lovely and crisp. The thick cut chips are very nice too. There is also a smear of green stuff that I am reliably informed is pea puree, and an egg which is so small it can only have fallen out of a sparrow. Anyway, both meals are very nice and Tam rounds off the meal with their version of Sticky Toffee Pudding. Along with a glass of wine for Tam and a couple of beers for me, the bill comes to £55 including the automatically included 12% tip. The gourmet card comes through big time!
A cocktail may be in order, so we retire to the Kua Bar. They are showing a football match and Tam assumes I will want to sit at a table in font of the TV. I tell her that nothing could be further from the truth and all I want is her delightful company and wonderful smile as I sip my cocktail. What I don't tell her is that I'm surreptitiously looking over her shoulder to see what the score is at the same time.
Despite all this we enjoy a Caribbean Breeze and a Key West Cooler, which are very nice, but probably not worth the £20 they cost.
We walk back to the Premier Inn and go to the bar for a beer. It is quite full, but we find somewhere to sit. It's a bit like a Weatherspoons, but nice enough and we enjoy our drinks whilst talking a complete load of rubbish. Actually that would be unfair to rubbish - it's more like drivel. I blame Tam.
Back at the room I write up my trip report and we are in bed by 11.00pm.