Day 9 (India & Georgia)
Day 3 (Tammy & Kev)
Saturday 15th March 2014
Written by Kev
Ok, the rest of the trip report will be written by me. India did a sterling job with her part, but I think she's glad to have a rest now.
A relaxed night's sleep is not forthcoming. I'm not sure what time I wake up as the room is dark as there's no light switch on my side of the bed, but I doze on and off until we wake up properly at 6.00am. Melatonin my arse!
Setting my bed difficulties aside, we start preparing for our day ahead. Hmmm ..... perhaps that's not a phrase I should have used. It's not something you want associated with your name - 'Kev has bed difficulties' is not particularly flattering.

We have a breakfast of cereal and muffins with peanut butter as we used Garden Grocer to have everything we need for the week delivered to our room.
We deliberately don't open the curtains until 8.00am as I have this image in my mind of the view from the balcony on our first morning. It should be sunny with beautiful blue skies and giraffe and zebra roaming on the savannah below. Well, it's partly correct as it's a beautiful sunny morning, but there is not an animal to be seen. I suppose it's too early and they haven't come out yet.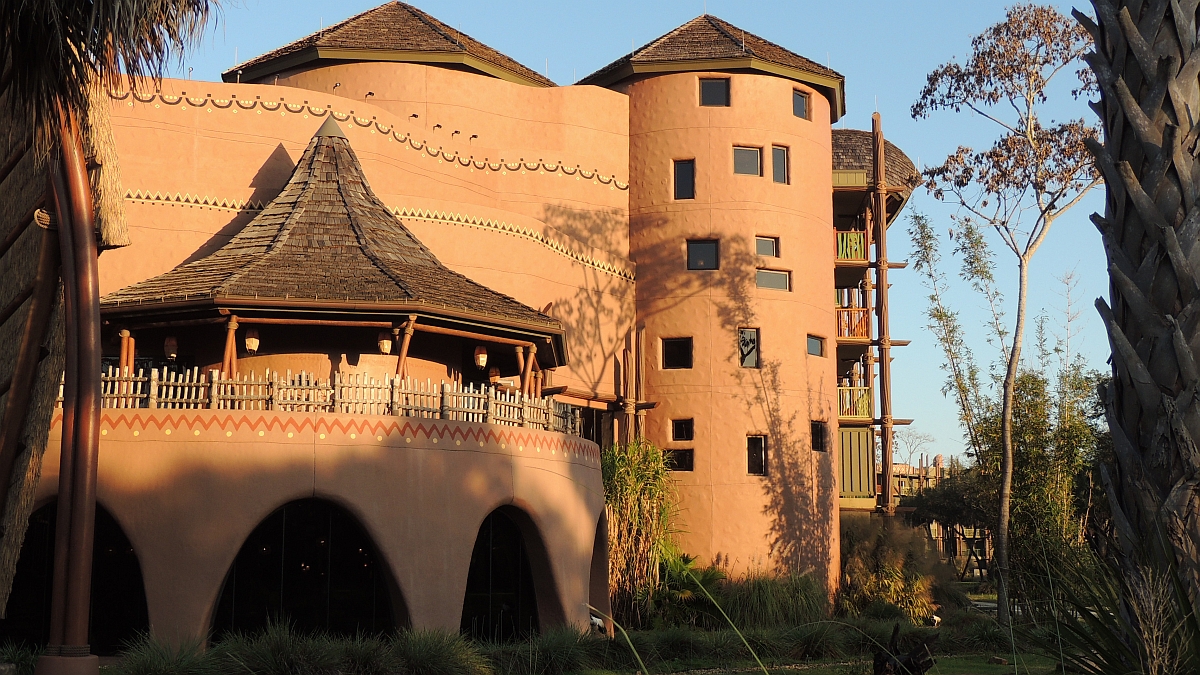 We are meeting the girls at the Animal Kingdom today along with our friend Susan . We have a look around Kidani Village before catching a bus at 8.30am. We are supposed to meet the girls outside the entrance gates, but they are still not on their bus from Port Orleans French Quarter at 8.50am, so me and Tam go in using our Magic Bands for the first time.
The girls arrive at 9.15am and we meet them on the bridge overlooking the Tree of Life. It's lovely to see them and there is much catching up on what they have been doing in their first week.
We do Tough To Be A Bug first and then walk through the Maharajah Trail where we find the Fruit Bats have just been fed. It's fun watching them as pieces of fruit have been strung at the bottom of short chains. The bats hang upside down (obviously) and pull the chains up until they can reach the fruit.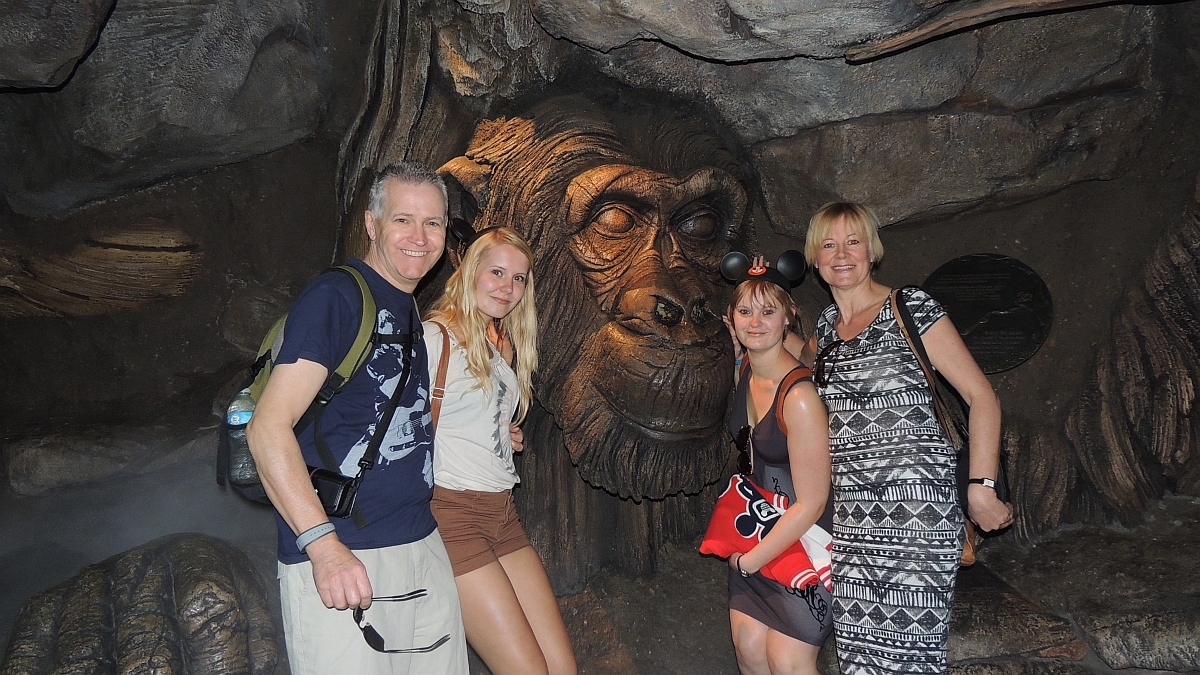 This is sort of a traditional photo for us. One day I'll have to pull all the photos we have had taken here over the years together and weep at how the years have passed.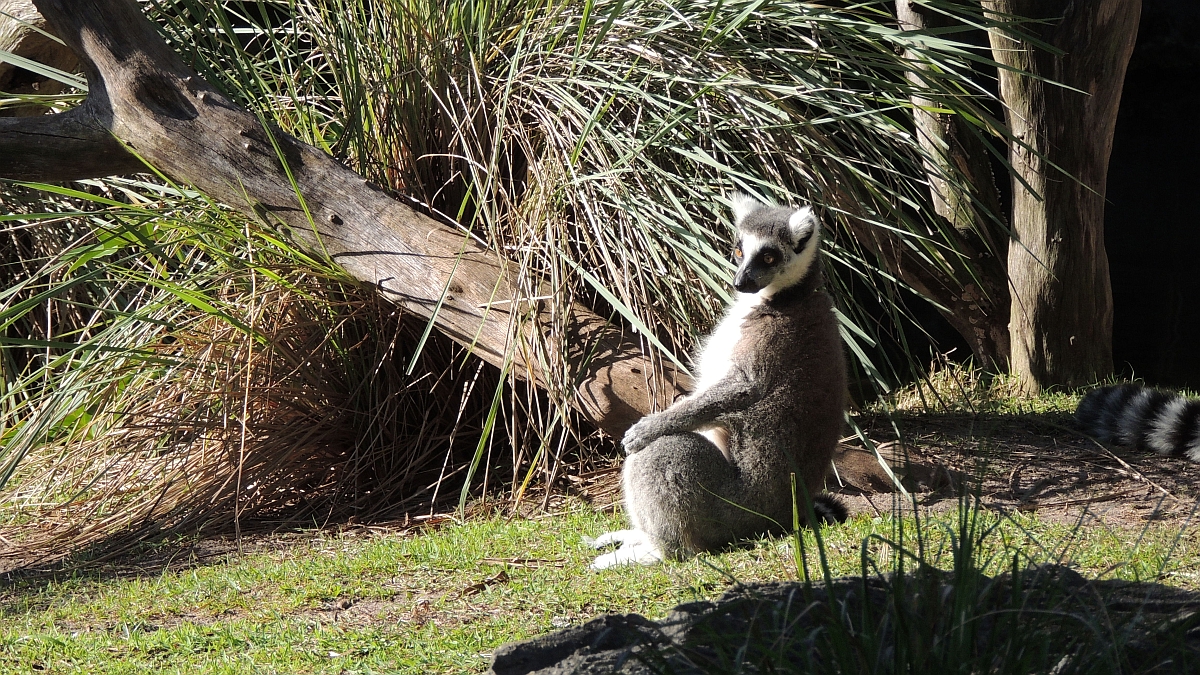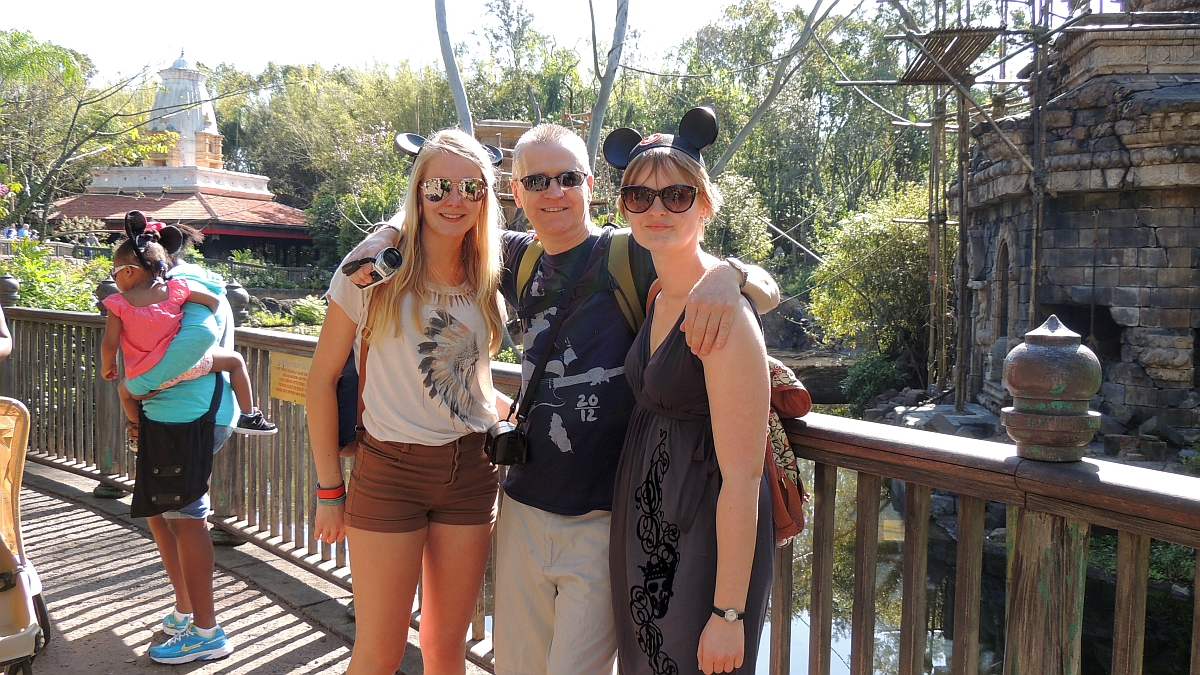 It's got to be said - I grace any photo. The girls ain't bad either.
At 11.00am we go to Kilimanjaro Safaris where we meet up with Susan our good friend from Oklahoma and Anne, her friend from Georgia. Susan and Anne were at school together and are celebrating a milestone school reunion. Being too much of a gentleman to divulge the actual number of years, I will merely state that it is somewhere between 49 and 51 years.
It's so much fun to meet up with Susan again and we chat away as if we'd only seen her last week.
On Kilimanjaro Safaris we have a very good guide named Hayden.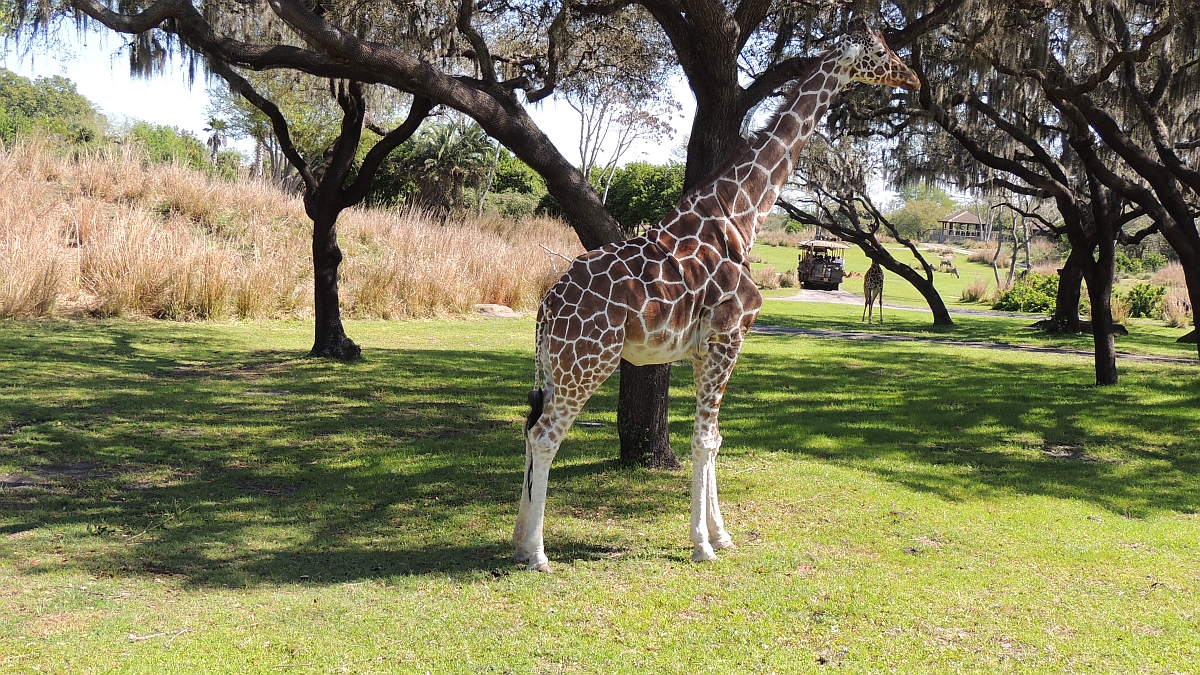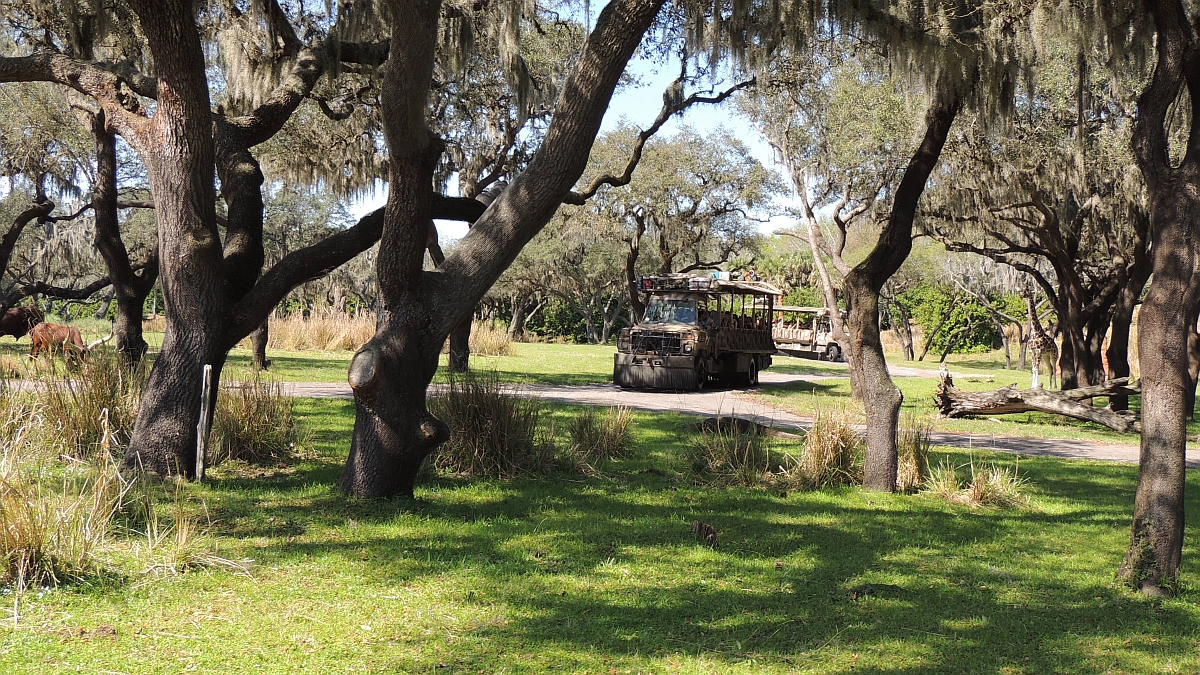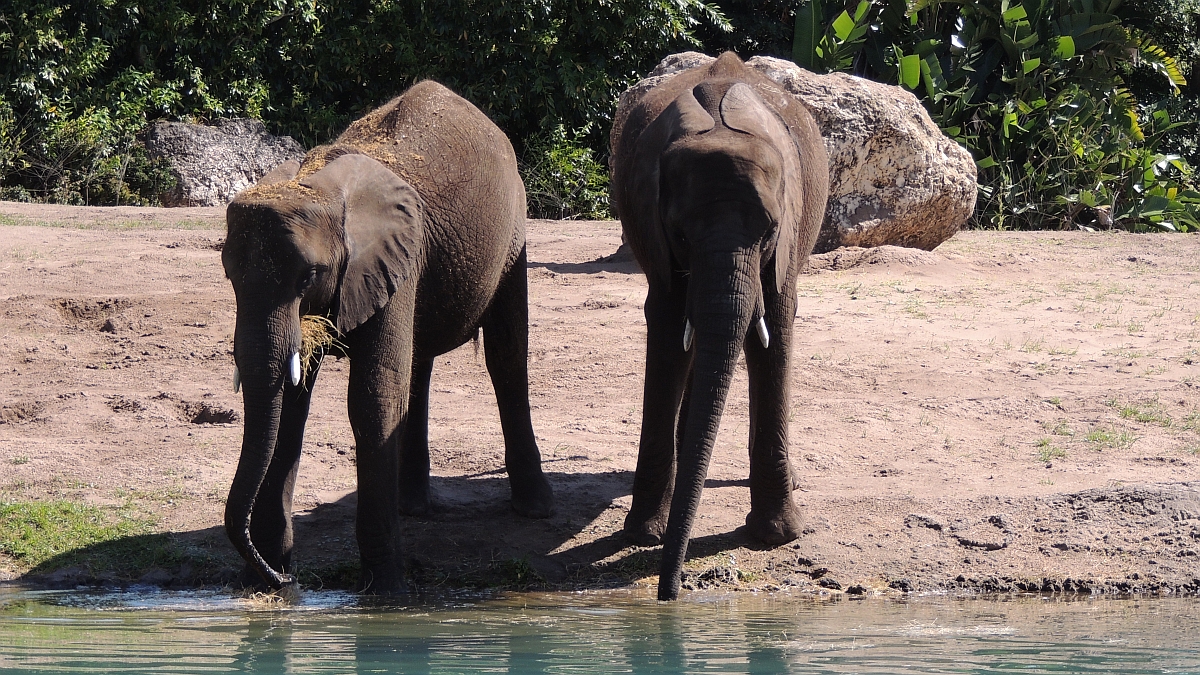 The Panganini Trail is next where we see an African Toad. It's a large beast and looks somewhat like someone has flattened it with an iron. Georgia says it looks cute. Now, to most people this thing is the opposite of cute, but Tam agrees with her. This has me a little worried as Tam also thinks I'm cute.
We spend some time watching the gorillas and there is a very informative Cast Member there named Anne Marie who spends a good 15 minutes or so telling us all about their behaviours. She also has to ask a number of people to please not make so much noise and also not to whistle and shout at the animals. She tells us that the last 4 or 5 days have been quite difficult as so many guests have been causing so much commotion that they have been upsetting the gorillas. I guess that tells us something of where we are headed as a species when the animals are better behaved than the humans.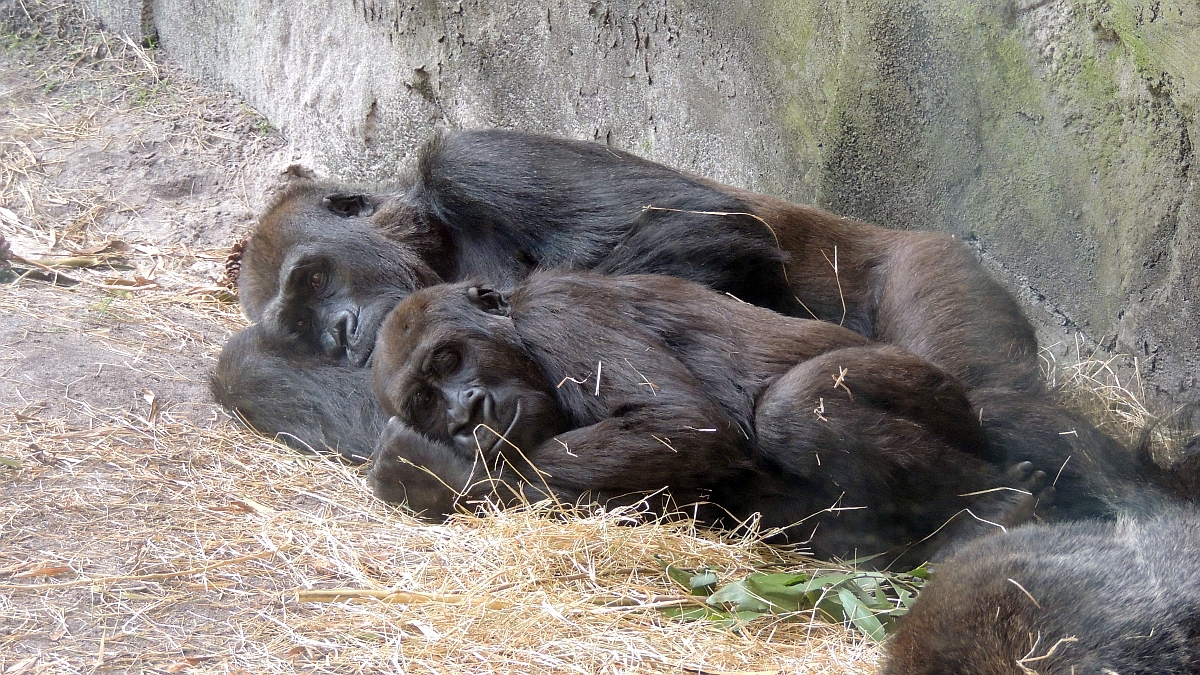 Ah, look - it's India and Georgia.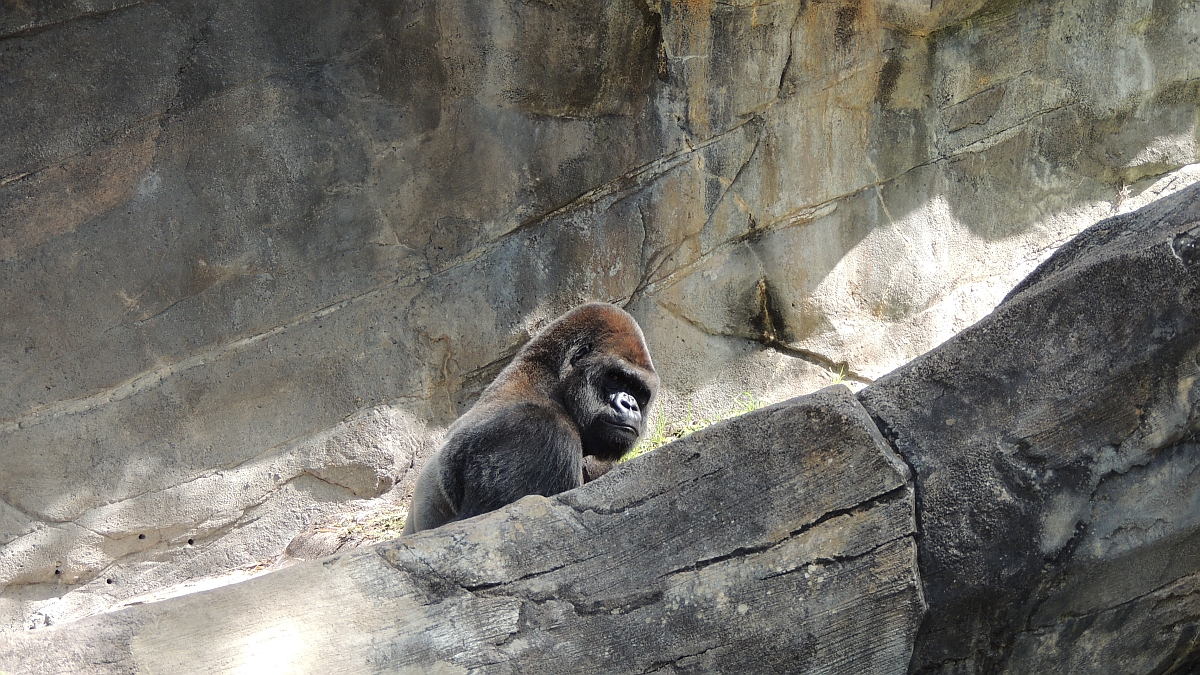 This is very similar to the look I get off Tam when I've done something wrong. I've seen it a lot.
As we are walking Susan tells us a story in strictest confidence. I am relaying this story to you on the understanding that you will pass this on to no one else. Apparently she and Anne rode Toy Story Mania the other day and were not doing very well. About 3/4 of the way round they mentioned to each other that the 3D effects were not half as good as they remembered. It was at this point that they looked at each other to discover that neither was wearing the 3D glasses. Don't worry Susan, your secret is safe with me.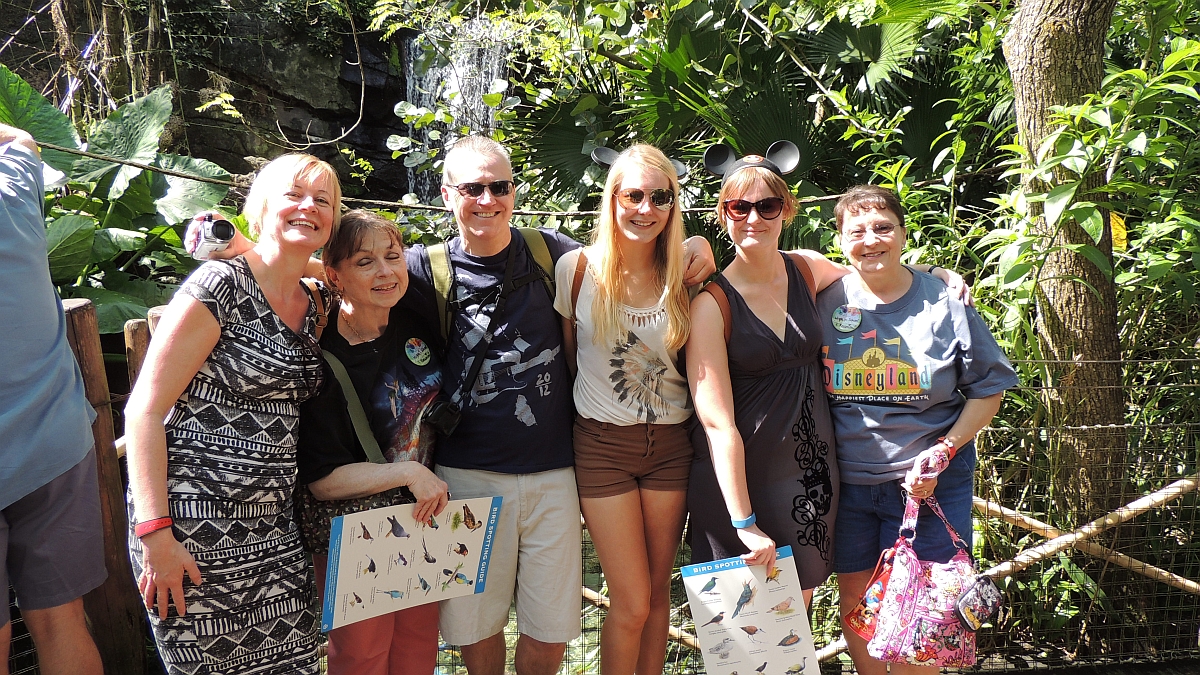 It is one of life's great truths that Susan will invariably have her eyes shut in any photo you attempt to take of her.
Over to Dinosaur for a date with extinction before it is time for lunch. We grab drinks from the Dawa Bar - an African Margarita for me and a rum based drink for Tam, whose name I can't remember. The drink that is. I remember Tam's name - sometimes.
We find a table in the courtyard area opposite the bar and then take turns to go off to get the food of our choice. Tam and I split a Sweet and Sour Chicken and a Honeyed Chicken. As we sit talking Anne reveals herself to be a font of knowledge in all things related to Disney. She says it stems back to when her family owned a number of cinemas when she was little. She tells us that she saw Peter Pan 42 times! Yes, but where did your passion for Disney come from?
After lunch Susan and Anne leave for their Fastpass+ for the Nemo Show, whilst the rest of us go to Kali River Rapids. Unfortunately I am the one to get soaked, although we all get wet to some extent.
We now leave the park and get the bus back to Kidani Village. The girls are staying with us for the night and have had their things sent over by Bell Services. In the room we change into our swimwear before heading down to the pool. It's been an absolutely fabulous day weather wise - high 70's temperatures and just a few light clouds.
The pool at Kidani Village is pleasant enough, but nothing out of the ordinary. They could do without the loud music though. As Tam says, every large resort should have a quiet pool. We manage to find 4 sun beds as far away from the DJ as possible and enjoy some time swimming, reading and sunbathing. This was part of my promise to Tam - that this trip would be less 'full on'. We will take the parks at a slower pace and enjoy some down time as well.
Back to the room for a shower and a couple of beers on the balcony. Up to yet we have seen very few animals close up on the savannah, but they suddenly decide to put on a show for us. Within a short space of time we are visited by 3 giraffe, a herd of Wildebeest and a herd of zebra, along with other assorted antelope. It's amazing, although I'm not sure the people on the other balconies appreciate the site of 3 freshly showered Stringer women dressed in nothing but towels as they are too scared to go in and get dressed in case they miss something.
The only thing that detracts from the feeling that you are on safari is the rather loud family who seem to think it's acceptable to have their children screaming at each other. Once again the animals get my vote over the humans.
I've stayed in a few DVC resorts now and I very much doubt there is a better view from a balcony than we have just witnessed. In fact, I know there's not.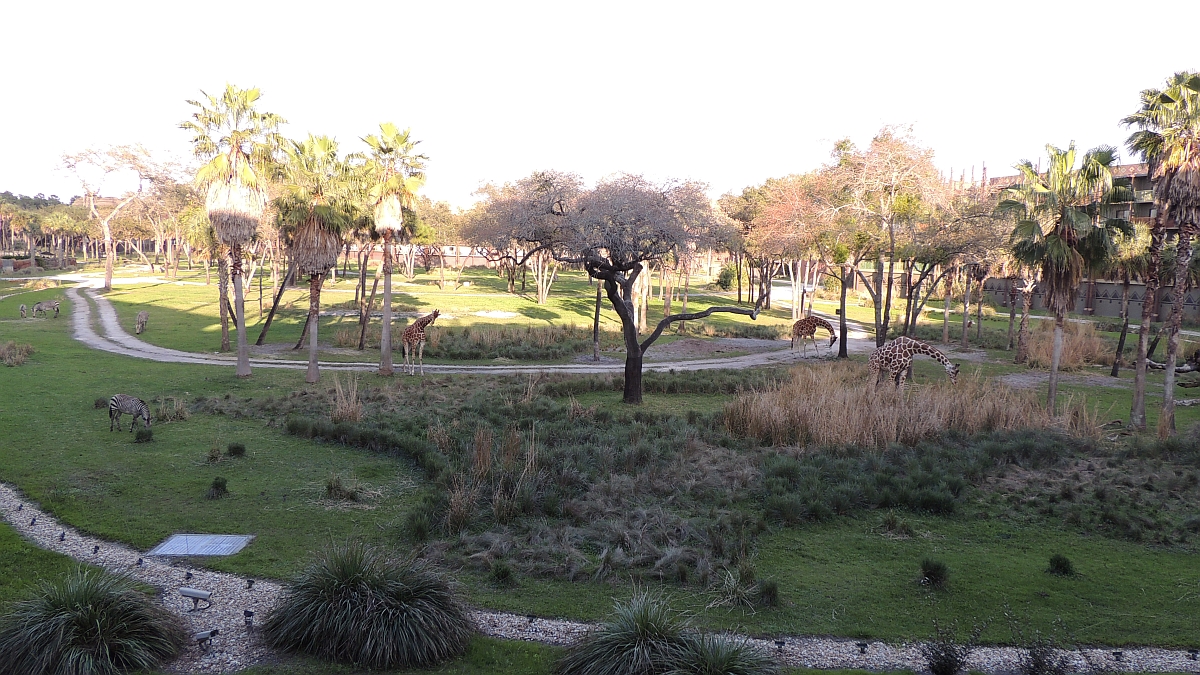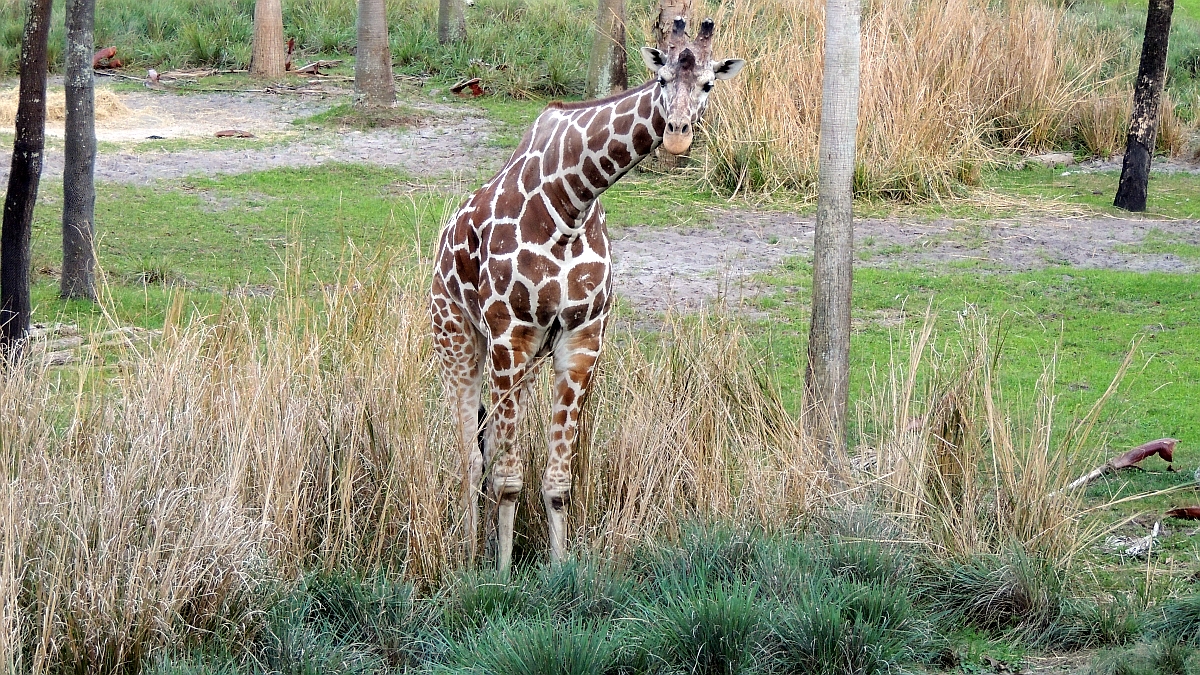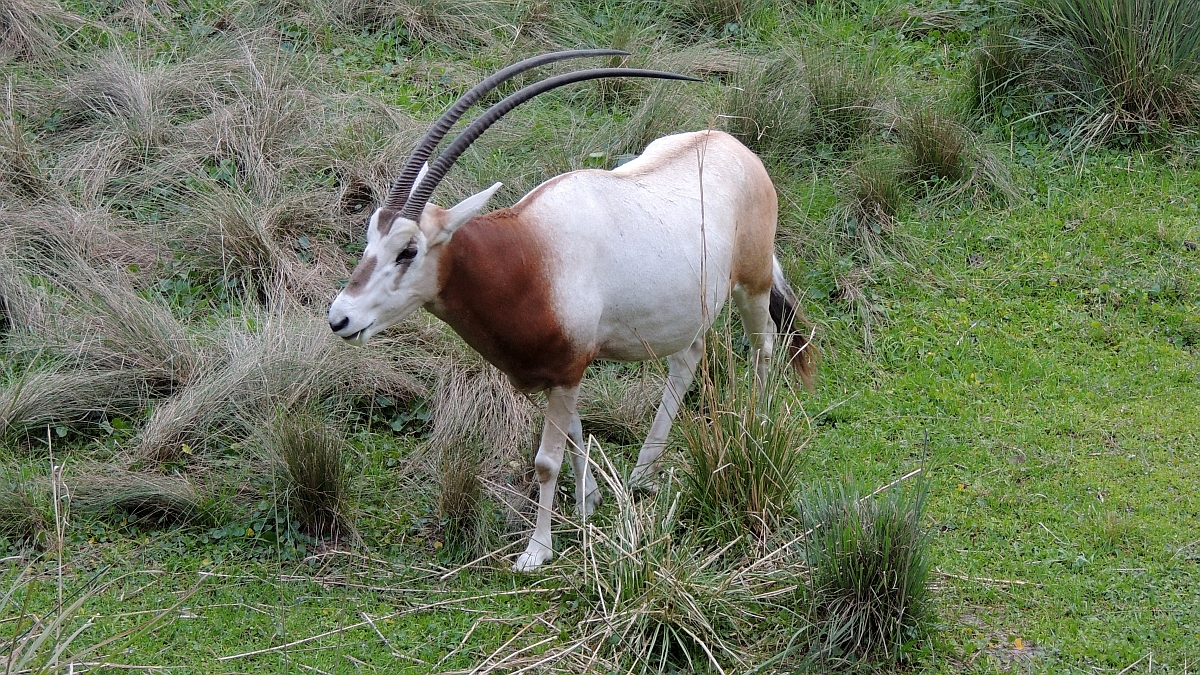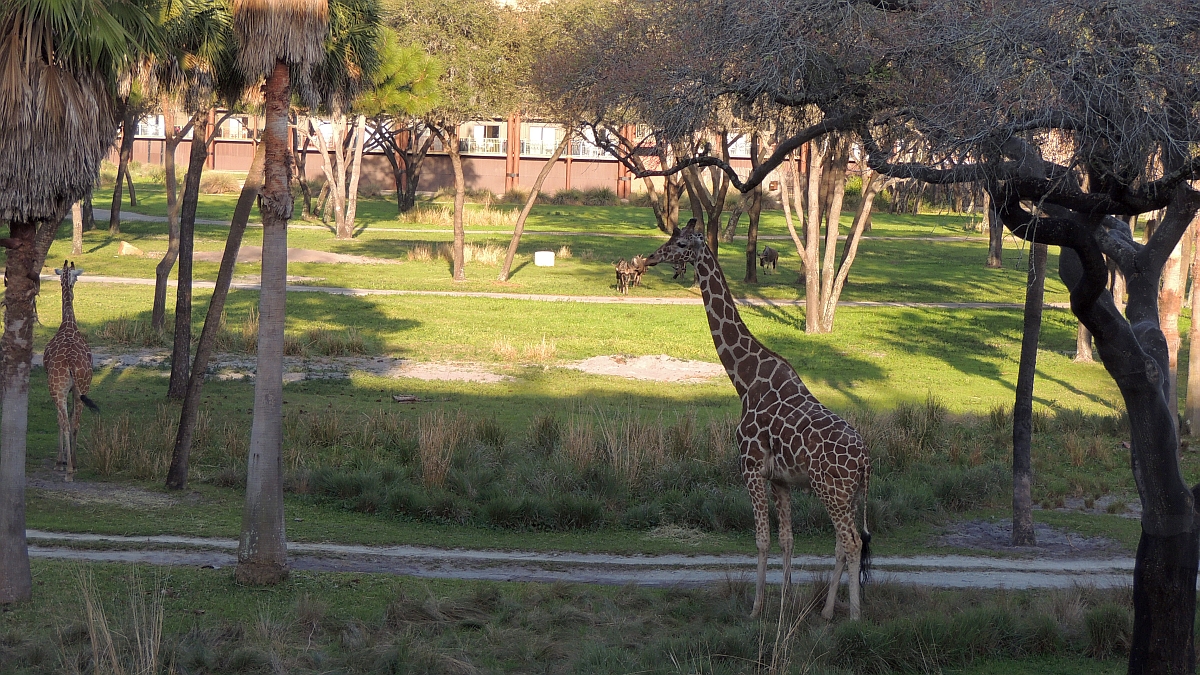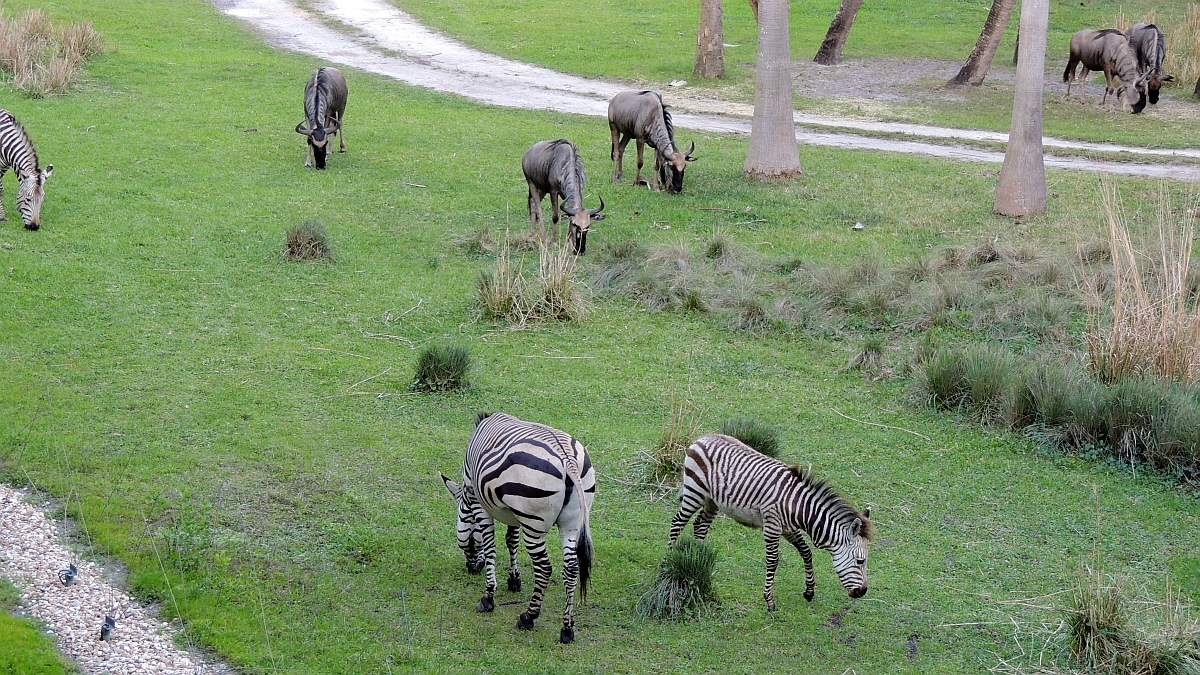 At 7.00pm we go to the bar at Sanaa to meet Susan and Anne. Presents are exchanged over drinks. India and I both have a Smoked Turkey, a Red Stag Bourbon based cocktail, which India likes a lot. We are called to our table at 8.00pm and are seated by a window overlooking the savannah, which would be considerably better were it not dark.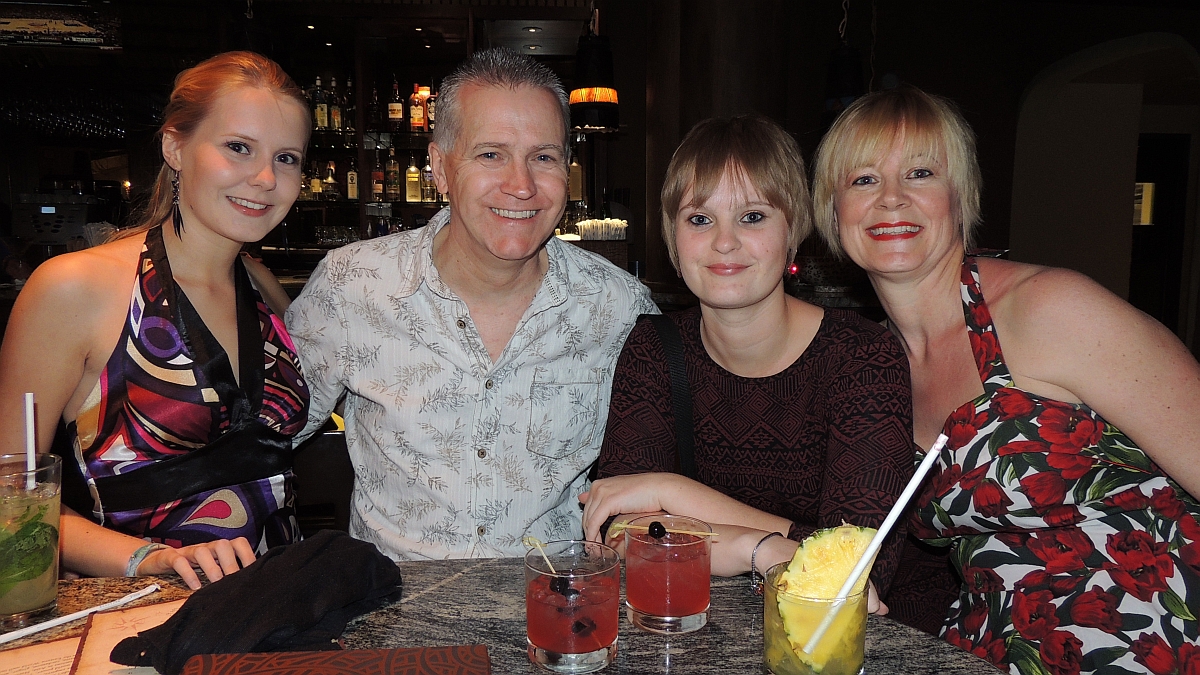 Mmmmm .... Smoked Turkey.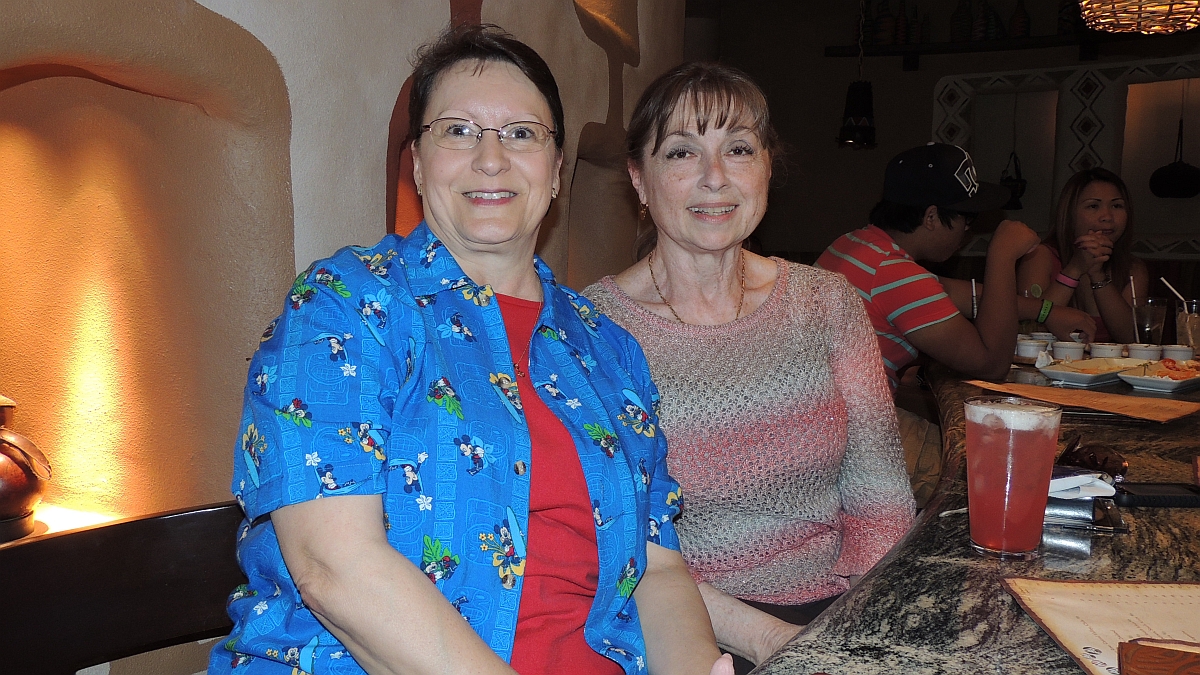 Cripes! What went wrong Susan? Your eyes are open. And a purty couple of ladies you are too.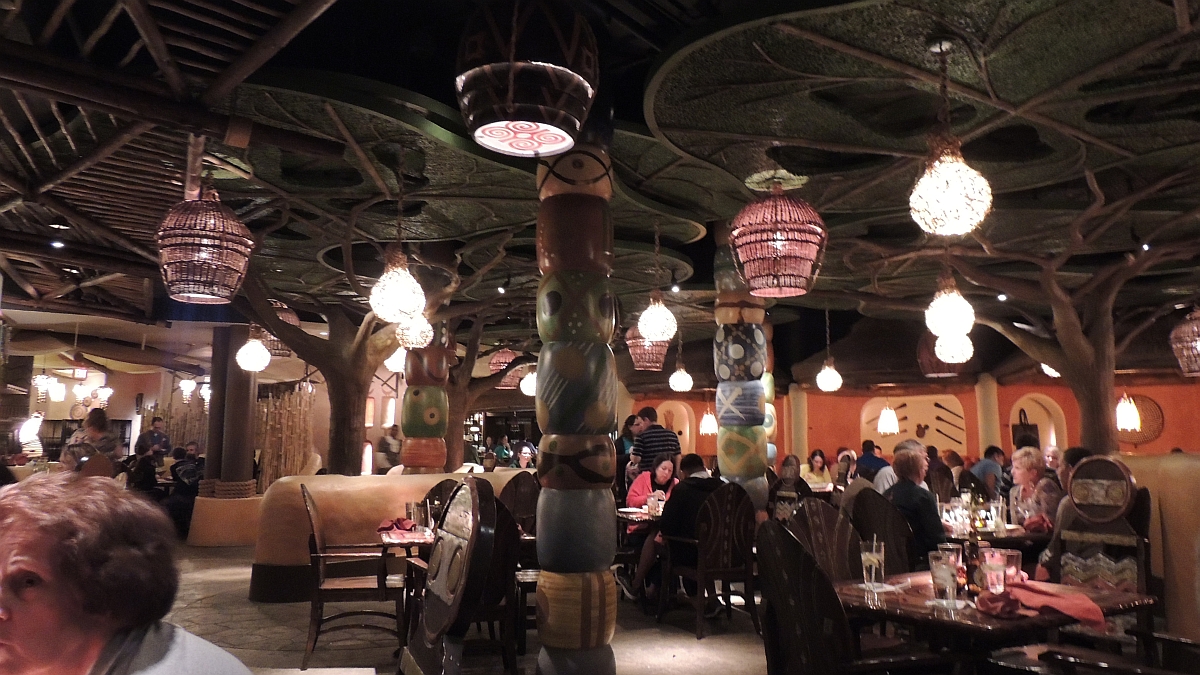 The food is mostly Indian with some African influence. Tam and I both have Butter Chicken and Goan Fish Curry with pilau rice. I've had better fish curry, but the chicken is very nice. India orders a steak medium rare. when it comes it is medium to well done. The server immediately removes the offending plate of food to get it replaced. As we all have our food we have to start without India. The server then turns up with a bowl of tomato soup telling India that he couldn't leave her with nothing when the rest of us are eating. A nice touch. India declares the soup to be wonderful, I think this has more to do with the taste than the fact that it is free.
The ladies decide they want desserts, but I tell the server I won't have one. When they all arrive he brings a complimentary dessert for me as he says I shouldn't be left out. Nice chap. Although I didn't really want one, I eat it all anyway as it's a rather nice coconut cheesecake.
The bill comes to just over $180 for me, Tam, India and Georgia including the already added 18% gratuity. I add a little more as he's been so good.
We leave Sanaa and stroll to the fire pit, where we spend a very pleasant hour or so chatting and enjoying the warmth from the fire.
All too soon it's time to say goodbye to Susan and Anne as they are leaving tomorrow. It has been really nice to see Susan again and we are once again reminded of what a lovely lady she is. It's also been fun meeting Anne, I didn't think it was possible to meet anyone with a greater knowledge of all things Disney than Susan, but in Anne I think we have.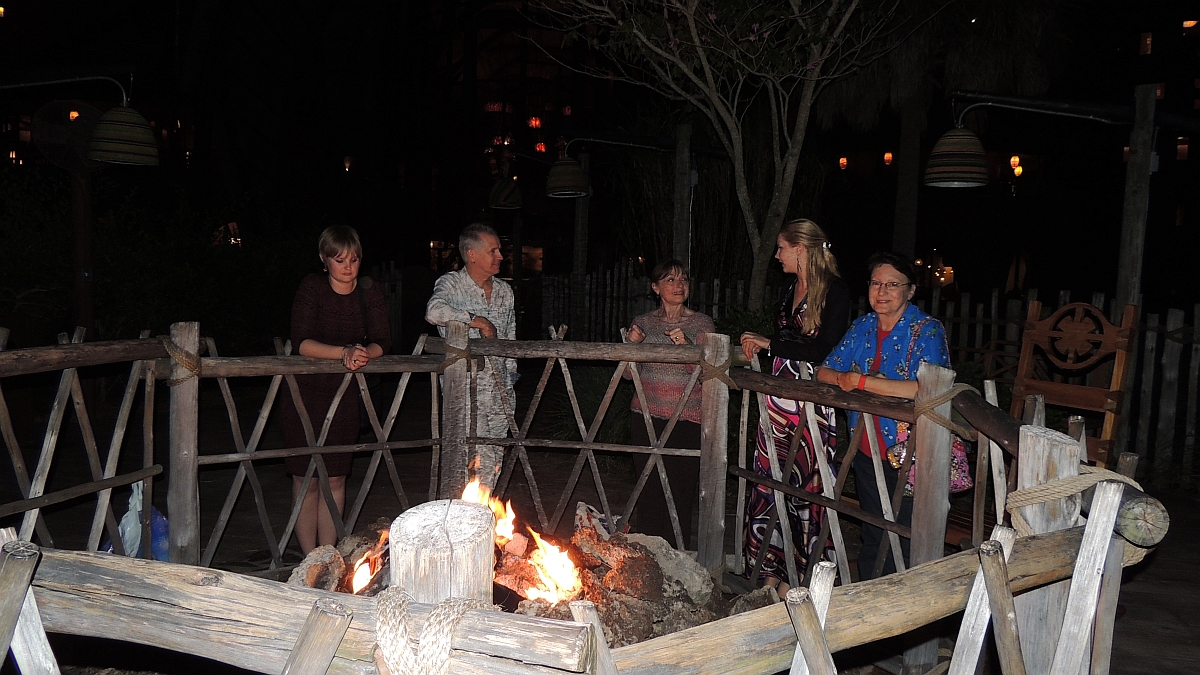 Back to the room to make up the spare bed for the girls. We are snuggled down by 11.45pm as we are off to Disney's Hollywood Studios and the Magic Kingdom tomorrow.