Day 6 (India & Georgia)
Wednesday 12th March 2014
Written by India
We wake up about 8:45 after a lovely long sleep and decide we will do Typhoon Lagoon today despite the forecast being for 50% chance of showers and thunderstorms for the day. We figure at least it'll be quiet. It is cloudy when we leave the room and go to the food court to grab muffins and a hot chocolate to go for breakfast. We get to the park at 10:05 and wait 5 minutes for the ticket scanner to be working again before we enter and find a spot under shelter as there are already spots of rain coming down. George and I have forgotten towels so we rent a couple for $4 and the lady also throws in an additional one for free as there are 3 of us. I sit down and write up yesterday's events and then we head to the slides.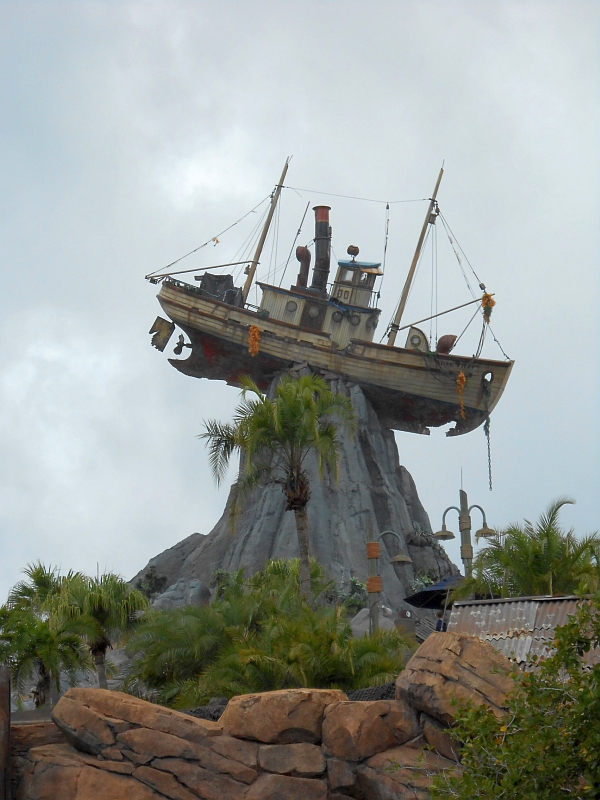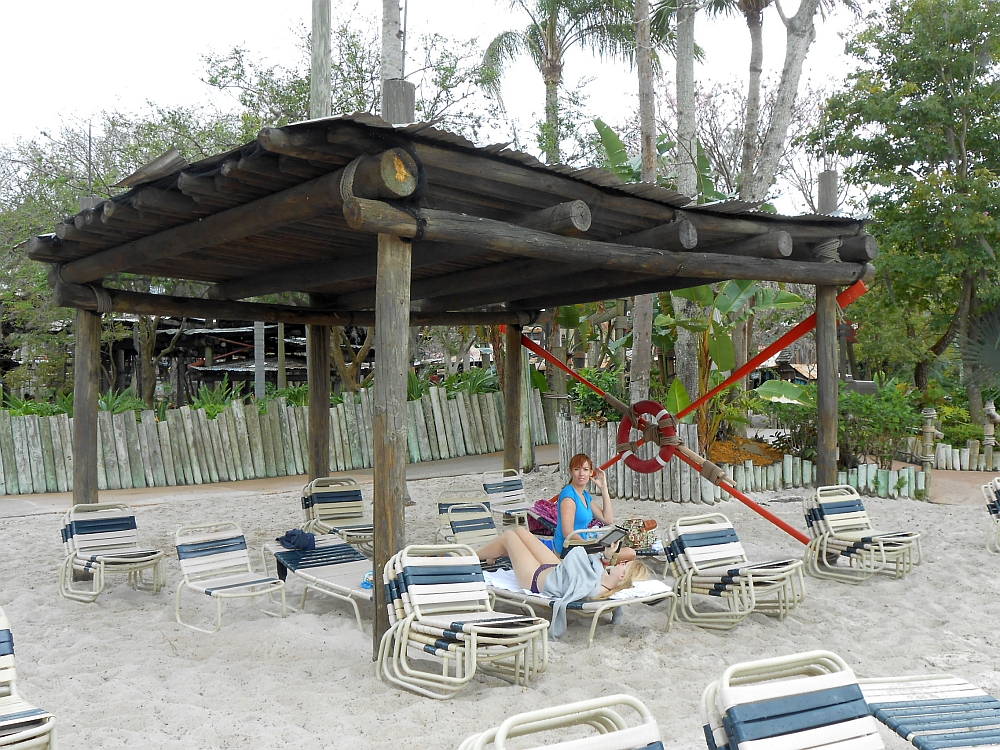 We do Gangplank Falls, Mayday Falls and Keelhaul Falls with no queues at all. The sunshine appears briefly on and off throughout the day but it is mainly cloudy. We then go round and do Storm Slides all together. I then make a mistake that I will never repeat - Humunga Kowabunga. Don't get me wrong the five storey drop is a lot of fun but with all that momentum built up they have to slow you down pretty quickly. Really the only reason to bother with this slide is if you are looking for an enema, seriously the repercussions of this slide vastly outweigh the 3 seconds of fun it provides. Anna and George have been sat videoing at the bottom and think the whole thing is hilarious.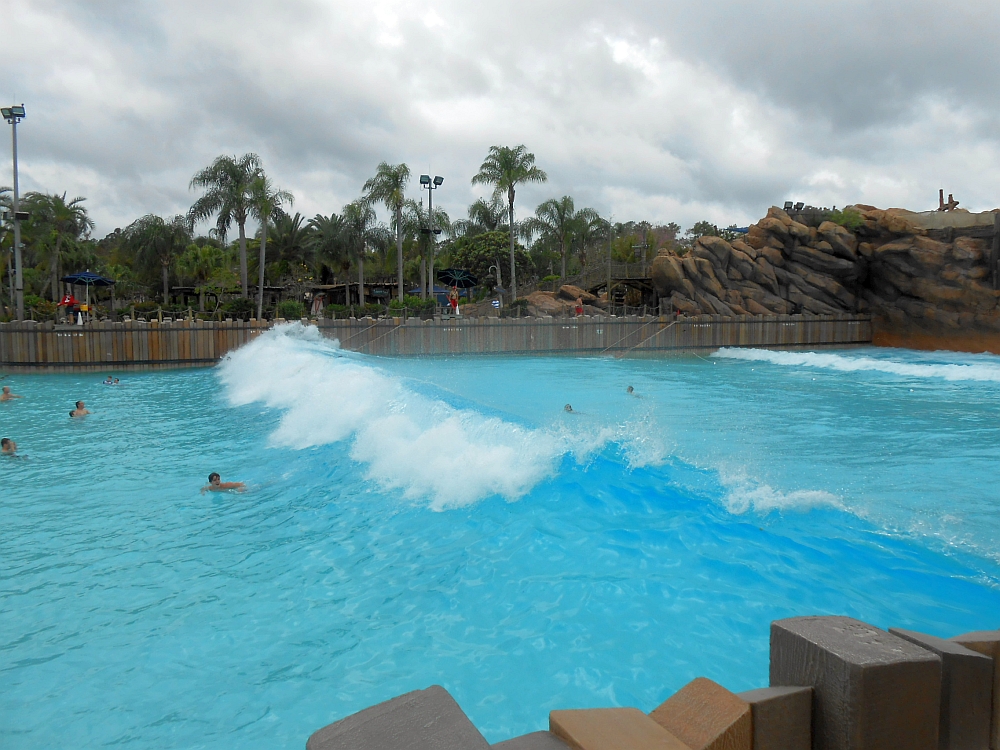 After the traumatic experience we all decide a trip on the lazy river will be a good way to recover. We go around for one loop and then jump in the wave pool where we mess around for a bit. The rain really starts coming down so Anna heads back to the stuff whilst George and I do Crush 'n' Gusher - banana followed by pineapple. This is definitely the best set of slides here.
We want to do some shopping in Downtown Disney so we leave the park and drive over there, eventually finding a parking space as they are building the multi-storey car park so this is even more difficult than it used to be. Anna points out how people "car stalk" by driving behind pedestrians in the hope they will be going back to their car and free up a space. Once parked we head to Earl of Sandwich and queue for Caprese and Italian sandwiches and a pasta salad for lunch. It's really busy in DTD today, presumably because of the bad weather and the Earl of Sandwich employees are working manically to get through the huge queue. We then head to MissMatched and World of Disney and all buy various things including a magic lamp charm for my Troll Beads bracelet, some PJ shorts for George and flowery leggings for Anna. Over the past few days Anna has talked about Cast Connections and "The Land of Broken Things" where cast members can go to buy all sorts of Disney things, as well as food, plants, furniture etc. (I should point out that "The Land of Broken Things" is Anna's name for the place, I can't remember what it is actually called now but it is next to Cast Connections). George has been obsessed with going there so we decide to head over to satisfy her shopping addiction, although she's gutted that she can't go in to TLoBT.
We drive over there, it is located behind Magic Kingdom past the Contemporary and then the place where they service all the transportation vehicles. It's weird to go in to a place that is on Disney property but clearly not meant for guests to see as it is a large portakabin type building and feels sort of like a Disney version of Lidl. Friends and family can go into Cast Connections as long as they are with a CM but only a CM can buy things. At one end there is food that is going out of date soon or there is too much of. Then there are clothes and household items - Indiana Jones leather jackets, Haunted Mansion candlesticks - you know, the essentials. At the back of the shop is the furniture section where old arcade games are kept along with mirrors, bed heads, pictures (we see some of the old Grand Floridian stuff that we saw being moved out of the resort when we were there for afternoon tea). It is a Disneyphile's dream, particularly as it is all discounted so George and I wander around looking at everything and picking out what we want whilst Anna heads next door to "The Land of Broken Things" to buy things that aren't of saleable quality where only Cast Members are allowed. George and I pick out a birthday present for dad (a nice windbreaker with the WDW logo in the corner), a Disney t-shirt each and identical WDW letterman jackets. Anna comes back and buys the things we have picked out and then shows us what she found in TLoBT. She said it wasn't a particularly good day and you have to be lucky to get there when a delivery comes in to get the best stuff but she has got George a Mickey key ring with only one ear which she thinks is adorable, I get an orange/bird aerial topper who has lost his green hair (identical to the one on Anna's car) and there is a set of Mickey ears each. Any embroidered ears that have gone wrong or not been picked up are delivered here so we have "Biggie", "Gun" and "Coming Fall 2014". We decide who will get which on another day.
It's about 5:30pm so we head back to the hotel to read and get ready for our meal. When we're all ready we drive over to Yachtsman's Steakhouse and are seated after a few minutes. We are introduced to our server Lulu who is very friendly and George thinks she is so cute she wants to 'take her home in her pocket'. She tells us her favourite starter is the Land Green Salad with leaves provided from The Land in Epcot. George and I like the sound of it so we order one each and it comes out with blue cheese, blood orange, apple, Serrano ham and almonds. It is sprinkled with a cocoa mixture that looks like dirt, which is a nice touch.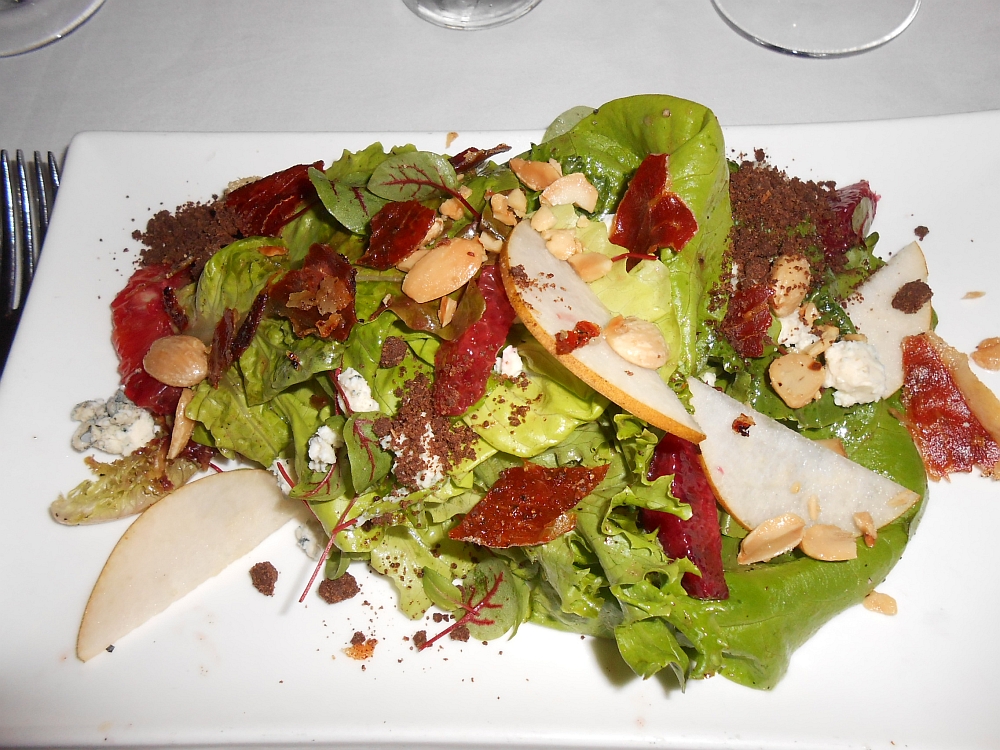 Anna and I order a glass of white wine and Shiraz respectively. For main course George and Anna have the filet mignon with Cabernet sauce and mashed potato and I have the New York strip steak in a brandy peppercorn sauce with twice baked potato. It is very tasty, though Anna says hers was a little too salty and I agree that my potato was too. None of us have room for dessert so we get the bill which comes to about $150 including tip, tax and Anna's 50% discount taken off. After the meal we find the manager to tell her how wonderful our server Lulu was. She was aware from the start that we would not be paying full price but was very attentive and friendly throughout, something which Anna has found doesn't always happen when the Cast Member realises another CM is dining and they will therefore be receiving a reduced tip. We drive back to French Quarter and are in bed by 10:30pm.