Day 5 (India & Georgia)
Tuesday 11th March 2014
Written by India
Georgia and I wake up at 8am and catch the bus to Hollywood Studios, entering the park about 9:05. We head straight for Toy Story Midway Mania but there is already and hour long queue. We decide to do the Legend of Jack Sparrow show as we've never done it before. It's very well done but we probably wouldn't bother doing it more than once in a trip (unless the parents want to).
We haven't had breakfast so we go to Starring Rolls Bakery where we have an apple and Craisin turnover each, a chocolate milk for George and an iced coffee with a shot of chocolate syrup for me. We salivate over the enormous cupcakes that we've all been thinking about whilst exercising in the run up to the holiday. I will definitely be having a Butterfinger cupcake at some point. We then head to Star Tours which is basically a walk on. Unfortunately for me the robot who is looking at the bags that go through the security scanner turns to me and says 'excuse me sir' which George thinks is hilarious given the comment in the Animal Kingdom the other day. The ride is one we haven't had before with Chewbacca in it which is great.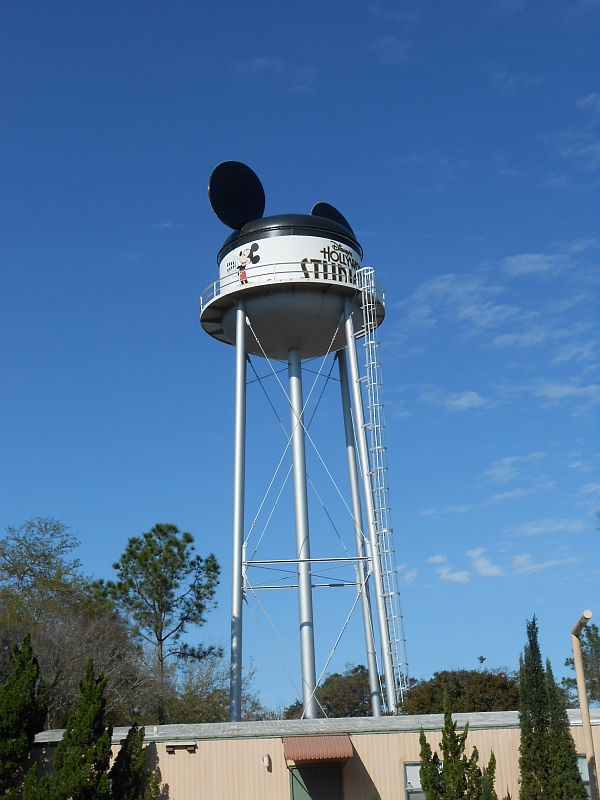 Anna will be joining us shortly and isn't a fan of the backlot tour so we do that and have to queue only 2 minutes before entering the pre-show. The woman who is presenting, Britney I think, speaks so quickly that we have no idea what she's on about but we get the general gist - explosions and water. On the tour we see a canoe with Adventurer's Club on the side and are sad that we'll never get to go back. In the shop afterwards we have a browse and see that there is a signed Born to Run vinyl for $1,200, if anybody wants to buy this for me it would be gratefully received!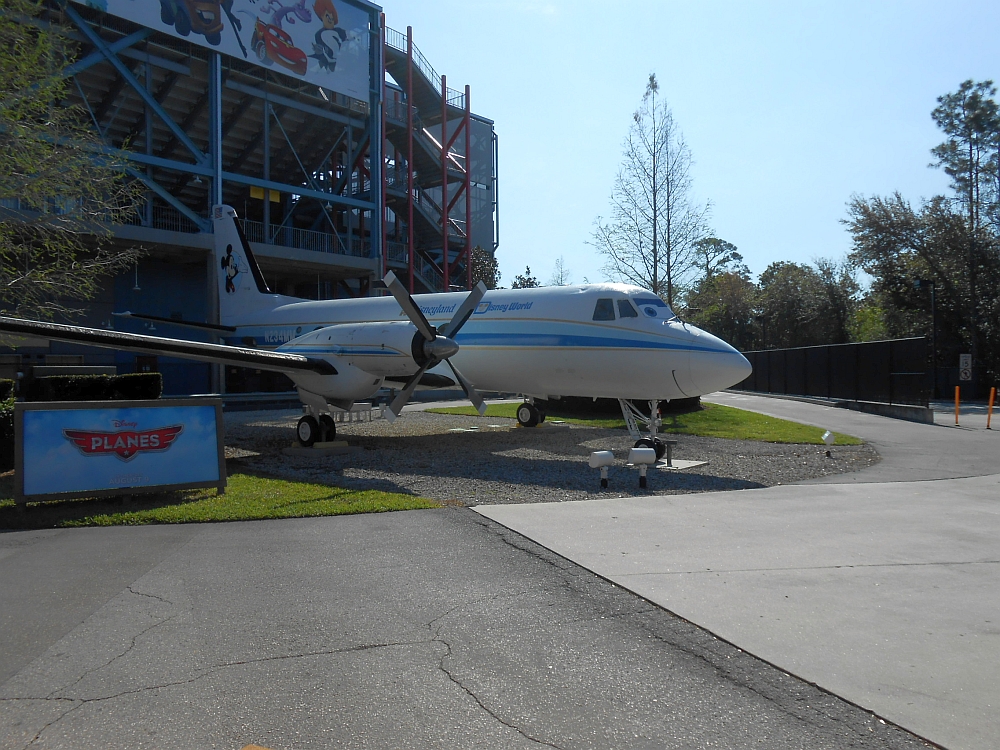 Anna is driving to the park so we meet and do single rider Rock'n'Rollercoaster. It's a 35 minute wait and for a while we don't move at all but when we get through to the loading area it looks like cars are drawing up infrequently, indicating there may have been a problem with the ride. Georgia is doing her usual worry before this ride but gets to ride with Anna so all is good.
Once out the other side we don't really know what else to do so decide to head to Beach Club for a relax for 40 minutes before our Beaches and Cream reservation. George and I want to get the boat down so we do that whilst Anna drives to meet us. We arrive a few minutes before her and we all chill on the beach for a while. I'm not a huge lover of sitting out in the sun for ages as I tend to get headachy and burn so I head over to the Yacht Club reception to book a table for Yachtsman's Steakhouse tomorrow. I get a reservation for 8pm and head back to meet the girls and go to Beaches and Cream.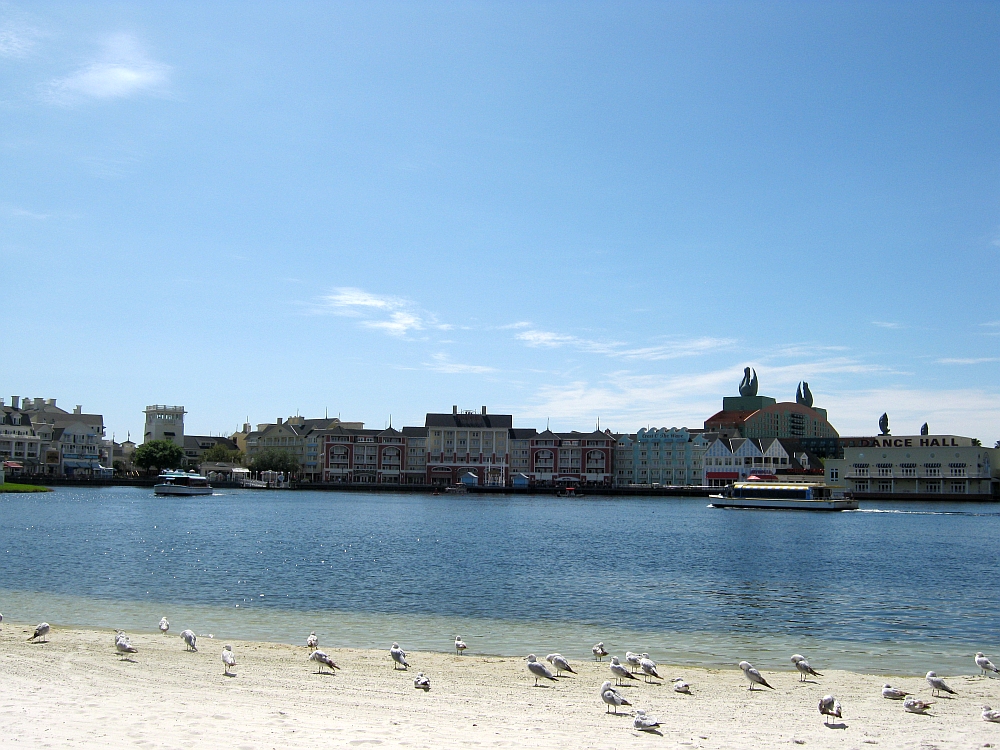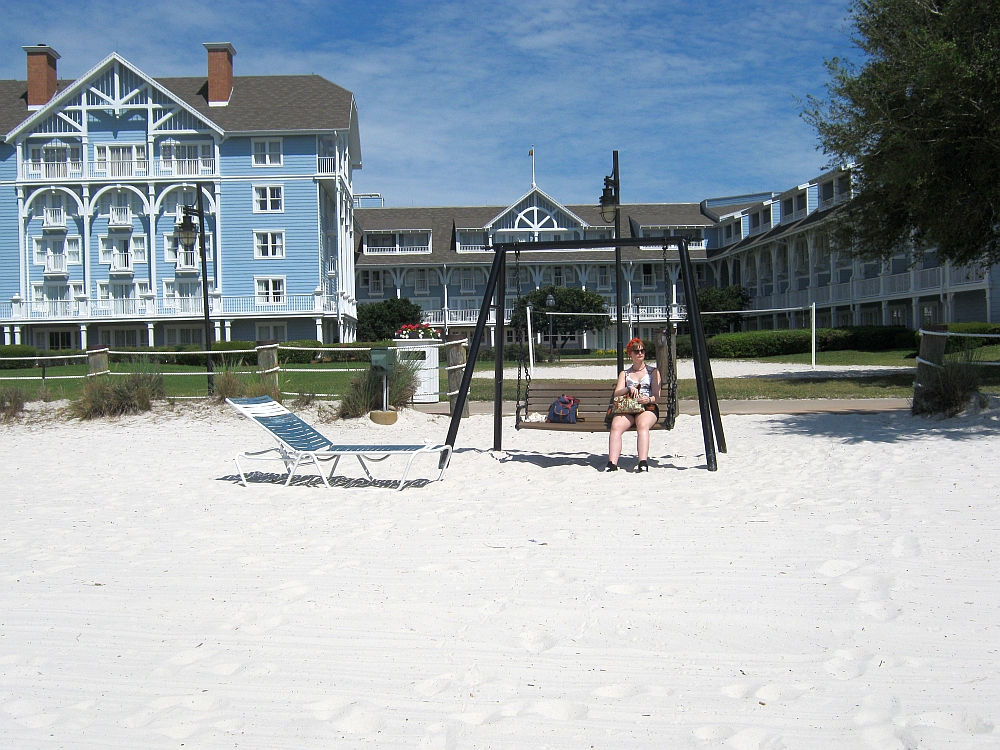 After a few minutes we are seated and order 2 pink lemonades, a water and 3 hot dogs. It's all very tasty but we are really here for one thing - ice cream. George and I share the Mud Slide and manage to eat about two thirds before conceding defeat. Anna orders mint choc chip ice cream with 'lots' of hot fudge sauce. They take her order seriously as the ice cream is drowned in fudge sauce with a separate pot of more sauce served at the side, for about 3 hours she doesn't think she'll eat hot fudge sauce again. Anna very kindly picks up the tab and we all leave feeling sleepy and stuffed.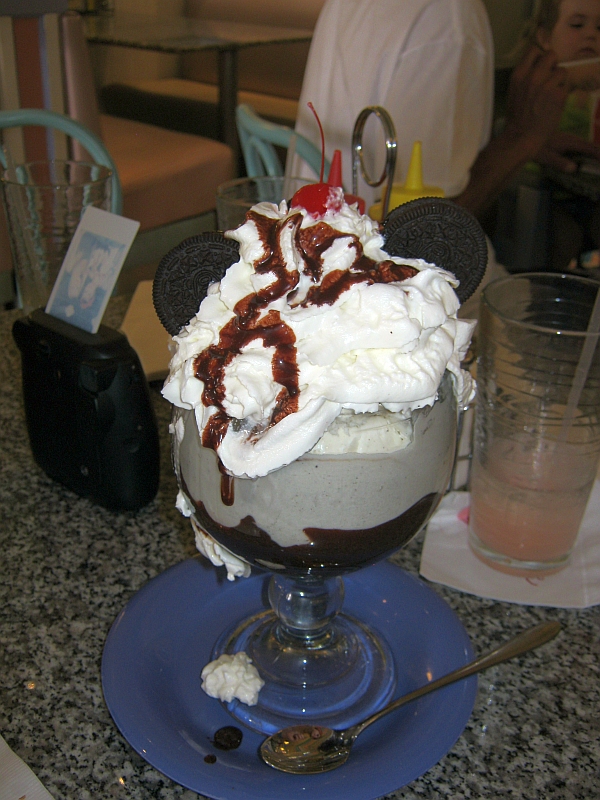 We walk through International Gateway in to Epcot and as it's so hot and we're feeling so lethargic we head to Norway to ride Maelstrom but there's a 30 minute wait. We opt for the next cool dark ride and go for a trip on the Grand Fiesta instead. Anna hasn't done Ellen's Universe of Energy yet and it's a long ride in the cool so we head in to the pre-show and it's only a few moments before it starts. Everybody feels a bit more refreshed afterwards, particularly George and Anna who have managed to nap on and off throughout the ride despite the dinosaurs and witnessing the start of the universe.
Feeling less sick to our stomachs we decide to try the Sum of All Thrills which Anna has raved about but George and I have never heard of as we rarely go in Innoventions. After a short wait and briefing we design our rollercoasters and George and I ride ours together. It was a lot of fun and I'd definitely do it again, the key is to get as many insane twists, turns and inversions as you can in a row. Georgia and I had booked fastpasses for Mission: Space but George not being a massive fan gives her magicband to Anna and we ride the proper side rather than the wimpy one whilst she does one of her favourite things - enjoying the sun (and watching squirrels I'm told). It's still about 40 minutes until we are meeting Susan so we get on Spaceship Earth and send our video home to mum and dad, just to make them a bit jealous.
We head to the Land where we meet Susan and her friend Anne. I will point out that everybody met at the correct place and at the correct time, Susan and Anne were even early. People who have read my dad's previous reports will know timekeeping is something that Susan has been somewhat berated about in the past. It is lovely to see Susan as it's been about four and a half years since our last meeting and great to meet Anne for whom it is her 42nd Disney trip! Anne lives in Georgia so Susan flew to Anne's and then they both drove from there, about 6 hours. We jump on Soarin' with our fastpasses and ask for the top row just like our pa taught us.
When we get off Soarin' it is only 45 minutes until Reflections of Earth so we walk round to the usual Norway spot where there are already a few rows of people sitting down. We make base camp and George, Anne and Anna head off to get food from the Chinese takeaway. George has a pork egg roll and shrimp fried rice and Anna has orange chicken. Once back Susan and I head off to Norway and the Oriental Lotus respectively where I get a Tsing Tao beer, spring rolls and candied strawberries which are amazing!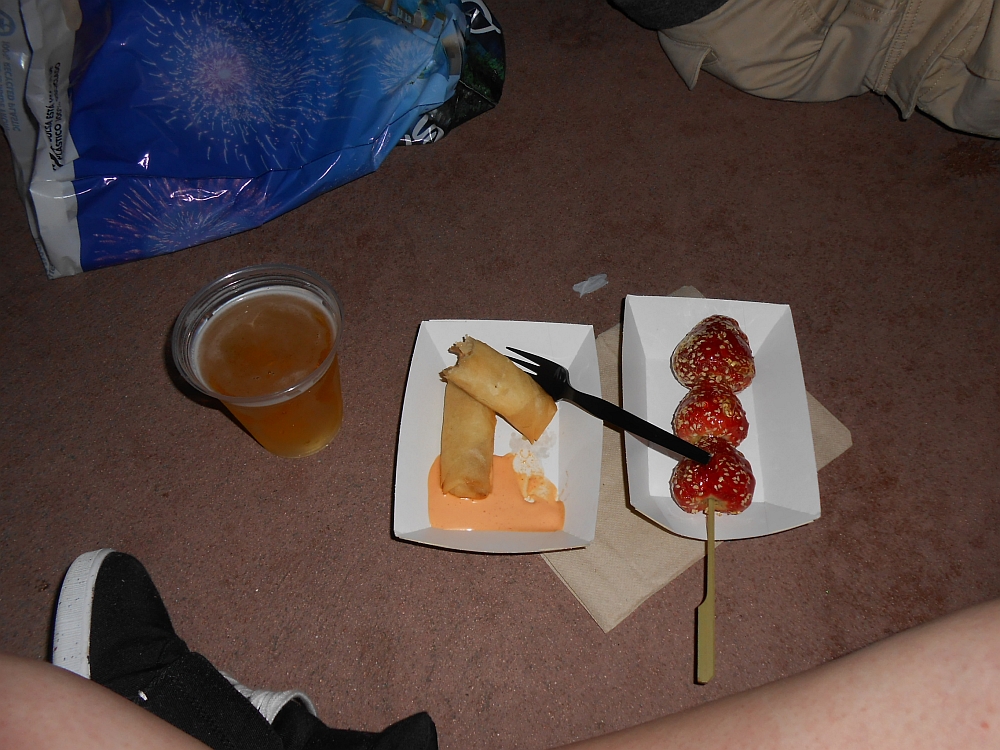 I go back to camp and then Susan rejoins us with a couple of extra people. Jo and Sian, who we have known for a few years from the Disboards, have flown out today and knew that Susan would be at Norway for RoE. Everybody is introduced and we sit down for the fireworks where everybody remains seated which is quite nice. Unfortunately, though there is only a light breeze the smoke is in our direction and ash falls all over us. This has never happened to us before and puts a slight dampener on the show. We say our temporary goodbyes, we'll be meeting up with both parties later in the holiday. George, Anna and I walk back to the Yacht Club to Anna's car, we drive back to the hotel and are in bed by 10:30pm.